So you've done everything you can to make your home unique, but now you don't know how to decorate your yard.
Everyone has been there.
This feature was added to the series for the first time in Happy Home Designer. In that game, players worked for the HHA and had to help locals get the house or yard of their dreams.
Now, players use this feature to decorate their whole island and give their people the best yards possible. This can be hard to do with 10 people, but the Internet is a great place to find ideas.
Have you ever gone to a different player's island and been amazed by how they designed their yard?
Well, this list will help for sure! Here are a few of the best ideas for the yard in New Horizons. So if you want lots of Best ACNH Yard Ideas, you don't have to look any further.
25. Villager-Themed Yard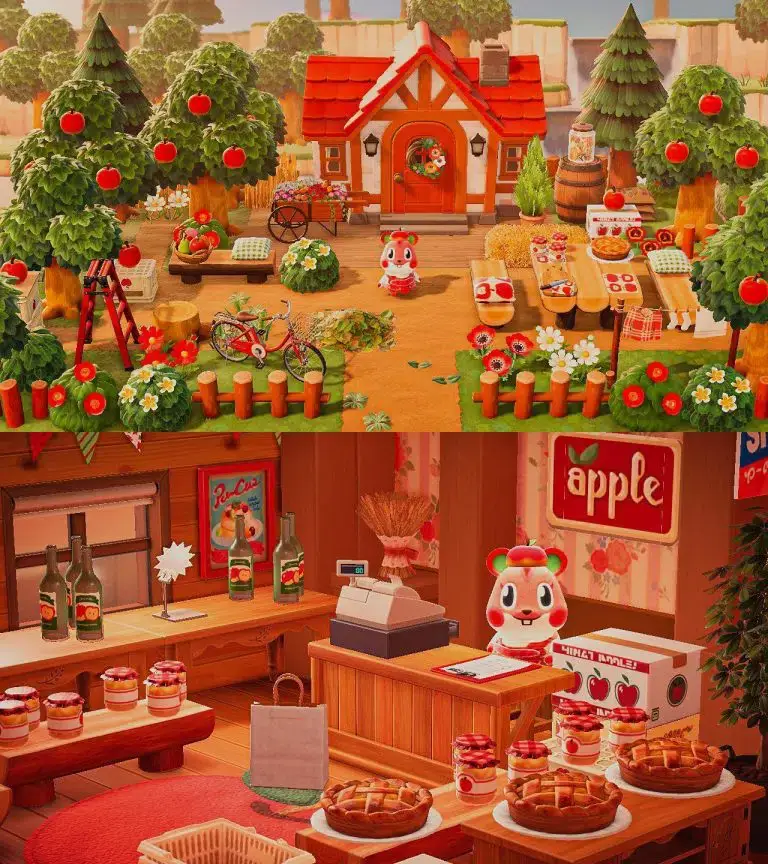 It can be hard to come up with ideas for your yard and outside of your house. But @tropikitch on Twitter has a good trick to offer. Why not come up with ideas for your yard based on the theme of your villager?
You can make Apple the hamster an apple-themed garden in her yard. Surround her house with apple trees, freshly picked apples, and pillows with apple prints on them.
Add Log Benches and a Log Dining Table for eating outside, and have Apple Pies and Apple Jams for food.
This idea also works for other people in the village. Lucky, the dog who looks like a mummy, can have a small graveyard.
Tia the Teapot Elephant's yard can be a place for a tea party. Villagers who are happy can have a small stage in their backyards.
24. Medieval Building Fence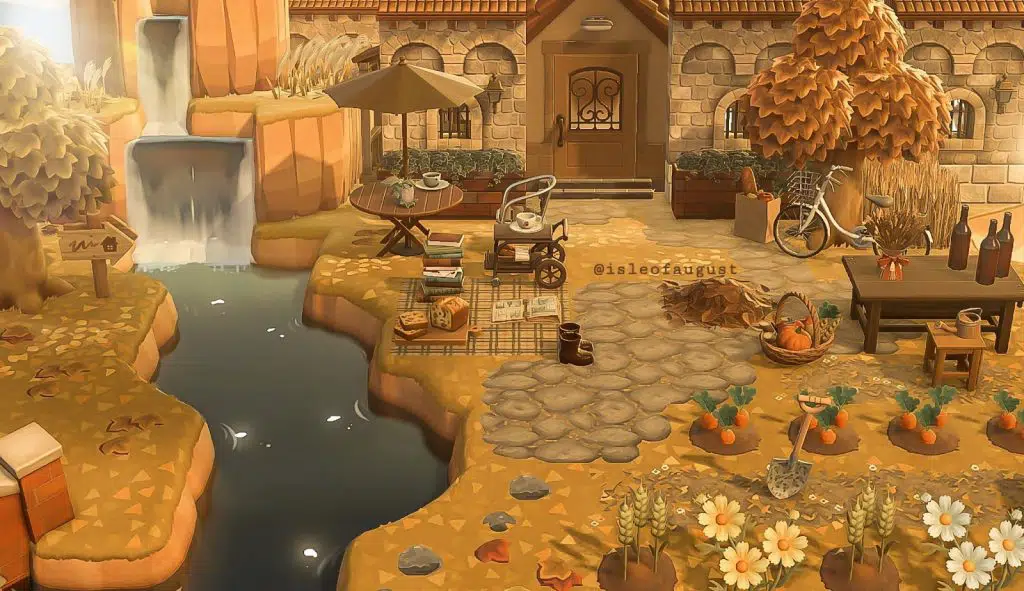 Twitter user @isleofaugust doesn't use the standard fences in the game. Instead, he uses Medieval Buildings.
It makes the houses and yards of your villagers look more elegant. You can also put Plant Partitions in front to make it look like your yard has plant boxes.
Use custom cobblestone roads and make beautiful waterfalls to go along with this. Add a small garden to your yard. For extra features, put a Veggie Basket, Shovel, and Watering Can in the garden.
This way was made by @garuyome_acnh on Twitter, while @starrrr_0617's Plant Partition and Medieval Building combination was based on it.
23. Shared Yard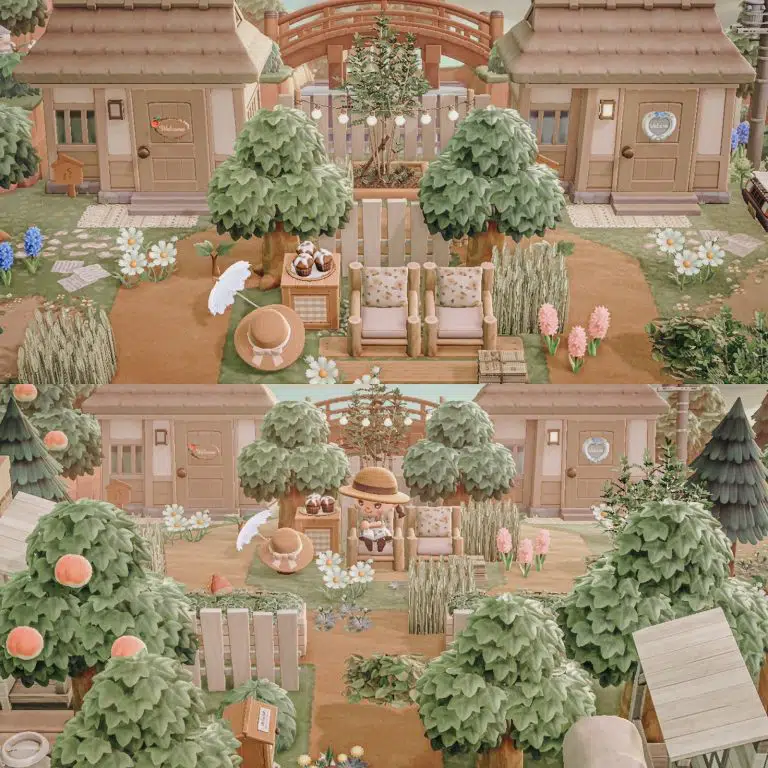 It's nice to share, and Twitter user @n____mori shows how adorable it is for two people to share a yard.
The yard is surrounded by Vertical Board Fences, and green Wheat Fields are scattered around to look like grass.
In between the houses, there is a shared lounge area with Log Chairs under trees, an Evergreen Ash in the middle, and a Plain Party Lights Arch to light up the area.
22. Gloomy Manor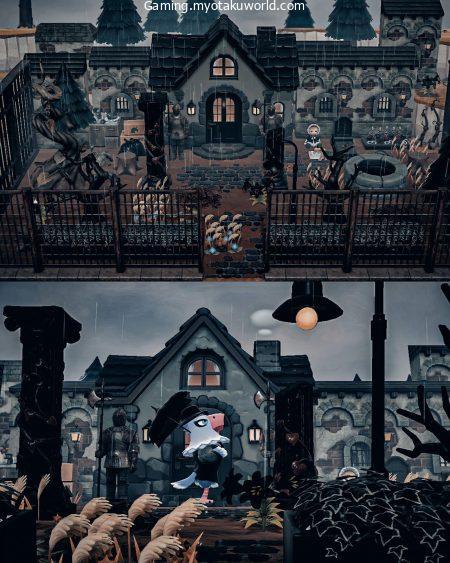 If you like things that look scary, check out @kosiroogames and their idea for a house yard.
Use Fences, Jail Bars, and Pillars to make your yard and house look like a scary mansion on a dark, stormy night.
Add some weeds that have grown out of control, some plants, a Giant Vine, and a scary Simple Well. A Plate Armor can also watch over your yard.
If you have a small yard, this can also work. Just remove some of the walls to make the area smaller, but keep the vines and pillars to keep the atmosphere.
21. Farmyard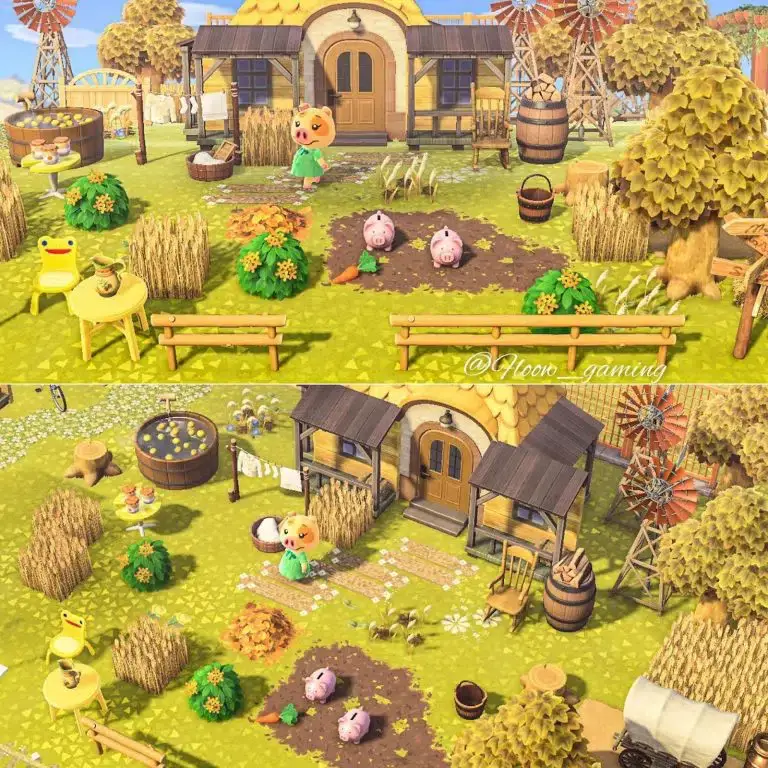 Your villager's house will look more rustic if the farmyard is a little bit messy. @Floow_gaming on Twitter shows how this can be done with a few things placed in a creative way.
Use Log Fences to keep the garden in place, scatter some Wheat Fields around the house, and add a Leaf Pile to make it look like the leaves and grass in your garden have been swept up. Windmills in the background make for a nice, peaceful scene.
Put some Storefronts around your villager's house to make it bigger and look like it has a porch.
You can also add a place to wash clothes with a Clothesline, an Old-Fashioned WashTub, and a Bathtub with Yuzu, as well as a place to nap with a Rocking Chair.
20. Rustic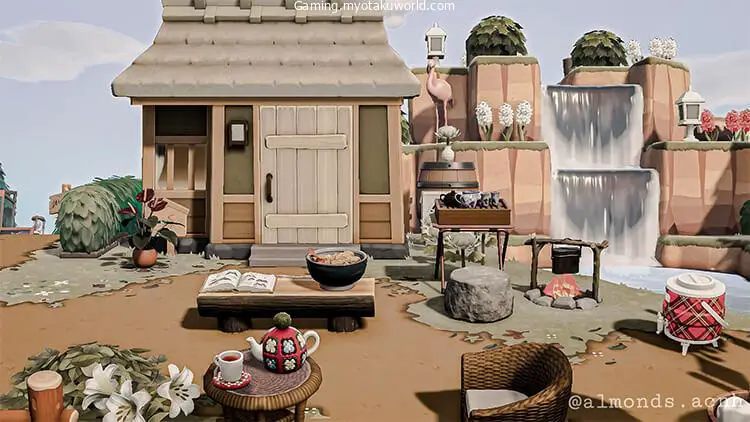 Why not bring this dreamy pattern to life in your yard?
Every night, you can fall asleep to the sound of the waterfall right outside your window.
And even add a rustic path with a pattern you like that goes around your house.
You can also build a small fire pit near the river.
When the sun goes down, your friends will love to gather around the fire.
You could even add a nice tea set for you and your guests.
19. Private Lake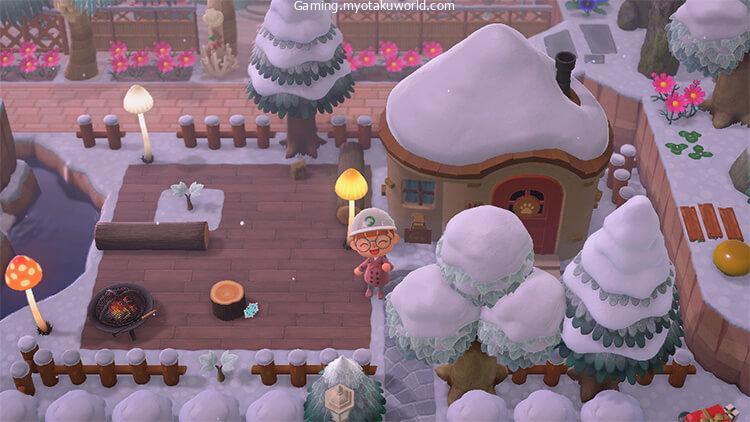 This must be the best yard for those cold winter nights.
Invite your friends over for a night by the lake where you can roast marshmallows and tell stories.
To make this yard, start by marking the area around your yard and to the side of your house with paths.
Then add a few tree stumps and a small wooden fence around the outside.
And don't forget to add a lot of mush lamps to make it look like nighttime.
18. Clifftop Yard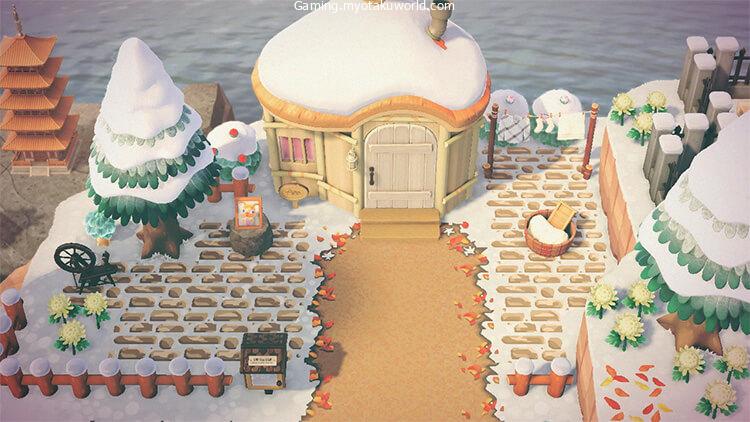 I'm sure your neighbors will love having a view from their yard.
This is great for people who get up early.
What could be a better way to start the day than to watch the sun come up?
Build a yard around one of your homes on the edge of a cliff and make a path to the front door along your best route.
You can also add some stone seating and a cobble pattern that runs along each side of the yard.
It will also need a few trees, flowers, and, if you want, some bushes.
17. Diner Front Yard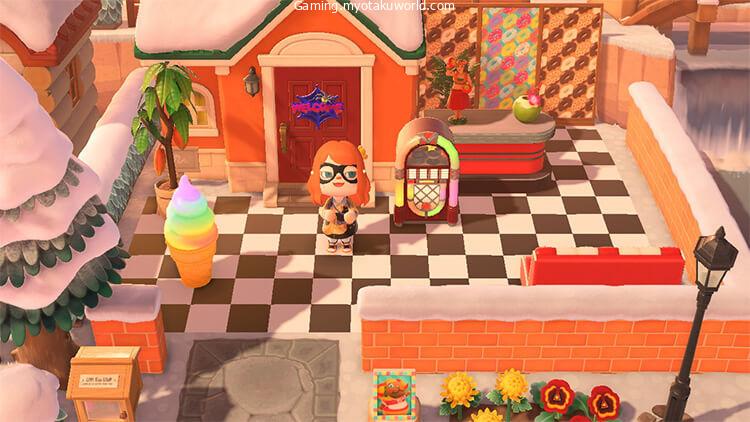 Who wouldn't want their own restaurant?
With its cool designs and bright lights, this is sure to make anyone smile.
Add some pizzazz to your outdoor yard diner by putting down a checkerboard floor. You can even make your own pattern for this.
We also can't forget the diner counter and chairs, so pick your best colors and add them in as well.
Add a glowing jukebox and light up your yard with an ice cream cone lamp to finish the look.
Dressing up for work at a restaurant is optional, but recommended!
16. Woodland Yard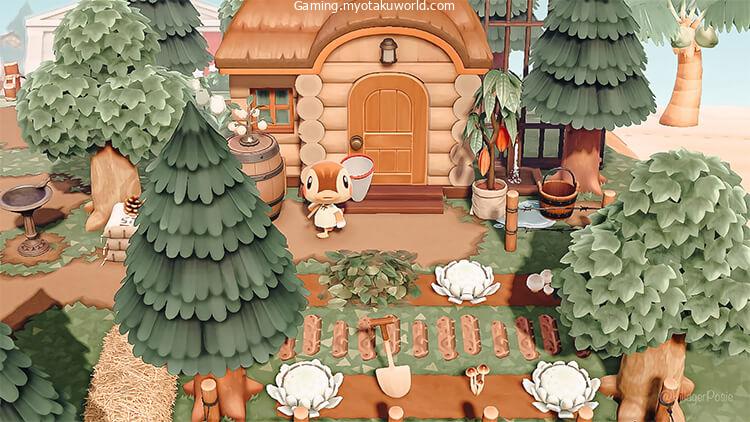 Villagers who like to garden can't do without this yard.
Make the yard look more green by adding lots of plants and piles of leaves.
You can also add a few trees. To keep it looking fresh, use both oak and hardwood trees.
Just make a dirt road to make a small area to work. Then put a bunch of flowers and mushrooms on top.
Add some wooden planks to this area as well. This is simple to do with a unique design.
With this yard, your people will be putting on their gardening gloves every day.
15. Spacious Area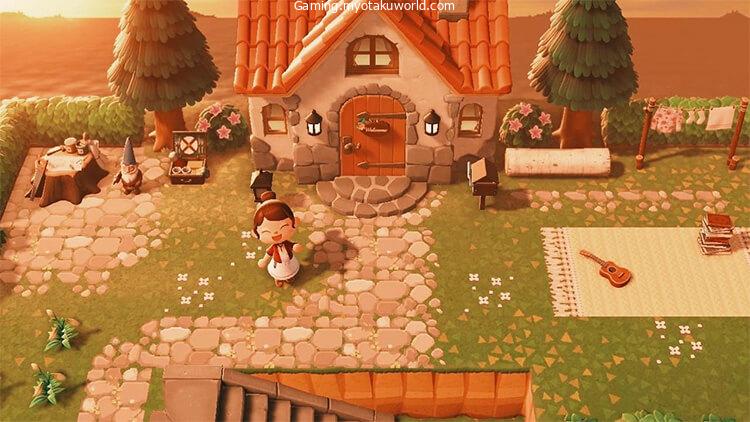 This is a great idea for anyone who wants a big yard with lots of room to play.
Put some bushes around the outside of the yard, and don't forget to plant some hardwood trees wherever you want.
This design will take up a few custom design spots, since you'll need some to make your perfect stone path.
To make your blanket, you'll also need a few more slots: one for the blanket itself and another for the loops that run along the sides.
Add some log chairs, a ukulele, and a stack of books for a strong finish. And don't forget your homemade table.
14. Elegant Yard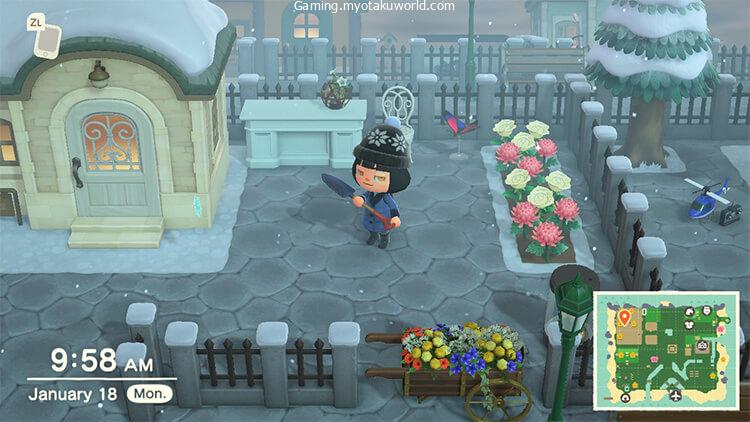 This cobblestone yard will give your island a touch of class.
Your neighbors will love this stylish addition to their home because of how well the flower beds match each other.
Set up iron fences around your yard and put down stone walks everywhere.
If you turn your fireplace around, it will become a cute little shelf where you can put books, flowers, or even gardening tools.
Then, to finish the look, add some iron chairs and lamp posts.
13. Outdoor Cooking Yard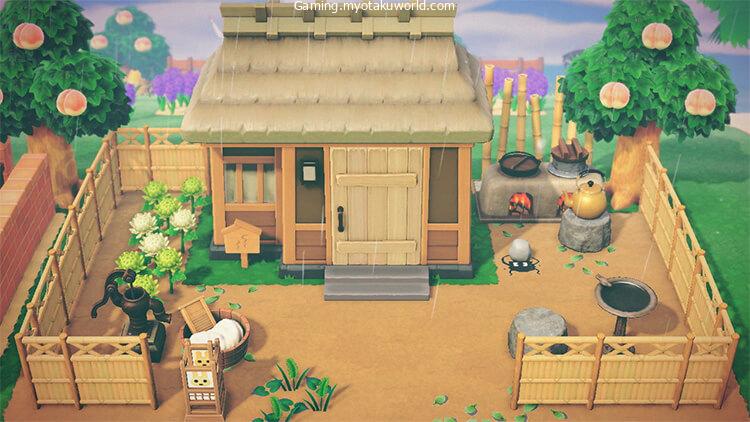 This design even has a small place to cook. What could be better than snacks when you're outside?
The bamboo fence is also a great match for the style of the house.
I really like that there are fruit trees here. So add some trees to pull the whole thing together.
Some stone chairs and flower beds with matching colors are also a good idea.
Add cute little leaf patterns made by hand all over your yard to finish the design.
12. Relaxed Space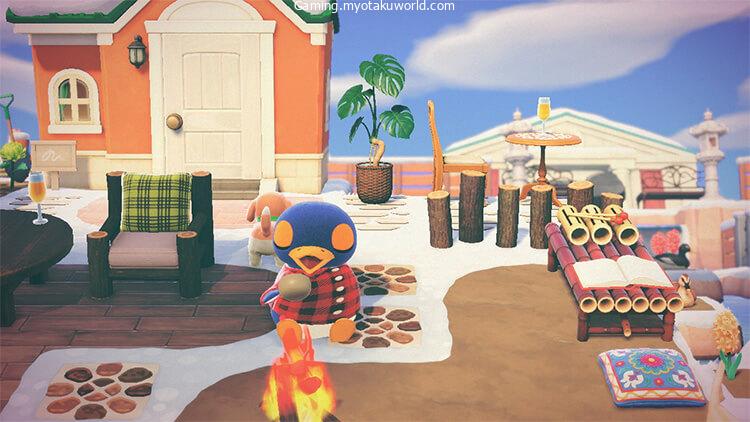 Here, it looks like Roald loves his new yard. I can't say I blame him!
It's also very easy to make.
Add your best ways to get around the yard.
You'll also need a few places to sit, perhaps with log furniture to go with the idea.
You can also add furniture made of bamboo if that fits better with the theme.
Then, add some printed pillows to tie everything together.
11. Tropical Front Yard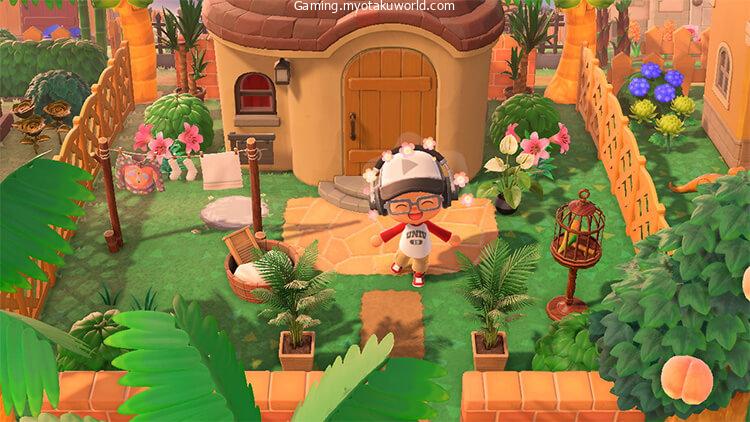 With this tropical pattern, your front yard will look like a tropical island.
Use plants, bright flowers, and coconut trees to make your yard feel like summer all year long. This will keep that happy vibe going strong.
Set up some fencing and rock walls around the outside to make a small yard area.
Don't forget to add lots of plants, though… More is better in this case.
And a tropical paradise wouldn't be complete without a pet bird.
10. Picnic Area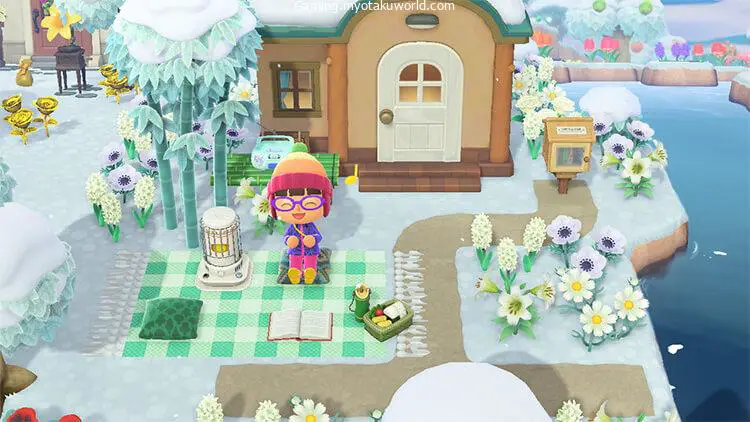 Picnics in the front yard?
Did someone say that?
Yes, thanks.
You can choose your favorite custom pattern to pop down for the blanket, or you can find custom designs to add bows to the ends.
Make a small path to the front door, and then put lots of different kinds of flowers in the yard.
You can also add some bamboo things. Then you'll be ready to relax with a good book and a bunch of snacks.
9. Bamboo Yard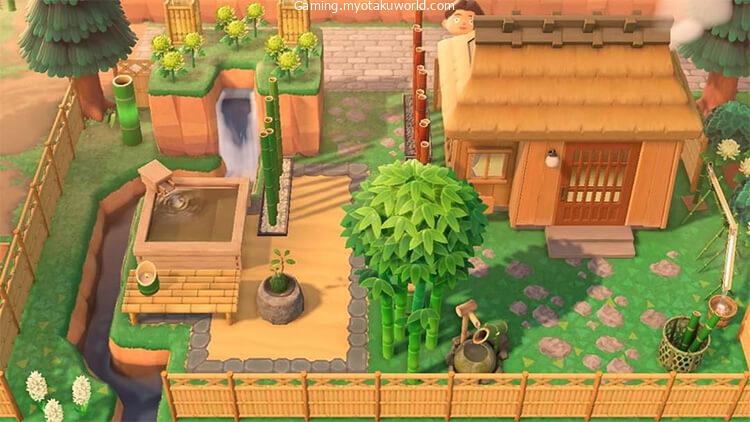 I love this style, whether it's for your house or one of your villagers.
Start by putting on your terraforming shoes and getting to work.
You'll need to build a hill and a waterfall that flows into a small river.
Then you can add a lot of bamboo plants and other bamboo things to your yard.
The look wouldn't be complete without the cypress shower, so make sure to put it in there next to the river.
You can also add custom stone features to the area if you want to try something new. Professional work!
8. Colorful Yard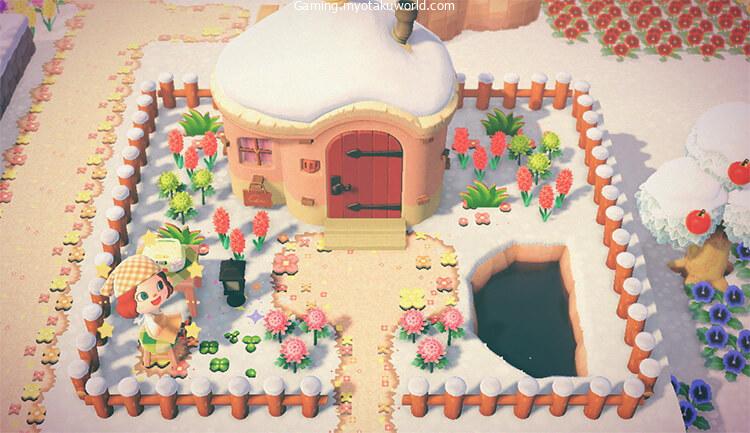 If you're proud of your yard, this flower explosion is for you.
You can fence off as much or as little of your yard as you want.
Then go crazy and plant as many different kinds and colors of flowers as you can in your yard.
Add a small bench where you can sit and read or just watch the sun go down.
Don't forget to put a small lake in the corner to make it look better.
7. Library Yard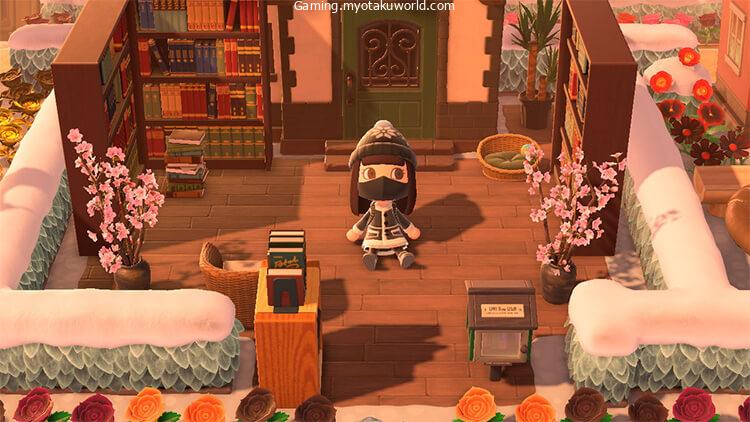 This yard pattern is for everyone who loves to read.
How cool would it be to have your own library right outside your door?
Use bushes or a fence of your choice to surround your house. This makes a small, cozy space where you can hide from the rest of the world.
Now comes the fun part: put up some shelves around the outside. They already have books in them and can be changed, so you can change the colors to fit your theme.
Put in some plants, tables, and a comfortable chair, of course. a minimum of one.
6. Farmer's Yard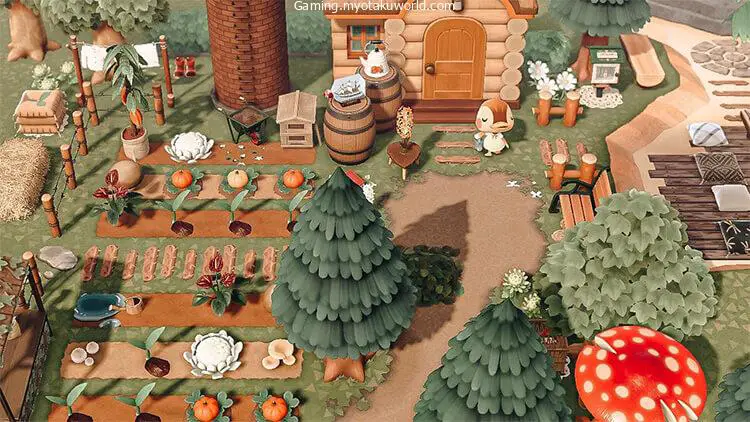 If digging in the dirt is your best thing to do, you have to try this yard.
You can make your own place to farm by putting down some dirt paths next to each other and then planting whatever you want on those paths.
You can make those fields look like yours by adding pumpkins, trees, flowers, mushrooms, or anything else.
Then add some trees and bushes to finish off your farm-style yard.
Before you know it, you'll be ready to start your own farmers market.
5. Zen Garden Yard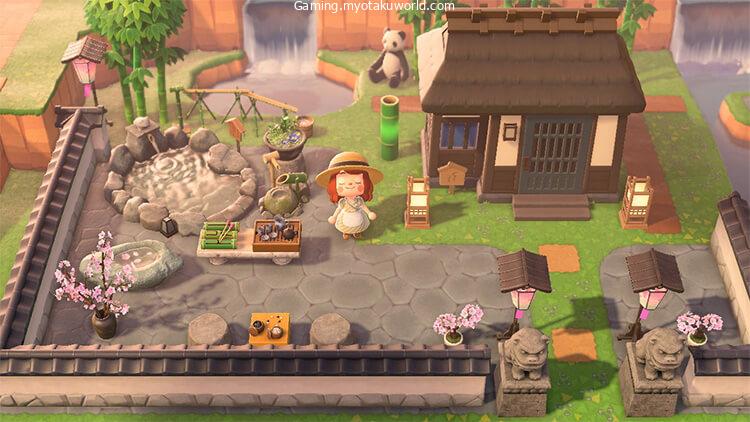 With this set-up, you can make your own little zen garden.
I just love how this plan is set up in front of a cliff!
To do this yourself, make a waterfall that runs down from a nearby hill and falls into a small pool.
Put down a stone floor around the area and add a rock pool and some bamboo things to finish.
You can also add cherry blossom things, like the popular cherry blossom lights.
4. Cozy Yard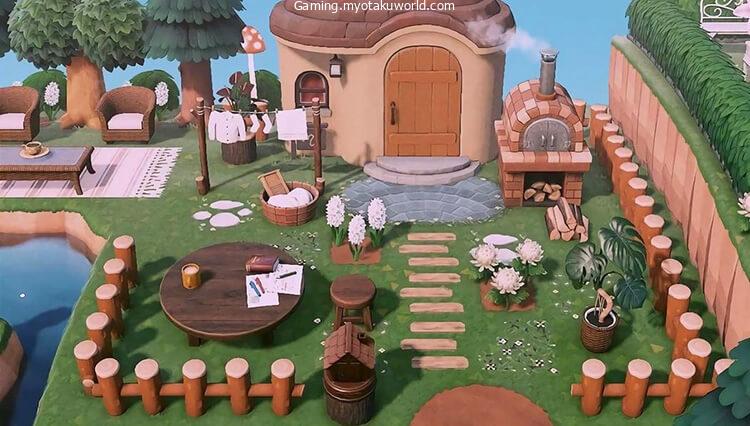 Nothing beats the good old days, huh?
This yard has a place to relax and a place to learn. Here's how you can make this yard your own.
Your best fencing, like wood, can be used to divide up an area around your home.
Add home things like the brick oven, a clothesline, and some plants to finish the yard.
Make sure to add a small lake that runs through your yard as well. And don't forget to add the cutest little place to sit.
Add some wicker chairs and a table, as well as your favorite rug, to finish it off.
3. Magical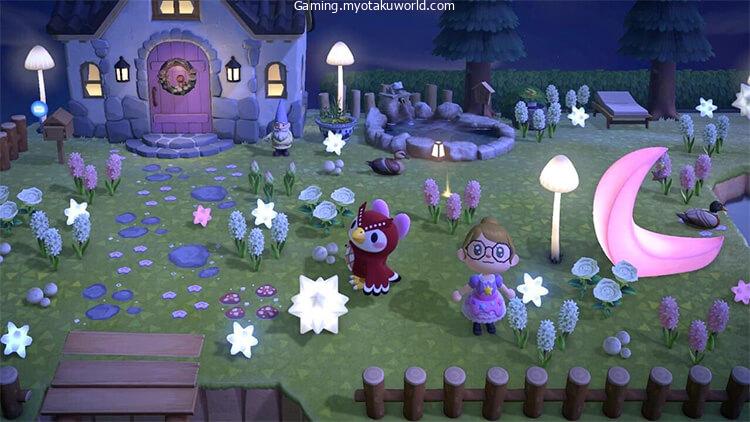 This must be the dream yard!
To make this fairy-themed yard, you can cover the grass with patterns made of stones and toadstools. It looks like a house from a fairy tale, doesn't it?
Add a lot of flowers, and make sure to scatter pieces of big and small stars all over your yard. You can also add nova lamps to make it feel really magical.
You can't forget the crescent moons, either.
Celeste should have known she would find herself in this amazing yard. On a clear night, it's the best place to look at the stars.
2. Rural Yard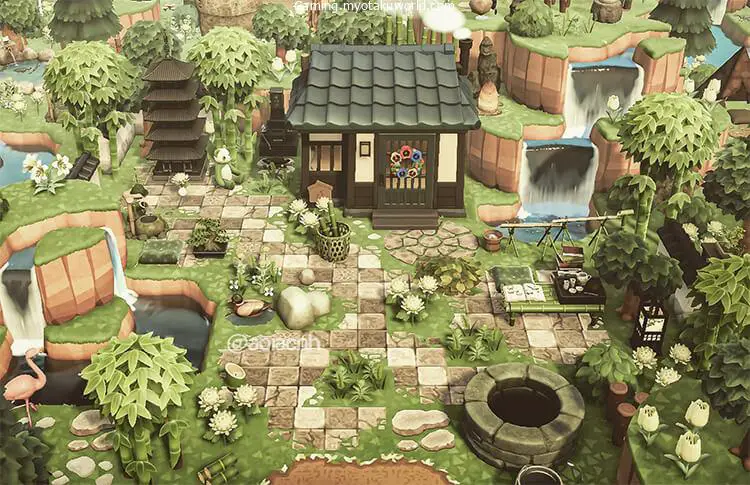 This yard in the country screams nature. And I'm on board!
Add your best stone path to the space around your home to make this rural work of art. And if you want to add a nice touch, leave any weeds that grow there.
Set up a number of waterfalls around the edges of your yard to give it a more zen feel.
Don't forget to add some rocks and flowers as well. Very "rural Japan" in a lot of ways.
To finish this amazing yard design, add as many plants as you can.
1. Private Pool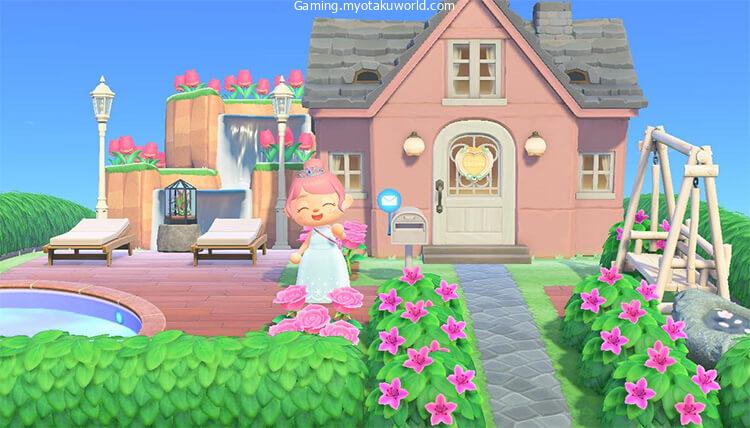 Who wouldn't want a pool in front of their house?
This has to be my favorite plan for a yard, with its beautiful waterfall and swinging garden seats.
You can do it too by dividing off a small area on the side of your house and putting down some handmade brick flooring.
Set up a couple of lounge chairs off to the side. But don't forget the swimming pool, which is the most important part.
Make a way to your door and line it with flowering shrubs to finish the look.
After a long day of fishing and getting bugs, there's nothing better than a dip in the pool.