It's hard to think of a way that Animal Crossing could become even more relaxing.
With the soft music and easygoing schedule, it doesn't take much for this magical world to help us relax when we're feeling worried.
But, of course, this game has a lot of design possibilities for both the inside and outside.
Once you're done with your bars, bedrooms, and resident yards, you'll want a place to just relax for a while.
Well we've got a few ideas here to inspire your ACNH lounge areas, relaxation rooms, and tiny corners of calm that you can tuck away for those times when you're on a quest for tranquility.
18. Club Lounge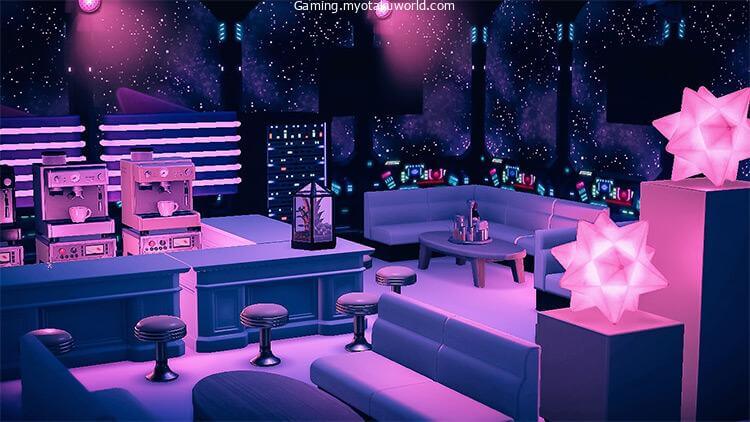 This is the perfect design for your living room if you're always up for a party and love to have people over. This living room is made to look like a club. It has sci-fi walls and nova lights made from pieces of stars.
As for the furniture, this user has added a low wooden table, some stools, and other items that you can easily get from the Nook shop.
White desks and box-shaped chairs go well with the lighting in the room. Oh, and don't forget to put a couple of espresso machines on the bar.
Lastly, this person has put the neon signs for the diner so that they face the wall. This is to make sure that you get the cool bright light without the "We're Open" sign. Isn't that smart?
17. Vaporwave Basement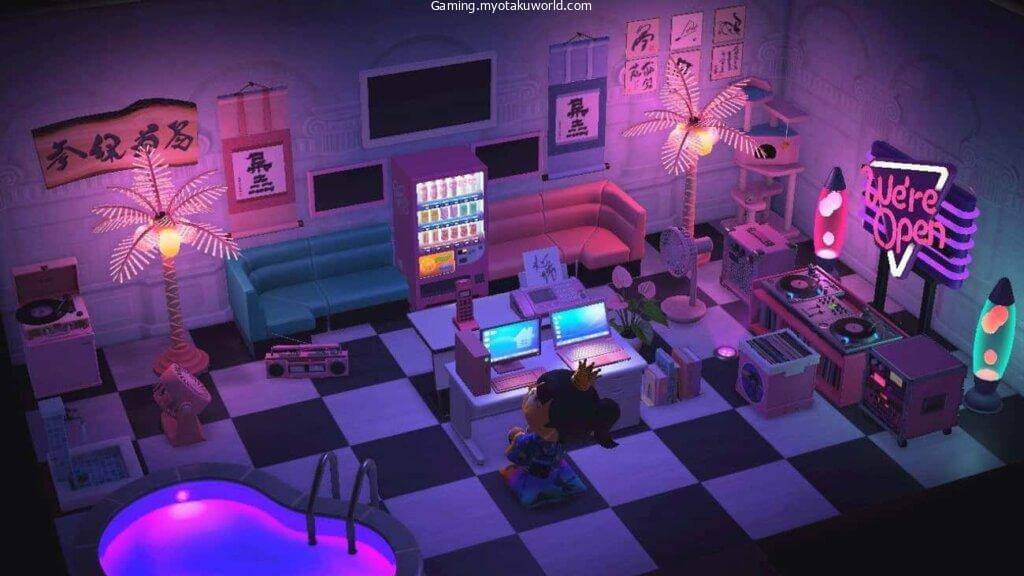 If you like Vaporwave, this room plan with a Vaporwave theme is perfect for your living room.
It lets you turn your living room into a neon-filled party room with a "We're Open" neon sign, black and white tile flooring, palm trees, a vending machine, a few electronic items, and even an indoor pool!
16. Conversation Pit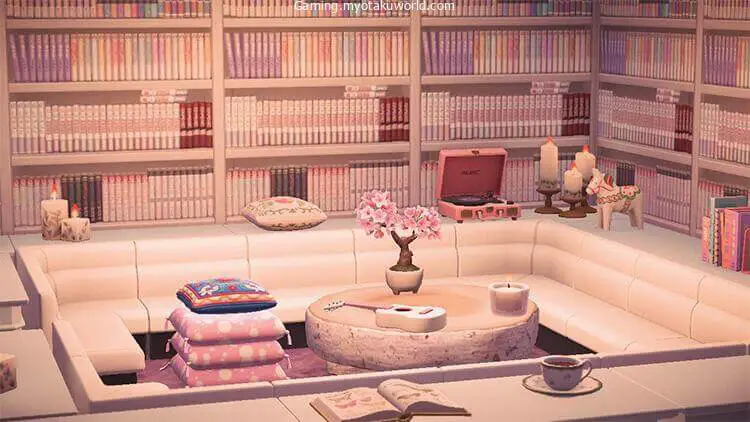 Make your sitting room into a place where you and your guests can have deep and meaningful conversations.
This unique idea for a living room is not like any other living room. It is easy to make because all you need are a few box chairs and corners.
This designer has put a few white room desks against all the walls. Hardwood was used to make the log table. And you'll need books to make the shelves wallpaper.
Top top it off with some decor items, add bookstands, cushions, plants, and candles to liven up the area and make it more warm and cozy.
15. Plant Nursery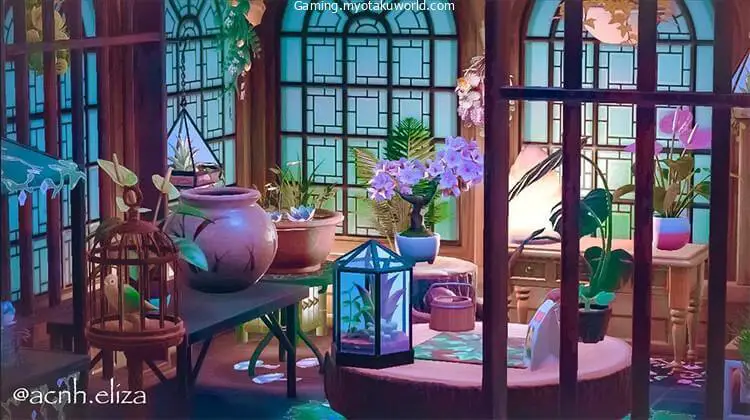 With your own greenhouse room, you can find peace among the plants.
You can gather and make many different kinds of plants, from a tall monstera to a sweet moss ball.
Not sure if the in-game choices will be enough to fill the space? Mix and match the different kinds!
You can make different-colored flower pots and flowers at your working table.
Add accents like watering cans and greenery to every nook and corner to make the room feel alive.
Soon, you'll have the perfect place to drink tea and admire all your hard work.
14. Relaxing Fountain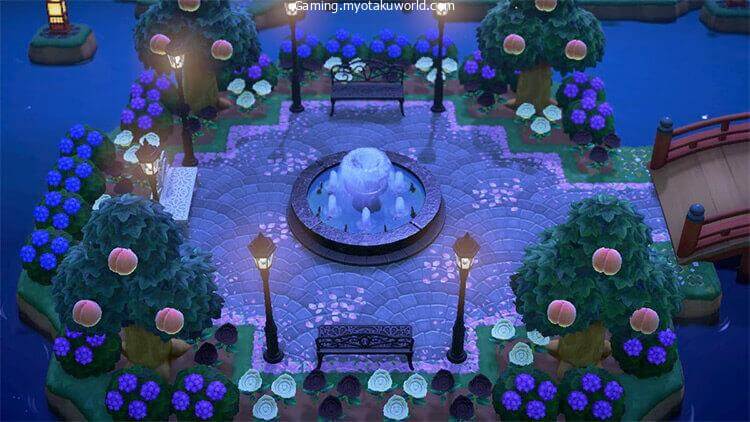 Want to make a wish but don't want to wait for a meteor shower?
Build your own wishing fountain in the middle of town and surround it with benches, plants, and soft lights to make a magical place to hang out.
This design is one of our favorites because it's cozy and cute. It's built at the end of a bridge on its own little island.
It was also a good idea to choose brickwork that goes well with the bright pink of the native fruit of this island.
13. Picnic on the Pier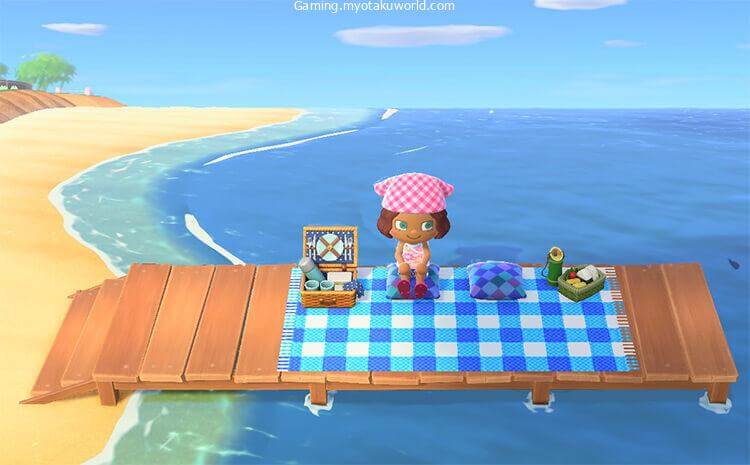 Putting fish in the museum tank can make you hungry!
Have a tropical lunch on your pier after a hard day of fishing.
On a handmade blanket, you can see all the colors of a sunset over the ocean, or you can get a QR code to get your design started even faster.
And you'll need some pillows for comfort, of course.
Bring a radio, or just listen to the waves as they hit the shore.
Before you go home for the night, you might be tempted to relax and look at the stars.
12. Nail Salon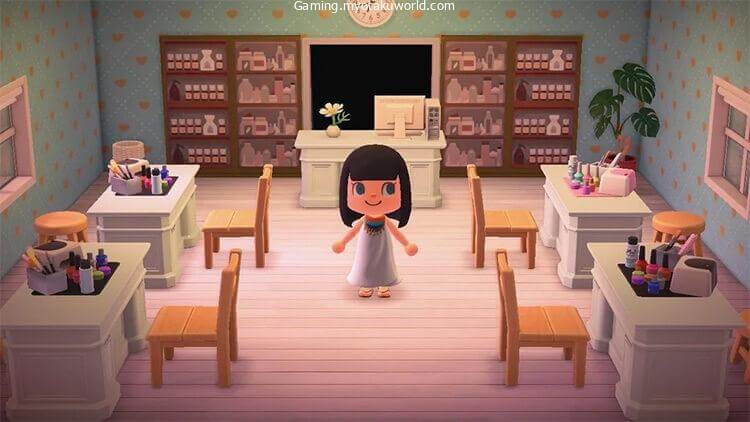 Inspired by the Nail-Art Set you got at Nook's Cranny? Not sure how to decorate with it?
Well, it would be great for this next living room!
No island is complete without a peaceful place to clean and shine your toes, paws, or claws.
Make a spa in your favorite color where you can put your feet up and let the bubbles wash away your worries.
This creator's design has all the finishing touches, like wallpaper with nail paint bottles, bowls of cotton balls, and everything else you need for the perfect pedicure!
11. Bricked Outdoor Café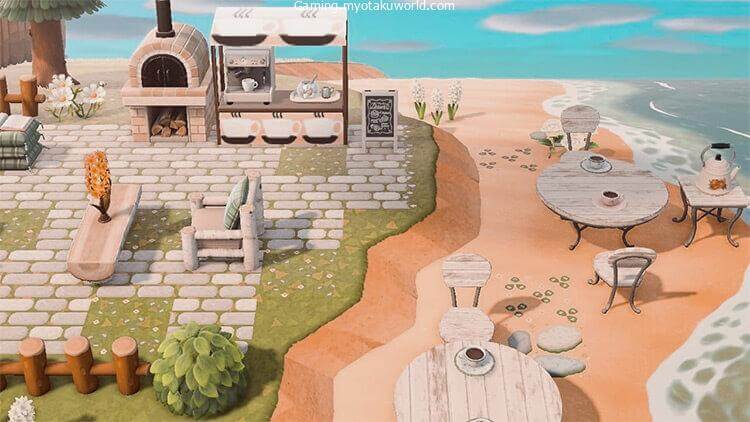 The style of this lounge cafe, which is built on white cobblestone, has a very Parisian feel to it.
When it comes to planning this area, the sky's the limit because you can change your masonry in almost any way you want.
Add bookshelves for a touch of learning, or put a table near the beach if you don't mind if your people track sand everywhere.
Maybe place your favorite flowers or some rustic fencing around the perimeter, then ask your coffee-loving friends to join you for a photo-op.
It's not Brewster's, but it's as close as you can get without our favorite blue rock dove waitress.
10. Stargazing Shoreline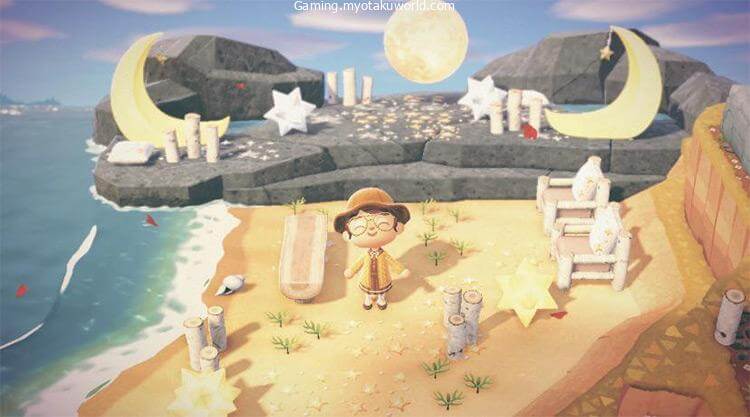 You like the feel of sand between your toes, but you'd rather have a cool night than a warm day.
Then this is the best idea for a room that you should copy.
Most beach lounge areas are made for the day, but this one is made to look like the stars, which makes it great for a night out under the stars.
We love how this person drew stars on the rocks, used simple birch for the furniture, and topped it all off with not one, not two, but three different moon-shaped pieces that light up.
9. Personal Library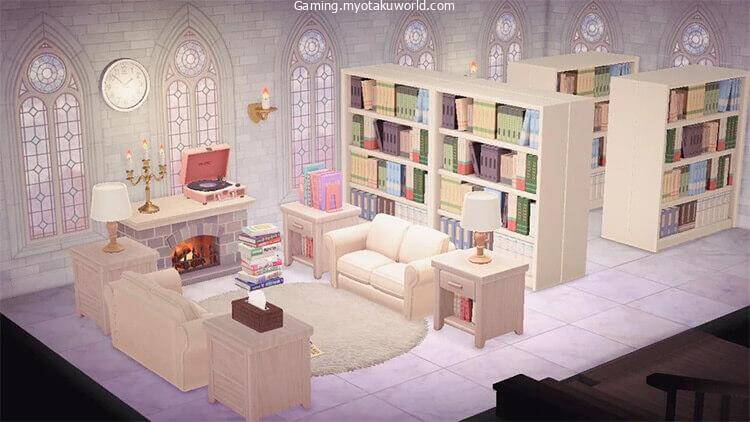 This one is for book lovers!
Spend your time away surrounded by stacks and bins of your favorite books.
This person shows that libraries don't have to be dark and gloomy all the time.
This cream-colored wonderland is bright because it has a mix of candlelight, modern lamps, and floor-to-ceiling windows.
This makes it a great place to talk about books or have conversations with your favorite locals by the fire.
If you like making places look different for each season, you can switch out these cool colors for warmer ones in the winter.
If you change the theme every so often, this lounge area will be your home's oasis all year long.
8. Cozy Crafty Corner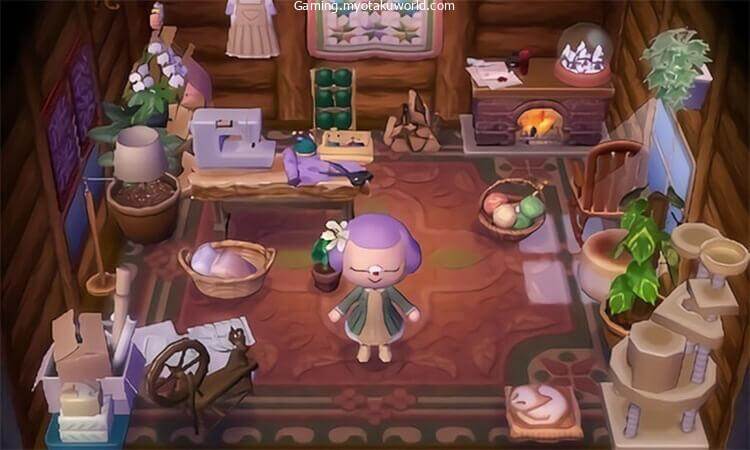 Many people like to relax by sewing, knitting, painting, or doing something else crafty that lets their creativity run.
Bring your love of making things into the Animal Crossing world with a lounge area where you can keep your hands busy with your favorite crochet needles or drawing pencils.
The cat sleeping on a floor cushion is the best part of this designer's work.
It's done so well that you can almost see the cat making its way through your things to curl up in your lap.
Find the right "clutter" to make this room feel lived-in, and you'll feel right at home in your virtual hobby area!
7. Outdoor Concert Venue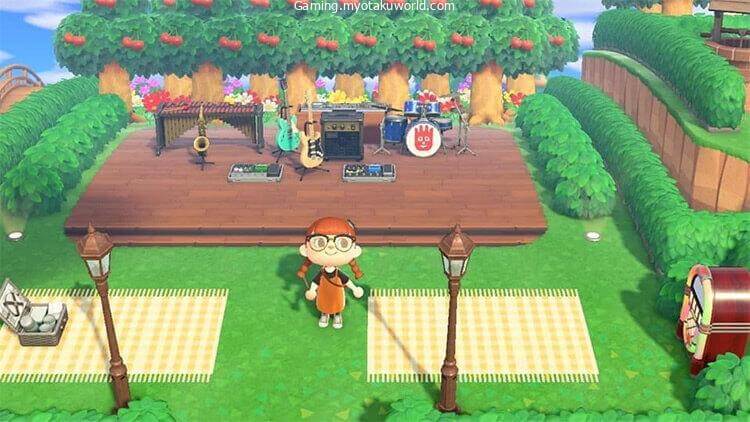 If you're like me, the thing you miss most about summer is going to shows.
Taking blankets, snacks, and all your favorite people to a live music show is a lovely thing to do.
So why not bring that feeling back to your island?
Set up an outdoor music venue with a lot of comfortable places to sit and watch K.K. Slider play the guitar.
Don't worry about putting up bright lights and fireworks… For a homey feel, choose acoustic instruments, lots of plants, and comfortable chairs.
6. Sakura Season Lounge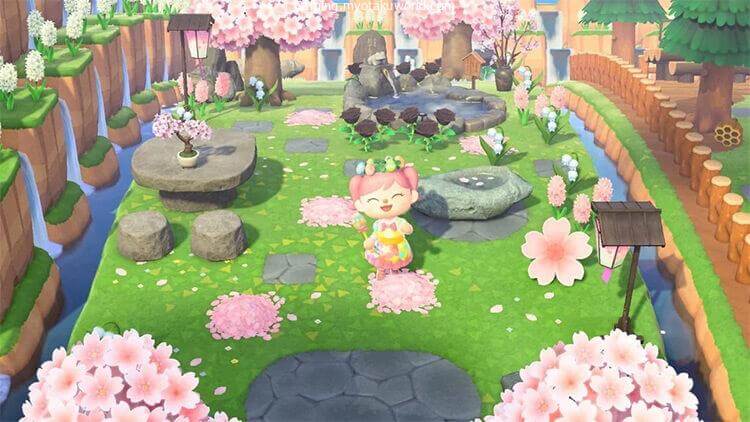 This Japanese-style cherry blossom garden is so cute!
With the Japanese style, this designer went all out, and you can do the same.
If you've already found all the recipes for sakura this spring, spend some time making decorations out of the leaves you have left over.
For more atmosphere, make a row of beautiful waterfalls, add a beautiful water feature, and, of course, use outdoor furniture to make a place to sip matcha while lounging.
If you close your eyes, this garden looks so real that you might be able to smell the sweet cherry-blossom smells of spring.
5. Autumnal Lounge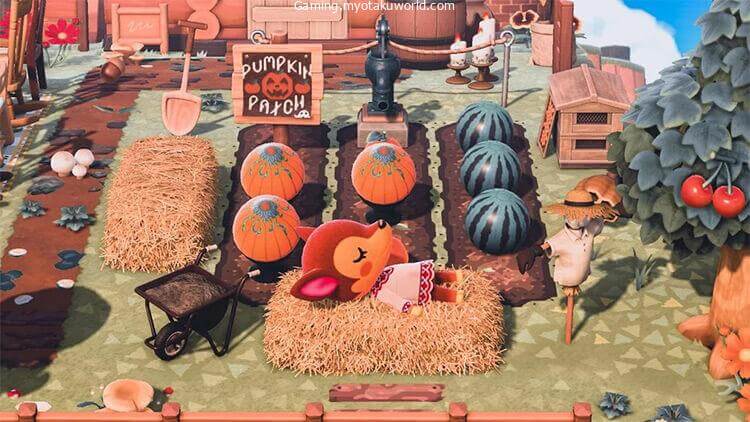 Even though I might be partial, Autumn is my favorite season.
As soon as the first leaf falls to the ground, I can't help but smile. There's something about the bright colors, cool weather, and homey feel that makes me happy.
So I'm totally in love with this beautiful pumpkin patch design that features one of my favorite ACNH locals!
Fauna's nap on a hay bale shows how peaceful it can be to spend your days in a gourd garden.
This creator shows off their imagination by using a hat with a pumpkin design and a beachball made out of a watermelon to fill the rows with lots of fruit and vegetables.
4. Bohemian Space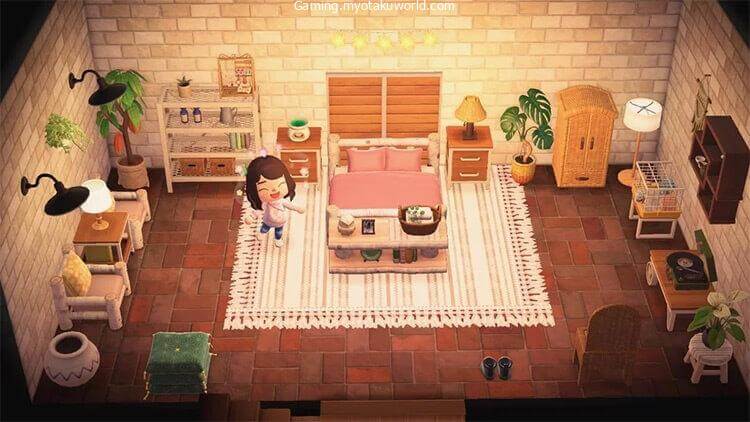 Boho-chic is a very popular style.
And this bedroom is a great example of what makes this trend in home decor so great.
Bringing together modern, clean lines with rustic charm, this bohemian bedroom has the ability for so much more than sleeping.
Plants, wicker, and an old record player mix with brick walls, fairy lights, and industrial shelves with simple decorations to make a space that is great for meditating, dozing off, or having unplanned dance parties.
3. Ultra-Luxe Study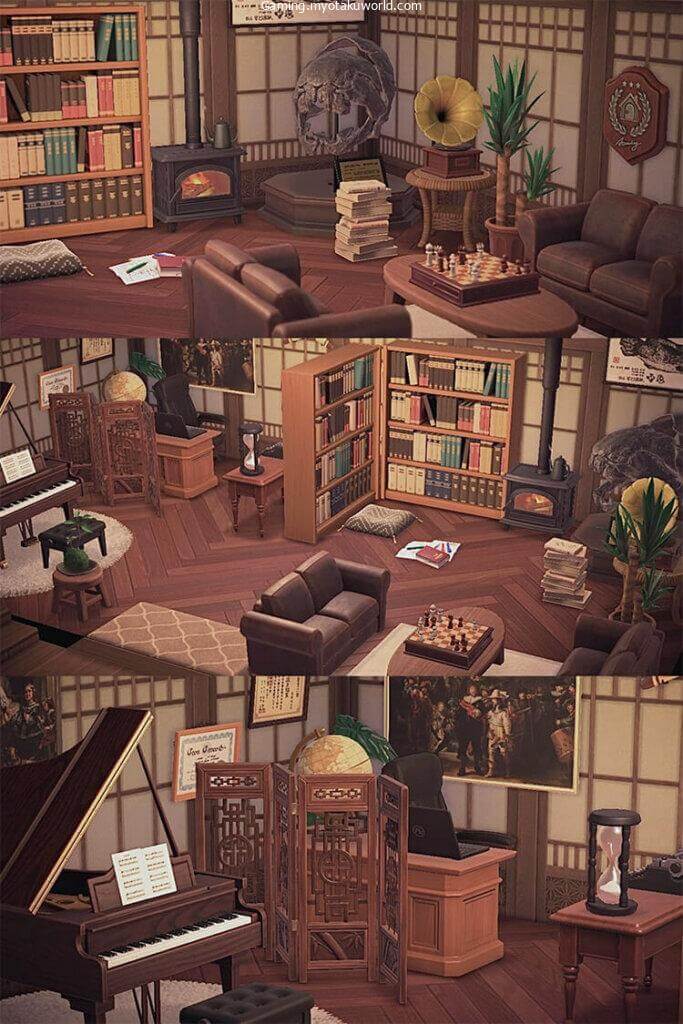 We showed you an option to a formal study's darker colors earlier. But this posh lounge is worth showing off for people who enjoy the better things in life.
Can't you see yourself sitting next to Raymond and playing chess to see who can beat the other?
This place has a very "academic" feel to it, with soft leather chairs and diplomas on the wall. People come here to think and talk as they wind down their days.
Finishing touches like the gramophone, fireplace, and grand piano show that this is both a place to relax and do important business, depending on your mood.
2. Secret Bathhouse Garden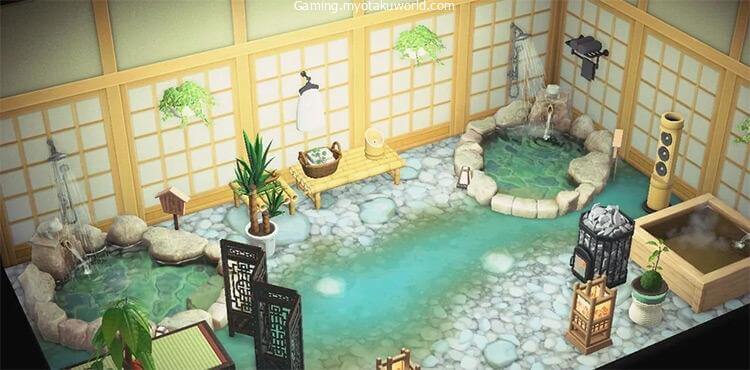 Move over, Studio Ghibli… There's a new beautiful bathhouse in town that can compete with Spirited Away.
We love this flooring and can't get enough of it.
It has a fun feature that makes it a must-have for any indoor spa lounge: when you run through the water parts, it splashes up around your feet.
After a hard day of planting, fishing, bug-catching, or whatever you like to do, the golden light calls you to relax in the warm water and unwind.
But what really makes this bathhouse idea great is how the floors, showerheads, and pools are set up.
It makes it look like the water is flowing through the whole room. You could think that it's coming from a hot spring underground.
1. Crackling Fireplace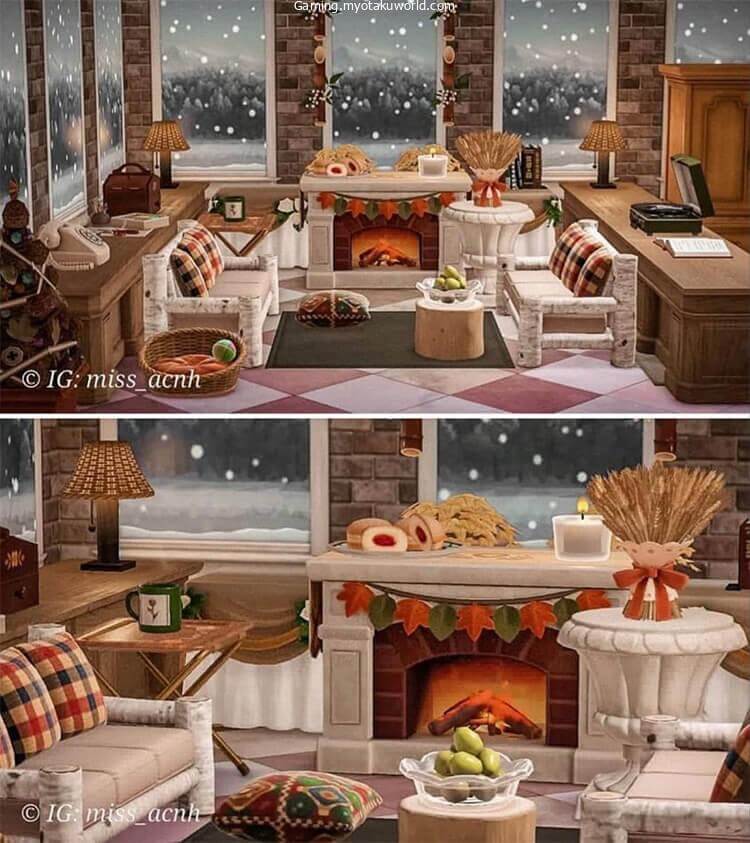 Celebrate the winter season with a cozy fireplace area with rough-hewn furniture and big picture windows where you can watch the snow fall softly on your island.
This cozy corner has a holiday feel without being too much. It has pops of plaid, flannel pillows, and cheery streamers.
This sitting area almost begs you to curl up with a hot cup of cocoa and a good book.
If you decide that you want to dress up your fireplace, don't forget to leave out cookies (or jelly donuts!) for Santa.
The little details make this a relaxing room in your house where you can think about your favorite winter treats or warm up after a cold day with your friends catching snowflakes.