In New Horizons, countless objects may be used to assist gamers to spruce up their houses and islands.
Although it can be a little difficult to decorate your Kitchen Design Ideas, it is possible.
It takes some effort to create a masterpiece because cooking supplies are few and some DIY materials are hard to come by.
With some of my favorite kitchen ideas included, I've created this useful guide.
Hopefully, these might serve as a starting point for you as you design the AC home of your dreams.
25. Kitchen in a stone garden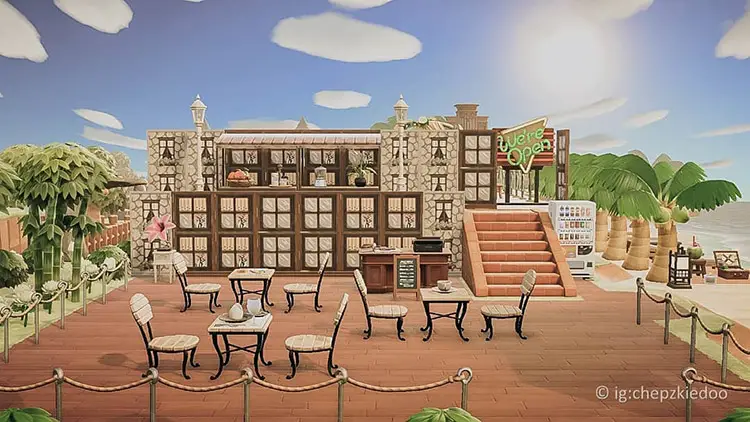 Source of the image: @CHEPZKIEDOO
This concept takes excellent use of the surrounding natural surroundings, as do great outdoor designs.
The stone garden walls, which are constructed of straightforward panels with individualized walls and windows, are the centerpiece of this design.
Once you've finished, you should make enough square tables and natural garden chairs to furnish the eating area.
Finally, get a desk for the den, a menu chalkboard, and a beverage dispenser. The business is now yours!
24. Kitchen City View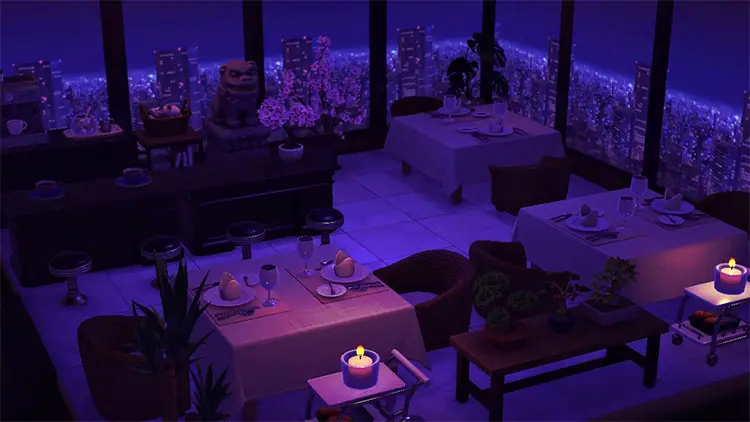 SOURCE OF IMAGE: U/THIRTYTWOOUNCES
The design might not be for you if you're terrified of heights.
But take a look at that panorama!
Even though it isn't truly on a skyscraper's top floor, its kitchen design gives the impression that it is.
You'll need some cityscape wallpaper to make this yourself if you want to see the city below.
The bonsai tree and monstera, among the many other plants seen here, I believe make for excellent décor in this spectacular skyscraper restaurant.
23. Antiques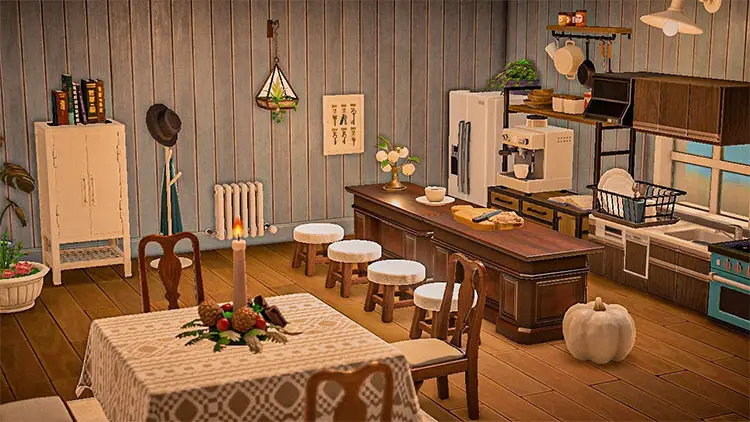 SOURCE OF IMAGE: THIRTYTWOOUNCES
Have an eye for vintage style?
Then this kitchen design is a sure bet.
All you have to do to achieve this effect is select your preferred wooden wallpaper and flooring. Send them up.
You may even use some fireplaces; when you turn them, they become the ideal kitchen counters.
Ensure that all of your appliances are neutral in hue to match the color scheme.
Don't forget to include a small pumpkin in the mix as well; you can change its color to fit your theme.
22. Stylish Kitchen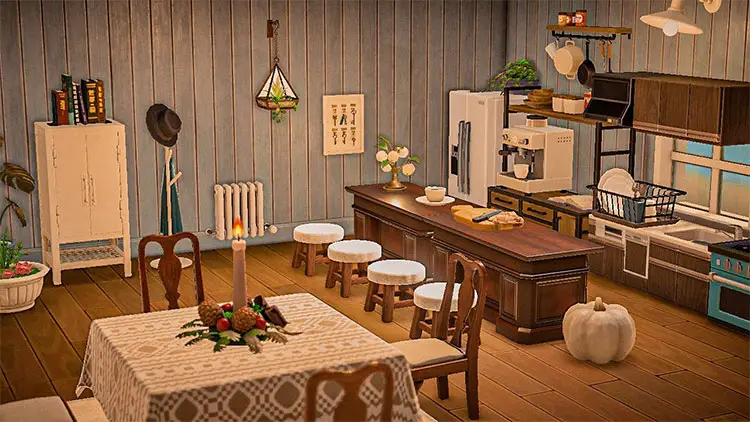 SOURCE OF IMAGE: LILZZZZZZ
Want to give your house a more contemporary feel?
Try out this ultra-slim modern kitchen layout.
Lightwood flooring and black tile wallpaper are all you need to get started.
For a modern feel in your kitchen, make sure all of your appliances are metal and black.
Perhaps include some plants there as well for a soft splash of color.
And there it is—a sleek, contemporary kitchen! It almost has the air of a posh eatery, is that right?
21. White & Bright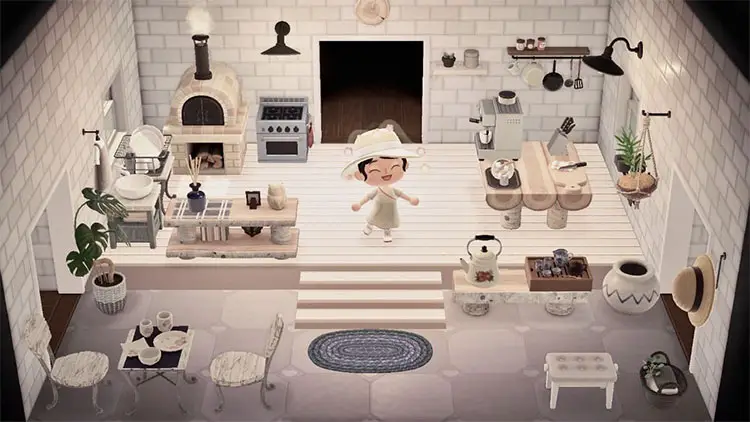 SOURCE OF IMAGE: KIREIROSERU
Maintain a breeze in your kitchen with this adorable design concept.
To provide them with a ton of extra space, they have designed their home so that the kitchen is located in the main area.
Start by locating a distinctive design for the raised flooring if you want to replicate this stunning split-level layout.
Simply overlay the flooring design you currently have with your own (but only on those spots on the ground). Presto! You achieve this wonderful result.
Make sure to include plenty of white furnishings, including light-colored wood seats and tables.
To finish the look, include white benches, tables, and an oven made of clay.
20. Bright Yellow
SOURCE OF IMAGE: RHINOLOUPE
A sunny, cheerful kitchen will add color to your house.
Choose any white flooring you choose as a contrast to the bright yellow wallpaper that will make the room pop.
To achieve the multi-level effect with this idea, you'll need a custom design slot for the raised region, which you can install directly on top of your existing flooring.
Include some yellow accents in the form of a sofa, carpets, and a mixer.
Adding red accessories like a microwave, a radio, or a newly made cake is another option.
19. Kitchen in Skyrim's rustic style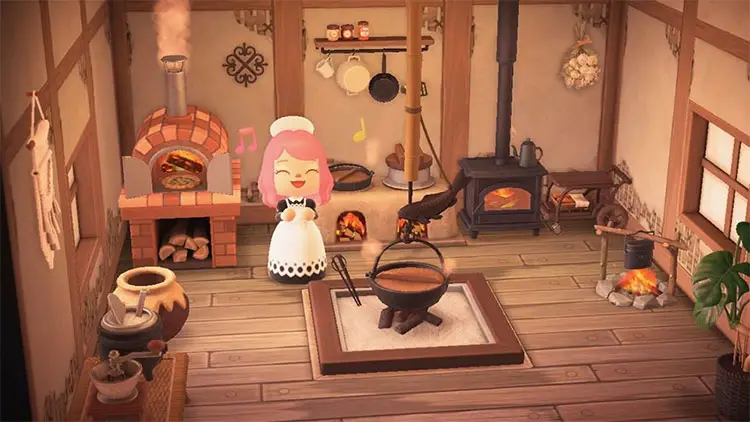 Source of the image: @NOOKTOWNFORUM / LYSLACE
Consider using this inviting kitchen layout with its wood floors and rustic wallpaper. adore it
Start by making room in the center of the room for a cooking station.
You may also hang a macrame wall hanging or some other adorable wall accents like pots and pans.
Just be sure to place your brick oven in the kitchen's corner (you enjoy pizzas made in a brick oven, right?)
could include a clay oven as well.
To further accentuate the rustic atmosphere, add some kitchenware and clay pots.
18. Bright Kitchen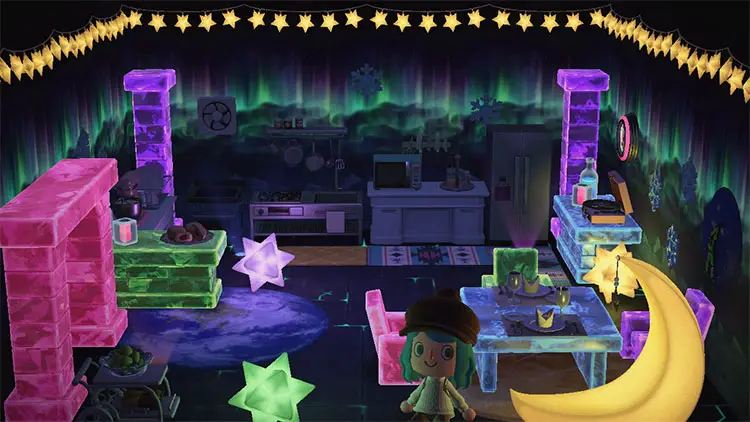 Source of the image: @RODNEYUNLIMITED
To bring life to your kitchen, try this neon style!
Buckle up because this one is strange if you want to attempt it and draw attention to your home's interior design.
You can achieve this by painting some frozen pillars in a variety of colors. Those may be positioned close to the corners or in the background.
Of course, the Aurora wallpaper and some space-themed carpeting are necessary for this room to exist.
Add nova lights to the décor to finish off the look, and don't forget to include some crescent moons as well.
17. Present-day Kitchen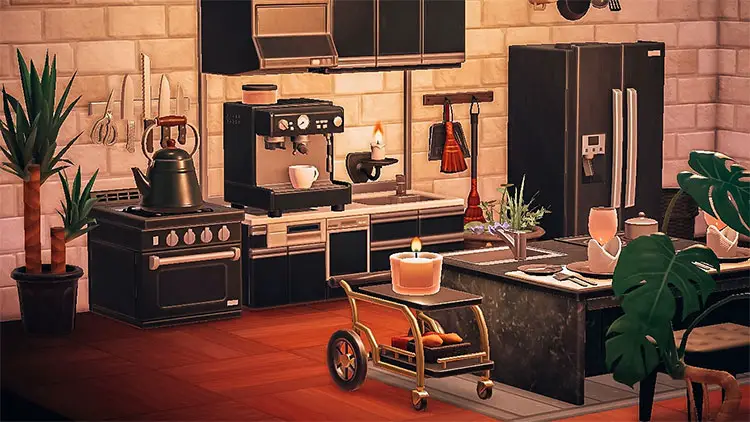 SOURCE OF IMAGE: THIRTYTWOOUNCES
With the help of this modern kitchen design, you can make your home hip and stylish.
Use all-black kitchen cabinets and appliances, from the refrigerator to the countertops, to get this appearance. It will be easier to attain this sleek appearance if you stick with the all-black concept.
To further set the mood, place many plants throughout the space. More is always better.
Your preferred wooden flooring should be used for the floors, and white tiles should be added to the walls to complete the design.
Don't forget to adorn your workstations with some glasses and candles as well.
16. Fresh Kitchen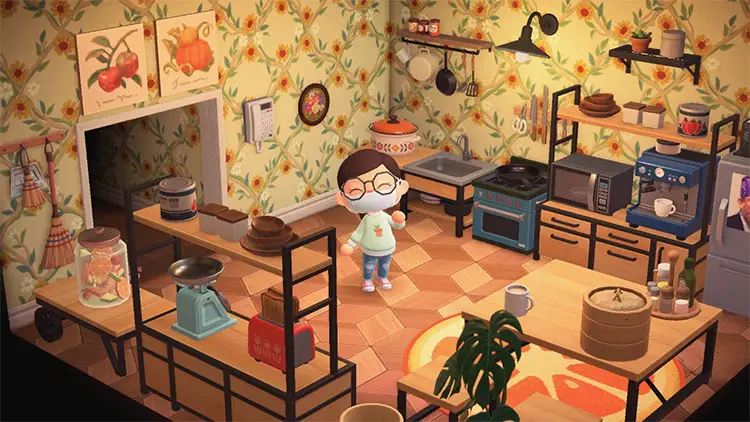 Source of the image: @BBSTAN23
What could be happier than this floral kitchen layout?
To decorate this kitchen, start by putting up your favorite floral wallpaper on the walls. Add some sharply patterned wood flooring to it to complete the look.
To completely complete the aesthetic, make sure that all of your kitchen cabinets are made of wood.
Why not include some fruit or floral designs in the artwork you create for your walls? Make any addition you want, just be sure it's bright.
To further tie the concept together, add some plants.
15. Home-Based Bakery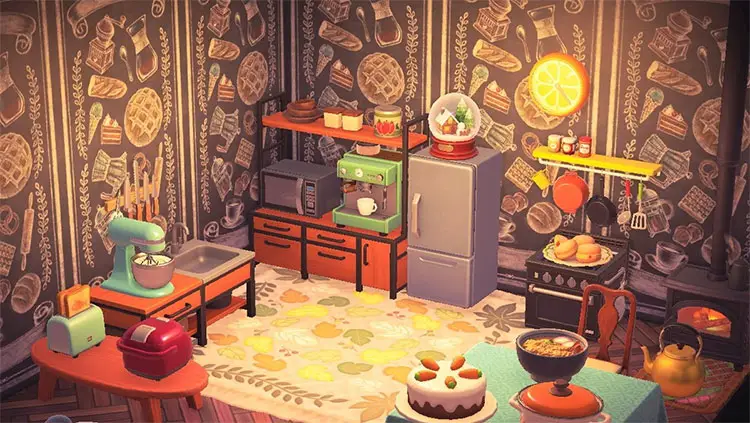 Source of the image: @RUBIA AC
Who doesn't enjoy the morning smell of freshly baked pastries?
With this incredible kitchen layout, you can transform your kitchen into a tiny bakery.
Add some wooden units all over, along with some wallpaper with a cake theme.
A coffee maker, mixer, and toaster are just a few of the colorful items you should remember to include.
A teapot must be included somewhere in there as well. Add a ton of cakes and pastries as well.
Clean everything up, place it in a 350° oven, and watch as your vision comes to life.
14. Bright Blues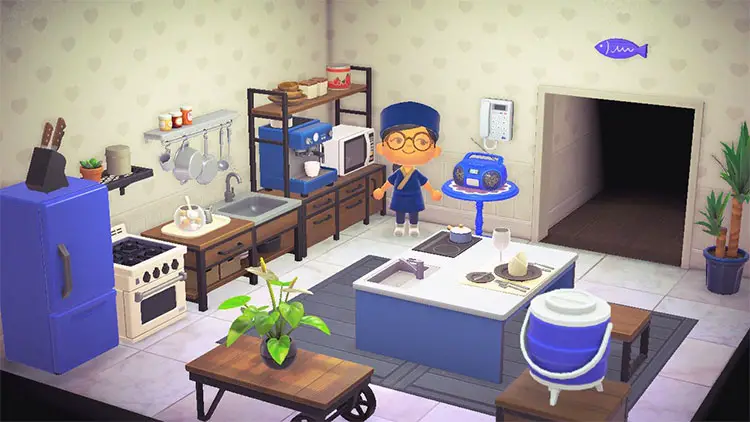 SOURCE OF IMAGE: @SEWPRACTITIONER
I can almost guarantee that your guests will have something to say if you try this unique kitchen with its brilliant blue tones.
Add some white heart wallpaper and use a marble tile floor as the design's foundation to recreate this look.
The refrigerator, coffee maker, water cooler, and kitchen island can then be added, along with other jazzy objects, to give the room a splash of color.
Note that you don't have to use blue; you can use any hue you like!
Add some wooden furniture, like the ironwood kitchenette and a few tables, to bring the entire ensemble together.
13. Warm Theme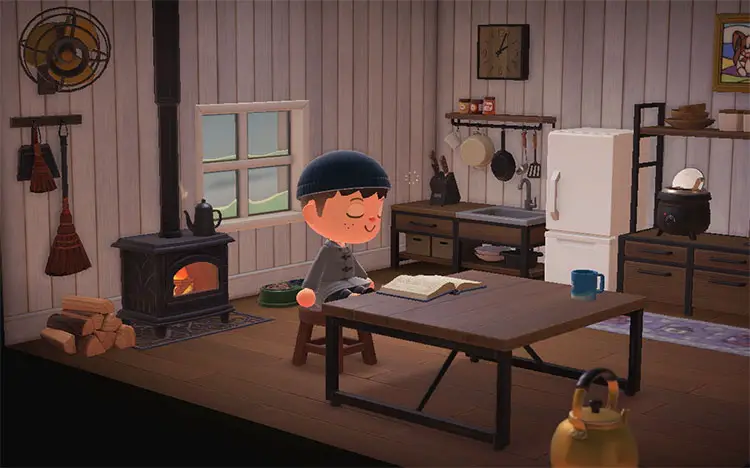 Source of the image: @TullyNook
Surely everyone enjoys a warm kitchen?
Choose a neutral color scheme to start, then add some light-colored walls and your preferred wooden flooring to create this rustic, farm-style kitchen.
A table and some wooden kitchen cabinets are optional additions. On a rainy night, this is the ideal place to relax and read a book.
Remember to include a fireplace as well. We want to make sure it's toasty, so you'll also need a ton of firewood nearby.
Add some brooms to the wall and a fan to complete the rustic, bygone ambiance.
12. A Dockside Dinner kitchen idea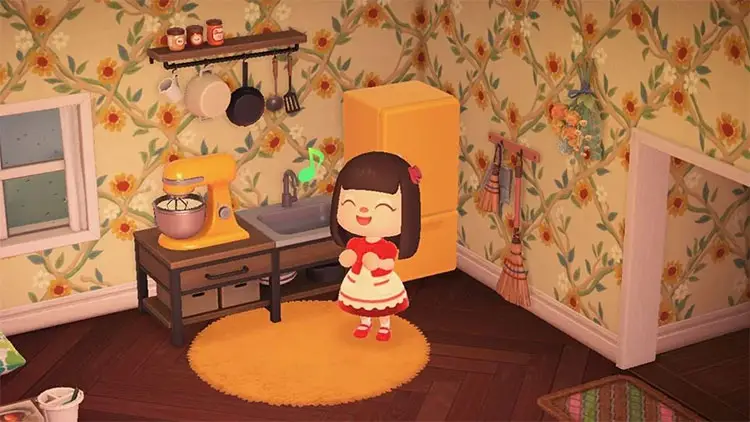 Source of the image: @LUTHIE CROSSING
Location is the most important real estate rule. The placement of your kitchen can sometimes make all the difference.
Turn your dull, old dock into a restaurant if you're sick of it!
Create some iron garden benches and tables to use as seating, and display some sweets, such as a wedding cake, to whet your appetite.
Outside, the specialized standees provide good fake windows, and the specialized plant arrangement enclosing the area adds even more flair.
11. Kitchen for fine dining outdoors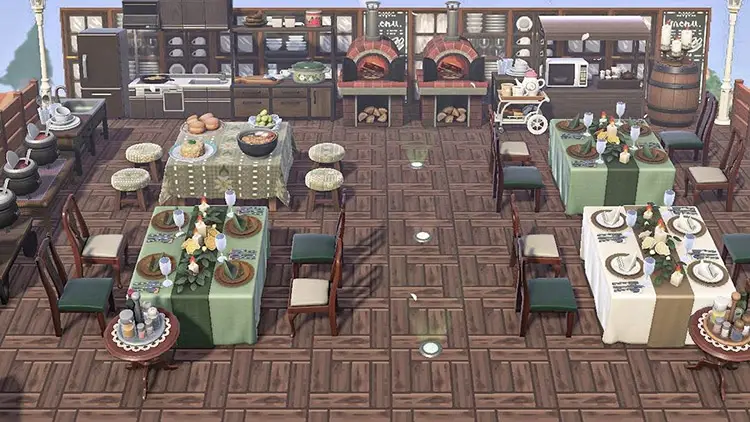 Source of the image: @GEMINI ACNH
Everyone enjoys great meals, right?
This gamer went through a lot of trouble to add details to the shading of the planks and arrange them in this lovely pattern, so I enjoy their custom wooden flooring.
You'll need some wedding tables in various colors and antique chairs for some elaborate seating if you want to redo this yourself.
I particularly appreciate the attention to detail in the modest, bespoke panels that are behind each brick oven, stall, and kitchenette. All the excellent china is displayed here.
10. Little Kitchen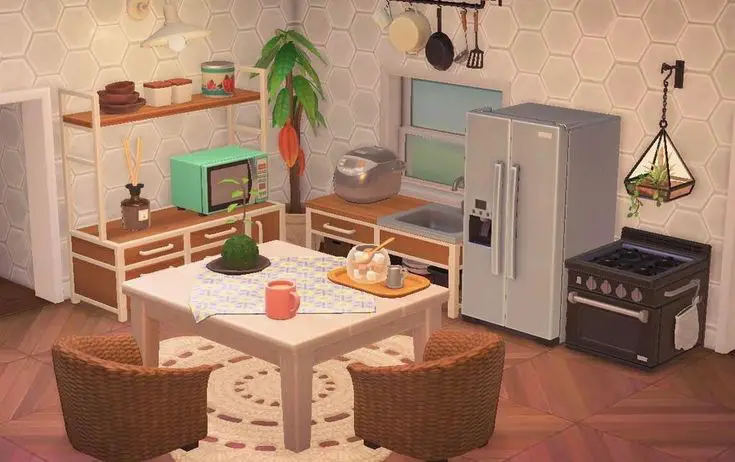 SOURCE OF IMAGE: KISAHEART22
Lacking sufficient floor space? For individuals who simply want to build something straightforward, this kitchen idea is ideal.
And it's really simple to do: start by putting down some basic flooring; any would do.
Just the necessary items—a fridge, a stove—should be added. Alternatively, you can enhance your room by adding additions like a golden screen and an ironwood kitchenette.
Then let's add some yellow accents to make it stand out. I'm loving that mixer so much.
And just like that, we have a charming kitchen in a small area of our house!
9. Pink Room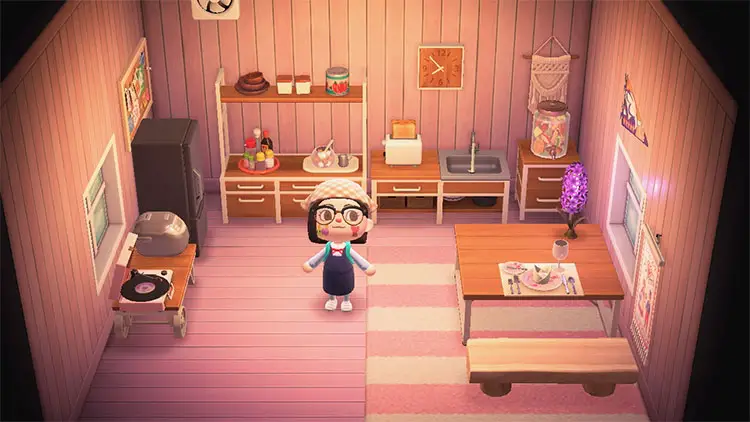 Source of the image: @ESH13261326
With its soft pink tones and adorable odd rugs, this lovely kitchen is the ideal complement to your AC home.
Start by including some adorable pink timber floors and wall cladding.
To make it even cuter, add a hyacinth light and a pink fluffy rug!
Then include some kitchen appliances, wooden tables, and chairs. There are many options, so pick the semi-neutral furniture sat you prefer.
Add some cute finishing touches, such as a wall hanging made of macramé and a clock that matches.
8. Elegant Kitchen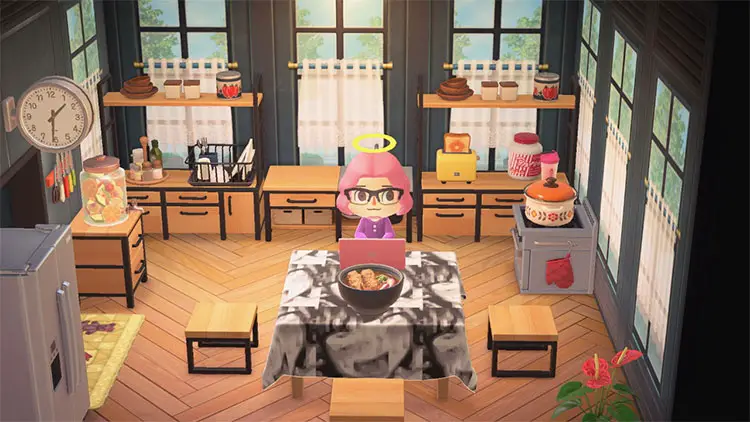 Source of the image: @DIZZYNEM
With this trendy kitchen layout, stay current.
There is a ton of space for imagination here, but you can also quite nearly mimic the example above.
All you require is a line of kitchen cabinets against a wall.
Put up your preferred window-themed wallpaper to give the room a "grandma's house" vibe.
You can also include whatever type of wooden flooring you choose.
Don't forget to add complementary kitchen appliances, and presto, you own the most fashionable house on the island.
7. Chic Kitchen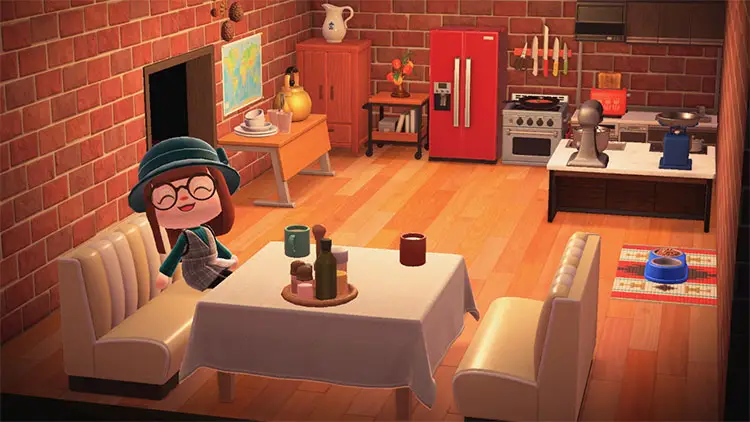 Source of the image: @FORTUNAISLE
This kitchen layout is gorgeous. It provides just enough room for an eating area while still feeling comfortable.
Start by adding a brick wallpaper to keep it feeling a little "subterranean" if you want to recreate this. Additionally, you can add some wooden flooring or, if you want, linoleum.
Then, to complete your ideal dining space, add a table and a couple of light-colored diner sofas.
Don't forget to set out some food and beverages as well! When friends come over to visit, this is ideal.
Even a small bowl of food for your pet cat or dog is an option.
Then add a few kitchen appliances to finish off the design.
6. Maritime Kitchen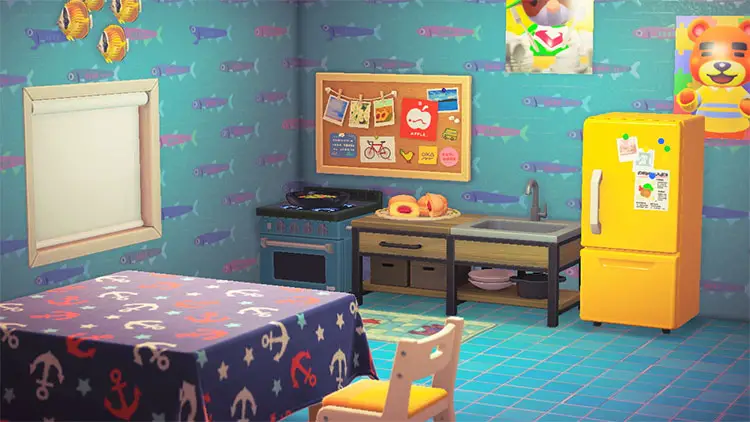 Source of the image: @NO I XLON
This mood is perfect for you if you love to fish or are an avid fisherman.
Try this charming kitchen with a nautical motif with the few available design spaces.
To maintain the color concept, lay down a blue tile floor first, and then hang blue fish wallpaper over it.
Anything yellow or orange would look good here; try adding some vibrant touches like a yellow fridge and a bulletin board.
You can also add some wall decor, such as yellow fish decorations or perhaps some posters to maintain the motif, to the room.
5. Witchy Kitchen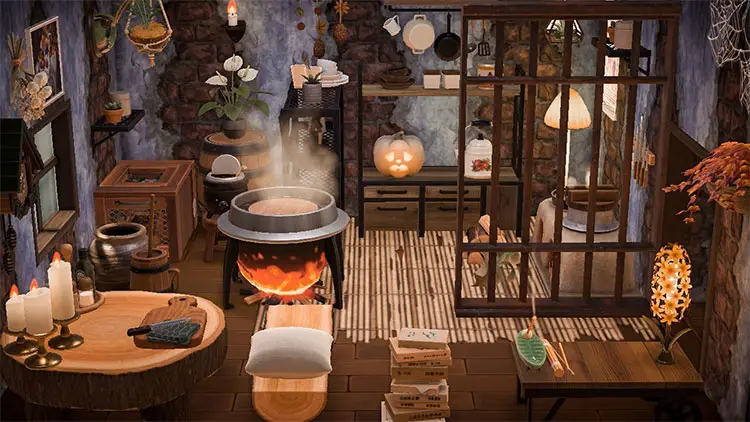 Source of the image: @LANALUUACNH
With this witch-themed kitchen, you can keep the Halloween spirit going all year long.
You can concoct a variety of spells and have frightfully fun whenever you want!
Simply use any brick wallpaper and add some hardwood flooring to get this effect. Perhaps place a bamboo mat there as well.
This is where your Halloween decorations will come in handy, so experiment with a few different kinds of candles and pumpkin lanterns!
And to give your kitchen that eerie glow, add a hyacinth lamp.
You may also put some prison bars there. Just a bit more to heighten the eerie atmosphere.
Don't forget to include the iron and wood kitchenette, albeit making one will require some DIY carving.
4. Japanese Bar & Kitchen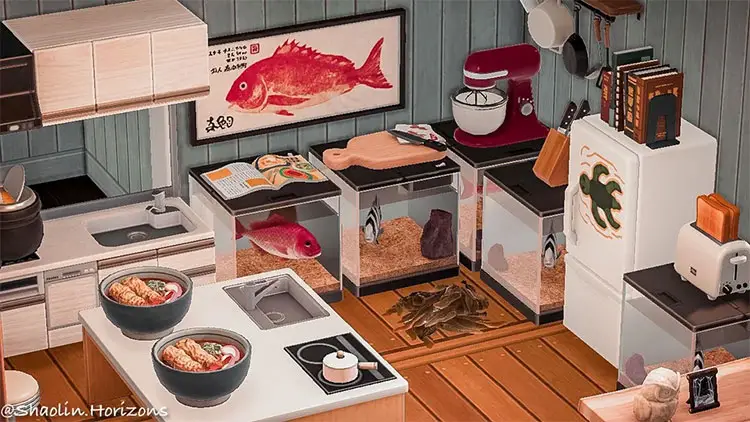 Source of the image: BOWNEETA/@SHAOLIN.HORIZONS
Has someone mentioned sushi? Please, yes!
Everyone's dream kitchen should be this incredible sushi-themed one. Unless you detest seafood, that is.
Start by installing a simple wooden floor and keeping the color scheme light to produce this beauty.
Here, include some white appliances like a toaster and a refrigerator.
That's a large one, so make sure to place some sushi dishes on your countertops!
And if you go fishing frequently, don't forget to include some of your daily hauls. The fish tanks are a great addition to the space. All you have to do to automatically place the fish in a tank is tap on the fish in your pockets and choose "place."
3. Maroon Kitchen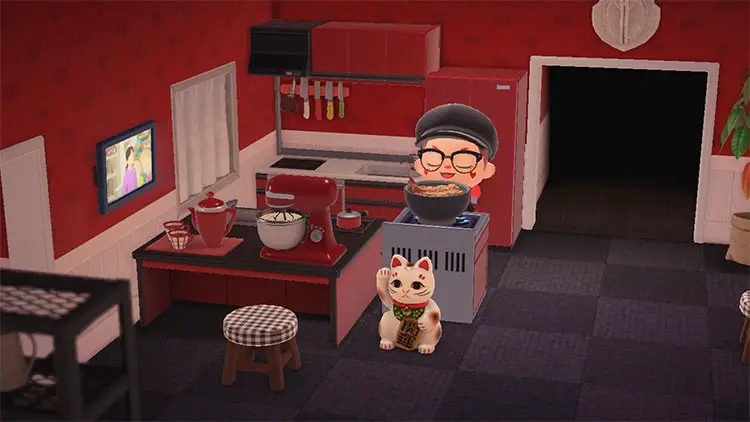 SOURCE OF IMAGE: @BEASTAWERENSFW
Hearts and a carpeted floor in a deep, dark red color. No one expected a kitchen to be so cozy.
Start by hanging wallpaper with red hearts and a darker-colored carpet to create this at home. Nearly anything like this will work, but the checkerboard design is particularly attractive.
Don't forget to complete your color design by adding red countertops and a mixer that matches them.
You can also decorate the walls, but don't forget to put your knives on exhibit there as well.
Add a plant and some snacks to complete the dish.
2. Café Kitchen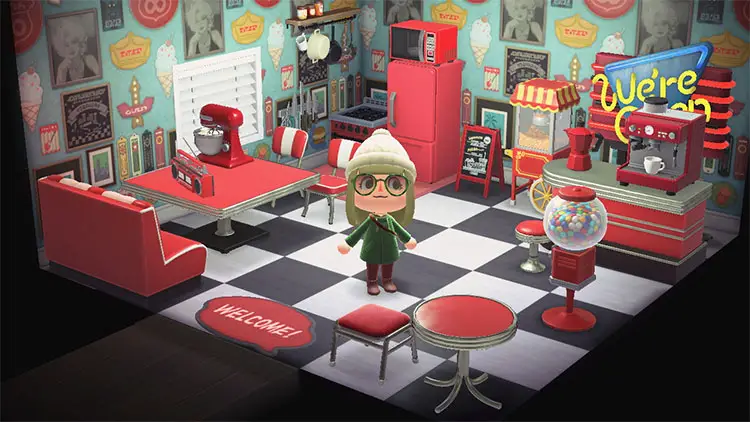 Source of the image: @JNP709
Anyone would want a full-fledged diner in their kitchen, right? It would be a mistake to ignore this 1950s style.
To start, just hunt for any restaurant wallpaper to add to the walls. It can take some work to achieve this entire appearance.
And then create additional tables and chairs for a diner, retaining the vibrant red, black, and white color scheme throughout.
Naturally, we also require coordinating countertops and coffee makers.
Not to be overlooked are kitchen items like your refrigerator and microwave. To properly nail this design, you'll need those.
And to give it that authentic diner feel, add a little "welcome" mat and a gumball machine.
1. English Dining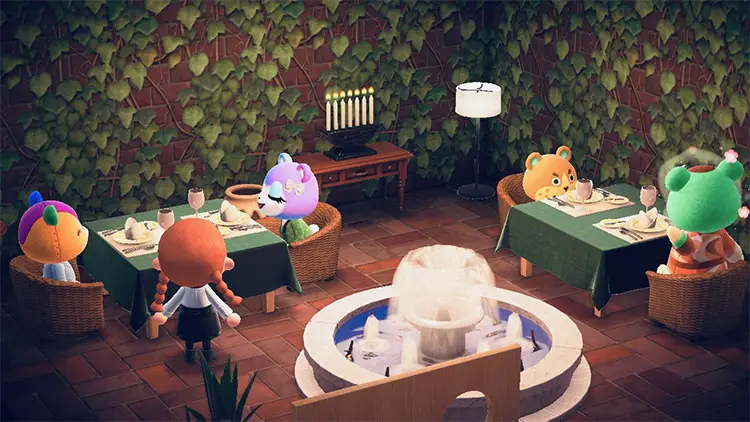 Source of the image: @ACNH.RACH
First, create an eating area by including some cloth-covered tables and wooden garden seats.
To display all the desserts you can offer in your kitchen, make some ironwood cabinets next.
Add some tea and pastries to the tables to complete them. I'm referring to everyone's favorite wedding cakes, classic tea sets, teapots, and tea cups.