Animal Crossing: New Horizons is a popular game with a large number of fans.
As with any playground game, you have to be creative to win.
That means there are lots of cool Island Design ideas online.
We have put together a lot of idea galleries for ACNH, from gardens to interiors to entrances.
But what if we put together a long list of the best things?
We want to make a master list of the best ideas for building in New Horizons.
60. Storefronts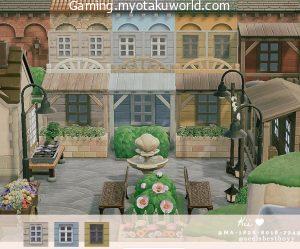 There are often small towns and cities on Animal Crossing islands, but I've never seen one with such huge stores!
@aceisbestboyy makes them in a creative way by combining their own Custom Design with Simple Panels, Short Simple Panels, Castle Walls, Storefronts, Plant Partitions, and Hedges.
The Custom Design code is helpfully given in the Twitter post, so if you want to try out this island idea, it's easy to download.
59. Riverside Town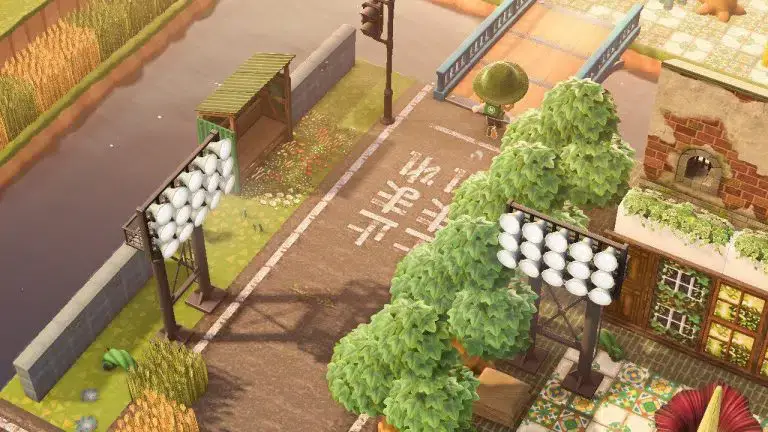 This island theme idea from @mousepaladin will make you think of a quiet town by a river.
Make riverbanks around your island and add a few Wheat Field tiles, some Block Fences as a divider for the river.
A Custom Design path for the road, a couple of Stadium Lights to light the way, and a Retro Transportation Stop to finish the look.
58. Kirby Car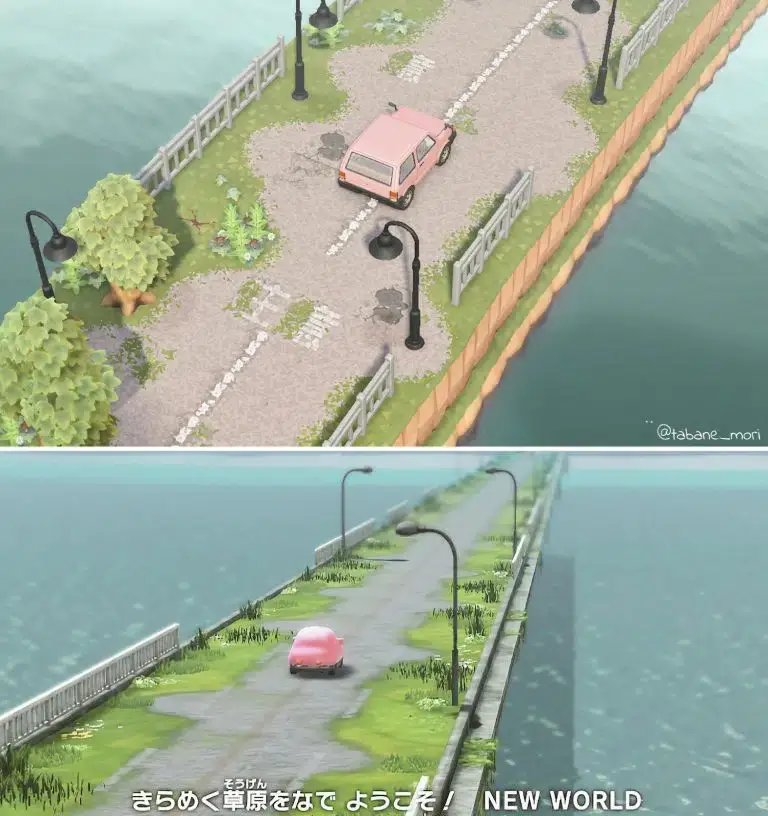 Kirby fans can be happy!
This really unique island idea comes from @tabane_mori. It's based on a scene from Kirby and the Forgotten Land, the latest Kirby game.
You can also have a car Kirby on your island with a pink Minicar, some curved Streetlights, some land terraforming, and Custom Designs for road and grass walks.
57. Abandoned Drive-in Cinema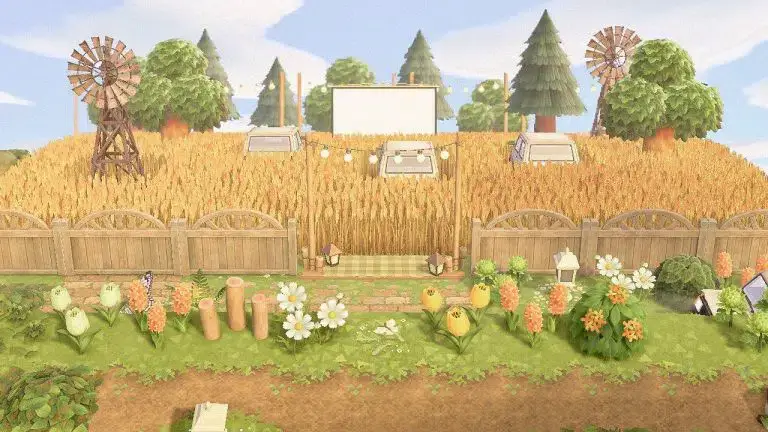 There's something sad and nostalgic about abandoned places, and this idea by @goldiehorizons definitely brings that melancholy, nostalgic, and spooky feeling to the table.
Use a lot of Wheat Field tiles, Windmills, a few Luxury Cars and Minicars, a Projection Screen, a Plain Party-Lights Arch for the door, and Wood Partitions to make an abandoned drive-in theater on your island.
56. Waterfalls Entrance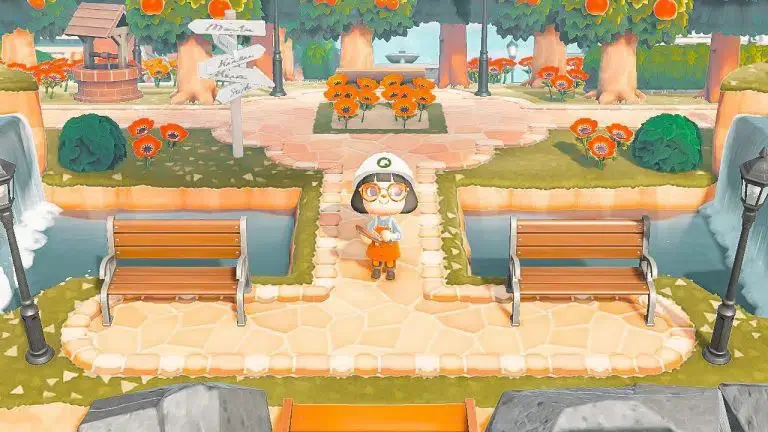 "What do you think I should put on my Animal Crossing island?" You ask.
Well, your door is a good place to start. It's one of the first things people who come to your house will see.
Here's a great idea for how to get to an island from u/Te_re_sa! It isn't hard to understand or hard on the eyes, and it uses a lot of tools and things that are easy to find in the game.
This is also a good idea for a first island because it isn't too hard to do. Just use terraforming to make rivers and a land bridge, use Terra-Cotta Tiles as your paths, make some Garden Benches and a Destination Signpost, and get a Streetlamp from your Nook Stop.
Only the border is new, but Reddit user u/boba_teapot was kind enough to give me the code for the tile border, which is a Custom Design by u/melissenpai.
55. Castle Walls in Town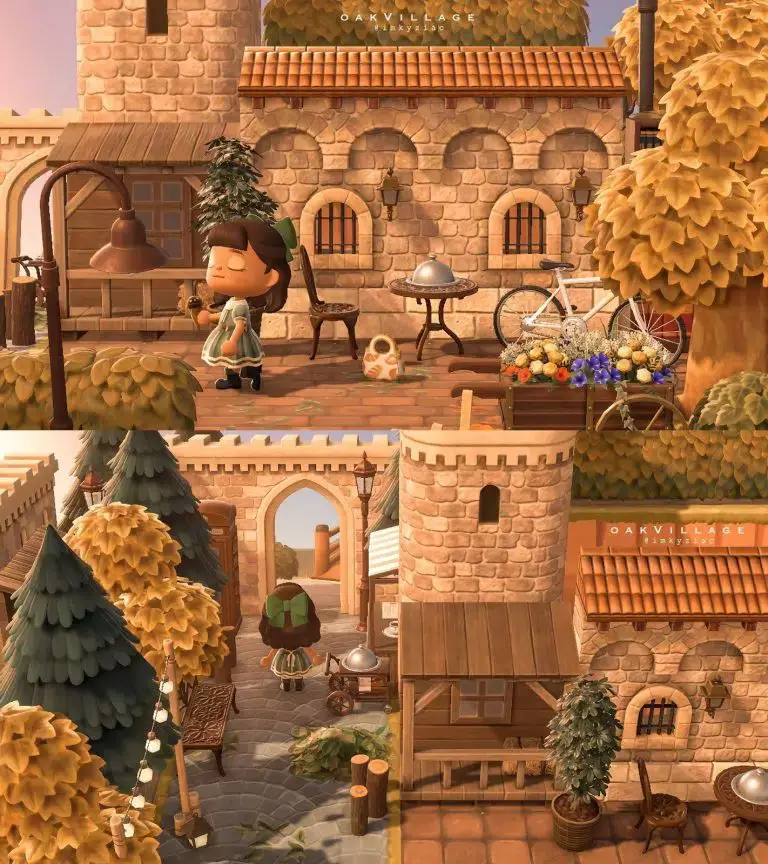 A cool island theme idea is to use Castle Walls and Castle Towers to make your town look and feel cozy.
To finish off the look of a castle town, add some arched tile or brick paths.
In the past, there wasn't much outdoor furniture in Animal Crossing, so people had to get creative with what they had.
Your island can look better by adding a Storefront, a few different trees, and outdoor furniture like the Iron Garden Table and Chair.
54. Museum Castle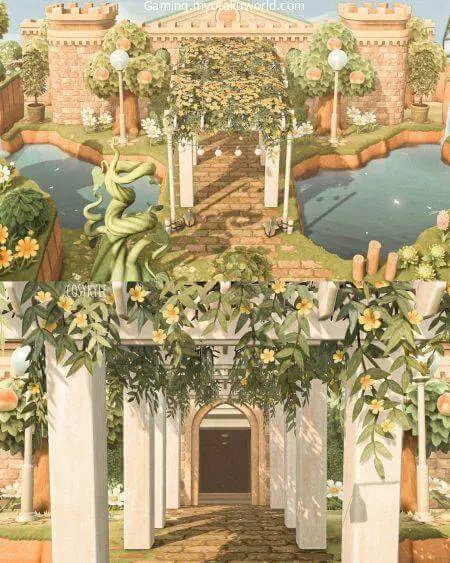 With this idea, you can make the opening to your museum as grand as you can. @cosykyle uses Castle Walls, Castle Towers, a Castle Gate, and several Pergolas in creative ways to make the museum on his island look very grand.
If you want your Animal Crossing island to be the best one ever, having a museum that looks great seems like a good place to start.
53. Decorating Blather's Tent
Make Blathers' Tent more interesting by making it a good place for fossil fans to hang out. It's too bad this is only brief because you need to unlock the whole museum to move forward in the game.
But a temporary cool idea like this is fun to try, even if you are just starting out.
@mineggie added a Green-Leaf Pile, a Bamboo Basket, a Tiny Library, a Stack of Books for all the scientific papers and encyclopedias, and a Green-Leaf Pile to this design.
Blathers has a Handcart from all the fossil digging he does and an Artisanal Bug Cage to keep the bugs from bothering him.
52. Fenced Flower Beds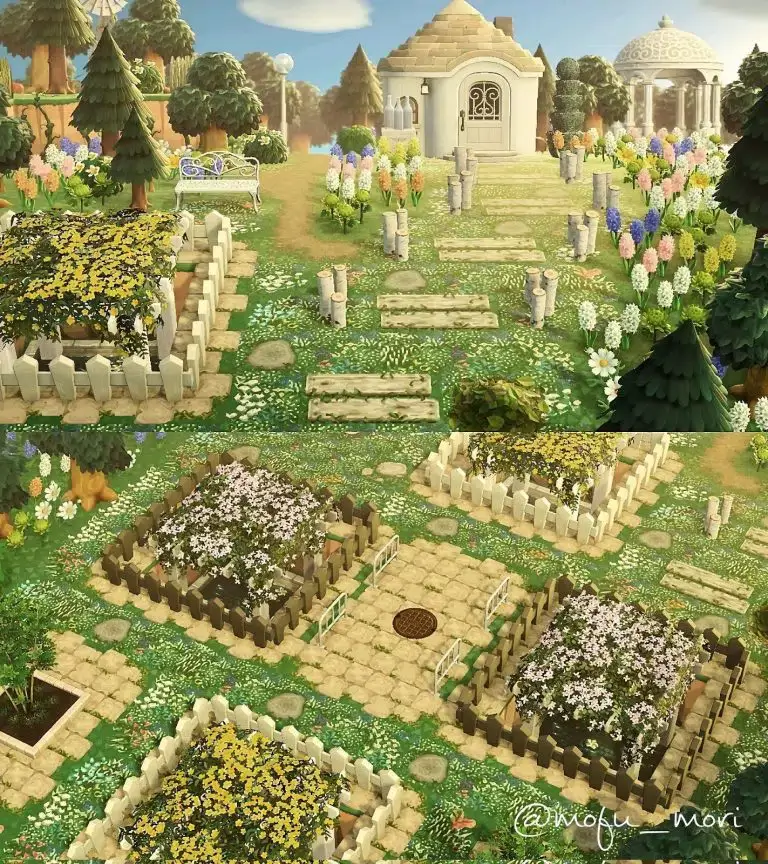 Try putting a few flower beds on your island for a different kind of flower garden. You can make square flower beds with the help of the Simple Wooden Fence.
But @mofu_mori's idea is so clever because the flowers are actually Pergolas that are buried! I have to say, this is one of the best ideas I've seen for Animal Crossing Island so far.
Put your favorite handmade Design paths around the beds and add some handmade Log Stakes, and your flower garden will look just like this!
51. Flower Garden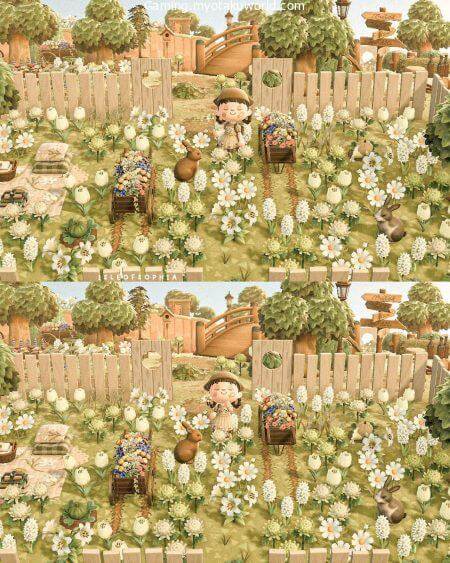 Flowers in Animal Crossing can be pretty, but if you let a few grow for a while, they will definitely take over your island. Putting a fence around them is a great way to get them to behave.
@isleofsoph's idea for an island theme is to put white flowers in Vertical-Board Fences.
Add a few Garden Wagons, some Bunny Garden Decorations, and a small space for a picnic. Your flower garden will look very pretty in the end.
50. Spring Picnic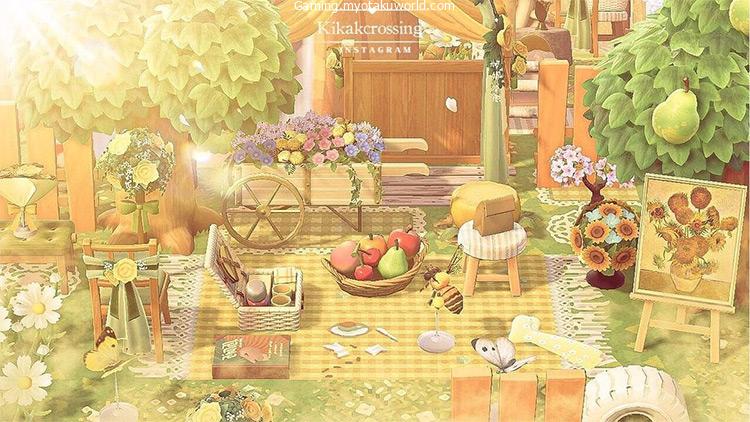 I really want to go on a cute picnic now that the weather is getting better.
And here's a great place on your island to have one!
This is a happy place with a lot of flowers, both in the ground and in pots.
An open picnic basket, a range of fruits, and a lunch bag are all you need for snacks to invite villagers or friends to eat with you.
And the scenery and bright sun will make it a good time for sure.
49. Pirate Camp
Some people like the spot, while others don't like it at all.
But you can't get rid of it.
So you might as well enjoy it…
And sometimes that means making it a pirate theme!
Put on your swashes and grab a bottle of rum, because this is the perfect pirate hideout, complete with a cloth tent, swaying palm trees, and a big chest of booty.
No happy roger? No problem!
Since Nintendo gave us that Mario marketing update, you can totally get away with using a Bowser goal pole flag instead.
48. Whimsical Jungle Path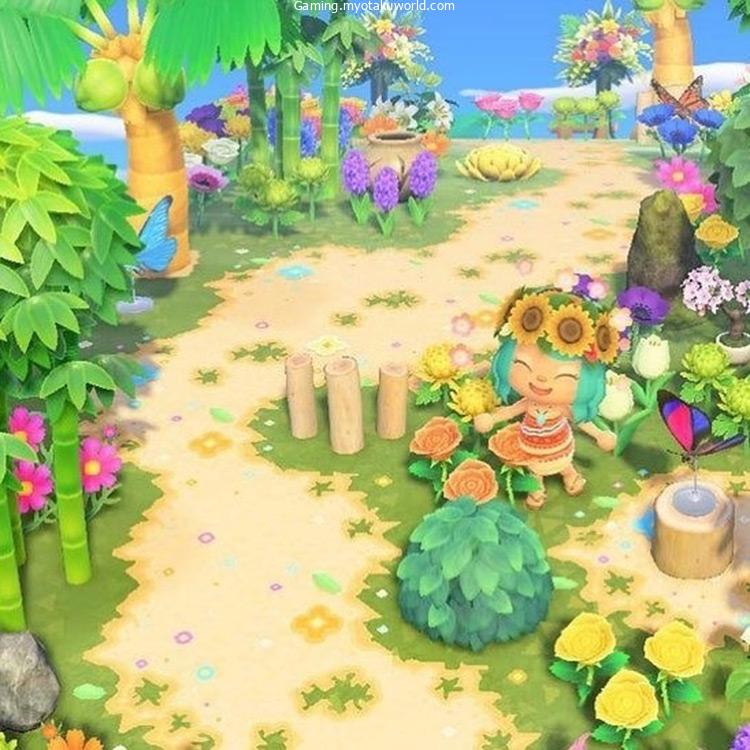 Here's a bright idea for that strange road you don't know what to do with!
This would be the best way to get to the beach, what with the handmade walkway and ALL of the flowers, thank you.
Put in some palm trees, grass, and anything else you want, and you're done!
Beautiful, colorful road that butterflies love.
47. Beach Bonfire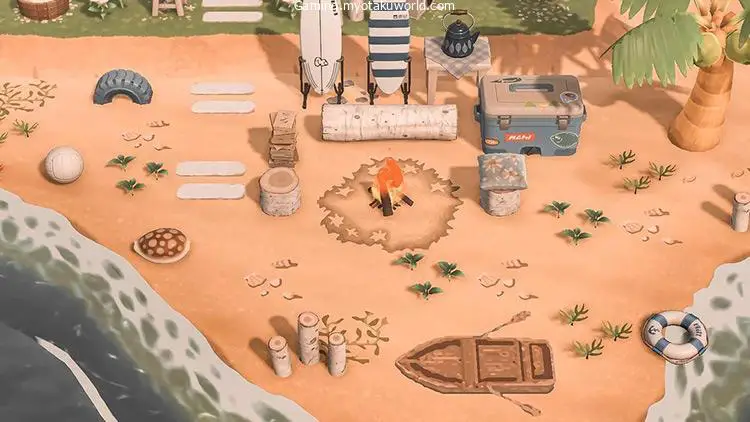 Here's an idea for a place where you and your friends can have a bonfire.
This player added a washed-up tire, some weeds, and even a rowboat to the beach to make it more realistic and show that beaches aren't always clean.
Invite your online friends over for s'mores or a cold pop and a chat. There is enough room for everyone.
46. Pastel Neighborhood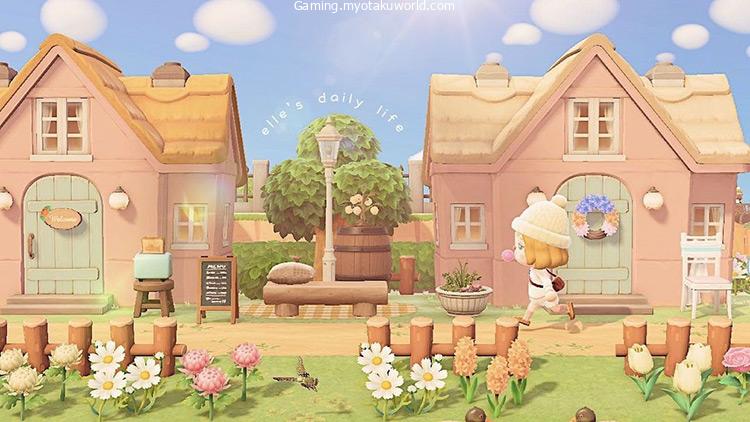 Listen, I love me some good colors.
And I'd give almost anything to live in a pink house.
So, I like this streetscape because of the pink houses and the cute mix of flowers, wood fencing, white lamp posts, and what looks like comfortable sitting.
This looks like something from a Ghibli movie, and I'm all for it!
45. Purple Mermaid's Perch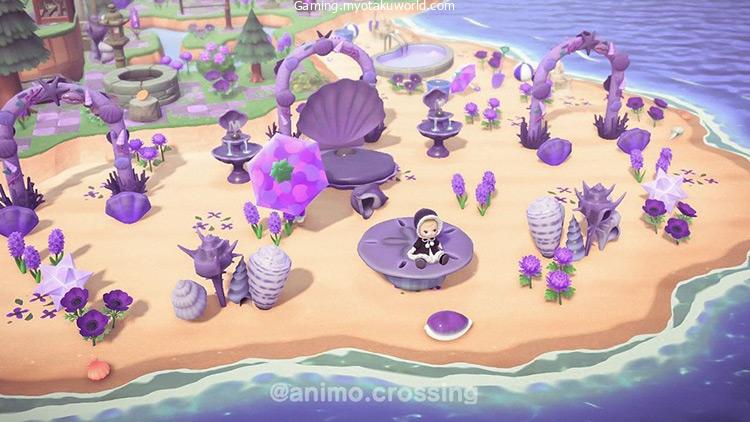 This is such a fun build.
Because the little cutscene on the airplane with the view of the island makes people go… "Huh?"
This strange build is made up of a lot of purple things, like shell towers, flowers, and even a pool.
It's great if you like purple a lot or if you like people asking you what's going on.
No matter what, it's good enough for a fish princess.
44. Quaint Little Garden
With its mix of pumpkins, bushes, and flowers, this design looks like a yard from the time of Jane Austen.
The stone path and the pond are nice touches, but the duck is by far the best thing.
Having both real trees and potted plants like monsteras gives this building interesting levels and depth and keeps it from looking too neat and similar.
Ideal for a yard area that is overgrown or hidden.
43. Outdoor Reading Spot
Attention all book lovers!
Here's a great design idea for your island if you like being outside and reading.
If you get hungry, there is coffee and jelly-filled doughnuts, and there are also soft pillows to sit on.
Spend the afternoon in this great spot soaking up the sun.
It's also easy to make again.
All you need is a rug, a cup of some kind, some hay bales, and any other decorations you like.
42. Tropical Outdoor Pool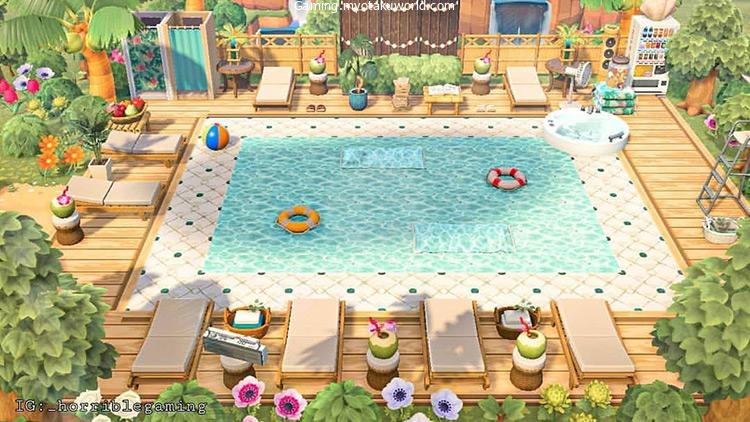 We can't swim in New Horizons, which is kind of a shame.
But that shouldn't stop you from building your own pool.
With this idea, it's all about the custom lines.
If you don't want to make the tiles by hand, you can also find lots of codes online.
Place lounge chairs around your temporary pool so you can relax and get a tan. Don't forget to bring some floats or pool toys, too.
Everyone will be safer with a lifeguard chair. And showers are another nice feature.
41. Fairytale Forest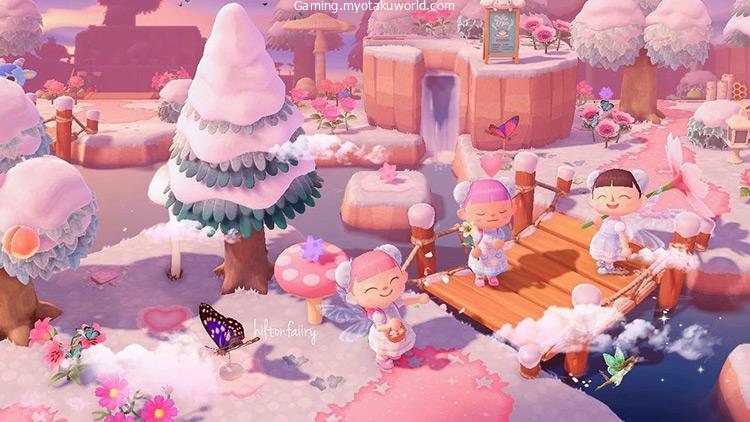 The snow looks great on this very pink and very strange forest.
This fun build with a cute fairycore style is built around a lot of flowers, mushrooms, and trees.
What a great place to fish and catch bugs and butterflies!
Star fragments and starry custom trails also give this place a magical feel.
40. Elegant Sitting Room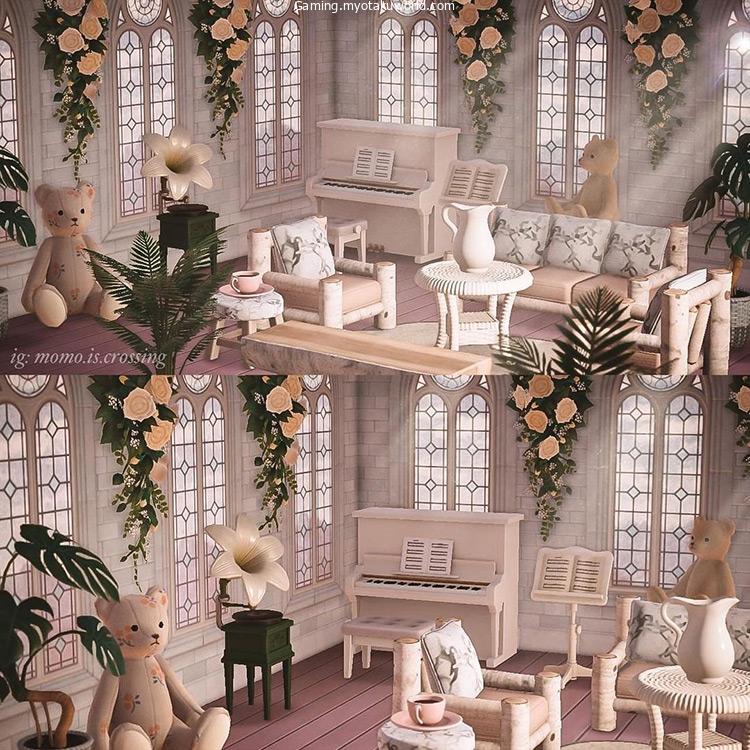 Obviously, the outside parts of your island are important…
But we can't forget about the inside of our homes!
This beautiful living room is mostly white, which makes it look light and airy.
With features like a gramophone, piano, and teddy bear friends, it's a beautiful place to just sit and relax, and maybe catch up with friends over tea and cookies.
39. Laundry Spot
This is now a great addition to a cottage-style table.
Even though New Horizons has washers and dryers, they're not nearly as fun as this old-fashioned system.
Use a good old-fashioned washboard and the natural stream to wash your clothes, and then find a place to hang them up to dry.
There is also a water pump if you don't want to use the river.
Chores might not be the most fun thing in the world. But some fresh air, pretty flowers, and warm weather can make them more pleasant.
38. Gown Shop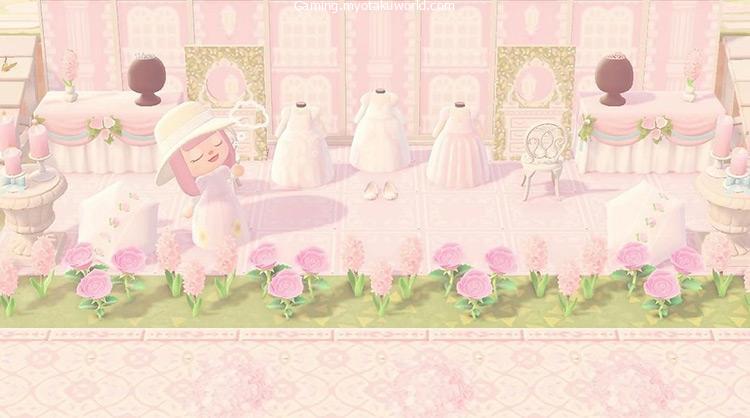 Those of you who like dresses as much as I do should definitely take advantage of this idea.
Even more so since designing and wearing our own clothes is one of the most fun ways to change this game.
This player made an outdoor dress shop where people could get their own patterns made. The color scheme, items, and dresses all go beautifully together, and they look great against the unique background.
A few candles would also make a nice light for shopping at night.
Also, roses in pink are always a good thing.
37. Froggy Shrine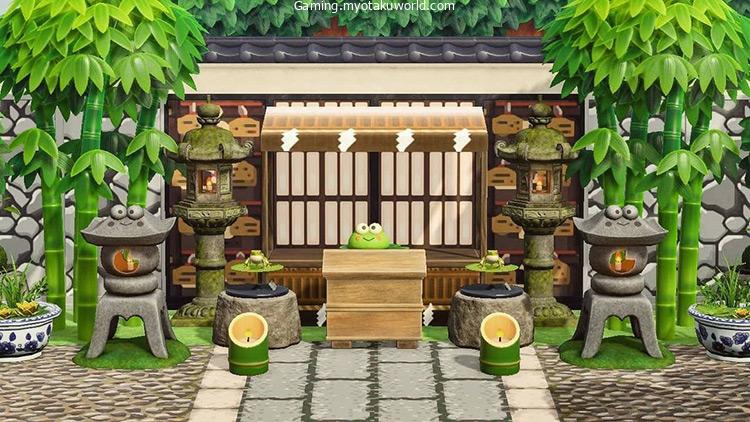 This fun and cute build uses Japanese pieces, but in a clever way:
All of this is for a frog!
Pay your respects to this little guy and leave him a gift.
There are plenty of lit lights to help you find your way if you want to come after dark.
Add some bamboo and pots to this mostly stone building to give it a little bit of green. All hail froggy!
36. Scarlet Apiary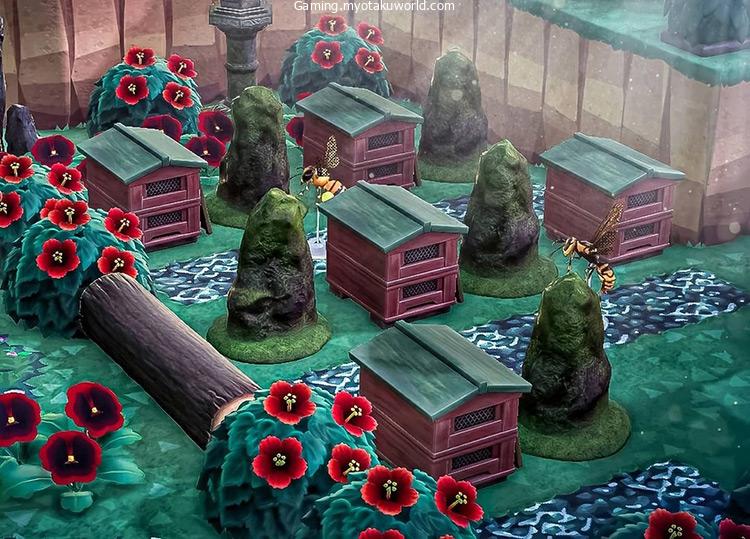 Most of the time, you think of yellow or orange when you think of bees, right?
Not with this beekeeper.
This bee yard is decorated with red bee houses and red flowers.
A great idea for a spot on your island that you don't know what to do with. And you might already have too many parks, if that's even possible!
35. Outdoor Breakfast Nook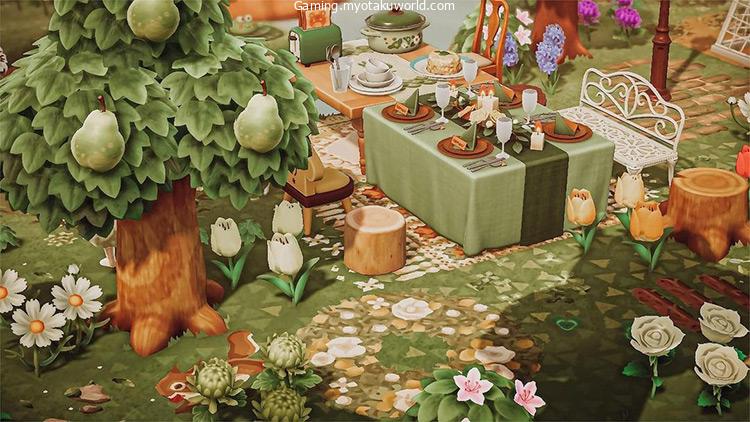 At this big table, there's plenty of room for everyone.
Enjoy breakfast with friends and locals at this cute spot by the river that is easy to make yourself.
Whether you're making waffles, pancakes, or a good English breakfast, the warm smells of fresh cooking will make people run to get a bite.
And since we're talking about fresh, if you like fruit in the morning, pick a pear from the tree nearby. Simple as that!
The uneven seats add a cute touch to this build and also make it easier for new players to get into.
To make this, you can use any chairs or DIYs you already have.
34. Indigo Dreams Campsite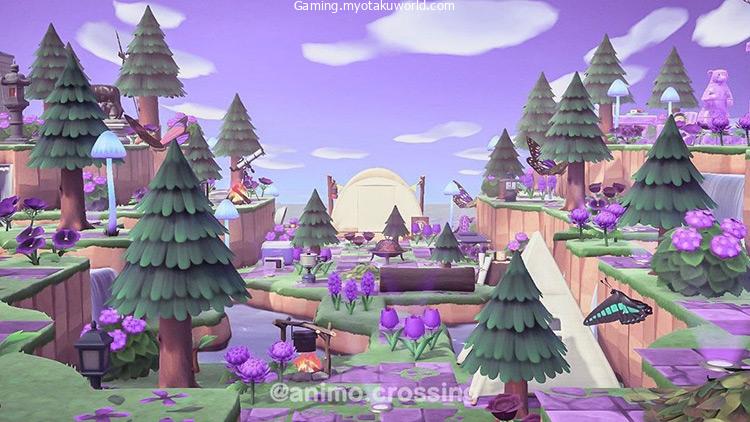 This is another beautiful camping build, this time in all shades of purple.
Get those flowers to grow, though. Because you will need a lot of things to fill this outdoor area.
You'll get a lot of butterflies and, hopefully, a lot of rare people. It will also be a great place to fish.
Overall, this is a great place to hang out with friends and talk about whatever you want.
Above a scene like this, the sky looks so beautiful and never-ending.
I'm sure it would also work well for star showers.
I'm sure that Celeste would love all of the colors.
33. Gothic Bedroom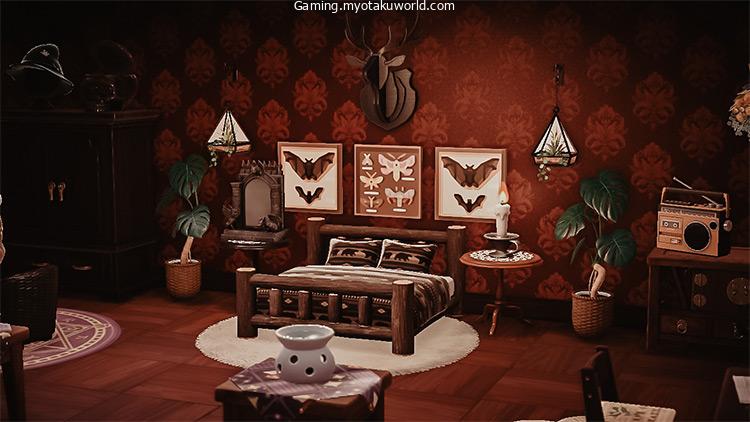 Here's a cool bedroom idea for people who like dark colors and a moody feel.
This Gothic bedroom is decorated with a witchy rug, red wallpaper with a pattern, and edgy plants that hang from the ceiling.
Even though it's dark, it looks very cozy, with soft rugs, a nice bed, and a radio for playing quiet music (or screamo, I guess).
This would be a great addition to any house with a witchy theme, and with all the card reading things, I'm sure there are a lot of those.
32. Tiana's Place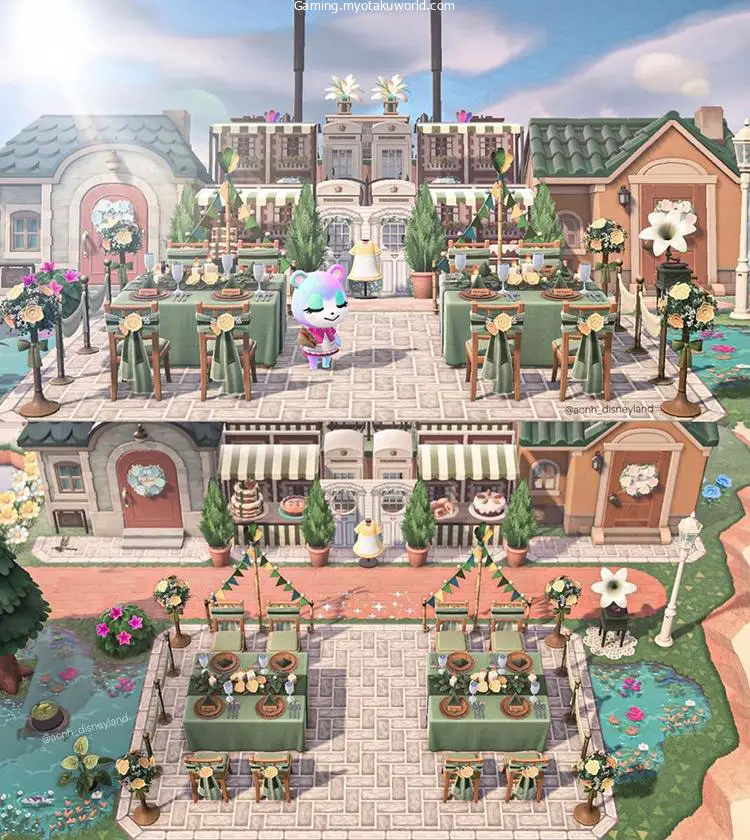 This beach house is a cute reference to the Disney movie "The Princess and the Frog."
The main character, Tiana, is a great place to get southern food, and now you can make it on your island!
This has a great amount of detail.
All of the green makes a lot of sense for something about frogs, and the fact that it's over a "pond" (really just some handmade paths) is a cute touch.
Jazz music is also an important part of this, so ask K.K. Slider to play some tunes while people eat fresh Louisiana desserts and snacks.
31. Seaside Camper Van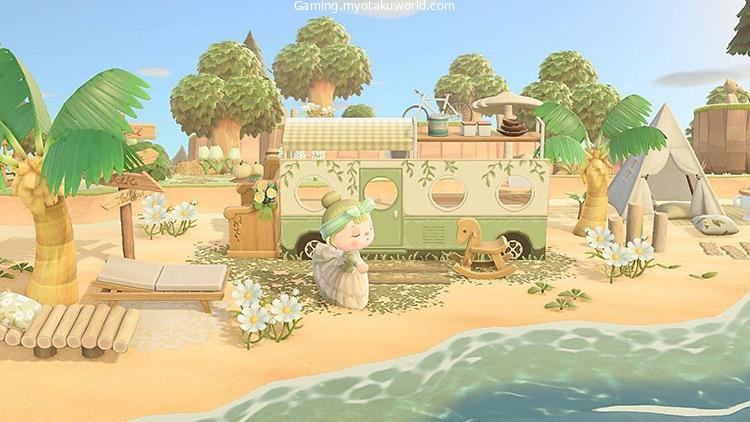 You have to love it when people make things that don't appear in the game.
This player wanted a camper on their beach, so they carefully made one out of handmade panels, a bench, and a shelf.
So smart!
If you want to get away from the busyness of your island, this idea is the best way to do it.
Cause hey, I get it. Those people who are always chasing you to teach you how to use emotes? Stressful. Hectic.
You're real.
This is a great place to swim, catch bugs, and fish with your friends or by yourself.
When you sleep in a tent outside, you can listen to the waves and feel the soft, salty breeze.
Really, it's the dream.
30. Outdoor Classroom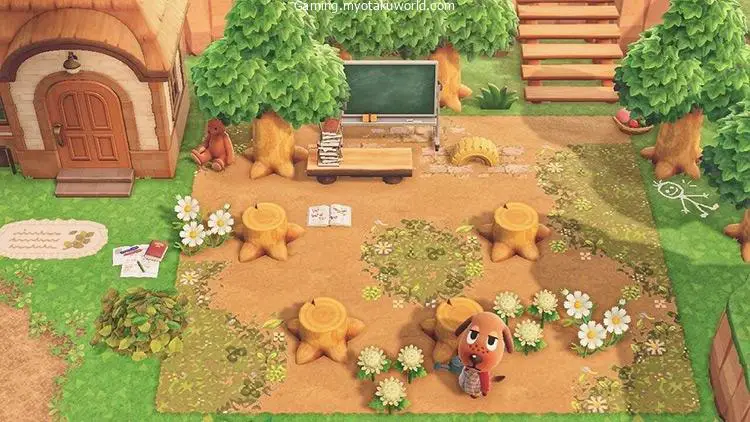 Listen, I love the locals very much, but let's be honest: some of them are so, so stupid.
How could you lose so much?
Use this cute outdoor school to teach these kids a thing or two.
Even if they write their ABCs wrong, a blackboard is a forgiving way to teach them.
This building has books to read and what looks like homework that was left behind… oh no!
Then, when it's time for break, the whole island is a playroom!
Just get back before the second period starts.
29. Coconut Farm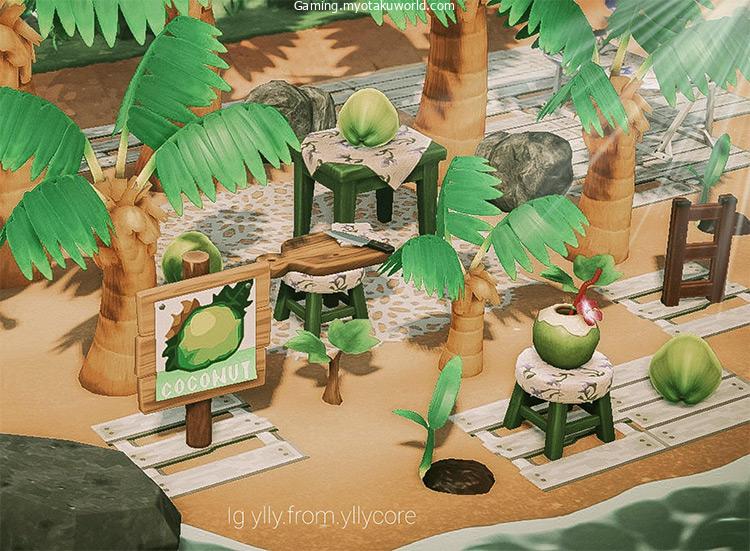 When we see fruit growing on New Horizons, it's usually on the other fruit trees, which sell for more.
This coconut farm is very cool, and it makes a lot more sense on a warm island.
It's a cute little set-up with a board for slicing open tasty fruits to make a sweet drink to enjoy on the beach.
Coconuts grow quickly, so you'll always have plenty on hand.
If you want to make something like this, putting a few boards and rocks on the ground will help tie everything together.
At least the next time Gulliver comes ashore, you'll be able to give him something to eat.
28. Farmer's Market
Do you have a lot of random things that you want to use to raise your star rating but can't seem to find a place for?
No problem! Try building a farm or junk market.
All you need are some tables or booths, and they don't even have to match.
Set them up, and then put anything your people want to look at on them.
Anything you can think of: fruits, flowers, cups, etc.
The best part is that you can change it to fit the season.
Stock up on apples and baked goods in the fall. Flowers or new plants in the spring.
You could even decorate with ice statues and other winter-themed things.
27. Cozy Living Room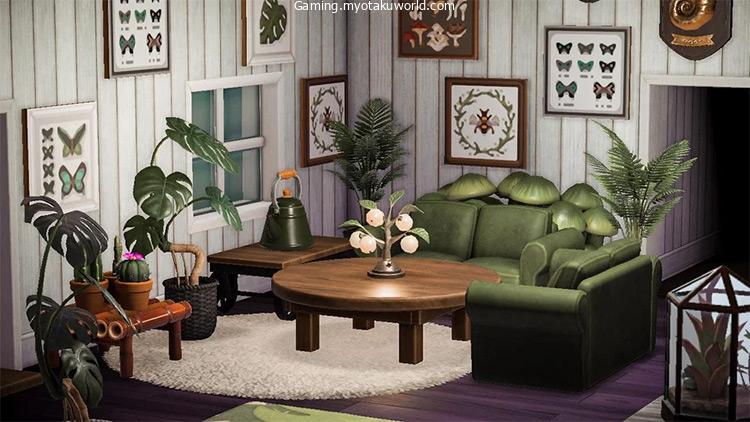 I really like prints of plants, and this living room is full of them.
With all the monsteras, cacti, and other plants, this sitting room is a plant lover's dream.
On a wet day, it's the perfect place to curl up with a good book or a cup of tea and catch up with a friend.
The green couch looks great in this room, but you could do the same thing with a couch in a soft color, like cream or brown.
26. Cozy Library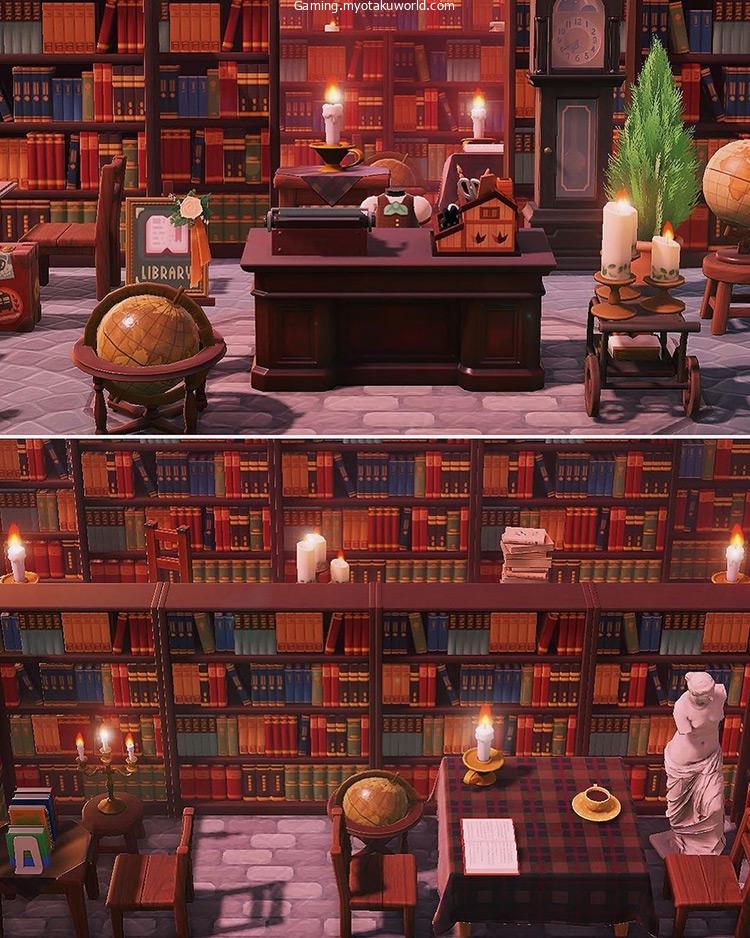 This beautiful library with candles is a book lover's dream.
It is full of not only books, but also things like globes and statues that are unusual.
One of the best ideas I've seen for building a library.
And it's a great way to put things together to make something fun and strange.
Got a spare teacup? Drop it off at the library.
You bought a fake from Redd by mistake? Into the mix.
What's that? Throw it.
Putting lights near very flammable books isn't the best idea in real life. But since this is a game, it's fine.
With the soft light, this would be a beautiful place to be at night. Just don't hurt your eyes, okay?
25. Tourist Beach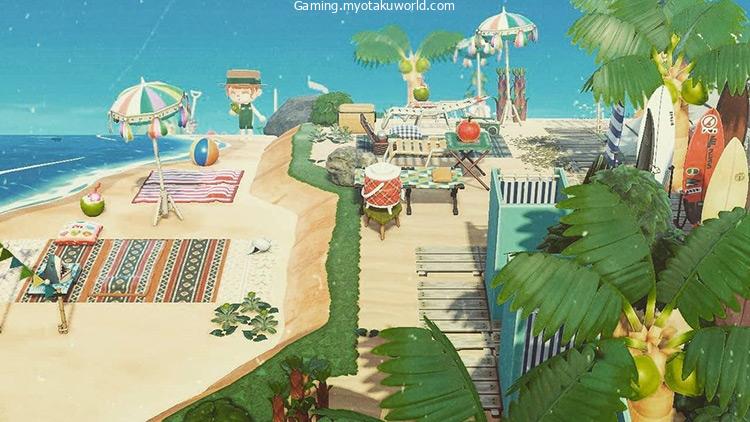 This is a great building to add to your island if you have a lot of guests or just like the look of a commercial beach.
Put all the extra rugs you got from Sahara but didn't like for your house on the sand as makeshift beach blankets and add a few umbrellas for shade.
Palm trees add some greenery, and beach things like a ball and sandcastle, surfboards, and shower stalls are also great features.
Some wood planks on the ground also make it look like a boardwalk.
24. Palm Reader's Hideaway
Is mercury moving backwards?
Come to this magical seaside spot to look at your life and love lines and read tarot cards.
It's a great place to be a seer, and it's also the best place to watch meteor showers.
Lots of pieces of stars add to the feel of the moon. With the candles, it's also a great place to go at night.
Ask your friends to let you read their palms and tell them about their futures.
Just be careful when you read tarot cards. Don't let the scary Tower card ruin a good friendship.
23. Classic Treehouse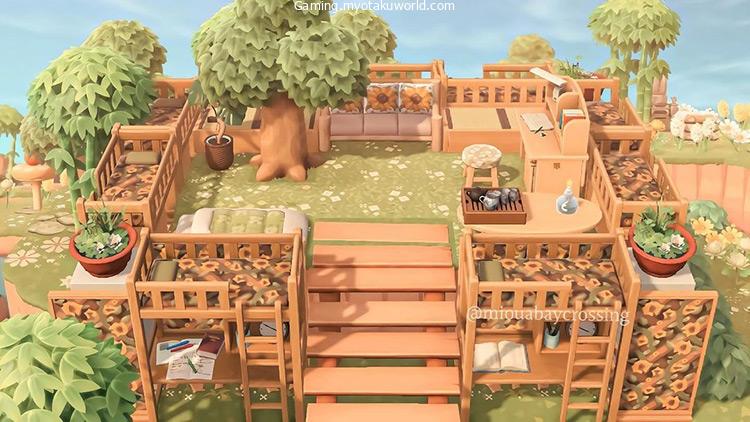 I can tell at a glance that this is a really cool structure.
This player makes a treehouse feel with a bunch of bunk beds, some terraforming, and a set of stairs.
If I had this when I was a kid, I don't think my mom would have ever been able to get me to go inside!
It's a great place to hang out with friends because there's a comfy couch, a desk for studying, and enough beds for a big sleepover under the stars.
Just don't shake that tree if you don't have a net with you. Up there, a wasp bite could kill.
22. Canyon Trail
Here's another trail area that is very clever.
This one looks like a gorge because it has A LOT of rocks in the right places.
A few flowers also add a splash of color without taking over the design.
Changing the terrain is a key part of making this build work. Without it, things would look too flat and strange. So having those amounts is really important.
If you have another building behind some hills, like a secret beach or something, this would be a great idea to try…
21. Secret Beach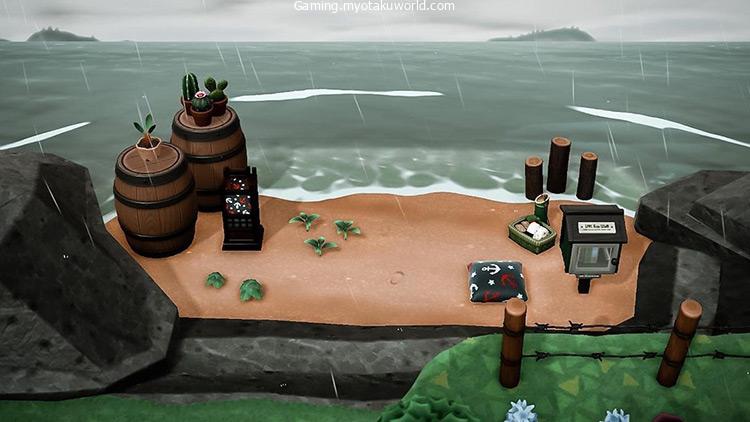 Heh, did you get that?
Depending on how your island is set up, the canyon road to your secret beach may or may not be where Redd docks his super legal boat.
This build is simple, but it works.
All you need are some chairs, some barrels with plants on them or without, and a few other things.
It could be anything you want, but it should be waterproof if possible.
And if you have any extra art pieces, this pattern would be a great place to put them.
20. Brilliant Stone Garden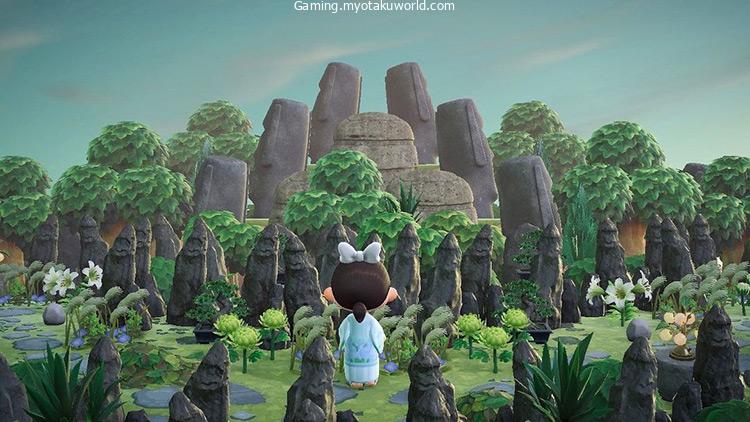 This stone yard is very pretty to look at.
There are all kinds of rocks there, from normal ones to Rapa Nui heads. It's a good place to put the rocks you have to hit every day.
It looks beautiful and natural the way it has grown wild.
So, this is a great build to think about if you have a very natural island.
I never know where to put my rocks, for example. And they never show up in helpful places.
If you're patient enough, you might be able to get them to spawn in this spot on purpose.
19. Starry Bedroom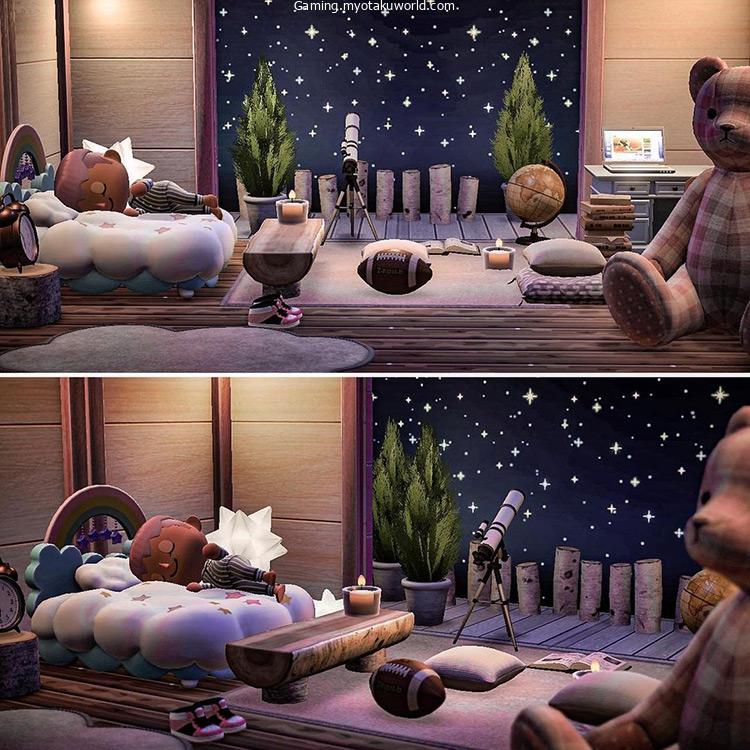 This dreamy bedroom with stars is so cute!
It's a mess in the best way, with things like a football, books, and other personal items strewn all over the floor.
The lucky dreamer is being watched by a teddy bear, who is sure to be looking up all kinds of cool dream addresses.
If you like to look at the stars, this is the perfect bedroom build for your home. There is a telescope set up so you can look at the vast universe.
Also, is it just me, or does that bed look like the most comfortable thing ever?
I might be too tired again…
18. Kimono Shop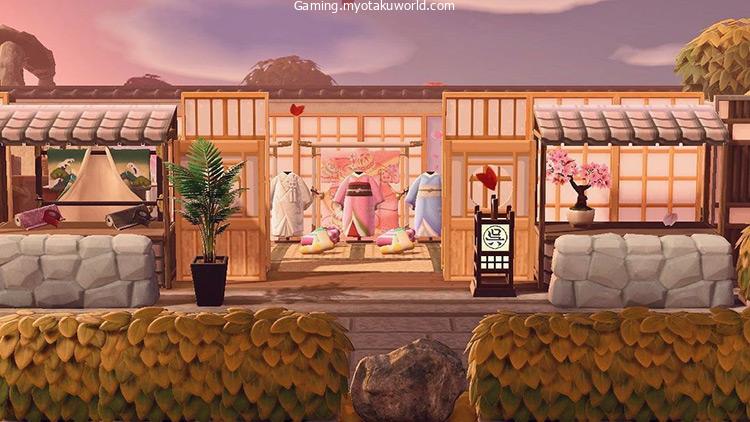 Here's another great idea for an island with a Japanese theme.
This cute little shop sells kimonos and yukatas for all kinds of occasions.
Stands with cherry blossoms and old paintings frame beautiful dresses on show. It's a bright, classy place that would work well in a business area, if you have one.
17. Pompompurin Tiki Bar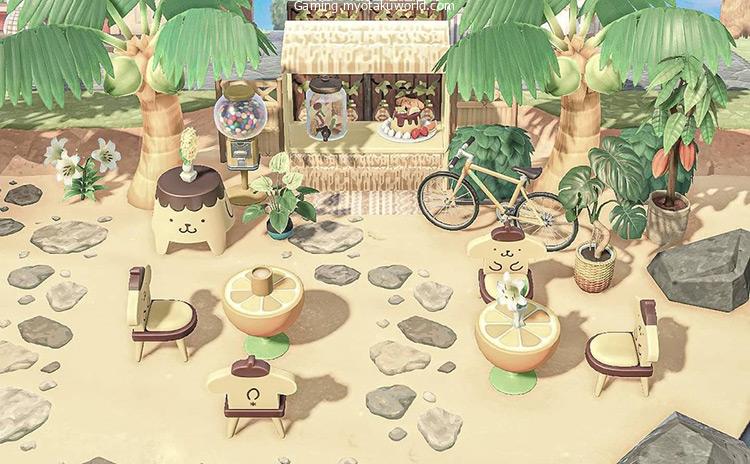 Check out this cute version of the Pompompurin ACNH set.
With the things in this line, a custom-designed stall, some plants, and some stones and pavers, you can make a cute tiki bar.
This idea seems perfect if you have a cutesy island but don't want to fully commit to a more standard tropical theme.
16. Woodland Pond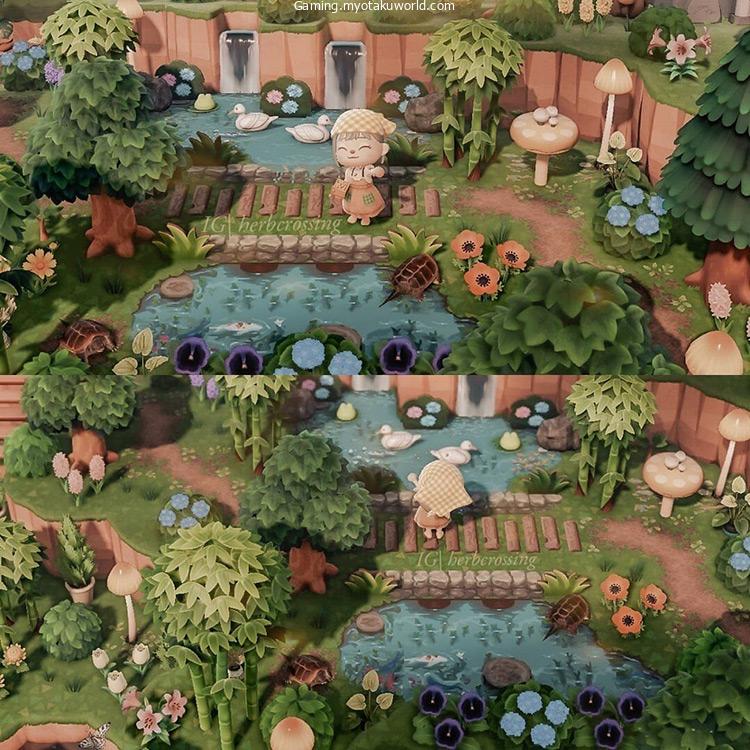 I love this little pond build so much because it has so many little details.
There are ducks, turtles, fish, and a lot of different trees and flowers.
Because you can change it so much, it works really well.
By making unique tiles, you could put any animals you wanted in the "pond." This looks more realistic than just using the water terraforming tool.
Not only that, but this would be a great place to go bug hunting.
15. New Horizons Preschool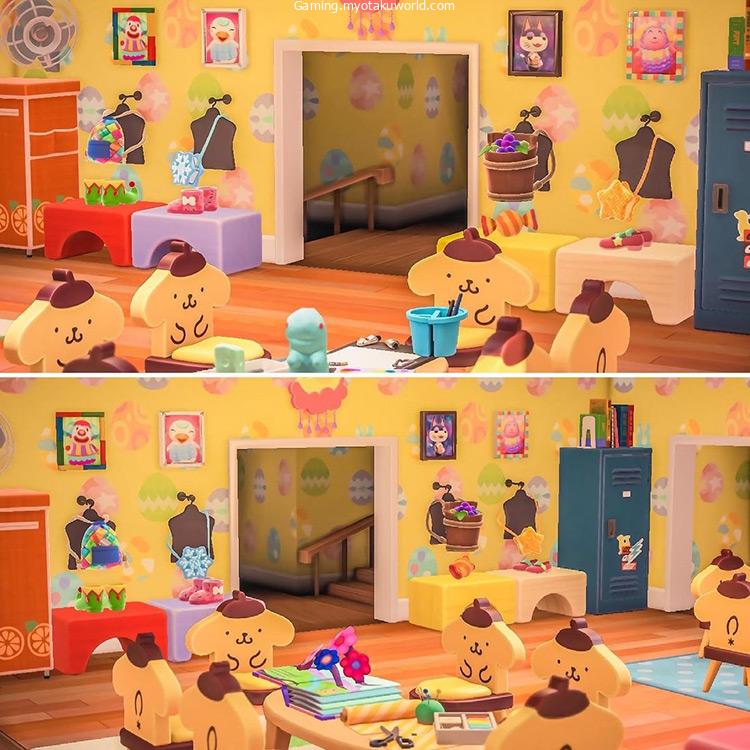 Ok, so maybe the kids in New Horizons aren't real… But they gave us so many cute things that make us feel like kids that we'll just have to pretend.
This cute build uses images of villagers as labels for the cubbies and chairs from the Pompompurin set as tiny seats.
There are lockers and craft materials, as well as a variety of bags and backpacks, in these cubbies.
So cute!
Now I want village babies… Awe, baby Isabelle.
14. Rooftop Pool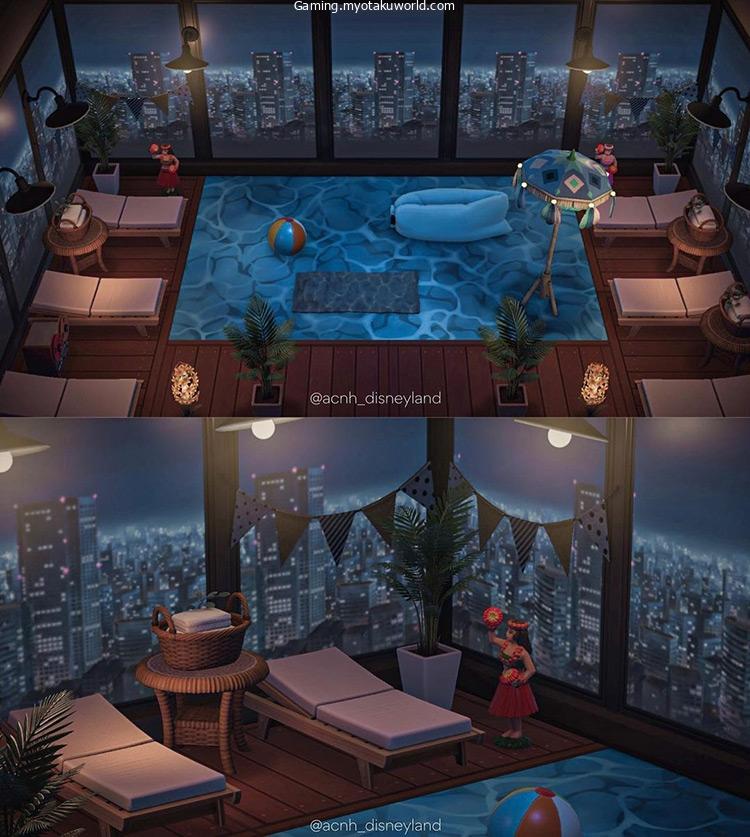 What a cool idea for people who live in cities.
With a rug, some wallpaper, and a lot of lounge chairs, this build looks like a rooftop pool area.
By putting in some pool floats, a ball, and useful things like towels, you can really make the room feel more alive.
On top of your fancy-schmancy skyscraper room (well, fake skyscraper, but still), this would be a great place to relax at night.
13. Sophie Hatter's Millinery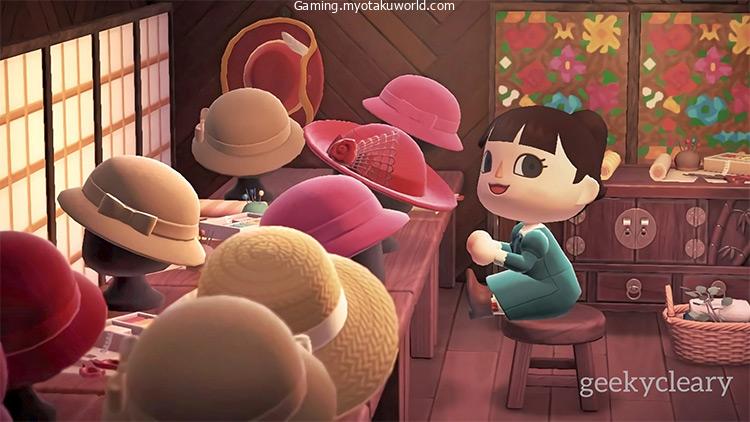 If you like Ghibli movies, you will really like this one.
This player made Sophie Hatter's work station from Howl's Moving Castle.
It's hard work to be a milliner, but hats off to those who can do it!
You can do the same thing by putting as many hats as you can on a wooden table in front of the window. This is a good idea for both new and experienced players.
12. Player's Castle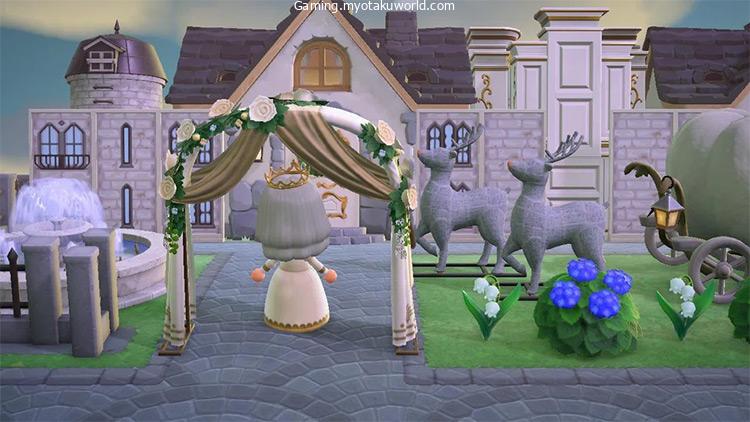 This very clever player used custom panels to turn their small house into a whole castle.
Part of the beauty of panels is that you can do almost anything with them.
The fancy landscaping around this castle, like reindeer pulling a carriage and a pond, gives it a very royal look.
With this awesome build idea, you can live like the prince or princess you were born to be.
11. Scenic Pond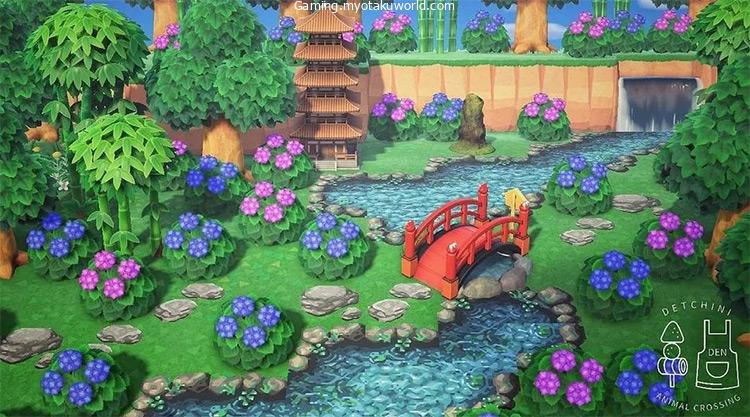 Here's another pond design. A cute path through the woods leads to a bridge over a pretty little pond.
Take a nice walk on a sunny day or jump over puddles on a rainy one to see the fish, flowers, and, of course, the pagoda.
It's fun to catch bugs or take pictures with friends.
In this build, a bubbling waterfall adds some nice scenery, and custom stone paths are a great way to make the place unique.
10.Sleeping Totoro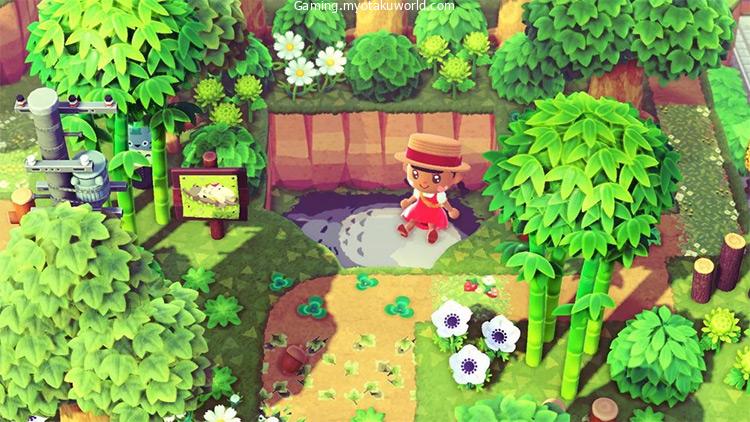 One more thing on this list with a Ghibli theme.
This building seems more like an Easter egg for people who like cartoons…
If you go far enough into the woods on this island, you'll find a sleeping Totoro in the middle of this player's forest.
Obviously, this is done with unique tiles.
Putting in a lot of trees and flowers helps, but letting a few weeds grow is also a good idea. It's important to keep the pattern hidden until you find it by accident.
But you can build yours however you want. This is a really fun idea.
It also looks like a real forest because of the mushrooms and tree stumps.
9. Roadside Flower Shop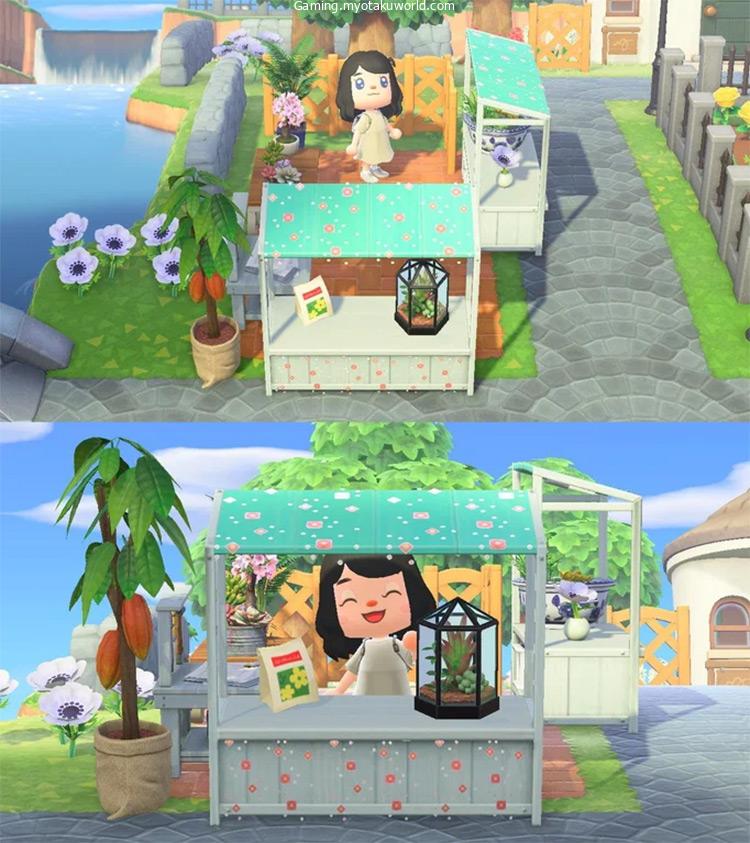 This cute little flower shop by the side of the road would look great on any city or town street.
You can make something like this on your own island with just a few stands, some small potted plants, and a bucket or two of flowers.
This kind of small building is great for making your towns look more natural and full of life.
And it's always fun to see people from the town walk by and look at things.
8. Nifty Bathroom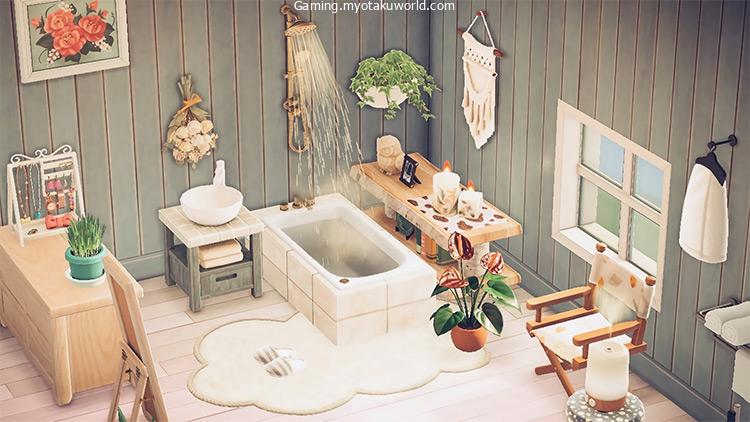 Here's a fun bathroom idea that you might want to build if you have the time.
After a long day of being the island's only source of income, you can relax in this beautiful tub and maybe light some candles.
What more could you want from a bathroom? It has little plants, a lot of storage space, and nice amenities.
When you do get out of that wonderful bath, a fluffy white mat will keep your floor dry and your feet happy.
7. Alchemist's Lab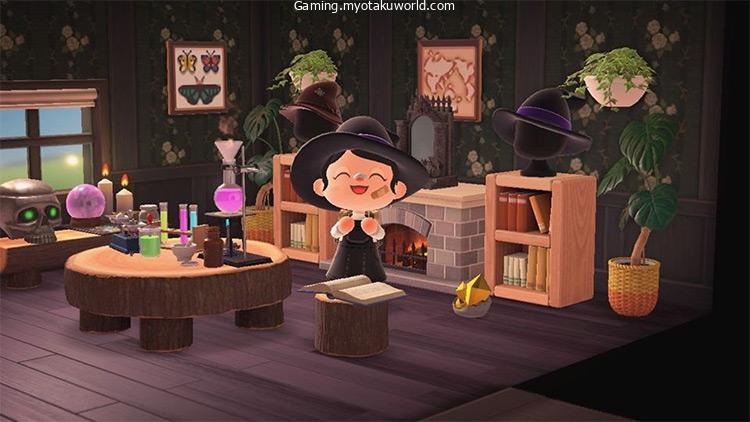 A lab like this one will make your little witch or wizard happy.
It is full of scary things like a skull, a crystal ball, and beakers with strange liquids. All of these help set the scene for making potions and spells.
Do you have a set of tarot cards laying around? You can add that or anything else you want.
You can put extra witch hats on the bookshelves or above the fireplace, so feel free to get artistic.
6. Mermaid Princess' Bedroom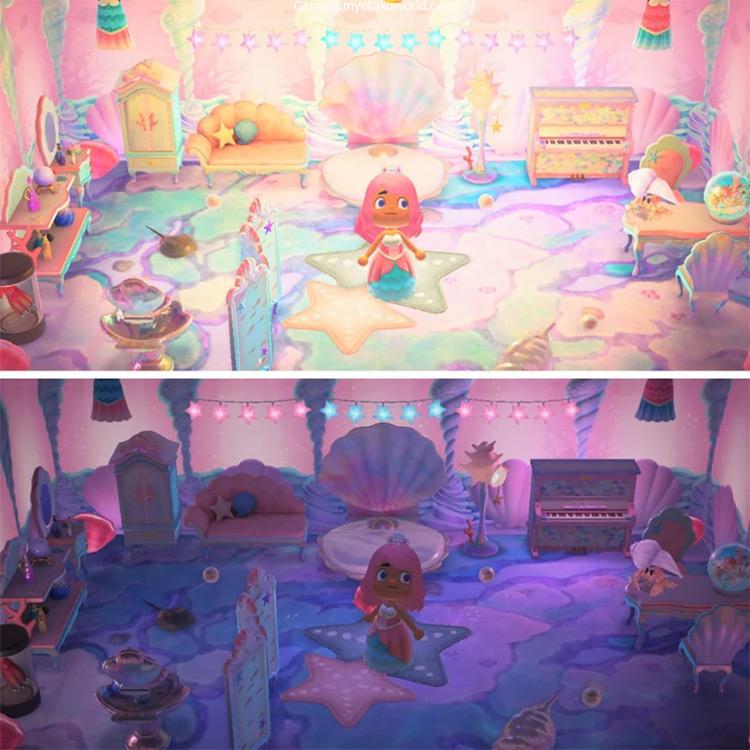 This is a great idea for a build if you like soft colors or mermaids.
When you go diving and find a scallop, you can sell it to Pascal for pearls, which are needed to make mermaid items, and DIYs.
And we've already shared a lot of ideas with a mermaid theme that go well with this build.
The mermaid set is pretty much all in this beautiful room.
It's the best place to take pictures of mermaids because it's so cute.
5. Winter Wonderland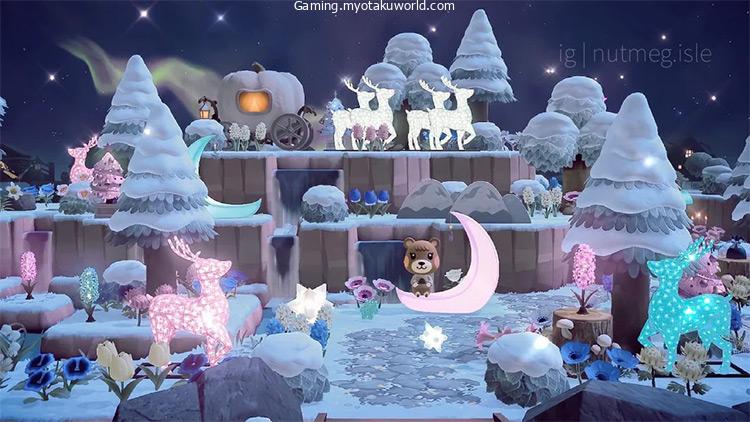 This lovely snowy place is a real winter wonderland.
Reindeer, pieces of stars, and even a half moon seat that glow softly help light up the dark winter night.
On clear nights, you can watch the Northern or Southern Lights or even make a wish on a falling star.
Even if your island's winter is over, you can start making plans for next year.
4. Bamboo Park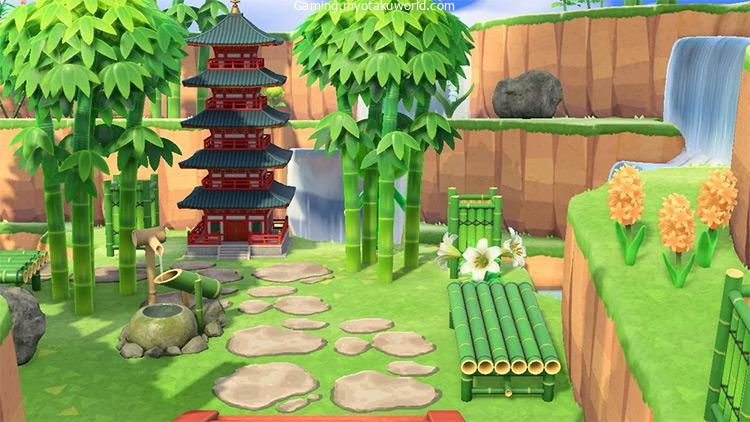 This cute little place has a lot of bamboo things, like a bench, lights, and a shishi odoshi.
An awesome park plan if you're big into bamboo.
Come to see the pagoda or just enjoy the fresh air, the sound of the waterfall, and the hum of the insects.
Pick a few flowers or just enjoy looking around.
3. Retro Pizzeria and Diner
This super cute build is a diner that serves standard foods like coffee, cupcakes, and pizzas made in a wood-fired oven.
It also has the standard style of the 1950s, which always looks great.
The color pattern of yellow, blue, and pink is a great choice for a bright build.
It's also on an island.
So it's fine to have it outside since the weather is usually nice.
2. Forestcore Cafe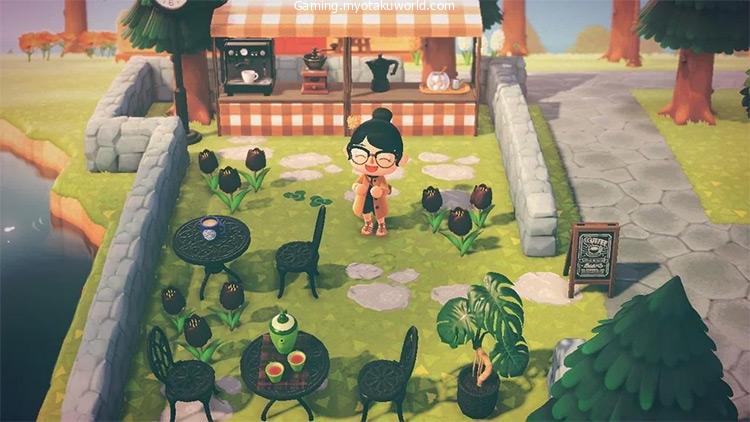 Even though your island has a forestcore theme and looks natural, that doesn't mean you're done building.
You might want to add your own café, like this clever build does.
This player did a great job of combining both ideas by using things like an iron garden eating set, some personalized stalls, and a lot of plants.
I don't know about you, but whenever I play this game, I always end up with too many cups. It doesn't matter if they are teacups or coffee cups.
Put them on tables in a building like this to use them!
Add an espresso machine, and you're good to go.
1. Abandoned Shipping Yard
Now this is a really cool idea, and it's definitely a strange way to end this long list.
Trashcore is a thing, whether you believe it or not.
This pattern is perfect for the look.
Use all the cardboard boxes that pile up in the lost and found at Resident's Services and any extra fish in tanks to make a shipping yard like this one.
When was the last time someone stopped by to see how things were going?
Who knows, but this really cool plan will be a hit with visitors.