In The Sims 4, stairs are finally curved in the right places after being straight for years.
It took EA five long years to make stairs in TS4 changeable because players kept asking for it over and over again.
Even though customizable stairs aren't the most exciting addition to the base game, they did open up new ways to take homes to new heights.
Now that L-shaped, U-shaped, and other-shaped staircases exist, content makers only have one thing left to do…
Keep you one step ahead as you build your dream house in a game.
Here are some of the best custom staircase CCs that will stop you in your tracks and make you rethink home design in your next session.
24. Raymoka Rounded Staircase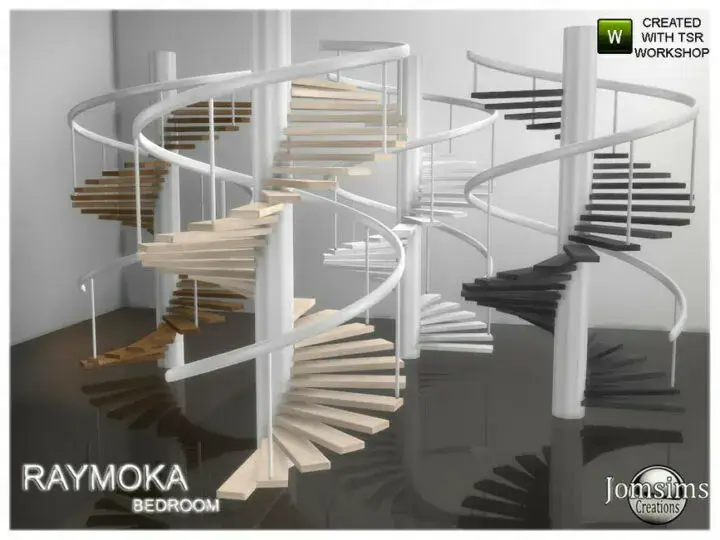 The Raymoka Rounded Staircase is another circular staircase that is great for fans of modern and minimalist styles.
This CC staircase has a white railing and simple wooden steps that are properly spaced to look like they are easy to use.
This spiral staircase is part of the Raymoka Bedroom set, which is a bigger CC set.
There are four colors of the staircase: white, light brown, dark brown, and black.
The whole collection is stylish and focuses on minimalism, which makes it easy to use this stairs in other designs.
Even though this ladder doesn't work, it can really change the look of a room.
23. Elevare Industrial Stairs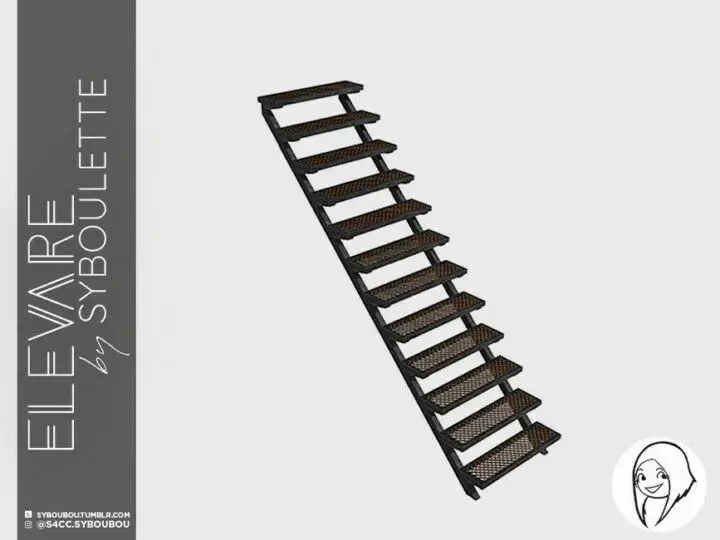 Another great set of industrial stairs is the Elevare Industrial Stairs. This staircase CC is also a part of the Elevare staircase CC set, made by Syboubou.
This set of stairs is quite simple, featuring a solid color metal framework. The steps are made from metal grating.
Stairs like this are common in warehouses and places that have industrial uses.
Since this staircase CC can be downloaded with its designated set, you can choose to include a railing or not as well.
Whether for an industrial-style home or business lot, this is a must-have staircase CC!
22. Punchet Misc Deco Stairs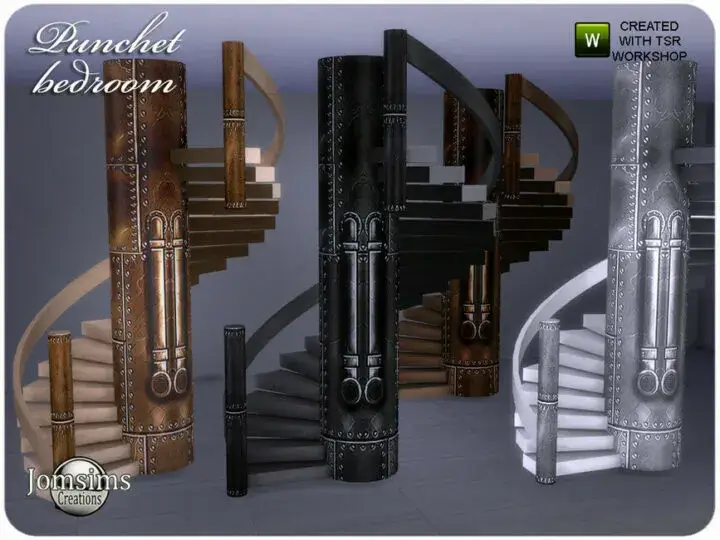 We can't forget to add at least one spiral stairs! These Punchet Misc Deco Stairs are a very beautiful set that was made to match steampunk room decor.
This set of CC stairs is part of a bigger set called the Punchet Bedroom, which has a steampunk theme and a lot of metal, gears, and metallic colors.
This staircase CC comes in three different colors: bronze, black metal, and silver. This spiral staircase looks more like a real staircase and is easier to use because the spiral is quite wide.
The metal panels really add to the look as well.
21. Elevare Triangle Step Stairs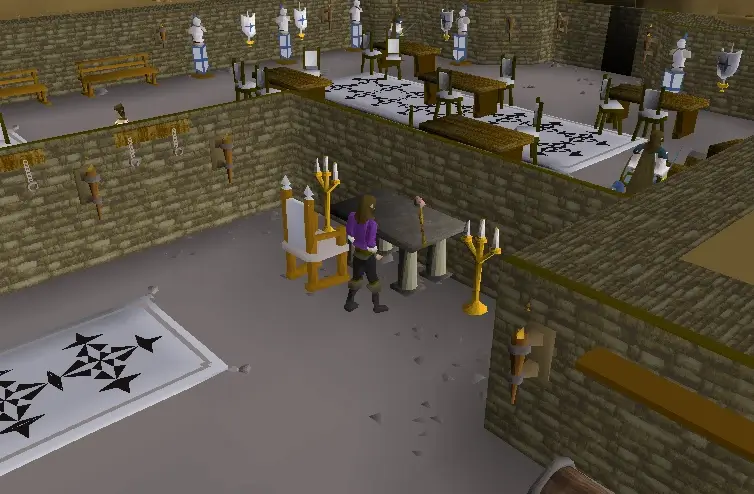 The Elevare Triangle Step Stairs are another great CC staircase choice that is both modern and industrial.
This stairs has smaller steps that look like concrete, and the background is just plain wood.
There are also no spaces between the steps, which is unusual for this kind of stairs.
The Triangle Step Stairs are part of the Elevare set, which also has three other kinds of stairs and railings.
The staircases in the set give you more color and style choices than the Triangle Step Stairs, which only come in the shown colorway of grey steps and dark brown wood.
20. Al Natural Steps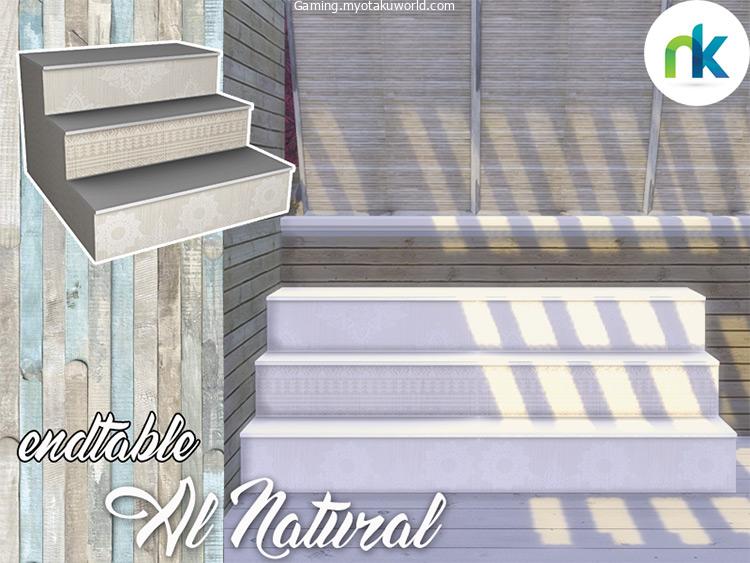 Wanting to install "stairs" doesn't always necessarily mean you need an upper floor.
Single-storey houses like bungalows and ranch homes have no space-consuming need for a staircase, but there's always room for some innovation.
The Al Natural Steps from nikadema is part of this charming outdoor dining set that is perfect for a mom's afternoon tea party.
These decorated steps can also be placed anywhere inside the house which can help add space in an otherwise flat room.
19. Stair Carpets
Staircases are much more than a piece of wood connecting point A to point B.
Even if it does get stepped on daily, staircases can set the whole look and design of your Sim's house.
It's only reasonable to give stairs the makeover they deserve.
Stair carpets are a nightmare to clean in real-life. But Sims only have to worry about which color they want to try next.
This CC set has 20 swatches ranging from luxuriously dark colors to light pastel colors. All worth trying.
18. Manor Stair Carpet Recolor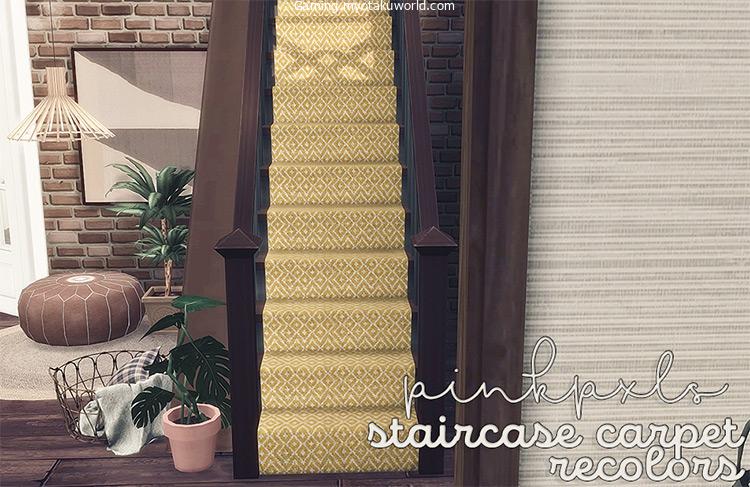 It looks like people want stair rugs these days. And I'm not upset about it.
It's nice to have a fully-clothed stairs so Sims can make a grand entrance like royalty.
The elegant carpet patterns can turn simple rooms into elegant ones and become the center of any Sim home.
If you haven't really thought about how to make the stairs to your Sim's bedroom look nicer, this CC might make you do it.
17. Blue Glass Railing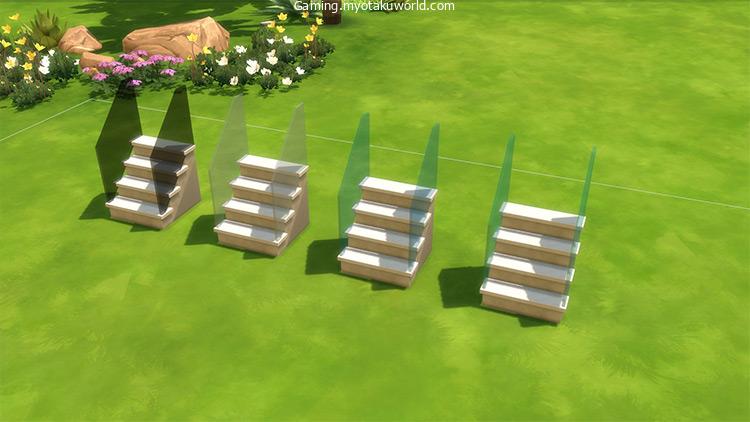 Stair railings have guided countless people from falling seven feet above the ground.
But for Sims, it's just another piece of furniture they won't touch unless commanded to.
Blame it on Sims' low center of gravity or perfect balance, but stair railings in TS4 are virtually useless.
Unless used as a visual prop to make staircases look fancy.
This Blue Glass Railing CC from maloverci can elevate your dull staircase for the better.
Displaying colored glass customizable to your preferences, this CC benefits from the fact that no dirty handprints will defile its immaculate surface.
16. Folding Attic Stairs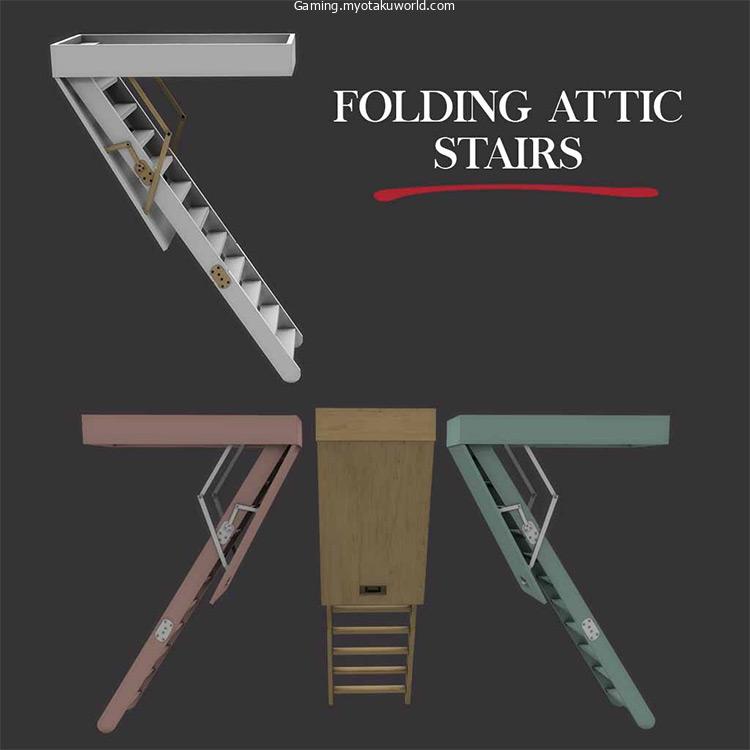 Almost every horror movie has had its scariest scenes around an attic.
We've all watched predictable protagonists creeping up the attic stairs, investigating the very obvious presence of a killer ghost within its shadowy depths.
It's always the attic that writers paint as the nest of evil. But if you still want to build one, then at least make it realistic.
This folding attic stairs from Leosims is purely decorative, ensuring that no phantom demon is about to climb down and get you.
15. Gosik/Ez2ciamaprincess Stairs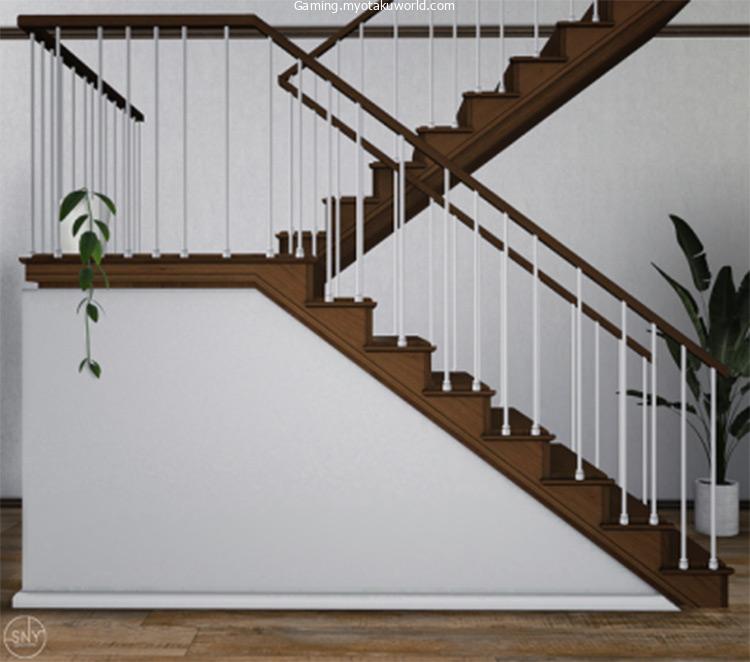 A staircase is like the house's backbone.
It makes the spaces flow together and lets players send Sims on a wild goose chase of orders from the top to the bottom.
It doesn't do much besides being a stationary elevator… But that doesn't change the fact that it's a key part of a beautiful home.
Installing this prebuilt stairs will give the inside of your Sim's house a simple but elegant look. It will save you some time on build mode.
14. Victoria Kids' Room Stair Shelf
EA has made it so that Sim children aren't grown up enough to enjoy good furniture.
This Severinka stair shelf is made to look nice in a child's room, but it's way too beautiful to be child's play.
This CC comes in two versions that can be put on either side of a desk in your living room, a closet in your bedroom, or other places.
You can also put indoor plants, a stack of books, or other odd things on the steps to show off your Sim's personality and interests.
13. Wooden Stairs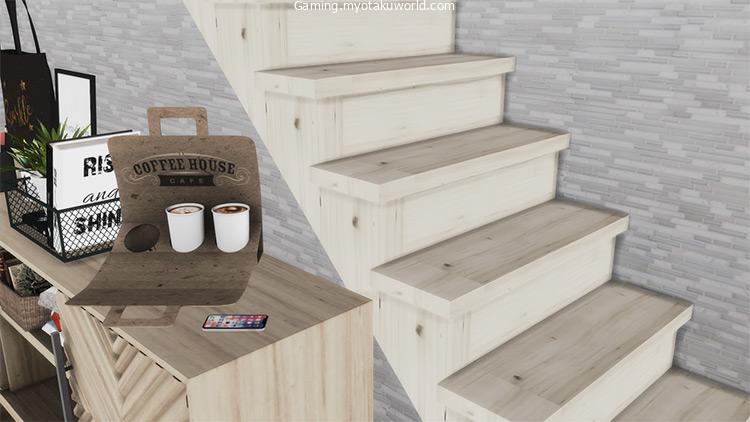 For the sake of newcomers and would-be Sims freaks, there is an absolute truth that you must realize and take to heart.
Base game options suck and everyone knows it.
There are a few exceptions… but it's a fact that anything EA-made can be improved by a CC creator.
Just take this as an example!
Tenebrae's Wooden Stairs has 5 swatches to replace a staircase's default base game look.
With its wooden treads and rustic charm, any Sim would feel right at home.
12. Argunfuntur Decorative Stairs
If you think you've seen everything in TS4, here's a bedroom with a Tron theme.
The Argunfutur collection by Jomsims has a set of things that belong in a world where Skynet isn't bad and has helped people improve their technology.
Even though a set of artistic stairs isn't exactly a game-changer, it does what it's meant to do: make the background look really cool.
This CC will likely make your Sim's electricity bill go up a lot. But if it means getting furniture that even the Terminator would buy, I'm in!
11. Natural Stone Steps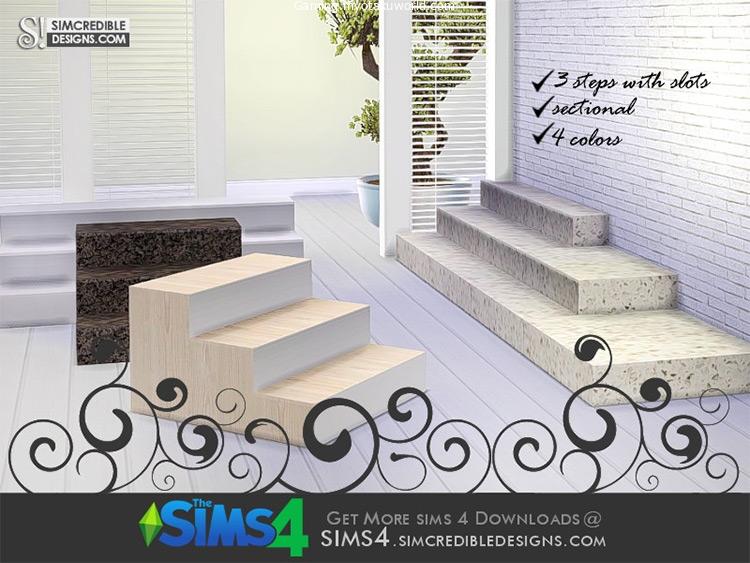 To go for a modern look, you have to think outside the box and find new ways to show old ideas through art.
Like how these Natural Stone Steps were turned into a place to put things instead of being used as steps.
This CC stays true to its design roots by having textures of wood and natural stone, clean lines, and subtle colors that let other things stand out.
Check out this set by SIMcredible to see how you can use this beautiful CC to its best advantage.
10. Decorative Spiral Staircase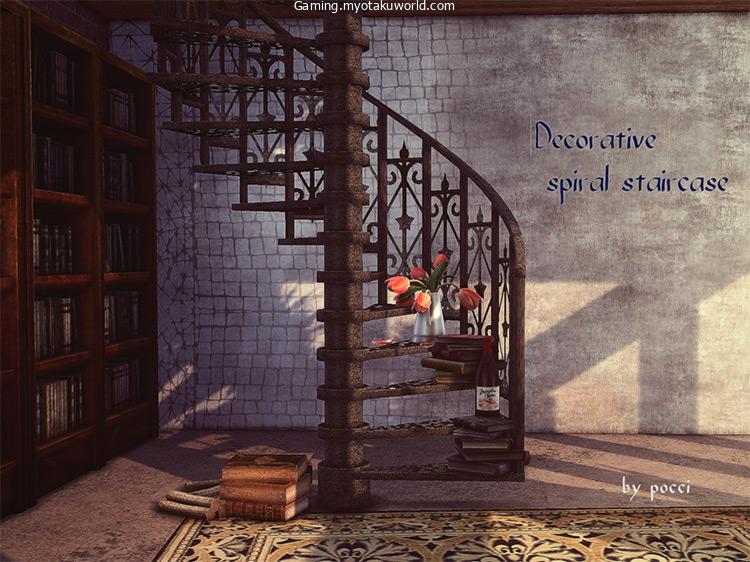 This is the right CC for you if you like spiral staircases that go nowhere.
This elaborate staircase to nowhere can be the newest piece of art in your Sim's home. It has an old-world feel.
What else can you do with a staircase that doesn't work? You can put antiques and other small items on each step.
Even though it's just for looks, this twisting structure is a work of architecture worthy of the most beautiful homes.
This is probably more of a funny mod than anything else, but if you like to laugh, you should try it out.
9. The Cubby Hole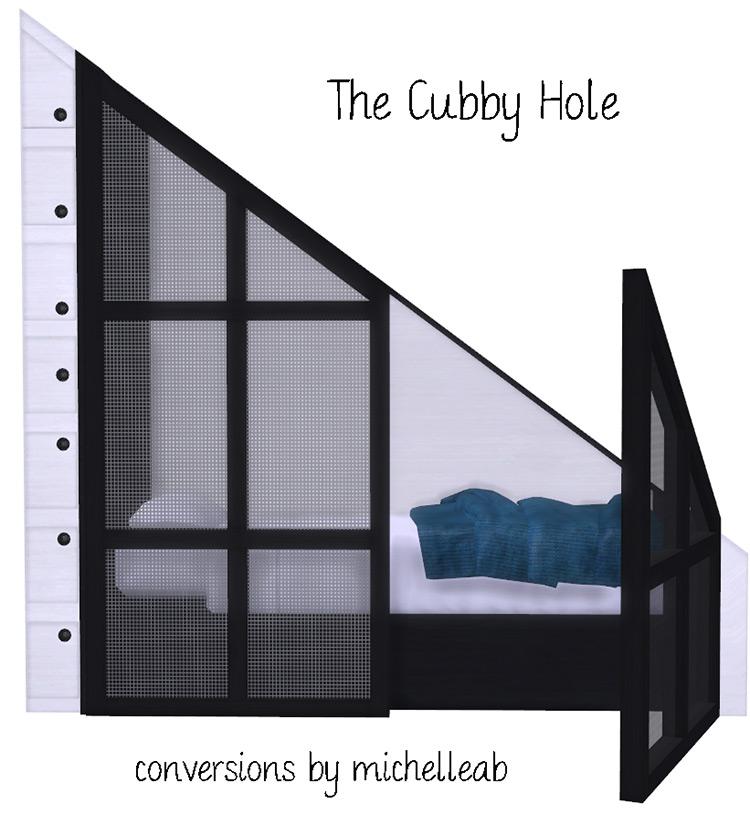 Harry Potter was The Boy Who Lived In The Cupboard Under The Stairs before he was The Chosen One.
The fact that Harry had to live in a small, stuffy room was proof enough that the Dudleys had been Death Eaters in a past life.
The Cubby Hole is not anyone's dream bedroom, but if you ever want to put your Sims through it, you can send them there.
This CC, which was made by OhBehave, is as annoyingly small as our favorite wizard's first home.
Only a bed will fit in there.
But if your Sims ever need a break from becoming full-fledged spellcasters, feed them!
8. Pool Stairs
One of the most popular ways for Sims to die since the beginning of time is to drown in a pool.
Too many Sims have died (mostly on purpose, but sometimes by chance) in its blue waters.
Even though this is the case, people will still build one.
Many great pools have been built, but most of them lack the style that these Pool Stairs can add.
Add some style to your pool of death and your Sims will think they can climb out of your daily dose of sadism.
7. Industrial U Stairs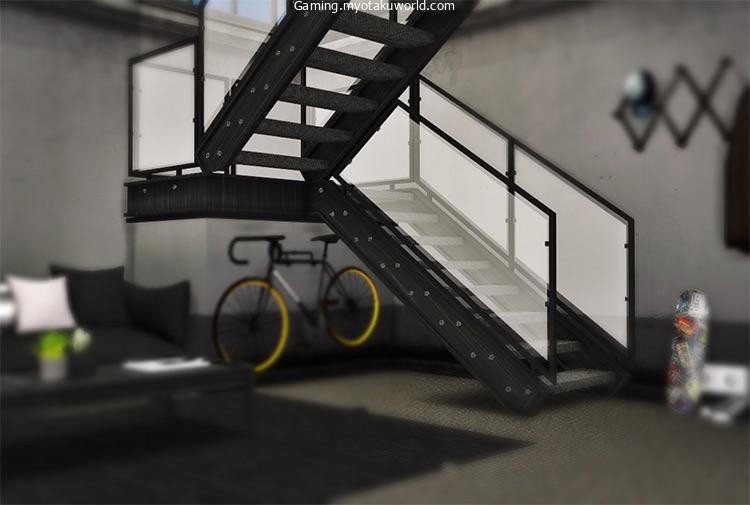 Architects and other experts would say that a staircase is a work of art all on its own.
In this case, MXIMS did make a work of art that deserves to be shown.
The best people for an industrial-style stairs are those who like neutral colors, edgy design, and a rough vibe.
It's not the best choice for anyone who wants wallpaper as bright and interesting as the Teletubbies.
This CC is sleek, strong, and made of heavy metal. It has 11 colors and 3 textures, like rough wood.
6. Under the Stairs
Since the Tiny Living Stuff pack came out, I've been obsessed with using clever furniture to make the most of small areas.
Since staircases take up room and are necessary (if your Sims have an upper floor), there have been many smart ways to make the most of the space.
Start by putting a drawer or desk under the stairs that can be used for more than one thing.
This CC is a godsend if you're a Micro Home Challenger who needs to find a way around your Sim's huge stairs.
5. Stairs Add-on Part 2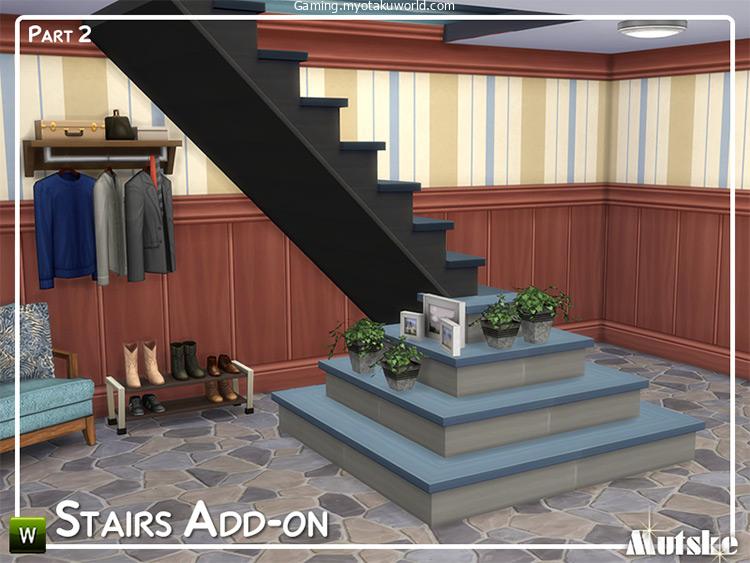 Ever since modders and CC creators had a taste for changing the game, The Sims has never been the same.
Four titles in, we've arrived at accepting the fact that breaking the rules of the base game is a much more enjoyable objective.
Like adding stairs at places where they're not supposed to be placed.
Leading the rebellion against the limitation on base game staircases is CC creator mutske, who is armed with a pack of 24 CCs.
Whether you want to add additional stairs in one corner or around, this CC pack has got you covered on all sides.
4. Stairs Add-on Part 1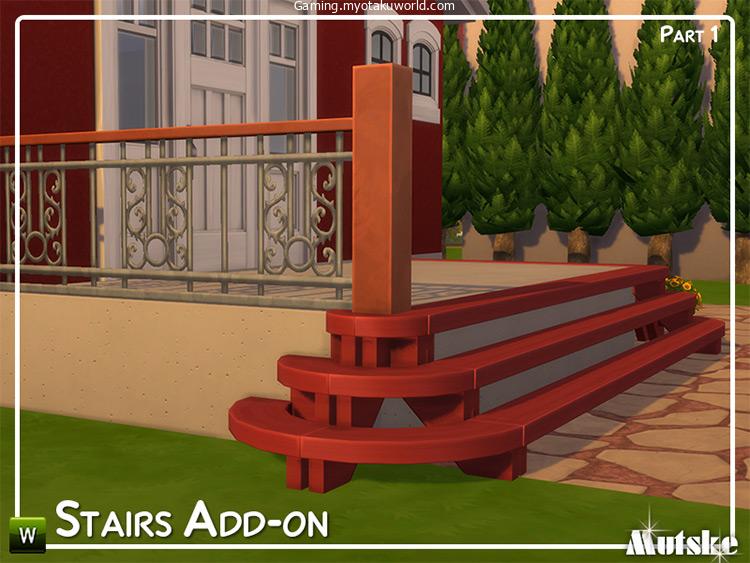 It's normal to expect the sequel to be better than the original. But I guess the latter would always be far more superior.
Mutske's Stairs Add-on Part 2 only had half of the essentials… but Part 1 can stand alone on its own.
This CC pack also has straight and convex treads with the addition of open Eastern stringers, perfect for outdoor installation.
Like Part 2, sadly, these stairs are not walkable.
But if your goal is to simply increase the feeling of space, then no other CC can do the job best.
3. Staircase Deco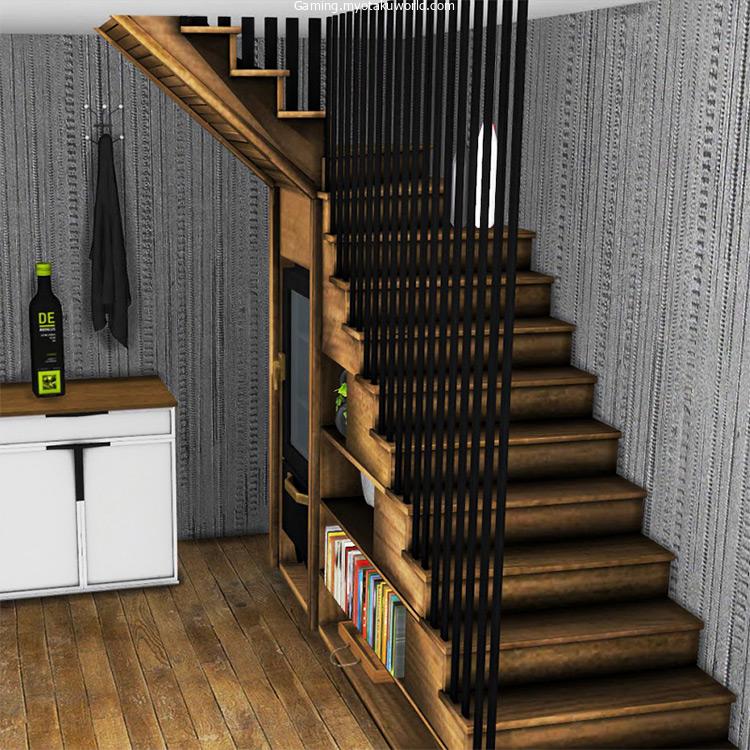 Contemporary yet not, Leosims' Staircase Deco displays a combination of new and old elements in the form of wooden steps and ceiling-hung balustrade.
Under this decorative stairway, the remaining space is used as storage for random clutter, an encouraging sight to make Sim houses feel homier.
Although it only leads to the ceiling and a hard bump in the head, this CC perfectly captures a real-life staircase design trend that is way beyond anyone's home budget.
But thanks to The Sims mod-friendly environment, you can have this staircase installed at no cost!
2. Under-Stair Shelves & Deco Spiral Stairs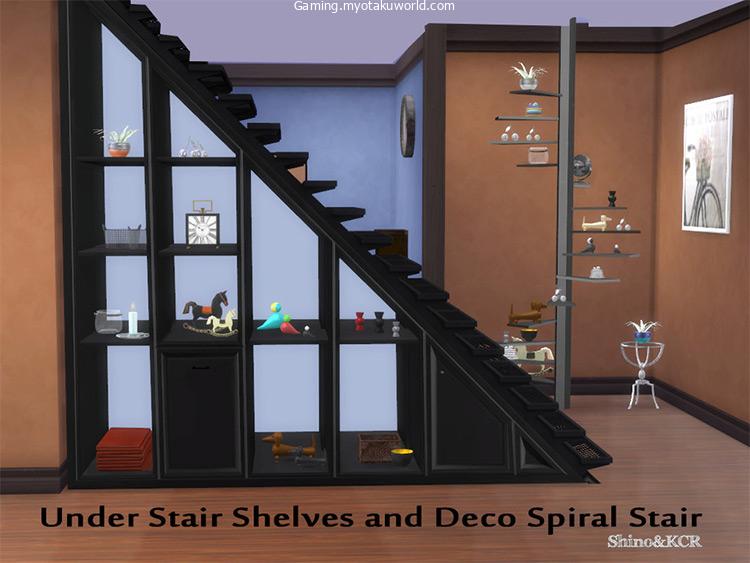 Enjoy splurging on random baubles and knickknacks without having to worry about where to place them!
Take advantage of the huge amount of storage space available under the stairs and see what other objects you haven't bought in Miscellaneous.
This CC pack also comes with a decorative half-spiral staircase and a multitude of colors to follow the current aesthetic of your Sim's interiors.
Minimalist, versatile, and surprisingly colorful, this CC from ShinoKCR can breathe new life into plain boring staircases.
1. Stuff for Tiny Houses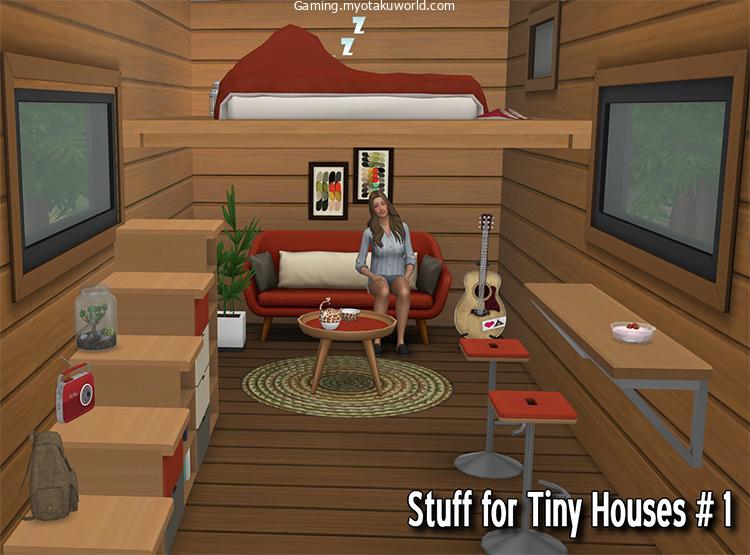 When you don't have much space, you can't just buy any furniture.
In The Sims, one of the hardest things for a master builder to do is make the most of a small home.
To make it work like a normal home, you'd need the right tools to make sure it doesn't look like a pretty jail.
This tiny house stuff pack has everything Sims need to live a normal life in a 55, 33, or even a 22 if you're brave.
It also has a makeshift stairs that can be used for storage, giving you two things for your Sim's new life.
You might not like small homes, but these CCs will get you out of your comfort zone so you can live better.