Real question here.
How often do you play with a Sim family long enough to see it grow and get bigger?
I know that it's hard for me to stay with the same family for more than a few (real) days before I want to move on to another one.
Still, I'm trying to get better at this.
So I thought that getting some new CC for the kids in my family would help keep me interested for a little while longer.
Here are some of the best build/buy mode CC for baby furniture and decor.
Some of these will change the way you play the game completely.
18. Harry Potter House Crest Toddler Beds

Your young Sims can sleep in their own Harry Potter beds with the Harry Potter House Crest young Beds.
It comes with the Ravenclaw Crest, the Slytherin Crest, the Hufflepuff Crest, and the Patronus.
Even if you don't like Harry Potter, you can't deny that it's cute!
17. 5 Tot Tablet Recolors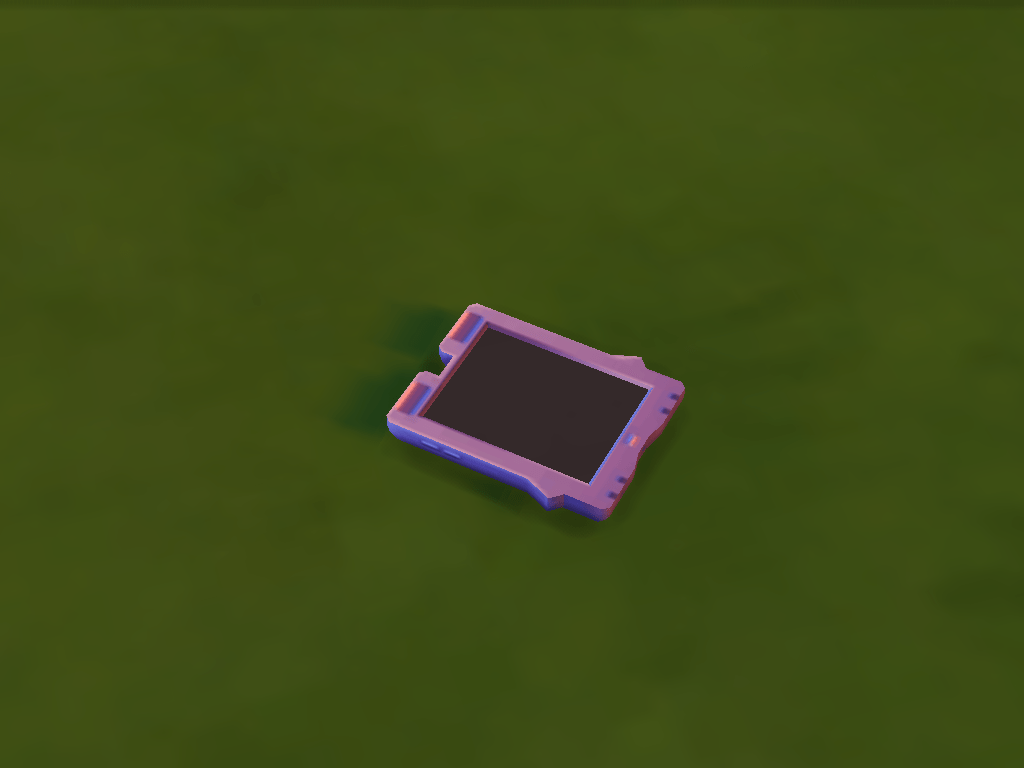 With the 5 Tot Tablet Recolors by UyTheo, the famous Wabbit Tablet toy that sims toddlers can use gets some new colors.
It comes in purple, red, white, yellow, and green colors.
This is a simple mod, but sometimes you want more colors than the Sims base game gives you.
To get The 5 Tot Tablet Recolors by UyTheo, click here.
16. Kids & Toddlers Trampoline By PandaSama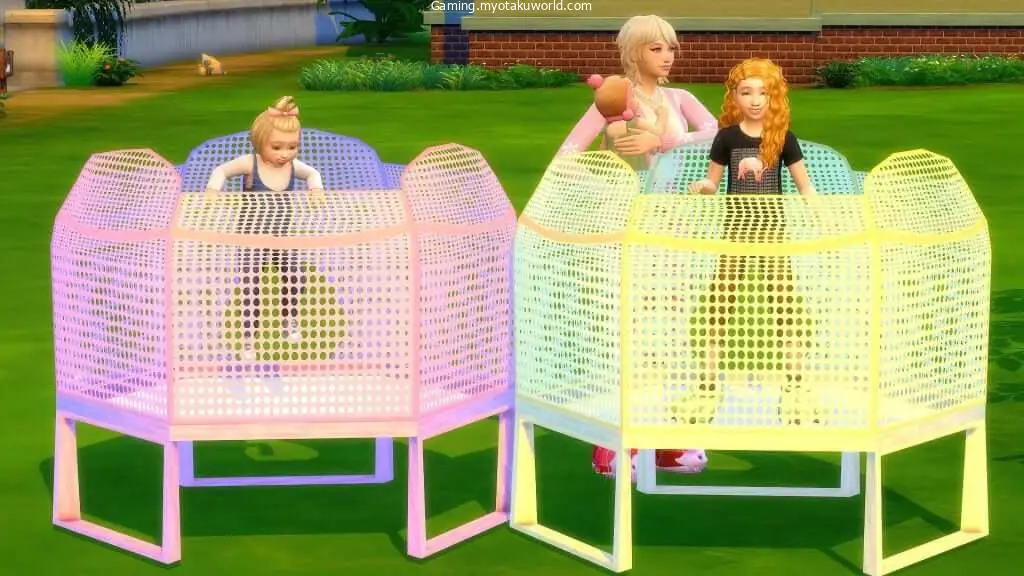 We've tried these trampolines in-game, and they have the best movements of any trampoline custom content we've seen.
Your kids and babies can both play them, which gives them fun and helps them get better at moving their bodies.
How could it get any better?
Grab these great trampolines for your babies and young children.
15. Pokémon Toys by NynaeveDesign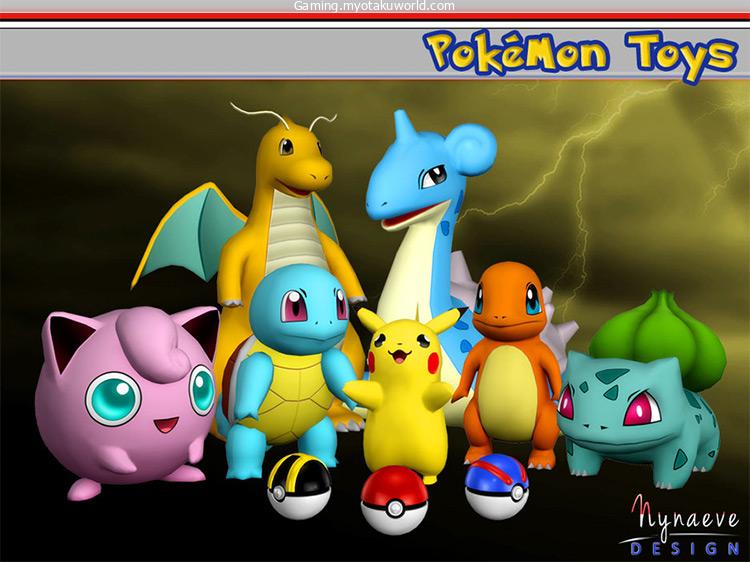 One of my favorite things is when the real world meets The Sims world.
Having toys in my game that I would have loved to play with as a kid (or even now, let's be honest) is just the best.
This set of Pokémon toys is a great example of how our world and Sims can work together.
It's a set of ten toys, including some Poke balls and first-generation Pokémon. They are different colors, too.
I know for sure that your kids will love these.
And if they need even more, we have a long list of CC that has to do with Pokémon.
14. Dreamer Bed Canopy by Nadileinscc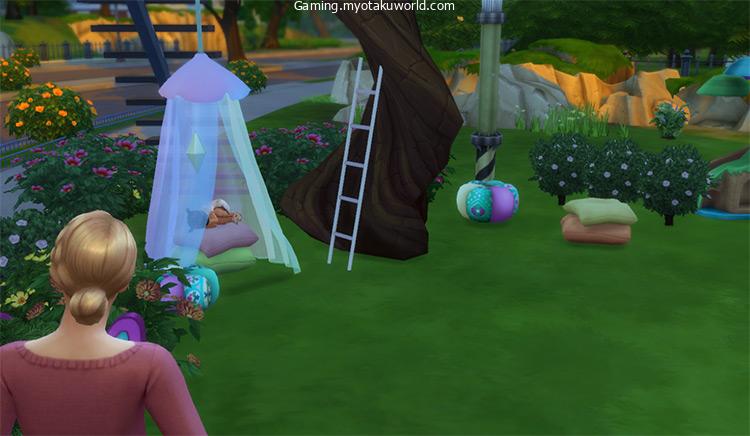 As a child, all I ever wanted was a canopy to put over my bed.
I thought that if I had one, I would be a princess from a fairy tale who needed to be wrapped in silks while she slept.
I did get a cover in the end. It was just as magical as I thought it would be, until my dog tore it up… but that's a different story.
This dreamer bed canopy by Nadileinscc would look so dreamy hanging above your toddler sims' beds or anywhere else in their bedroom to make a cute little nook.
It also comes in 14 pieces, so you can choose from a lot of different colors.
13. Evalina Nursery by Severinka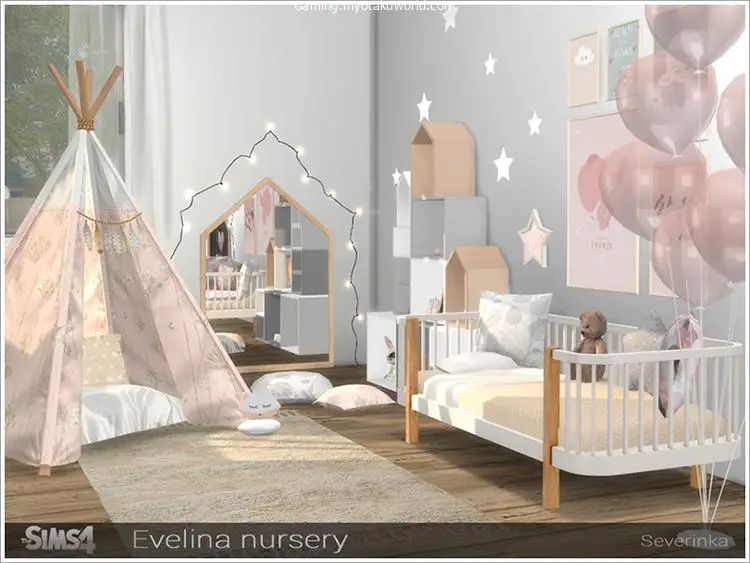 I don't know if I'm the only one who does this, but when my Sims find out they're going to have a baby, I start arranging the nursery right away.
I like to choose a lot of patterns for my kids that aren't specific to one gender.
And Severinka's set is just right for that.
This cute Scandinavian-style set has nine pieces, including a bed, pillows, a new floor lamp, and even a wigwam. All of this will be great for you.
12. Tiny Twavellers Pack by Felixandre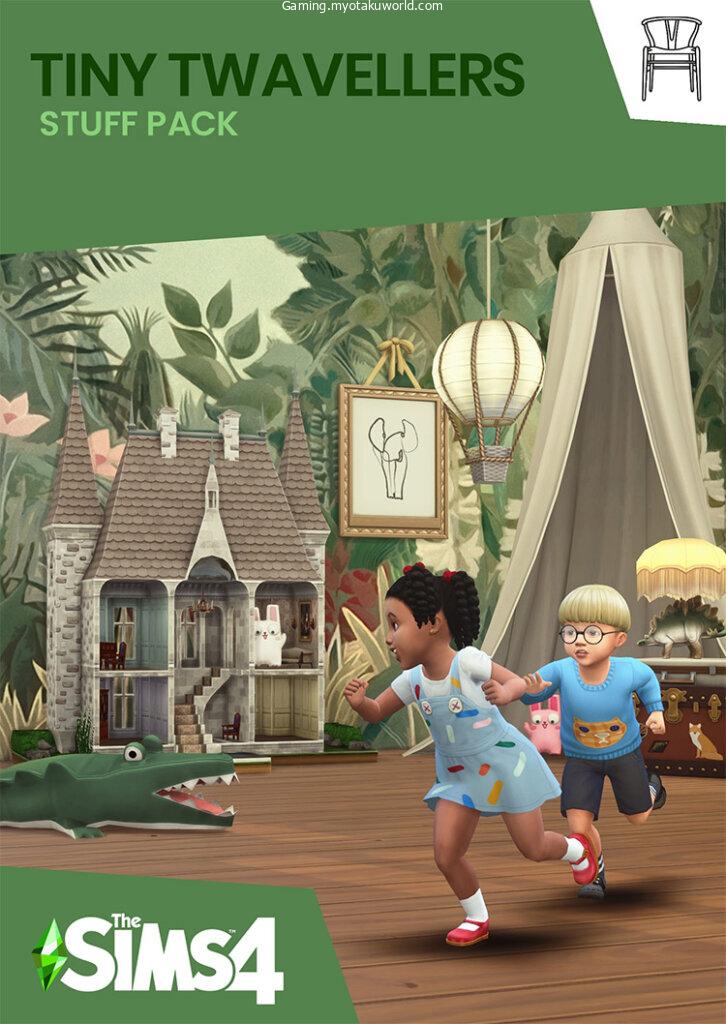 Oh, I love this one.
In the CC world, creator Felixandre has made quite a name for themselves. They make some of the best furniture I've ever seen, so it's not hard to see why.
This Tiny Twavellers pack has some beautiful items that, in my opinion, could go well with some of the things we've gotten from EA in the past.
They gave us some beautiful new dressers, tables, a changing table, and a baby bed, all of which have a lot of swatches and beautiful wood choices.
There are also toys, lights, shelves, and even a tent that can go over the bed.
I swear to you, it's amazing.
11. Toddler Foods Set 1 by Littlbowbub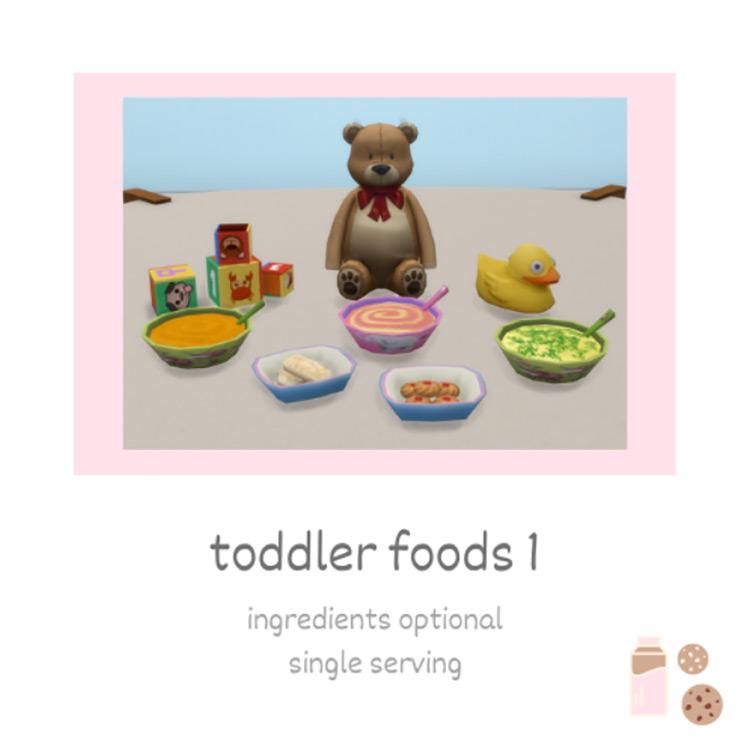 One of my favorite CC artists is Littlbowbub.
They are doing their best to give our Sims new food to eat in a world full of CC clothes and houses.
I've always had a hard time getting my kids to eat in game. And who can blame them when they only have peas and chicken bits to choose from?
But with this pack, your littlest Sims can now grab and go with a range of snacks that won't stop them from playing.
Also, they look really tasty. Do you think I could get some? Yummy!
10. LUNO Toddler Room by Nordica-sims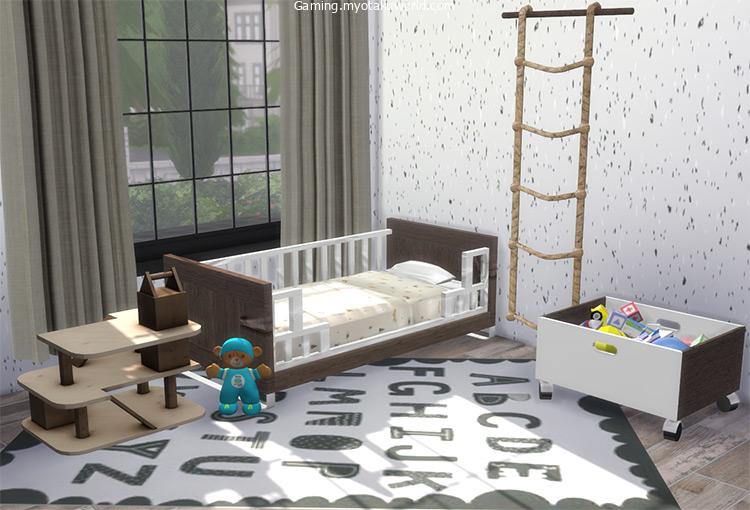 Do you ever have a little Sim whose personality doesn't fit with some of the furniture in your game?
What if your little boy doesn't want a room full of animals or stars, but would rather play with cars and climb up a rope ladder?
So, Nordica-sims has their back in that case.
This little LUNO pack comes with a new bed, a rug, a new stuffed bear, a toybox, a car garage dollhouse, and even a decorative rope ladder, all in different patterns that your toddlers will enjoy.
9. Cutie Pie Bear Chair by SimPlistic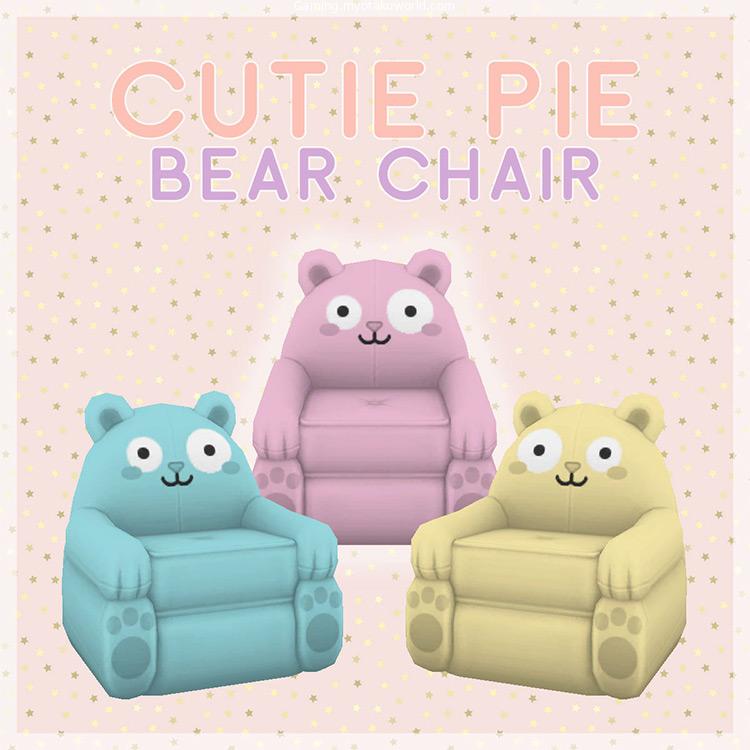 There are a lot of nice recolors on SimPlistic.
One of the many things for the smaller Sims is this cute bear chair.
It can be downloaded on its own or as part of their Cutie Pie Kids Room Set. It comes in nine cute pastel colors.
8. Coast 2 Pool by Kardofe
The way children talk to their parents is one of the cutest things about them in The Sims 4. And the kids playing together in the small pool is one of my favorite things to watch.
It's just too cute, so whenever I have kids over, I always make sure to have one.
This Coast kiddie pool by Kardofe comes in three beachy colors and is a bit easier than the EA pool we already have with the palm tree.
This one is fun for kids and adults alike to splash around in.
7. Ken You Not Dollhouses by Ravasheen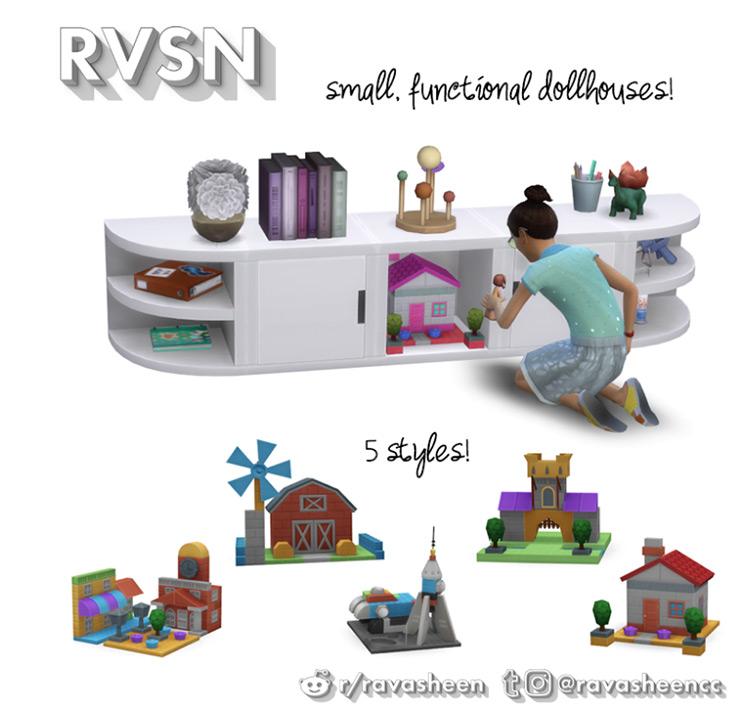 Don't get me wrong, I love the EA dollhouses we already have.
But why should they be so big?
Some of the time, my rooms aren't even big enough to hold them.
With these tiny dollhouses, Ravasheen has really saved us, though.
They are small but still useful, and there are five different styles to choose from. When your kids see these, they will all go crazy!
6. Pre-School Stuff by Around the Sims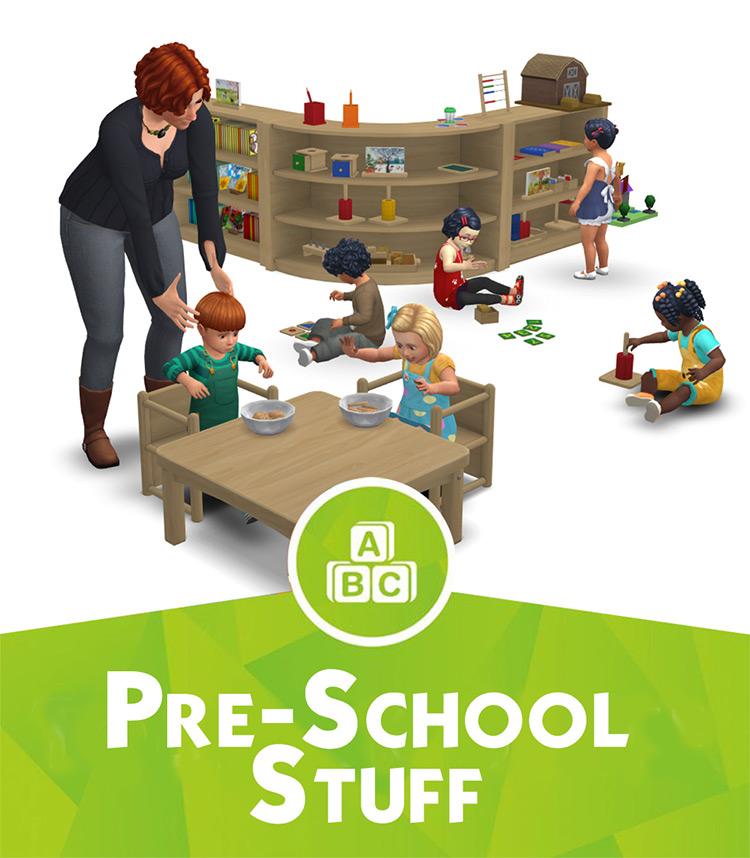 The next five things on this list are all by Around the Sims, and I'm not kidding when I say it was hard to pick just five to talk about!
They have so much ability, and a lot of their work is for young children.
This Pre-School CC set comes with small tables, books, and toys for your kids.
And the set is well-made enough that EA could have made it.
It is also a big pack, with 31 things for your kids.
5. Toddler Playpens by Around the Sims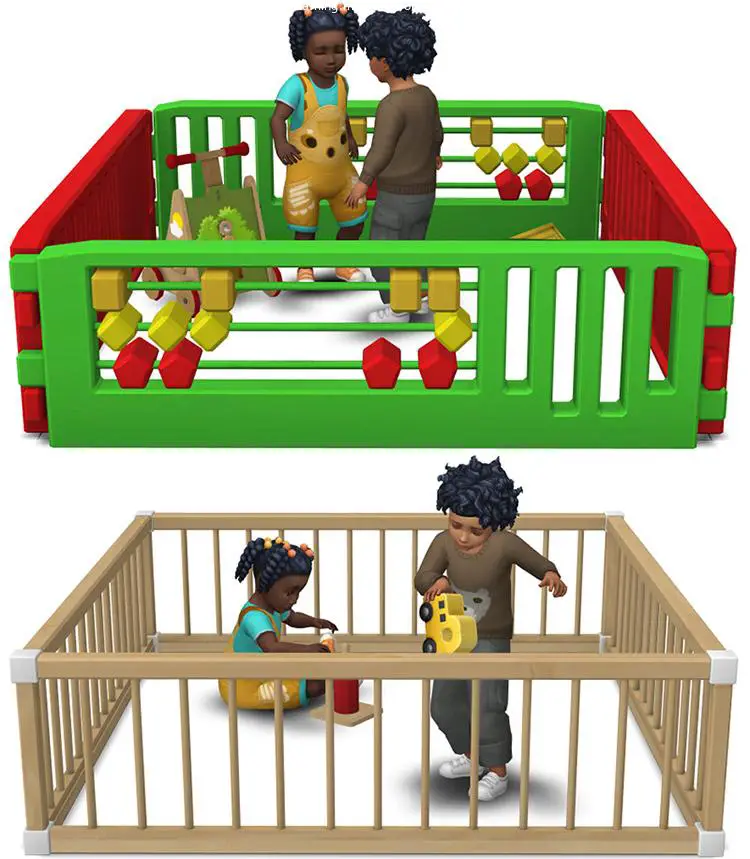 I can't be the only parent who loses track of their young children when they play, right?
Well, Around the Sims has this great play pen CC (in three different versions) to help keep those little boys and girls in one place.
This would be great for Sims who work from home or cook dinner while keeping an eye on their children.
Since The Sims 4 doesn't have real playpens, you'll have to put the pen over your children to keep them safe.
Your big Sims can just add the pen to their collection when they want to let the babies out.
4. Mini Market Dollhouse by Around the Sims
Around the Sims made this cute dollhouse that looks like a tiny cash register and fruit stand as part of their Christmas set from last year.
It's really cool.
It comes with tiny apples and tomatoes, as well as a cute shopping basket that can be used as a decoration.
This CC will help your little kids get better at using their imaginations, and it might even teach them how important fruits and vegetables are.
3. Mini-Chairs & Mini-Tables for Toddlers by Around the
Sims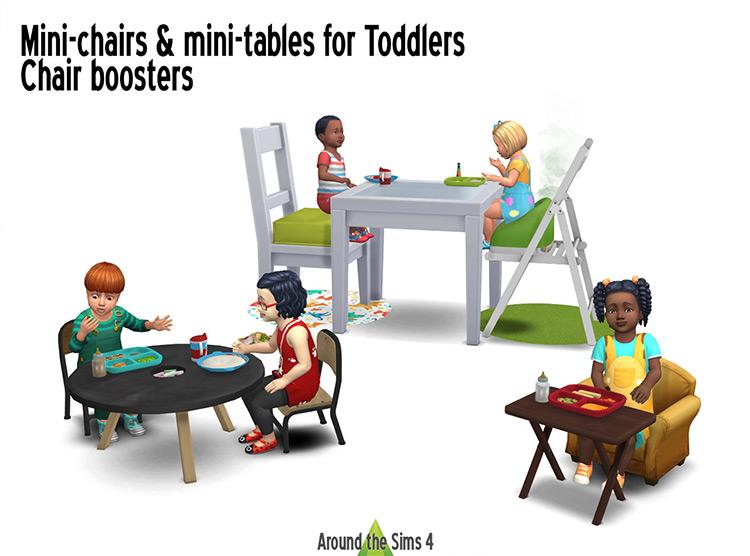 Now, I think this CC might be my favorite of all of them.
Around the Sims, these teeny-tiny tables for your kids to eat at have been made. And I'm so thankful for that because I hate fighting with the highchairs!
I think the little arm chair and TV tray are the cutest.
How cute would that be in the living room of your Sim?
If you don't have room for another table, though, this set also comes with booster seats so that your kids can join their family at the adult table.
It also comes with two cute mats that you can put under the table to catch any messes.
2. Drink-O-Baby by Around the Sims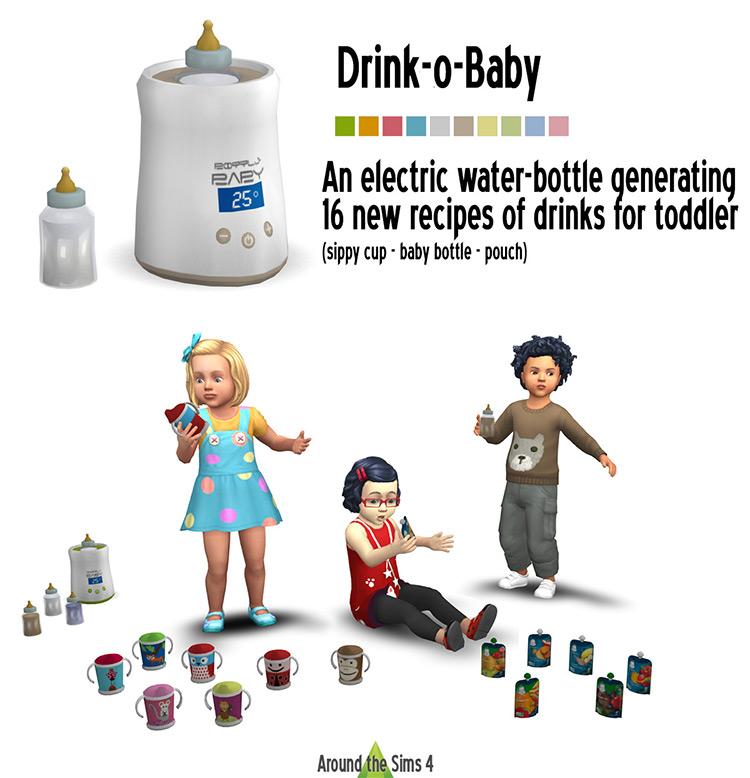 Okay, this is really neat.
We all know how many cooking tools we have for our kids in our world.
But now even your Sims can have fun with them.
Around the Sims, someone made an electric bottle warmer that you can put on their counter and use to make sixteen new drinks for your kids.
There are juice boxes, bottles, and sippy cups to choose from.
If you don't want the bottle warmer out in your kitchen, you could also buy them separately in Build/Buy mode. All of it is good!
1. Nutri-Baby by Around the Sims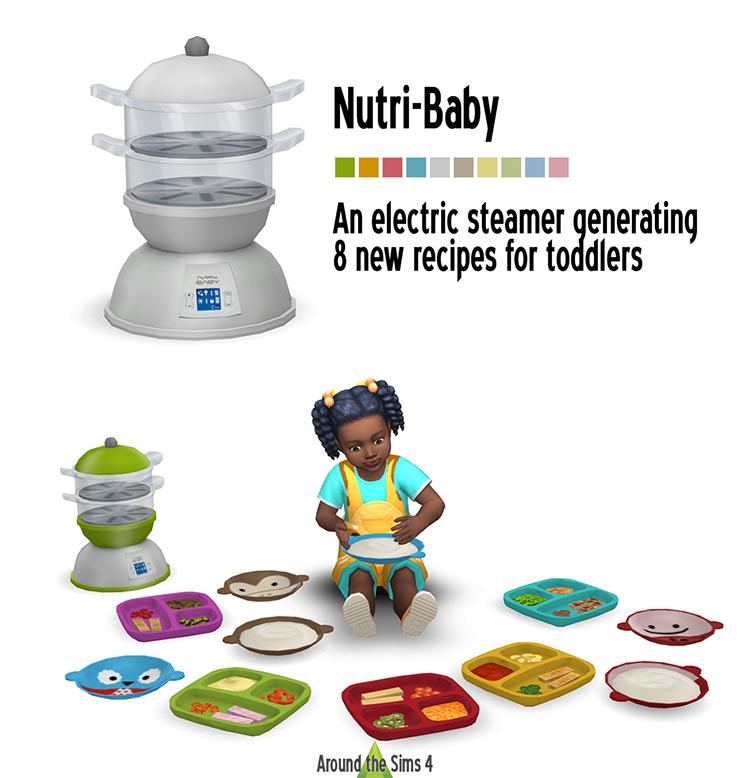 Another CC pick from Around the Sims is in the same style as the last one.
For this CC, they made an electric steamer for your home that gives you eight new recipes for food to feed your children.
You can still buy these meals in build/buy mode if you don't want the steamer, just like you could before.
All of them come on cute little trays that are also just the right size.