Why not send your Sims to the mall if they have some extra Simoleons to spend?
Retail therapy is real, so it could make Sims happy.
I've heard that even just looking at stores can be soothing.
So why not build your own Sims 4 Shopping Mall and give them a fancy place to shop?
You could also download some shopping malls that have already been built.
Check out our list to see some good suggestions.
30. Abandoned Mall by MikkiMur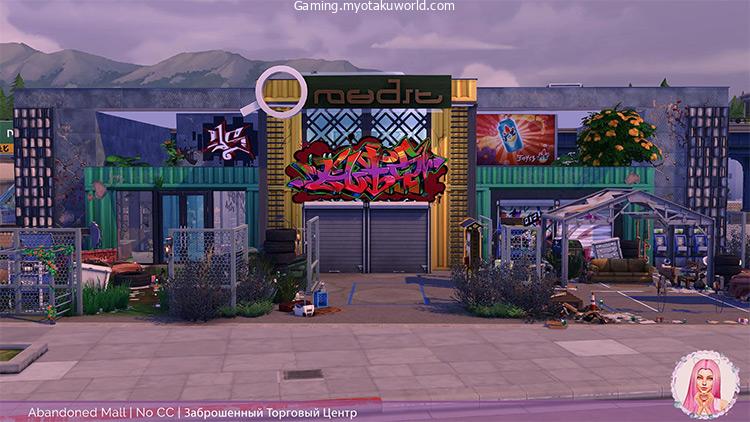 I love stories about the end of the world. So MikkiMur's Abandoned Mall was perfect for my dreams of a world after the end of the world!
It's a piece of art made up of trash like newspapers, flattened boxes, and trashed and robbed shops. This stuff is really heavy and really cool.
I really think you should get it if the vibe fits your play style and story.
But don't worry if you were looking for new shopping malls that aren't empty. The same is true for the next four spots.
29. Magnolia Shopping Mall by Simattica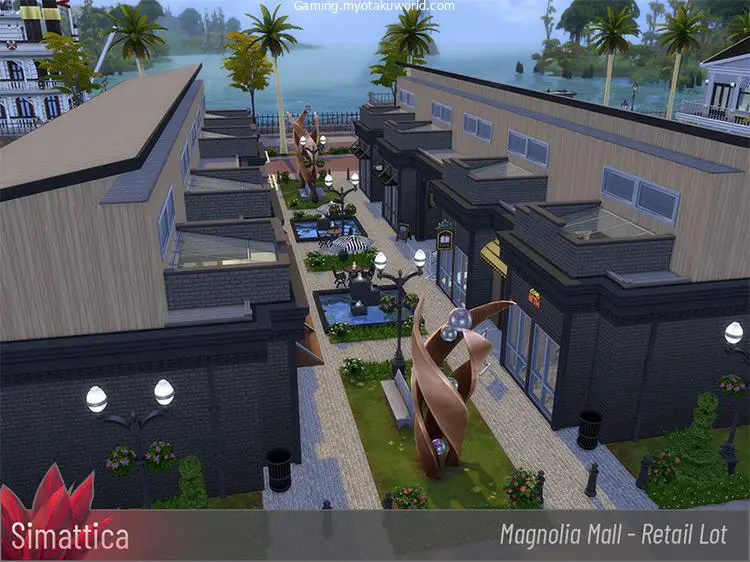 I absolutely adore the creator's lore for this lot.
It's short, sweet, and totally warrants a read. Plus it perfectly summarizes what you can find in this lot.
There are clothing stores, book stores, and luxe novelty shops. There's even a boutique art gallery!
P.S. You don't have to place it down in Magnolia Promenade if you don't want to! It'll fit in any 40×30 lot.
28. Shopping Mall + Indoor Waterpark by Summerr Plays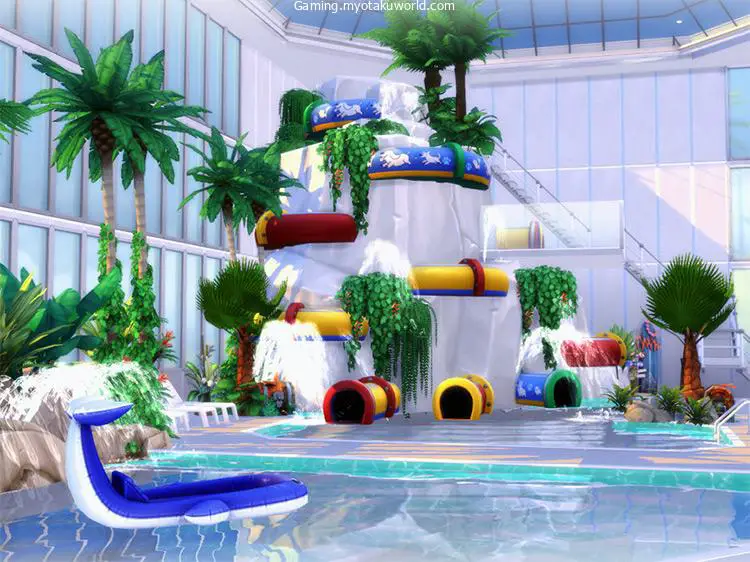 A shopping mall with ten stores, high windows, glass ceilings, and an indoor waterpark?
This place really is grand!
Summerr Plays' custom lot, which looks like it was highly influenced by West Edmonton Mall, is the definition of hip retail.
Everything about it looks so rich and sparkly, from the shops to the tiles to the small decorations.
27. Shopping and More by evi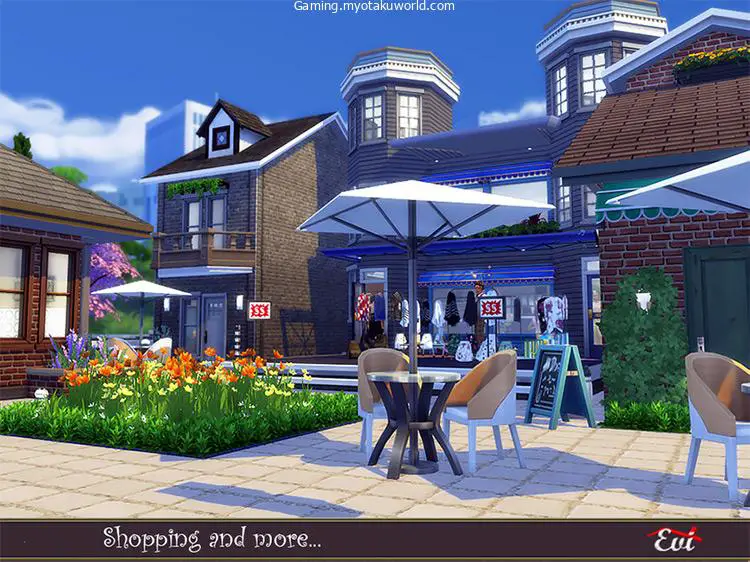 This lot by evi is not really a "shopping mall," but it is a shop with four buildings.
But this custom build could totally work as a local shopping strip, thanks to its clean layout and great design (I think the outside is especially well done!). The main building can have two or three smaller shops, and each of the two side buildings can have a diner and a café, etc.
This lot lets you do a lot of different things!
26. The Fashion Mirror by casmar
This mall is just as scary and amazing as you think it will be.
Really, look at the photos in the preview and boost the effect by five.
The way the creator put together the inside and outside is nothing short of amazing! With screens from floor to ceiling on the outside, the mall can sometimes be hard to see.
The inside is just as ridiculously luxurious (and has even more mirrors) as the outside.
25. Simffany Jewelry Store by Sim4fun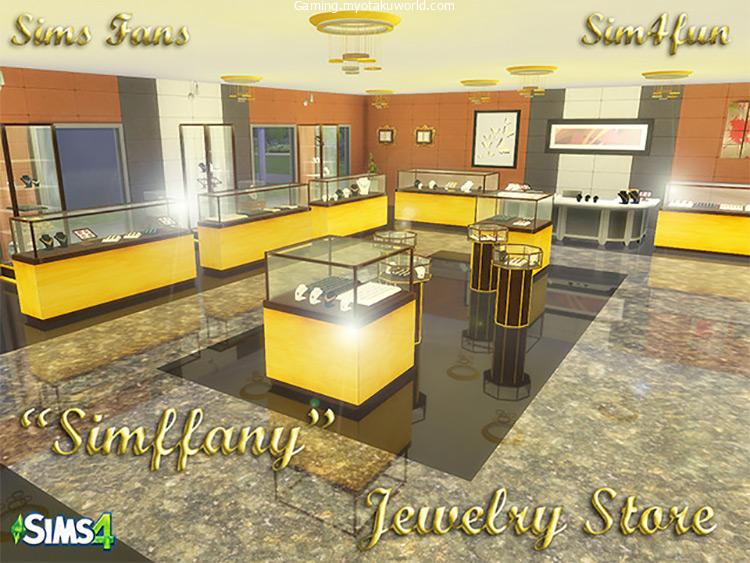 The Simffany shop on Sim4fun is a real gem.
(I didn't mean to).
Even though it has a clever name, the building itself is impressive. Wide, open show areas with velvet pillows, velvet cases, and glass counters? This place is so fancy that it doesn't even need price tags.
The creator even gives us the choice to download the Simffany jewelry store either as a pre-built lot or as a pack of custom furniture and decorative CC.
24. Retail Therapy by grimcookies
Grimcookies' deco set contains some gorgeous Maxis Match pieces that you'd find in a retail clothing store.
A clothing rack (clothes and hangers included), a shelf, and a good half-dozen decorative shoes with their respective shoe boxes.
It's a perfectly-sized CC pack for filling up local clothing boutiques!
23. Shopping by Syboubou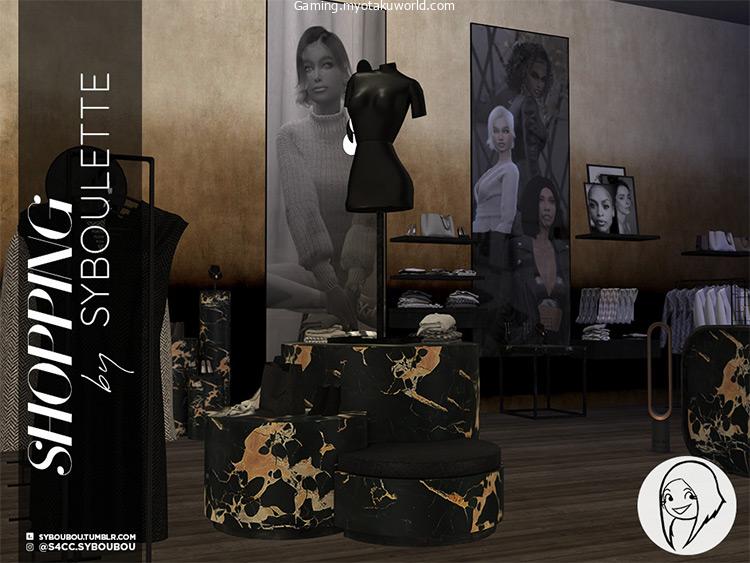 Syboubou gives us a huge number of things (31 in total) that we can use to build a high-end retail store.
There are curtains for the changing rooms, clothes on mannequins, show cases with gold trim, and more! All of the meshes are BGC, and they all have beautiful patterns and top-notch quality.
If you have Sims 4 GTW, the cash machine will work. If not, it's still a pretty art piece!
22. La Friperie by Around the Sims 4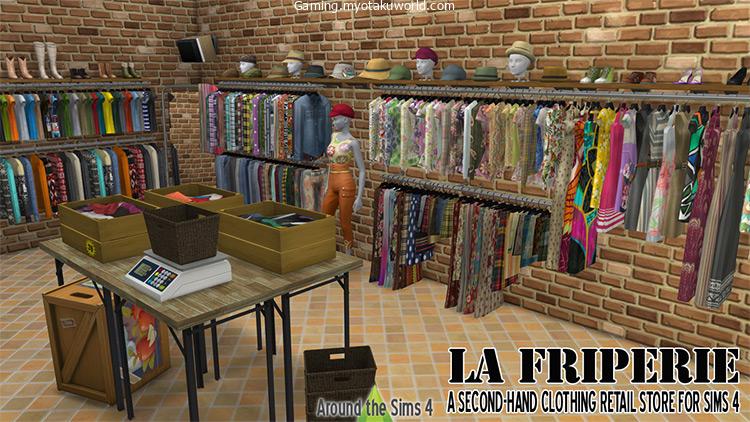 With these clothes racks from Around the Sims 4, you can fill the mall's thrift shop to the brim!
This La Friperie looks like a store that sells used clothes. It has a lot of different colors, patterns, and shapes.
There are even a lot of hats and caps to choose from.
21. Bath & Body Works Shop & Set by One Billion Pixels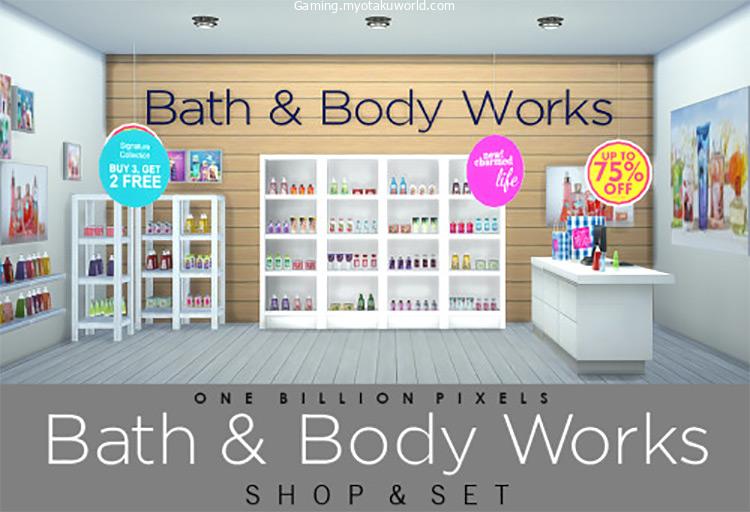 The Bath & Body Works Shop from One Billion Pixels is another huge CC set and unique lot.
It's full of high-quality health, wellness, and self-care products from a real (and loved) business.
Lotions, body washes, perfumes, and cute brand shopping bags are just some of the things you'll find in this box.
20. Game Store by Sim4fun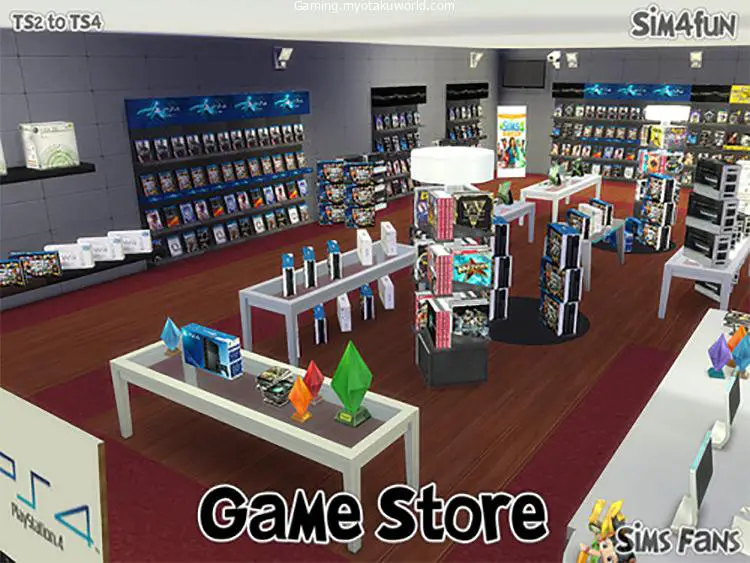 A shopping mall has something for everyone.
You have shoes for sneakerheads, clothes for people who love to shop, and – surprise! – a fully stocked Game Store for players.
Shelves, show cases, game discs, console boxes, and more that are meant to look nice.
Really everything your Sims who play video games could want.
19. The Glam Clothing Rack by Beverly Hills Sims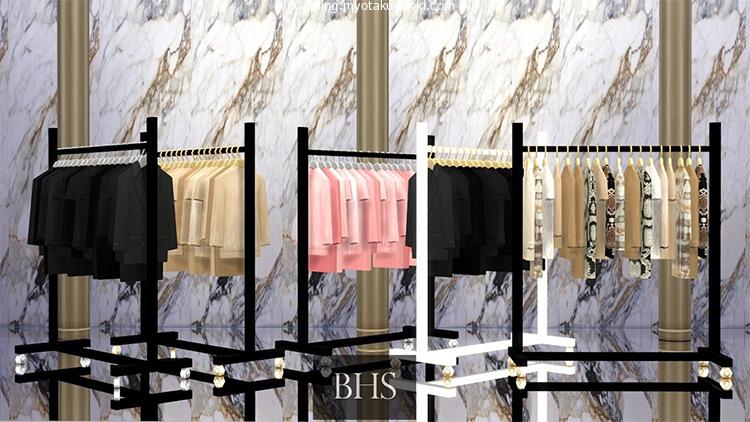 Check out these fancy clothes racks from Beverly Hills Sims if your Sim wouldn't be caught dead shopping at a department store.
They may not be useful, but what about the clothes they have? Pretty darn beautiful. And luxe, too!
18. TS3 Clothing Rack Converted to TS4 by divadoom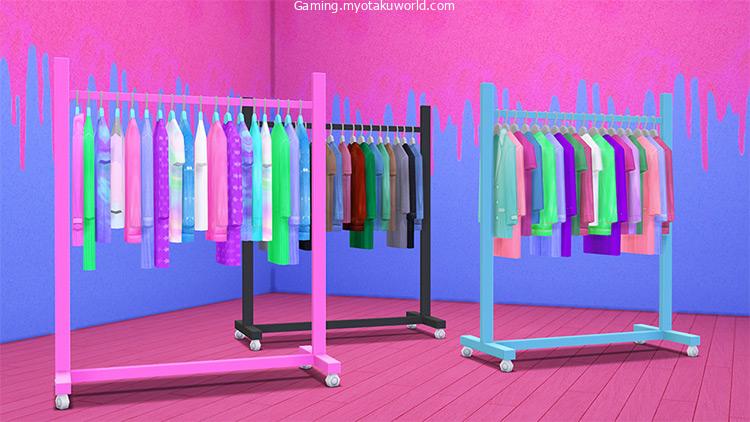 Need some clothes racks with pretty pink colors?
These brightly colored displays may be just what the store manager ordered for a more eye-catching store display that also looks friendly to the general public.
They're cute, easy, and a good way to fill up empty space.
17. Zara Clothes Rack by SIMcredible!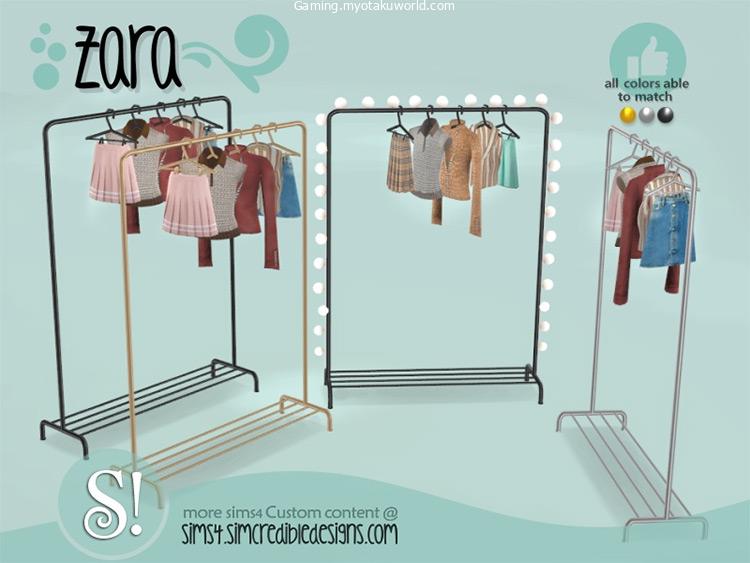 These clothing racks were originally made for the designer's Zara bedroom set, so they aren't very full.
But they wouldn't look out of place in thrift stores and second-hand shops!
Let's say the store just had a holiday sale, but the shelves might be a little bare.
Any way you look at it, the racks are cute (especially the one with the light bulbs) and should be in your mall.
16. SLODIE Make Up Floor Deco Eyeshadows Stand by jomsims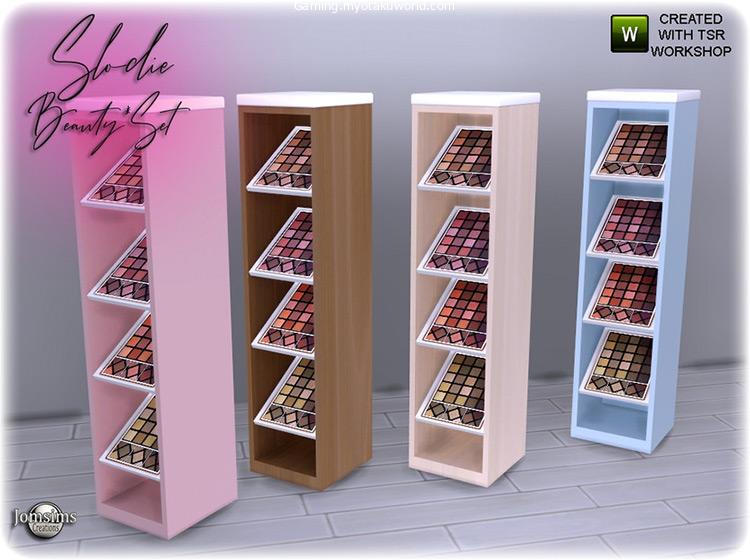 Something to do with the makeup!
The Slodie eyeshadow display at Jomsims has four trays with beautiful eyeshadows and maybe even some lips.
Even though it's just one item with four swatches, this shelf will do a great job of filling up the Beauty section of your shop.
P.S. If you want to set the mood with a few more eyeshadow and lipstick display trays, check out the other ones in the same set.
15. Chanel Make Up Shelf by Bommie Sims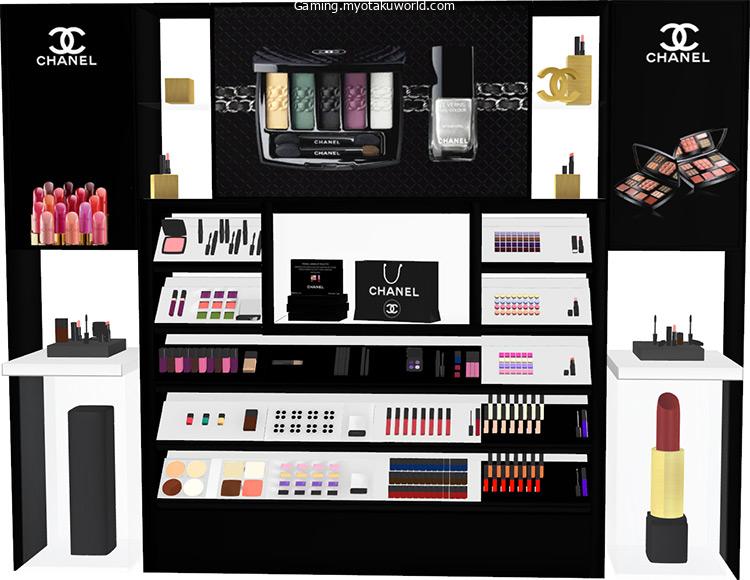 More things for beauty shops to sell!
With this pack from Bommie Sims, you can add Chanel to the long list of high-end make-up names that your TS4 mall already has.
You can also use this beautiful display set to decorate or fill up empty wall space in a Simsified Chanel store.
The make-up and pieces are also two different things. So you can have shelves in your store that are both empty and full.
14. Deco Mannequins – Man by Akuiyumi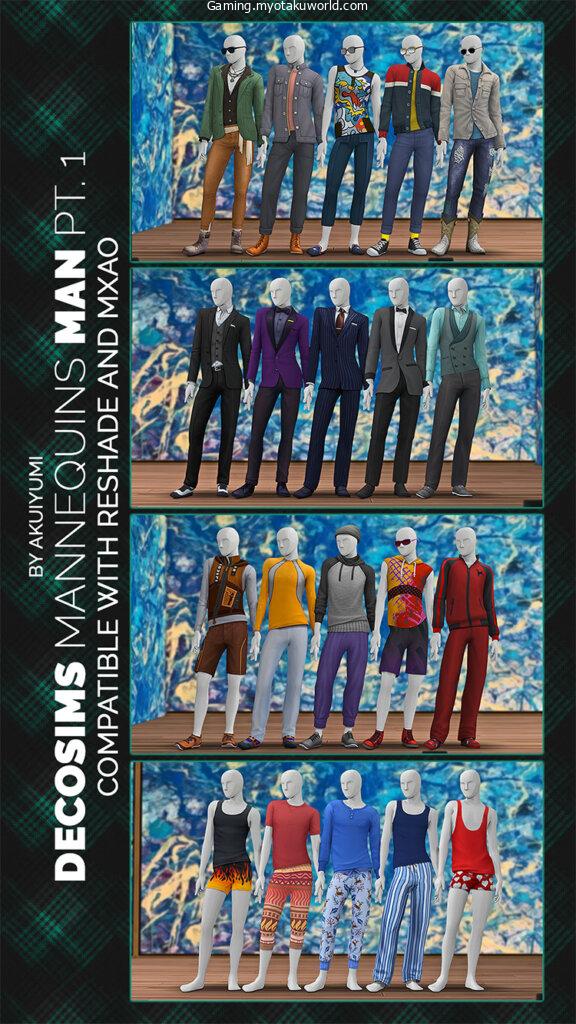 The deco mannequins that Akuiyumi makes are just as creepy as real mannequins, but they are useful for stocking clothing shops.
It gives the build a more real look.
Also, there are a lot of different outfit styles in this package. There are five outfits in each group, for a total of 40 swatches.
P.S. The Deco Mannequins – Woman version can be found here.
13. Jean Retail Stuff by Vicarious Living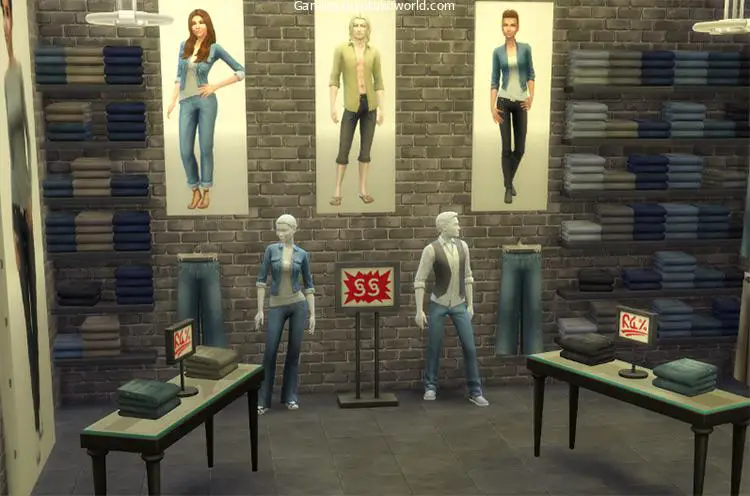 Shopping for jeans is always tough.
Thankfully, a lot of brands nowadays carry diverse options to include more shapes and sizes.
You can use Vicarious Living's stuff pack to populate your TS4 shopping mall with just as many options!
12. Wedding Boutique Set by Martine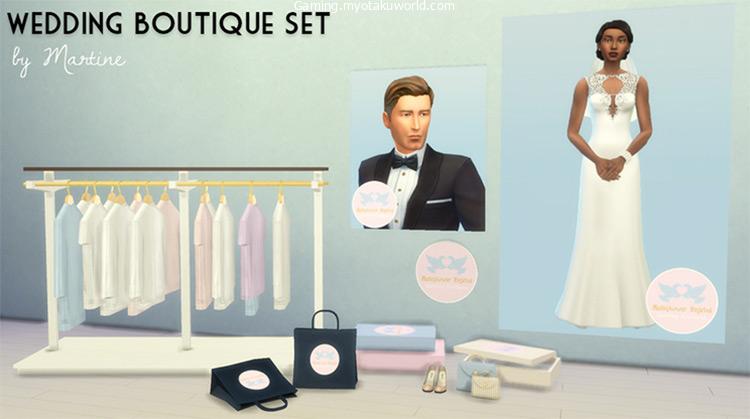 Your TS4 shopping mall can have a boutique wedding store for excited grooms and blushing brides-to-be!
Check out Martine's Wedding Boutique set—a variety pack of different, holy-matrimony-themed deco items, like wedding posters and dainty, decorative pumps!
It's all lacy, delicate, and exactly what you'd expect in a bridal shop.
11. Decoration Stores Standards (7 Items) by JenniSims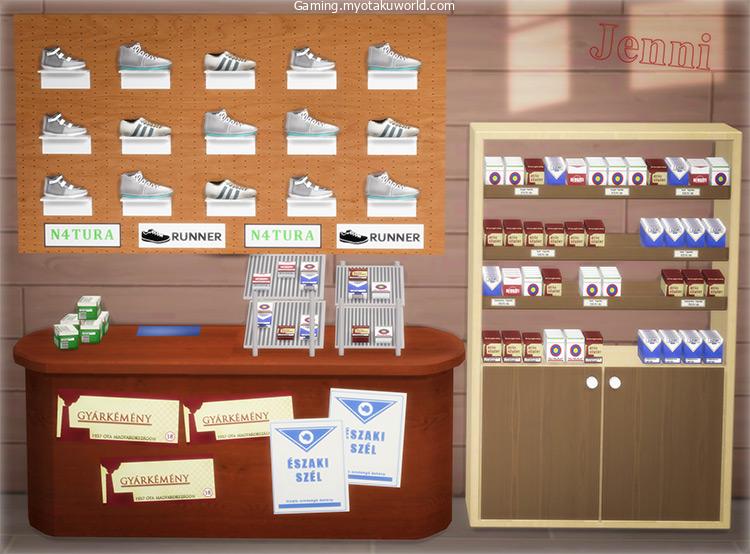 The store display items in JenniSims's decor pack are a pretty odd mix, but they are still useful.
I mean, you have shoes on the wall, a cigarette display, and soda bottles on the corner tables. The two-liter type.
10. Bridal Shop Set: Anybody's Dress by Ravasheen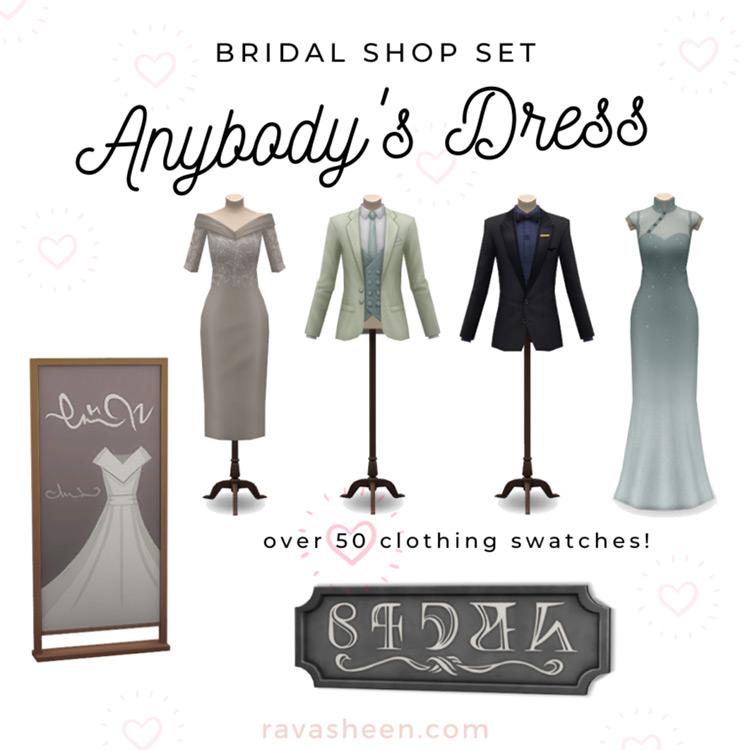 Ravasheen's wedding Shop pack, as the name suggests, has decorations for a wedding shop.
The best part of the set is the mannequins, which have over 50 clothes samples on them.
But the posters, signs, and other random things in there are just as cute.
9. TS4 – Cosmetic Stands by Ladesire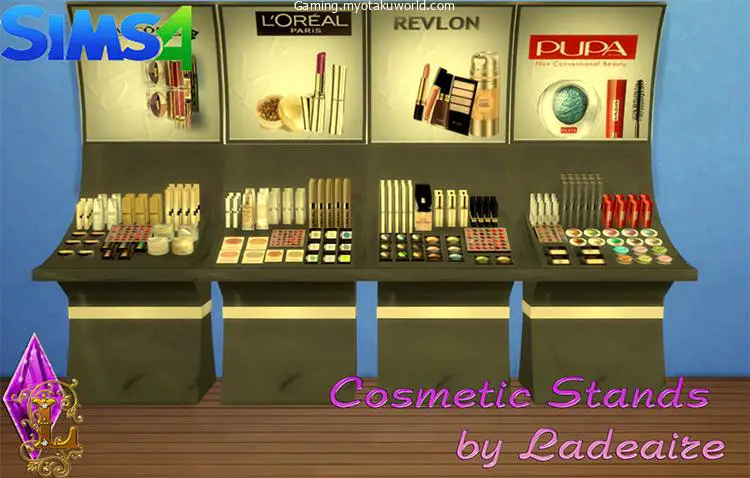 Check out Ladesire's pack of Cosmetic Stands if you need a few more stands or tables for the Beauty branch.
The cool thing about these display cases is that each swatch, which stands for a different brand, changes the items that are shown on the top.
So the Revlon swatch shows foundations, lips, and other makeup, while the Clairol swatch shows boxes of hair dye.
It's a pretty cool trick and a great way to make your build more interesting.
8. Gazoul's Shop: Jean Factory for Men & Women by Gazoul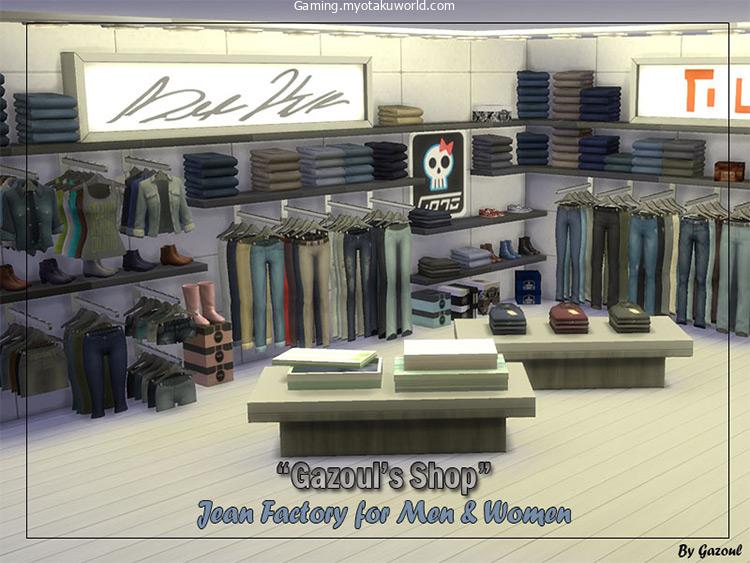 Gazoul's Shop has things for both men and women.
There are four decorative pants for men, five for women, and six other jeans-store-themed items that are not pants.
You can also download the creator's handmade wall hooks (link is in the description) to hang and show off your pants!
7. Riekus Valentines Day Gifts by leosims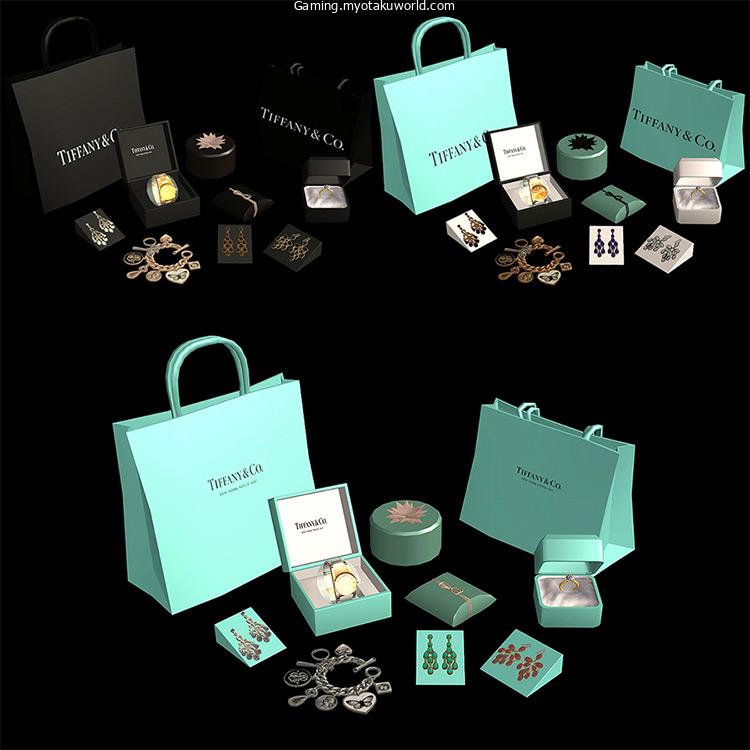 This Tiffany & Co. deco CC pack has almost everything you'd find in a jewelry shop.
Earrings on little silk pillows, watches in boxes with designs on them, and other bits of jewelry.
Just give us the display units and the floor plan, and you're done! You have a Tiffany & Co. store in your mall!
6. Display & Jewelry Set by jomsims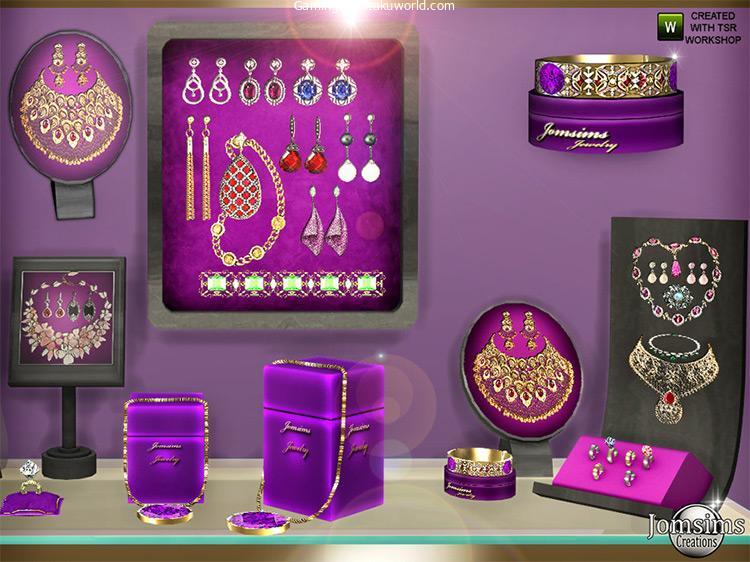 Jomsims' set has display units and glass cases with brightly colored baubles for shops that sell flashier jewelry.
Golden chains, blood-red rubies, crystal-blue earrings, and emeralds that are so green they blind you… anything you can think of is probably here.
5. Beauty for Him by Sim4Fun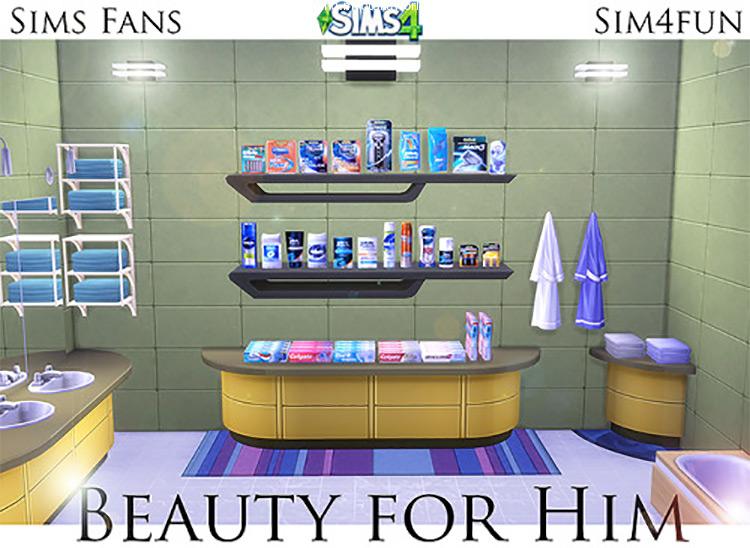 This list has a lot of pink-label beauty products. So why not bring some useful items for keeping clean?
There's more than just deodorant, throwaway razors, shampoo, and toothpaste.
Everything your Sim needs for a fully stocked bathroom.
4. BAUBLE & Bandera Beauty Supplies by RightHearted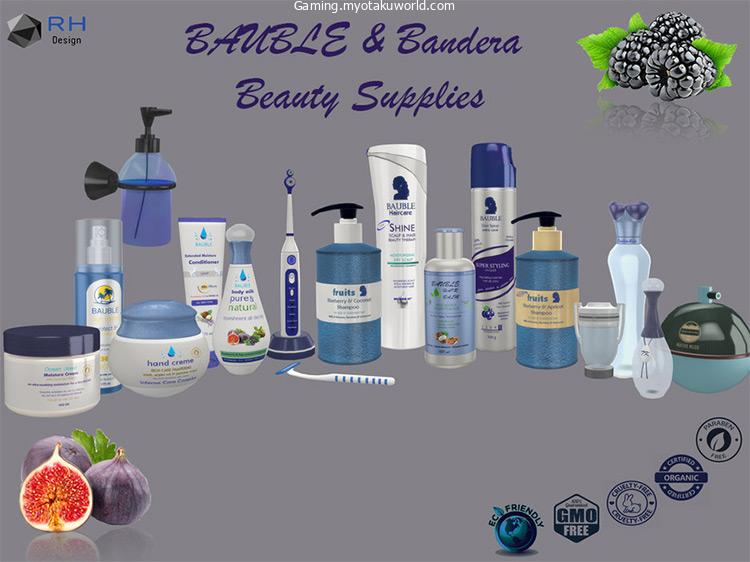 I had to do a quick Google search to find out if Yaritza, Bauble & Bandera was a real name or not.
RightHearted's sales pitch (also known as the CC description) and custom meshes are so good that I thought they were based on real-world things. Nope! Every one of the 21 unique items in this set is an original idea. It's awesome!
3. PrettyxSimblr's Shopping Bags Redux! by One Billion Pixels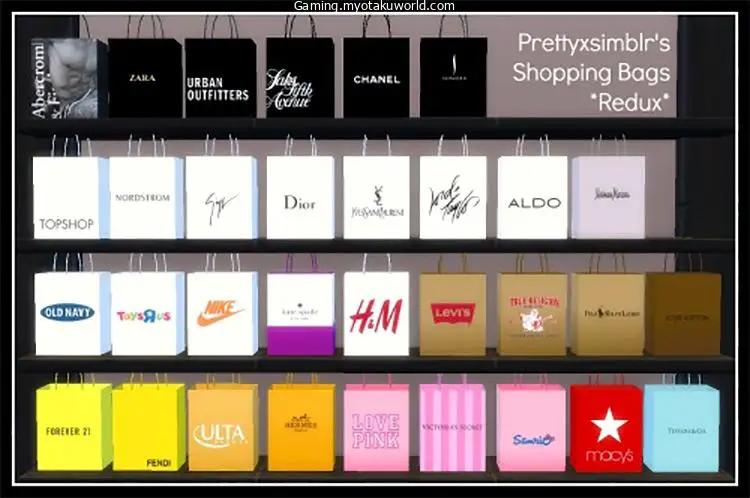 Where else besides a shopping mall would a random shopping bag not look so random? Stacking up on a park bench? Little weird.
held up by a lamppost? Definitely something to think about.
But at a shopping center? All is well!
The new version of PrettyxSimblr's shopping bags by One Billion Pixels brings 32 IRL names to your mall.
2. Uplifting Elevators by Ravasheen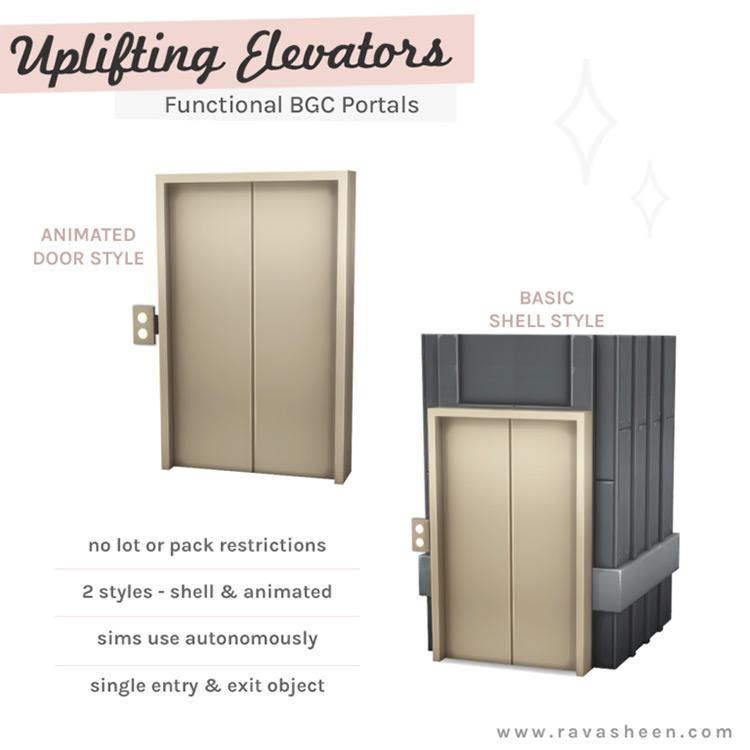 If your TS4 shopping mall has more than two floors, make it easy for Sims to move between all of them.
Ravasheen's Uplifting Elevators are lifts that work and can be used with the base game.
Sims will use it as a way to get around on their own. Plus, there are no limits on how much or how many you can buy. For bigger buildings, this is a must-have.
1. Business Signs by Jools
This chalkboard sign from Jools is a classic for all the food stands, restaurants, and cafes in your shopping area.
It's simple, says what it means, and works just as well as any other sign.
You can pick from more than 50 different styles.