Ah, capitalism. The only thing that's matter in this economy.
It's just as common in New Horizons as it is in real life, with a pot-bellied raccoon mogul being the only real change.
If you like farmer's markets, shops, Shopping Center, or even just roadside stands, New Horizons has something for you to build.
Here are some great ideas to help you get started.
21. Cute Pop-up Stores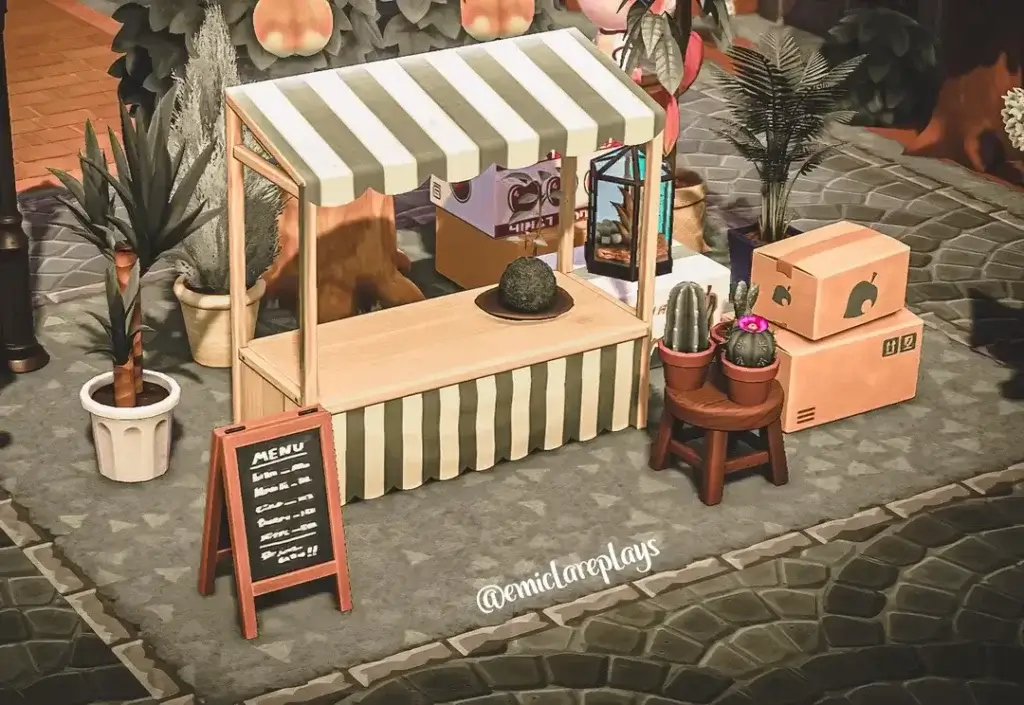 Here is one super cute pop-up store created by one reddit user, I really liked it so i am adding this to this list.
Because i like these pop-up stores in acnh islands and i hope you do too, that's why you are here right?
you can check out the full tutorial here from the creator it self.
20. Japanese Shopping District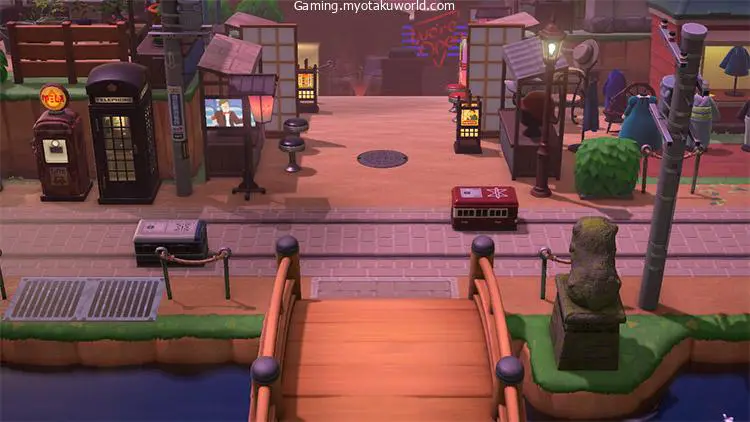 This sugoi shopping area will give you a taste of Japan.
Since Nintendo is a Japanese company, ACNH has a lot of Japanese-themed things, like the shoji screens, shisa statues, and general decor shown here.
There are also a lot of things for sale here, like clothes, hats, and even gas.
If you want your island to feel real or busy, you should think about making something like this. Your people will have a great time wandering around and looking at the goods.
19. Sakura Street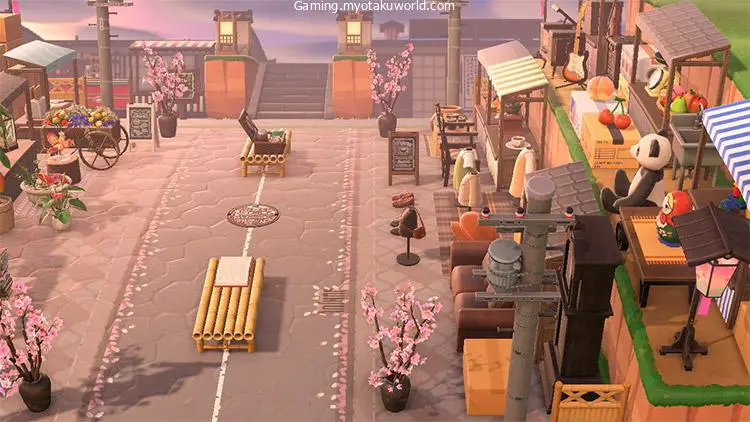 Here's another building that looks like it was made in Japan. This one uses terraforming to put shops and restaurants on different levels.
The cherry blossom trees in bloom in spring make the sakura theme even more beautiful.
This area looks like booths and food bars because of the way the stalls are designed. You can also buy other things, like the clothes on the models.
This build will take a lot of work and things, but it's so worth it.
18. Cottage Sisters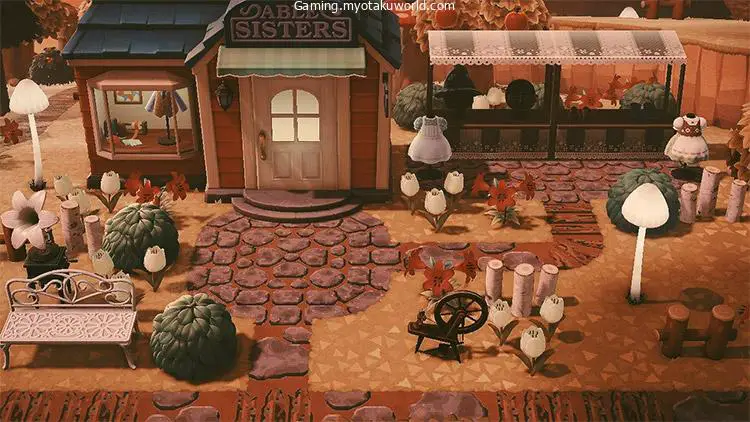 Here's a good idea for your island if you like the cottage-chic style.
This Able Sisters has a lot of clothes and flowers in this extra outdoor space. A fun addition to a clothier is a spinning wheel.
This woodsy build has a bit of fun with the tall mushrooms. Try this one if you like nature and things that look old.
17. Shopping Plaza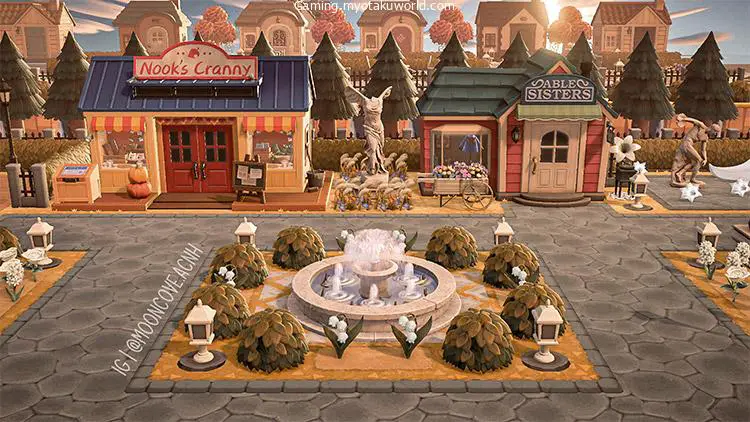 If you like the nicer things in life, this shopping area might stand out to you.
It puts both shops, Nook's Cranny and Able Sisters, in the same place so you can do all your shopping in one place.
Convenient!
You can make a great center point for your island with a statue, a fountain, and some hard work.
The tall houses in the background also look great. Terraforming is cool, isn't it? Some flowers and bushes add a bit of nature to make a pretty spot that is close to nature.
16. Plant Shop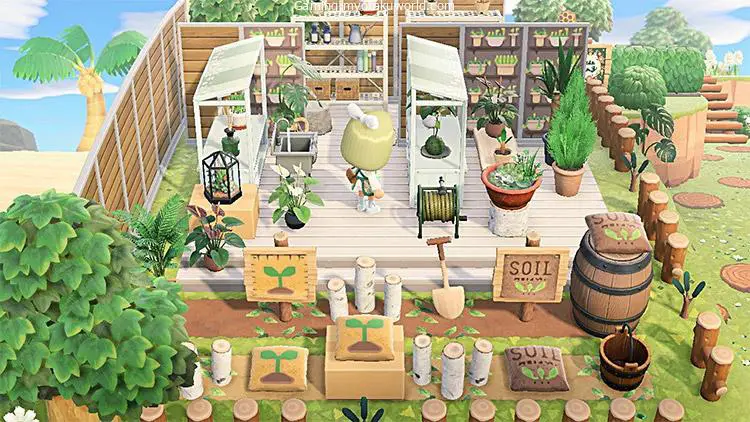 With the weather getting warmer, it's easy to work out in the yard. Getting a new plant from New Horizons is the best thing ever.
They have plants like calla lilies and monsteras that are ready to be planted.
No more dirt?
Don't worry about it, just go to their shop and buy whatever gardening tools you need.
Custom panels are also a great way to make your deck look full without having to build it yourself, which is something this amazing shop doesn't let you do.
There's no reason why New Horizons shouldn't sell them, since they do so much more than just grow plants.
15. Lush Shopping District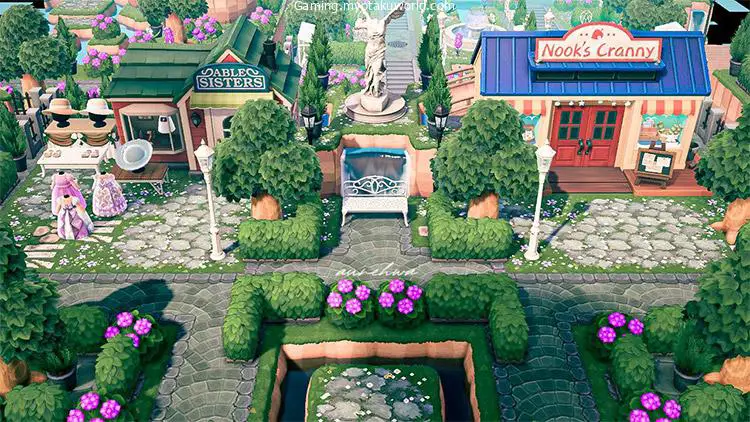 This looks like something out of a storybook.
This shopping area looks beautiful and green because of the shrubs and pink flower bushes. It doesn't look like a stretch of the woods. A statue, a small waterfall, and white iron seats also add to the look.
This island looks well-planned and put together because Able Sisters and Nook's Cranny are close to each other. Just look at how nice the balance is.
14. Farmer's Market
I'm a sucker for farmer's markets.
I like looking at all the different booths, picking out really fresh food, and, if I'm lucky, petting some cute farm animals.
Even though there are animals on these places, you can't pet them.
But that's okay, because this farmer's market is so much fun!
Invite your friends to stop and smell the flowers or take pictures by the fruit stands. Using stalls and handmade panels in a clever way makes this look like a real building, which is hard to do.
Grab some fruit or a small bonsai tree, or just wander around and look at things. You're sure to have a good time.
13. Yarn Shop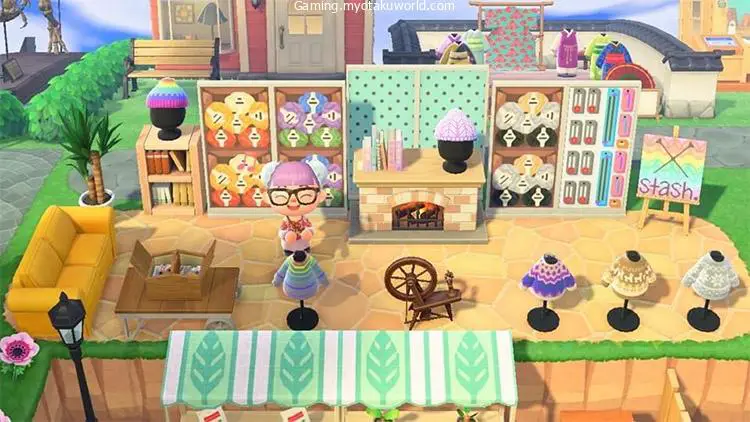 There are a lot of knit items, like jackets, at New Horizons.
But where does the thread come from?
If you don't have a sheep villager like Barba or Pietro, you can use this fun yarn shop to make your own fluff!
Custom panels make it look like there are shelves full of skeins to choose from, and a variety of sweaters, hats, a fireplace, and a comfy couch give this cute room a funky and cozy vibe.
If you like to knit or crochet, New Horizons is also kind of being built for you.
You think that Celeste knits, right?
Celeste might knit, I think.
12. Electronics Shop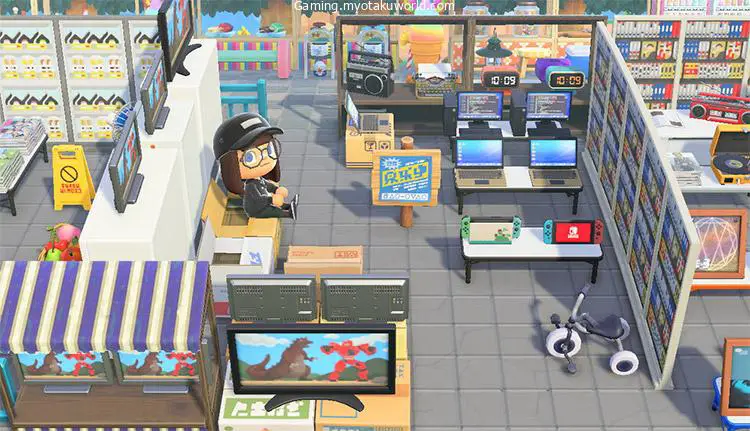 If you don't like the "natural island" thing that Animal Crossing is known for, this could be a great place to build a market.
This electronics shop has things like computers, TVs, and two different kinds of Nintendo Switches (wow, that's meta!).
Even better if you like to play online.
Collecting things like this and then asking other players to come buy them for bells could be a great way to boost the economy of your island and add some acting to this sandbox game.
Your friends could even buy online with the Dodo mail service. There are a lot of possibilities.
11. Antique Clothing Store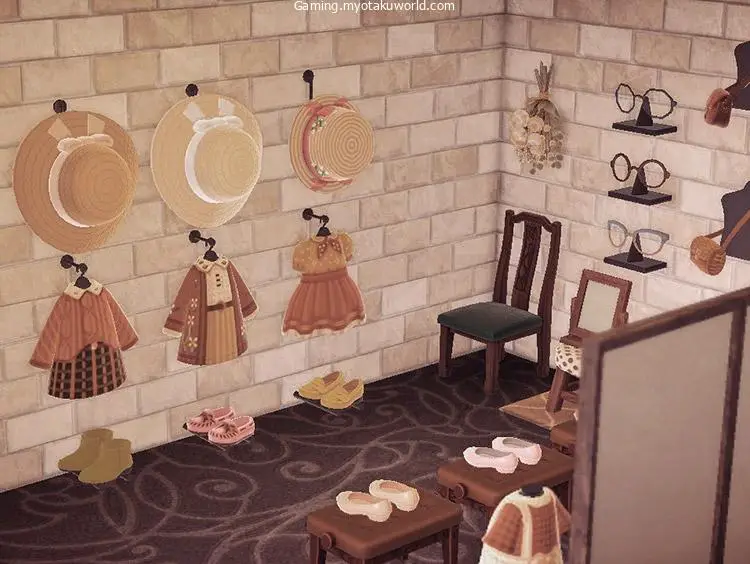 This player has an antique clothes shop in part of their house.
It's a great idea if you really like making your own clothes and want a place to show them off.
Each outfit shown has a hat and shoes to go with it, and they are all very cute.
This is also a great idea for new players because it's easy to build and doesn't require a lot of DIY recipes. All you need is the advanced customization app on the Nook Phone and some imagination.
10. Grocery Store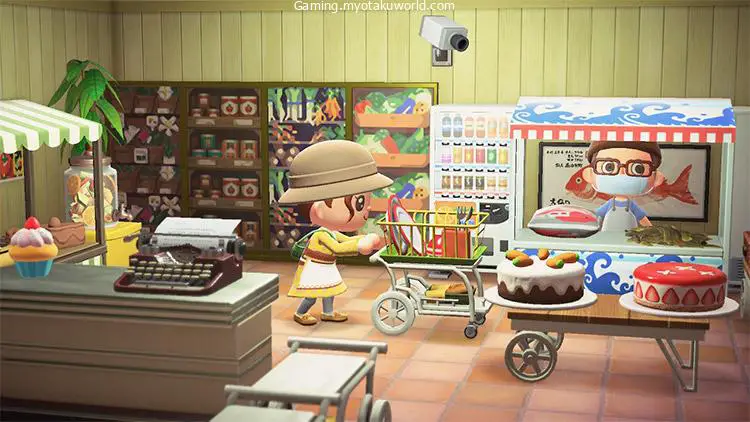 Should people eat?
Unclear. But since veggies are so expensive, I think it's safe to say that food is expensive on the islands.
Even so, a lot of players care about how real the game is, so check out this super cool grocery shop.
This little store has what you need, whether you want a cake for dessert, fresh fruit and vegetables, or fish that move around.
The cart, which is just a wagon and a dish rack put together, is a fun addition.
9. Fishing & Pet Shop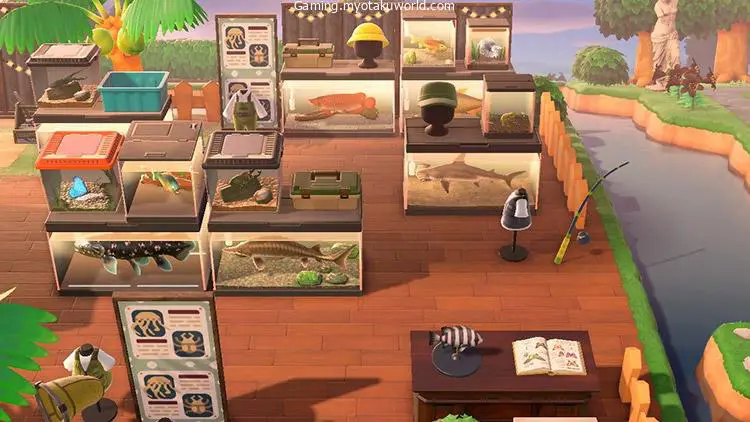 Look, in a game where cute animals build homes on an island where you, as a person, are pretty much in charge… Pets can be a little strange.
How do you tell the difference between a pet and a villager?
You can catch a squid, but what if your next-door friend is an octopus? I guess you should try not to think about it too much.
If you really want a pet, though, this shop has a variety of bugs and fish you can adopt. This is about as ethical as this game can get.
There are a lot of things on show that you can take home. The only one who won't like looking is Blathers. Bugs, man.
8. Potion Shop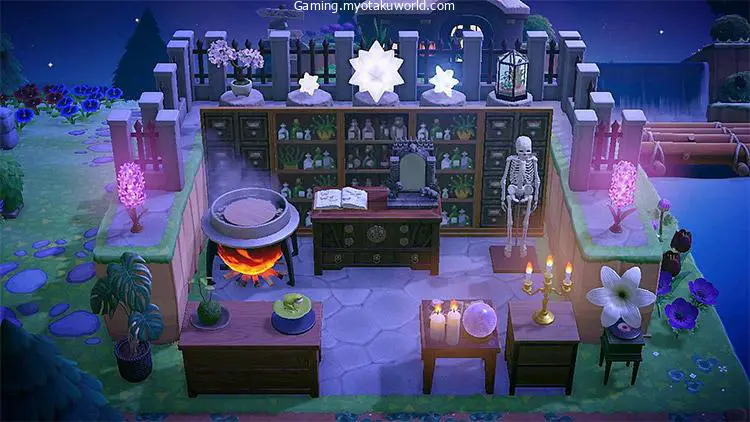 There are a lot of cool scary things at ACNH, like fortune-telling kits, poison potions, and even a friend made of bones.
If you dare, go at night.
When it comes to making potions, we also have the best witchy goods in town.
If your partner is always with you, you don't have to worry about getting lonely.
When it gets dark and there isn't enough light, we have cool things like spell books that help fill up this shop and make everything better.
7. Nook's Cranny Overflow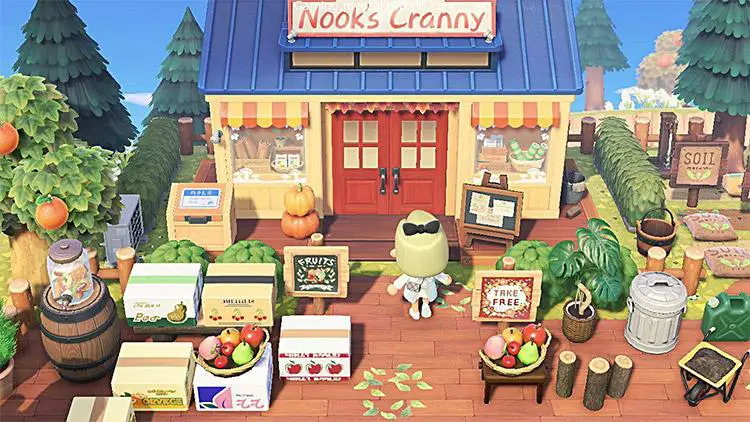 It might be fun to shop at Nook's Cranny. But they don't have very much in stock for a place that size.
Since it's only run by two guys, I guess that's fair.
This build has a place for dirt, a place for outdoor items, and a place for fruit crates.
It's a great way to make the Cranny feel full and full of things.
It's a great idea for new people, too, because you can use almost anything. And the lost and found at Resident's Services always has boxes made of cardboard.
6. Street Market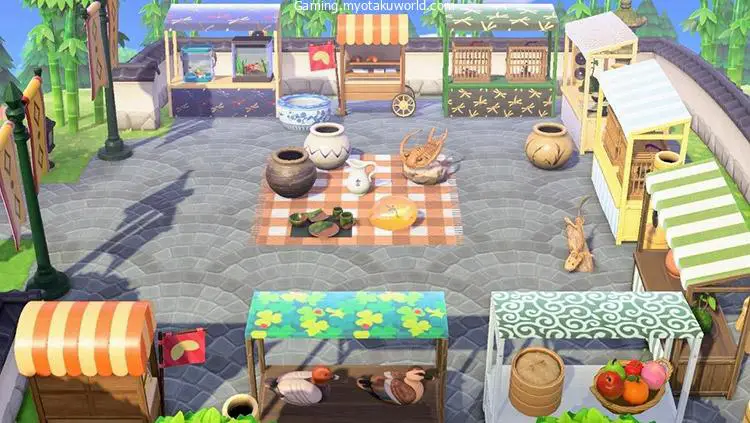 Street markets can be a lot of fun, just like farmer's markets. Since you never know what you might find!
This market has a lot of places to sell things and a cushion in the middle for pottery.
Everyone can find something they like here.
Plant here any strange things you don't know what to do with but don't want to throw away. They'll help you get more stars on your island and add to this crazy market.
This is a great place for Sahara to sell his rugs, by the way.
5. Flower Market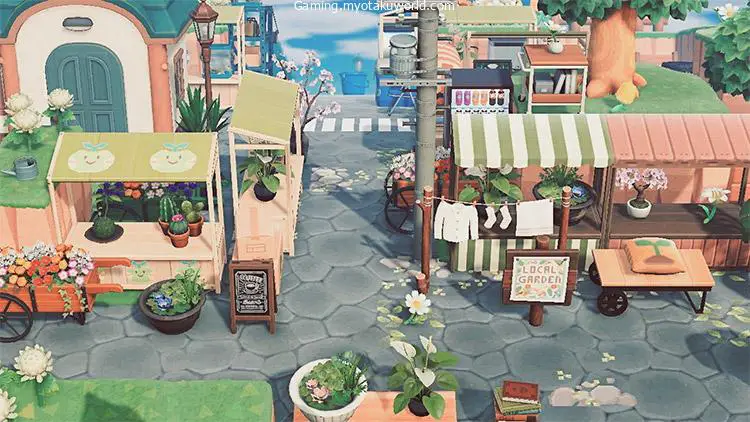 Flowers and plants are the focus of this cute little market.
There is a stand with cacti, bonsai, and a few other kinds of plants.
Your people will walk around and look at the different stalls, which makes for a lively shopping experience.
It's really cool to see all the different things—there are even apples on one side, which makes me want to buy them right away.
When you need a change in your life, this kind of thing makes you feel like you're at home.
Go ahead and buy more flowers if that's what you want to do today.
4. Old Timey Market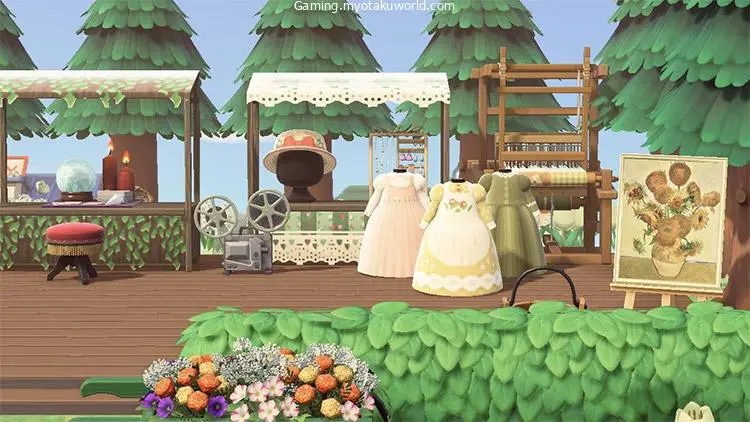 Here's a great market set up for people who like old movies, old clothes, and fun hats.
There are mannequins dressed in old clothes, a Van Gogh picture, and even a booth where you can get your fortune told.
A loom in the back and an old movie reel also help set the scene.
It's bright without being too much, thanks to the background of conifers and the pop of color from the flowers in the wheelbarrow.
3. Fish Market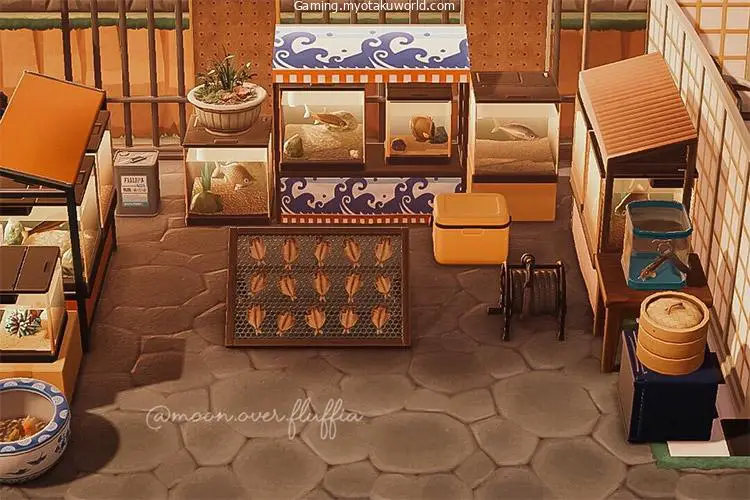 Many places around the world have a lot of fish shops. Using stalls and tanks is a safe way to get the freshest and best fish for sushi, fried fish, ceviche, or any other dish.
This special ACNH Fish Market has screens that help give it a Japanese-like feel that makes it feel like it's in East Asia.
These would look great on an island or part with an African theme!
I like that it has lines so you can add water to your tanks whenever they need it ;).
2. Flea Market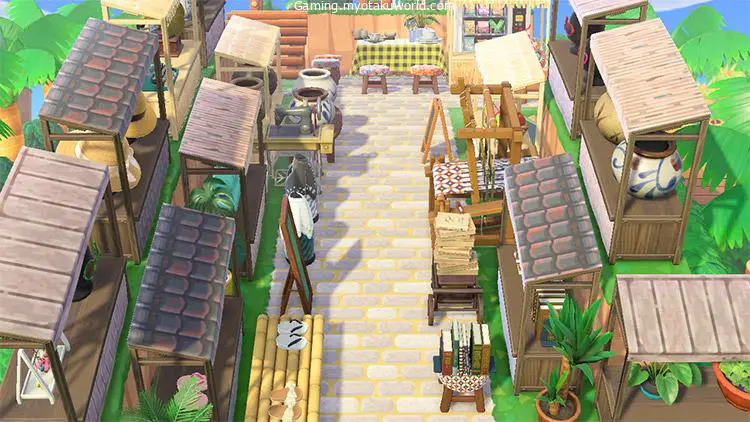 I, Spy is kind of like this cool junk market.
There's something for everyone, including trees, clothes, a sewing machine, and books.
And, like many of the other things on this list, it's a great way to use up odd items that don't fit in your house or anywhere else on the island.
This building even has a snack selling machine for when you get hungry while looking around.
After all, snack time is the best.
1. Redd's Black Market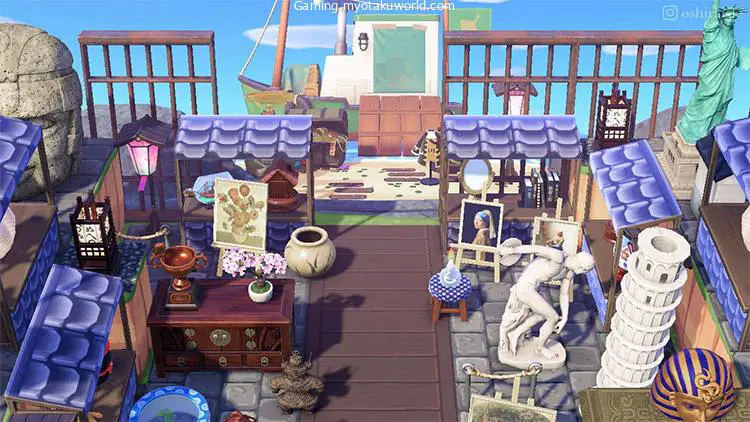 I don't know about your island, but Redd rarely visits mine.
So it is really, really amazing to find so many fake works.
This marketplace idea might be for you if you have a dark sense of humor or like the silly fakes in this game.
There are a lot of statues, paintings, and fakes in this busy market. If ACNH sold Gucci, there would be fake Gucci bags here.
It's also a lot of fun to have it right next to where Redd docks his ship.