Really, who doesn't enjoy a good day of retail therapy?
In short, if you're looking for something on the island, you'll find it at Nook's Cranny.
Nook's Cranny is a one-stop shop for all your home decor, medical, and DIY needs.
And if you find yourself short on bells, you can always swing by the shop of your favorite racoon twins and sell some stuff to make some quick cash.
Therefore, it's clear that Nook's plays a significant role on your island. It also makes sense to make your Nook's front end visually arresting.
In case you're stumped as to where to put your Nook's Cranny or how to make the most of the area surrounding it, we've selected some of our favorite inspo and ideas for you to try.
17. A grand entrance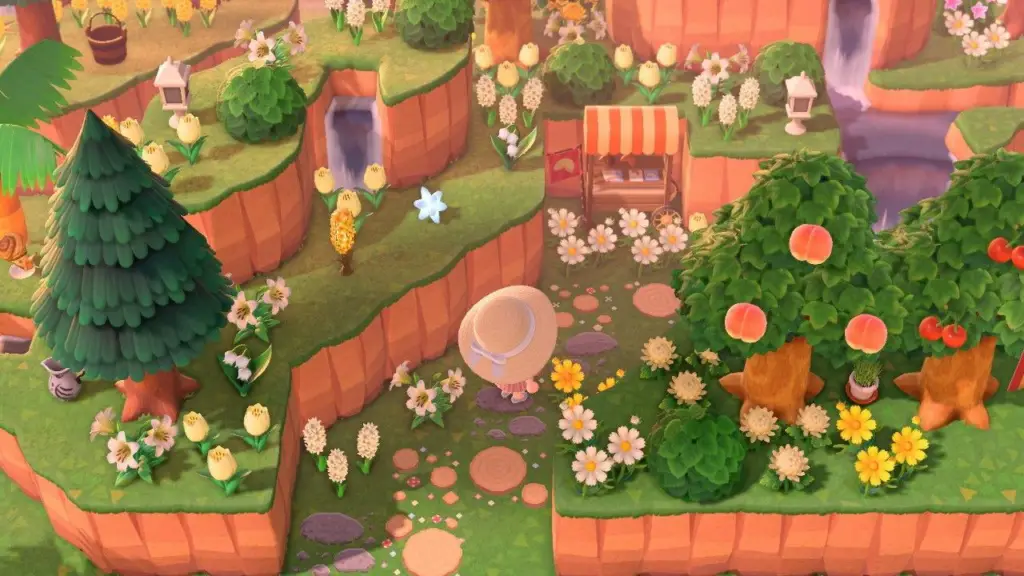 Making a big arrival from your airport is one of the best ways to make your island stand out.
Some people are fortunate enough to have their town hall and airport close together and separated by a significant distance.
This provides the ideal area to build more floors and construct a forcible entrance to your island.
To make a spectacular entrance, you can employ cliff construction and waterscape pools.
Or you could create something that appears more rustic. Players that want to choose a more rural vibe are drawn to the cottagecore/natural style.
This island's entrance exudes a more rural and unspoiled atmosphere. Design number for Natural Path: MA-9696-6605-2213.
16. Museum Section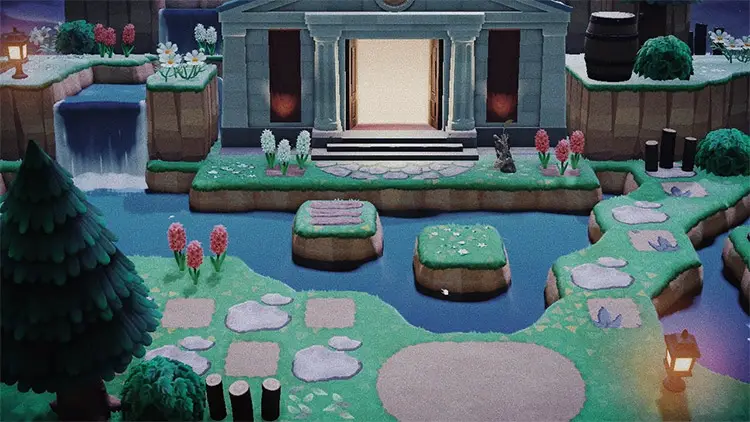 Many gamers take pleasure in expanding their museum exhibit to the vicinity of the museum structure.
The museum should have majestic entrances, and finished dinosaur figurines would be a fantastic decoration for your island.
In light of this, think about using duplicate fossils to adorn the outside of your museum if you start to find them.
The same holds for Redd's forged or copied sculptures.
A rope fence and extra fossils can be used to make your museum exhibits.
15. Retail Shop Coffee Shop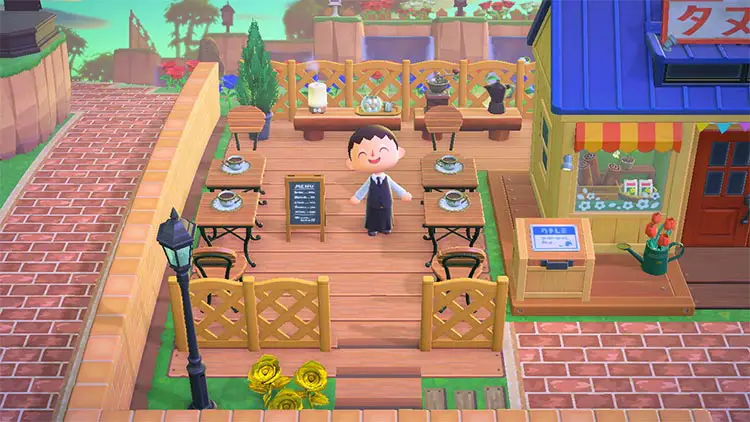 Source image via @ASPHERE LAG.
There isn't a shopper alive who doesn't grow hungry. People who get hungry while doing their weekly shopping will appreciate a café that is conveniently located just next to your Nook.
Put in some extra seating and bespoke menu boards along the side of your shop, and stock the tables with refreshments.
Bonus points if you also dress like a waiter!
All the locals can gather here to share stories and hear the newest tidbits about the island's happenings.
It's going to be TEA-mazing!
14. A Cozy Beach Nook at ACNH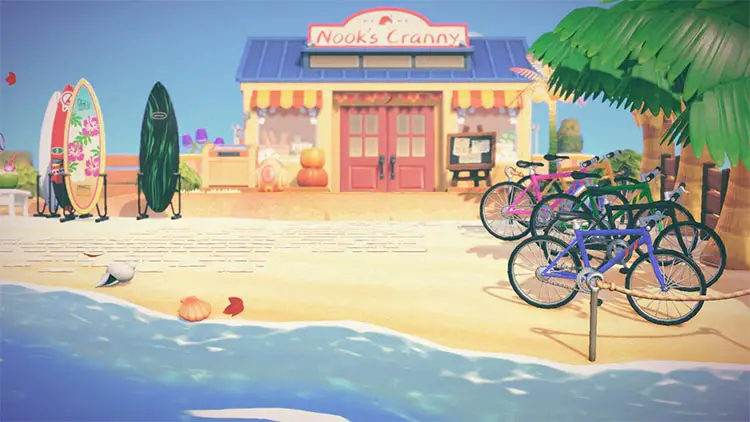 CELESICA PROVIDED THE ORIGINAL IMAGE.
Location on the shore will give your Nook's Cranny a summery feel.
To put it simply, the structure can be relocated such that it rests on the beach.
Put bikes and surfboards outdoors so the shop may double as a hangout for outdoor enthusiasts. Perhaps some snorkels and wetsuits would be useful outside as well.
We need to find ways to get the locals out and moving, and a bike ride must be the best way to see the island.
13. Hidden Forest Nook – ACCH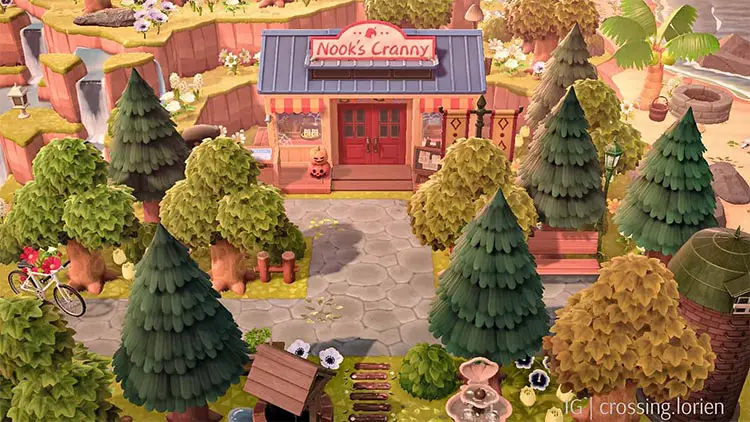 Photo credit goes to @CROSSING LORIEN.
Why not set a shop in a beautiful forest if you enjoy the outdoors and want to keep with the forest motif of your island?
Place Nooks amongst a gorgeous assortment of cedar and hardwood trees to achieve that ultra-refreshing, natural atmosphere.
You may complete the look with log benches, fencing, and a wishing well.
We guarantee that the walk to the store will be the highlight of your day.
12. The Pottery Store Next to the Nook and Cranny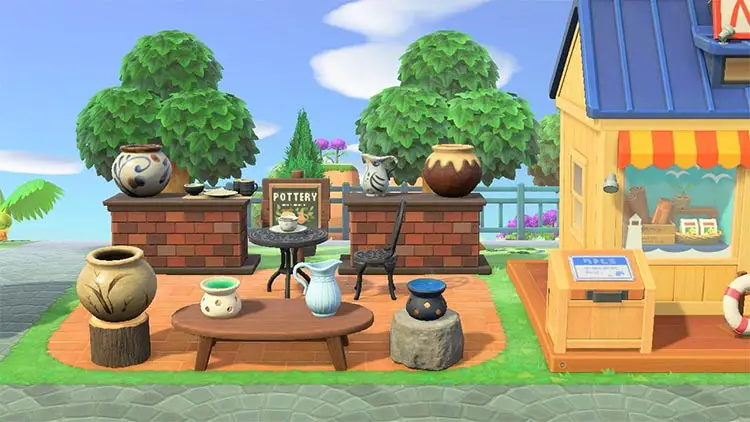 IMAGE SOURCE BY TJFOWLE
Why not set up shop right next to Nook's Cranny?
Create your own private shopfront by partitioning off a side room.
We'd like to buy everything in the store and do a whole house renovation because of this pottery shop concept.
Turning fireplaces around so that the opening is hidden from view makes them ideal for displaying merchandise. Now you have a cool brick shelf on which to put your wares on show.
What's even better is that it needn't be ceramics! The sky's the limit when it comes to opening an outdoor goods shop.
You should probably start planning what kind of shop your island needs right now.
11. Creating a Town Square at ACNH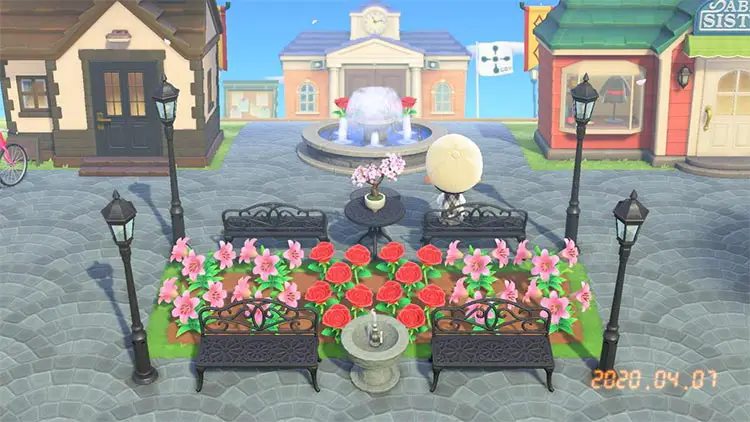 CINMU PROVIDED THE ORIGINAL IMAGE
Putting Nooks near Able's and near Resident Services will effectively create a mini-town square within your building.
Put the finishing touches on the landscaping by adding some bright flowers, iron benches, and lighting.
Including a focal point in the center is a must. Use a statue or a huge fountain.
And with that, you've made the village square everyone's always wanted!
10. The New Horizons Nook, a Cove in the Cliffside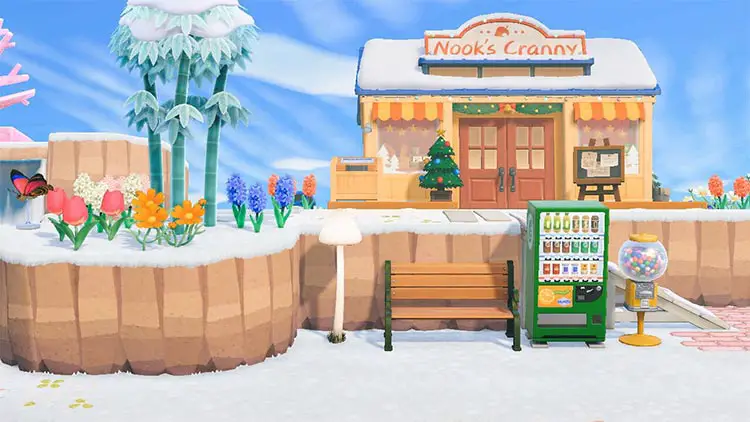 FEATURED IMAGE COURTESY OF @BEEJAY QWEEN
It's simple to give your island a new look by placing your Nooks on top of a cliff and making a dramatic entrance for your shop.
You can construct a cliff and then select the most suitable slope to ascend to the shop on. Such a straightforward explanation of your Nook's Cranny shop's frontage is stunning in its effectiveness.
Enhance the outdoor area with some flowers and basic decor. Consider landscaping the space with trees and bushes.
If you want to make your cliffs stand out, you can even build a waterfall at the edge of them.
9. Nooks and crannies of the city's shopping district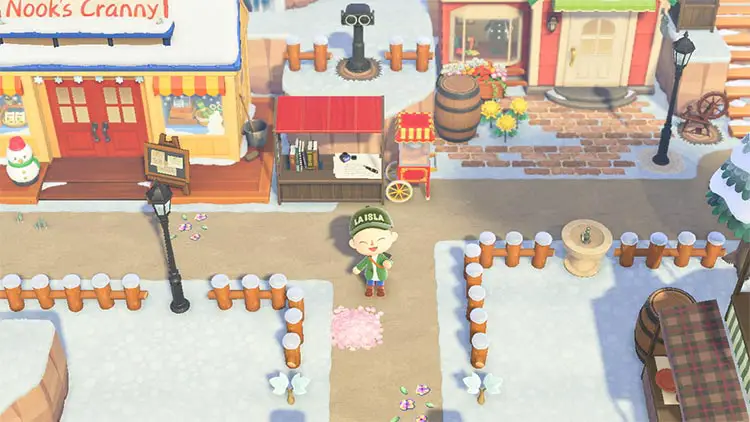 IMAGE SOURCE THE WORK OF @SUPERDOG5833
There's nothing more time-consuming and annoying than having to search your entire island in vain for lost shops and dwellings.
I don't see the point in keeping them scattered.
Having your shopping area helps keep your establishments in one convenient location.
Along with Nook's Cranny and Able Sisters' actual stores, you can set up a few of your temporary booths and stalls.
You can create a high-street atmosphere by placing streetlights and fencing along your preferred route to the store.
8. Nook's Cranny Garden Spot at ACNH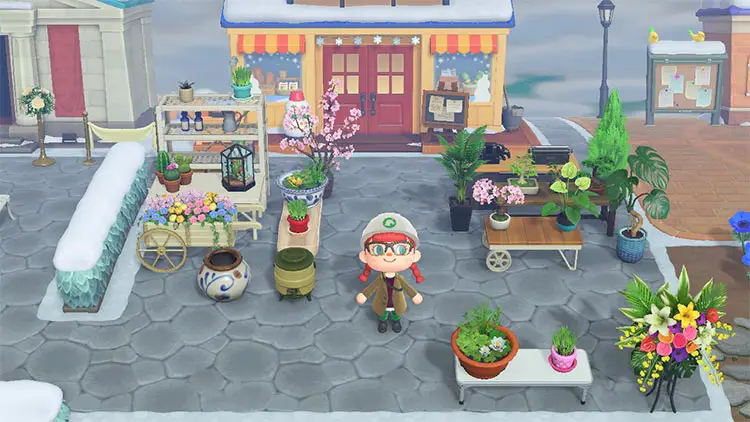 By @MONICAROONEY/IMAGE SOURCE
You may impress your neighbors with your green thumb by opening a garden center near your nook.
Earn more points by locating and harvesting all of the game's plants.
You can even use flowers to create beautiful arrangements.
Then kick back and wait for your plant company to take off. Even better, you may have a shopping party and let all your pals come.
I wonder how Leif will feel about all the other contestants.
7. Cozy, Concealed, and Out-of-the-Way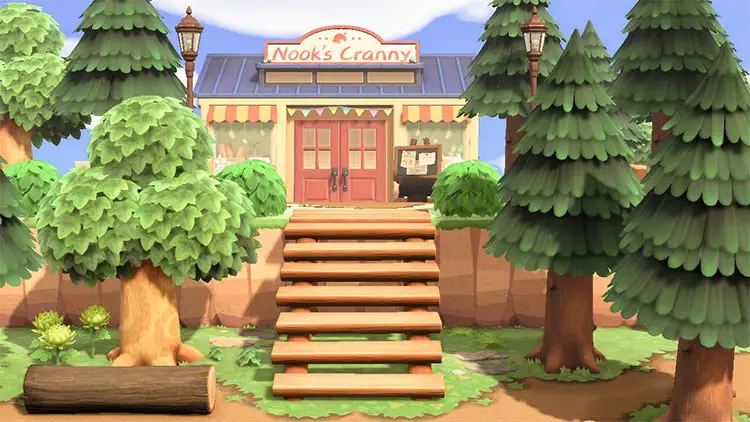 PICTURE SOURCE: @DANAECROSSINGS
ACNH is seeing a rise in the use of its hiking routes.
Why not surprise your villagers by hiding your Nook's Cranny along one of your trails?
Enclose your secluded nook with verdant foliage and set it apart from the bustle of the world outside. Put it up on a hill if you like.
Stick with the classics by installing wooden stairs, log seating and an outside fire pit for those winter evenings.
6. Plan for ACNH's Secret Spaces and Tourist Information Center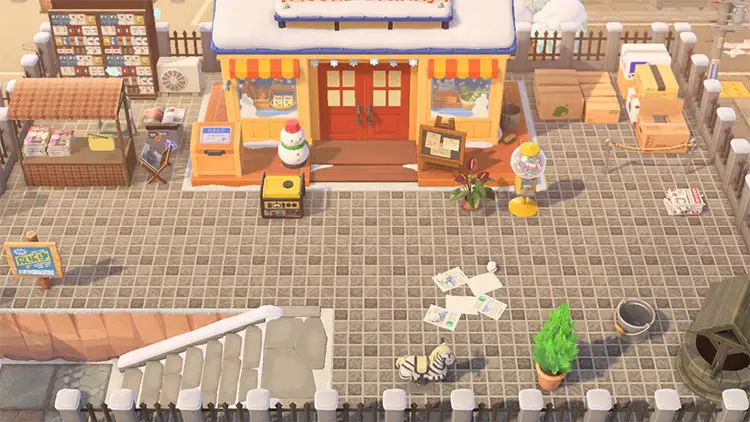 IMAGINE BY @KACIAO5
Have guests who might need some direction while they're exploring your island?
Why not have an information desk ready and waiting just next to your Nooks?
Any design you may imagine is possible for an information booth.
A few basic panels can be modified to resemble file cabinets at your whim.
Alternatively, you could provide a small closet-like space where the twins can keep all the empty boxes they collect.
Where do they store all of their inventory, after all?
5. A Coffee Shop Tucked Into a Narrow Hallway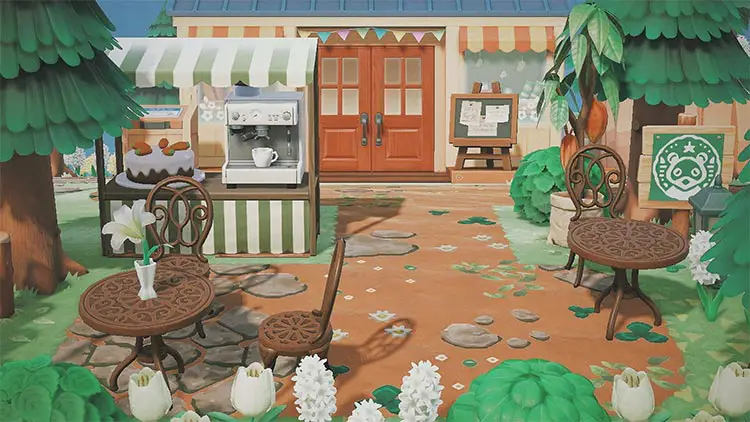 Source image via @VULNICURYAN.
Making a purchase might work up quite a thirst.
Opening a coffee shop in the same shopping center as Noodles might be a lucrative venture.
The ideal look for a European-style coffee shop can be achieved with the help of individualized cubicles and a variety of tables and chairs.
Make it stand out by planting flowers and plants surrounding the location and adding a unique sign.
We miss Brewster, but in the meantime, we'll have to keep the villagers caffeine-fueled.
4. Nook's Corner Retail District (ACNH) Concept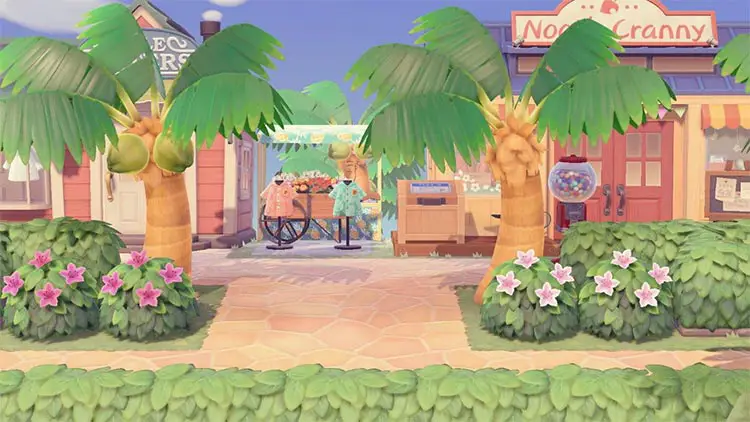 Celesica provided the original image.
Shoppers can get a taste of the high life as they stroll through the kiosks and mannequins that line this tropically themed shopping district.
It's also ridiculously easy to whip up.
Spread your shops out in a row and decorate the area with palms and other tropical vegetation.
To put it another way, who wouldn't want to feel like a queen while doing their monthly grocery shopping?
3. Staff Parking Lot-Nook's Cranny in ACNH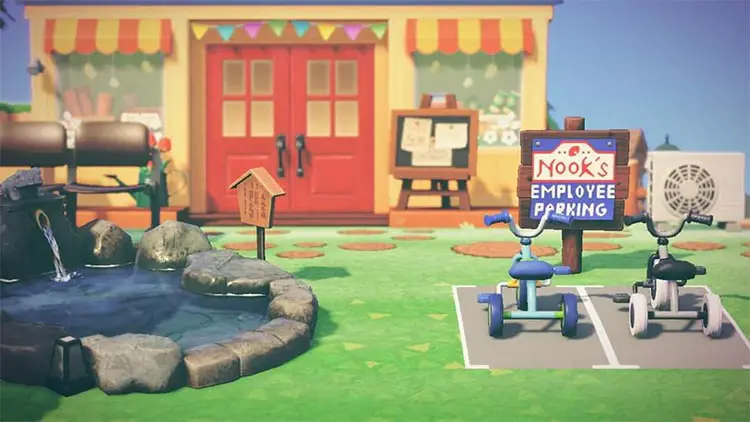 PHOTO BY: LOLLIEPOPP99
I wonder how Timmy and Tommy go to work every day.
It's a sweet gesture to designate a parking space for them in front of the shop. so they can find a place to park their cars.
A charming accessory to the outdoor area beside Nook's Cranny.
It's easy enough to do and only needs a few design slots because a couple is needed to make the actual parking bays and then a bespoke sign appears next to them as well.
2. Create a Lake in That Secluded Spot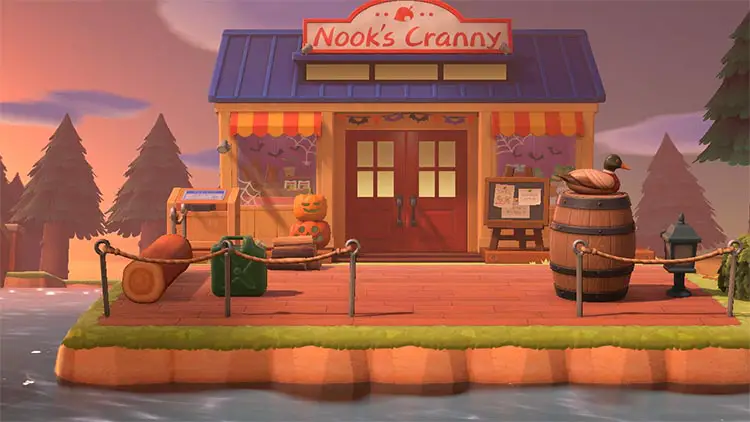 PICTURE SOURCE: @ SEAHAVEN
What could be better than a breathtaking view as you shop?
Those who enjoy being surrounded by nature might greatly benefit from relocating Nooks to a small island (or in front of a large lake).
Wooden plank flooring, log seats, and perhaps some fishing rods will help you achieve this dock-like effect. Or a crazy wooden mallard.
You may also take some great shots there that will look great on social media.
If you want the nicest photograph ever, just put on your best dress and walk down to the shops at sunset.
1. Nooks Cranny ACNH, a vintage petrol station open late at night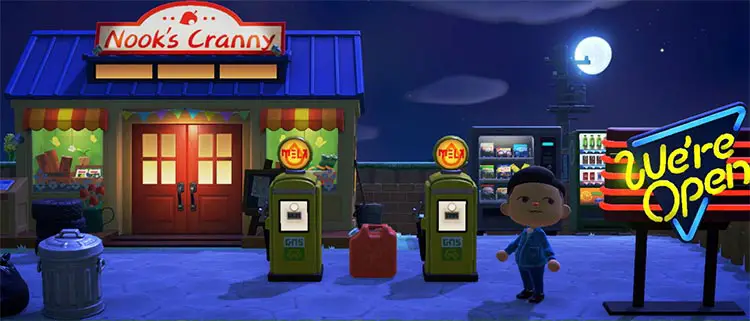 This picture was provided by B DRMKA.
Our unanimous vote goes to this as our favorite.
We can't get enough of the vintage charm of the gas station at Nook's Cranny.
The nighttime illumination of the neon signage is particularly stunning.
Put a large neon sign and some petrol stations in the parking lot.
You could even put your unique twist on things by creating a personalized sign.
What is a gas station without refreshments, such as vending machines or a coffee machine?
While it might seem pointless to have a petrol station on an island where no one drives, they have one anyhow.
You can't dispute that it looks wonderful!