The living room is typically the first room you see when you enter someone's home in the real world.
It creates that first impression that either makes you feel welcome or makes you wonder if you should have even gone there in the first place.
There are many ways to make your Living Room Ideas in Animal Crossing feel warm and welcoming. And just here, we have a tonne.
Here are a few fantastic living room layouts to help you freshen up your residence in New Horizons!
17. Living Room in a Hobbit Hole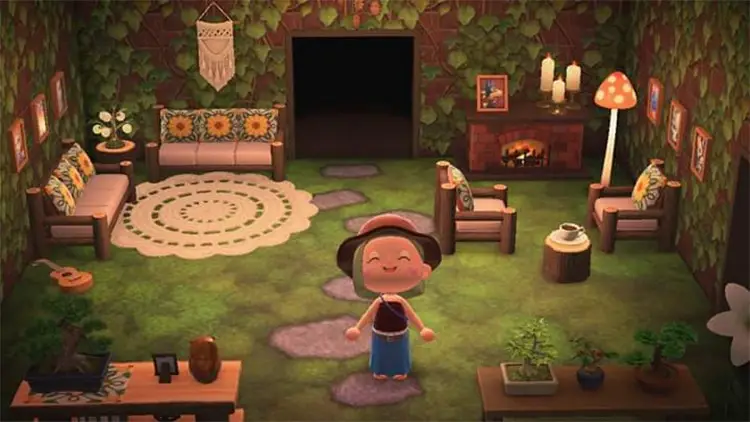 The Shire from the Lord of the Rings trilogy, which you should see if you haven't already, served as the model for this concept.
However, you should start by buying the lacy rug, ivy wall, and mossy garden flooring from Saharah.
The log chairs and couches are made from timber and may be personalised with either the picture's floral pattern or your design.
You can create a mushroom lamp or two to add to the décor and have your own lovely hobbit hole if you save some mushrooms from November.
16. Cherry Blossom Forest Room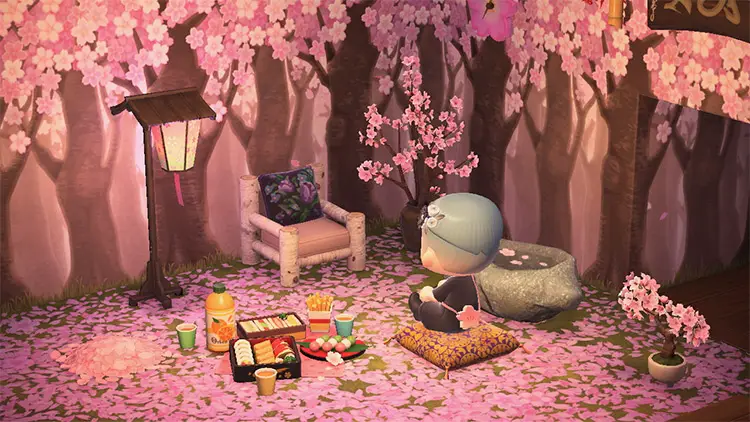 Really, there's just something really beautiful about an Animal Crossing house that mimics the outside.
This notion was also influenced by cherry blossoms.
Almost every item you'll need requires cherry blossom petals for making, so you'll need to gather a lot of them while they're in season.
The cherry blossom flooring and wall are crucial for creating the impression of being surrounded by a stunning cherry blossom forest.
These petals are also needed to make other goods, such as the cherry blossom bonsai, cherry blossom branches, and blossom viewing lantern.
While you are allowed to create more of each thing if you so choose, there are occasions when less really is more.
15. Living Room in Hotel Lobby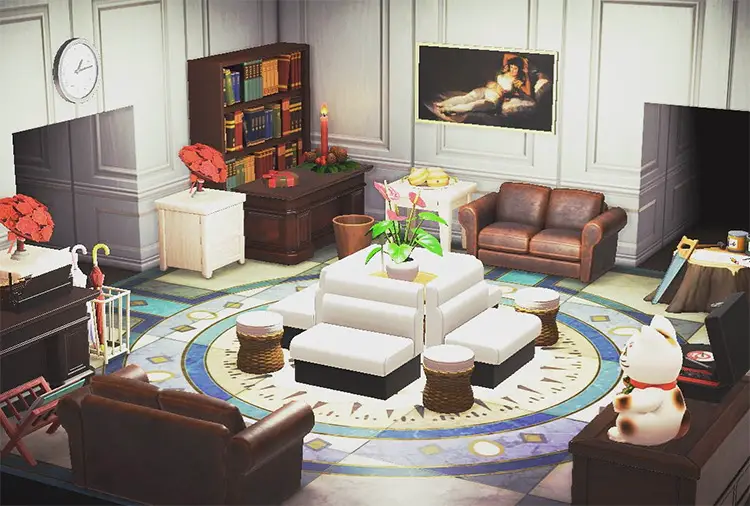 Anyone else feel that the furnishings in a hotel lobby are much more comfy than those in your actual room?
You may now design your very own hotel lobby using various crafting methods and things available for purchase!
I really like the box sofas in the middle looking outward, even though they are generally arranged in a corner facing one another. Just a fresh and innovative approach to put the thing.
You'll also need a white hallway wall and palace tile flooring from Saharah to replicate this design.
Another crucial component is building a bookcase, which requires books (obviously).
And without a front desk complete with den desk and typewriter, no hotel lobby would be complete!
14. Themed Chinese Restaurant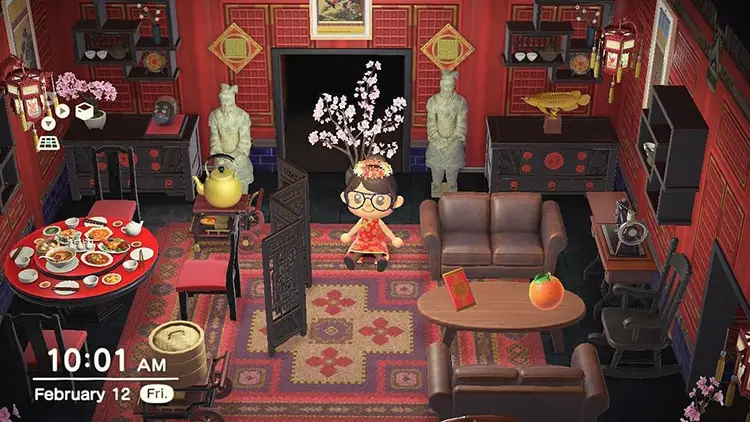 What could possibly be disliked about a living room that includes a Chinese restaurant?
Simple living room furniture is one of the necessities you'll require here. such as a rocking chair, short wooden table, and double sofa.
The voluminous amount of ornaments, mostly from the imperial era, is what distinguishes this room.
That's right, to furnish the dining area, you'll need an imperial dining table, imperial seats, imperial chests, and imperial dividers.
You'll also need a red rug in the kilim style, and then it's time to settle in and enjoy your new home!
13. Living Room from the 1970s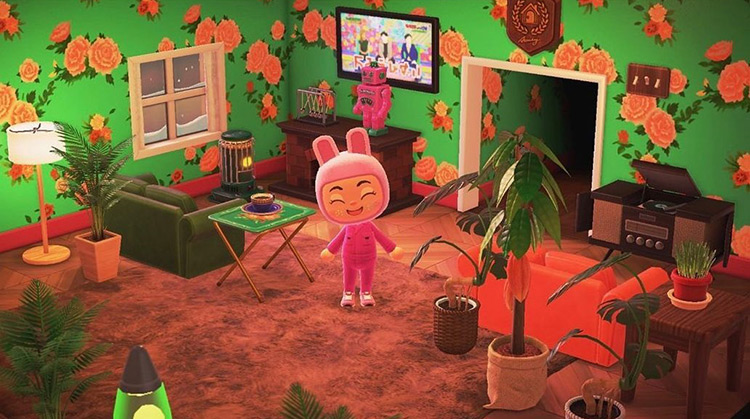 I must say, this is a cool design.
Perhaps it's the wall covered in an old-fashioned flower print or the orange and green twin sofas, but this vibrant interior is quite stunning.
To do it yourself, you'll need a brown shag rug to further spice up your space and light herringbone flooring.
Then decorate the area with the most awesome plants possible, such as cacao trees, cat grass, and fan palms. Far fetched!
12. Deep Sea Cavern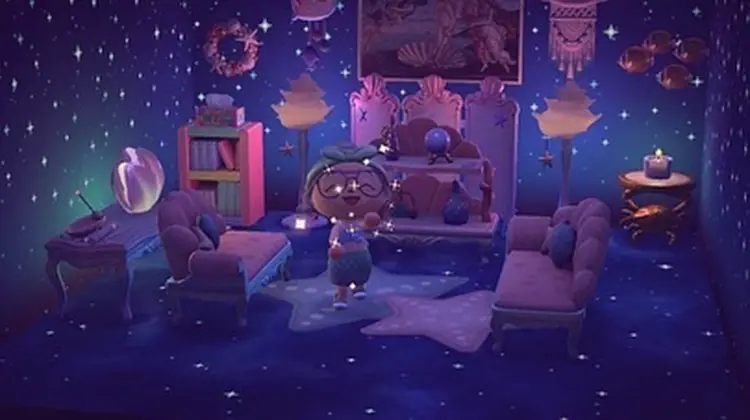 ACNH has the talent to combine various furniture sets to produce beautiful results. It's simply amazing.
You'll need starry skies flooring and wallpaper for this concept, but you'll also need the mermaid series for the furniture.
Shells and a few pearls are needed to make mermaid couches, rugs, tables, shelves, and lamps. So start looking for some scallops to trade for recipes from Pascal!
Even a wooden block bookshelf, which needs softwood, and an Astrological Cancer crab table, which needs star fragments, are incorporated into this design.
The animated picture, more well known as the Birth of Venus, adds the finishing touch to this underwater paradise and takes it to a whole new level.
11. Anime Playroom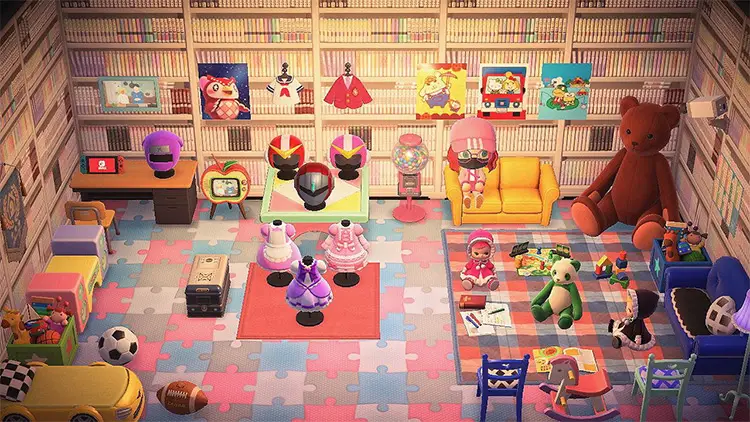 Who here enjoys anime?
I'm sure that many of you who are reading this have dabbled in anime, going by the fandom.
This design isn't particularly complex, but it's more like the convergence of all these components into one brilliant idea.
You'll need a tonne of magazines to make the manga library wall for this (which I think is a totally weird and awesome wallpaper design).
Then fill the space with a tonne of toys, including a rocking horse, board game, doll, daddy bear, and baby panda.
To participate in your favourite anime, you'll also need costumes like ninja hoods, power helmets, and zap helmets.
10. Rattan Home Garden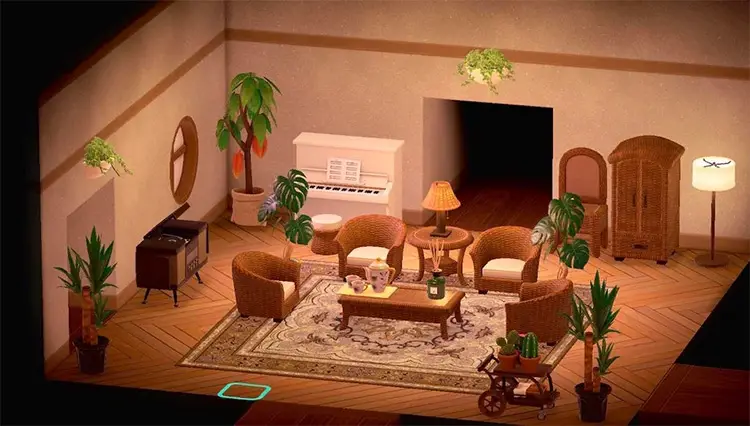 Although the concept is quite simple, the execution is excellent. I'd even say perfect.
All of the furniture is made of rattan and is a neutral shade of brown.
There are rattan seats, tables, closets, tiny tables, and vanities that can all be purchased through Nook Shopping.
Another lovely addition to the space is the white upright piano, which gives it additional character.
This living room feels more like an inviting location for guests because the yellow Persian rug is the focal point of all the furniture here!
9. Living Room Library in the Basement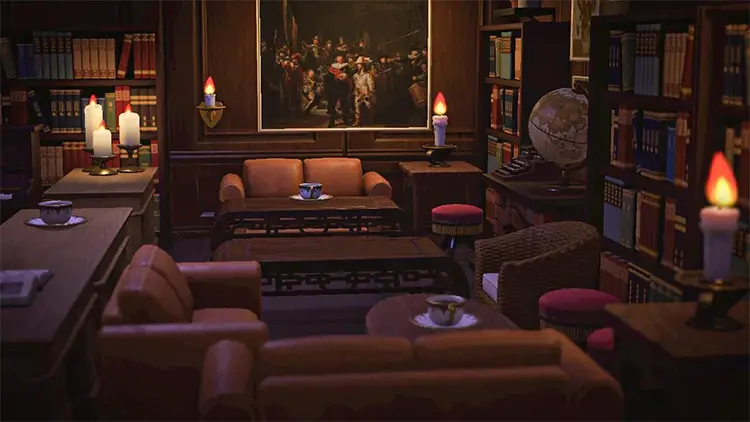 Even though this space has more of a study than a living room aesthetic, it is nonetheless incredibly gorgeous to look at.
Probably one of the more original concepts for an indoor library.
All of the couches are double sofas, and low imperial tables are also present.
To create all the bookshelves for this idea, you'll need to purchase a lot of books using Nook Shopping. What good is a library if not for research?
The candles and the sepia globe are small additions that make the room feel cosier.
A stunning artwork to place on the wall is the last thing you should get, however any large-scale painting will suffice. How diligent!
8. A living room with stars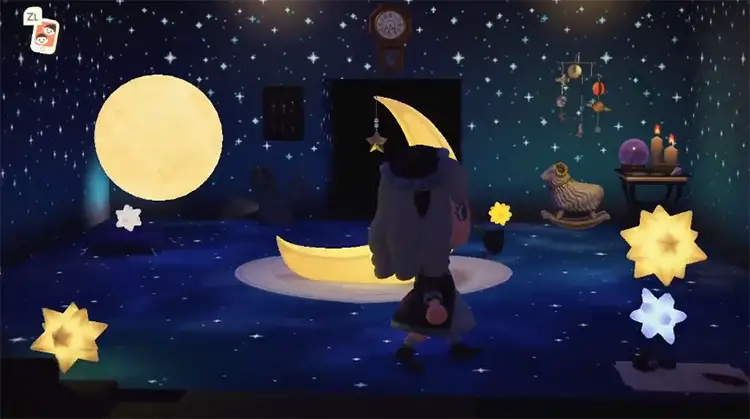 Goodnight, and pleasant dreams! Actually not at all.
But you'll definitely feel drowsy after looking at beautiful night sky.
To put up this living room idea, you'll need wallpaper and flooring that features starry skies.
Spend some time outside and make wishes on some shooting stars since you'll also need to make a moon and crescent moon chair out of star pieces.
There are also some nova lights in this concept, and Celeste can be approached on starry evenings for the recipes.
Last but not least, strew some star fragments across the floor. This gives it a more cosmic feel.
7. The Common Room of Hogwarts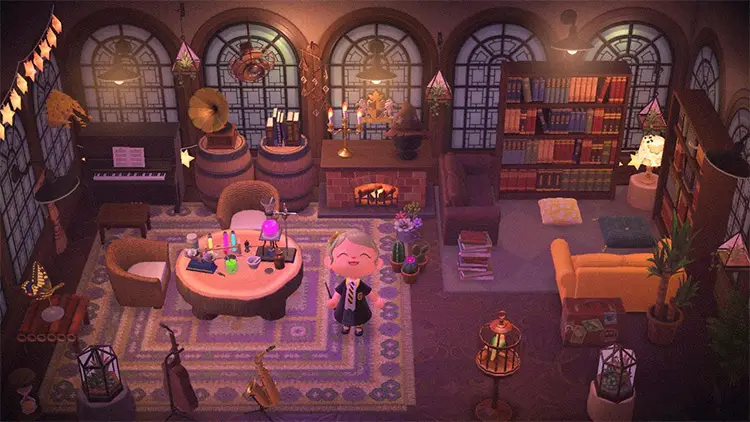 SOURCE OF IMAGE: LAPETITEDAUDAU
Like me, you probably love Harry Potter a lot, therefore you should definitely check out this common area!
This concept makes use of common furnishings found in ACNH, such as a fireplace, rattan seats, and twin sofas.
However, you'll also need to make some things yourself, such barrels, which need for iron and wood. Additionally, books and wood are needed for the bookcases.
The lab experiments that are prepared on the table for your homework on potions are the cherry on top of this area.
You can even alter stuff to fit the colours of your preferred Hogwarts house if you are aware of it.
As a Slytherin, I would make everything green and silver, unlike this Hufflepuff player who chose yellow. You truly have a choice!
6. Discussion Pit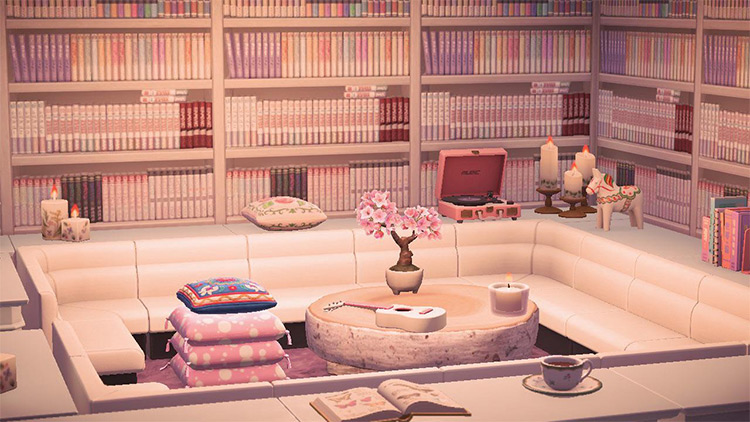 Source of the image: PUZZZLEDBELUGA
This is not your typical living room, while not being the most visually stunning concept.
In Animal Crossing, it's fairly simple to create something that would be really wonderful to have in real life.
Start by lining the walls with as many white den desks as you can afford.
Next, arrange a number of box couches and corners to form the circle.
To make the log table and the bookshelf wallpaper, you'll need some hardwood and a lot of books, respectively.
Last but not least, adorn the tables and desks with lots of bookstands, candles, cushions, and plants to spice up the chats you and your ACNH friends will have here.
5. Club Room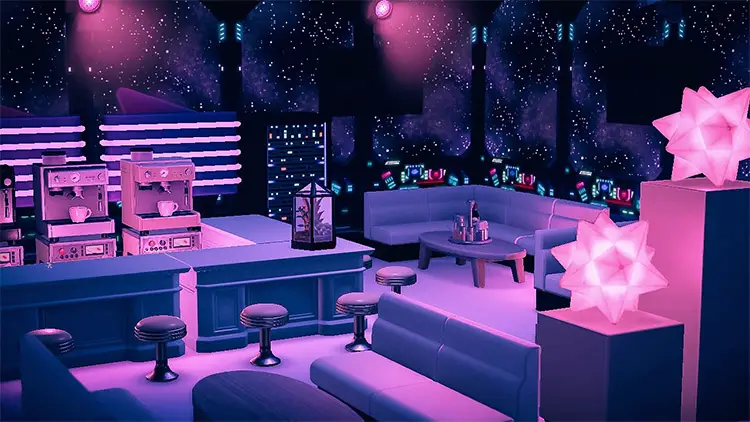 THIRTYTWOOUNCES IS THE IMAGE SOURCE
If the living room is meant to be the pinnacle of home entertainment, then this space lounge will definitely strike the mark!
You'll need to use some wood to make a low table and some star bits to create the sci-fi wall and nova lights for this.
You may easily purchase the remaining pieces of furniture and accents from Nook Shopping when you require them.
To effectively reflect the other lighting, white is preferred for box sofas and den workstations.
For a great spot to serve drinks, you'll also need some bar chairs and espresso equipment. in the family room?
Hell yeah.
The final feature is distinctive in that the neon signs for the diner are turned to face the wall, giving you all the light without any intrusive "We're Open" signs. really cool
4. Garden of the butterfly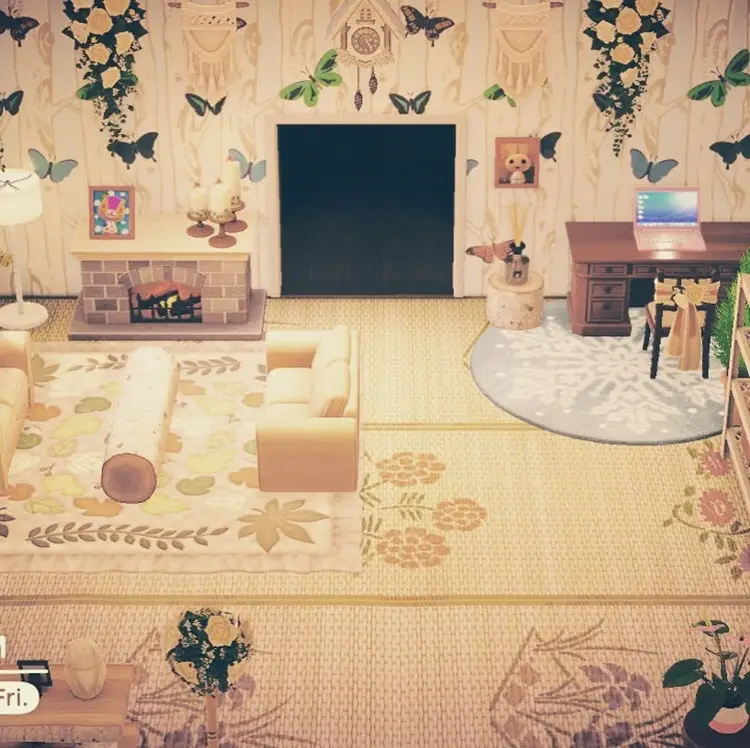 Source of the image: @ACNH HONEYBEE
One of the most prevalent bugs on your island is the butterfly.
So why not adopt their style for your living room?
It goes without saying that you'll need the butterfly wallpaper in addition to standard living room furnishings like twin sofas and a fireplace.
It never occurred to me to use a log bench as a table, but it is perfect for this style!
Last but not least, you'll need floral rush mat flooring to finish off your butterfly haven!
3. The palace of Ice Wizard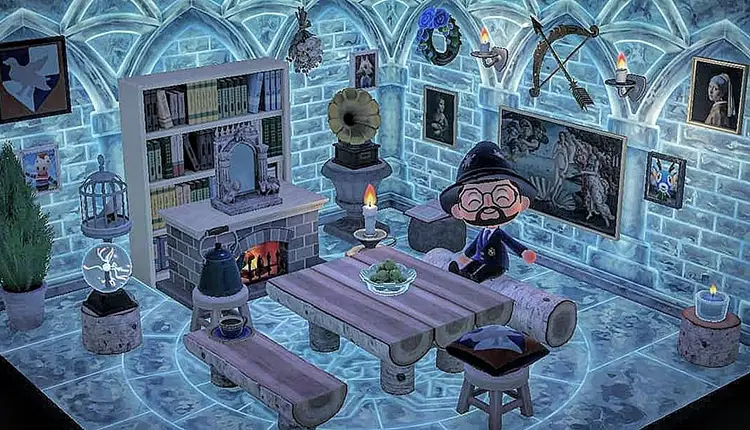 PICTURE SOURCE FRENCHACNH
You're in luck if you were able to collect some substantial snowflakes over the winter.
A few steps will bring you to the palace of the ice wizard!
To create the ice block flooring and wallpaper for this idea, you will need snowflakes.
You can mix and combine them as you choose, however this player used both a log bench and a log wild bench to go with their log dining table.
To help with the ice appearance, you should alter them to white wood.
Everything you add—basically, the decorations—is what really transforms this space into an ice wizard's palace.
A retro gothic mirror, a Sagittarius arrow, a plasma ball, and wall-mounted candles are a few of my personal favourites that truly add to the wonderful atmosphere of this space.
2. A living room in an overgrown greenhouse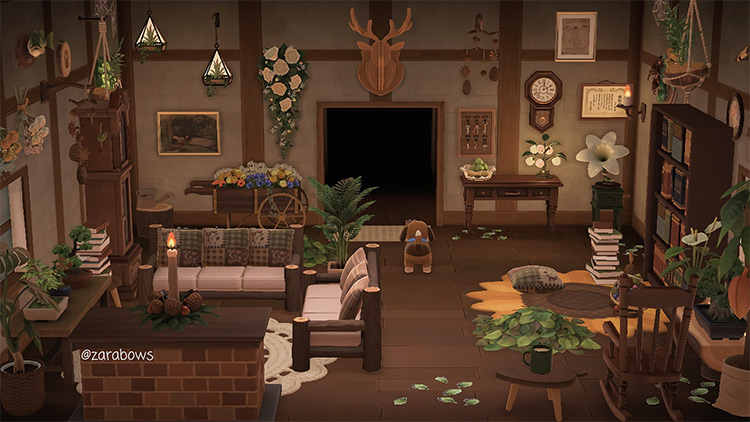 Source of the image: @ZARABOWS
I've demonstrated numerous ideas that effectively utilise indoor plants, but this concept goes even further!
I don't even know where to begin because this room is filled with so much great stuff.
I suppose I'll start by highlighting the unique leaf patterns that this gamer added to the common flooring.
Additionally, there are furniture items like bookcases, rocking rockers, log chairs, and log benches that require different types of wood to construct.
You'll need to make the plants, leaf piles, and garden benches out of various flowers and weeds.
You can purchase cacao plants, monsteras, and fan palms on Nook Shopping. So start ringing those bells and start decorating!
Also, have a look at our selection of greenhouse design ideas if you need more inspiration for your lush living space. There is a lot of crossover.
1. Living Room With A Fruity Funhouse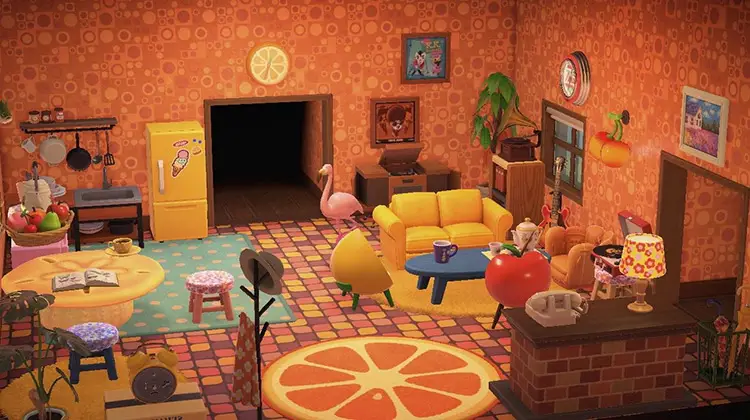 Source of the image: Harvard Lynch
I won't lie: I specifically looked for a living room with furnishings with a fruit motif for this piece.
I was not let down. I don't believe you will be dissatisfied if you construct something similar either.
Here are some items that stand out in the space:
Orange rug, peach rug, delicious apple TV, and orange clock on the wall. All of these combine to create a lively and delicious home!
Other things you'll need to make yourself are a shell table, a double yellow sofa, a vintage mitt chair, and a refrigerator.
This can become a fruity-funky hangout that actually feels like a special living room by hanging some of your favourite albums on the wall.