The Able Sisters Shop is one of the most important shops on your island. It is run by sisters Mable and Sable, who work hard to make the latest fashion styles.
The Able Sisters is the place to shop for new clothes, whether you just need a new T-shirt or a whole new outfit.
So it makes sense to make an awesome space around it, right?
Well, I've put together this list of my best store ideas from Able Sisters to give you that much-needed island design inspiration.
15. By The River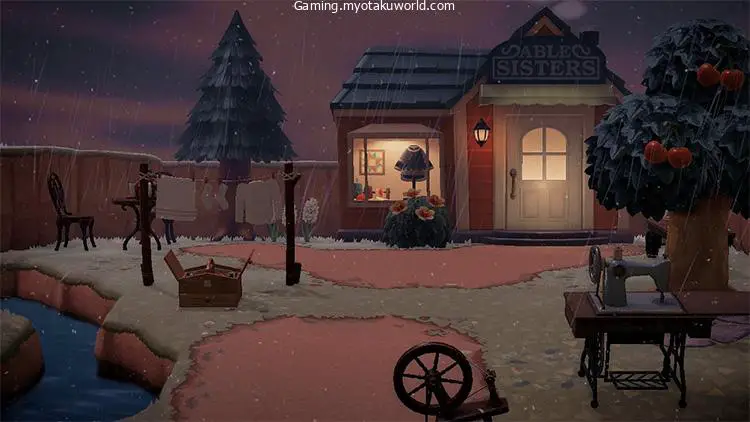 Do you want to keep your island easy, yet keep it looking amazing?
You only need a few things to make this easy-to-do look. All you need is a really cool dirt road outside your store that you can weave around.
Put a clothes line and a computer off to the side to make a great place to hang out.
Your villagers will love waiting here while the sisters fix their torn clothes quickly with a needle and thread.
This thought fits so well into the edge of the cliff. You can also have a river run through the area.
And don't forget to add an outdoor sewing machine.
14. Under the Waterfall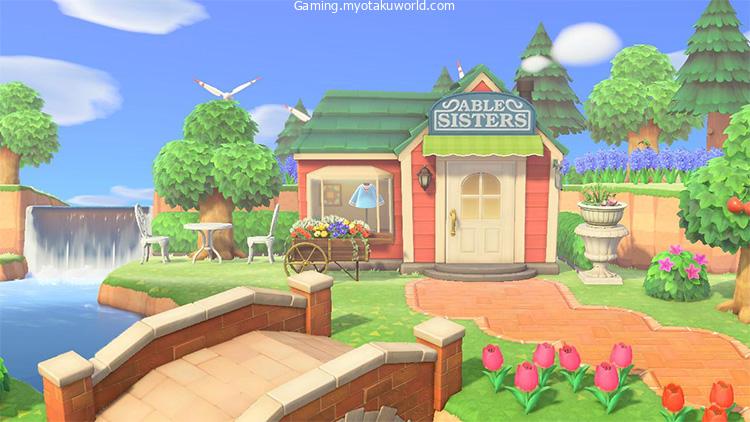 I feel like I'm going through a postcard when I look at this design.
This can also be made on your island.
Start by putting on your terraforming hat and making a waterfall that flows into a river that runs around the area.
Choose a brick bridge and put it at an angle over the river. Keep it bright with lots of tulips and hyacinths, and add some fruit trees to the area.
Finish the back yard with some iron tables and chairs and a cute red brick path.
13. Marketplace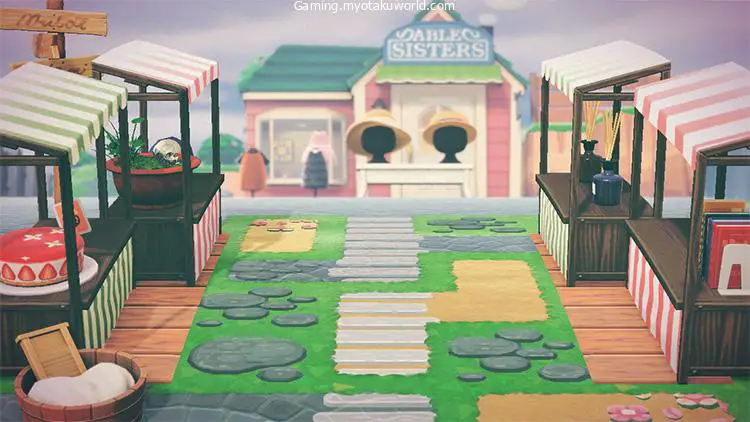 This market seems pretty cool, doesn't it?
Put a little bit of everything in and around your Able Sisters shop for the best shopping experience.
To get started, you only need a few stalls, which you can decorate with your best patterns.
If you don't have any patterns yet, keep talking to Sable every time you go into the shop.
She'll get to know you better over time, and if you talk to her every day, she'll start giving you more design ideas.
Once you have this set up, you can put different things in each stall, such as cakes, plants, or reed diffusers. You can add anything you want to make your own business place that does well.
Then you'll have the biggest market in town before you know it!
12. Sewing in the Sun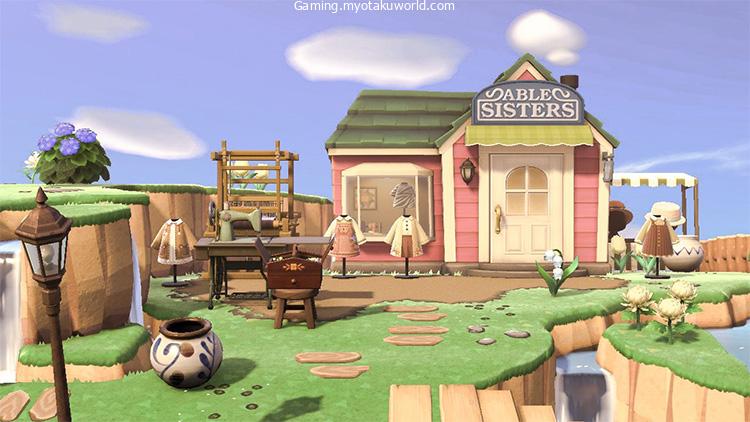 Sable needs a bigger place to work, right?
Make a sewing shop out front for her so she doesn't have to stay at her desk all day. That way, she can sew outside all day long.
It's a really cute idea, and all you need to finish her dressmaking station is a few sewing tools.
Start by putting in a loom, then a desk and a chair, and don't forget the sewing machine, which is the most important part.
Add some dummies dressed in your favorite styles to finish off the room. This is also a great way to show off your favorite custom patterns.
Talk to Sable every day if you need more plans for this. At first, she might seem shy, but she will eventually become your friend and give you a lot of really cool patterns.
11. On a Clifftop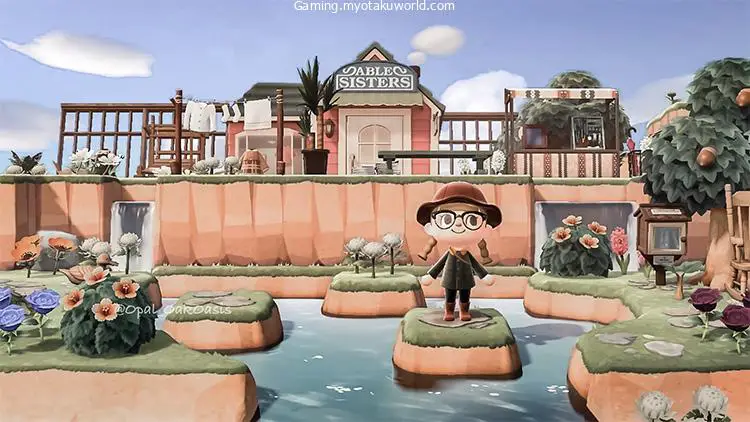 This is one of my favorites among Able's drawings.
Start by picking a spot on your island and building a big cliff there. Put your Able's on top, and then make a number of waterfalls that flow into a big lake.
Add small stepping stones and a bunch of bright flowers to make the best view from the store.
You can add a washing line, a place to sit, and some unique kiosks to this area outside the store.
Don't forget my favorite part: the cute little rocking chair by the lake.
10. Forest Sisters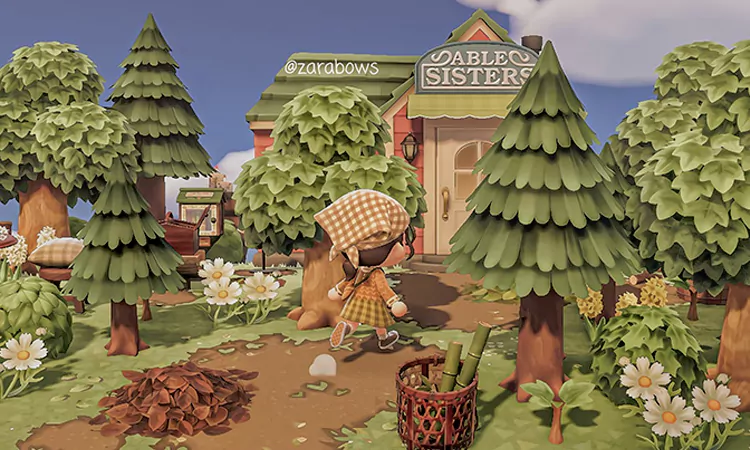 Place your employees in the shop so that they can't be seen from the front door.
The less you can see of them, the better, because they are too well dressed to be working in retail.
The store's plan is very important, so put your limited-edition collection at the back.
9. In The Woods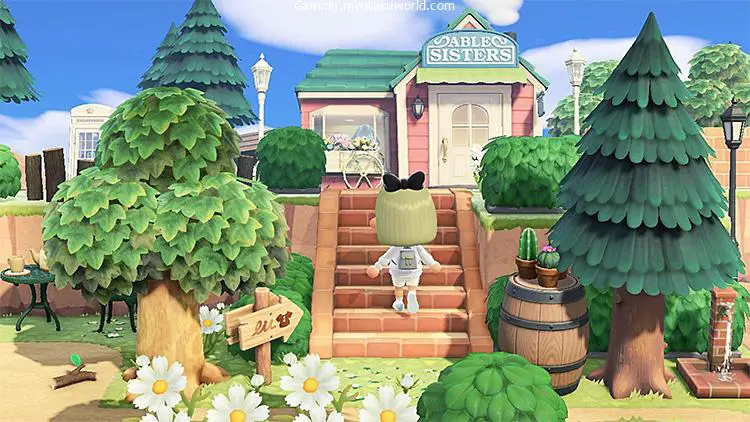 This cute Able's pattern is a great addition to those cute and cozy islands.
Set up your store on a clifftop to get the same look. Then you can put your favorite stairs up the side of the cliff to get to the store.
For this look, you need a lot of trees, so add a mix of cedar and oak.
Then put down a cute iron table and chairs set to make a great spot for a picnic in the shade.
I also really like the clothes sign that points to the shop. It pulls everything together.
8. Able Hidden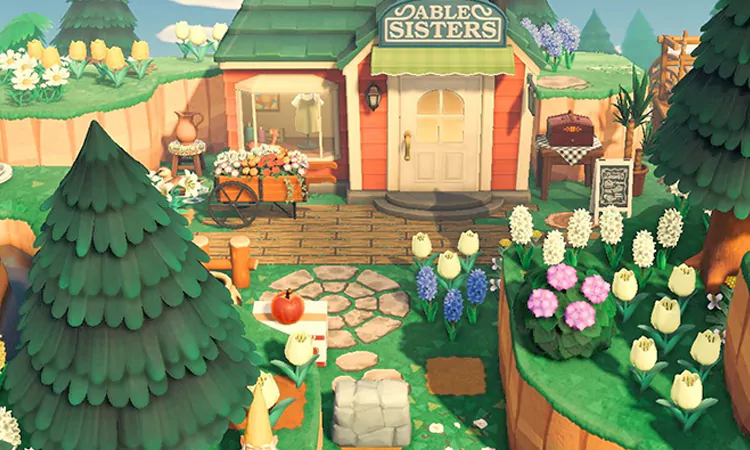 Kittea is the cutest way to get people crazy about your store, and it's not just a cute idea.
A study from the University of Cute-Do-Do found that people who have access to Kitteas are more likely to buy things on the spot and buy at least 4-5 times as much each time they go shopping.
So where should you put your new Kittea?
7. Shopping with a View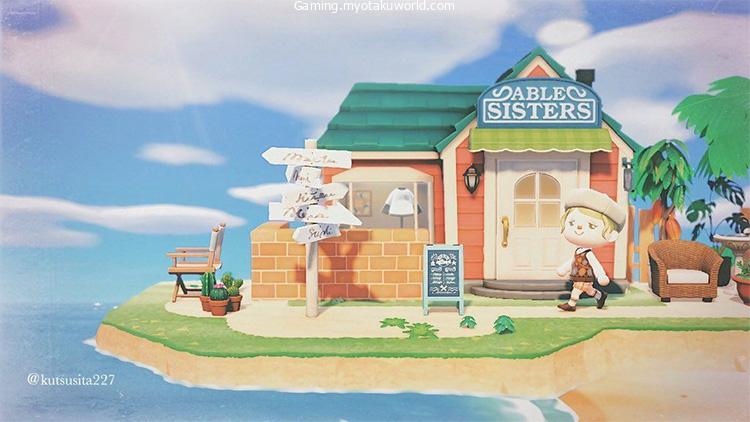 Did someone say shopping for clothes with a view of the ocean? Yes, thanks!
The store is on the edge of the island, and it has a small wooden chair where you can sit and look out over the water.
Set up some more seating on the sides of the store and maybe even in the back so that locals can grab a cup of coffee and catch up with each other while they try on clothes.
Without a wooden marker, this look wouldn't be complete. You can put this outside the store along with a handmade blackboard that says "opening hours."
This is a great place for your Able's store to be, since you can buy some new clothes and then go straight to the beach.
6. Between Gardens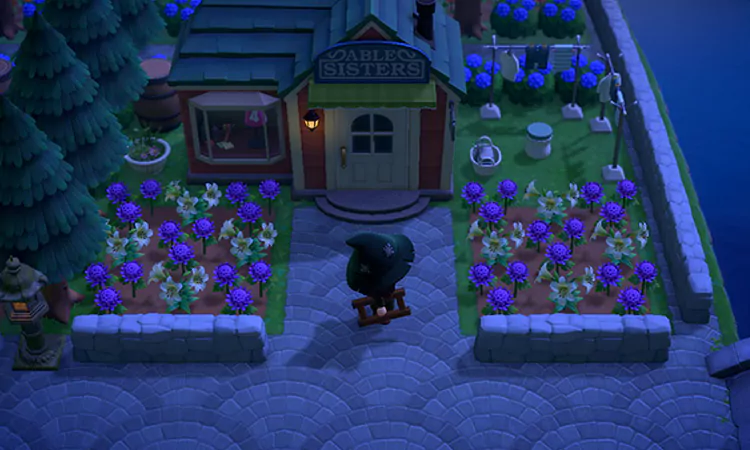 The "musk of new fabric" is another great way to make sure that every outfit fits your mood, even if the color is different.
And I'm sure that The Able's shop was smart to put both its clothes and its favorite flowers in front of the store.
I don't know why the grounds are shown on top of the store, though… I wouldn't want careless people to walk all over my hard work.
The sisters are excited about their new place and can't wait to make it look more like a home. You're up for it, but you wish you could find a store that sold curtains in colors other than white.
You go to Pinterest to look for "unique store curtains," but all you see are bad copies of what could have been a great design.
5. City Shopping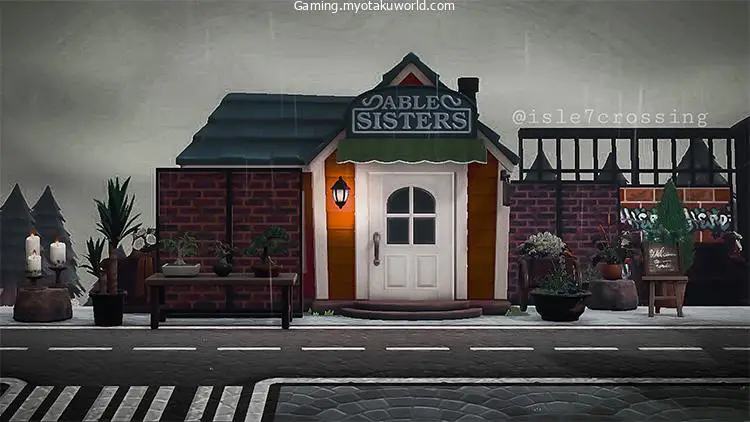 If you're tired of the natural island look and want to feel like you're back in the city at night, this is the one for you.
Add your Able Sisters to the city you want to live in.
Make sure you have a design for the road and put that right outside your shop.
With the above design, they used simple panels with a brick pattern and pushed them up against the storefront to make it feel more like a city.
You can do this with almost any pattern, and you can even make the panels look like houses or city buildings.
There is also some writing in the back that shows how the inner city looks.
4. Able on Beach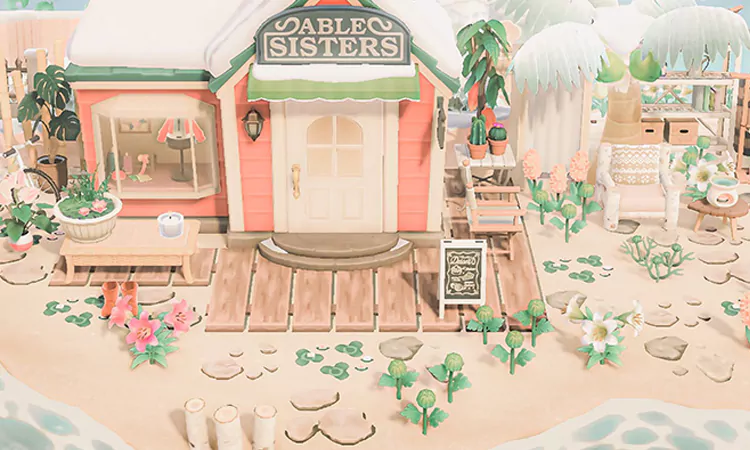 Add a beachy touch to your building by putting your girls on the sand.
This building is actually your chance to be the builder of their new home, so make it as beautiful as you can.
You don't have to worry about them going outside at night because they don't have to with this building.
I might be making things up, but I think this place needs more color.
Get some baskets and hang some outdoor plants or highly colored flowers from them outside the house.
This is a very nice space, but I think the zen theme would benefit from a little bit of color.
3. Cherry Blossom Able Sisters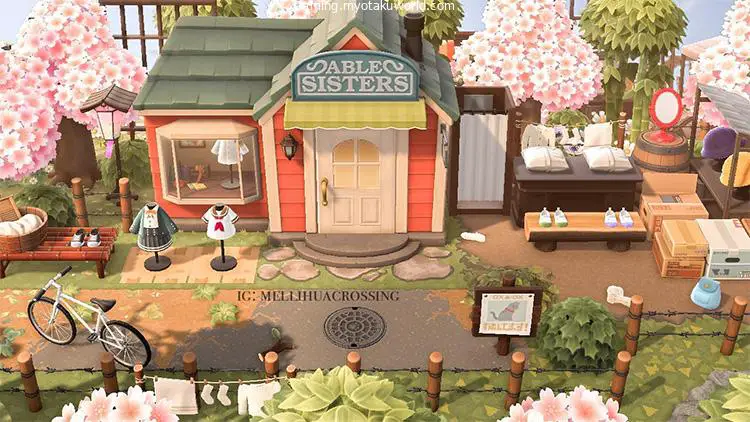 Having a second dressing room right outside your store?
Genius.
The style of this Able Sister has so much going on, and I'm living for it!
You can make it by starting the way outside on a road.
You can even put some of your favorite outfits on models to show customers how fashionable your island is.
I really like how the cherry blossom trees spice up this look, and I'm all for it.
This style also has a space on the side for storage.
I've often wondered where all the sisters' stuff is kept… I think I know the answer now.
2. Office Outdoor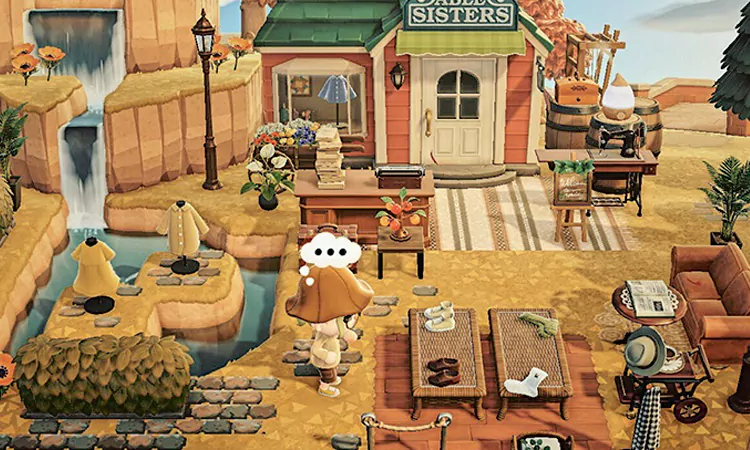 You want it to feel like a tropical paradise.
And this bright, friendly place is the best way to make sure all of your business customers are happy.
Putting a wicker table with a few flowerpots and some comfortable chairs next to the parking lot outside your office will give customers a tropical escape from the colder days of winter.
1. Shopping Strip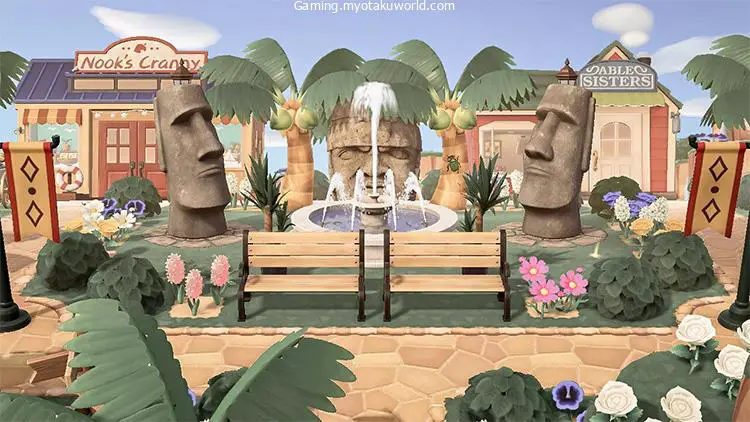 I want to go on vacation right away after seeing this tropical paradise.
Make your island the best place to go on holiday by building a shopping strip that will make everyone feel like it's summer.
First, choose a big area on your island and build your favorite stone path around it. Put ponds, statues, and lots of brightly colored flowers in the middle.
Place your Able Sisters shop right next to Nook's Cranny and make paths that lead to both.
And don't forget to add a lot of coconut trees to give it a tropical feel.
People will be waiting in line at DODO flights to visit your summer paradise.