The ACNH Bamboo Design Ideas is so cute and gives all of our islands a cool, tropical feel.
Doesn't matter if we put them in our home, outside as part of cool builds, as decorations, or anything else!
So maybe you want to get some ideas from bamboo?
Well, here are some of the coolest player-made structures that blew our minds!
21. ACNH Fresh Bamboo Bedroom Decor

Bamboo is one of the most pleasing things to look at in the Animal Crossing: New Horizons world. It would look great in your bedroom, and you could wake up to a refreshing green view.
The green bamboo series includes a bamboo partition, a bamboo shelf, a bamboo speaker, and a bamboo candleholder, as well as a bamboo doll, an apple chair, a brown rattan vanity, and a bamboo noodle slide.
The furniture is pretty different, but the trick is to put them in the right places. If you don't, it can get crowded.
20. Bamboo Garden Cafe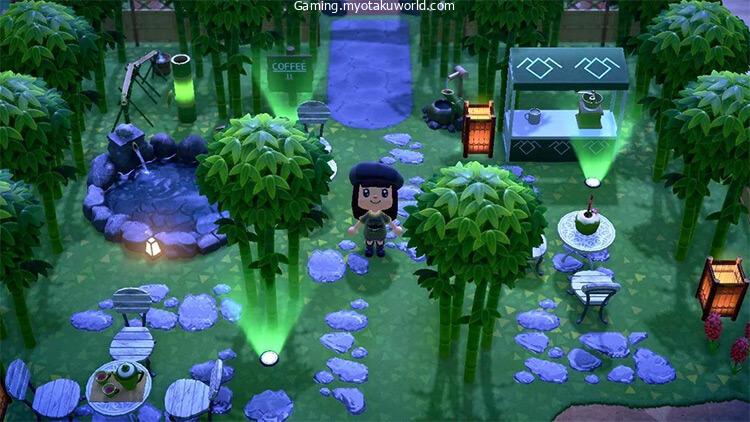 What sounds better with a hot drink than a stream trickling by?
And, of course, the pretty shade of tall bamboo tops that sway in the wind.
Reddit user u/freygrmn did a great job with this beautiful green cafe.
It would be very relaxing to drink matcha or sencha in this beautiful place surrounded by nature.
The cute rock path helps people find a place to sit, and the green theme is carried out by the matched lights.
19. Japanese Bamboo Park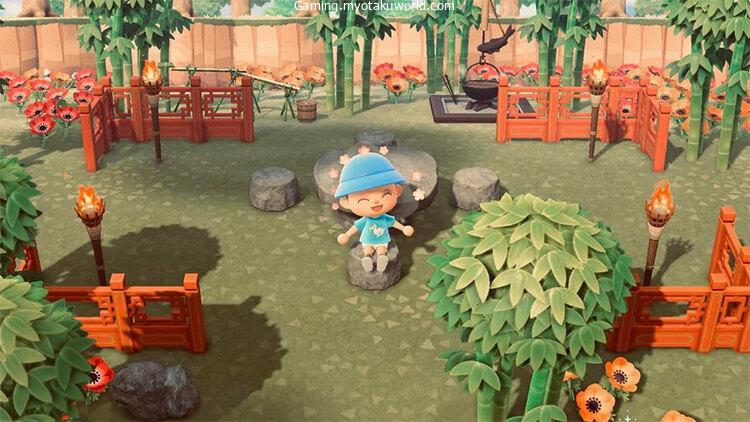 Let's face it:
Animal Crossing: New Horizons takes place on an island that was once empty.
Along with fruits and home loans, this means that there is a lot of green room.
This park filled with bamboo was made by Reddit user u/ripcurtis to show off the beauty of nature. Villagers can sit down on rock seats, maybe have a picnic, and just relax.
The orange and red flowers in the back are our favorites. The bright colors look great with the bamboo's green color. Worth putting into your own game.
18. Bamboo Garden with Bridge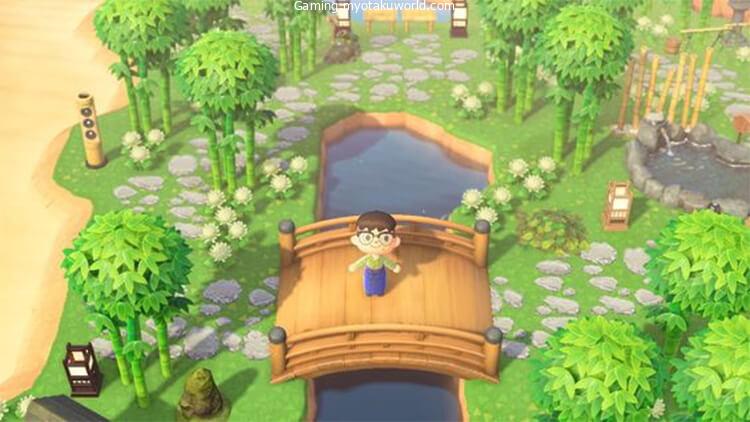 In the same way as the last one, this cute bamboo garden is a natural greenspot.
This build is a cute ode to Asian-style gardens. It has several ponds, white mums, and a bridge that looks old and worn.
The care for detail here is also great.
When the sun goes down, paper lamps give the area a warm glow. A pile of leaves, some chairs, and a speaker add to the fun atmosphere of this bamboo garden.
17. Bamboo Forest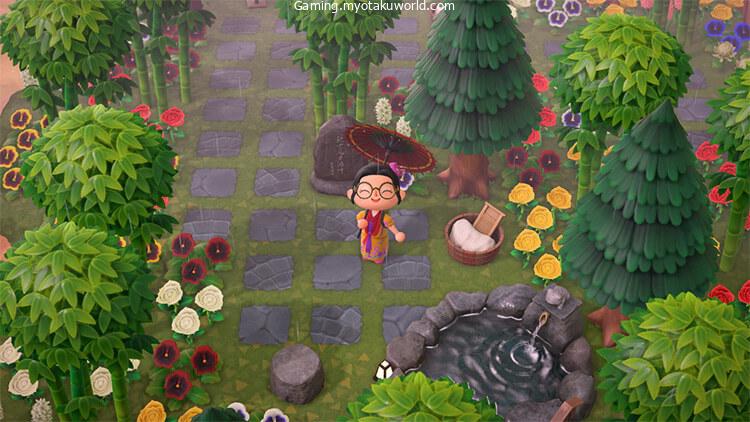 Here is another beautiful outdoor spot. This adds a variety of colors with pretty pansies, royal roses, and happy hyacinths.
The wash bucket by the pond also has a very country look to it.
And the carved stone makes the area look serious and elegant, while the pine trees and bamboo give the forest depth and variety.
A stone bench by the pond gives the locals a place to sit and think in this wonderful natural paradise.
16. Bamboo Wooden Outdoor Spa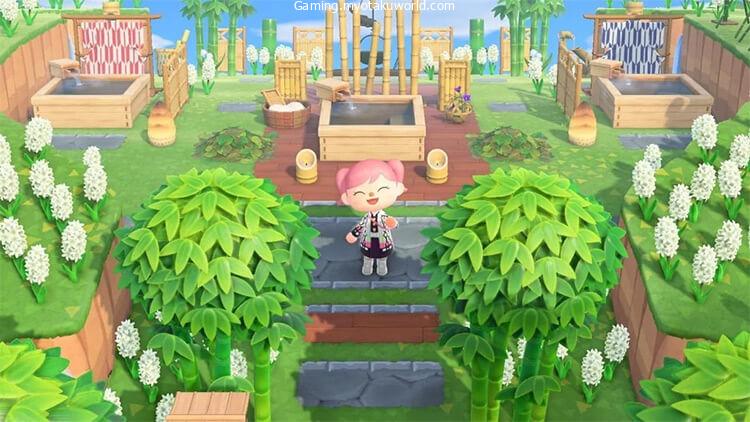 We have another cool bamboo spa to show you. Maybe it's because bamboo makes people feel calm.
This design has several wooden tubs with spouts that let warm, fresh water flow into the bath.
The pretty white hyacinths that line the entrance here are a great example of how terraforming can be used instead of fences to divide up a place.
Bright clumps of bamboo make the space stand out, but they don't make it feel too crowded.
And some bamboo lights would make this spa even more relaxing at night by making it glow beautifully. Please put us on the list for the next treatment.
Even the snobbish people in your village would love it here.
15. Zen Sand Garden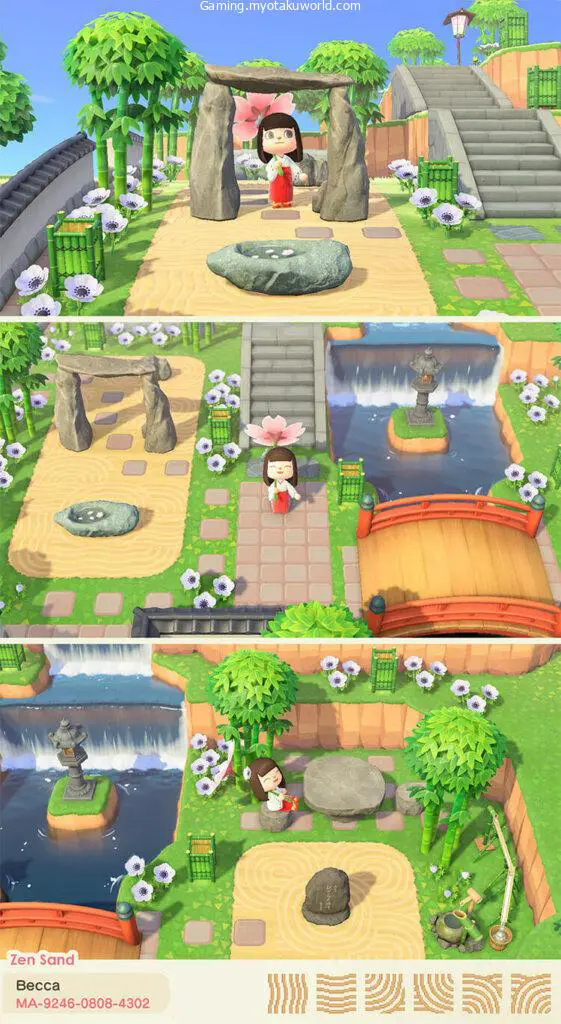 Sand gardens tend to go with waving bamboo, so this list would not be complete without one.
This build, which comes with the code for the designs of sand waves, is a pretty complicated idea.
Through terraforming, this person was able to put a waterfall by their stone stairs and a small island as a light to help them find their way.
Cubic lanterns made of bamboo make this yard just as beautiful at night as it is during the day.
A stone arch and some other stone statues stand tall in the sand waves. You can order them from the NookStop.
And a stone table with matched seats may not be the most comfortable place to sit, but it's a great place to take a break and enjoy this beautiful building!
14. Bamboo Tea Spot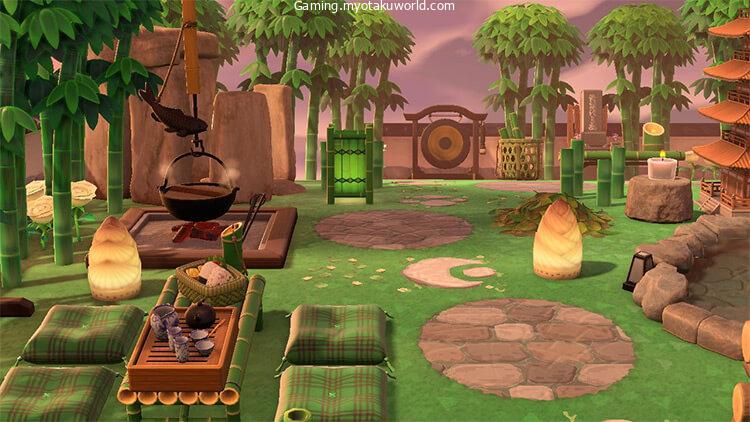 The dream is to drink good matcha while sitting on a soft couch and watching the bamboo sway in the breeze.
This building makes it happen!
The rock pool and pagoda are fun details, and the gong is in the background.
Plus, that kettle is right next to the perfect snack spot, making it easy to make warm snacks and meals.
Villagers can walk around this bamboo garden on a path with an interesting stone pattern. When it gets dark, tea lights and lanterns can help them find their way.
13. Zen Deck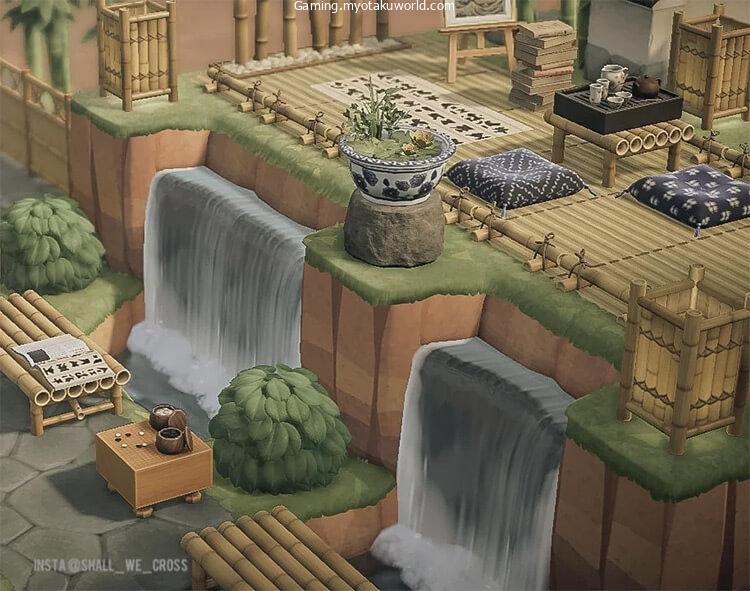 Animal Crossing: New Horizons has been a great way to get out of the house when it has been raining or snowing.
The dream of sitting with friends on a deck as peaceful as this one? It just brings this idea to life, even if only in a virtual way.
Bamboo floors, lanterns, benches, and other pieces of furniture that are all the same color make a nice base color that makes the green plants and blue cushions stand out.
There is a Go board next to the deck so you can play a fun game. Or, you can choose from a tea set and an easel.
This could be a great place for a book club or any other kind of relaxed gathering.
12. Bonsai Garden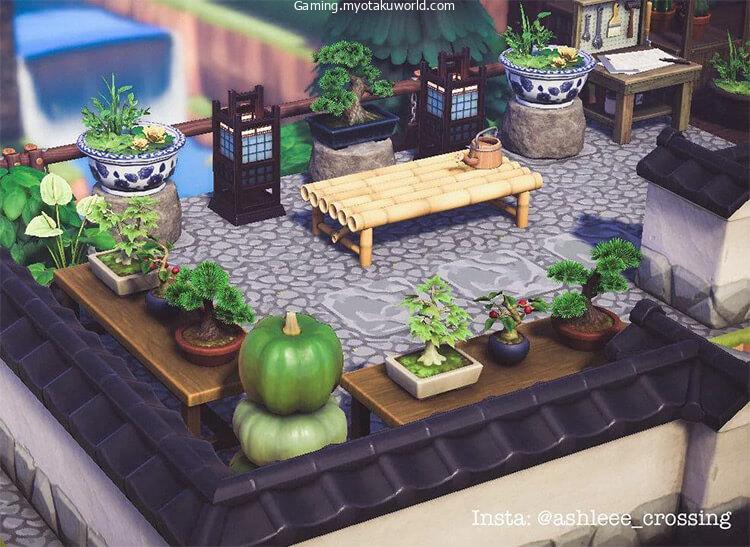 Banzai!
This beautiful micro-garden has a variety of tiny trees and a cute little spot made out of pond-filled china bowls.
The tools you need to take care of these tiny trees can be set down on a low bamboo table, and the stone that looks old gives it a rustic look.
The DIY workbench in the corner is a great and useful addition to the room.
What's worse than walking out on your island only to break a tool on the first rock you hit?
That's right: nothing.
Well, maybe pay Tom's bills, which are crazy expensive.
11. Bamboo Room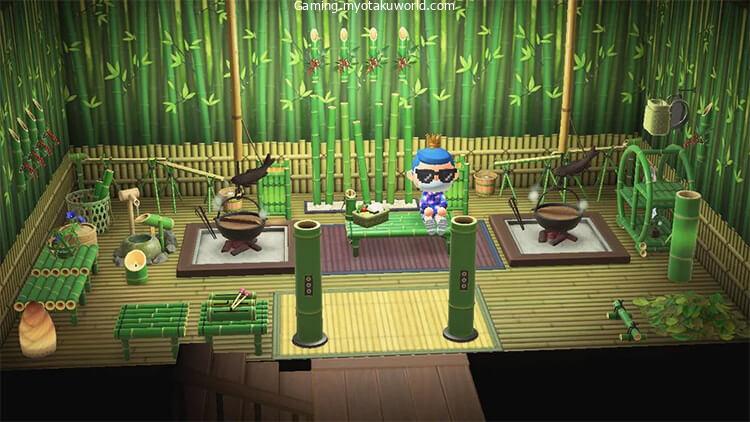 Some people just like bamboo very much. This is a good thing.
The material is easy to find, cheap, good for the environment, and, best of all, makes us think of bears.
Also, bears are awesome.
Almost everything in this bamboo room is made of bamboo, which takes things to a whole new level.
With bamboo shelves, lights, and wallpaper, it's a green lover's dream.
10. Imperial Bedroom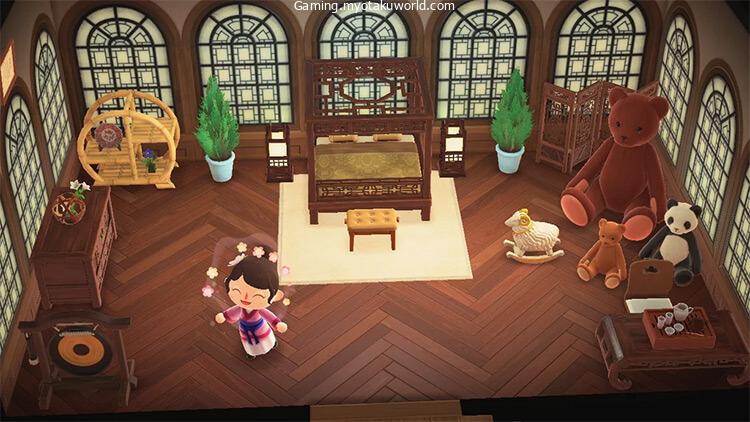 This one is subtle, but the pattern is really beautiful.
This bedroom is mostly made of wood, but the bamboo desk is a nice touch.
Because the wallpaper has a lot of windows, it lets in a steady stream of light that makes the beautiful room brighter.
If you want to be woken up quickly from your kingly or queenly bed, there is a gong in the corner that will wake you up if you sleep through the sun.
Keep an eye on your "bambookshelf" though, because that panda family looks hungry.
9. Bamboo Bathroom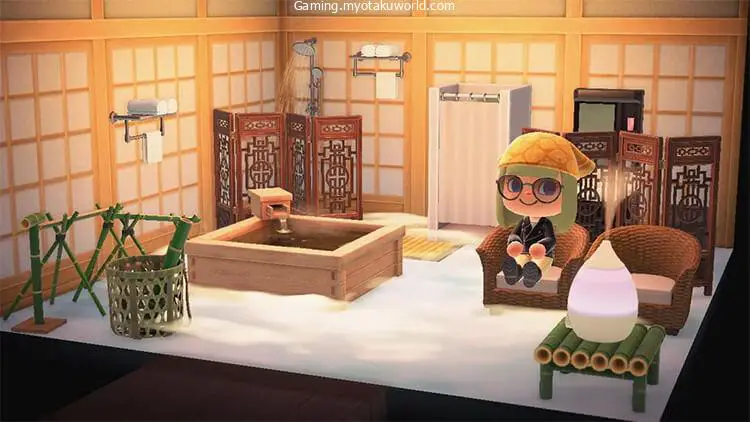 In a normal home, bathrooms aren't usually the best place to hang out.
But this cool bamboo bathroom is made for chilling out.
The fragrant mist from a corner diffuser on a bamboo table rolls off the floor in waves. Or it could be steam from the hot bath.
Some privacy is given to a shower and a vanity by a wall, and towels are put between the tub and the shower.
So, if you really did want to leave, it would be helpful to dry off.
8. Bamboo Patio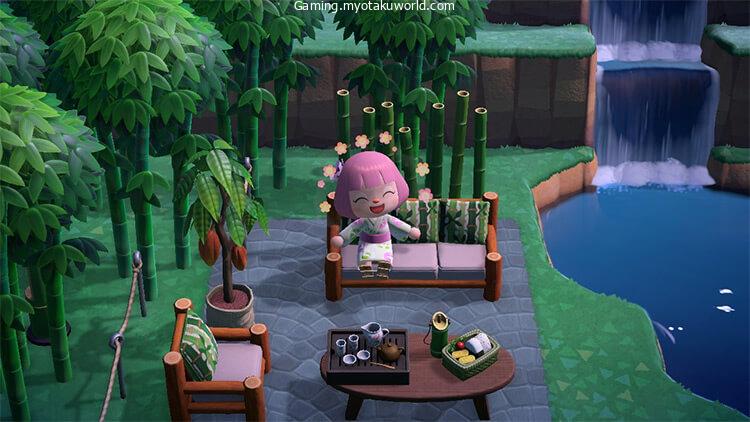 The key to loving island life is to take it easy.
And a place to sit next to a waterfall and a stream that bubbles, surrounded by a cool bamboo forest, just screams relaxing.
This cute building has pillows with a bamboo pattern made just for it, and there are lots of bamboo trees all around.
A tea set, a planter tree, and a couch table finish off the room.
7. Sushi Restaurant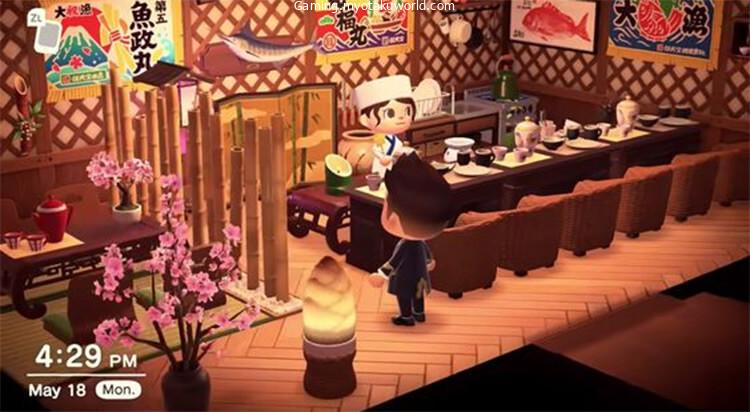 This complex building is a busy sushiya in Japan.
Bamboo walls make it look like a low table set apart from the bar is private. This gives customers a choice of where to sit.
From the bamboo candle on the side cart to the bamboo-printed screen behind the bar, this build has a lot of great details.
We like how the pot and cherry blossom bonsai add a pretty touch of pink. It must have been hard to find all of the themed wall art.
6. Bamboo Pathway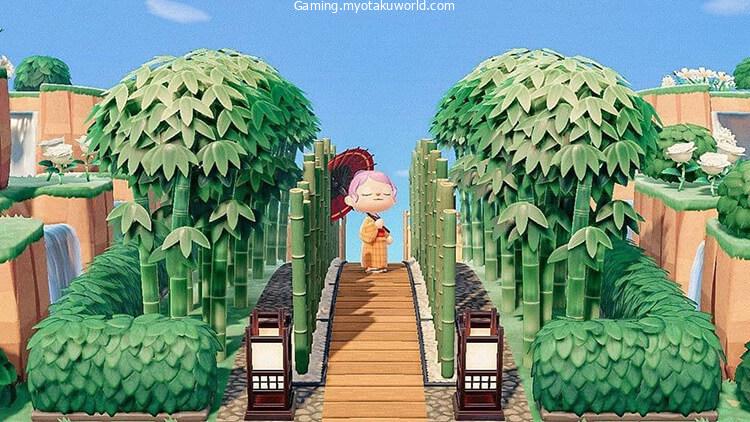 Do you have a weird spot on your island where you can't build anything cool?
This pretty road is all you need to see.
A cleft between two high rocks is lined with bamboo, making a green tunnel. That's a great way to get more stars on your review!
The bamboo doesn't grow into the wooden plank way because of the bamboo dividers, which is also very useful. At each end of the path, there are lights.
What a cool plan!
5. Bamboo Backyard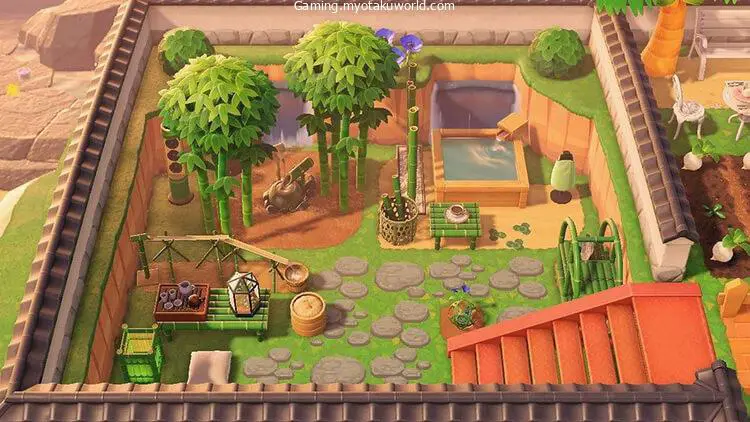 Everyone likes to be alone once in a while.
And there is a lot of it in this sunk backyard.
You can grow more bamboo in your yard, so you'll always have enough to make benches, shelves, tables, or anything else you want!
Talk about self-sustaining.
And about half of the things in this build, like the shelf or light, are mostly made of bamboo.
Some things, like the tea set and the aquarium, have to be found by chance. Hoping for the best!
4. Imperial Bamboo Garden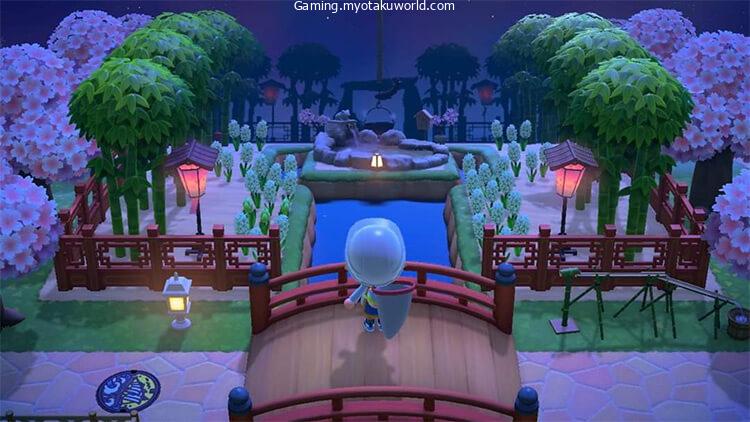 This is pretty cool.
Bright red imperial fence looks great next to the green bamboo next to a pond, which is filled with a stone pond from the middle.
The cherry blossom trees in this pretty yard give it an Asian feel, and the white hyacinth fills in the space without taking away from the reds and greens.
What a beautiful place to try to make on your own island.
3. Go Lounge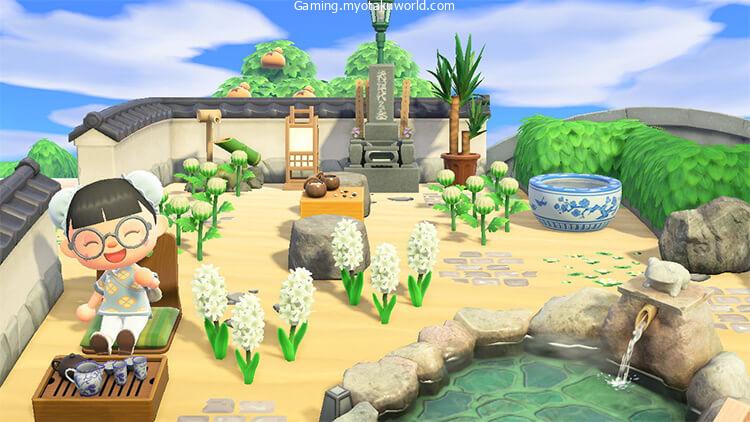 Go boards are a great item in Animal Crossing: New Horizons that doesn't get enough attention.
Go is a board game that was made in China over 2500 years ago. This could make it one of the oldest things in the world.
This cute place has lots of pretty white flowers, a bamboo spout, and other cool things that make it feel easygoing and chill.
If you don't usually like board games, this one might change your mind. There are lots of ideas worth trying here.
2. Botanical Bedroom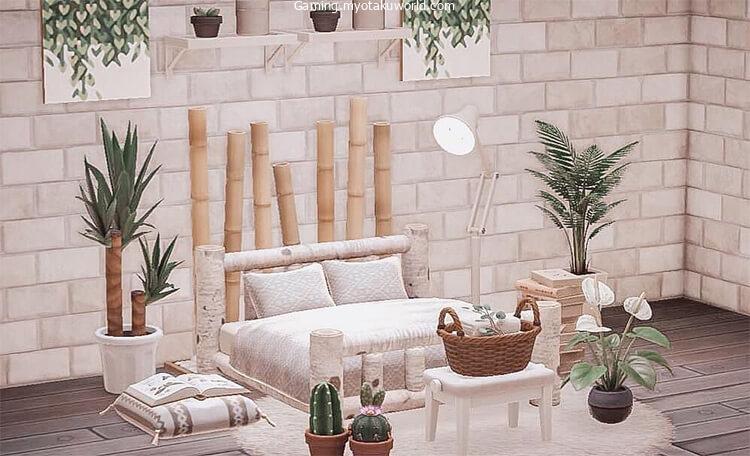 Again, this is a small change, but the bamboo divider behind the bed makes it a focal point.
This bedroom is gorgeous. It has a soft, muted color scheme, comfy-looking pillows, and cute plants.
Someone who loves books lives in this room. I mean, with the open book on one side of the bed and the whole stack on the other.
To be fair, books and plants go together very well. So this is a very good idea!
And if you want to see more ACNH bedroom ideas, you might want to look at this list.
1. Asian Houses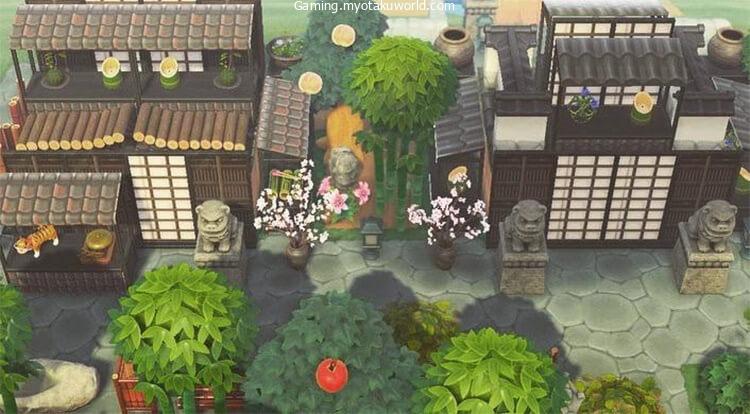 Some of the players in the New Horizons group are incredibly skilled.
The two houses that make up this building don't let anyone down.
The bamboo gives this Asian-themed place a real feel. There are also fun touches like a tiger statue, a cherry blossom planter, and handmade screens.
This idea is at the top of our list because of all of these factors.
Bamboo can also be made into candles, which are used to light the second floors of these cute houses.
Even for someone like me, whose building skills aren't the best, this entry is incredibly creative and amazing.
If you're brave enough to try this cool build for yourself, try making the roofs out of log loungers.