Even though I think that Alpha CC textures looked better in Sims 3, I can't say that they don't still look great in Sims 4. Maybe even more so now that HQ mods that work with TS4 are out there.
So I can see why Alpha CC items are so popular.
We've got you covered if you want to add more Alpha CC content to your CAS library.
More specifically, I have about 50 Alpha CC CAS items for your female Sims that are made just for them.
Skins/Overlays
50. PS Alpha Skin by Pralinesims
This is probably one of the most popular Alpha CC skins, and it's easy to see why.
It's a lovely unisex skin replacement made by one of the most popular and prolific CC creators in the community. The quality is top-notch. You can even adapt the skin tone by choosing different base skin colors!
49. PS Alpha Skin by Pralinesims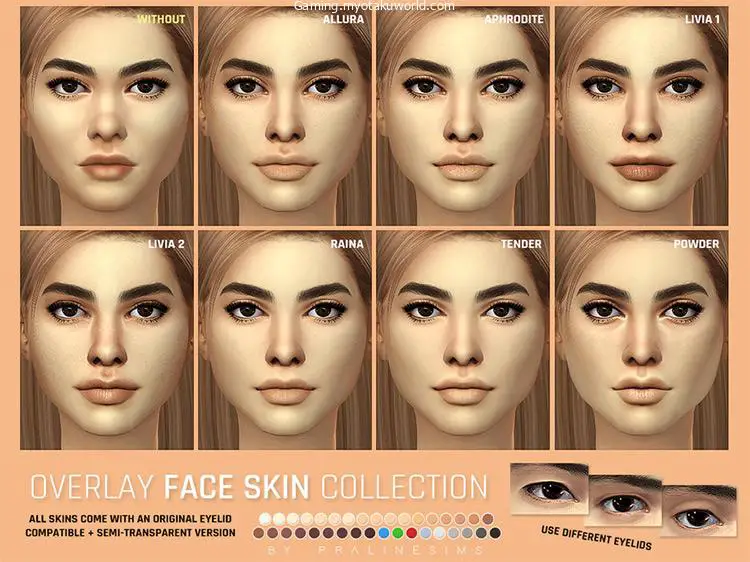 This collection is a fantastic variety pack of different custom skins by Pralinesims.
It lets you cycle through a bunch of their overlays without having to download multiple files.
Plus each overlay comes with a semi-transparent version you can combine with other skins for even more customization.
48. Johanna Skin by sims3melancholic
OK, this is definitely one of my favorite custom skins in Alpha CC!
This Johanna skin adds a soft textured wash to your Sims' look. Kind of like a filter, but in 3D. Plus, it comes in forty freaking skin colors. Talk about variety!
47. Skintone Set V3 by Ms Blue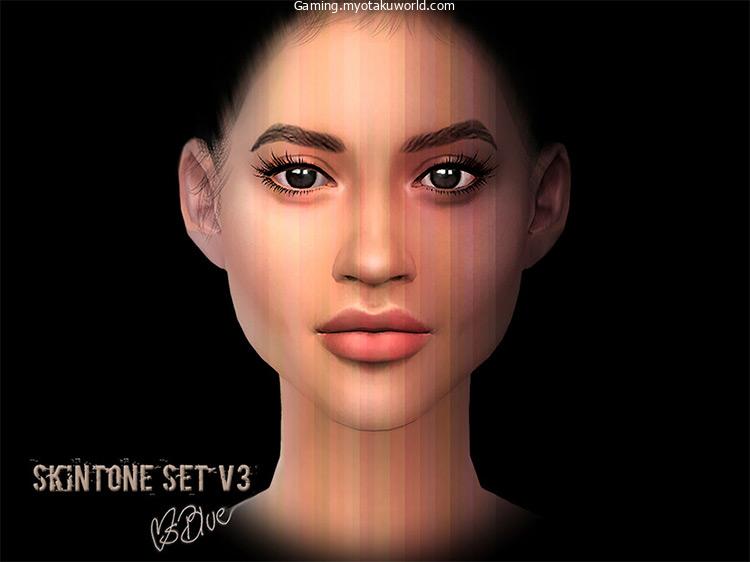 If you're looking for variety and inclusivity, Ms Blue's Skintone Set V3 offers a decent spread. It may not cover all skin colors, but 34 shades is still a lot.
Heck, I could name a couple makeup brands that don't even carry 34 shades of foundation!
46. Sabina Skin by thisisthem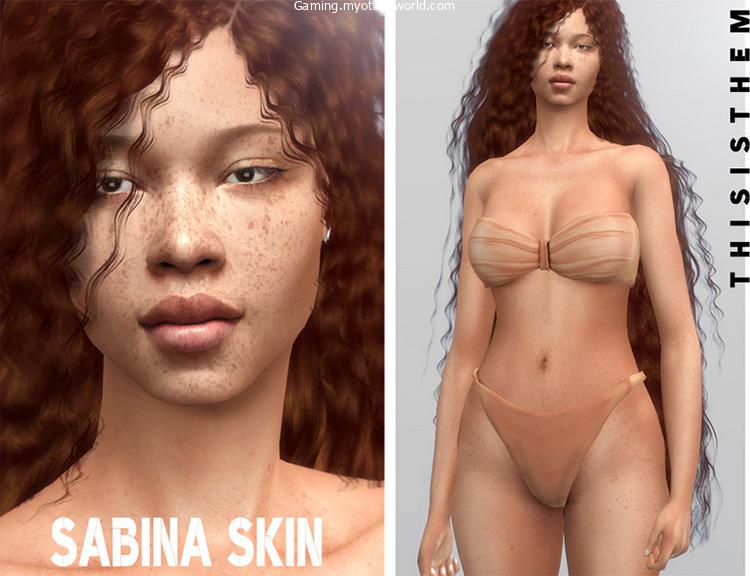 Thisisthem's Sabina Skin is a personal fave.
The texture, the details, the smoothing and contour? It's one-of-a-kind, and it's gorgeous.
It makes my Sims look less like mannequins and more like real characters—especially when combined with other Alpha CC cosmetics.
45. Lucia Skin by satanies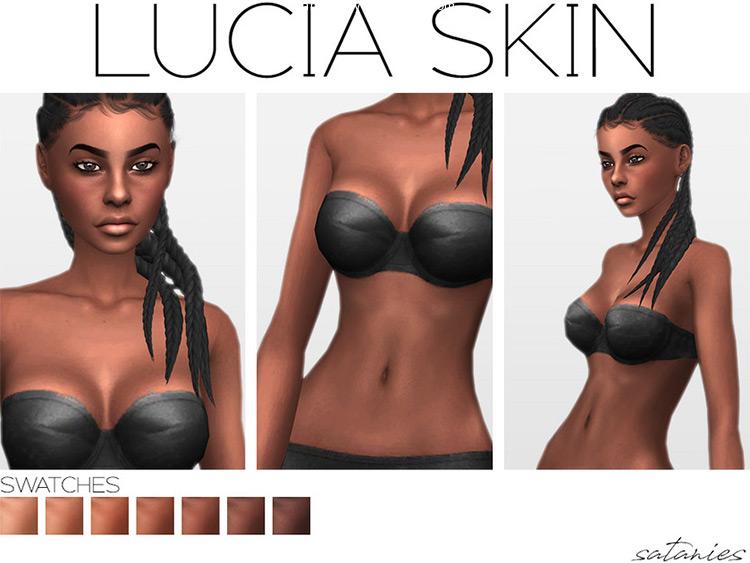 Take it from me; this skin is so good in-game!
It looks great in the preview photos and absolutely stunning in action.
The limited shades (seven total) is a bit of a drawback, but I love that it's focused on darker, deeper shades.
44. Sweets Skin Overlay by MSQSIMS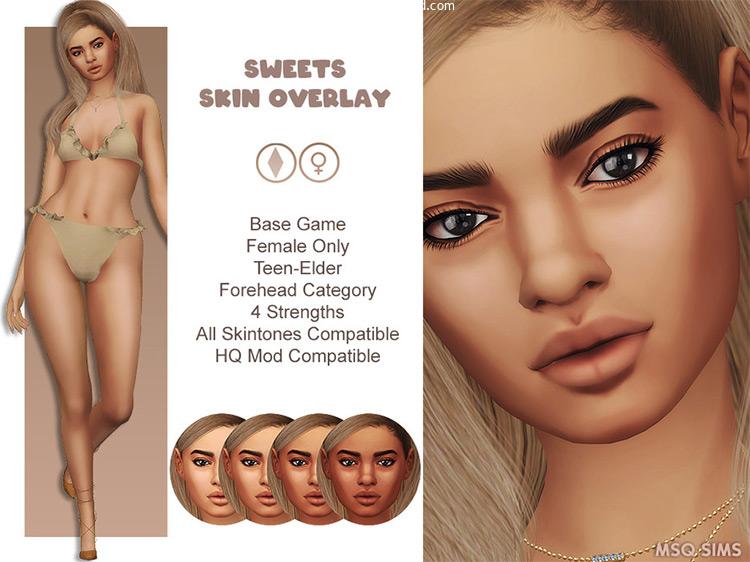 MSQSIMS' Sweets skin may feel more Maxis Mix in certain areas.
However, I think it still leans towards Alpha CC as a whole due to the high level of detail and the photoskinned texture. Plus the creator placed it in the Forehead category.
So you could (ideally!) mix it with other skins to really customize your Sims' look.
Masks & CAS Packs
43. MMSIMS Face Skin & Make Up Set by MMSIMS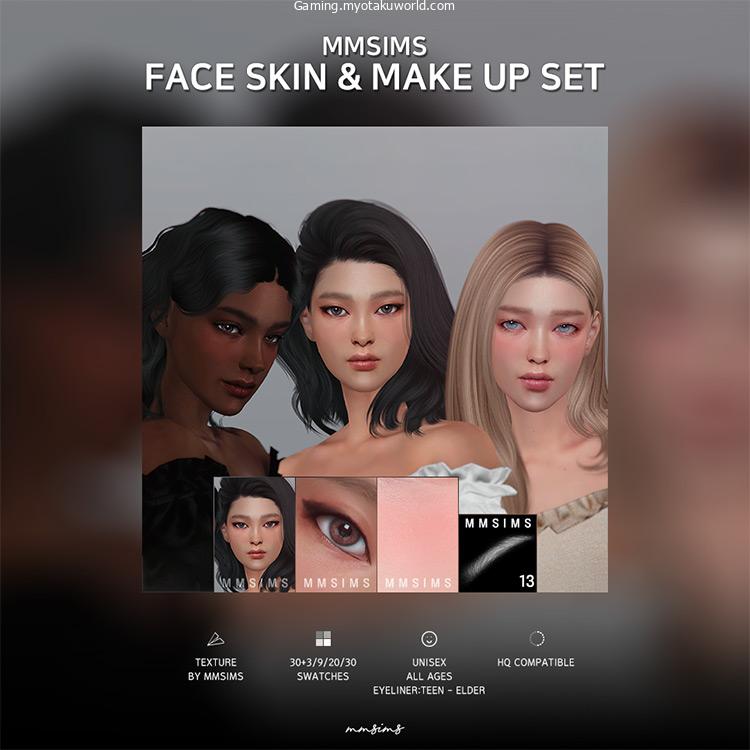 This CAS pack is a fairly extensive grab-bag of custom skin, eyebrows, blush, and eyeliner.
You get four cosmetic in one file, and each one has a significant amount of variations; 33 for the skin, 30 for the eyebrows, and 20 for the blush. The eyeliner even has nine wing styles.
42. Michelle Skin Set by PoyoPoyo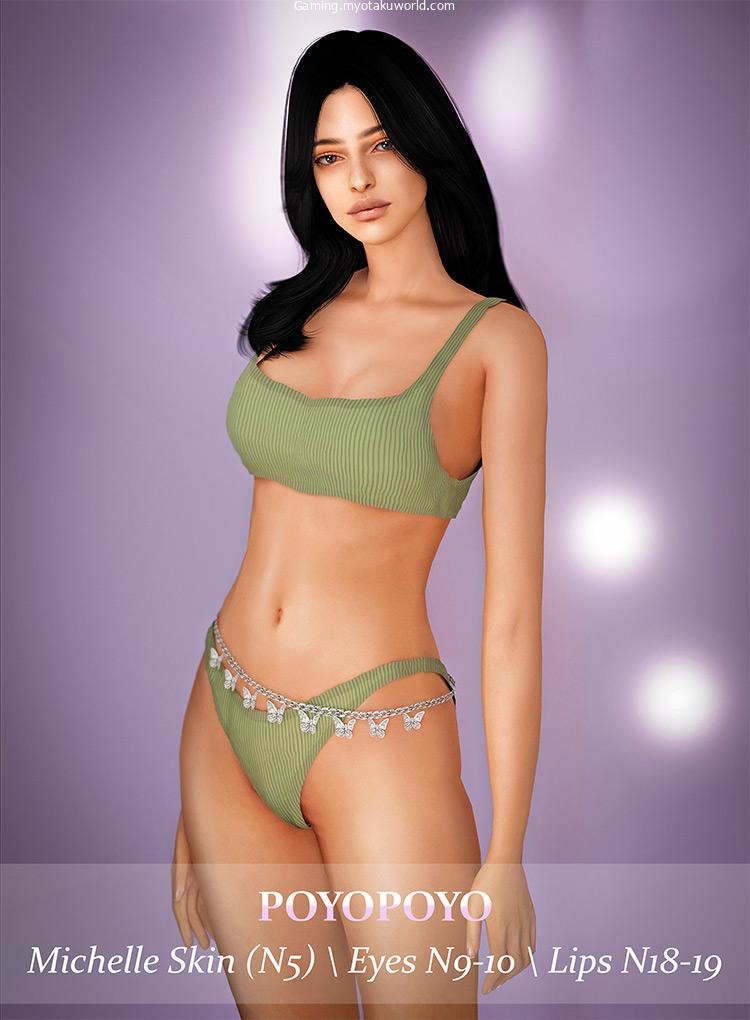 Skin, eyes, and lips!
PoyoPoyo's Michelle Skin set contains a lot of CAS options.
Perfect if you don't want to hunt and sort for things individually. If you add all the swatches of all the items in this pack, this pack adds – get this – 145 eyes, lips, and skin variations to your game!
41. Maura Face Mask N26 by MagicHand
MagicHand's face masks always look super realistic.
It'd be uncanny if it wasn't so gorgeous!
Their Maura Face Mask helps you achieve certain facial features that may be too extreme or too detailed for vanilla EA CAS sliders. Highly recommend!
40. Coffee and Chocolate Collaboration with Seleng by Valuka in Simderland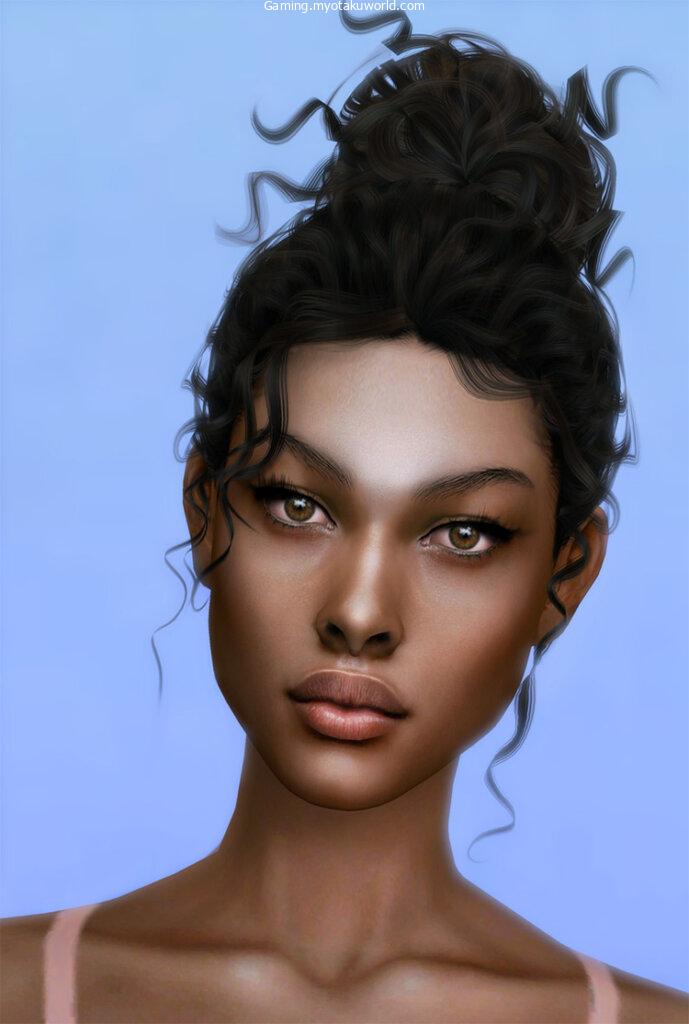 Everything you need to make speechlessly stunning Sims with beautiful bronze skin and realistic facial features, you can find here.
I only recently found this CAS pack and, lemme tell you; it's an absolute gold mine of cosmetics!
Skin Details
39. Skin Detail Kit N04 by Pralinesims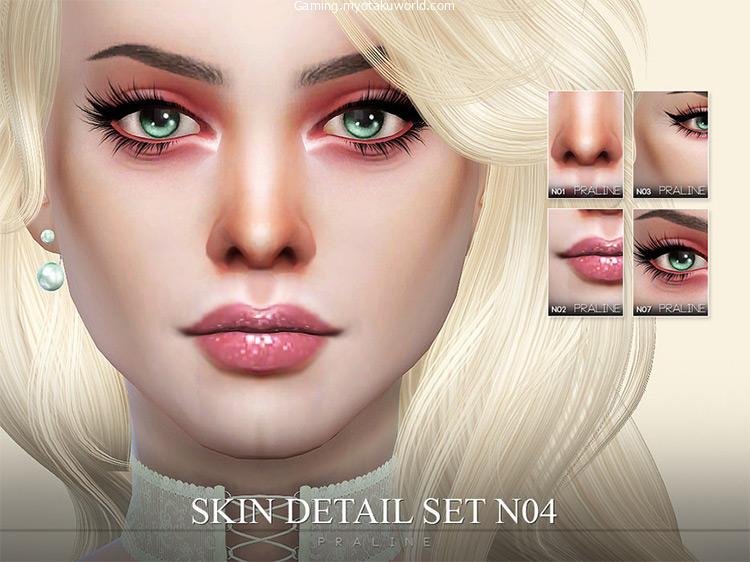 Why download custom contour, eyebags, lips, and nosemasks individually when you can just get them all here?
Pralinesims has dozens of extensive CAS packs, often combining their best works into one handy .package or .zip file.
Their Skin Detail Kit No4 is a great way to give your Sims' face more subtle characteristics.
38. Skin Detail Vitiligo Set by Saruin
Freckles and moles aren't the only skin details we need.
Saruin's gorgeous vitiligo overlay means more unique Sims with distinctive characteristics. It's also super pretty in-game!
37. Freckles N05 by Pralinesims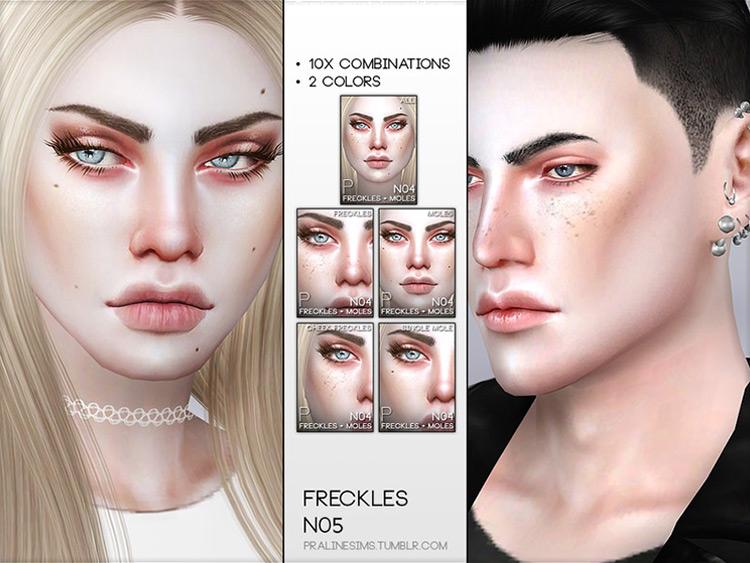 Pralinesims' freckles are subtle but distinct.
And I love that we get 20 variations of it in terms of placement and intensities.
This pack even includes moles! Get your Sims a beauty mark and some sun-kissed action.
36. Gloss Collection by northern siberia winds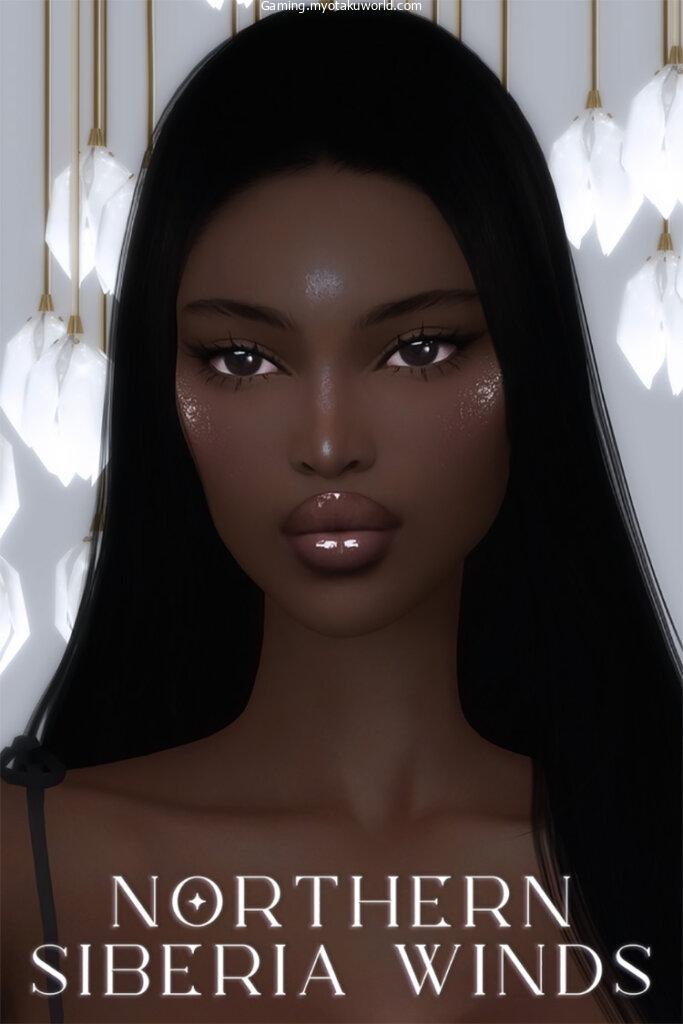 Northern siberia winds remains one of my favorite Alpha CC creators.
Their aesthetic is definitely meant for Asian features, but the subtlety of their masks and skin details is so appealing.
This Gloss collection contains a nose preset + nosemask, a blush and highlighter duo, dimples, and lips. And, as you can see, the shades work for darker, deeper skintones, too!
Alpha Eyes
35. DI(eYe) – DIY Eye Kit by Pralinesims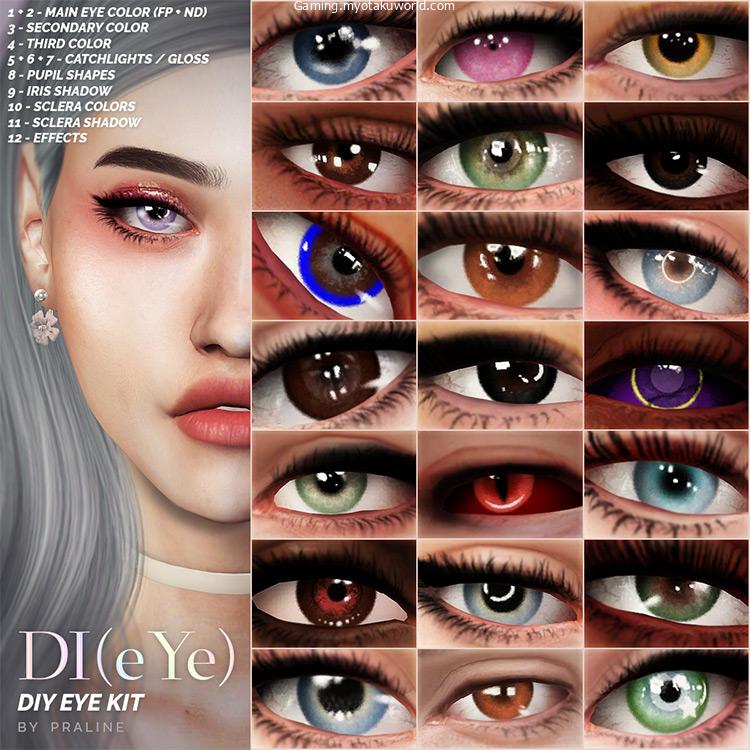 Yup, you read that right! DIY custom eyes, by Pralinesims.
They do an excellent job of explaining how this set works in their notes, so please make sure you read the whole thing! Otherwise, this extensive and super high-quality set will be wasted in your CAS.
Al that said: the detail is insane.
34. Eye Contacts n5 by PoyoPoyo
For something just as gorgeous but much less overwhelming, I highly recommend PoyoPoyo's Eye Contacts N5.
I'm a sucker for super light eyes that look like spun glass, and that describes these custom contacts to a T.
33. Spin State Eyes by RemusSirion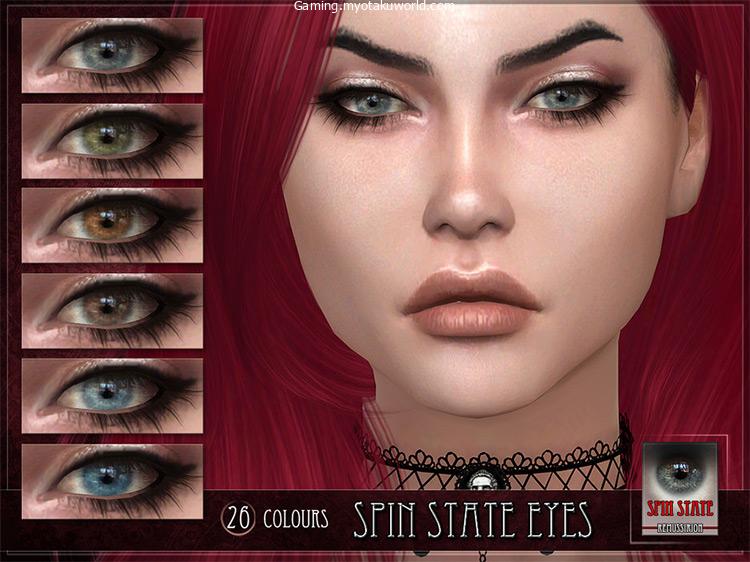 How about some custom eyes (categorized under Facepaint) with gorgeous sclera and iris detailing?
This is one of the few Alpha CC eyes I've tried, and they never disappoint. The soft edges paired with the warm, realistic colors? Absolutely bomb.
32. ND Demon Eyes V/3 (+ Heterochromia) N144 by Pralinesims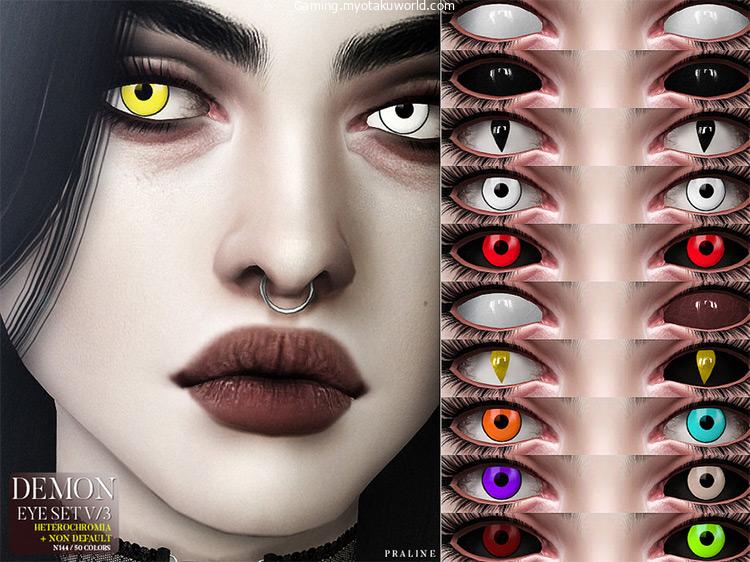 EA's vanilla Occult eyes are all well and good (and do love the ones that came with the mermaid from Island Living!), but a little variety can't hurt.
Pralinesims' Demon Eyes set introduces 50 new eyes—each with a single eye option for some heterochromatic goodness.
31. Heterochromia / Eye Collection by Pralinesims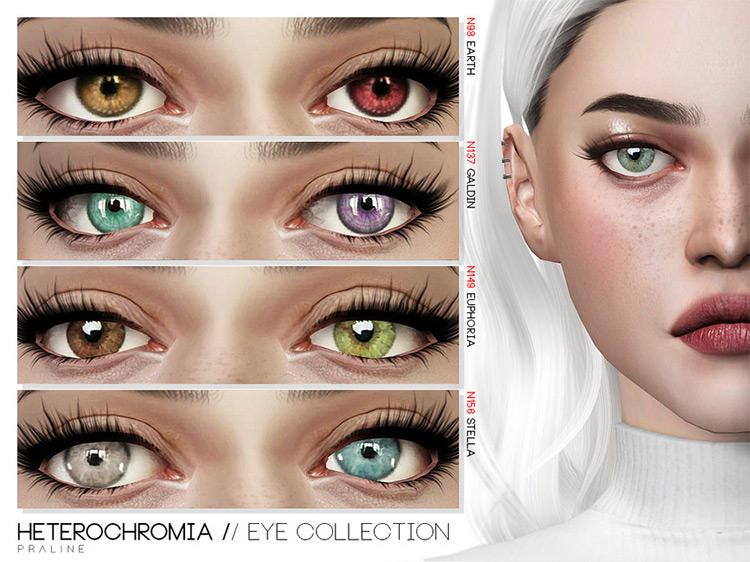 If you want the heterochromia but don't care for the demonic irises, don't worry; Pralinesims also has a heterochromia set.
Four different eyes with 25 to 50 colors each—and a heterochromatic option for all swatches!
Alpha Hair
30. Tasha Hairstyle by Anto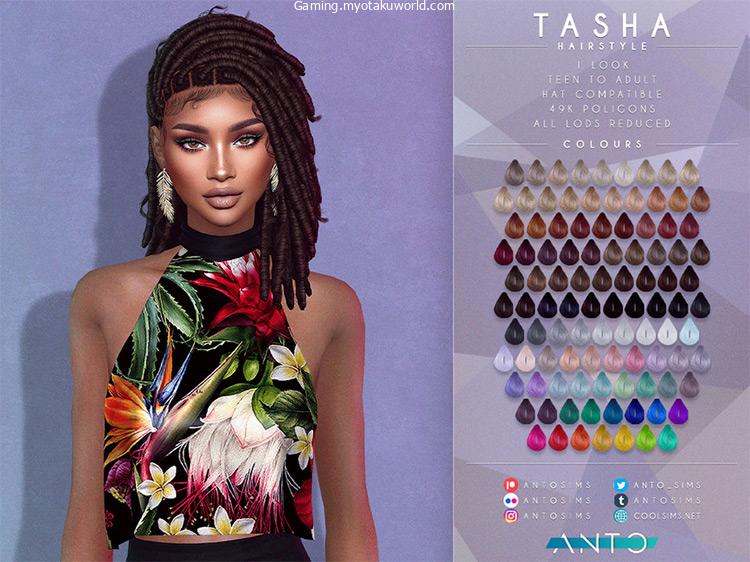 Clean, classy dreads like these are my weakness.
It doesn't help that Anto always makes such gorgeous Sims models. Seriously; look at the preview photos. My Sims can never look that good, but they can at least rock the same hair.
29. Female Hair G39 by Daisy-Sims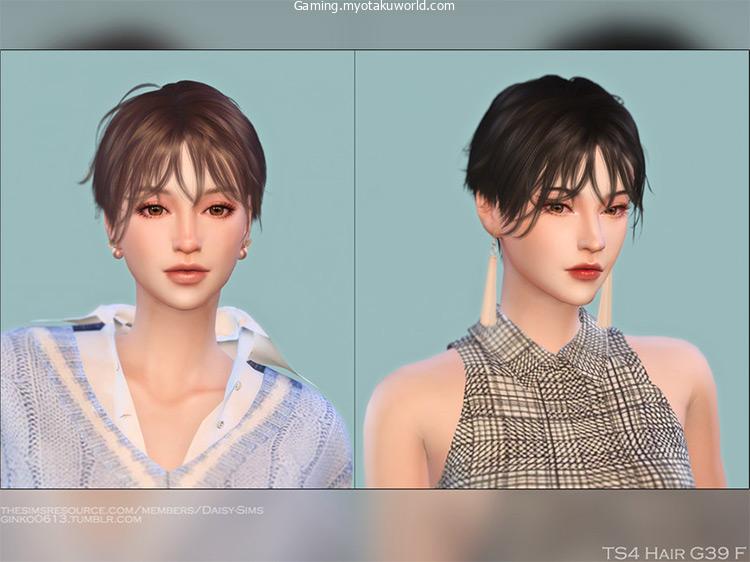 Short, flat, and wispy pixie cuts are pretty hard to nail.
Your Sims have to have the right head shape for it. Thankfully, this custom cut seems to suit a lot of different features. I tried it with several randomized Sims, and they all looked great.
28. Ominous Hair by toksik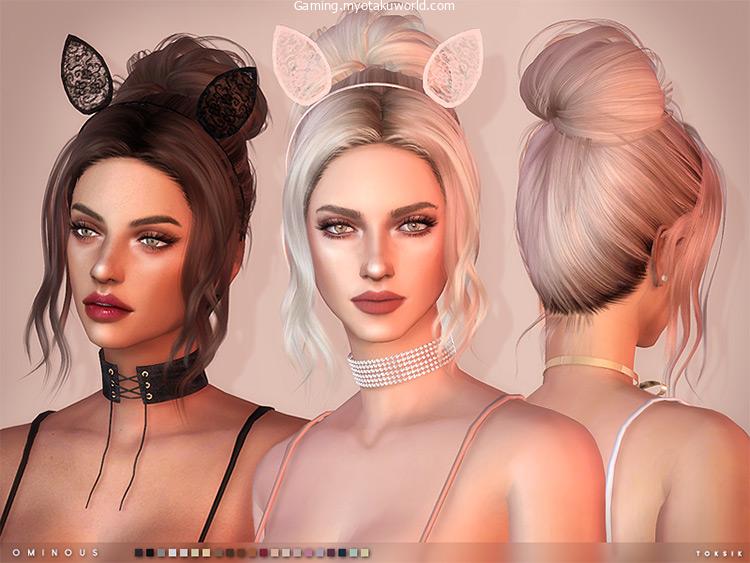 I'm a big fan of updos with face-framing strands.
There's just something to wholesome and effortlessly classy about it.
Toksik's Ominous hair? Definitely not the exception (despite the name).
27. Seventh Heaven Hairstyle by Obsidian Sims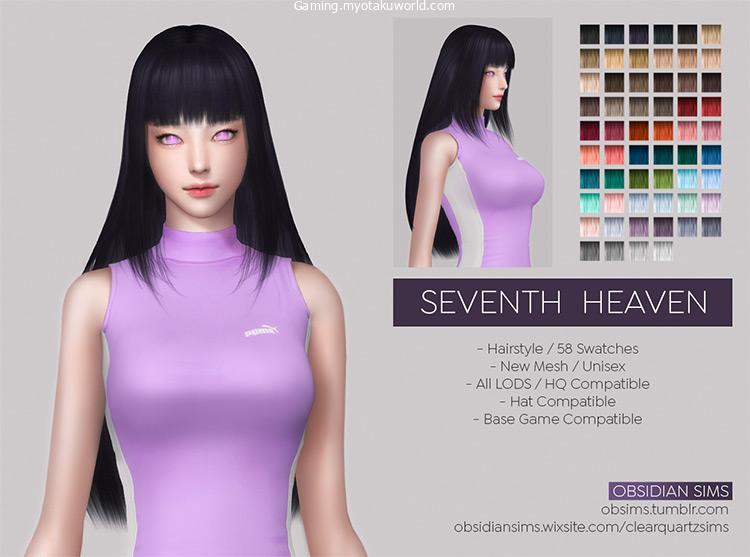 I feel like we all need a long, stick-straight hairdo with blunt-cut bangs in our CAS, and Obsidian Sims delivers.
This Seventh Heaven hair has great layers, great texture, and comes in 58 gorgeous colors. It's a decent spread of neutrals, warms, and bright shades, too!
26. Fluffy Long Curly Hair by wingssims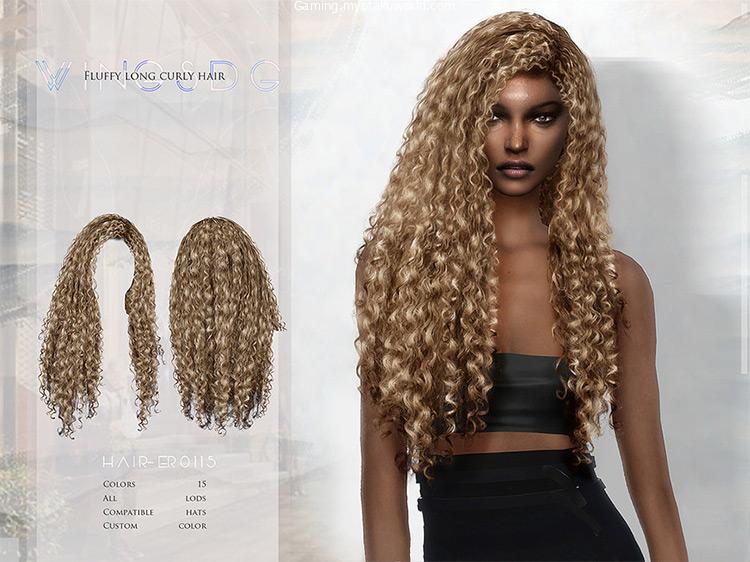 This is the nth time I've recommended this hair in different lists. But I don't care.
It's beautiful, it's luscious, and it remains one of my favorite Alpha CC hairs, period.
There's just something so casually regal and effortlessly badass about it that draws me in, every single time.
Eyebrows
25. April Eyebrow Pack by Pralinesims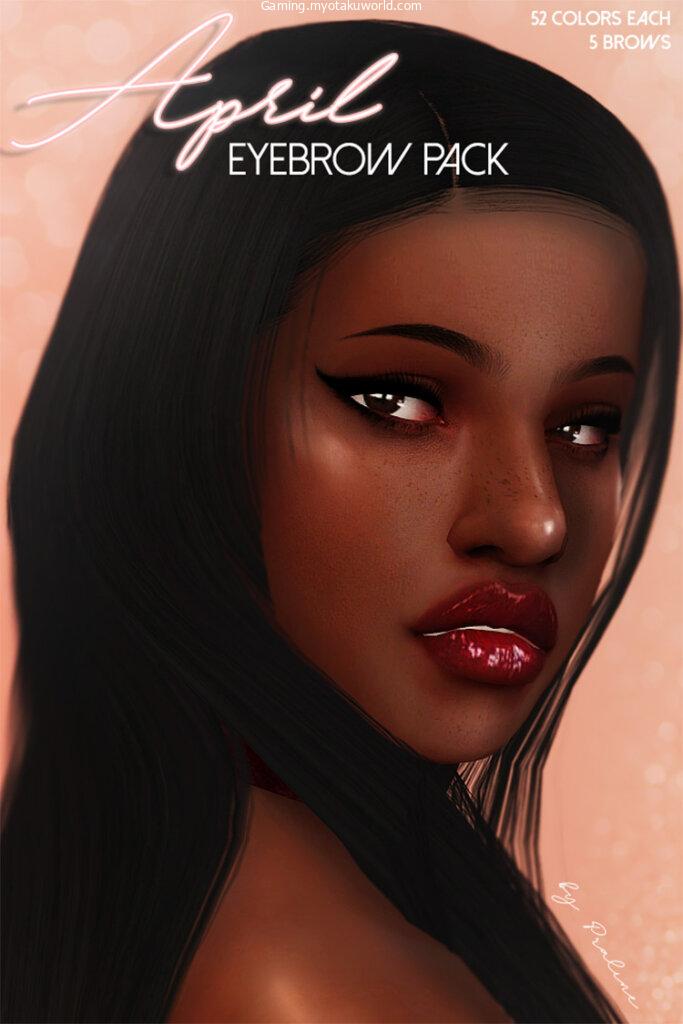 Eyebrows.
You don't notice them until you make one tweak to them and bam! Suddenly you're hyper aware of how eyebrows can literally change your face.
Give your Sims a makeover this season and try on any of the five brows in this April Eyebrows pack.
They've all got a soft, lovely curve to them.
24. Kim Eyebrows by Urielbeaupre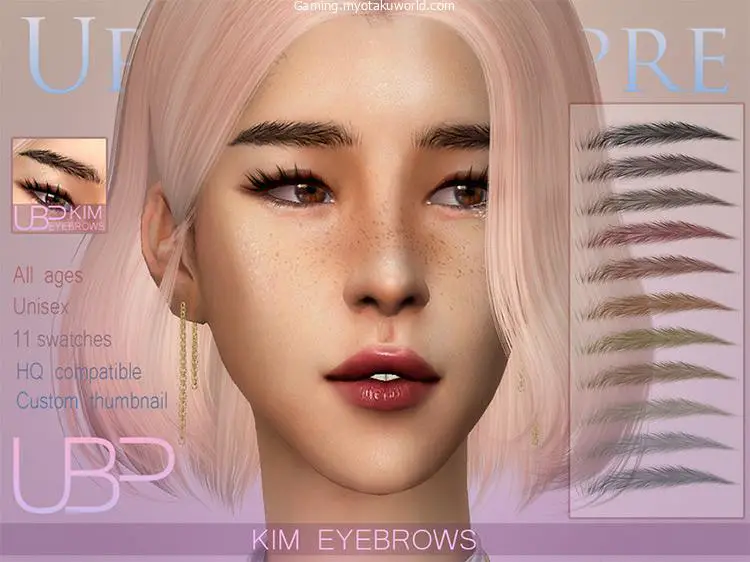 I love straight, feathery eyebrows, so you best believe I try to slap it on all my Sims (or most of them, anyway)!
Urielbeupre's Kim Eyebrows definitely check all my boxes: they're straight, soft, feathered, and can make a face look oh-so sweet.
23. Eyebrows 01 by LutessaSims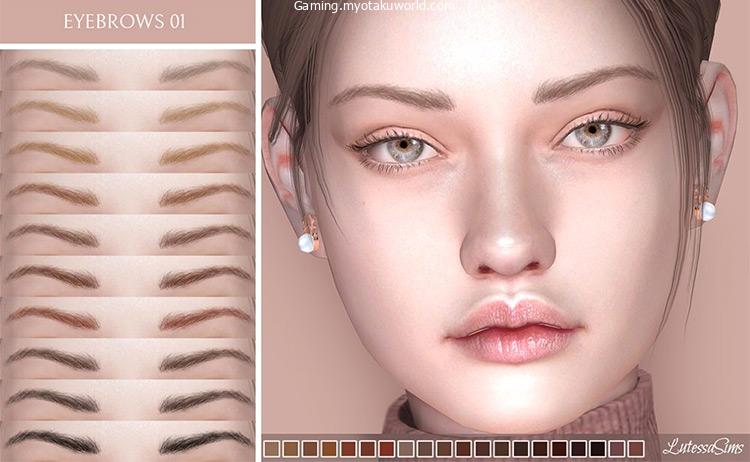 Thin, slightly-arched eyebrows for the elegant Sims lady.
LutessaSims' Eyebrows 01 comes in 20 colors that suit a variety of skintones. The arch is noticeable but still pretty shallow, giving it a lovely, all-natural vibe.
Makeup
22. Lipstick & Blush by LutessaSims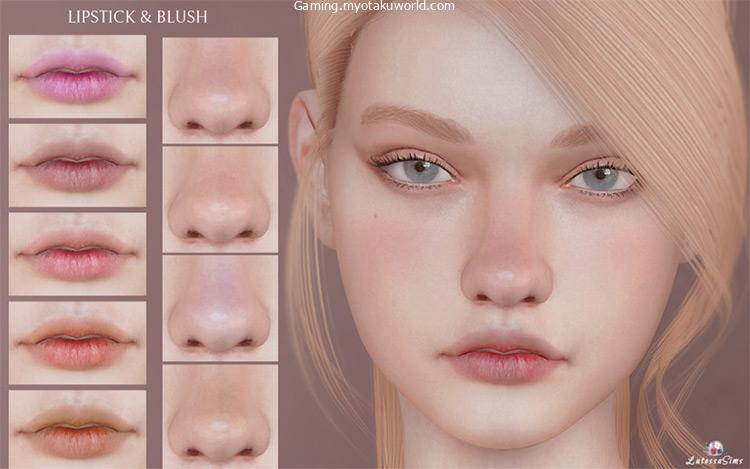 LutessaSims also came out with this pretty package of lipstick and blush.
As you can see, the pigment is very subtle.
These are definitely not one-swipe products. But if you love yourself some light, airy, and natural-looking makeup, I highly recommend this!
21. Makeup Set N14 by PoyoPoyo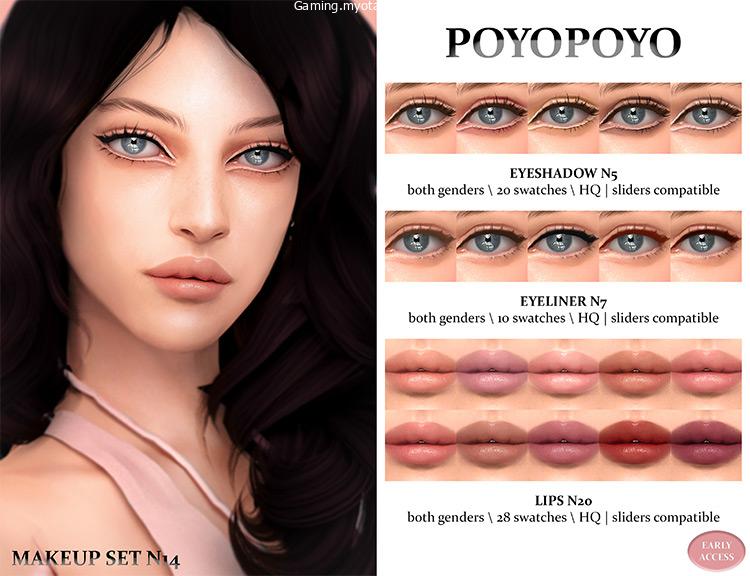 More subtle swatches for the all-natural glam gals!
PoyoPoyo's set contains some light eyeshadow, eyeliner with a little baby wing, and some juicy, plumping lipstick.
It's perfect for achieving a no-makeup makeup look on your Sims.
20. Makeup Set N12 by PoyoPoyo
Glossy lips and sultry highlighter.
If your Sims are dying to get their glow on, PoyoPoyo's Makeup Set N12 can help with that! It comes with 15 lip swatches – all warm, earthy tones with glosses – and ten highlighter variations.
Even with HQ mods, the results are super pretty!
19. Spring Kiss Glossy Makeup Set by Pralinesims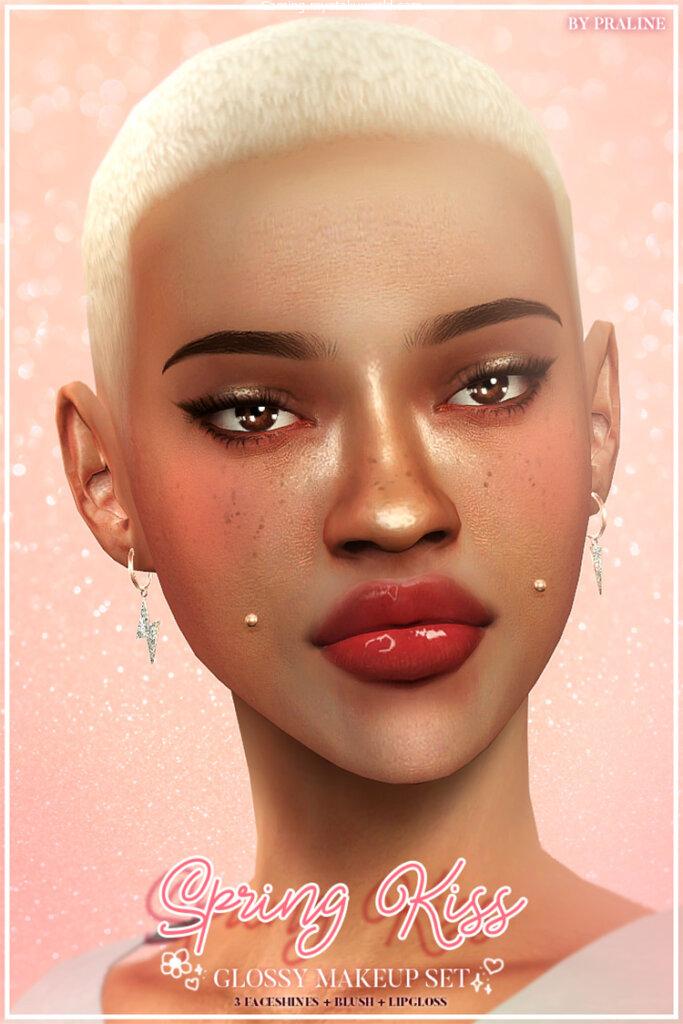 I guess I'm just drawn to gloss.
I dunno if matte is still alive this season but, regardless; I love me some shine.
And it just so happens that Pralinesims makeup pack contains 3 flavors of highly-customizable face shine with 30 to 45 variations each! There's a custom blush and lip jelly in there, too.
18.  Gold Makeup Set CC36 by GoppolsMe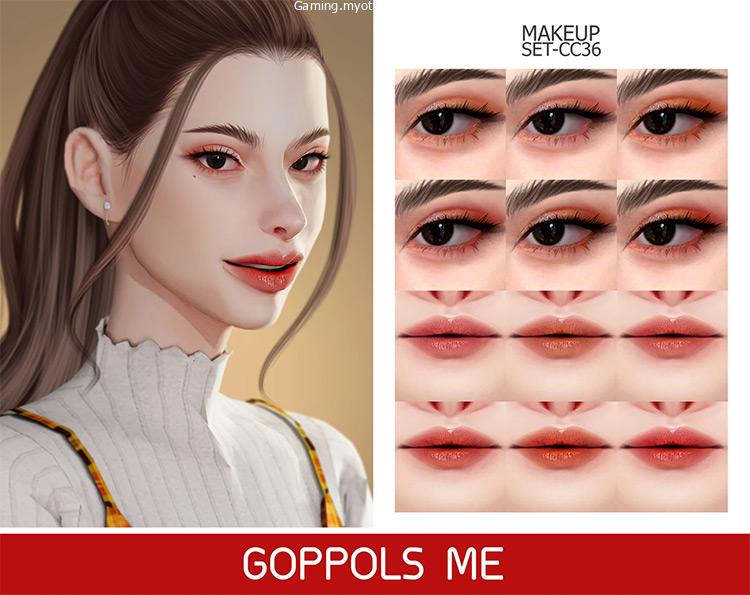 This is a modest set with items that draw heavily from eastern makeup looks (what with the sparkly peach eyeshadow and the bitten lips).
The shades may be a bit too light for deeper skintones, but for fair to pale skins? The colors pop!
17. Grande Coffee Collection by Pralinesims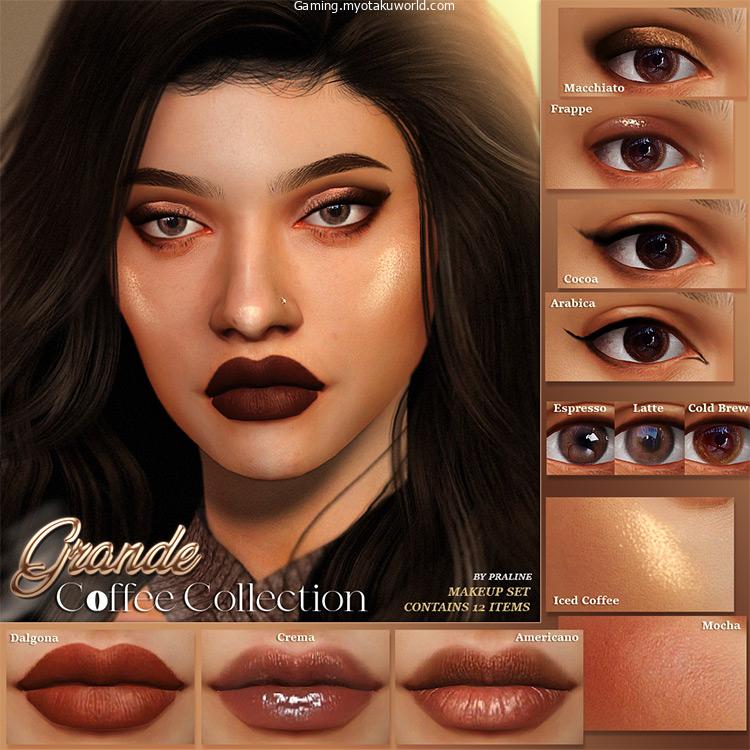 As a certified caffeine addict who only uses warm earth tones in my makeup looks, I feel like this pack was made for me.
Lipstick, blush, highlight, eyeshadows, eyeliner, and colored contacts in lovely coffee names and shades?
This is the kind of stuff I would pay for, so it baffles me that it's all free!
16. E-Girl XXXL Makeup Collection by Pralinesims
I have no idea if the e-girl trend is still alive and kicking, but I do know that it's a pretty iconic look that's hard to forget, regardless.
If you want to recreate it on your Sims, Pralinesims' E-Girl XXXL set is literally all you need.
Just scroll through the notes to see how many cosmetics (plus variations) they managed to cram into one .package file. It's pretty wild!
Alpha Clothes
15. Safari Dress by Gorilla Gorilla Gorilla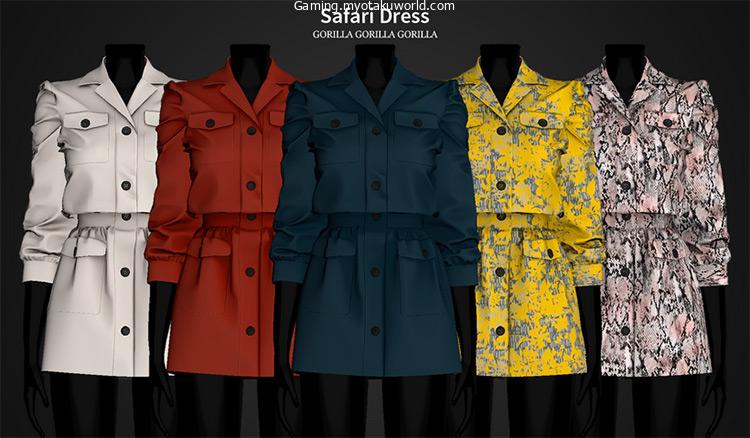 Gorillax3 is one of the best CC creators for TS4 Alpha CC clothes. The designs are great, the quality is top-notch, and they upload pretty consistently!
Take this gorgeous Safari dress, for example. Structured shoulders, sleek lines, and the swatches?
Absolutely lovely.
14. Gymshark Hoodie by elliesimple
If you've ever come in contact with the fitness side of social media – Instagram, Youtube, TikTok, etc. – then you probably know what Gymshark is.
And if you know Gymshark, then you know that this hoodie style? Pretty on-brand.
13. Midi Dress by elliesimple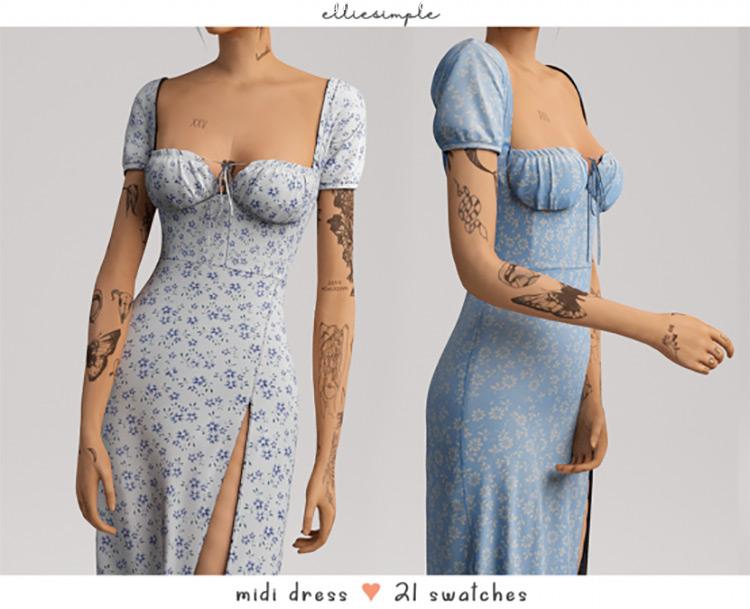 This midi dress is fresh, fun, and flowery.
Totally a top pick for Spring!
Elliesimple is also known for their pretty creations, and I think this dress speaks volumes about the (basically flawless) quality of their stuff.
12. Turtleneck Dress by mochizen-cc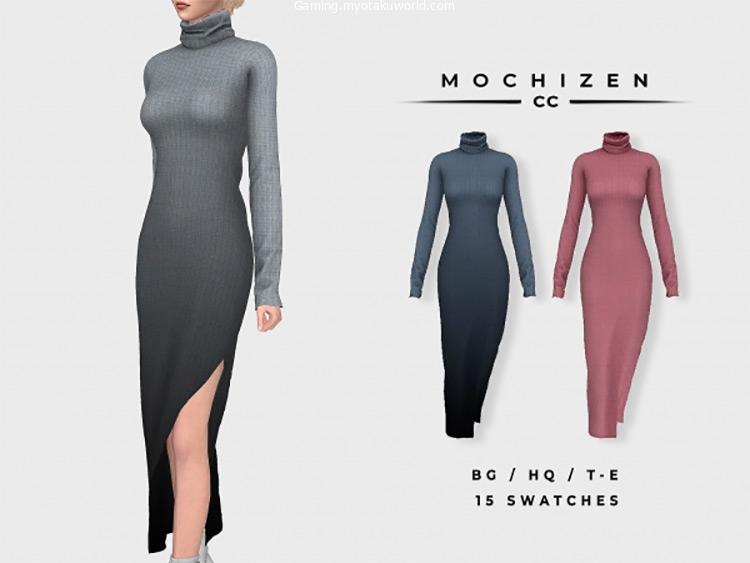 Truthfully, I'm recommending this dress because this is something I'd actually wear IRL.
I'm a sucker for turtlenecks and body-con.
This is a fantastic two-for-one that looks like it came straight outta my closet.
11. Joseph Jacket by bluerose-sims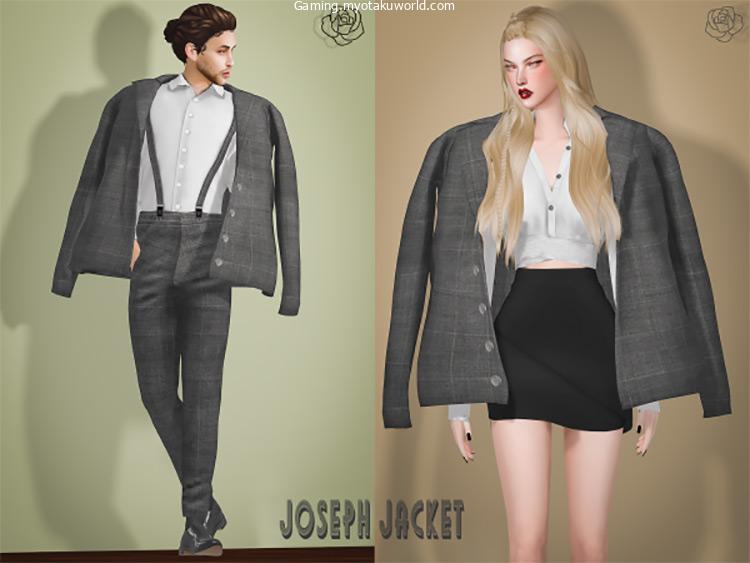 This is an oversized jacket accessory that your Sims can (ideally!) wear over any outfit.
What drew me in to it is that it's meant to be casually draped over the shoulders, all cool and cape-like. That look just instantly turns any outfit boss, you know?
10. Mom Jeans by Senmoe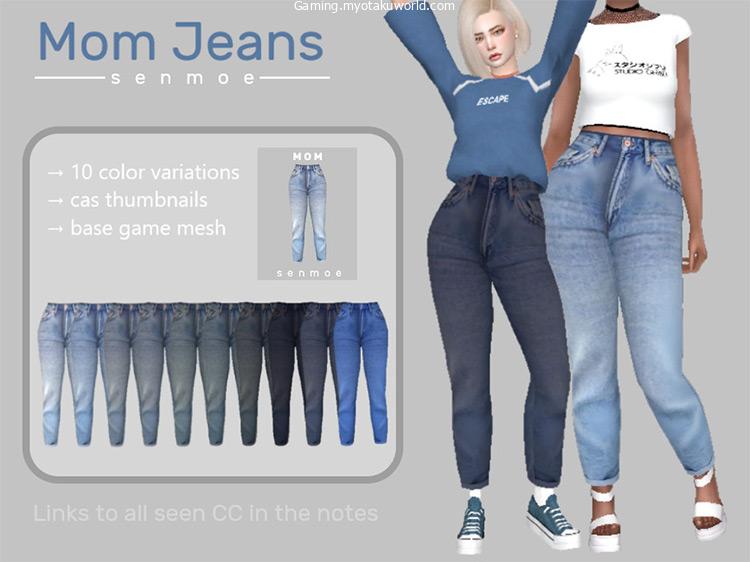 Everyone needs a sturdy, comfy pair of mom jeans in their closet.
You know – for those days when the thought of anything skin-tight makes you wanna itch.
Senmoe's Mom Jeans are mid-rise and sufficiently baggy.
9. Clothes Set – 254 by bustra-tr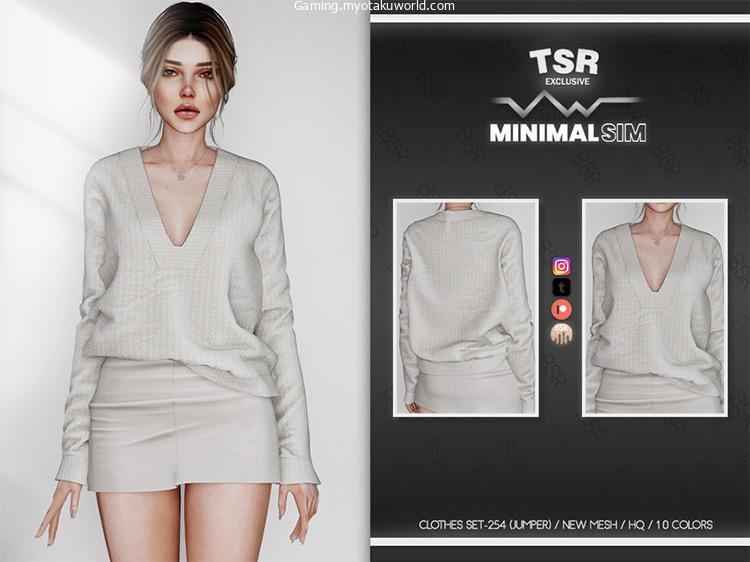 Pairing baggy clothing with tight, fitted pieces has always been a foolproof fashion principle. If you want your outfit to look balanced, opt for contrasts.
This lovely clothing CC set by bustra-tr is proof of that.
The oversized sweater tucked into the hip-hugging miniskirt creates just the prettiest silhouette!
8. Yeona Coat Dress by simpliacity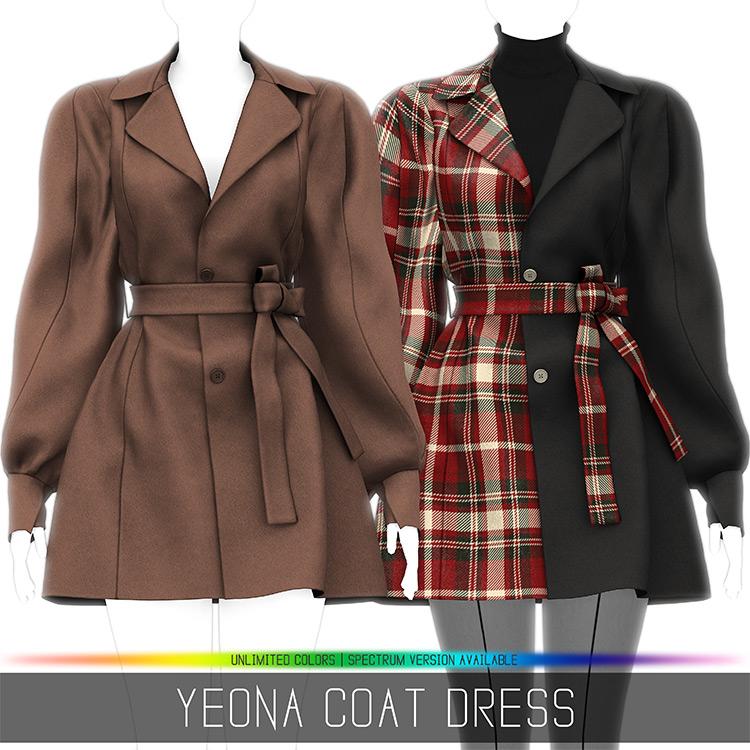 This looks like something straight out of the set of The Devil Wears Prada, and I am here for it.
It's a slouchy, single-breast, mini trench coat with a self-tie sash and incredible detail. What's not to like?
Plus it comes in 55 swatches—all a mix of solids and patterns.
7. Jeans – BT402 by laupipi
I love a pair of solid, wide-legged denims.
And while I prefer my pants high-waisted, I'm sure a lot of Sims can rock a good mid-rise cut.
These BT402 denims from laupipi are the definition of an alpha CC closet staple.
6. Short Romper with Puff Sleeves by LazyEyelids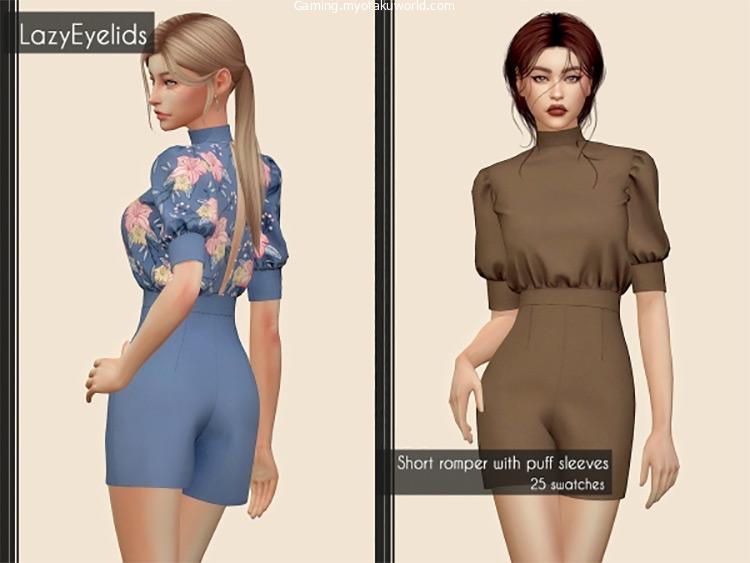 While I never really got into rompers (the thought of having to go to the bathroom in one scares me), I do freely admit that they look fantastic.
It's a trend I subscribe to but not actively participate in. But my Sims do! And yours can too, what with LazyEyelids' absolute striking puff-sleeved romper.
Alpha Shoes
5. Leather Sandals V04 by Jius-sims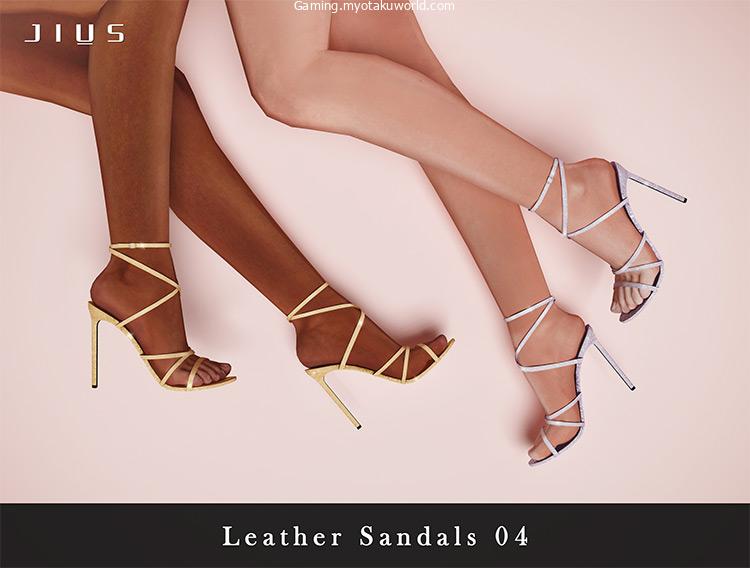 I do think the vanilla shoe options from EA aren't that bad. There's decent variety.
But, you know.
We could always use more.
If you want your Sim strutting around in three inch stiletto heels with paperthin straps, Jius-sims' Leather Sandals V04 is a classy pick!
4. Ann Demeulemeester Lace-Up Heeled Sandals by Mauvemor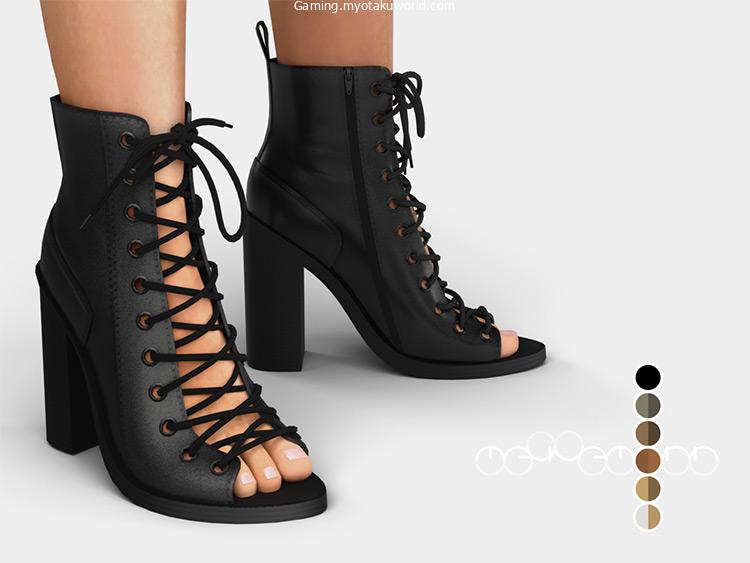 Here's another entry into the "Things I Would Wear IRL" category.
I don't think I could pull these off, but these lace-up sandals with chunky heels? Absolutely love. It comes in six practical colors, too!
3. Madlen Cosette Shoes by MJ95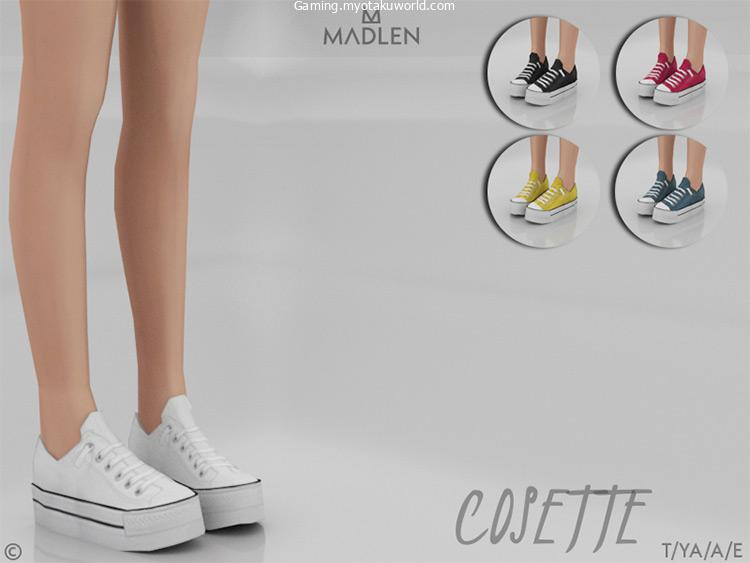 You can't go wrong with a dependable pair of platform sneakers.
MJ95's Madlen Cosette Shoes are the trendy kind of trainers you pair with flowing dresses and street-chic skater skirts.
Super cute and super casual!
2. Trainer Shoes Female Vers. By mochizen-cc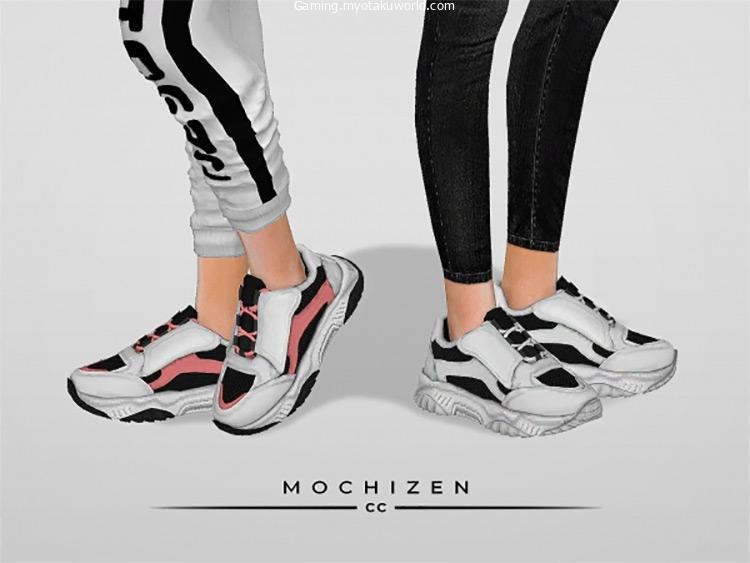 Take your Sims to the gym with these top-quality trainers from mochizen-cc!
They're chunky rubber shoes with an ergonomic design and great detail.
The preview photo could honestly pass as an advertisement for real shoes, what with how realistic the creator made these look. It's freaking impressive.
1. UGG Classic Cardy Boots by DallasGirl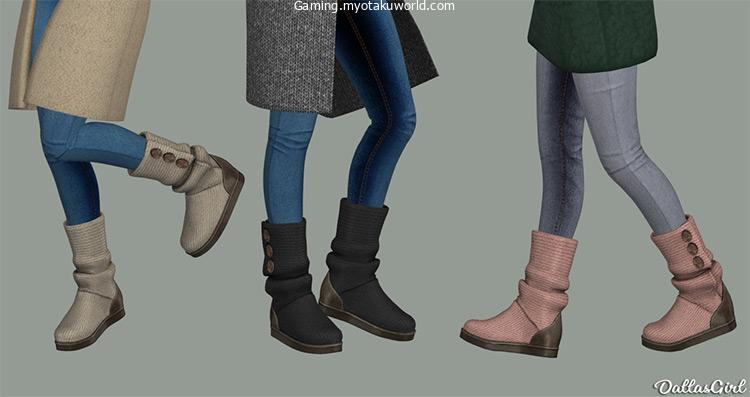 UGGs are just one of the fashion brands everyone knows about, even if they don't wear their items. It's just that iconic.
That being said, why not treat your Sims to something a little luxe and runway-worthy?
These UGG Classic Cardy Boots are stylishly chunky, totally alpha, and they come in 12 gorgeous colors.