The Sims 4: My Wedding Stories DLC was last released by EA a while back. However, personalised wedding dresses have always been a CC community mainstay.
Come on, we've had customizable clothing since the original game! Now that there is a pack specifically for marriage, it makes sense that the supply will increase.
Give your bridal Sims lots of options for their important day, then.
This collection is comprised of stunning alpha wedding dresses for a more realistic appearance as Maxis Match dresses have already been addressed.
40. Wedding Dress ANDREA by SLYD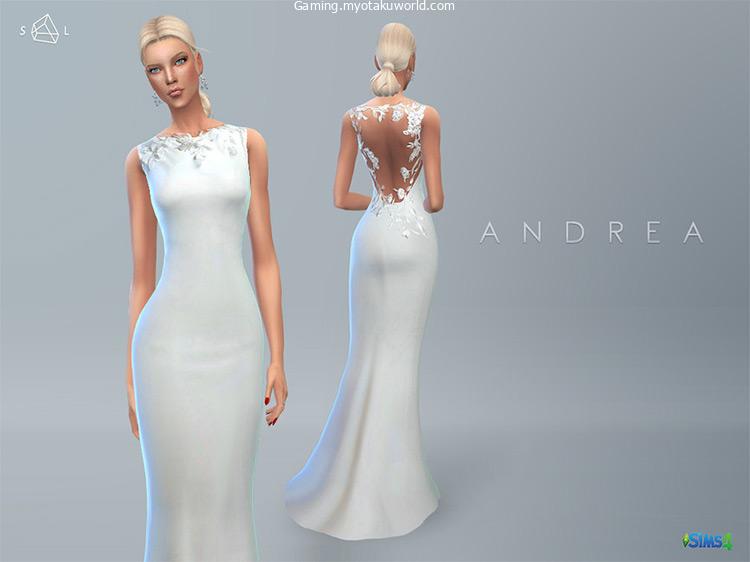 Clean, simple, and tastefully elegant, SLYD's Andrea wedding dress is regal AF!
It has a simple, slightly body-con cut, a modest train, and a high neck.
The back is, as you can see in the preview photos, the highlight of the design.
It's a completely open situation with 3D lace elements dotting the borders and continuing up the sleeves and neck.
39. Summer Wedding Dress by DarkNighTt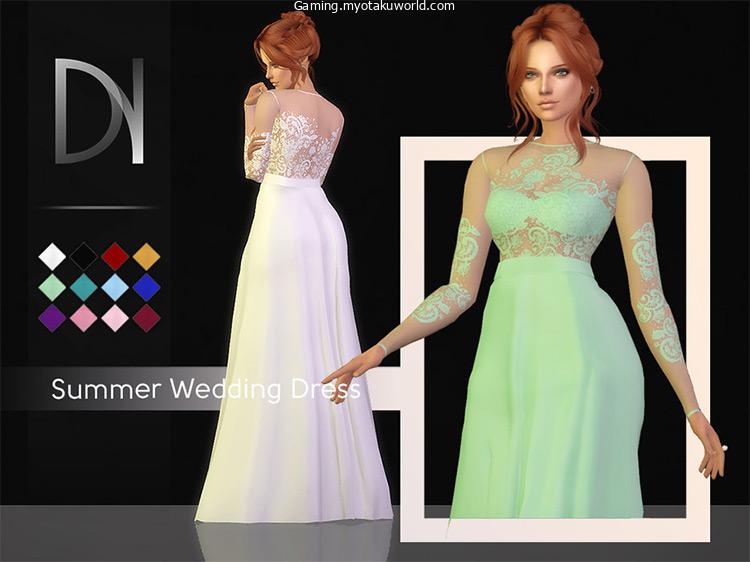 DarkNighTt's dress does look perfect for summer.
The bodice is made almost entirely of some light mesh fabric dotted with lace detailing.
The bottom is a clean full skirt with a neat hem.
It's beautifully brilliant, and comes in 12 colors.
38. Frill Dress by DINO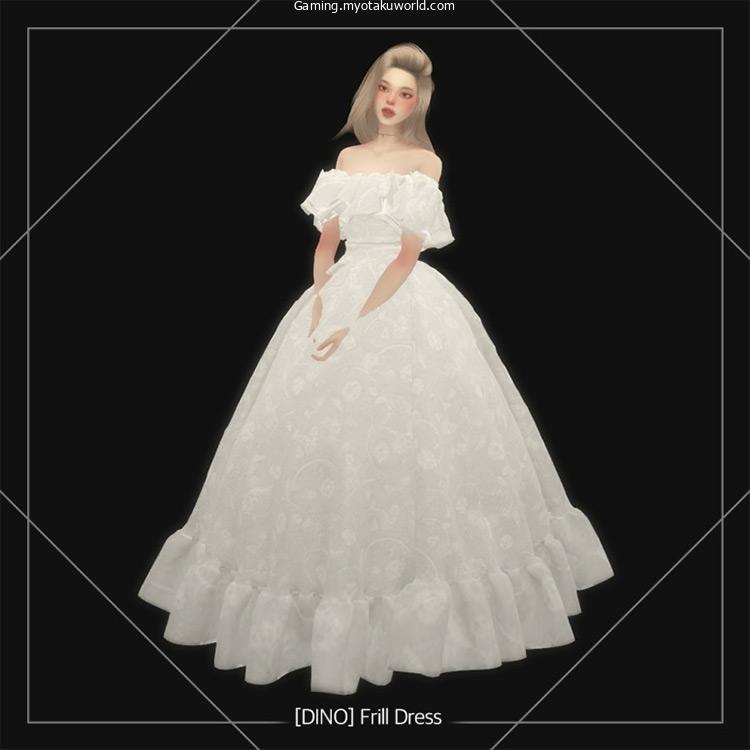 Big, beautiful, and poofy as a cloud, DINO's Frill Dress certainly lives up to its name!
It's a cotton-candy swirl of white lice, bouffant tulle, and pretty, delicate detailing.
Trust me; this is the definition of a princess gown. It's perfect for brides who want to feel like royalty on their special day.
37. Bohemian Wedding – The Bride by Birba32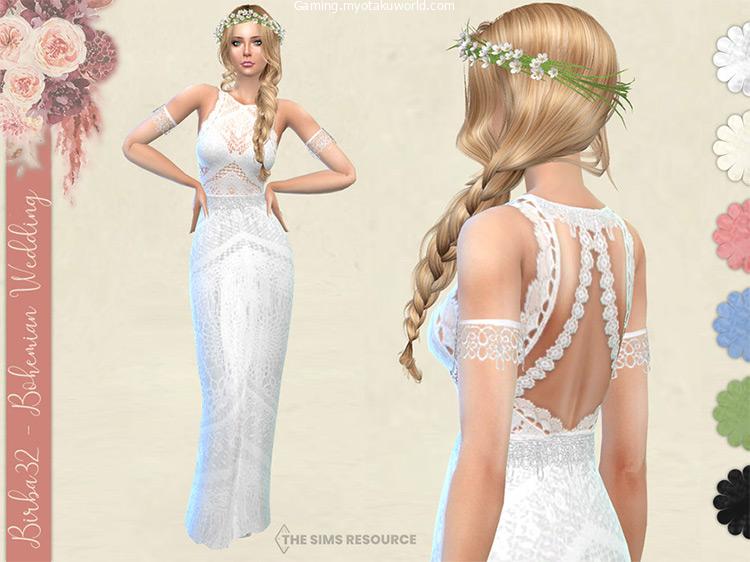 Light, beach-y, and pretty as a picture, this dress is an aesthetic mix of bohemian elements mixed with traditional Western wedding designs.
It's a sleeveless, all-white gown that clings lightly to the curves and is dotted with subtle lace detailing.
I'm particularly fond of the delicate lace armbands!
36. Vintage Dress by Beo Creations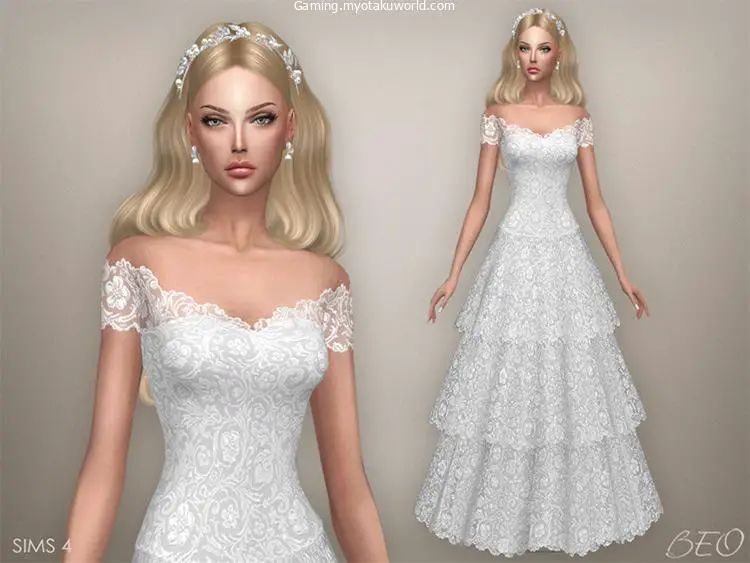 Proof that classic tasteful designs are timeless, Beo Creations' Vintage dress is a thing of ageless beauty.
It's thin, wispy layers of bone white fabric and light, lacy material. Off-shoulder straps and a modest, semi-sweetheart neckline finish off the dress's classy, tried-and-true cut.
Your bridal Sim will feel like a dream and look like an absolute vision!
35. Deliah Wedding Dress by HoangLapSims
This Deliah wedding dress looks like the lightest, airiest, most chiffon-y gown to ever exist.
It looks like it's made of nothing but lace, diamonds, and light fabric.
It's also romantic as heck!
It's dripping with classic romance movie bride vibes, but in the best possible way.
34. Dana Dress by Atelier Lena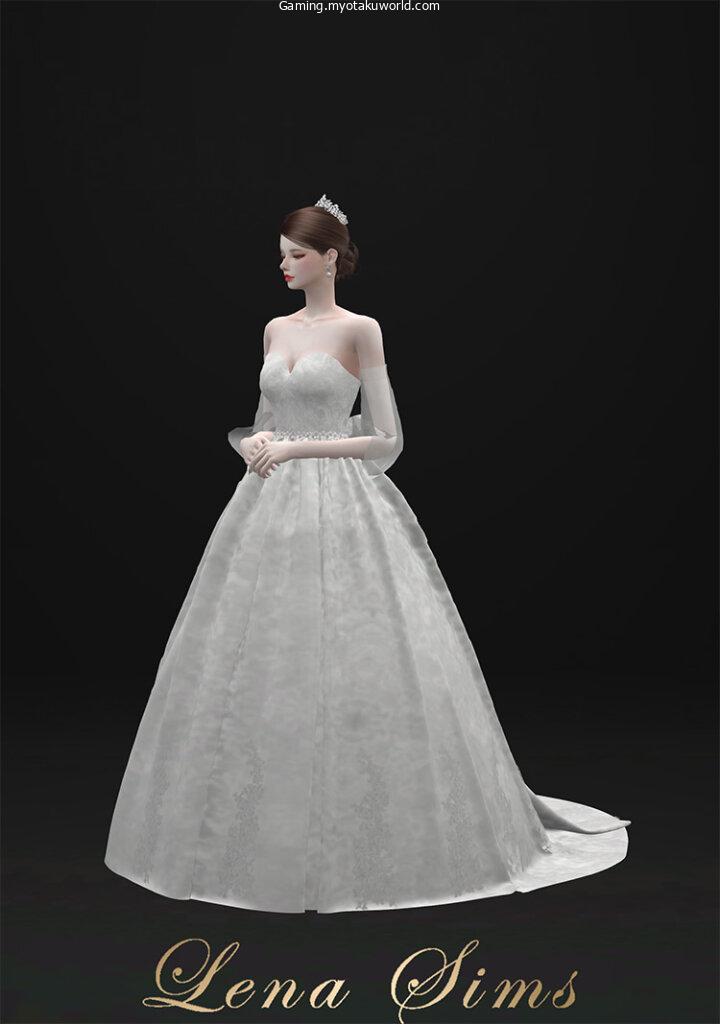 Elegant and refined, subtle and sophisticated, this is the kind of dress that looks like it can – and should! – only be worn by nobility.
I will note that my Sims looked oddly regal when I had them try this on.
See-through, off-shoulder sleeves and plenty of tiny, delicate detailing? This dress is classier than most people.
33. Wedding Dress Alheli by DanSimsFantasy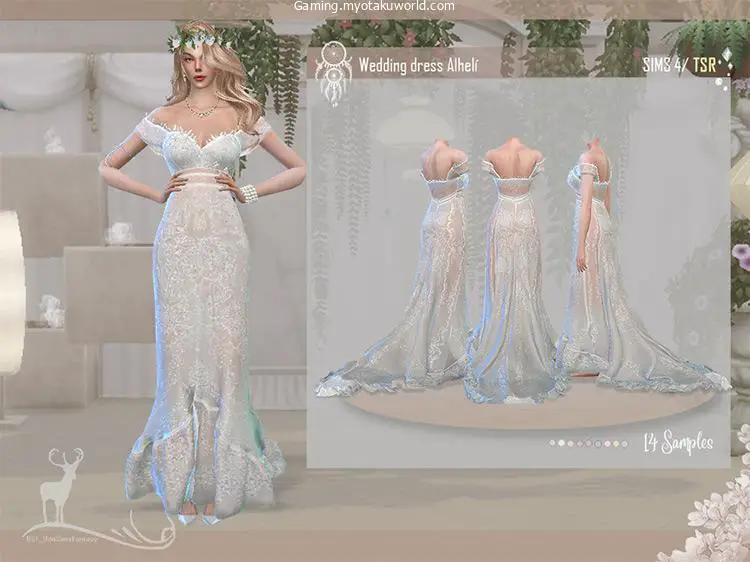 The girl's got a train!
DanSimsFantasy's Wedding Dress Alheli has a lovely, sweetheart neckline, and a long, dramatic train.
Not too long that the bride will need the bridal party to trail after her, but long enough to be noticeable!
The other subtle details on this garment – like the lace edging and the crinkle texture at the hem – make it stand out even more as well.
32. Bohemian Wedding Dress Alsine by DanSimsFantasy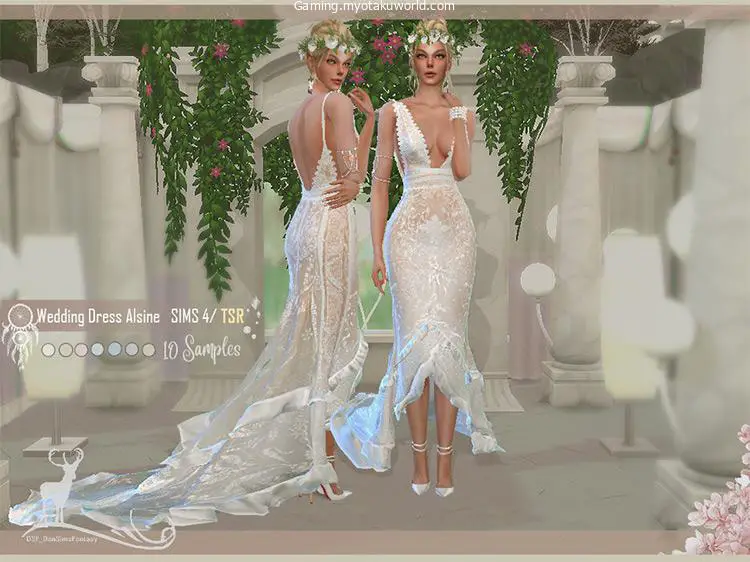 Bohemian (or "boho") style is characterized as a "free-spirited" aesthetic, and this pretty, lacy dress is definitely giving those nature-child vibes!
Clean, simple, and yet resoundingly elegant, it gives so much with so little material.
The train, the layers, and the subtle mesh designs just work so well!
31. Lace Wedding Dress KLAUDIA by SLYD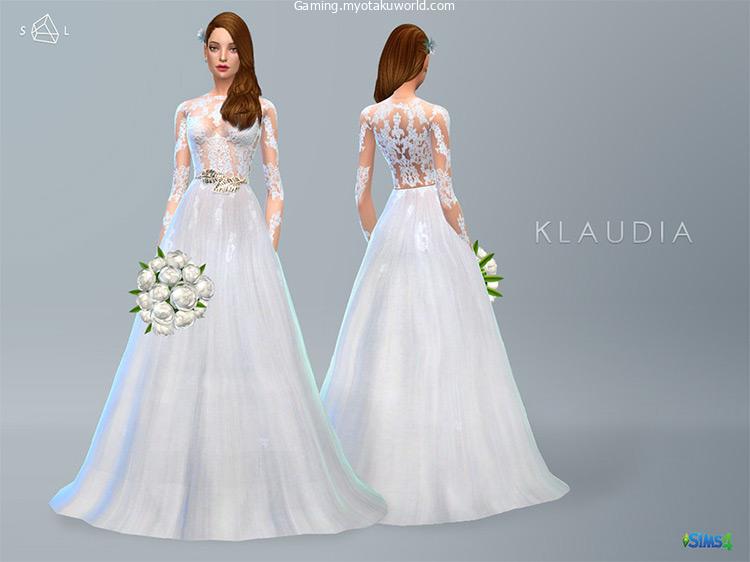 Sophisticated and refined, SLYD's Klaudia dress is a freaking work of art.
The skirt is modish and minimalist to make the bodice and sleeves stand out.
See-through material dotted with 3D lace designs swirling and twining so elegantly over the body… trust me; it looks just as breathtaking in-game.
And the subtle golden leaf belt is a fantastic touch.
30. Gabriella by laupipi
This is a classy, no-nonsense sort of dress that shines in its simplicity.
The skirt is a clean, pure white affair with a sleek, slightly flared cut.
The bodice and sleeves are covered in a mosaic of pretty white petals and subtle, slightly see-through mesh.
In CAS and in-game, the overall visuals are aesthetically so pleasing.
29. Tatiana by Beo Creations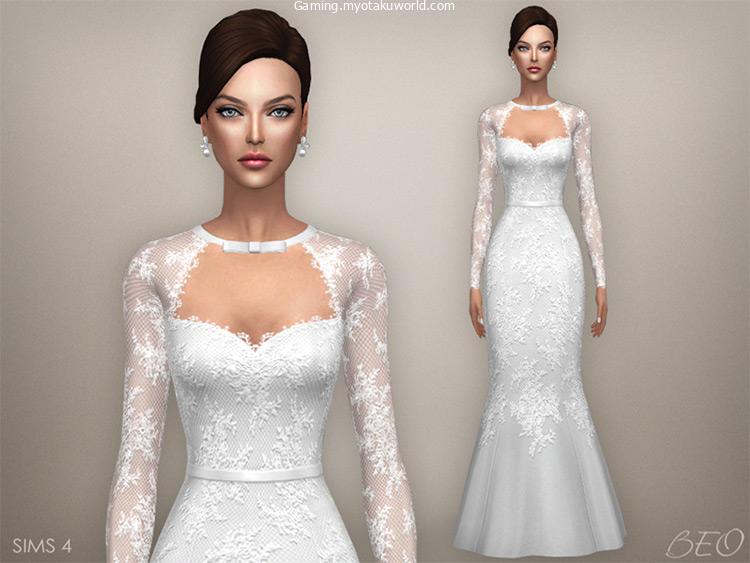 An absolute vision in tulle and damask, Tatiana is a distinguished dress!
The raised lace detailing is refined, the mesh sleeves look oh-so delicate, and the dainty bits of lace edging at the neckline just further accentuate how sophisticated the whole thing looks.
28. Charlie Wedding Dress by serenity-cc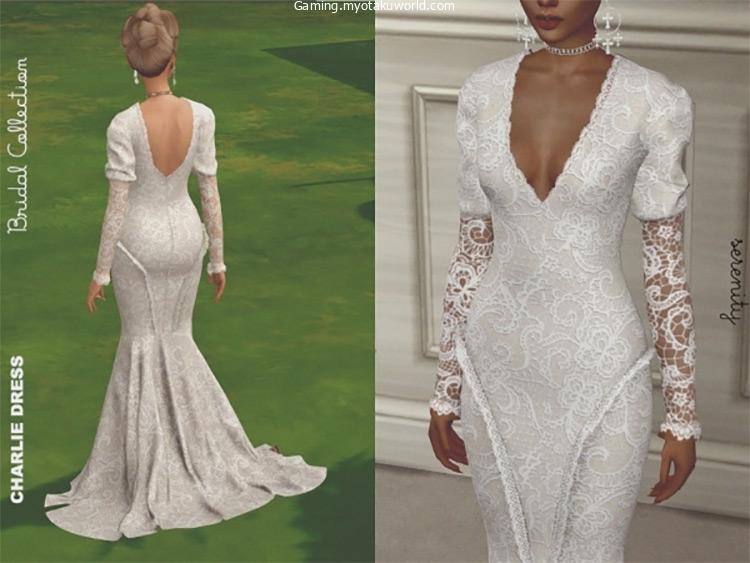 This Charlie Wedding Dress is layers of crisp crepe and chiffon fabrics with intricate lace and subtle detailing.
Speaking of which, the creator's attention to detail here – the visible zipper enclosure, the understated lace edging texture, and folds 'round the train – is pretty darn impressive.
27. Cynthia 1 & 2 by Beo Creations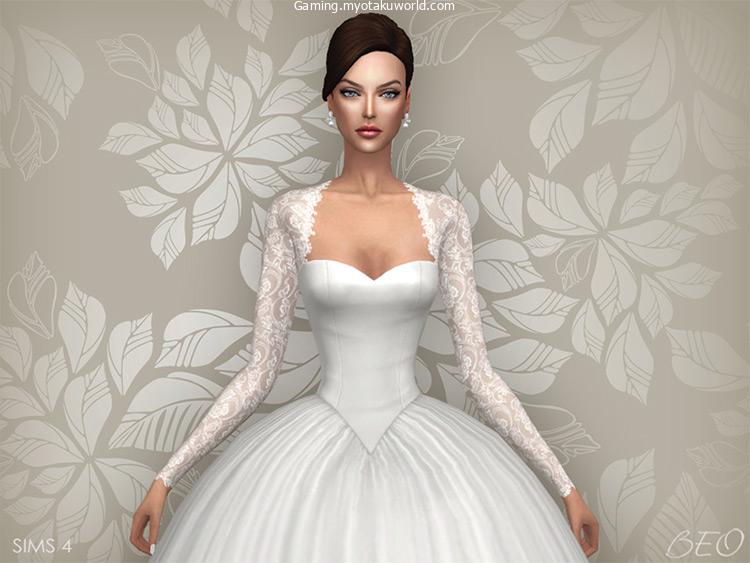 Ballgown or mermaid?
Pretty and poofy or slender and sleek?
If you can't decide, Beo Creations' Cynthia series gives you the option for both!
The top of the gown stays the same; smooth, satin bodice and long, fitted lace sleeves.
But for the bottom, Cynthia V1 has a gorgeously full skirt. On the other hand, Cynthia V2 flows the bodice into a fitted, curve-hugging mermaid skirt.
26. Vanya Wedding Dress by EsyraM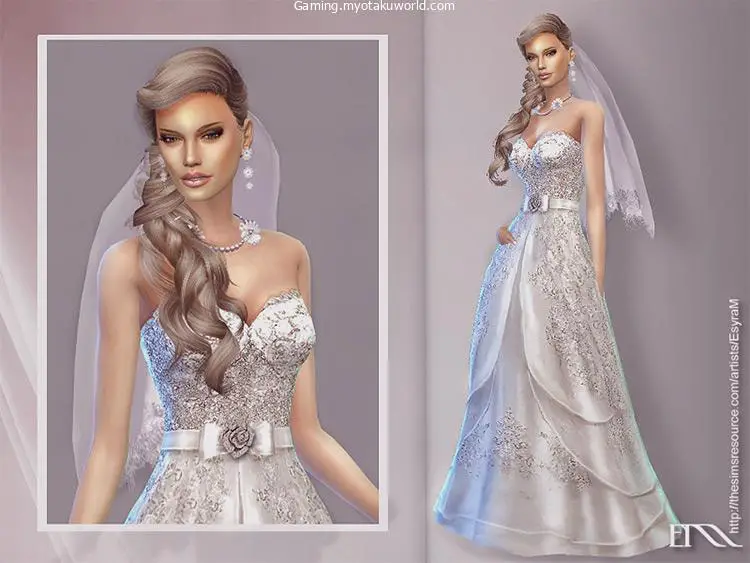 This dress is all about the glitz and glamor!
Gem-encrusted fabrics with a sparkly belt, diamante bust lining, and skirt layers dotted with delicate designs.
I know it's awfully pretty in the preview photos, but believe me, it's ten times as breathtaking in-game!
25. Liciny Wedding Dress by Chris Paula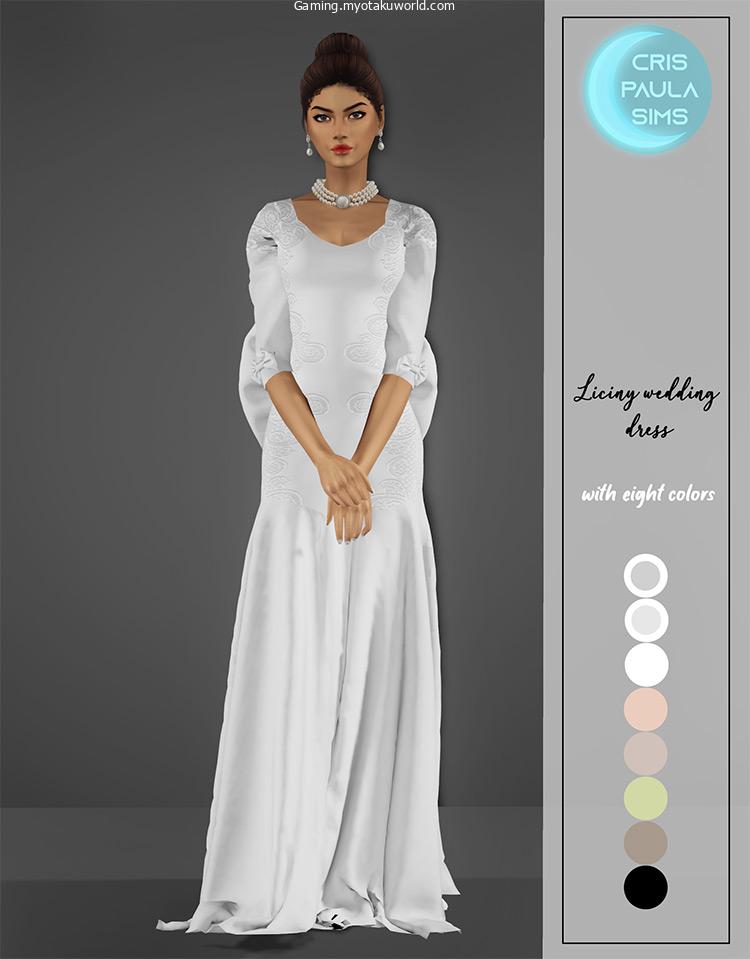 Tasteful and timeless, Chris Paula's Liciny Wedding Dress uses raised lace elements layered over smooth organza fabric to create a satisfying visual.
The low back, flowing sleeves, and giant ribbon are all design details that just make this dress even more one-of-a-kind.
24. Alessia by laupipi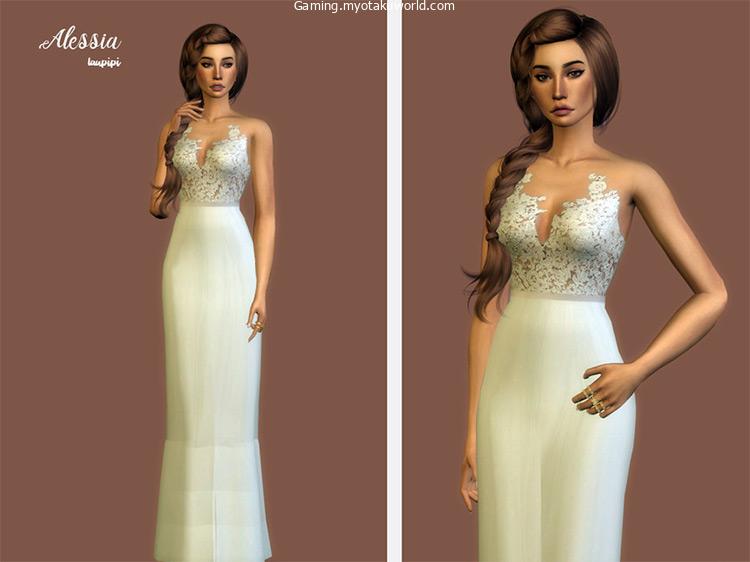 Classic, clean, and oh-so chic, laupipi's Alessia dress can make your Sim look like a tall glass of bridal water.
The skirt is long, the silhouette is smooth, and the waist is cinched.
And, of course, you gotta give it up for the bodice. The simple, strapless neckline is totally enhanced by the "floating" lace!
23. Bridal 13 by mablystore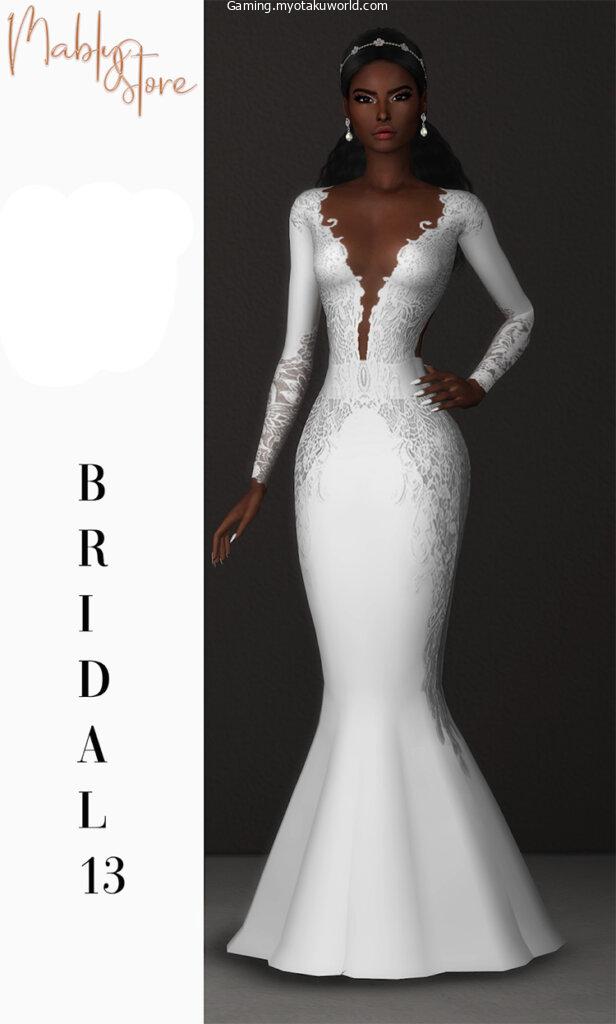 A mesmerizing mermaid cut in blinding white organza fabric, accentuated with a deep neckline and lace mesh sleeves?
Mablystore's Bridal 13 dress is freaking gorgeous.
For bridal Sims who want something that shows off their body's curves perfectly, this dress could – indeed – be "the one."
22. Katya by Beo Creations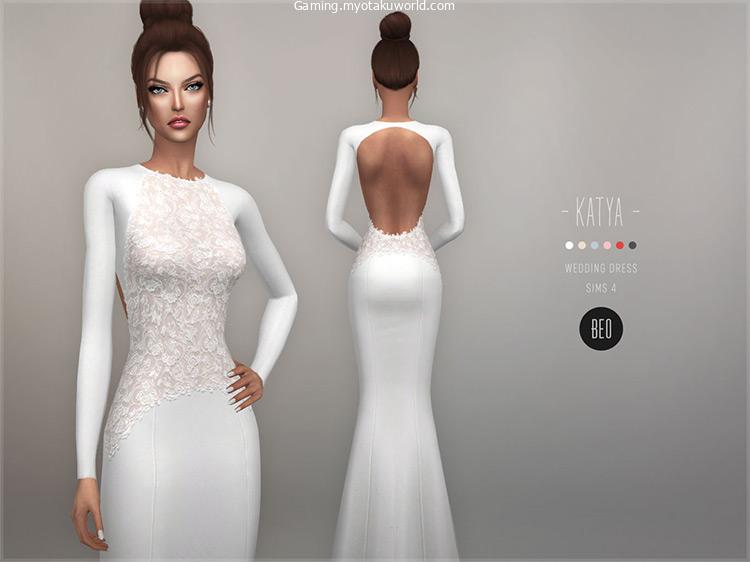 This is one of the sassiest wedding gowns I've ever seen for The Sims 4, and I love it.
It's a sleek, skintight little number with an open back and elegant, understated detailing.
If your Sims wants something trendy and chic, this dress is a winner!
21. Wedding Dress 10 by Colores Urbanos
I love that this dress has black, white, and red color combinations.
I mean, in pure white, it's a total stunner. Open back, lace edging, long-ish skirt train? I'm all for it.
But check out the pure red and pure black options for it.
Suddenly, it gives off major vampire queen/undead bride vibes, and it's awesome.
20. Edwardian Wedding Dress by Elfdor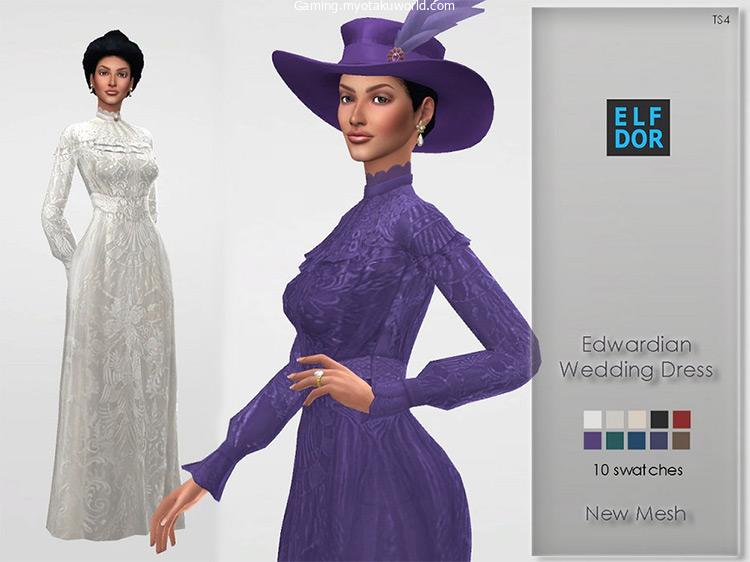 It's a proper matrimonial gown for a proper noble lady.
Elfdor's Edwardian Wedding Dress brings back the modest, refined class of the 1900s.
Lace, ribbons, and flowing, crisp fabrics embroidered with lace and mesh.
And, to top it all off, a gentlewoman's hat. It's every bit as romantic as ball gowns and princess cuts!
19.  Heart Wedding Dress by RobertaPLobo
How cute is this design?!
Sure, it's a little Barbie's Wedding, if you catch my drift. But it's creative and quirky!
Nothing wrong with a giant white heart patch—especially since all the other elements are subtle and understated.
You can have it with or without the lace gloves, but I personally find the gloves add a nice touch.
18. Wedding Lace Flower Dress by Severinka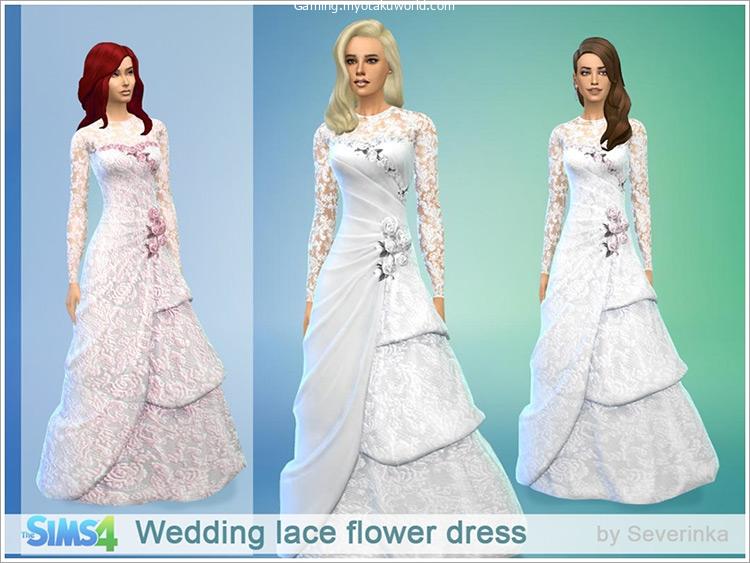 Severinka_'s Wedding Lace Flower Dress really lives up to its name.
It's covered in flowers, florets, and floral lace.
Even the main fabric of the dress seems to be generously sprinkled in petals and roses!
Undoubtedly the perfect pick if your Sims want a florally ceremony.
17. Phosphany Wedding Dress by jomsims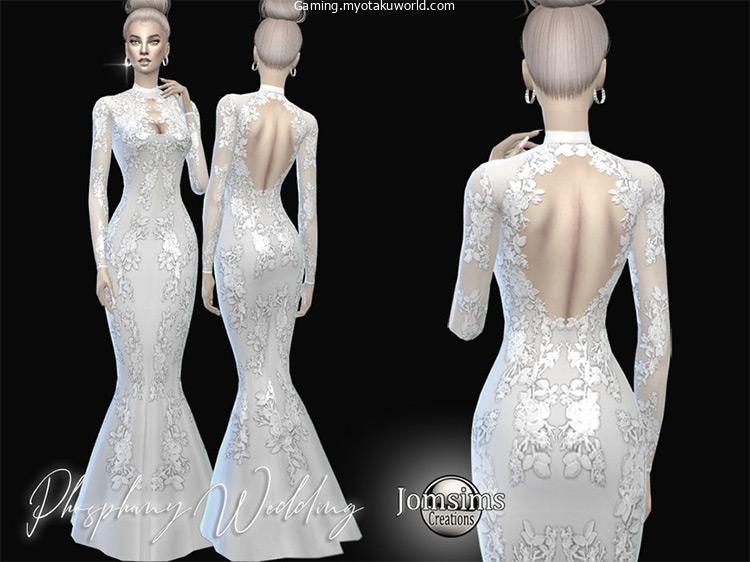 Here's another sleek and sassy wedding gown for your Sims' CAS catalogs.
Phosphany is regal, glam, and – honestly – kind of intimidating.
The body-hugging cut, high neckline, and open back—she's basically a masterpiece in ivory!
16. Zoey Wedding Dress by Birba32
A sweet wedding dress cut for a total sweetheart, this Zoey dress has such a wholesome, Southern romance charm.
The top is a classic long-sleeved design with lace detailing and a simple ribbon belt.
The skirt, on the other hand, is shorter and flashier than is typically conventional.
As you can see in the preview photo, it leaves plenty of room for your bride to show off their trusty boots!
15. Wedding Collection – Lorena by Beo Creations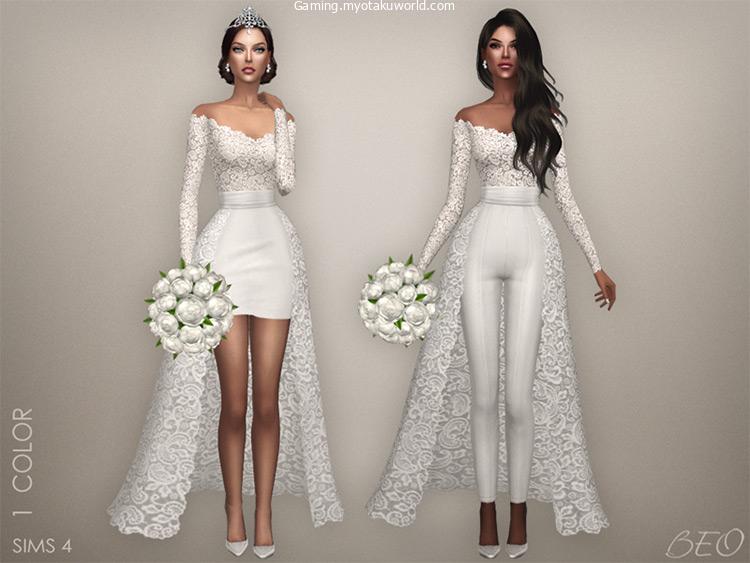 Looking for more unconventional cuts?
Beo Creation's Lorena set contains a gorgeous lace and organza gown—with a twist!
One version features a miniskirt beneath a flowing open skirt. The other version features high-rise, white satin pants.
Both variations are fashionable, ultra-trendy, and probably the furthest cut from classic you can get!
14. Wedding Dress 1 by Colores Urbanos
A stunning sweetheart gown for your stunning sweetheart Sims!
Colores Urbanos' piece is an attractive ball gown cut dotted with bits of lace, floral elements, and a couple diamantes.
Don't forget the sheer and oh-so-elegant wraparound arm sashes!
13. Wedding Dress DR-390 by laupipi
This Wedding Dress DR-390 is very much like the previous Wedding Dress 1.
It's a classic, full ball gown with a cinched waist, corseted torso, and a low, sweetheart neckline.
12. Wedding Dress C146 by turksimmer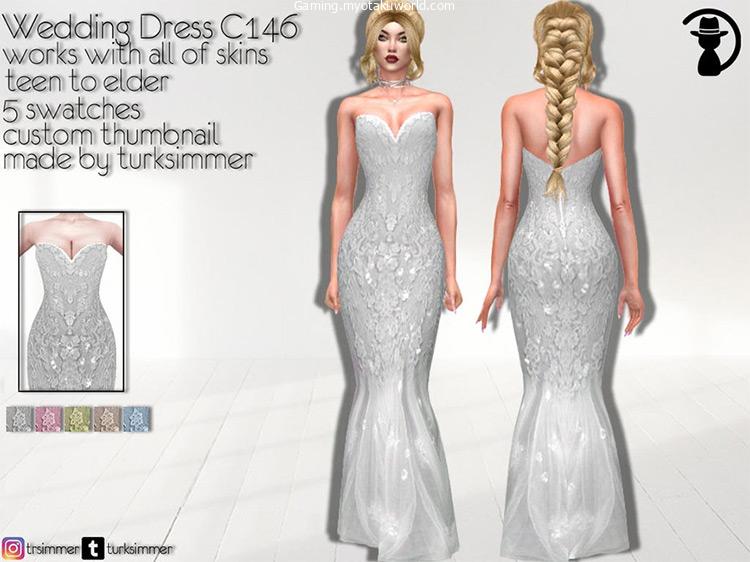 A bedazzled mermaid gown with a crinkled skirt and a really supportive bodice, this Wedding Dress C146 cuts an attractive outline.
It does look a little more like an evening gown rather than a wedding dress, but that's exactly the vibe some people go for!
11. Elisabeth by Beo Creations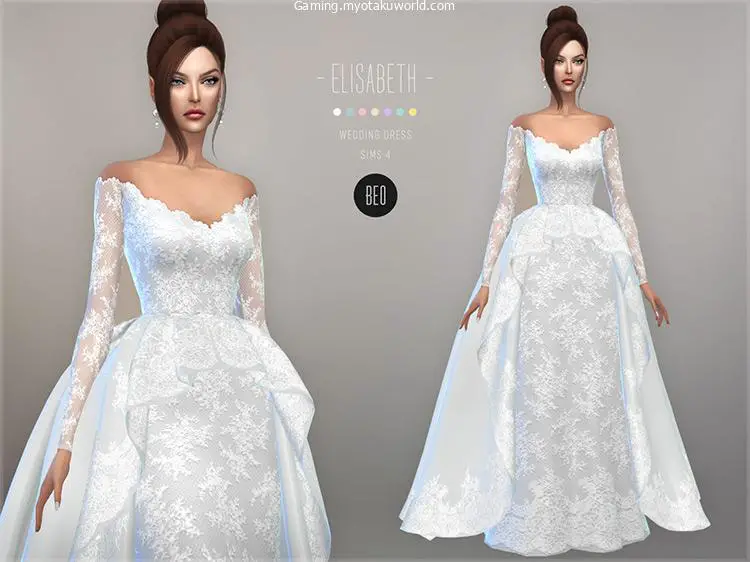 Lace, crepe, and tulle galore! Beo Creations' Elisabeth gown is a total head-turner.
Lots of fluff, lots of poof, and lots of florally, delicate-looking mesh. It's classic and romantic in the best way—a perfect pick for bridal Sims who prefer timeless, traditional fashion!
10. Wedding Dress 18_1 by Birba32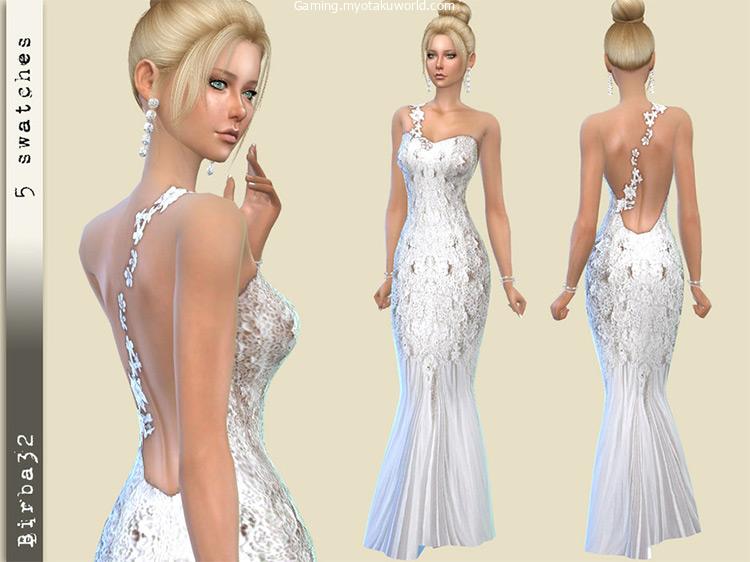 How dainty is that little flower sash?
It is so dainty!
Birba32 has contributed quite a few stunners to this CC list, and their Wedding Dress 18_1 is no exception.
It's got a body-con fit and a mermaid skirt. Plenty of floral and lace detailing, as is typical a wedding dress, but that doesn't detract from how clean and sophisticated this dress looks.
09. Ryn Wedding Dress by Puresim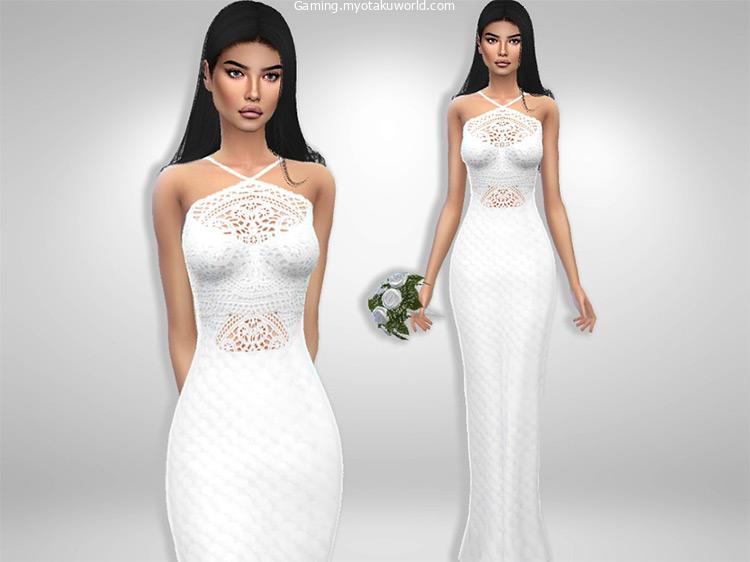 Tip: Check the Creator Notes for the link to the mesh!
This bridal gown is simple yet stunning. It's got lace-covered cut-outs and a sleek, cross-strapped halter neckline.
I love the design, and I love that it looks just as detailed in-game.
08. Update Laced Gown Stella 1 by Jaru Sims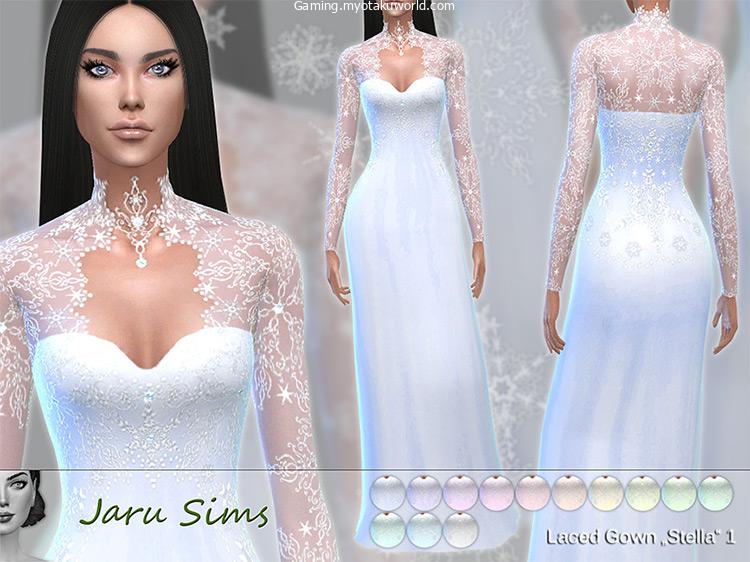 This one's probably one of my favorites from the bunch.
The high-neck detailing, chest window, sweetheart neckline, and full laced mesh sleeves?
The combination is equal parts romantic and refined, in the best possible way. The lace designs are so clear and crisp, too!
07. 1890s Wedding Gowns by Vintage Simstress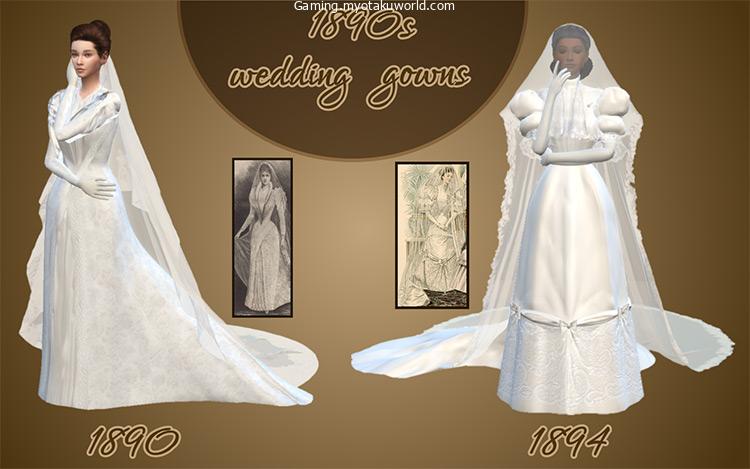 Earlier, we had a gown from the 1900s (Elfdor's Edwardian Wedding Dress).
Let's back up a little further and bring in some vintage magic!
Simstress' gowns from the 1890s are poofy and perfect. They have the puffed sleeves, the tight corsets, and the full-length gloves. Highly recommend if your Sims is a timeless romantic.
06.  Selphassye Wedding Dress by jomsims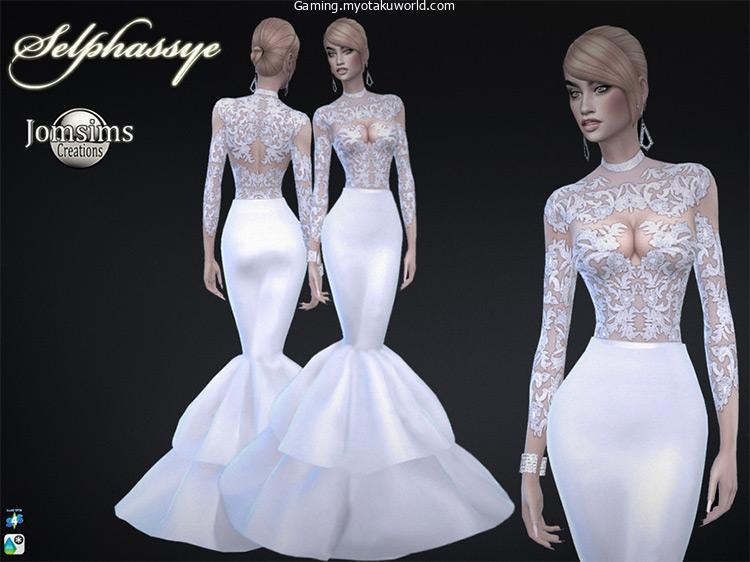 This Selphassye Wedding Dress could easily pass as an evening gown if it was a different color. Again, that's a vibe some people like.
And trust me, I see the appeal!
This dress can make your Sims look like a million bucks. The full-lace top is especially breathtaking.
05.  Othonoi Wedding Dress by laupipi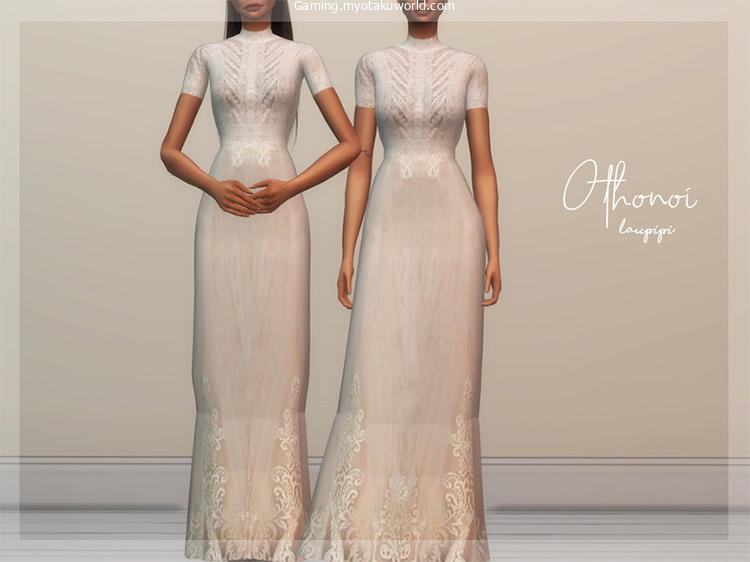 This dress by laupipi is another personal fave.
It's so cute and so simple, but the sheer elegance of it radiates in waves.
It doesn't need gemstones and diamantes to shine; the simplicity is stunning enough to warrant awe.
The overall dress design is also quite unique, which just adds to its visual appeal.
04. Wedding Dress DR-392 by laupipi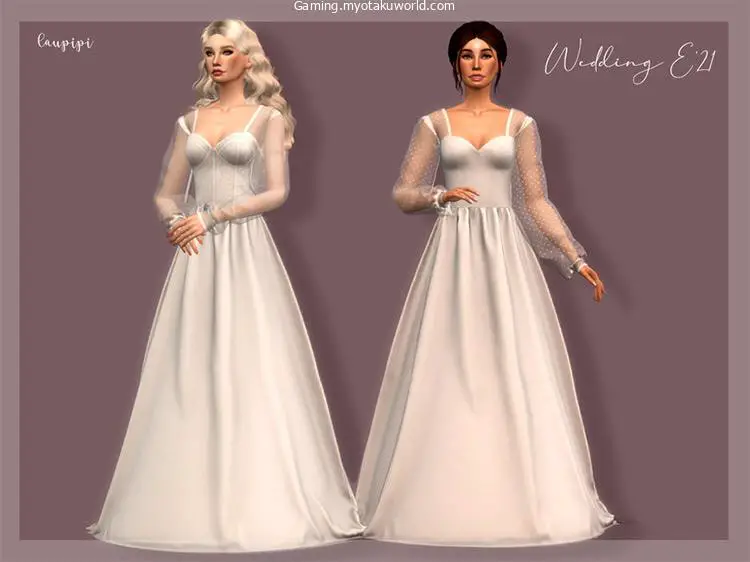 Puffed mesh sleeves with dots or a visible corset bodice with lace design elements—take your pick!
Laupipi's Wedding Dress DR-392 is another high-quality masterpiece that I strongly recommend.
Mermaid and evening gown cuts are super refined. But I remain weak for classic, romantic skirts and princess frocks—which is exactly what this garment is!
03. Butterflies by Beo Creations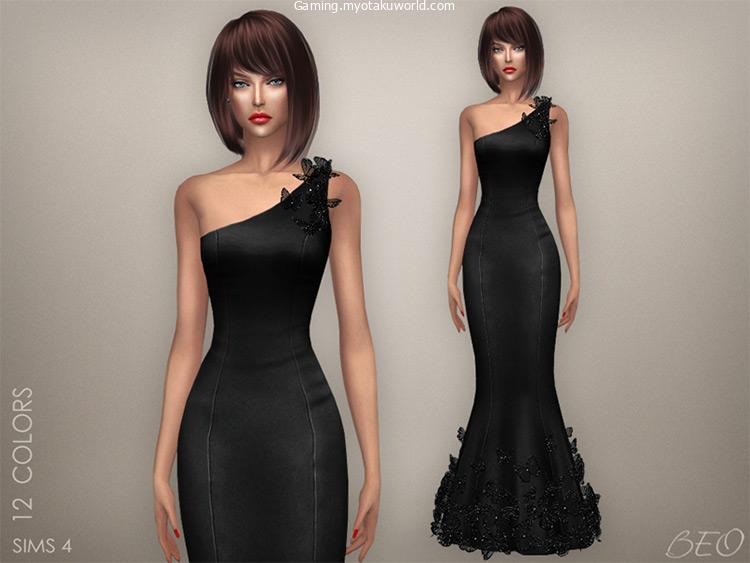 I love this concept so much.
I seriously think this should go up on someone's actual bridal Pinterest board.
The asymmetrical, one-shoulder cut and the 3D butterflies at the strap and hem? Gorgeous. Just absolutely gorgeous.
02. Bohemian Wedding – Sara Gown by Pipco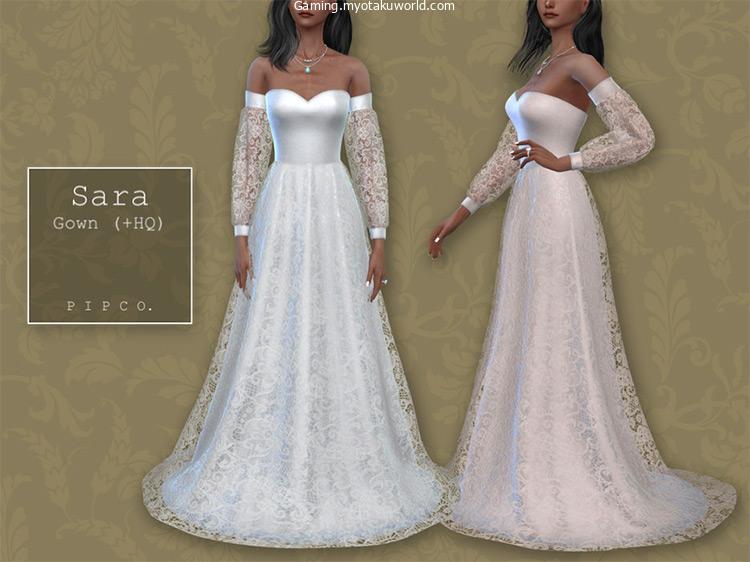 If I had to pick a favorite from our alpha wedding dress list, it would be this CC.
It perfectly blends "refined gown" with "princess wedding", which are the two styles I find incredibly appealing.
Try it on your Sims, too! Who knows? They just might say yes to this dress.
01. Wedding Dress 13 by Colores Urbanos
This frilly, diamante-studded number is for the bridal Sims who absolutely loves glitz, glam, and all things dramatic.
Look at those layers upon layers (upon layers) of tulle skirt and tell me the bride wearing this dress isn't a total diva? Hey, it's her special day!
If the bride wants to wear more layers than their wedding cake, who are we to stop them?