The Sims 4 health system is not perfect. Except for pregnant Sims, there are almost no hospitals or emergency rooms.
Your Sims almost never get seriously sick, and if they do, they can just take a pill to feel better. Considering that the game is a simulation of the real world, you can see why this is so ridiculous.
And that's exactly why I want to tell you everything you need to know about the private practice mod for Sims 4!
First of all, I want to make it clear that the developer's choice to leave out major illnesses from TS4 isn't always a bad thing.
After all, both kids and adults play the game, so showing them horrible things isn't such a good idea. On the other hand, not having health problems in Sims 4 makes the game fake and boring…
So, how do we deal with this issue?
So, this is where the Sims 4 Private Practice Mod comes in. This mod has almost everything you could need in a video game to do with life.
It takes care of most medical issues and can help your Sim no matter what's wrong with them.
So let's get into the facts and talk about what to expect.
Where to Download Private Practice Mod For Sims 4?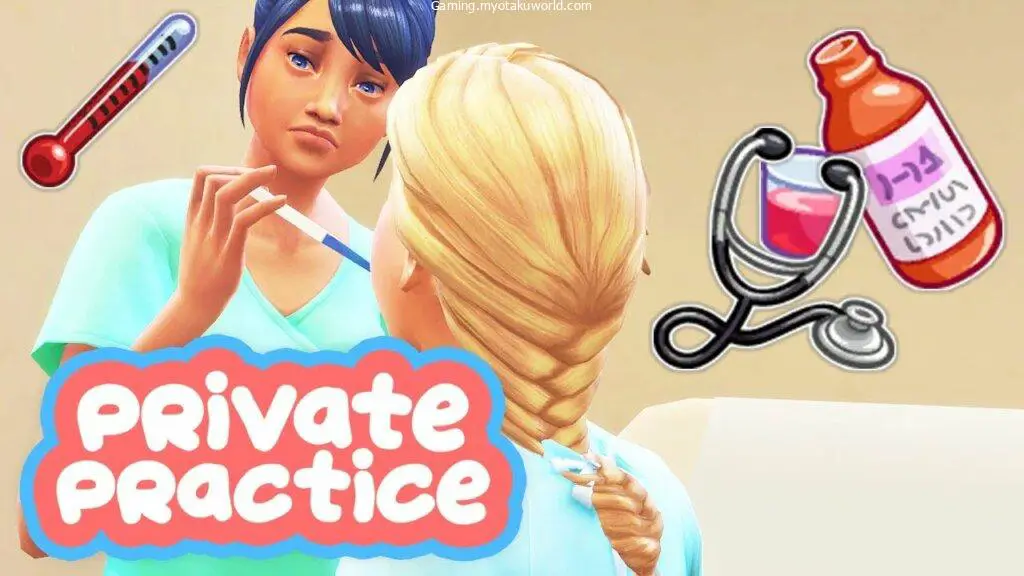 SimRealist made the mod for Sims 4 called "private practice." Even though it's not a new mod, it gets updated regularly, which makes it fresh and new.
Also, new updates add new things to the mod, such as new job paths and other things.
This mod can be added to TS4 just like any other mod. Just save the file to your computer, open it, and copy the data to your Mods folder.
The Basics of Private Practice Mod
So, what's the deal with the secret mod for Sims 4?
First of all, this mod adds a new location called Private Practice to your game. This is a big hospital where you can go for a checkup or to get care.
The Private Practice hospital has all of the tools needed to treat any kind of illness. And it helps all kinds of medical conditions, like:
General Medical
Plastic Surgery
Diseases
Pharmaceuticals
Optometry
Dentistry
Insurance
Employee Benefits
Even though these are the important ones, keep in mind that the mod has more.
The New Career as a Doctor
I already said that the private practice mod for Sims 4 adds a new job. Health Science Student is the name of the game, and you can start with any Sim you want.
What does it mean to be a Health Science Student?
So, the goal of this job is to become a doctor. You can choose between being a Medical Resident or a Veterinary Resident.
As soon as you finish, the Doctor career will give you a call and let you start from level 7 right away.
Health Checkups
With this mod, you will often send your Sims to the doctor for a checkup. Checkups for health include a number of different tests that look at things like weight, blood pressure, needs, and similar things.
After looking at your Sim, the doctor will tell you how healthy they are and suggest ways to improve their health.
Check-ups on your health can be done whenever you want.
Check out the main page to learn how to use this mod for different things and for cheats for the private practice mod. It can also help if you're having trouble with the private practice mod.
The private practice mod is a full function, as you can see. Its goal is to replace the Sims 4 health system, and I think it does that well.
I really think everyone should at least try this mod because it makes the game feel more real and interesting. Best of luck!