The science of putting on makeup has become ten times harder and more difficult because of beauty vloggers and skilled makeup artists.
From the two-step magic of powder and lipstick, we now have a twelve-step guide to applying current makeup, complete with a glossary.
But on that long list of things, there is one small thing that can make a big difference and only takes 5 minutes to do.
No matter what your favorite beauty expert tells you, a blush is one of the most important beauty items you can have, both in real life and in games.
To avoid looking like Annabelle, here are the best blush CC add-ons that will bring out your Sim's natural beauty quickly.
18. Adorable Nost Blush Set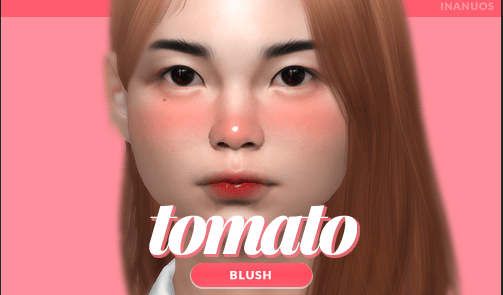 A red nose the color of strawberries.
It comes in 12 different colors and can be worn by sims of all ages, from teens to seniors.
It looks great on all skin tones and layers.
Visit this page to find out more.
17. CC PACK BY PEACHYFAERIE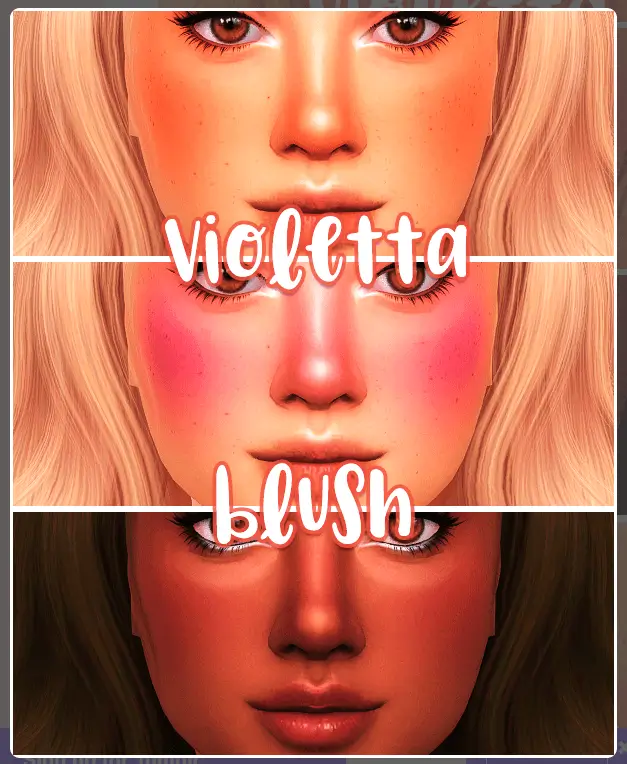 This awesome unique content creator made these two packages.
Violetta is a fun, bright little blush. It comes with 12 swatches.
Most of them are bright and bold, but some look more realistic.
Here is the link to install it.
16. Strawberry Blush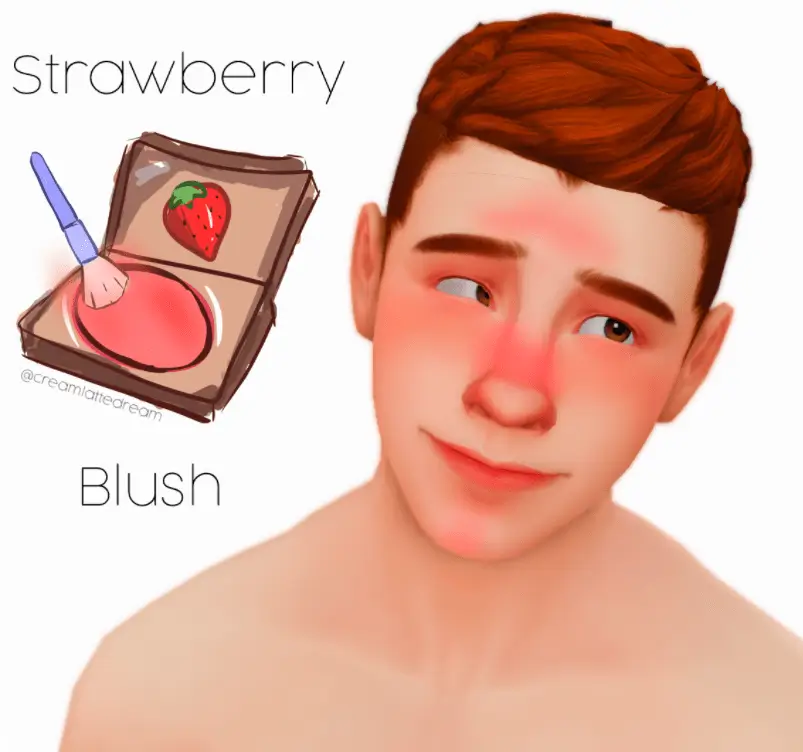 This nose blush has a lot of cuteness packed into one 9-swatch package. It works not only on your male sims, but also on your female sims.
You will get 3 different versions: one with blush on the chin, one without blush on the chin, and one with blush only on the cheeks and nose.
Go to this page to find out how to set this one up.
15. Kawaii Star Blush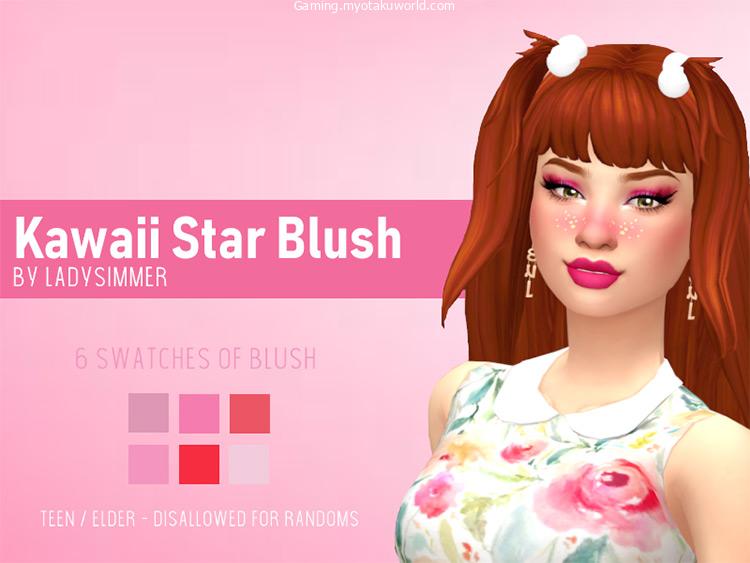 Makeup is an art that needs creativity and imagination, just like painting.
Even though this Kawaii Star Blush isn't a beauty like a Monet, its bright colors and star details are worth a look.
With this free CC from LadySimmer94, your Sim will look very cute in shades of red and pink.
14. Cupid's Blush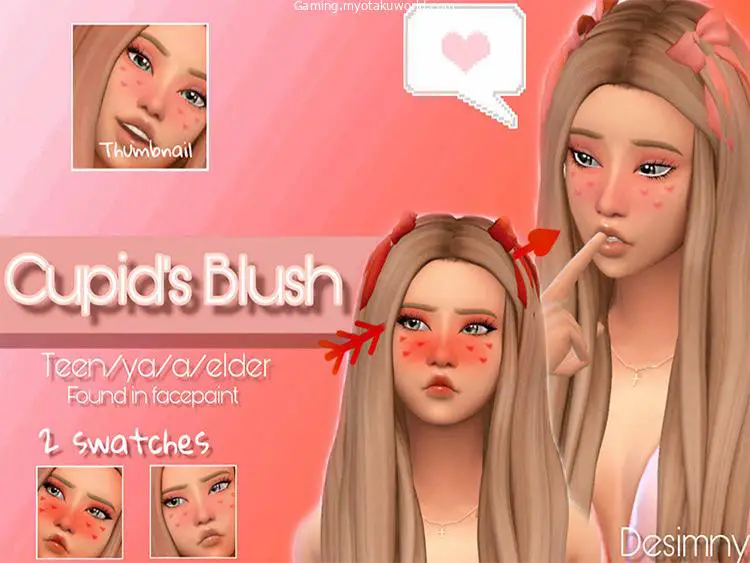 Blushing is a sign of interest and a surefire way to get the attention of the person you like.
A blush is an uncontrollable and unintentional response to someone beautiful, which is cute in a romantic comedy but awkward in real life.
Sims, on the other hand, are natural extroverts and can make love connections with dozens of other Sims in less than 30 minutes.
Even though the Sims' Law of Attraction doesn't care about how someone looks, it won't hurt to have Cupid's Blush and whisper sweet Simlish words in someone's ear.
13. Nose Blush NB03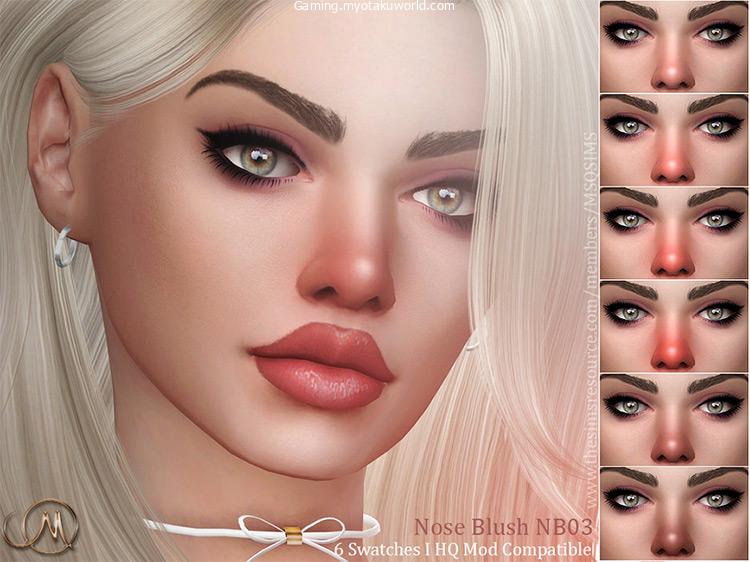 In case you didn't know, the look of Rudolph the Red-Nosed Reindeer is now a makeup style.
The latest trend is a look that looks like a sniffle. This shows how versatile a blush can be.
Putting a small amount of color on the tip of the nose makes the face look pink and frostbitten, which can be cute if done right.
It takes a little while to get used to. But once you stop thinking of it as a stuffy nose, this CC will be your Sim's new favorite way to look good.
12. Cinder Blush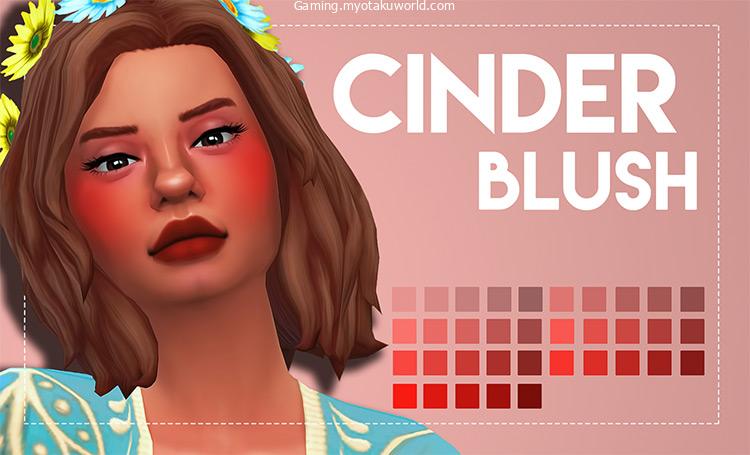 If you like anime, you've probably noticed that when characters blush, their whole face burns up like a bright giant star.
This Cinder Blush CC has the same effect, but it is less intense and steamy hot.
Put that strong pigment on your Sim's cheeks and enjoy the big burst of color!
You can choose from 35 shades that range from light pink to dark brown.
11. Morgan Blush N53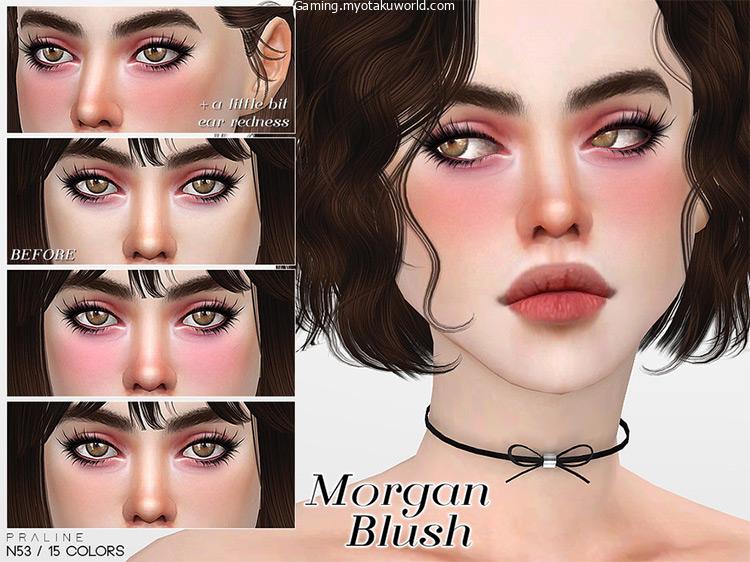 Here's a tip for all of you who are new to makeup:
A blush isn't just good for one thing; it's the best multitasker ever.
It's true that blush is usually put on the high points of the cheeks. But it can also hide dark lines under your eyes that you don't want after watching a whole Netflix series in one sitting.
Morgan Blush N53 from Pralinesims will make your face look bright instead of giving you bags under your eyes.
10. Light Peony Blush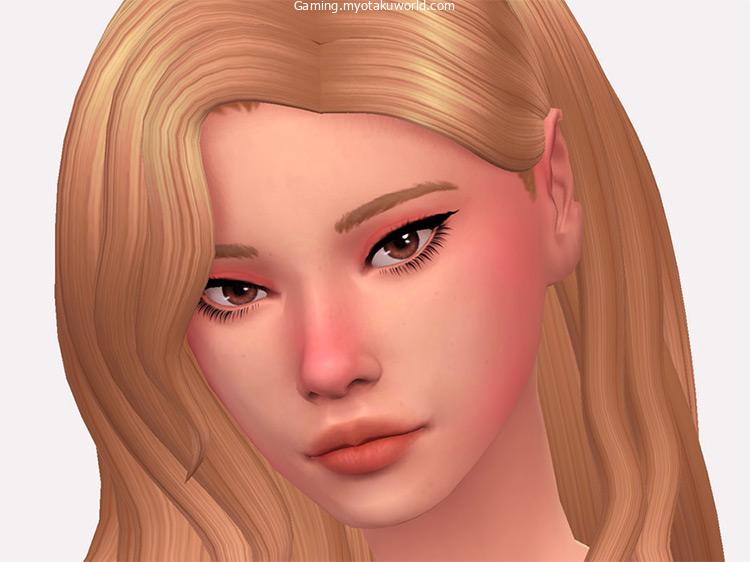 There are many ways to get the "no-makeup" look, but the best trick is to trust the blush.
Some days in the sun, eyeliners, eyeshadows, bronzers, and highlighters can feel like too much makeup.
But a little blush is all it takes to make anyone look beautiful 24/7.
Light Peony Blush is a simple way to make your Sims look even more beautiful than they already are.
9. Autumn Blush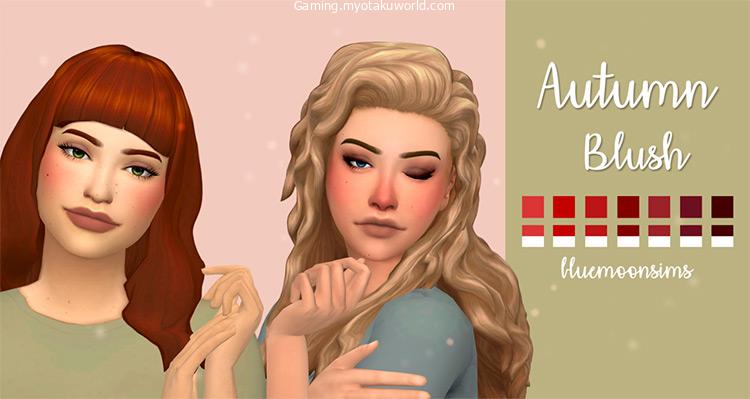 One of the great things about Sims that are easy to change is that you can easily fix makeup fails.
If you put on too much blush, you might look like a Matryoshka doll.
This CC from bluemoonsims gives your Sims blushes for their faces and noses in different colors, so you can make sure they look their best.
8. Summer Blushes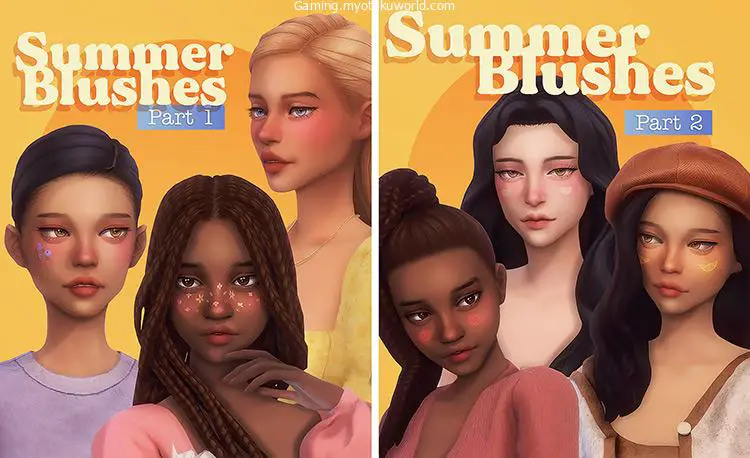 Want your Sim to have tanned skin without having to bake them in the sun? Then this CC pack is just what you need.
Miiko's Summer Blushes is a foolproof way to get that warm, rosy glow you always get at the beach, as well as some other treats.
Summer Blushes Part 1 includes a "shy blush" on the nose and cheeks in different shades of pink, with the choice to add blueberry or flower face paint.
Part 2 gives you more ideas for face paint, such as hearts, orange wedges, and, for some reason, a Disney version of comedy and tragedy masks.
Overall, it's a set of makeup that can be used in any season.
7. Sunburns are Cute Blush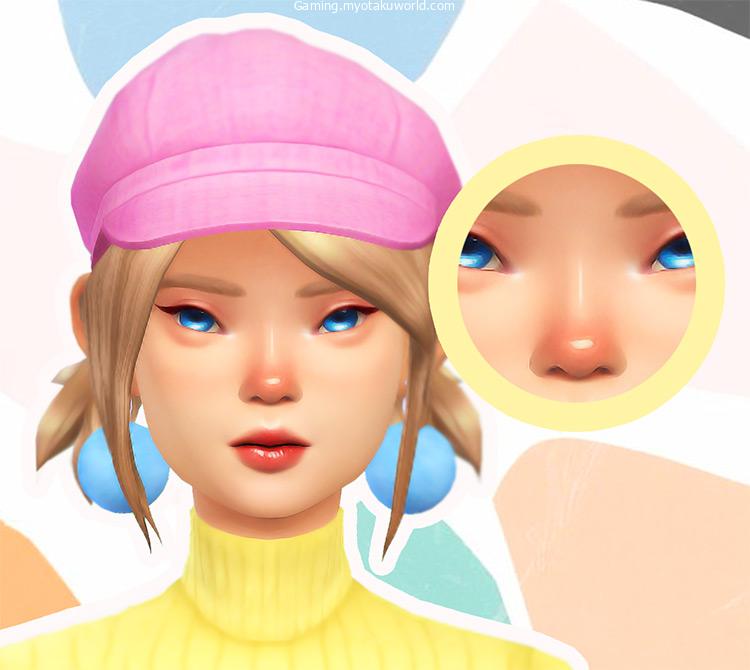 Sunshine makes many living things grow and thrive, but it's also a deadly force of nature that inspired this CC.
Sunburns can be painful when you get too much vitamin D from the sun.
But unlike us weak humans, your Sims see this as a chance to make a new fashion famous.
With this CC from candygarden, you can make itchy, red cheeks look cool and see sunburns in a whole new way.
6. Blush 4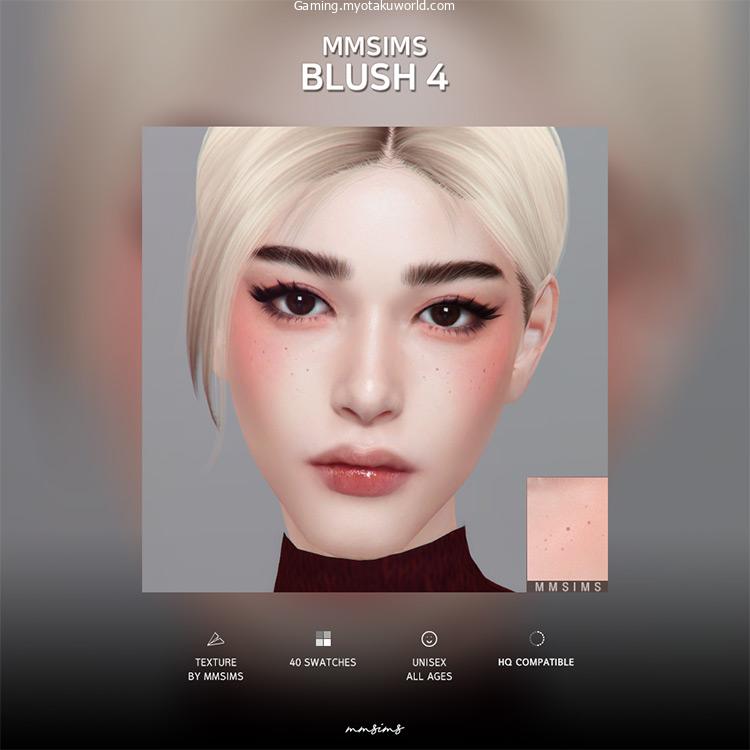 People who are new to makeup often make the mistake of swirling blush around their faces without thinking. This makes them look like they got punched in the face.
Putting on blush is a delicate task that requires gentle touches. And if you wait long enough, you can get something like this CC from MMSIMS.
The Blush 4 set can make your Sim's cheeks and face shape stand out a lot.
This CC can be used by people of any gender, and it comes in 45 beautiful colors to match different skin tones.
5. Sunshine Blush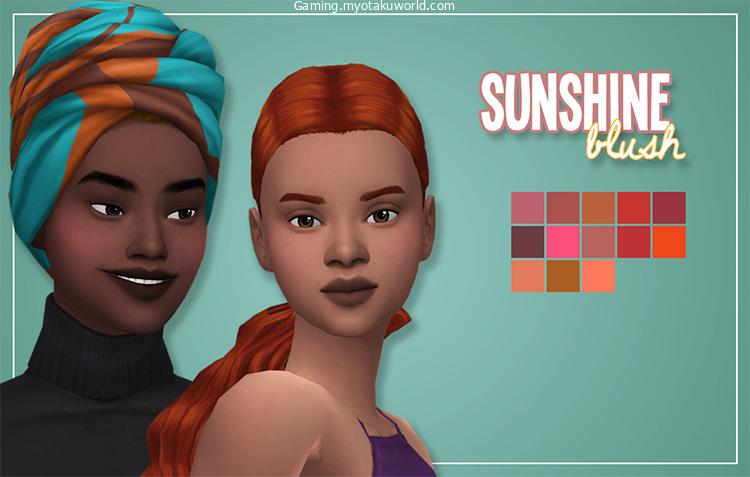 If your Sim has darker skin, the Sunshine Blush is made just for them.
This CC by cherrypiesims comes in 13 colors to give you a "I just talked to my crush" flush without having to go through that awkward conversation.
If you're the type of player who likes to improve their looks in a subtle way, this cosmetic card is your new holy grail makeup item.
4. Priscilla Blusher N55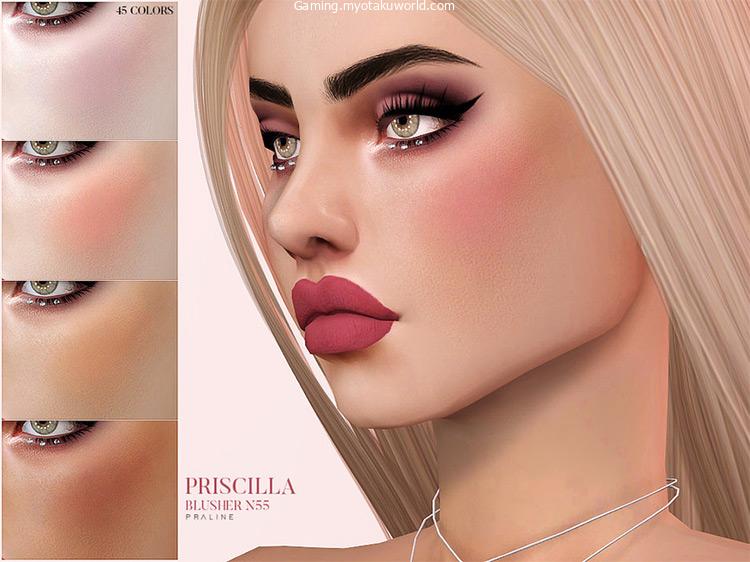 I'm sure now that Pralinesims can make the best makeup CCs for TS4.
The Priscilla Blusher N55 is a perfect example of how to use a blush the right way.
It's put on the apple of the cheek, has the shape of a Nike swoosh, and is just the right shade of color so it doesn't look like clown makeup.
If you're worried that you won't be able to find the right shade for your Sim's skin tone, you'll be happy to know that this CC comes with 45 swatches for you to try.
3. Blush 1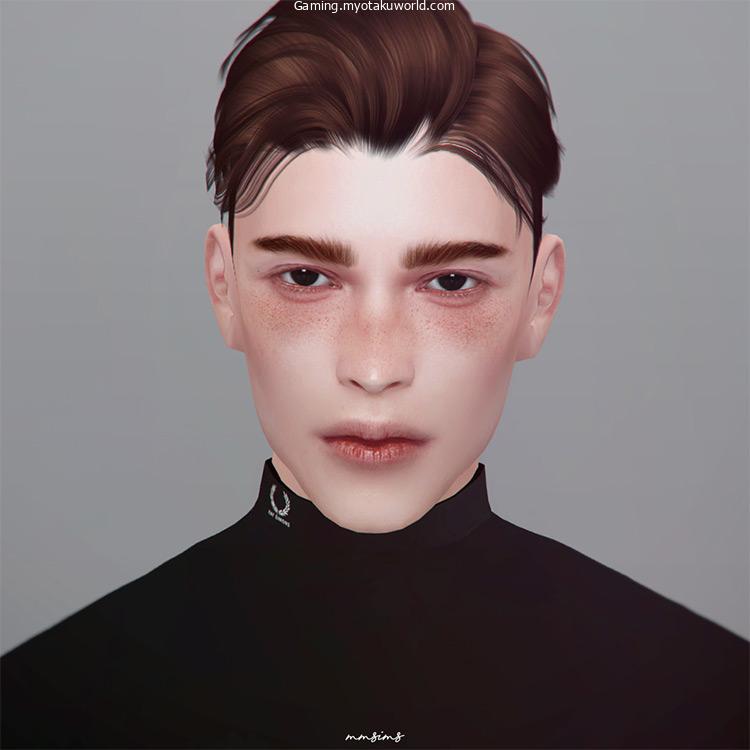 In this age of social media, it's important to have a face that looks good in selfies.
Almost everyone old enough to post selfies on Instagram knows how to put on makeup, because it does make you…well, better.
But makeup doesn't have to be as fancy as what Kylie Jenner does every day.
With just a swipe of Blush 1 under the eyes, your Sim can be ready to put plastic doctors out of business.
With this CC by MMSIMS, you can make your Sims look as beautiful as possible with little to no work.
2. Igari Blush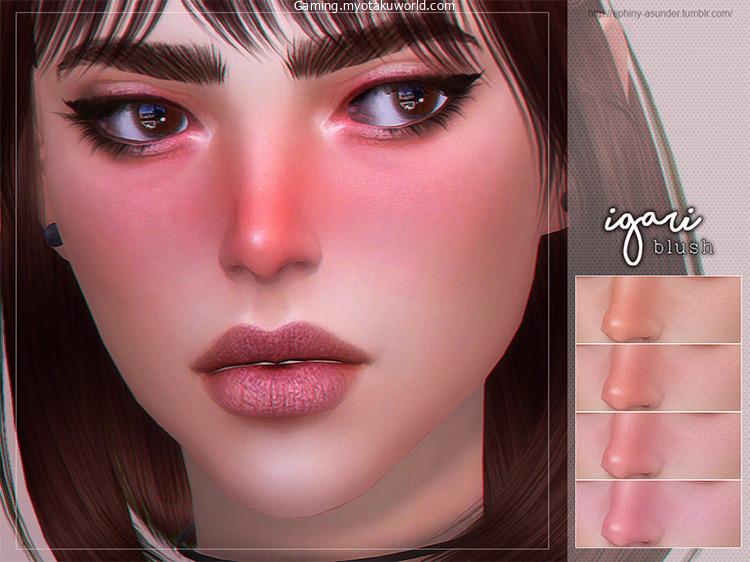 People can learn how to hide a hangover by following makeup lessons.
Then there's the Japanese trend of "hangover makeup," or "Igari makeup."
In an odd turn of events, this led to a makeup style that emphasizes putting blush right under the eyes and over the bridge of the nose to look like how Japanese people look when they are drunk.
Even though the story behind the trend is "something," it finally caught on and is now a look that everyone wants to copy.
Use this Igari Blush CC as the cherry on top to make your Sims look sick in the most beautiful way possible.
1. Booboo Blush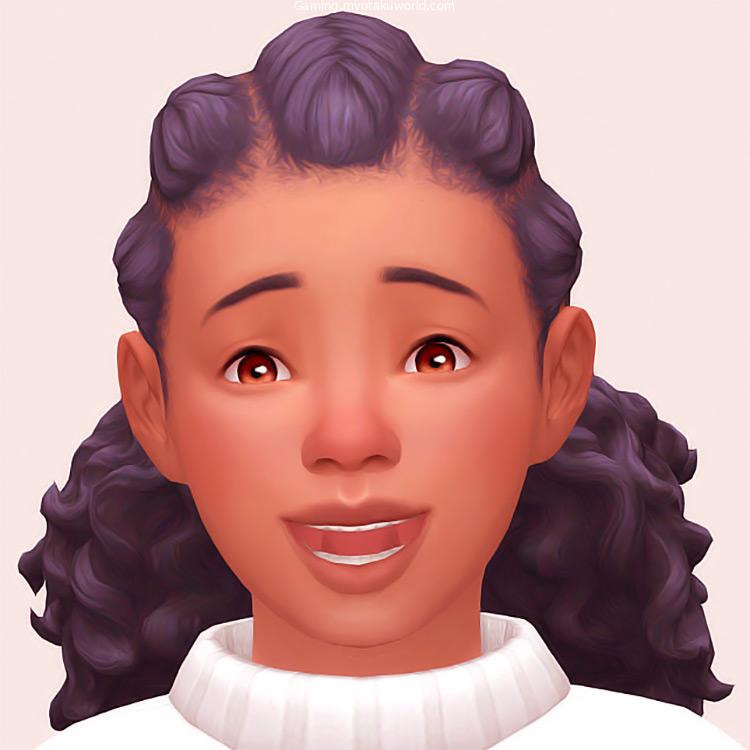 My idea of the perfect CC blush?
A blush set for all ages and skin tones that can be used by both men and women.
And you don't have to limit blush makeup to female Sims. You can give it to male Sims, kids, and even the Occult to make them look better.
The Booboo Blush by squeamishsims is a makeup add-on for Sims who look "meh" from the neck up. It has everything a Sim needs to look good.
If you're looking for a quick, all-in-one fix for a Sim's dull face, this CC will do the trick.