Polo shirts always make you feel like a cool athlete.
I don't know if it's part of their design or if they just know how to market their brand well, but it's definitely unique!
And a person can never have too many casual tops with collars.
So why not make some new custom polo shirts for your Sims to try?
21. ChloeM – Polo Shirt FM by ChloeMMM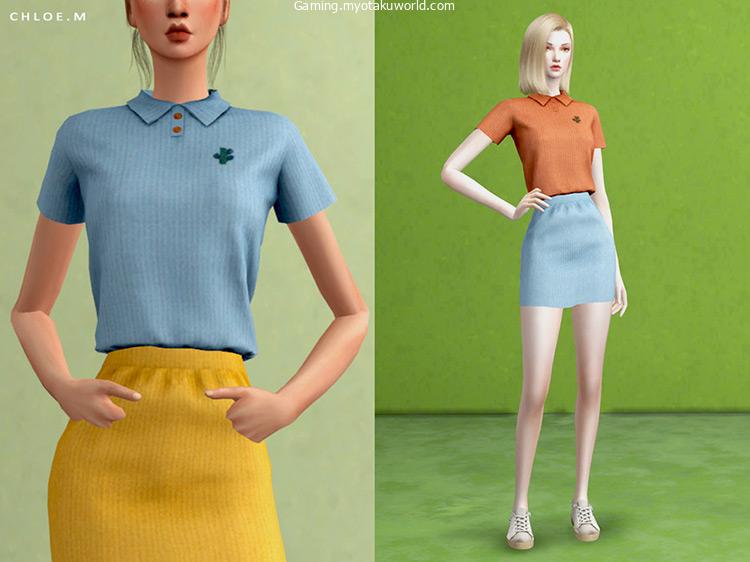 We're starting off with this prim and proper polo by ChloeM!
It's a simple, no-nonsense fashion-staple. Casual enough for your Sim to stay fresh and worry-free while still looking regal and refined AF.
Gotta give kudos to the creator; the subtle, barely-noticeable vertical lines really adds to the texture!
20. Raphaela Polo by MysteriousDane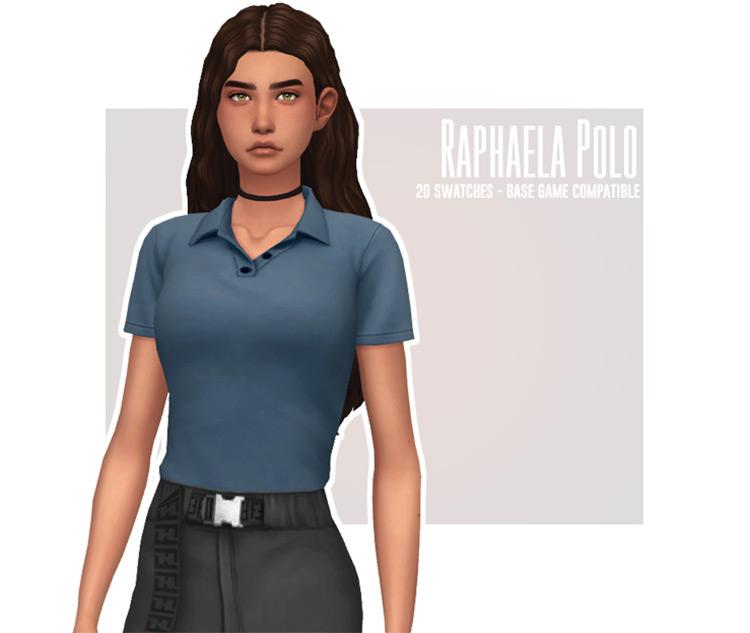 This Raphaela Polo is a sleek, refined top with modest sleeves, an open collar, and great in-game texture.
If you're looking for a beautifully chill polo shirt for your Sim in Maxis Match, this custom one by MysteriousDane checks all the boxes.
It's neat, it's pretty stylish, and it's completely BGC. An all-rounder, for sure!
19. TS4 | Marco Polo Shirts by imamiii
Designed by a self-proclaimed "polo shirt connoisseur," imamiii's Marco Polo Shirts is a simpler, sleeker, and undeniably more fashionable version of the polo shirts we got with The Sims 4: Discover University pack.
It's got that nice short, cuffed sleeve detail and the casual, open-top-button thing going for it.
I personally don't have an eye for polo shirts (or fashion in general), but even I can see that the visual appeal of this mesh with this texture is strong!
18. Polo Crop Top by Cubersims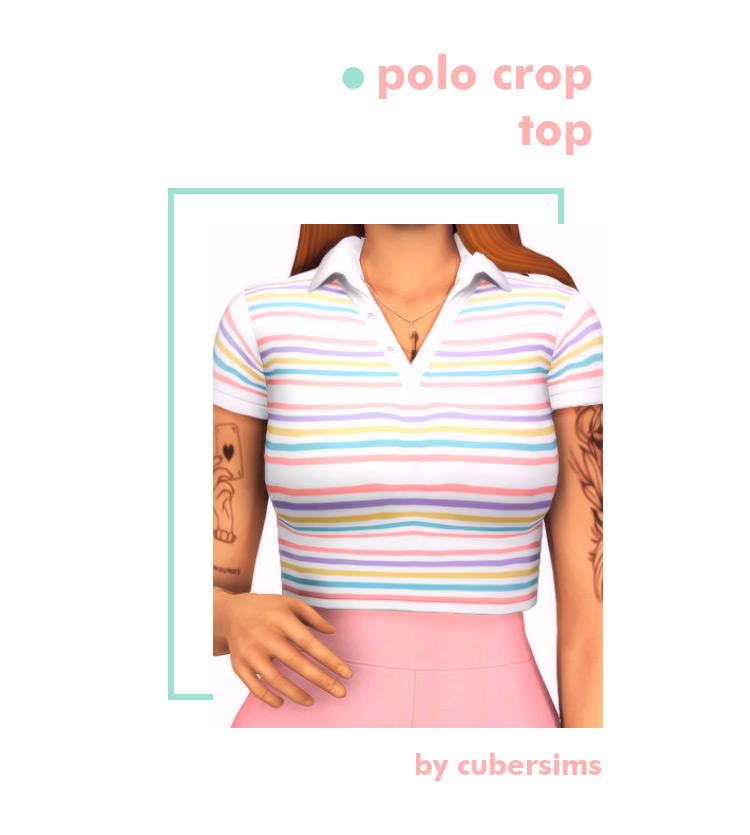 Polo shirts, but make them fashionable? Sure, why not!
The crop top trend is still going strong, and I personally don't see it dying out any time soon, so. Might as well ride the wave to the end!
Cubersims' Polo Crop Top is exactly what it says on the tin:
A trendy cropped top with cap sleeves, a collar, and 18 different designs.
17. Pollen Polo Shirt by Nolan-Sims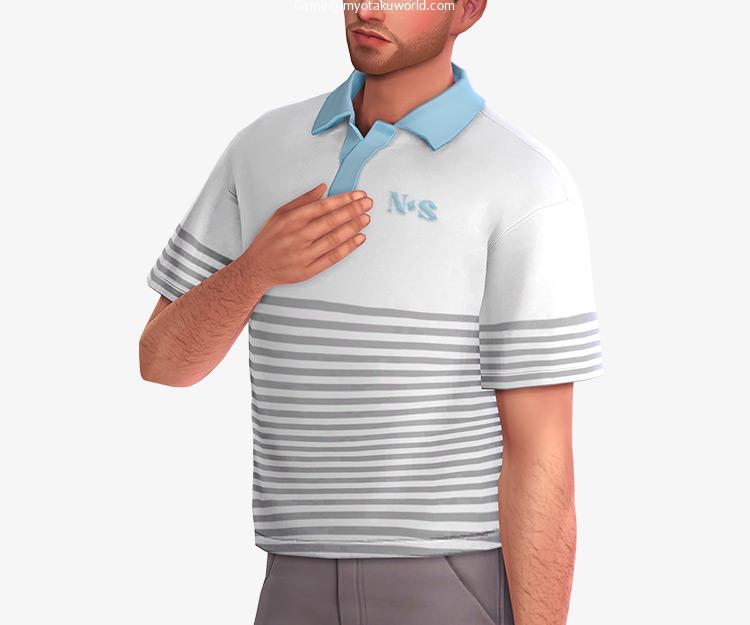 These lovely spring polo shirts are, apparently, named in honor of the creator's allergies.
Hey; not the strangest thing to happen in this community. And the shirts look great!
Casual collars, invisible buttons, loose sleeves? Super trendy! The designs are great, too!
Nolan-Sims included 12 solid colors and 10 floral, spring-y pattern options.
16. TS4 Unisex Tucked Polos for Kids by Onyx Sims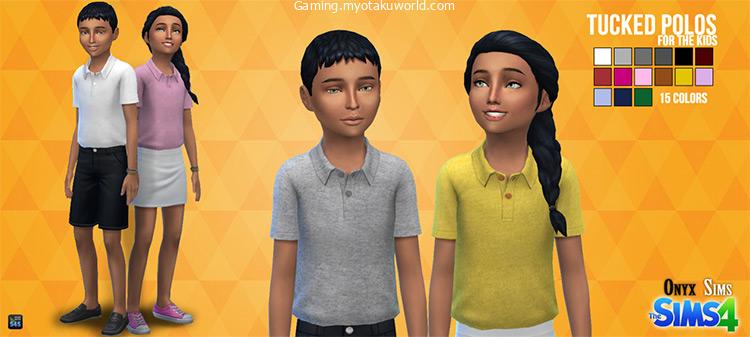 Tucked in polo shirts make them look all pressed and proper.
If that's the vibe you're trying to achieve for your Sim's kids, this adorable custom polo shirt by Onyx Sims is a find.
It's neat, tucked in, and totally Child-friendly. It comes in 15 colors and is unisex!
15. Basic Polo Shirts for Child by David_Mtv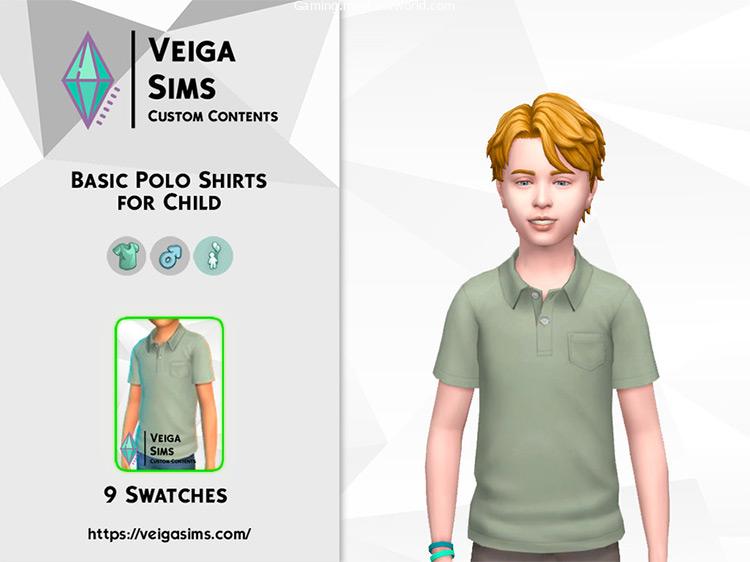 Onyx Sims' Unisex Tucked Polos for Kids was more on the Alpha CC side, so here's a Maxis Match version for those who prefer the clayified look.
Made by David_Mtv, this Basic Polo Shirts CC was designed specifically for a Child frame.
It's smooth, simple, and comes in nine colors. It's a little more casual, too.
14. Polo Shirt for Toddler #01 by remaron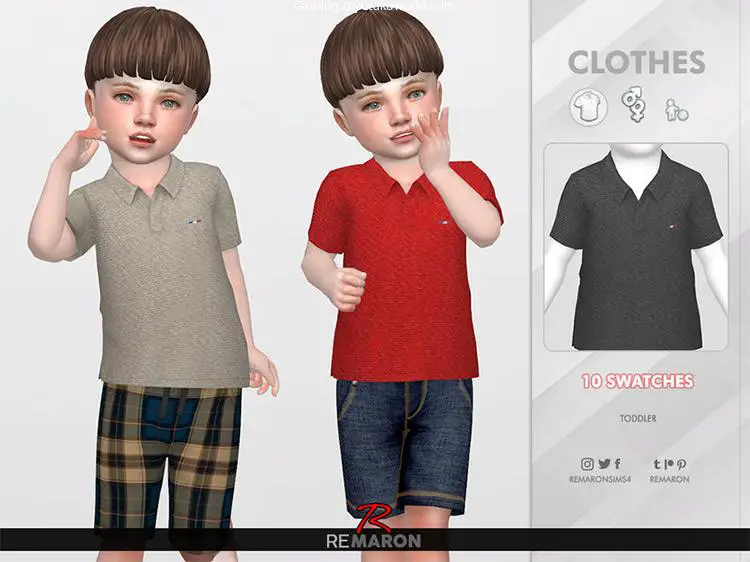 We've got one for the tots, too.
Remaron's Polo Shirt for Toddler 01 is a fashionable top with a high collar, loose sleeves, and the iconic tri-colored logo.
The design overall is simple but stylish – as most polo tops are wont to be – but they make your Sim's Toddlers look spiffy as heck!
13. Checkered Tip Mens Polo by McLayneSims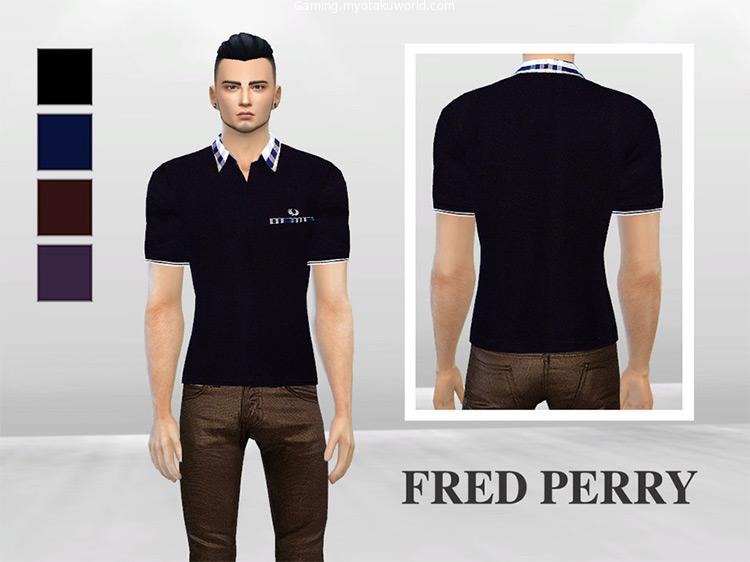 Elevate the typical solid-colored-collared polo shirt style with a hint of pattern.
McLayneSims' custom top follows the Fred Perry polo design with subtle accent patterns at the sleeves, on the collar, and literally nowhere else.
It creates a fetching visual contrast that's modish minimalist.
12. Polo Shirt 01 for Male Sim by remaron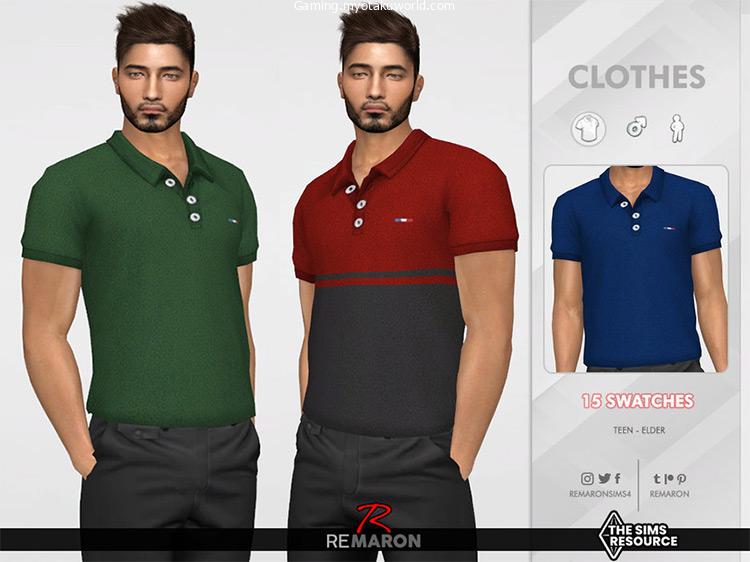 You can't get any simpler or more straightforward than this.
This top is, exactly as the name says, a proper polo shirt.
It's got the smart collar, the three buttons, the chest pocket logo, and everything.
All the colors and patterns it comes in (fifteen total) are prim and serious. No brights, bolds, or neons here, no sir!
11. Cotton Polo Shirt Dress by DarkNighTt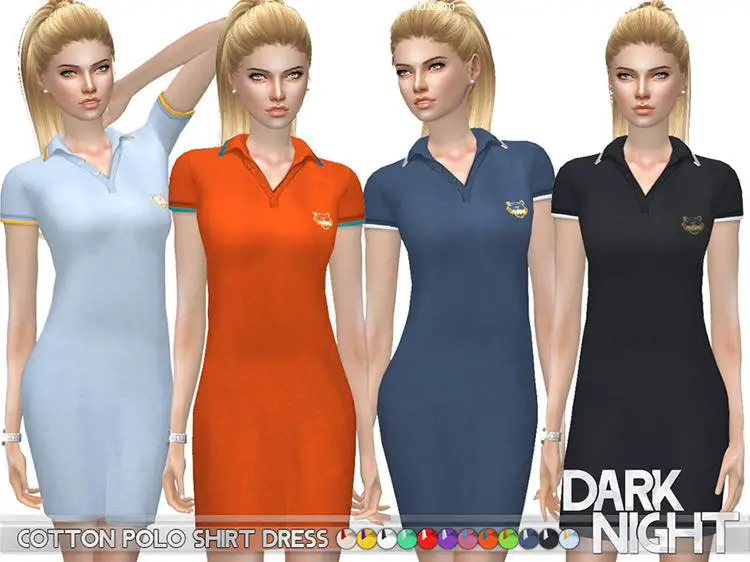 Now, to take a break from the standard polo shirt, we have a cute and trendy polo shirt dress by DarkNighTt.
Same collar, neckline, and cut as any chic polo top, but with the added bonus of being cool and easy to wear.
Clean, simple, and stylish—a total winner!
10. High Collar Polo with White Dress Shirt by
NyGirlSims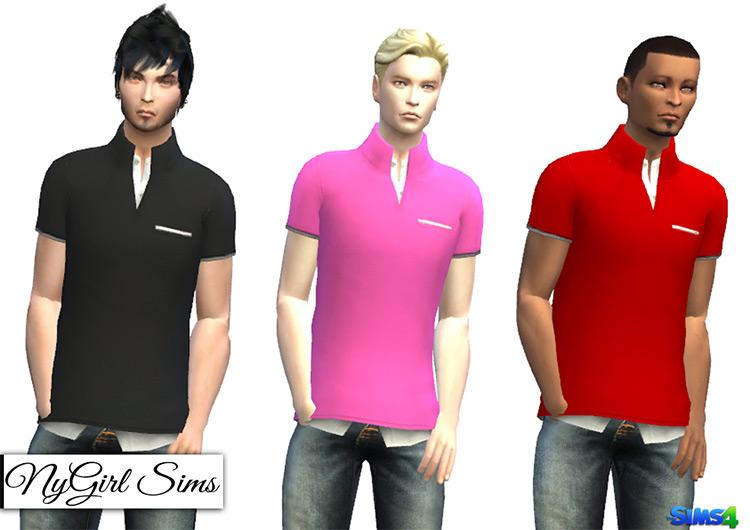 NyGirlSims' custom shirt combo is surprisingly attractive.
As the name suggests, it's a high-collar polo shirt with a white collared dress shirt underneath, styled so that the collar and hem of the dress shirt are just visible.
It's a versatile blend of sport and preppy, and I find it looks fantastic on most my Sims!
9. Polo Shirt by Khadijah551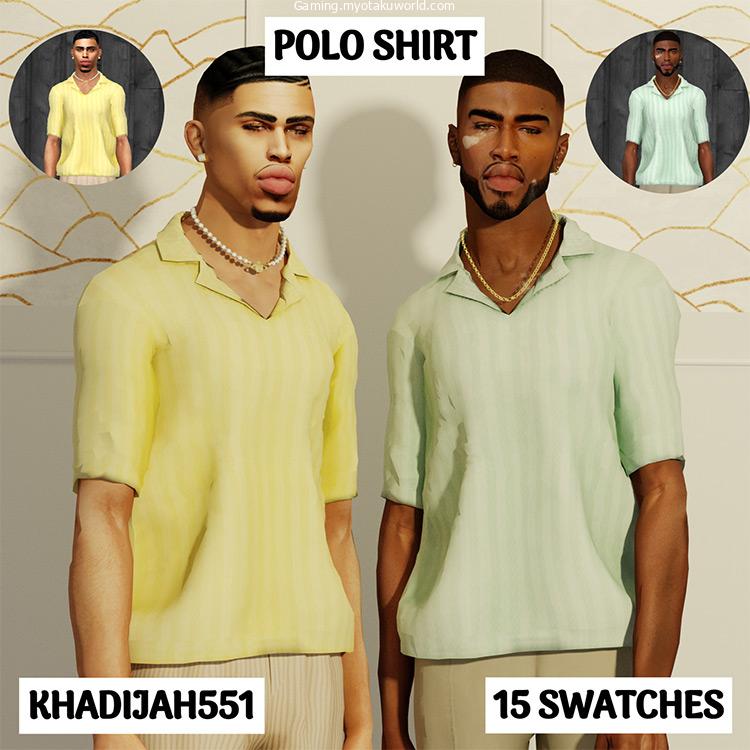 This custom polo shirt is perhaps in the most casual cut I've ever seen, and I love it!
Wide, button-less collar, loose sleeves, and an almost-raw hem?
It makes for the most interesting silhouette, and it translates great in-game!
8. Ellen Top by moontrait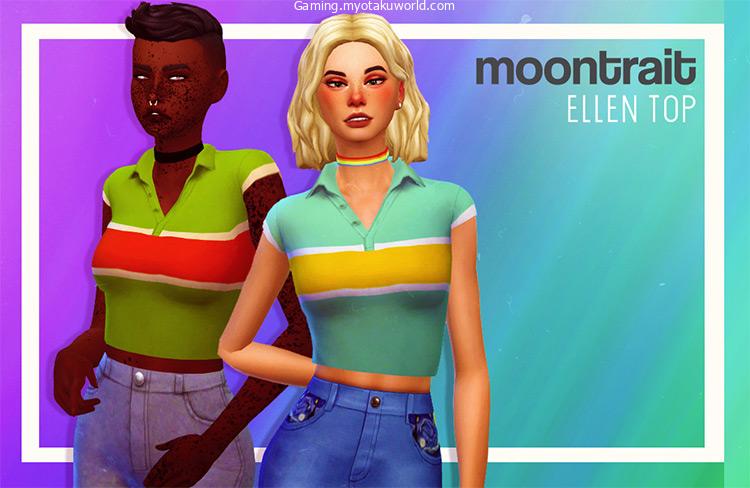 Moontrait's Ellen Top gives off the same modish, fashionista vibes as Cubersims' cropped polo top.
This may not be considered a crop top, but I'm seeing a sliver of midriff. You can't fool me!
Seriously though, it's a beautiful polo. And a great contemporary take on a classic, clean-cut design.
7. Polo Shirt (Remake) by Gorilla Gorilla Gorilla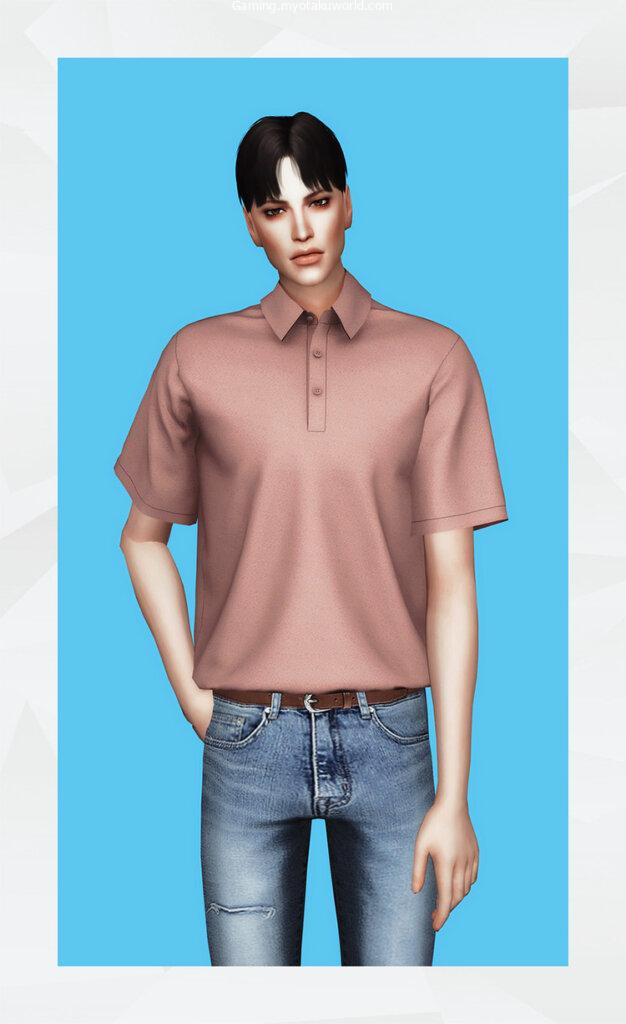 Gorilla Gorilla Gorilla gives us a fairly oversized fashion piece with clean edges and a smooth texture.
This CC has a lovely Maxis Mix vibe with the slightly clayified thickness but the more realistic, photoskinned wrinkles.
Overall, a properly prim and pressed polo shirt that'll look great on any Sim!
6. Double Pastel Polo by McLayneSims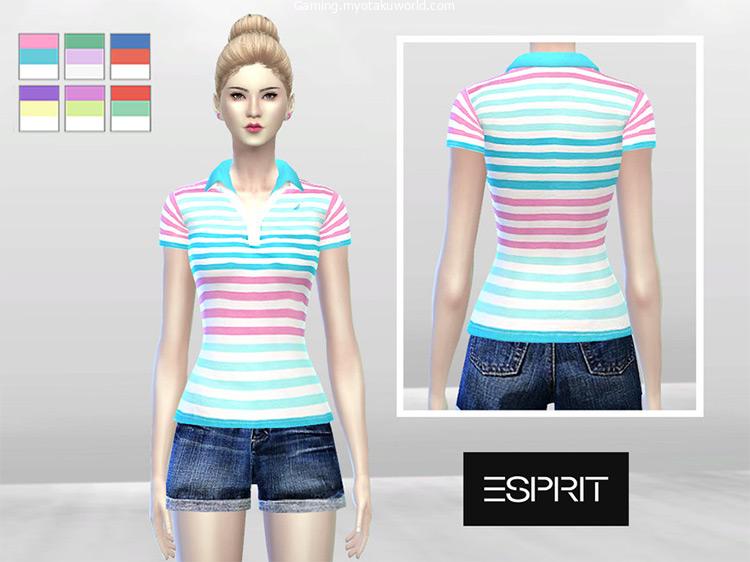 If you're big on the ultra-preppy pastel look, this Double Pastel Polo by McLayneSims is a total keeper.
It's a fitted polo top for Female builds with a nice, pointed collar and gorgeous pastel stripe combinations (hence the name).
It comes in six multicolored options that are versatile enough to work with a variety of skin tones and palettes.
5. Polo Shirt by lazyeyelids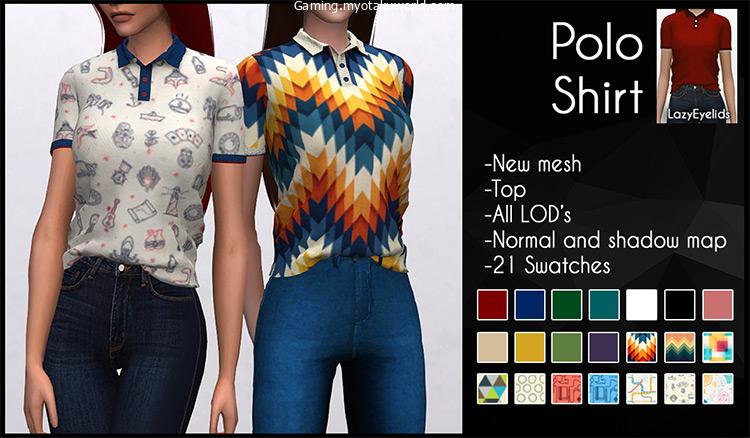 This custom Polo Shirt by lazyeyelids is designed to look like the front is loosely tucked.
Combined with the general cut of the shirt and the novel, artsy patterns it comes in, the overall effect is actually pretty cool!
Not sure if you'll get the same effect with low-rise bottoms, but any mid- to high-rise pair of jeans should work with the top's hem.
4. Base Game Polo Shirt by valhallasims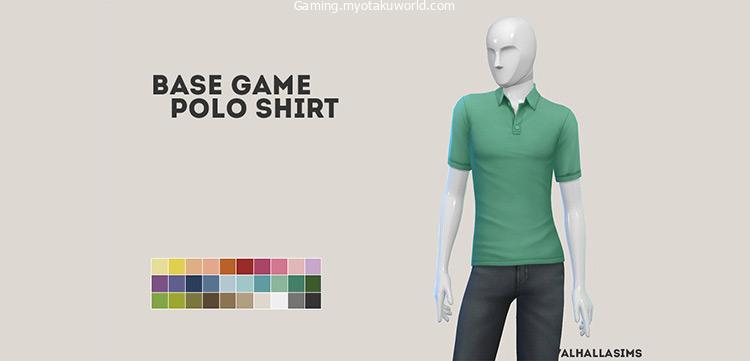 We're going back to basics with valhallasims' Base Game Polo Shirt.
It's clean, simple, and incredibly versatile!
The Maxis Match texture makes the edges look really smooth and the material really thick, which makes for a fantastic fit overall.
It comes with 30 total color options.
3. ChloeM – Polo Shirt Jumpsuit by ChloeMMM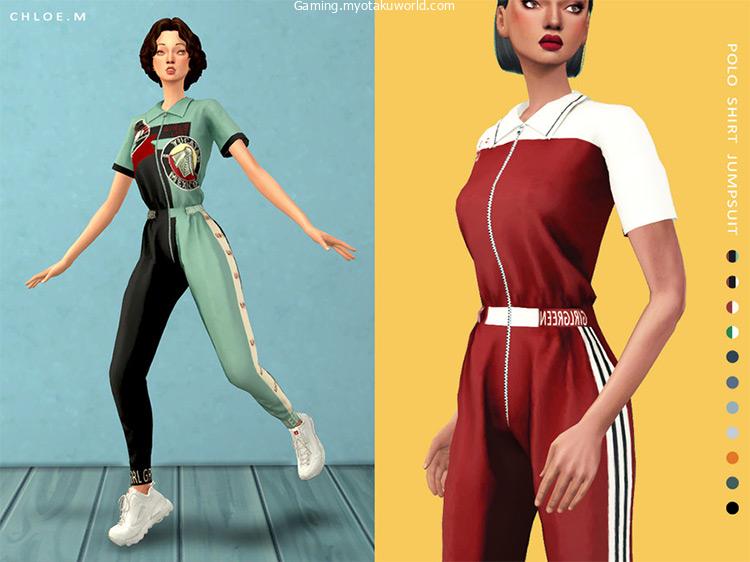 Not your typical polo shirt, no! But when I saw this beauty by ChloeMMM, I knew I had to include it. It's a full-body polo suit.
Not just a shirt and a pair of pants, no; a full-on jumpsuit with fantastic pattern options, a cinched waist, and a visible zipper straight down the middle.
It's cool, it's ultra-trendy, and it feels like something only the genuinely fashionable Sims can pull off.
2. Twain Polo Shirts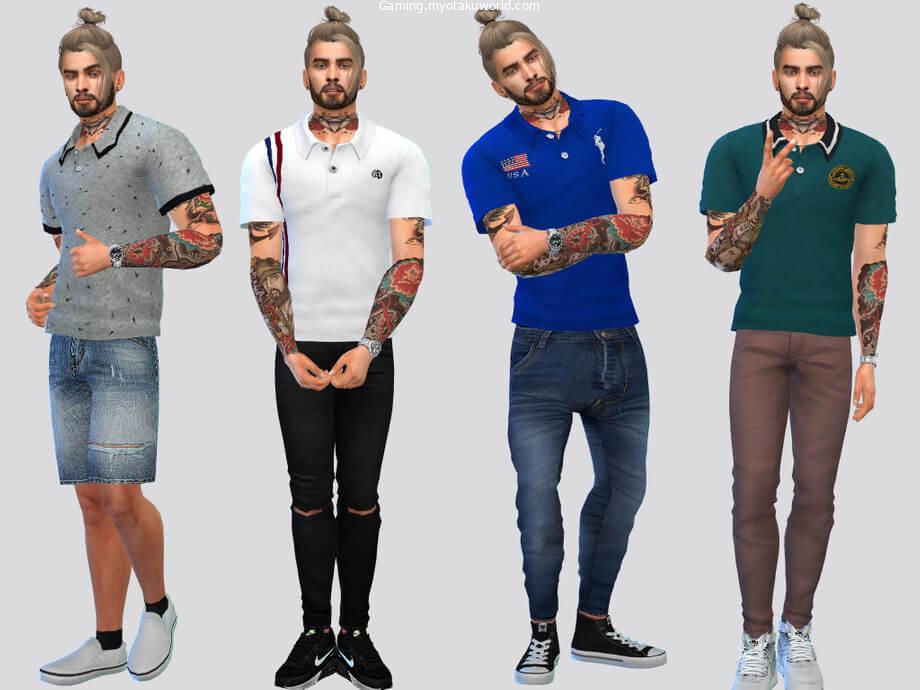 You can't get any simpler or more straightforward than this.
This top is, exactly as the name says, a proper polo shirt.
It's got the smart collar, the three buttons, the chest pocket logo, and everything.
All the colors and patterns it comes in (fifteen total) are prim and serious. No brights, bolds, or neons here, no sir!
1. Hamptons – A Polo Shirt by Joliebean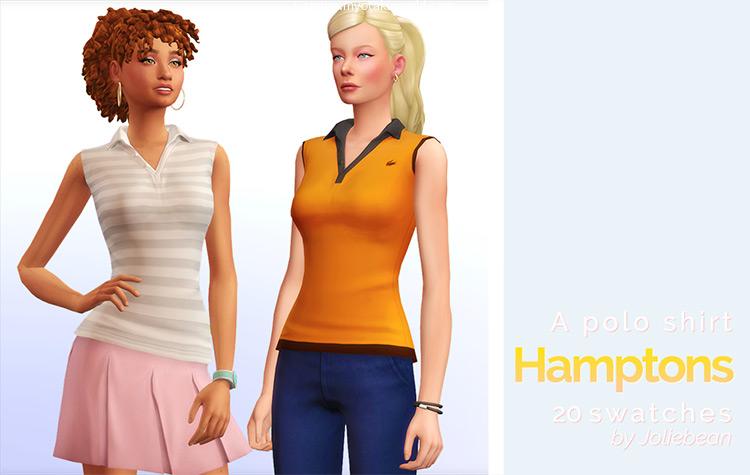 Polo tees have a distinctive collar and tiny logo above the left chest pocket.
Once you see either of those elements (especially the collar), you can categorize the item you're looking at.
So a sleeveless polo shirt – like this Hamptons one by Joliebean – is not out of the question. Nor is it out of place!
It gives off a wonderfully casual-preppy vibe that brings to mind tennis games and sunlit walks in the park.