A lot of occasions may call for a bathrobe, and they're all about relaxation.
Whether you're Sim is in for a spa day, movie night, or just needs something nice to wear to bed, this collection has got your back.
And with all this custom content, you can give all the Sims in your family something new!
21. A Rainbow of Robes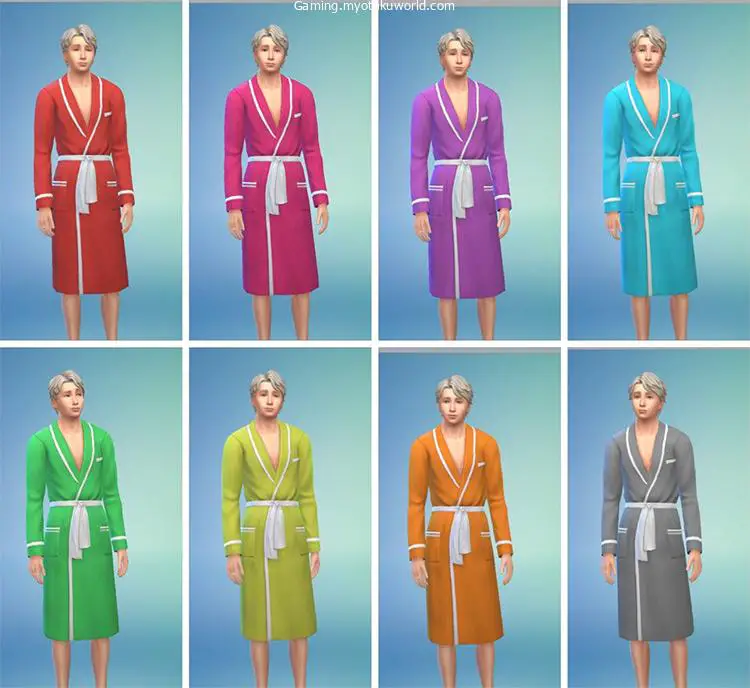 If you're fine with the base game robe as it is and just want a few more colors to choose from, then these recolors are probably just what you're looking for.
Six vibrant new shades are included here thanks to Stargazer Sims.
20. Get To Bed Male Robe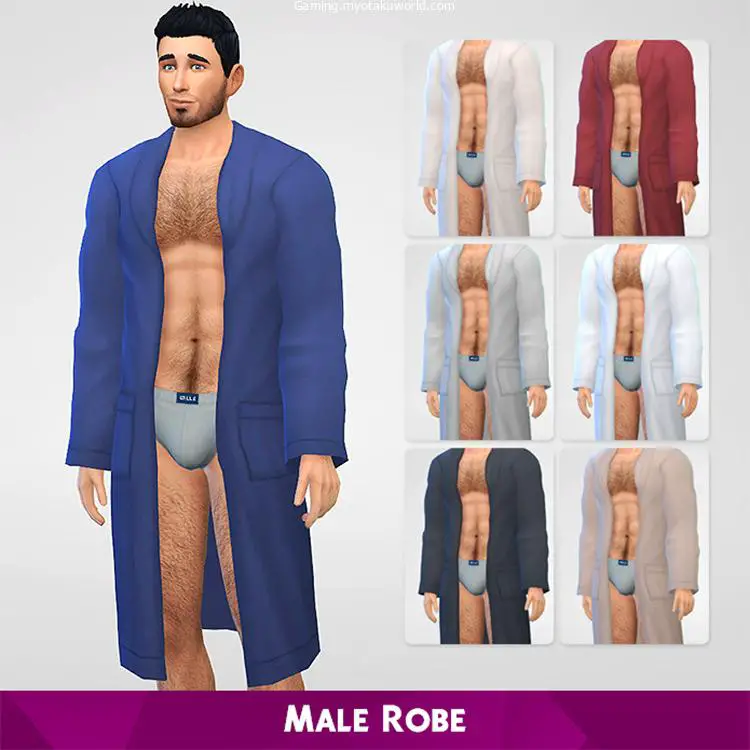 Does your Sim have a hot body that they want to show off until the early hours of the morning?
Then don't worry about tying that robe up like a man.
Luumia's great open robe for men lets you skip the belt. It's not very cosy, but on the right Sim, it can be pretty flirty.
19. Coffee Robe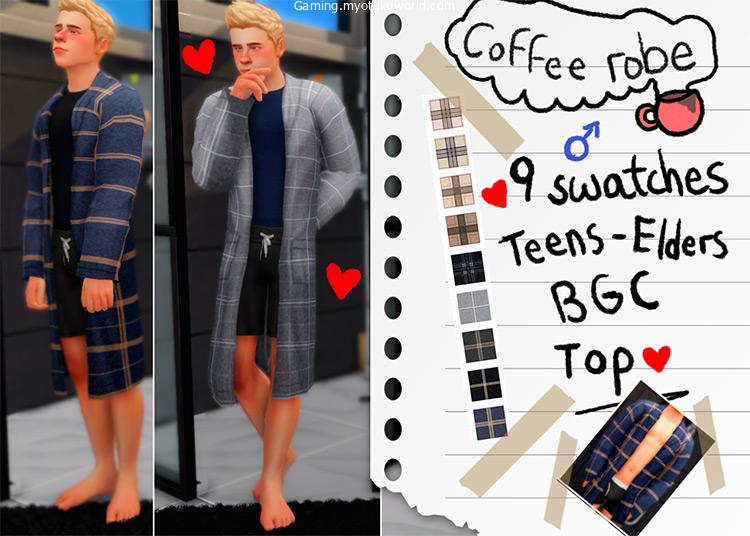 There must be a huge number of people who start their day with nothing but their robe and a cup of coffee.
With these recolors of Luumia's original version, this Simmer was going for exactly that feeling. You can easily pair it with some accessory tees and shorts to complete the look, and since it's very Maxis Match, it'll go well with everything.
18. Men's Robes
It's fitting that MarvinSims created these in December, since they seem perfect for winter.
Would you want to wear such a heavy, warm robe during an Oasis Springs summer night? Probably night.
But once the temps are cool, or Heaven forbid there's a blizzard and your Sims forgot to pay their bills, these will be very appreciated.
17. Family Robes: 30 For The Kids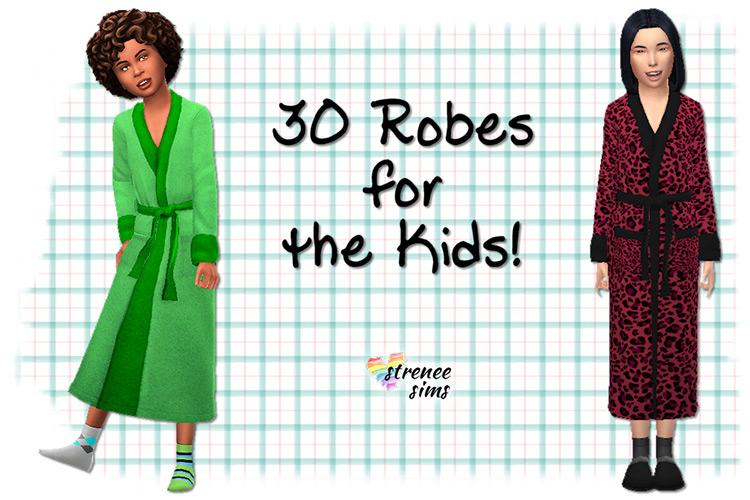 We can't leave the kiddos out, and you'll have plenty of new robes for them thanks to this collection.
These swatches are adorable, and so fitting for youngsters.
Some of the patterns include cats, dogs, penguins, and dinosaurs. All essential to childhood! And most of them look 100% Maxis-matched.
16. 1898 Vintage Morning Robe For Men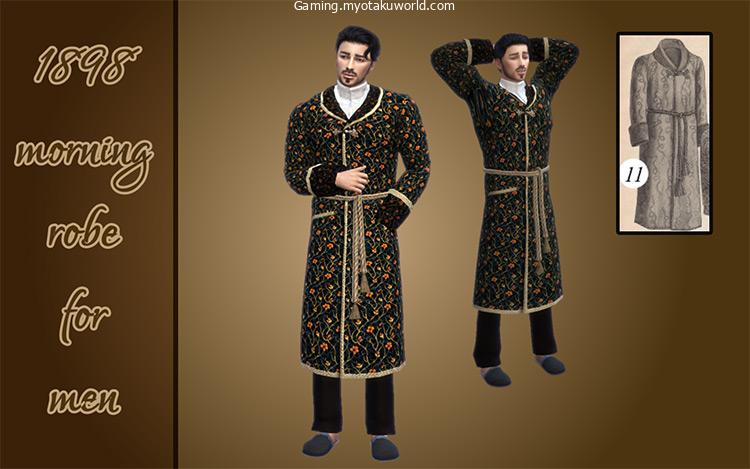 Unless you're playing some type of specific challenge, chances are you've never been particularly inspired by Victorian fashion.
But hear me out… these robes are insanely elegant.
We all know some Sims who are way too fancy to wear the same clothes as the plebeians that are beneath them, and this is the robe for them.
15. Silky Robes For Male Sims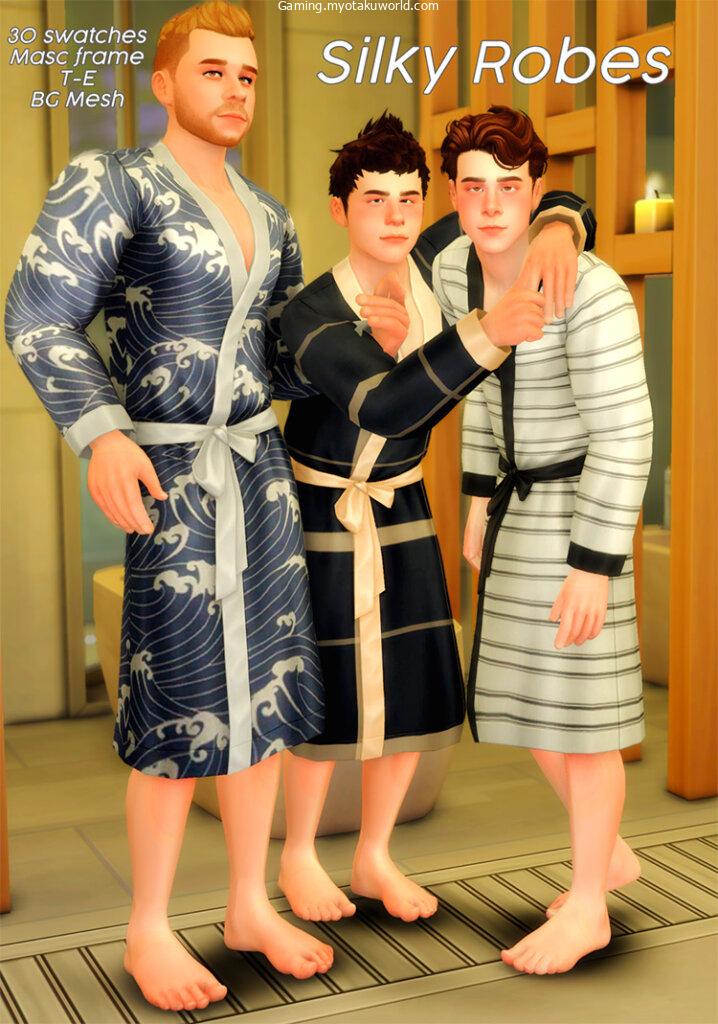 Ooh la la, we're back to silk! And this time, it's masculine.
These smooth and comfy new options for robes from CreamLatteDream will definitely be a cool addition to your game.
Each swatch has a really unique, original look, and they're Maxis Match so they'll blend right in.
14.  Basegame Jewel & Retro Recolors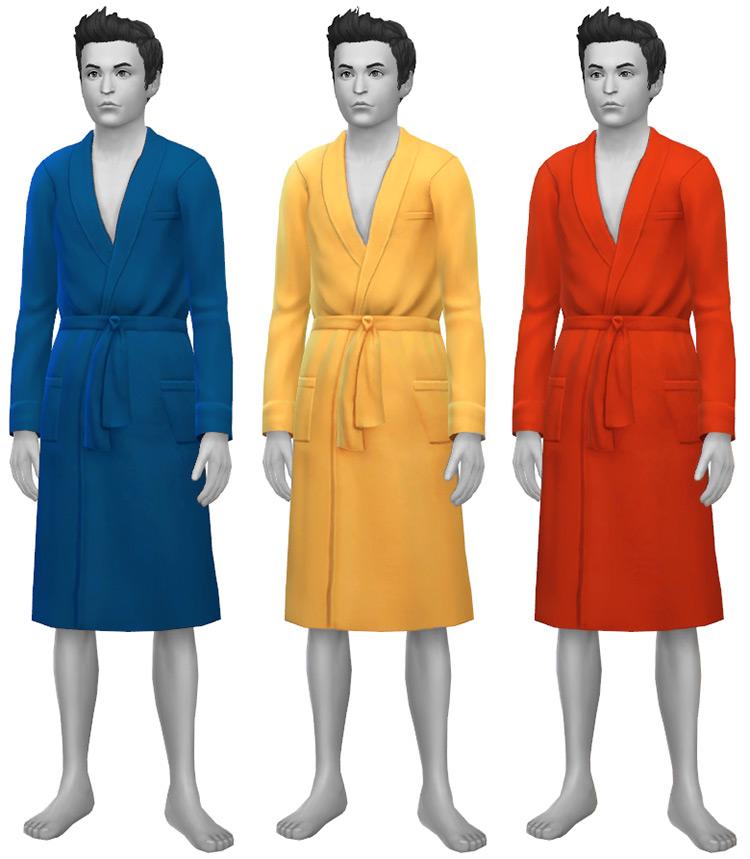 A good chunk of custom content is nothing but recolors.
I guess CC recolors really are the pillar of this game, in many ways.
New meshes are always great but sometimes, a little editing will do just fine.
These vivid shades of any color you could want really give new life to the original TS4 robes.
13. Silky Robes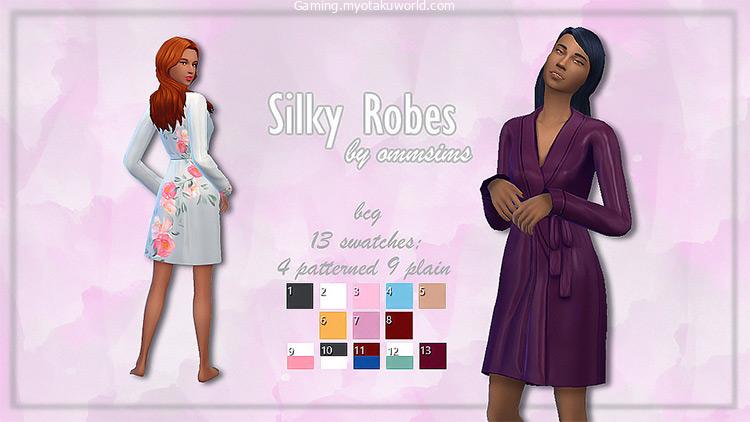 There's just nothing like silk. It's so smooth, sleek, and… sexy?
Well, that's what a lot of people are after even if it's not a word often applied to Sims.
These really have a feminine look, which is helped by that fantastic texture.
All of the swatches are pretty great as well, some even have a flower print.
12. Family Robes: 30 For The Ladies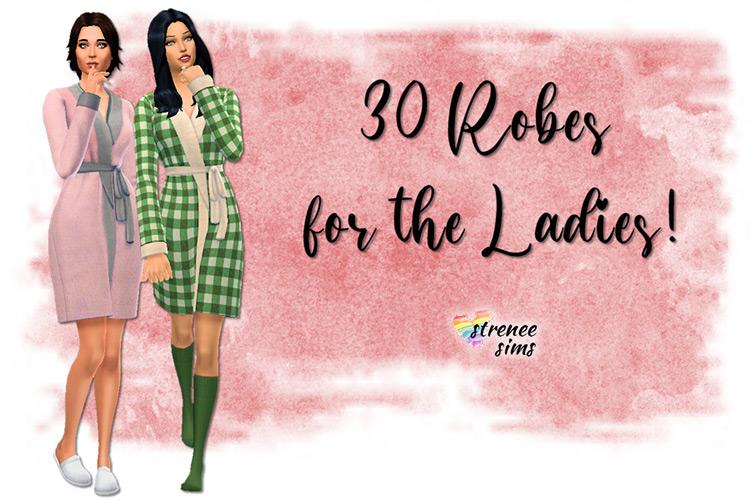 All of these swatches just… make sense. They look like affordable options that real people would wear, and I love that!
The 30 styles cover everything from cute critters to geometric patterns, and of course some solid colors.
They'll be great throughout the year!
11. Family Robes: 30 For The Men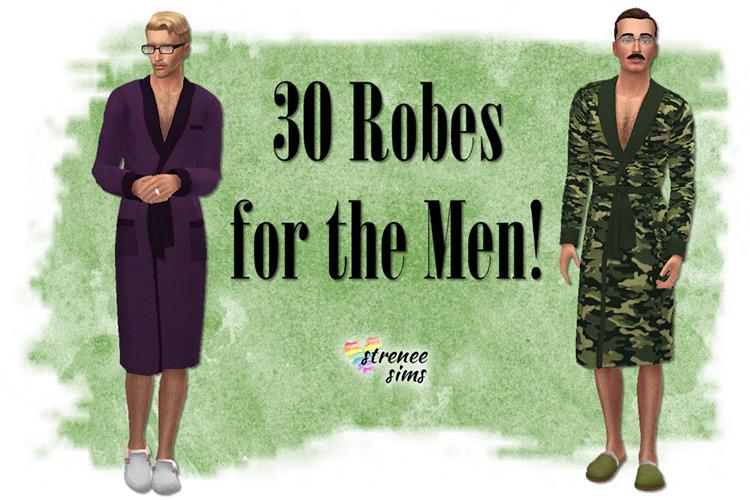 In the final installment of this family collection from StreeneeSims, we've got oodles of brand new options just for men.
These classy yet comfortable robes bring a lot of standard prints to the table, like camouflage, plaid, and an ever-trusty solid color palette.
Some totally off the wall, abstract patterns are also available, however!
10. Cat Lady Bathrobe Collection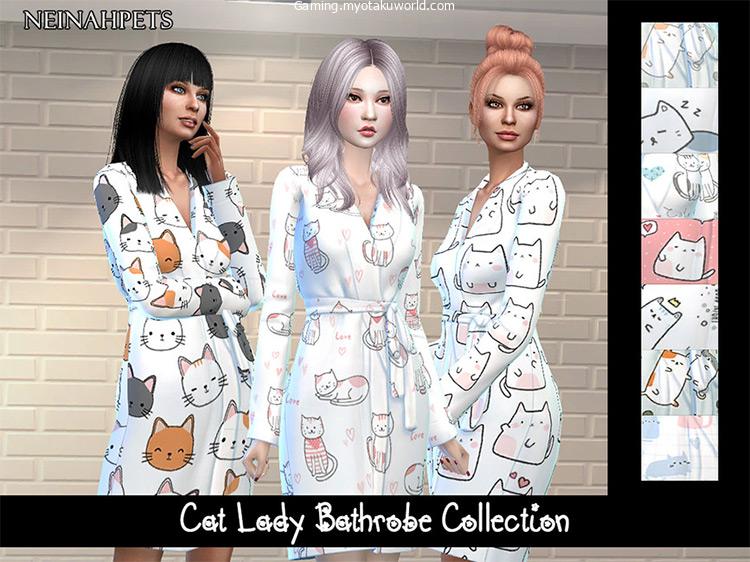 Cat lovers are always in search of more feline-themed items, and attire is always like hitting the jackpot.
If you've got some proud cat lady Sims, these robes will really fit for them. The 10 swatches, all featuring different patterns, are downright adorable.
9. VS Robe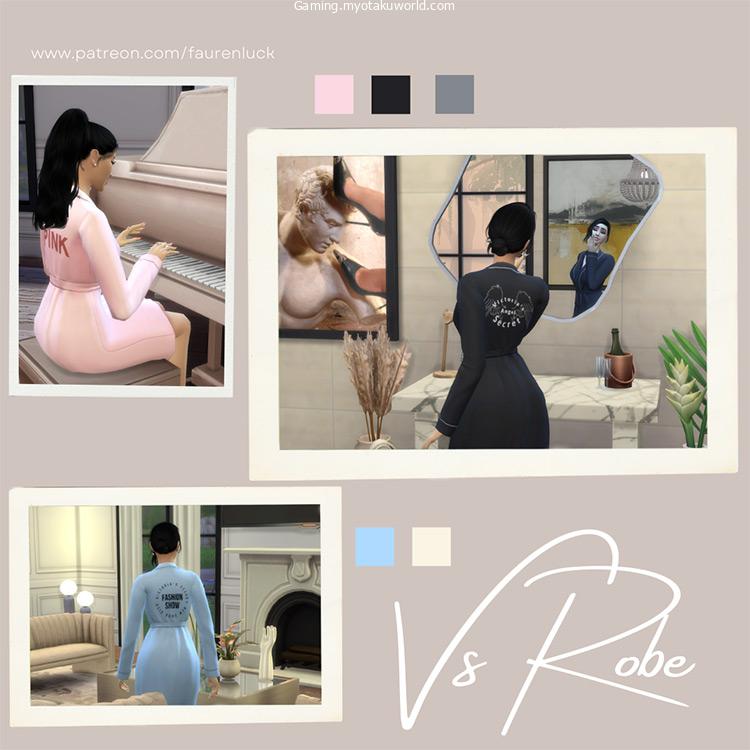 Like anything else, designer labels have got their own ultra luxurious take on bathrobes.
Now you can put some options in your game so Sims can have such a chic selection, too.
Faurenluck's set is based on the real Victoria's Secret line, so anyone "in the know" should recognize a lot of these logos.
8. Merry Night Robe Recolors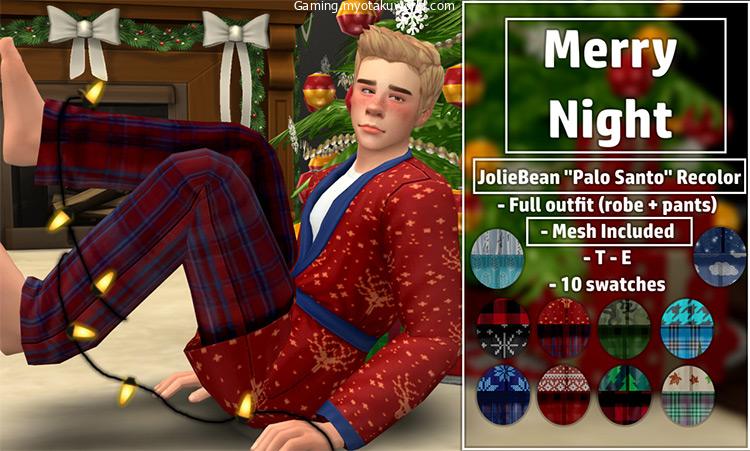 Nothing will get you in the WinterFest mood more than some festive, cozy robes.
That's how most of these swatches can be described, with patterns like snowflakes and trees.
For ultimate snuggly vibes, you have the option of pairing these with some accessory tees. Otherwise, your Sim will be shirtless beneath.
I feel like this robe set would pair perfectly with some other Christmas-themed PJs.
7. Ares Robe for Men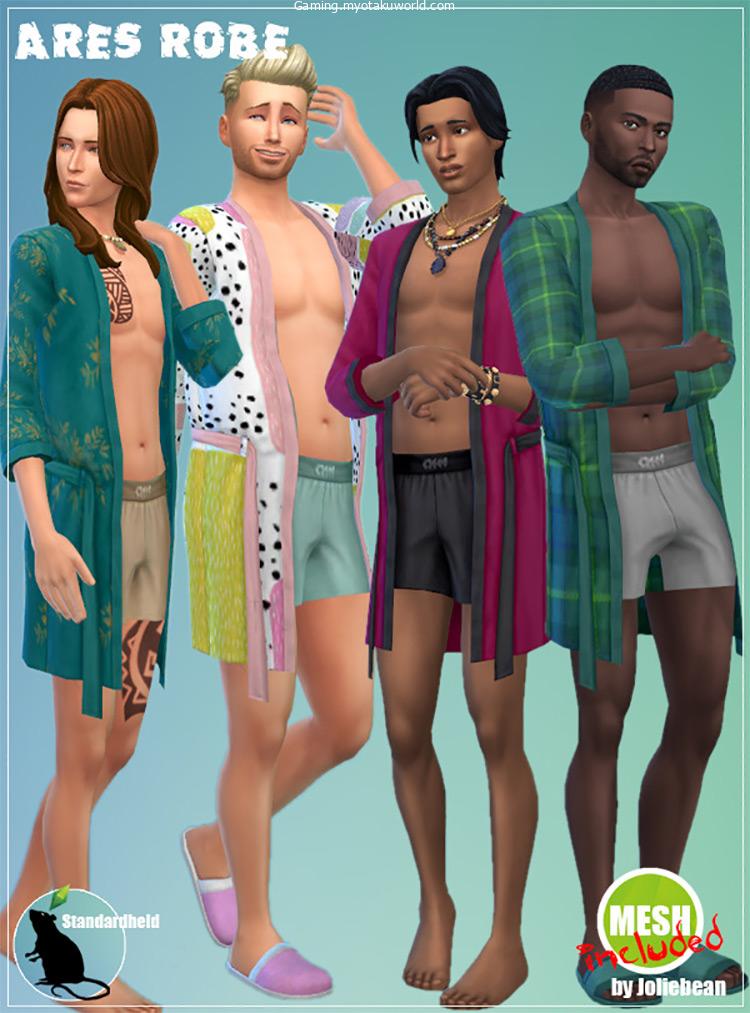 There's an element of realism here that's really charming.
An open robe and some boxers is the chosen nighttime uniform of many guys,
Joliebean's original version has been recolored here with nearly 60 brand new variations, so you'll find everything from simple solids to more unique pattern combos.
6. Palo Santo – A Robe For Men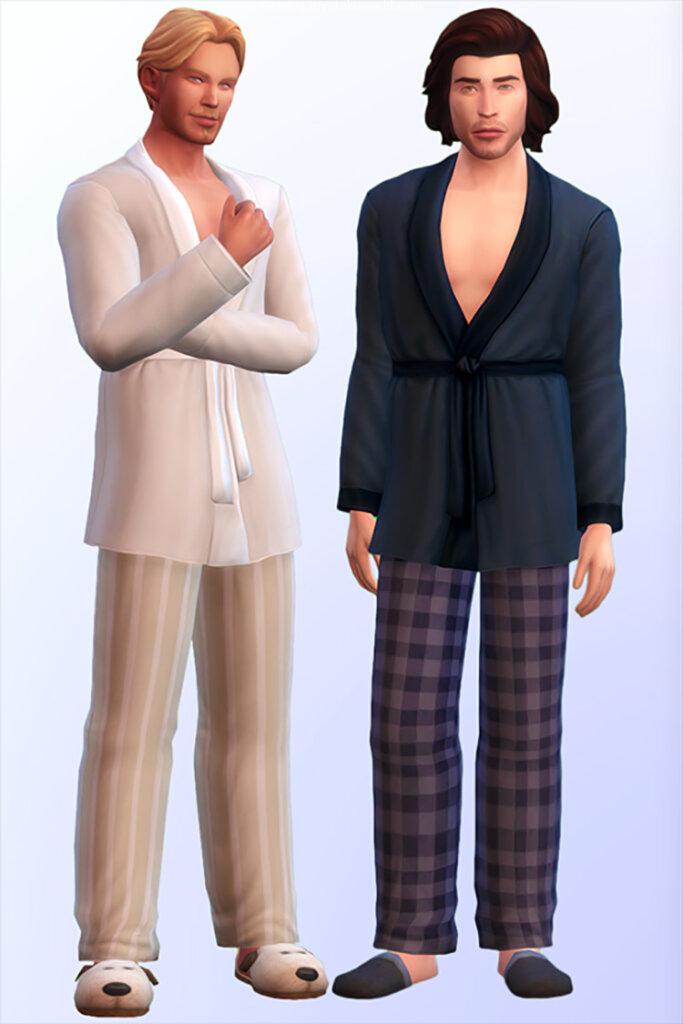 A lot of players want their Sims to always look their best.
Any guy is bound to look dapper in this pajama set. The robe and pants combo just has such a classic look.
And if your Sim needs to jump out of bed to use their toilet or take the dog out, no one will bat an eye.
5. Cottage Robe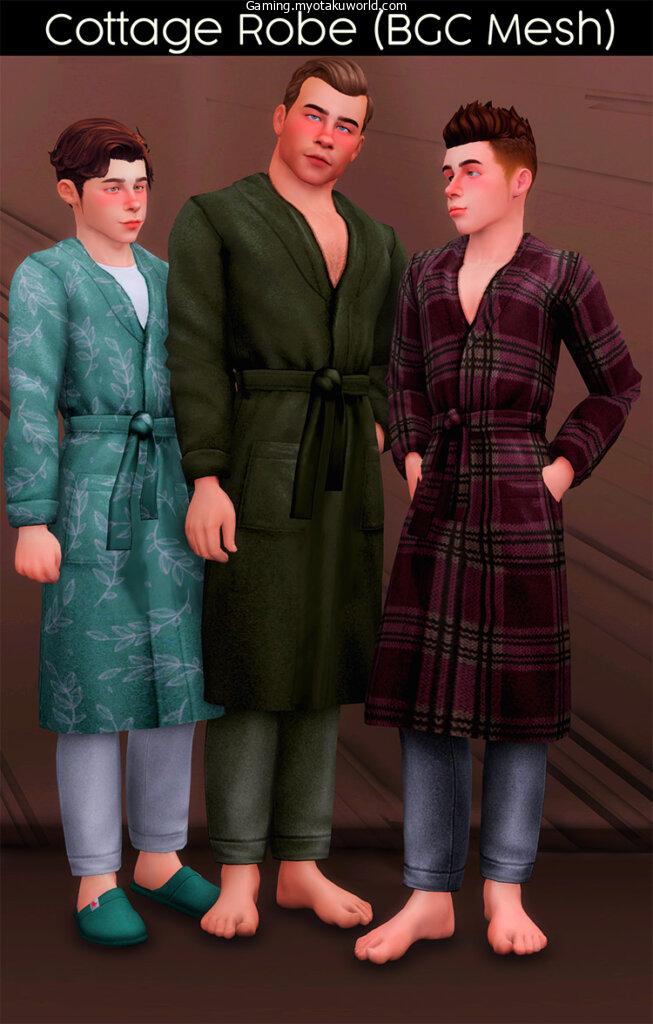 If you ask me, Cottage Living blessed us with some of the best CAS additions ever.
Naturally, any custom content using those meshes is bound to be just as awesome.
CreamLatteDream's new base game robe is a prime example. Just look at those warm layers and realistic textures!
4. Casual Robe
In general, a robe is about as casual as it gets.
But these recolors do seem particularly fitting for everyday use.
Camo and plaid are popular picks for guys. So these will work on any dude you've got in your game, whether he's a teen, elder, or somewhere in between.
3. Delicate Flowers
On the other hand… flowers are pretty. Maybe not traditionally masculine, but that's quickly changing!
Who could resist these bright floral prints? There are five in total, and the swatches differ so much from one swatch to the next, each one looks entirely different.
Oh, and there are even matching slippers!
2. Mortimer's Vintage Robe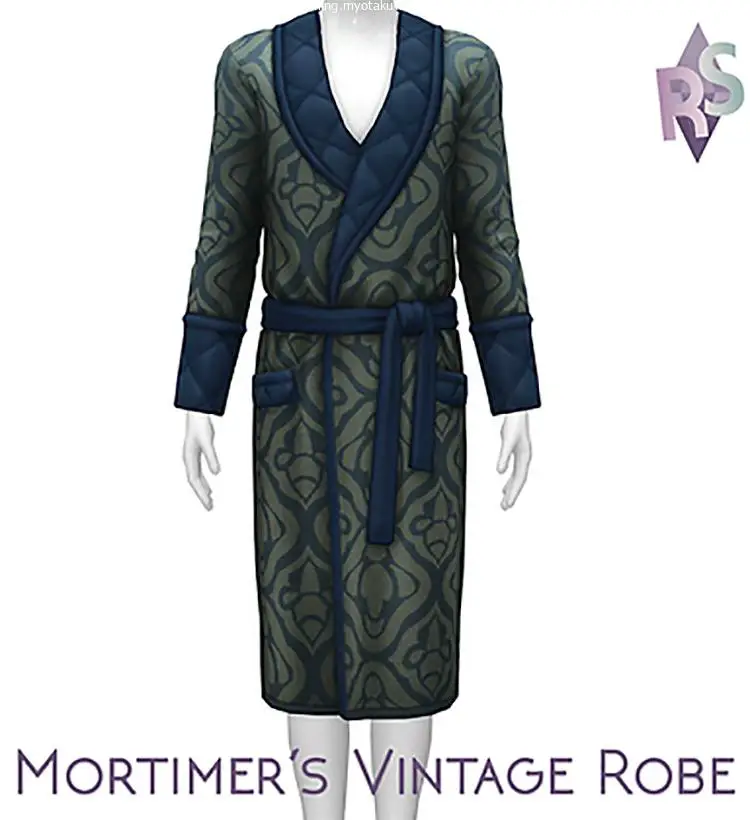 Vintage Glamour Stuff is known for being, well… vintage and glamorous.
It should come as no surprise that most of the vintage attire is rather over the top.
To still have that classy touch, you've gotta grab this edited CC robe from RenoraSims. This time it's been tweaked and made totally base game compatible.
Your Sims will look just as dapper as ever!
1. Elijah Kamski Bathrobe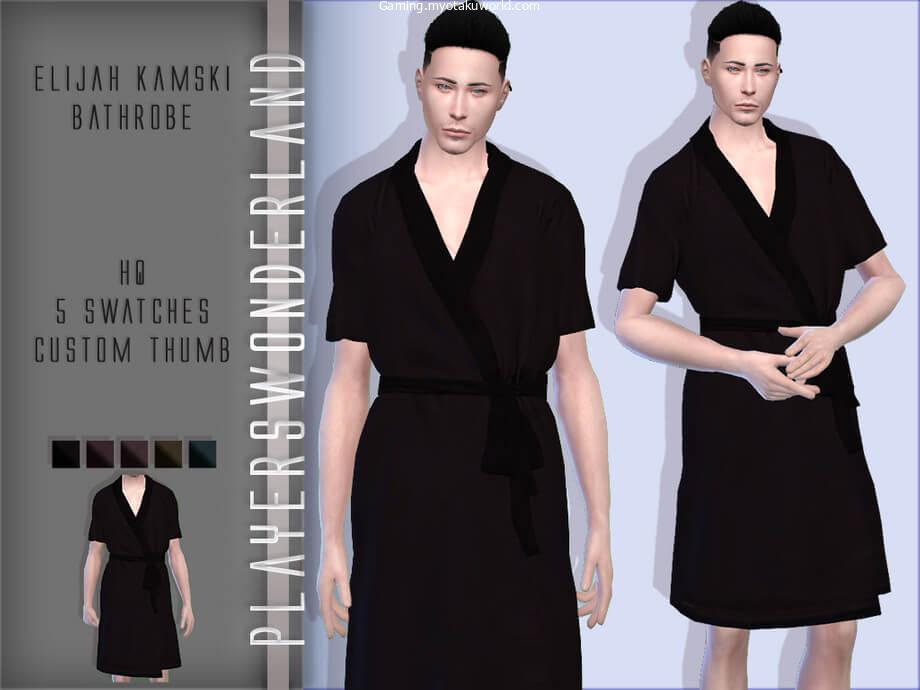 good chunk of custom content is nothing but Black.
I guess CC Elijah Kamski Bathrobe really are the pillar of this game, in many ways.
New meshes are always great but sometimes, a little editing will do just fine.