The goth look is easy to spot because it is all black and has big decorations.
There's more to it, of course. A true goth will want to wear their style from head to toe, which is hard to do in Sims.
We don't have a lot of official stuff, but CC?
There are a lot of dresses, jewelry, makeup, and other things that fit well, all in the Maxis Match style that we know and enjoy.
40. Goth GF Hair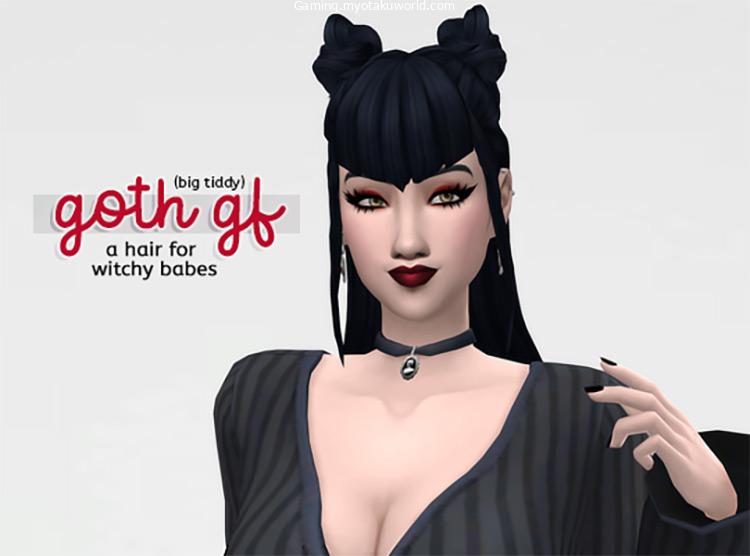 This half-updo has it all: long hair, two cute buns, and bangs.
Not just any bangs, either. Part of them is short and perfectly tapered, and there's a longer strand on each side.
Who knew combining elements of hairs from different packs could result in something so beautiful? Grhyme, apparently!
39. Jenna Hair Recolor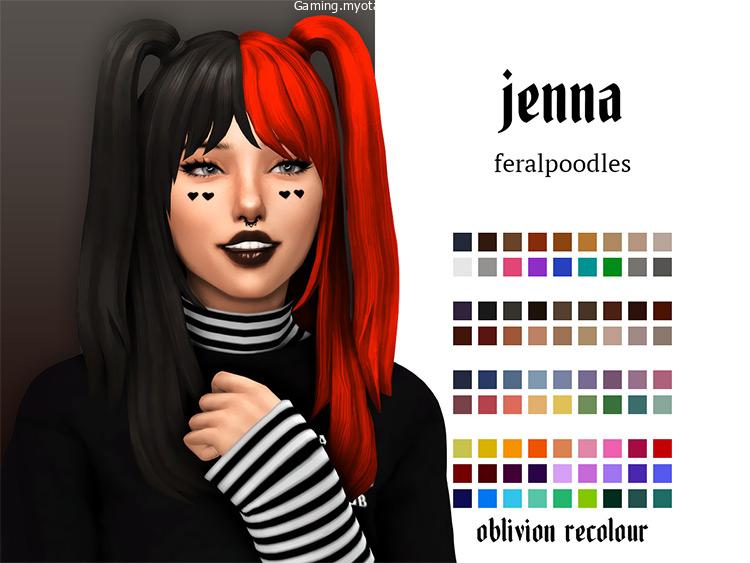 With this half-updo, we've been blessed with the most adorable pigtails.
The original was already great, but Evoxyr has made it perfect for goth Sims by giving it some recolors.
You'll probably want to stick with black for half, but the other side now can be various shades of red or purple.
38. Odd Goth Socks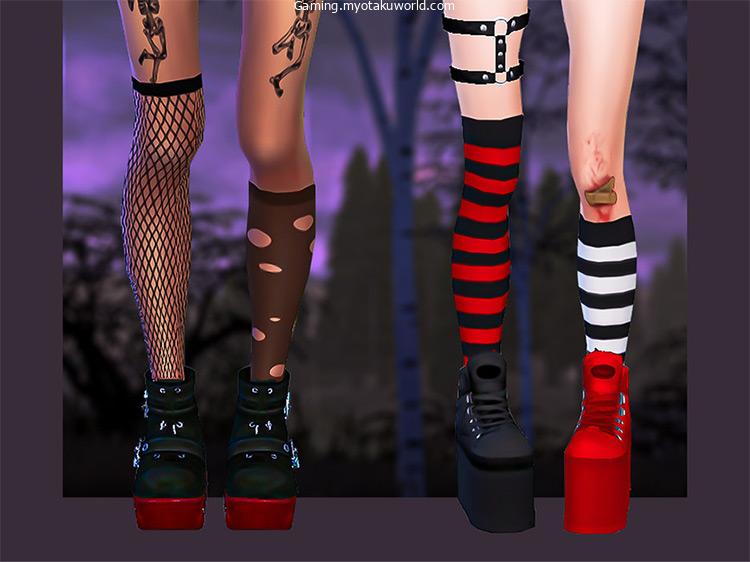 These socks are sure to add an original element to your Sim's get-up. They're available in quite a few different designs, including not only stripes, but tights as well.
What really makes them standout is the way that they're mismatched. As in, two totally different lengths. It's actually super charming!
37. Platform High Heel Boots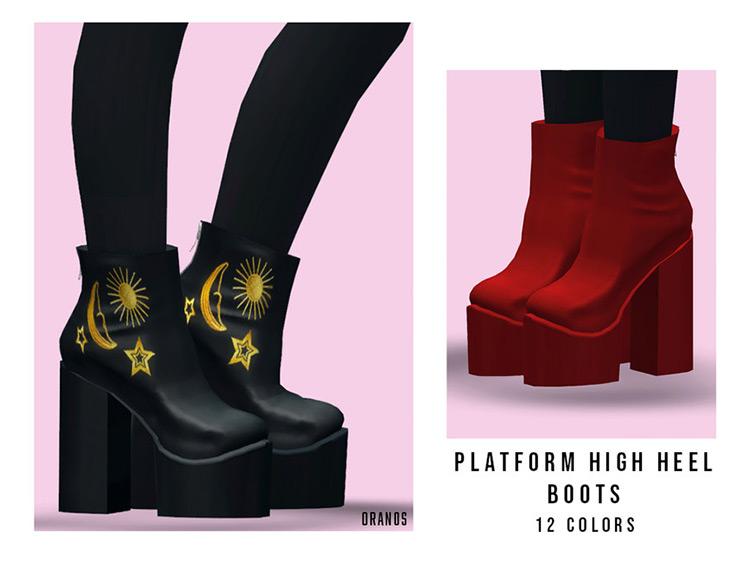 Some may say the shoes make the goth.
I don't, but you must admit platform shoes are a good start.
OranosTR included some great colors but it's the black swatch you'll want. Aside from the obvious reasons, gold star and moon accents make them even cooler.
36. Mia Lace Up Boots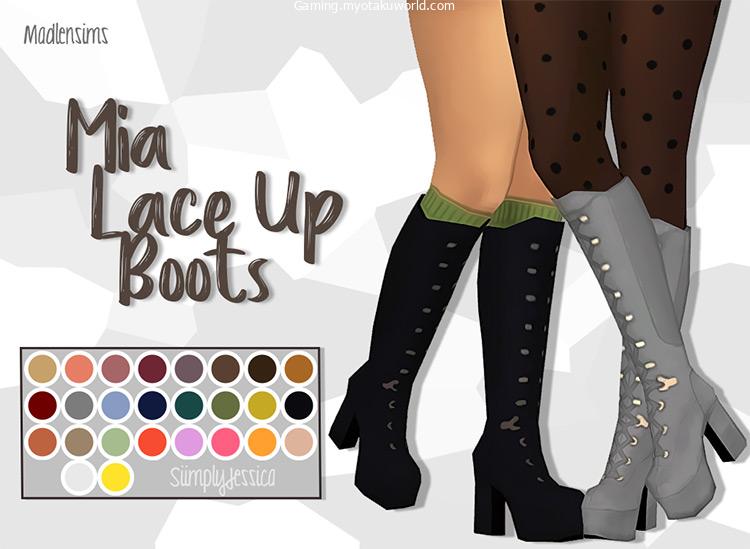 Here are some boots that come almost to the knee.
They have a smooth feel and lace-up design, so they look pretty simple.
Your Sim can wear them with slim jeans, a skirt, or a dress. Yes, these shoes are made for walking.
35. Panda Jeans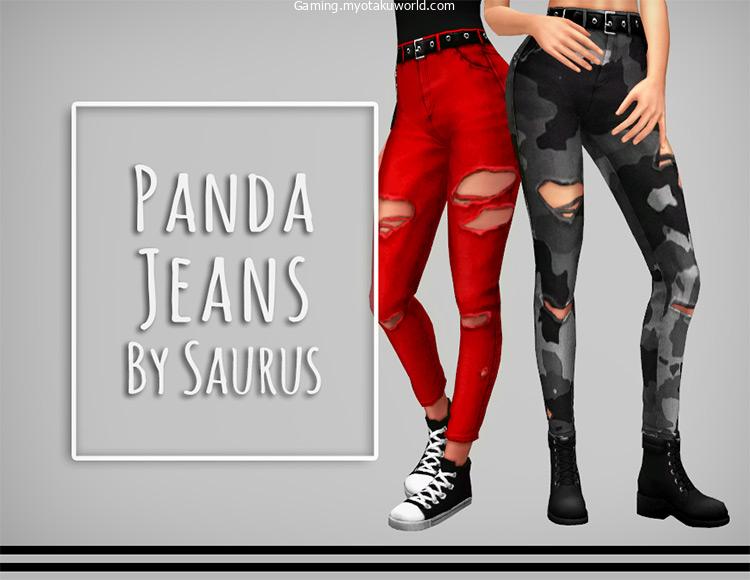 Saurus has got these high-waisted jeans loaded with rips and tears.
There's not one inch of these that doesn't look realistic.
The black grommet belt is a nice touch, too. And don't worry, although the color palette mainly focuses on bright colors, there are still several darker ones to choose from.
34. Goth Choker
CAS already has a limited jewelry selection.
If you're looking for goth accessories, then you're really out of luck.
But custom options can save the day, as always. This choker will be quite the statement piece with its shiny spikes. That statement, of course, is that your Sim is goth.
33. Work It Pleated Skirt & Garter Tights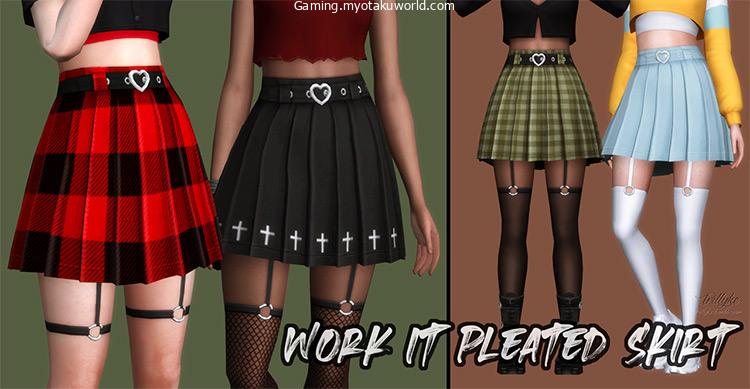 From the belt to the pleats, Trilyke's skirt is bound to become a staple of your Sim's wardrobe.
Plenty of these swatches are perfect, it's like the goth palette!
Dark purple plaid, solid black with little white crosses, and black plaid? There's the foundation for three outfits right there.
32. Lydia Dress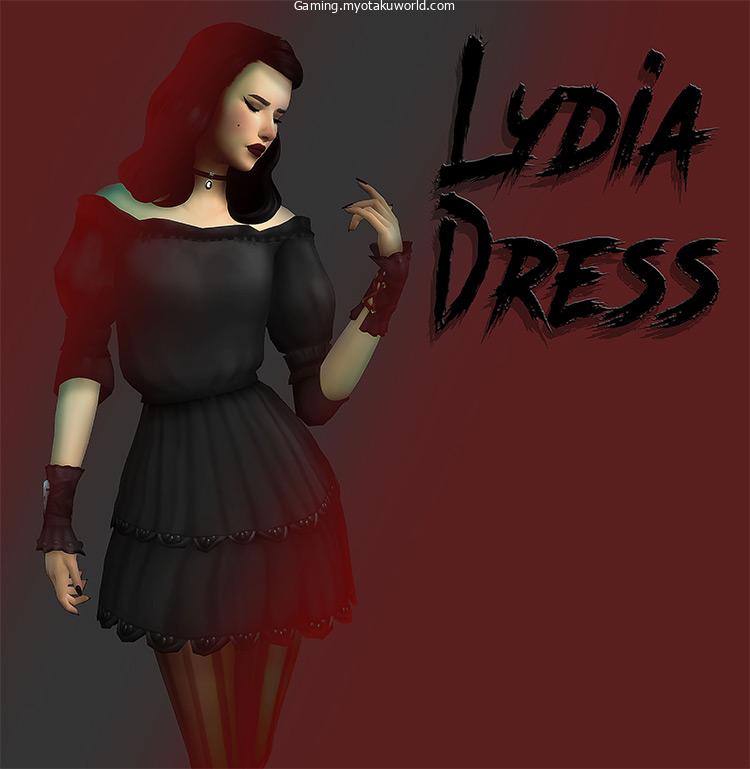 The ruffled layers of this dress, complete with lace trim, would be stunning no matter what. But the black swatch is guaranteed to make any Sim look like a goth princess.
With the mid-thigh length and 3/4 length sleeves, you'll have plenty of room to accessorize.
31. Effy Eyeliner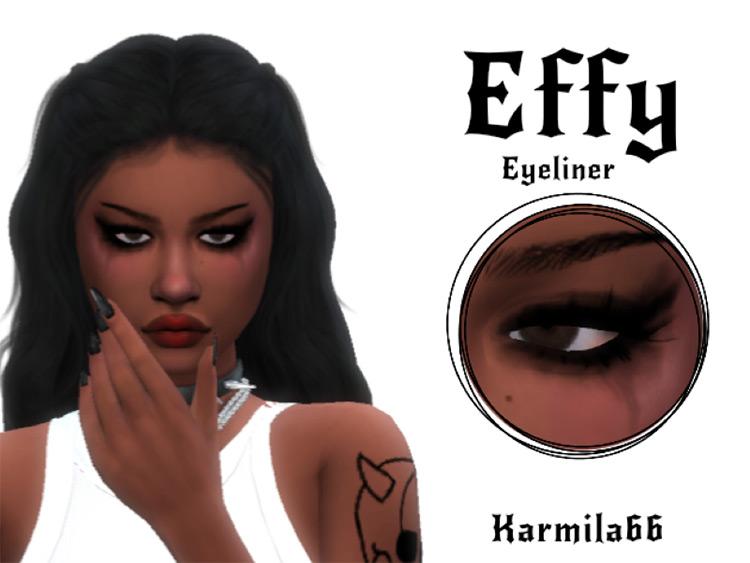 Eyeliner can be a tricky thing, even for Sims. Karmila has eliminated the struggle, at least as far as this style goes.
There's just a ton of excellent details, like defined lashes and a subtle smokey eye. It's as bold as it gets, and any Sim will look stunning.
30. Studded Bracelet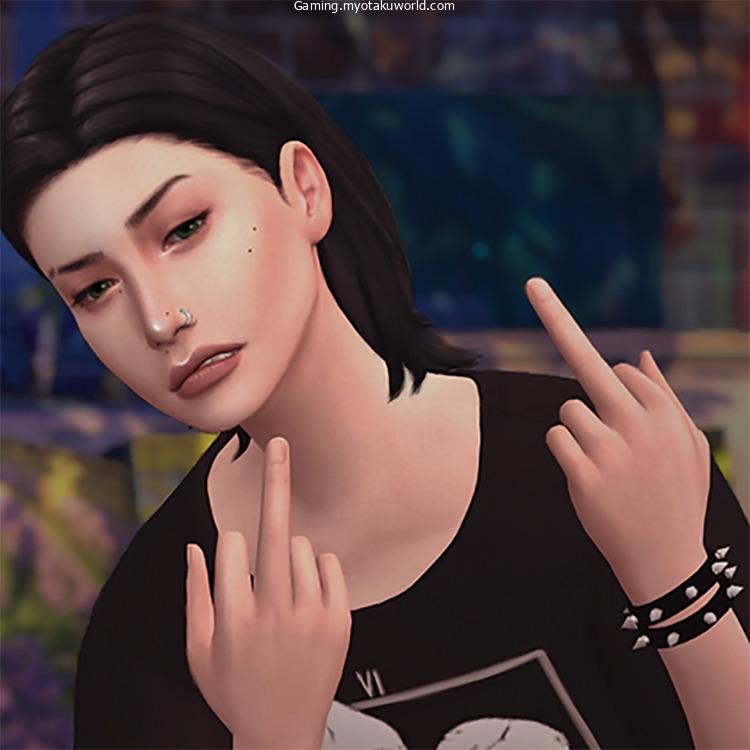 Two stacked bracelets are included here. But they're not just any bracelets, they're loaded with spikes.
It's a simple and lowkey accessory that can be used with any everyday outfit. Heck, throw 'em on with athletic gear and party attire, too. They're not hurting anything…except anyone who grabs your Sim's wrist.
29. Resentment Shoes
These boots may just ruin you on all other footwear for a while. I mean, compared to the comparatively tame and neutral boots we've already got in the game, these are pretty crazy.
They've got very thick heels, will reach your Sim's knees, and they've covered with buckled straps.
28. Hey Cupid Jeans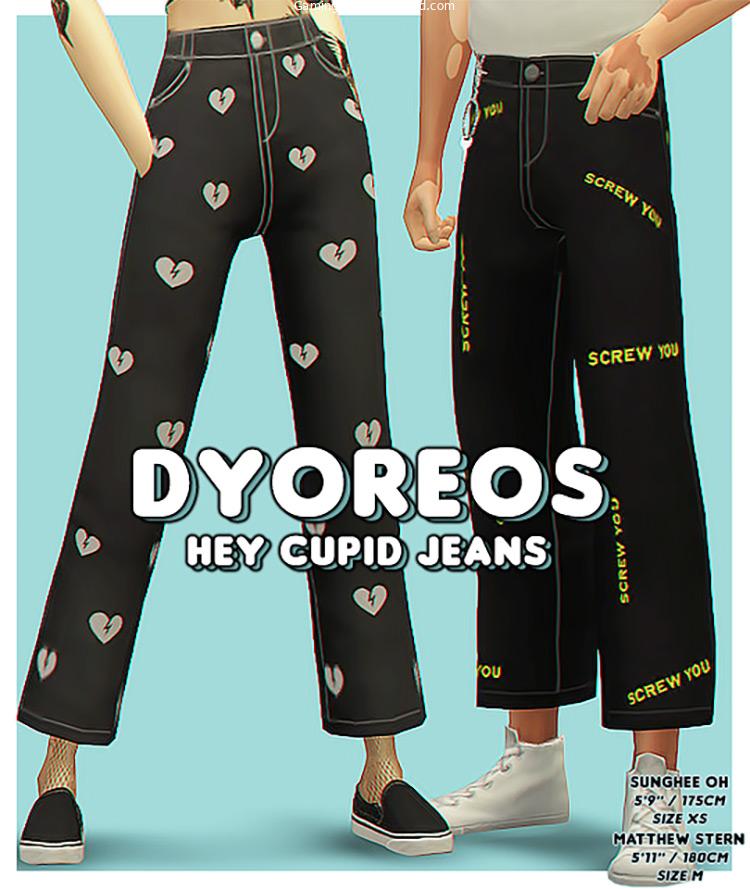 Many of the swatches for these jeans have black as a base color, so you're set on that front.
But an interesting touch is the different text Dyoreos added to them. "Screw you" and "lonely" are just a couple of the phrases.
We all know some Sims who that's appropriate for.
27. Radiant Matte Lipstick
Various shades of black, purple, green, and blue are used for this lipstick palette.
Any swatch will honestly be gorgeous, but the black one is better than ever here thanks to the matte look. Sims' lips will still have some definition, no worries about turning their mouth into a void.
26. Painted Jeans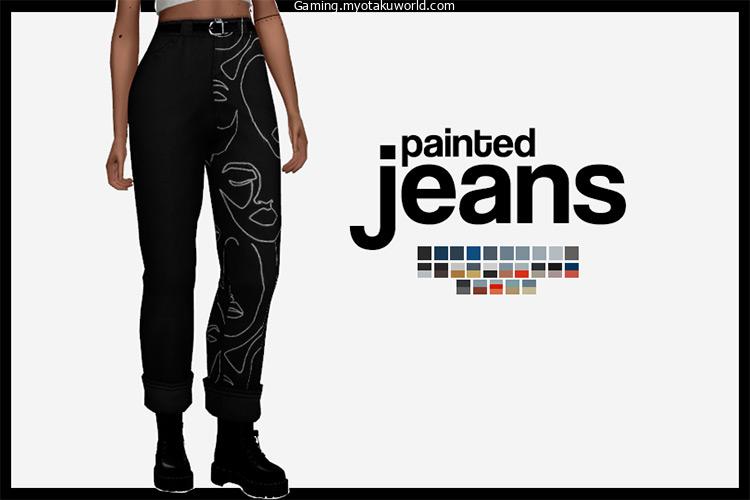 To many players, these base game jeans have become known as the "mom jeans". They're baggy, cuffed, and not particularly fashionable.
Well, here's a new and improved version.
These are high-waisted and a little more slimming. One leg has its own artwork in many of the swatches.
25. Khaos Makeup Set
This set gives you all of the essentials for a goth makeup look.
The subtle eyeliner has a very slight wing, but the eyeshadow fills everything. Smokey eye or glitter, you can't go wrong!
And the lipstick?
It's got a very cool modern style that dark colors are great for.
24. Spice It Up Top Simlish Recolor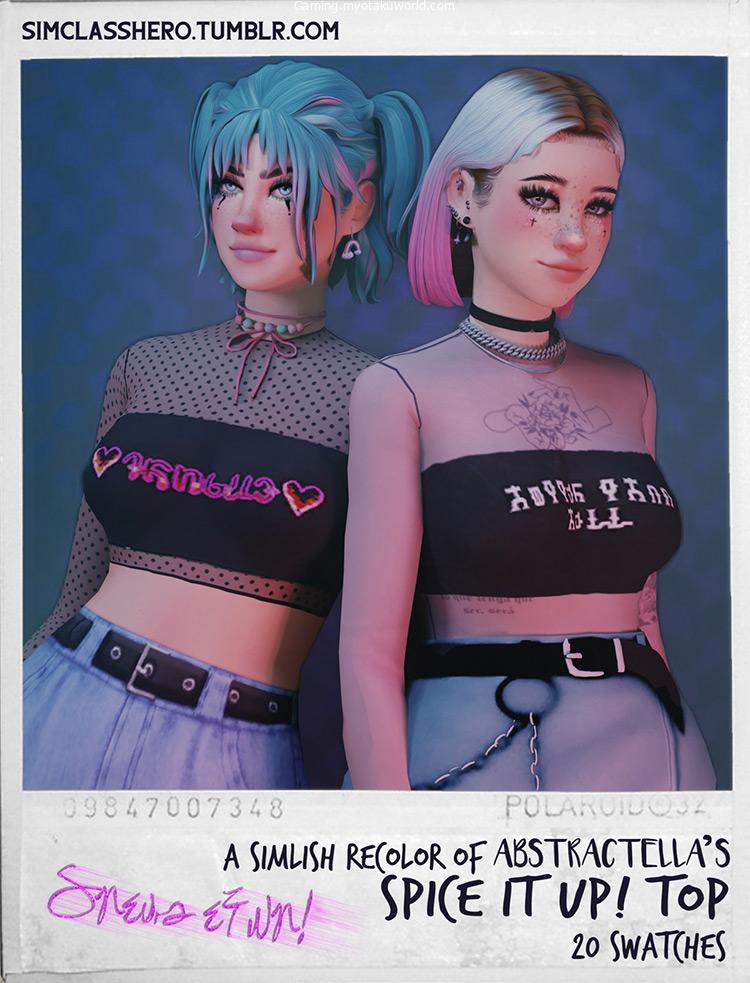 Trendy and unique, Abstractella's tube top could only be improved by some recolors.
Mostly, the text has just been made Simlish.Since you've got to grab the original mesh anyway for this to work, you can always opt for the English version.
23. Alice Hair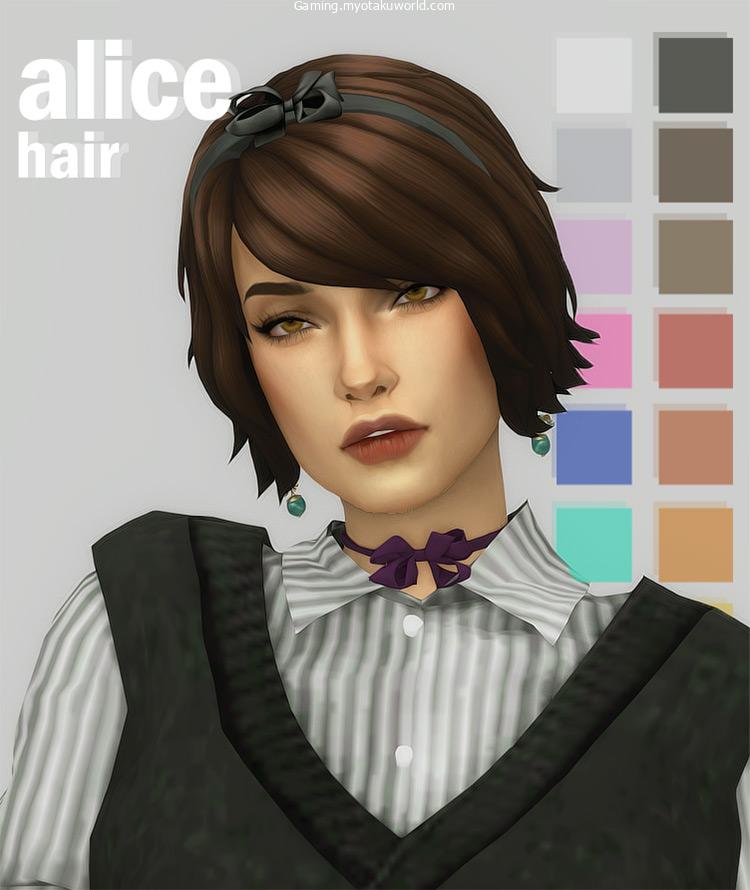 This cute, choppy pixie cut was made for goths.
Okay, maybe not literally. But dark hair colors look particularly great with these layers and Okruee even included a separate headband option. You can find that with the hats and pick any color.
22. Simshini's Bangin' Bun
This cute, choppy pixie cut was made for goths.
Okay, maybe not literally. But dark hair colors look particularly great with these layers and Okruee even included a separate headband option. You can find that with the hats and pick any color.
21. Cemetery Drive Pants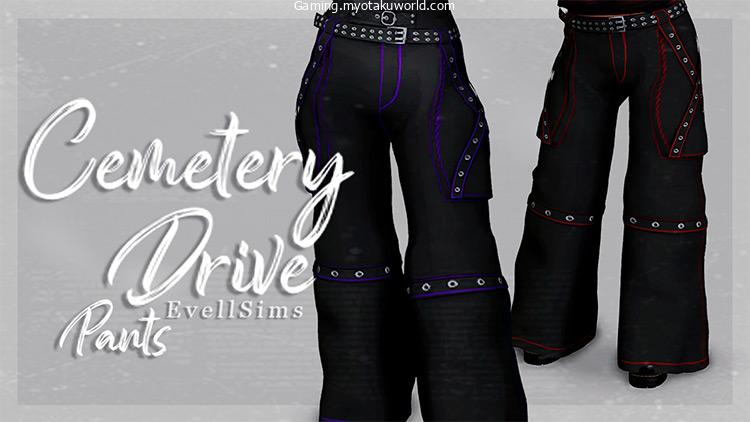 These may just be the epitome of goth pants. First off, they're really, really big. So that's definitely a plus!
It's the eyelets and matching grommet belt that really complete the look. And on the black swatches, some colored stitching makes them extra distinct.
20. Goth Style Swimwear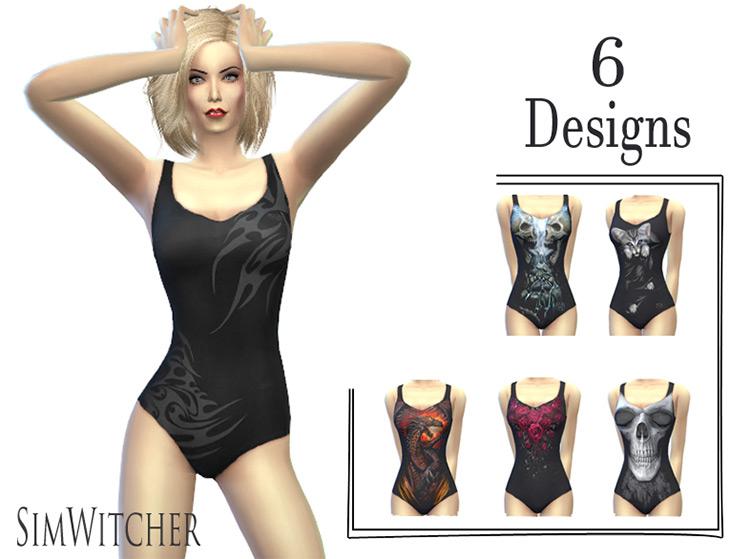 Most of the swimwear in-game is bright and colorful, which isn't for everyone.
All 6 of these base game bathing suit recolors have dark themes, not just in color but in imagery. There's plenty of skulls, a half-withered bunch of roses, and one cute kitten.
19. '80s Goth Pack
Zombietrait takes us back to where it all began… sometime in the '80s.
This CC pack includes big hair gone goth, a ton of graphic tee designs, various eyeshadows, and more.
There's something for both guys and gals, so now you can create the perfect goth couple! Come on, you know you want to.
18. The Trad Goth Collection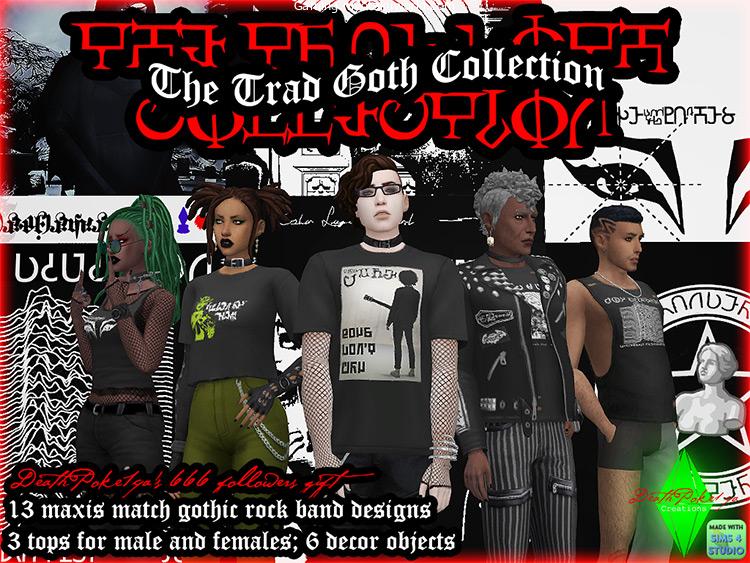 Music is often the cornerstone of any subculture and this one is no exception.
All of these tank tops and tees come with various rock band designs. They're available for male and female Sims alike.
There's also a leather jacket that's pretty cool, decked out with studs and zippers.
17. Buckle Boots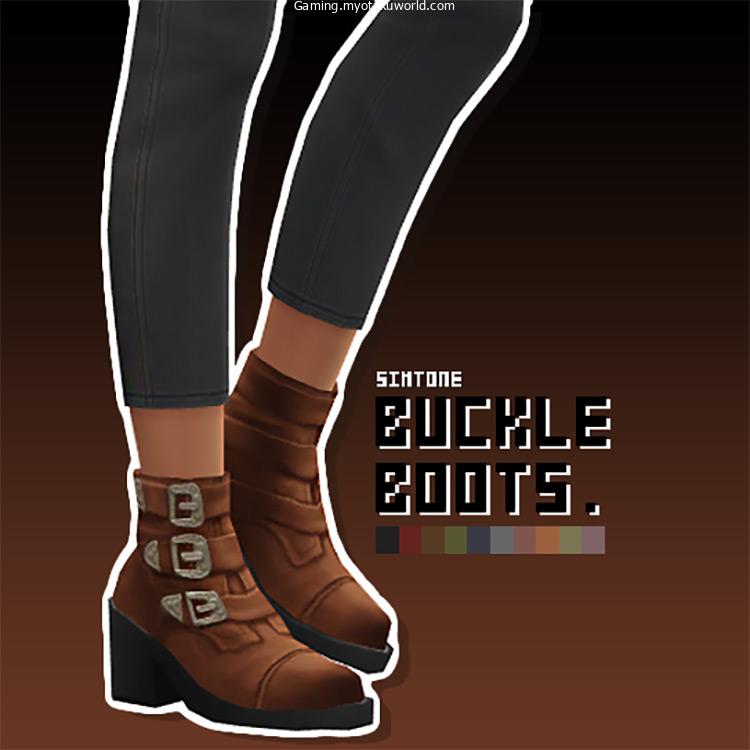 While they're not as direct as the knee-high buckle boots, this more modest design is still a solid choice.
They have a pretty chunky heel and three big, beautiful buckles. This is really the ideal height to pair with tights and skirts!
16. The Goth Boy Set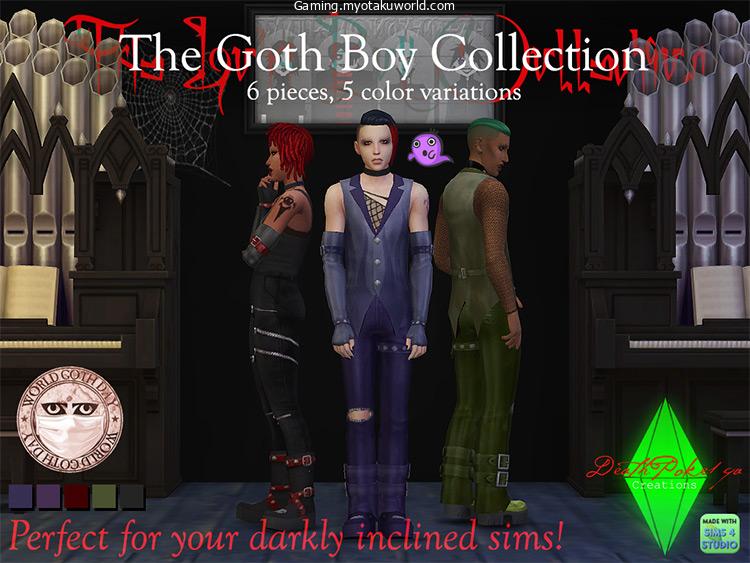 After so much focus on stuff for the ladies, it's high time the goth guys got a little attention.
Your Sim will be covered from head to toe. An eyebrow piercing, shoulder tattoo, leather attire, and platform boots can all be found right here.
15. Goth Dress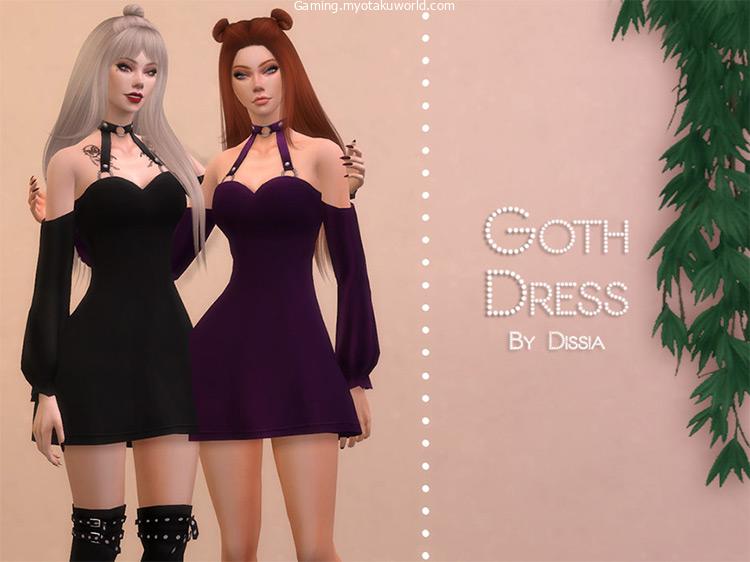 With goth clothes, it's not just the color that counts.
It's the overall vibe.
Dissia's unique minidress has long, puffy sleeves and an interesting, choker-like collar.
For bold and stylish everyday attire to give your Sim her own distinct style, look no further!
14. Resurrection Gloves
More belts are never a bad thing but this time they're… on gloves?
Yep. The originality facilitated by this look is just awe-inspiring!
These long, fingerless gloves have a great knit-texture but there's no doubt those straps are leather.
13. Pastel Goth Set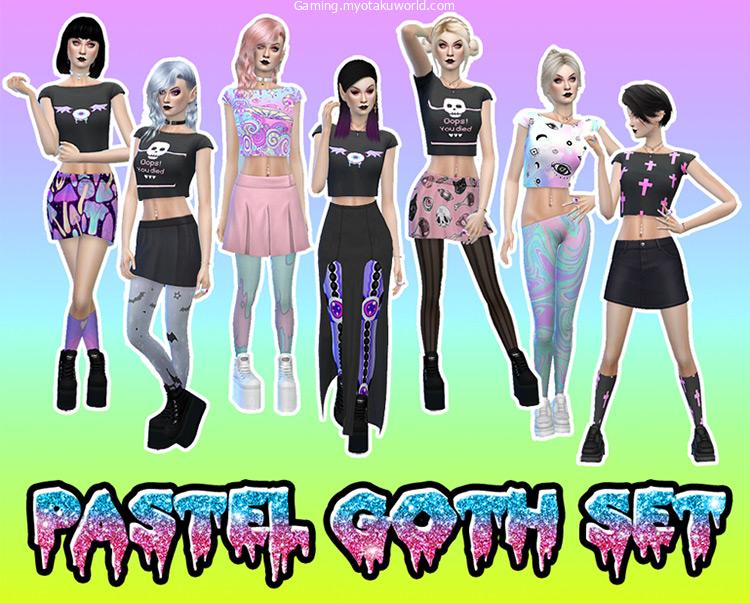 Pastel and goth in the same sentence? Can it be?
Apparently so.
I just love this set because it incorporates some undeniably goth imagery while also mixing in some pretty colors.
With the included crop top, skirt, tights, and knee socks, you'll have dozens of ways to put together outfits.
12. Stephanie Choker Recolor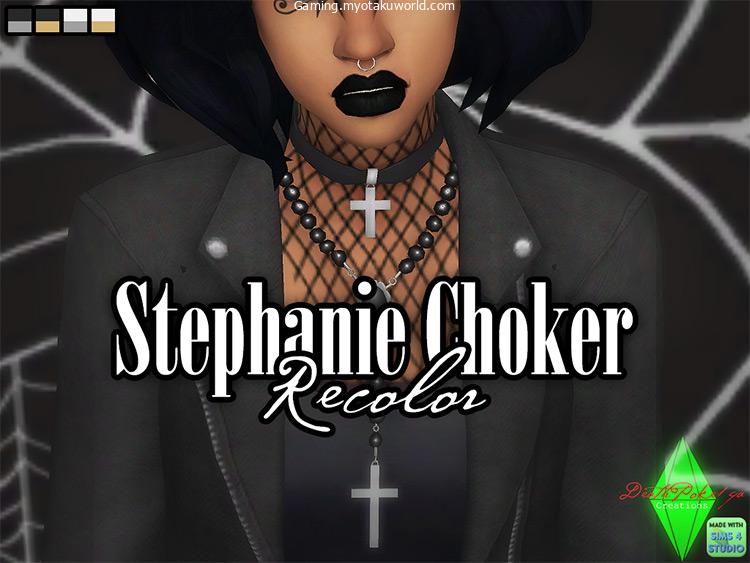 The original Stephanie Choker was quite sophisticated. But goth accessories need to be a little edgier, so DeathPoke1qa gave it a makeover.
Now this cross choker comes in a simple but fitting color palette of black, gold, white, and silver.
11. Modern Victorian Gothic Collection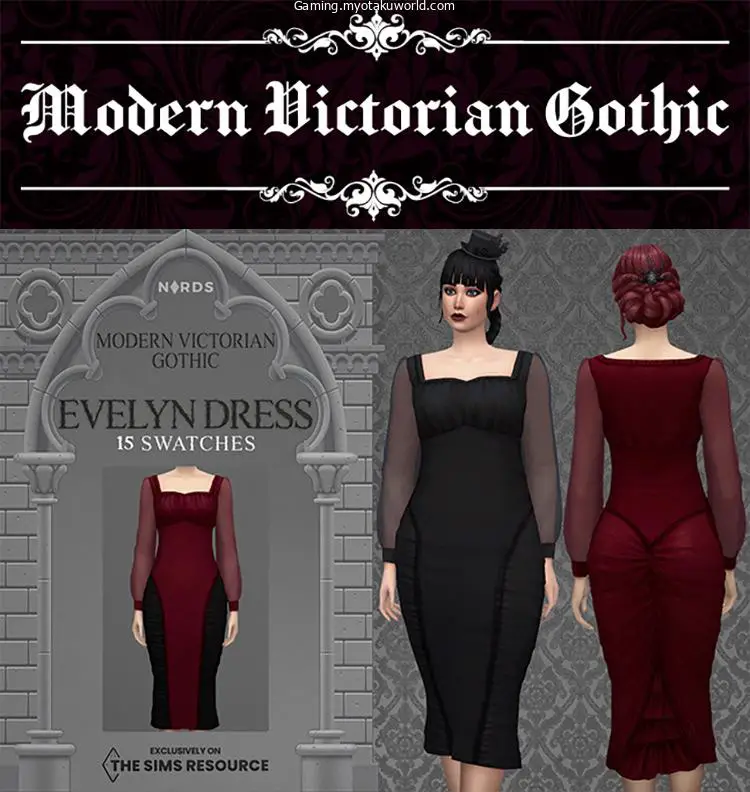 All sorts of fun, one-of-a-kind hairstyles and attire can be found in this collection.
Each of the three very classy hairstyles come with optional accessories, such as a mini hat, flower crown, or hair clip.
Lastly, there's a gorgeous Victorian-inspired dress with chiffon sleeves.
10. Goth Hoodie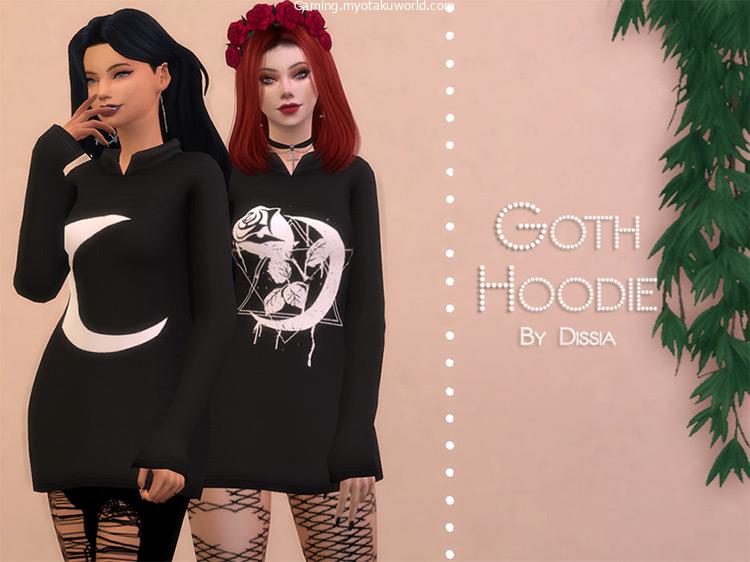 Oversized hoodies are really hard to come by in The Sims so this CC is definitely special.
The 11 swatches are equally great because each one offers a different image. That's a better selection than some stores, let's be real.
9. Goth Style Torn Fishnets
Most fishnets are already black, so that's one box checked.
They're also just an incredibly versatile material, but tights just might be the most popular. This classic look has been given some stylish rips, so your Sim won't look too clean cut.
8. Long Striped Over Knee Socks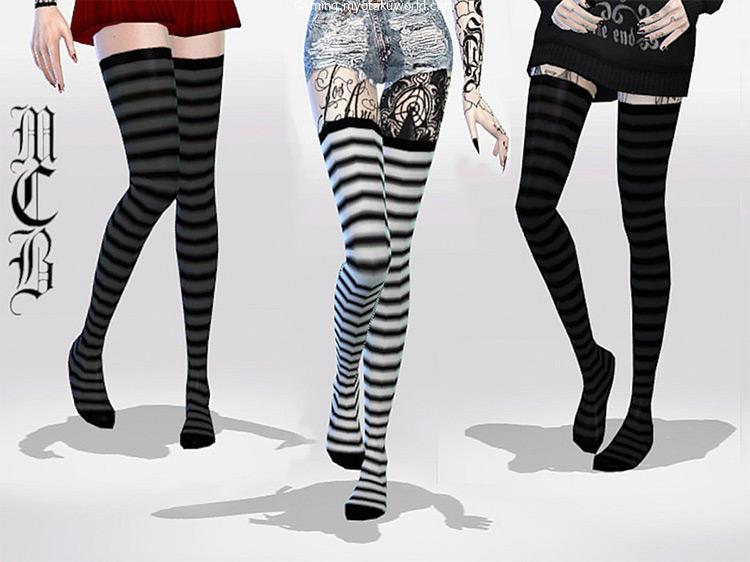 Stripes are always a safe way to add some visual interest to an outfit.
These socks are super tall. Now your Sims can wear any dress or skirt length and you don't have to worry about the socks being too short!
7. Goth Nails
The update that finally gave our Sims nail polish option was literally game changing, as we all know.
This is such a fun part of self expression!
However, for darker color options, we must turn to CC. This Simmer added 18 swatches specifically curated for the goth look.
6. Goth-ish Boot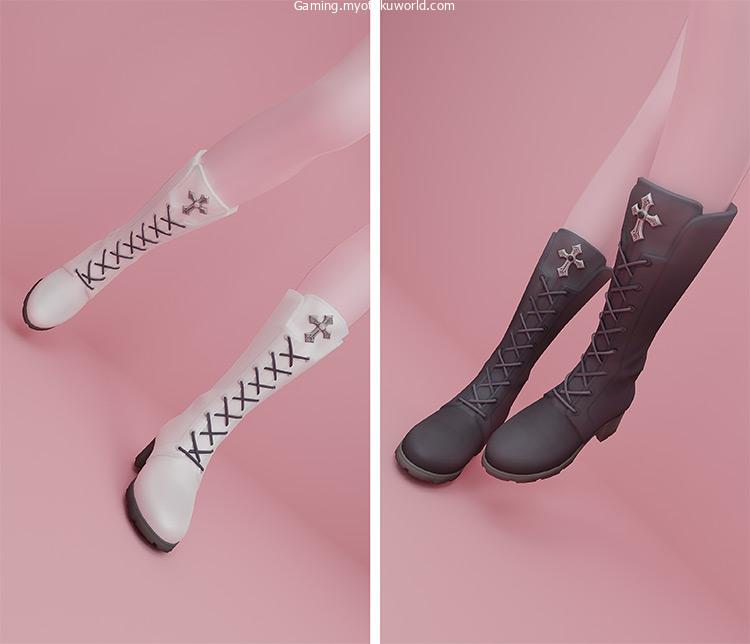 The big ol' gothic cross right on the front of these boots is like its own accessory. You just don't get that kind of thing with official content!
Besides that, these laced up boots are a good medium height and they aren't too bulky.
5. High Boots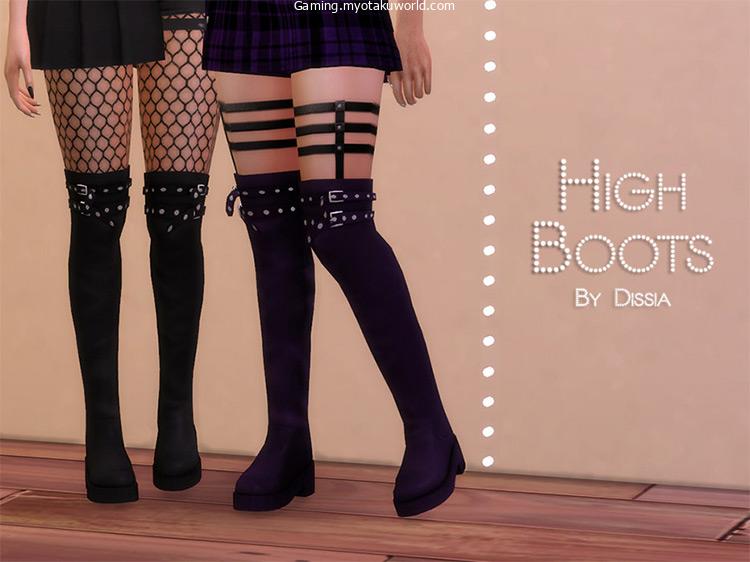 Here's another boot option and they might just be the tallest version this list has offered. They're really up there, all the way past a Sims' knees.
Overall, these have a minimalistic look since they're totally smooth aside from the belts up top.
4. Goth Bracelets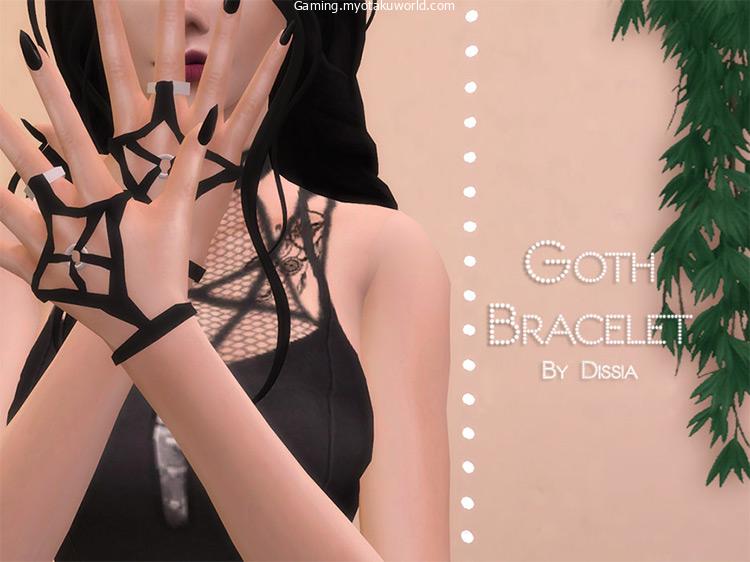 This isn't just any bracelet.
It's kind of like a ring and bracelet hybrid, spanning across the back of your Sim's hand.
From their middle finger to their wrist, it's nothing but a unique design and simple metal hardware. When selected for your Sim, they'll wear them on both sides!
3. Black Corset Crop Top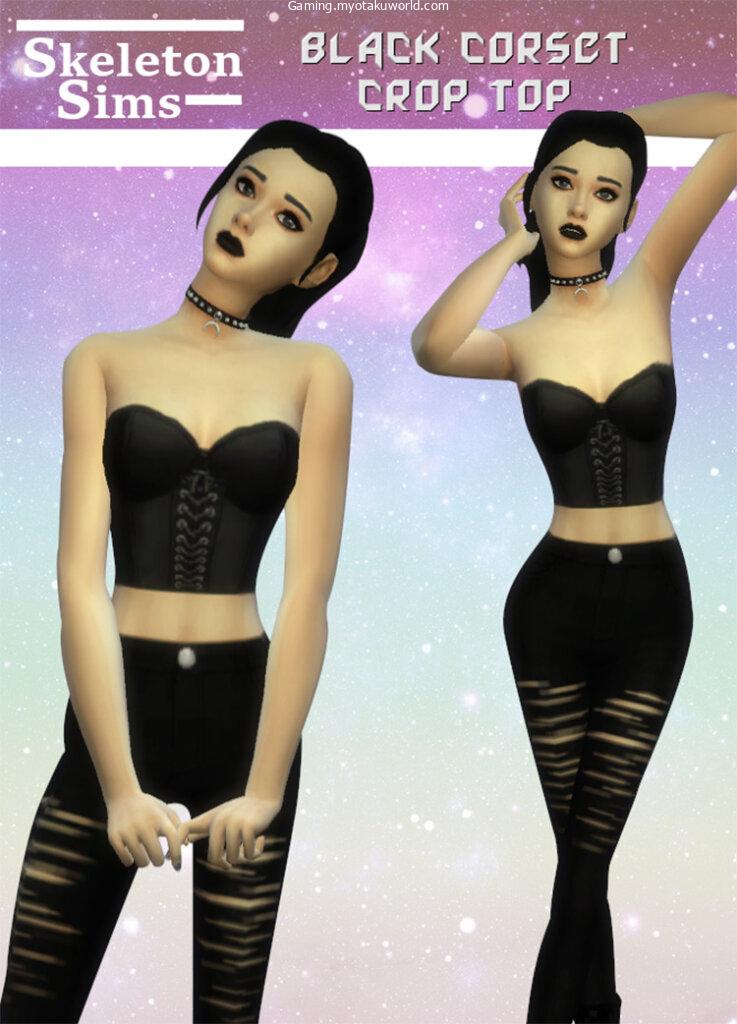 At one time, corsets were restrictive if not dangerous. But those days are gone.
In this day and age, you get the bold look without the fuss.
This is an awesome and statement piece that can be easily used for so many different ensembles.
2. Gothic Eyeliner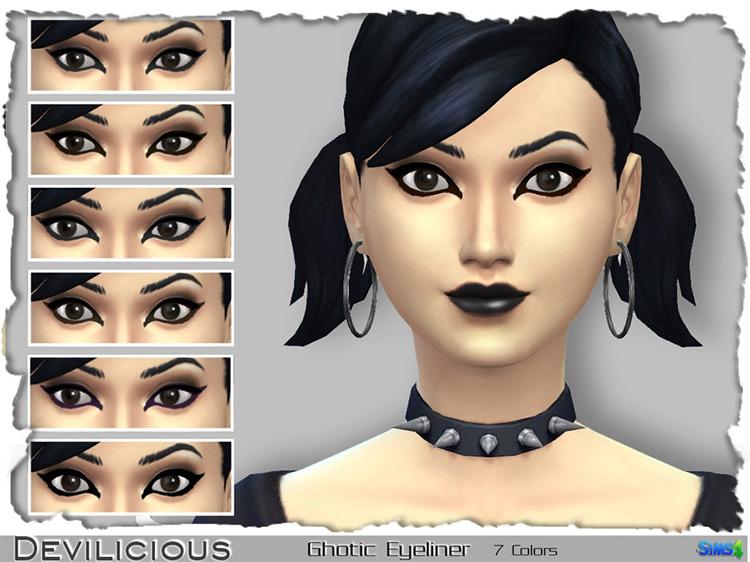 Here's a simple and quick way to add a goth influence to your Sim's makeup.
There are dramatic wings on both the inner and outer corners. It'll really bring out your Sim's eyes, especially since all 7 swatches are dark!
1. Gothic Tops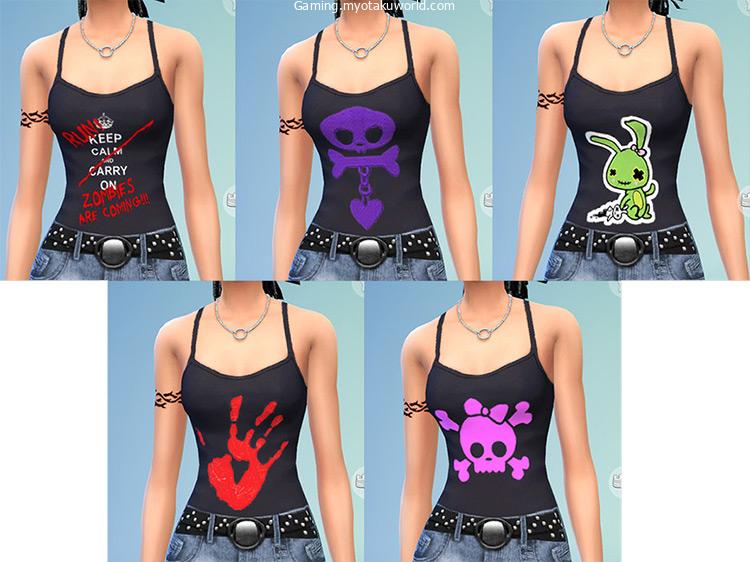 Here are some simple form-fitting tanks that'll go well with literally any bottoms.
Shorts, skirts, jeans, tights, whatever floats your Sim's boat.
The creator keeps things fairly simple here with five swatches. Each one has a graphic of some kind, like skulls or a red handprint.