Before I start talking about all the male Alpha CC hairs I want to suggest, let me just say that there are a few that show up more than once.
That is, I'll have more than one piece from the same Sims 4 custom content maker in this folder.
There are a lot of Simmers who are incredibly skilled, okay?
When some creators have been making great stuff for almost a decade, it's hard to choose just one thing to suggest.
So if you keep seeing the same name, don't worry about it. I promise that all of these hairs deserve to be on this list.
30. Bad Romance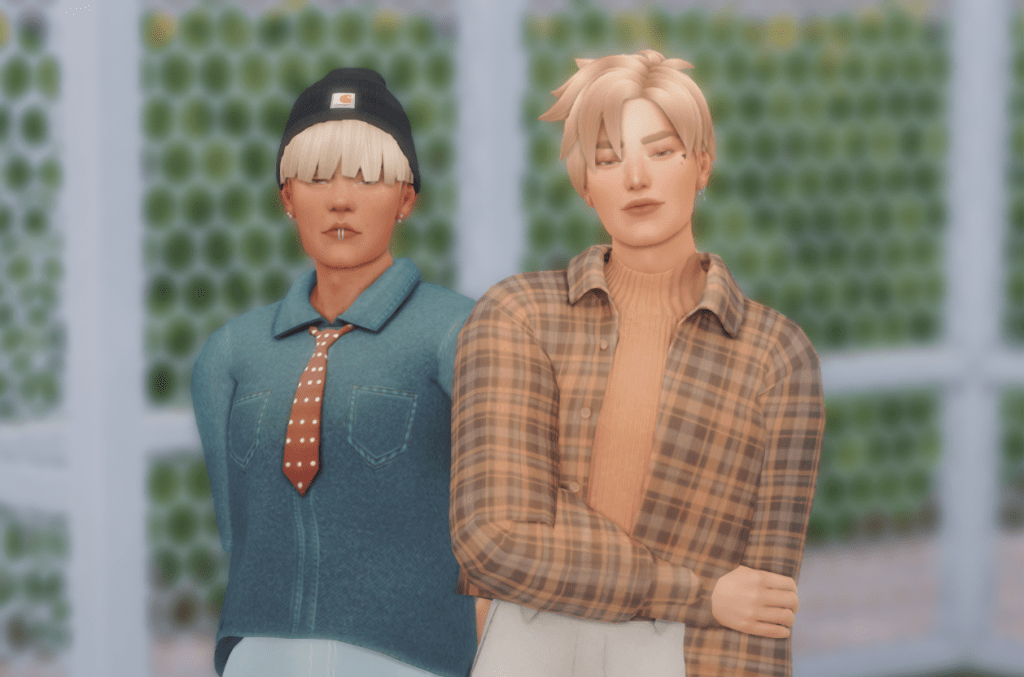 Bad Romance delivers a unique assortment of hairstyles that can only be found in this pack. With these two elegant styles, you will be able to create a variety of stunning looks for your sims.
These hairstyles were only released a month ago by Boonstow. The pack also includes 6 items, all of which are compatible with the base game.
Not only will you get these two awesome maxis match haircuts for your sims but you will also enjoy a pair of leather pants with some swatches. 
29. Golden Hair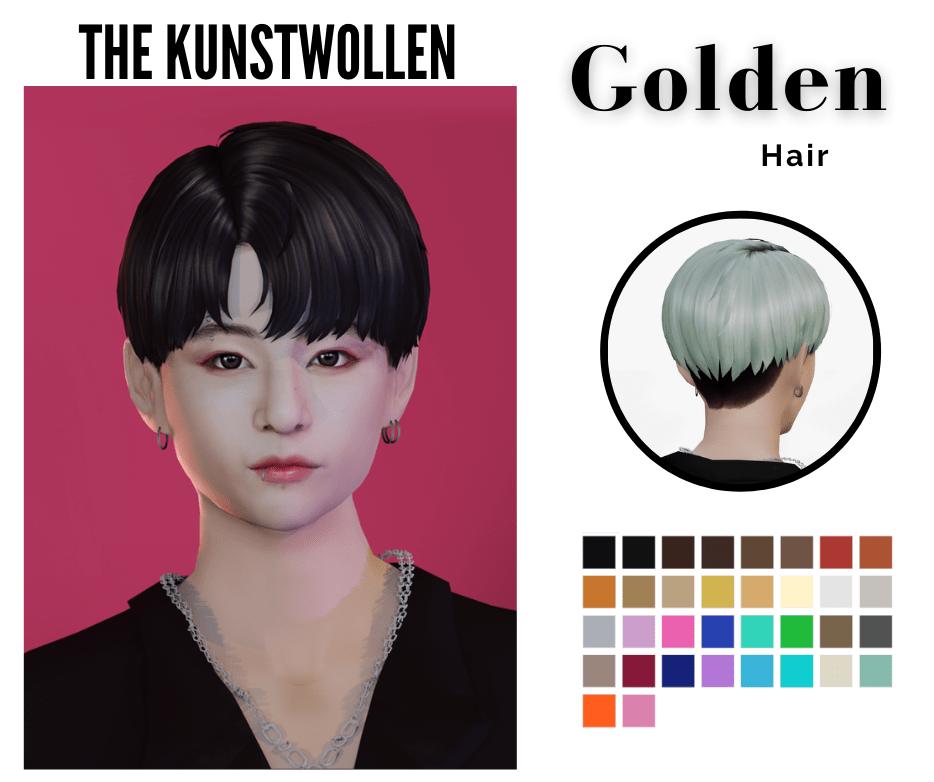 Let's face it, there are a lot more female Sims than male, but you can let your guys grow out the hair with a new golden-haired look that is absolutely Maxis match and works on all ages.
Golden hair is a new glossier, shinier, and more luxurious hair that is eyebrow length for your male sims in the Sims 4. The style comes in EA swatches and 10 new colors.
28. Adonis Hair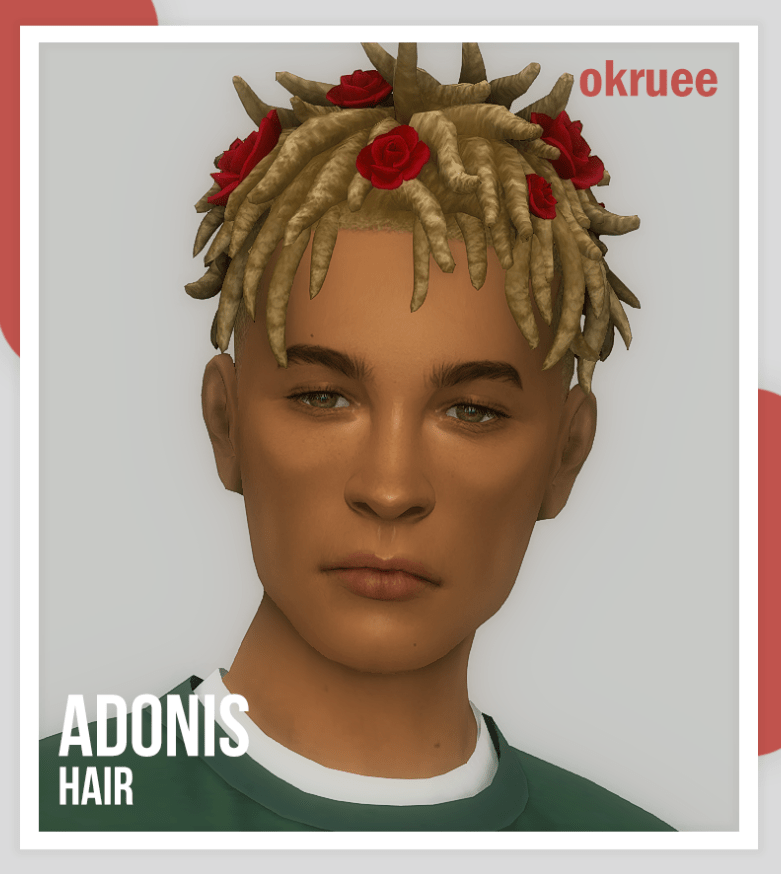 You'll be able to wow your friends, make a statement, and get noticed. Rock a new hairstyle and make a complete change to the way you look and feel!
The Adonis dreadlock hairstyle is an evolution from the traditional dreadlocks. It's a smooth, sleek look, with spikes all over, and wrapped around the head for extra style points.
Adonis hair comes with a rose accessory and supports all 24 EA colors. The hairstyle is base game compatible and works on both males and females.
27. Male Hair G58 by Daisy-Sims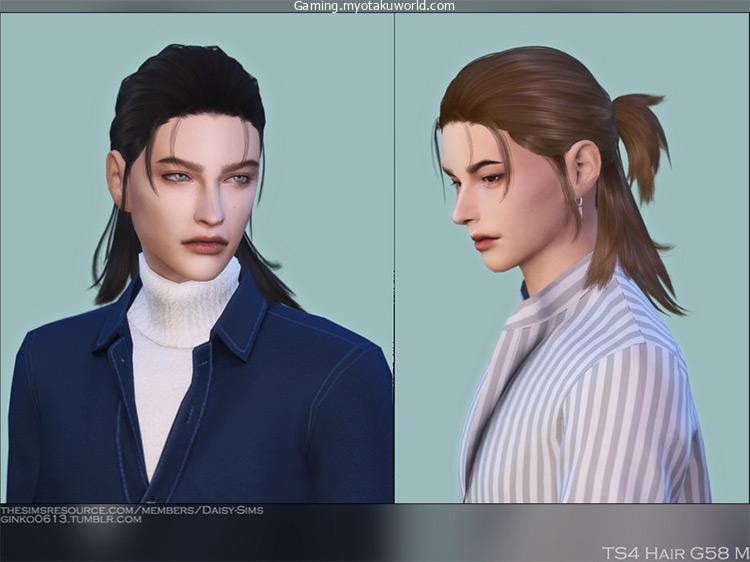 As a big fan of Daisy-Sims, it was hard to pick just a few pieces from their huge wardrobe to suggest. Still, I had to add this one.
This smooth, stylish half-ponytail for Male frames looks like it would be worn by a bad-boy heartthrob in an Eastern drama. Be careful with your style!
26. Hugo Hair by Anto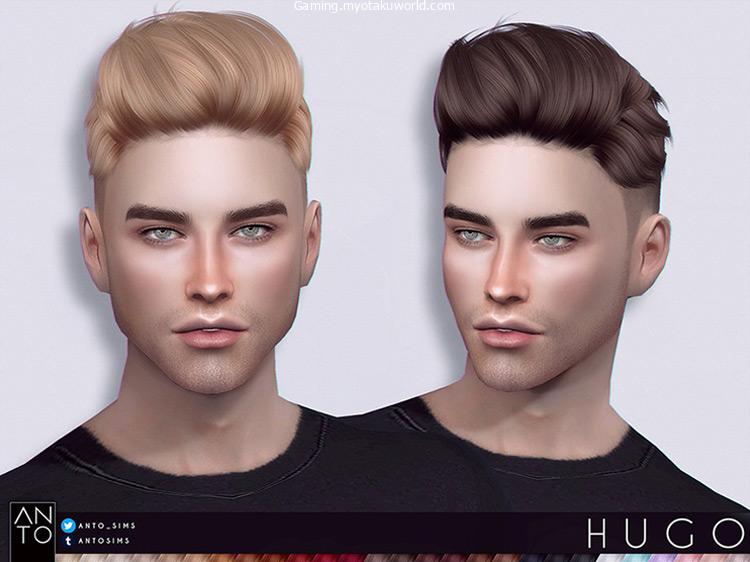 Anto's Hugo hairstyle is one of the first and most common results when you look for custom hairstyles for guys in The Sims 4.
What can I say? It's a flexible cut that looks simple but is actually very stylish.
Also, I think that hair that is slicked back and has a light fade will always look hot.
25. Low Perm by MoooD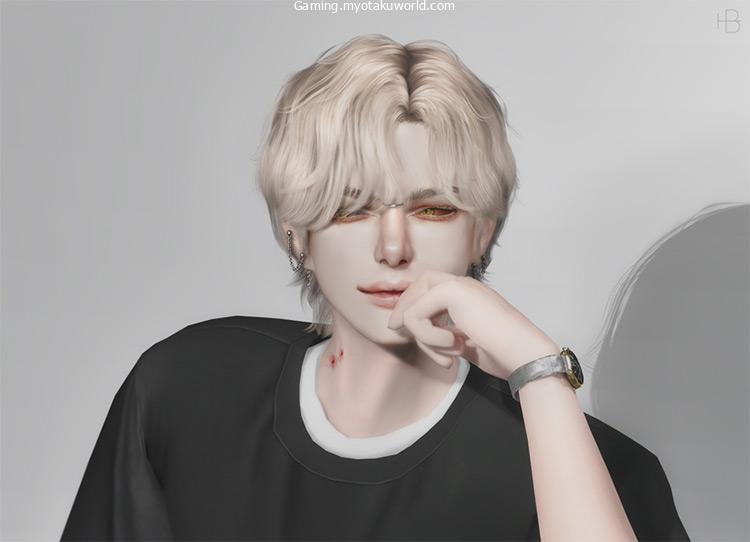 One of my favorite Alpha CC haircuts is Low Perm hair, which is what MoooD has.
I used it once, and I would use it again for sure. At the risk of actually quoting that little boy from Despicable Me, it's so fluffy!
The bangs and the thin ends of the hair all have a soft curl to them. It adds a little bit of bulk that makes the shape look very soft.
24. Poison Hair (Ver. 1) by MoooD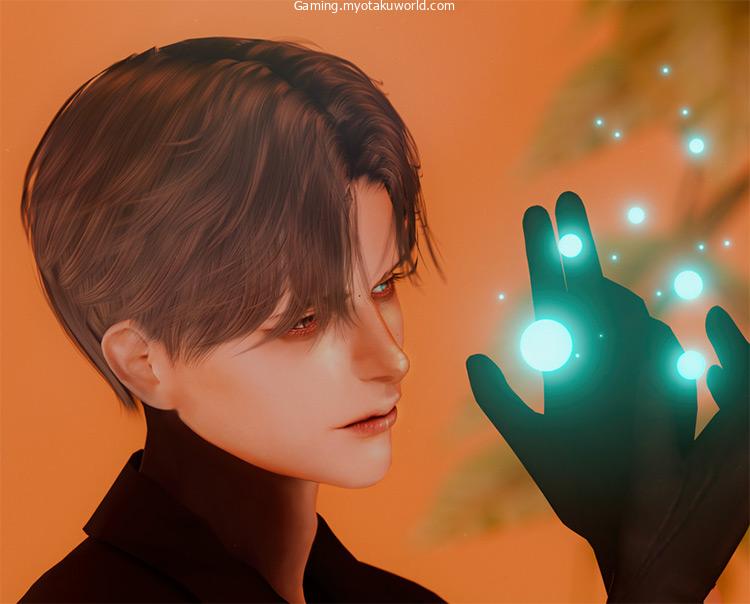 This first form of MoooD's Poison cut is a clean and simple style that, despite its name, feels very "boy next door."
It could be the baby curls and the sweetheart part in the middle.
Maybe it's the wavy hair and the way the hairline isn't perfect.
No matter what it is, this haircut looks like it should only be worn by bright, happy Sims who are good by nature.
23. Michael Hair by Anto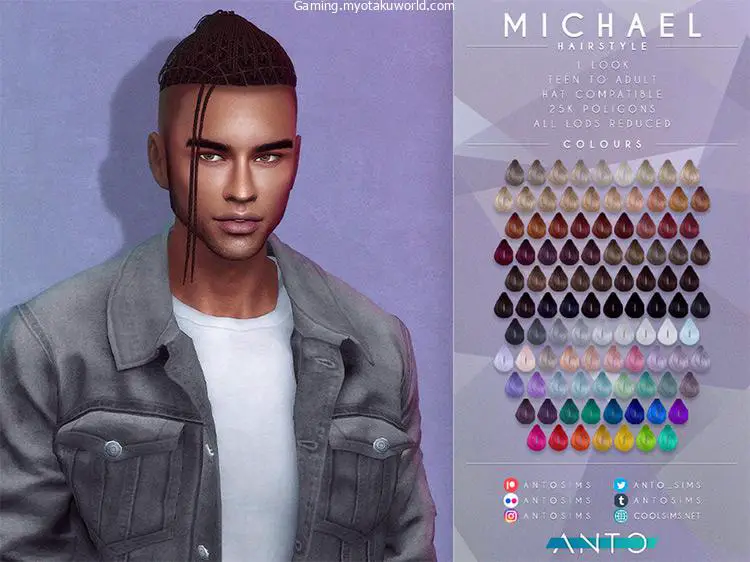 Dreadlocks, cornrows, or braids that frame the face?
Anto knows how to get to my heart, and it's by cutting my hair like Michael.
This is the style of post-apocalyptic fantasy rebel group leaders who are likeable and level-headed.
It also works with the base game and comes in a lot of different colors.
22. Cornerstone Hair by SonyaSimsCC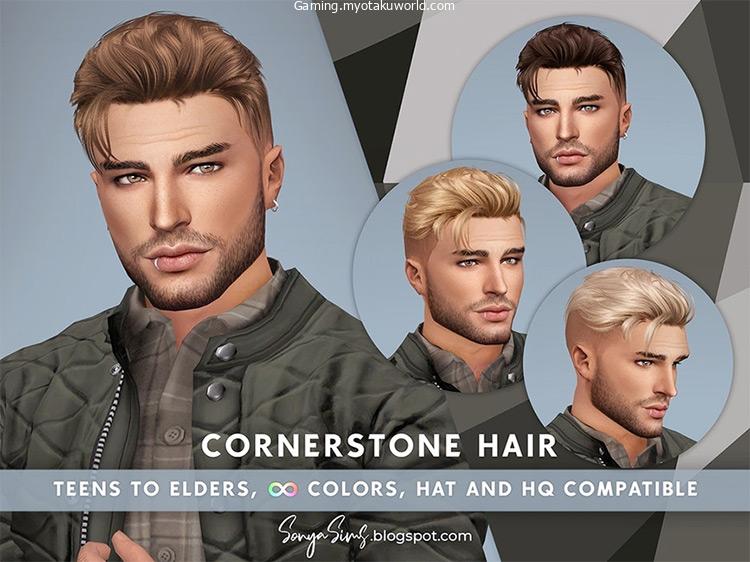 This unique haircut makes me feel strong and reliable.
I don't know what it is about this hairstyle, but it makes me think that the Sim who has it is reasonable, practical, and one of the most trustworthy people in town.
Maybe it's because everything looks so well taken care of. Or how the whole cut is just well-groomed in general.
It doesn't help that the Sim who is wearing the hair is almost too pretty to be true.
21. Buffalo Hair by MoooD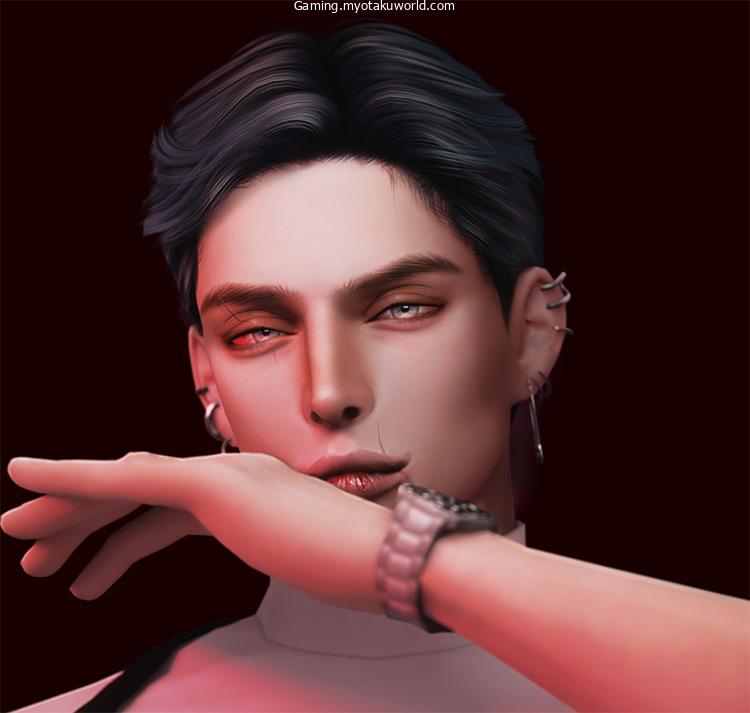 I promise, this list has a lot of other Alpha CC makers.
I just really like MoooD's collection a lot.
And with songs like Buffalo, it's hard to blame me. With this style, Male Sims look tough and expensive. Anyone with this hairstyle knows how to use their appearance as a deadly tool.
They probably have a lot of money, too.
20. Maz Hair by Reina Sims4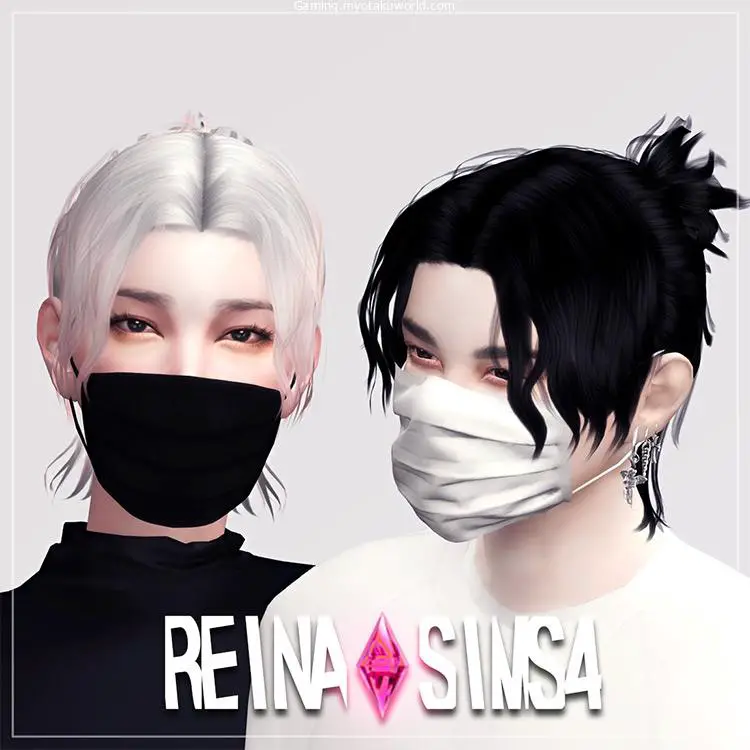 Here's a version of the half-ponytail for men that is less "bad-boy heartthrob" and more "teen who couldn't be bothered to get a haircut."
It's a mess, and the ponytail looks like it was done quickly.
But for some reason, the untidy, ruffled look of the hair seems to be what makes it so pretty to look at.
19. Closure Hair (Males) by SonyaSimsCC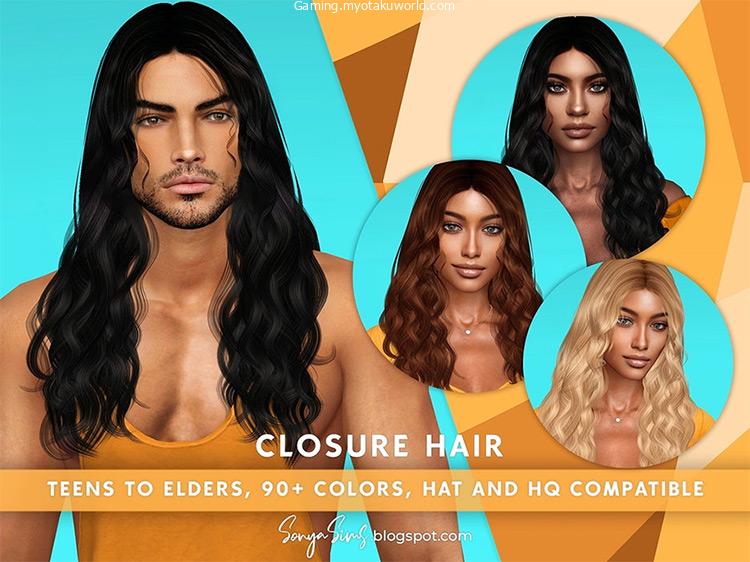 SonyaSimsCC's Closure hair is my recommendation for Simmers who prefer longer cuts with plenty of color options.
This 'do is lengthy, luscious, and perfect for framing sharp cheekbones and strong jaws.
18. Male Hair G38 by Daisy-Sims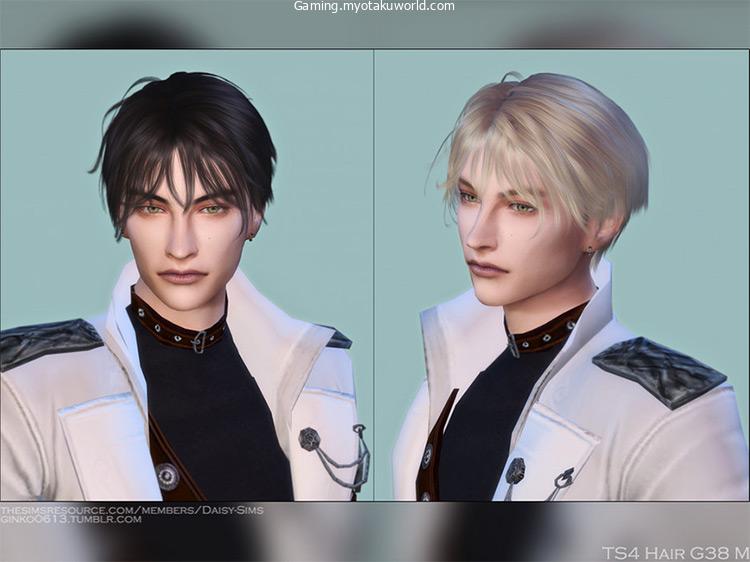 This hairstyle makes me feel very calm and at ease.
Like a wash-and-wear T-shirt that you can count on.
Your Sim only needs to roll out of bed and finger-comb their wild hair into something socially acceptable, and they're ready to go!
I'm sure a lot more care goes into hairstyles like this, but the fact that Male Hair G38 is easy to care for makes it a great choice for casual, every day looks.
17. Sex Pistols Hairstyle by Obsidian Sims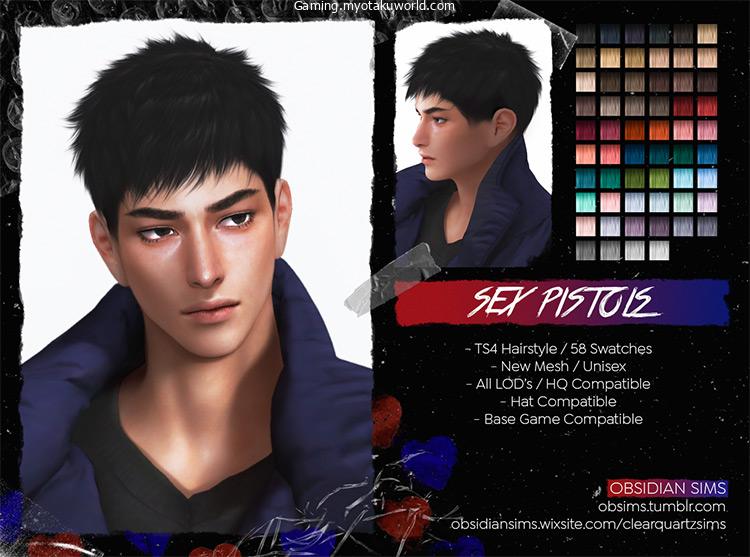 Obsidian Sims' Sex Pistols haircut is short, spikey, and slightly windy. It has a lot of boyish charm.
The feathered edges make it look soft and touchable, and the nicely cut layers give it a good balance.
Plus, the short, straight-forward length makes it look grown-up instead of childish.
16. OE0818 Hair by WingsSims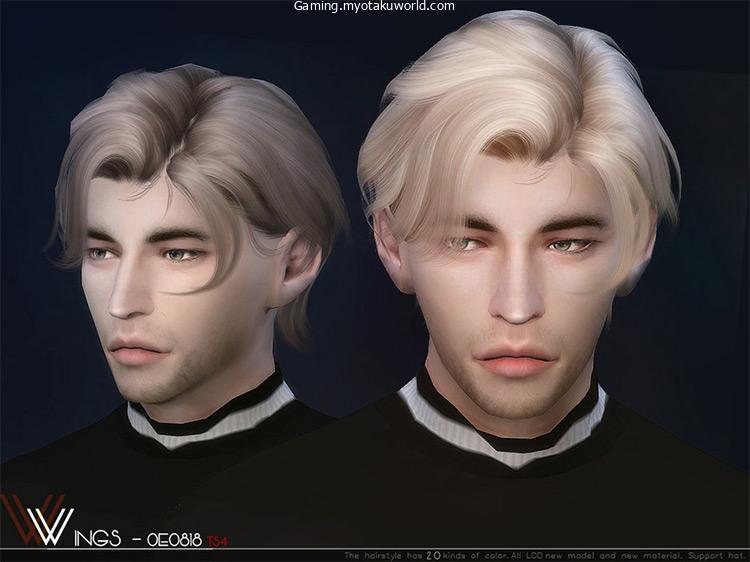 Here's a fluffy little number from WingsSims if you like your hair to be soft and wispy.
Their OE0818 cut looks so light and fluffy that I'm almost tempted to call it angelic.
The swooping bangs and finely swept strands are what really make this cut work for me, and I hope they do the same for you.
15. Greezy Dreads by Ebonix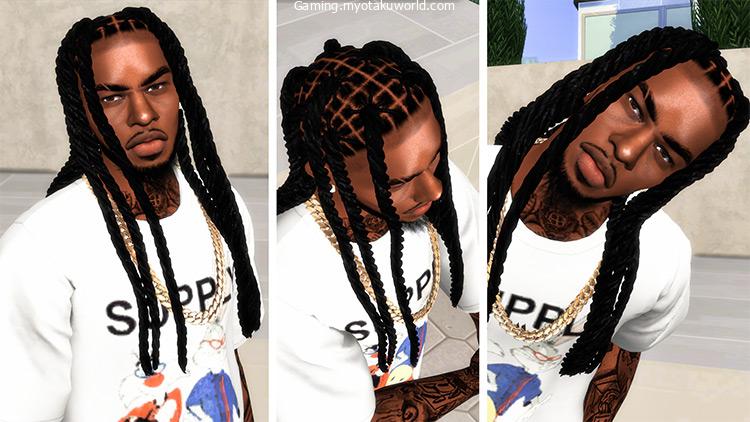 Greezy Dreads by Ebonix is a great example of a style that is darker and more complicated.
They are long, have different textures, and look hypnotic from every angle.
Try this cornrows-and-dreads style on your Sim if they have the right bones for it. The results might be good news.
14. OS1114 Hair by WingsSims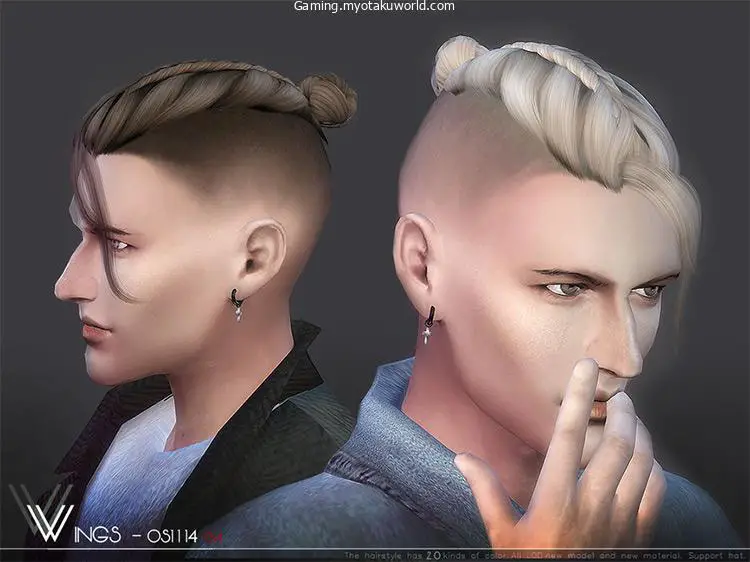 There are more cool hairstyles on the way.
This is another work of art by WingsSims. It has a faded undercut and a lot of twisting that looks pretty complicated. Overall, the cut is wrapped up in a stylish topknot and some loose, wispy ends.
It has that street-smart punk feel to it, which I have to say makes it ten times cooler.
13. Nightingale TS3 to TS4 by Kijiko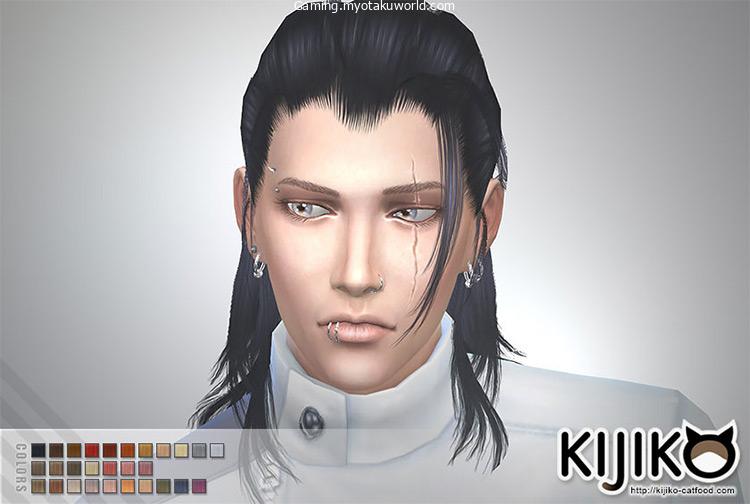 I feel like Kijiko's unique pieces that aren't their 2D lashes aren't looked at as much as they should be.
I was lucky enough to find one of their cute hairstyles.
There are a lot of loose strands to add depth to this medium-length manbun.
Not super unique, but not too traditional, either!
12. Switch by KIMSimjo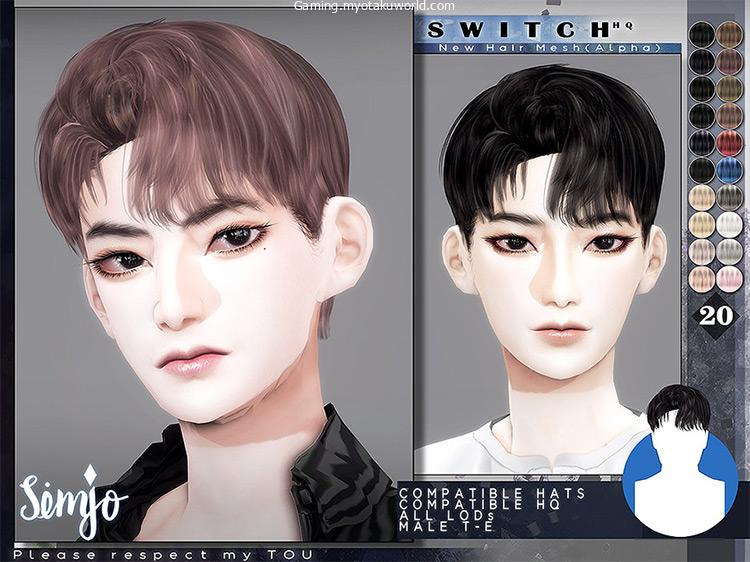 This Switch style looks soft and sweet, but don't be fooled by the Sims in the preview pictures!
This style looks great on Sims who don't have baby faces.
I tried it out with some of my Young Adult characters, and I'm happy to say that this hair's clean, childlike look doesn't take away from your Sim's face.
11. Male Hair G88 by Daisy-Sims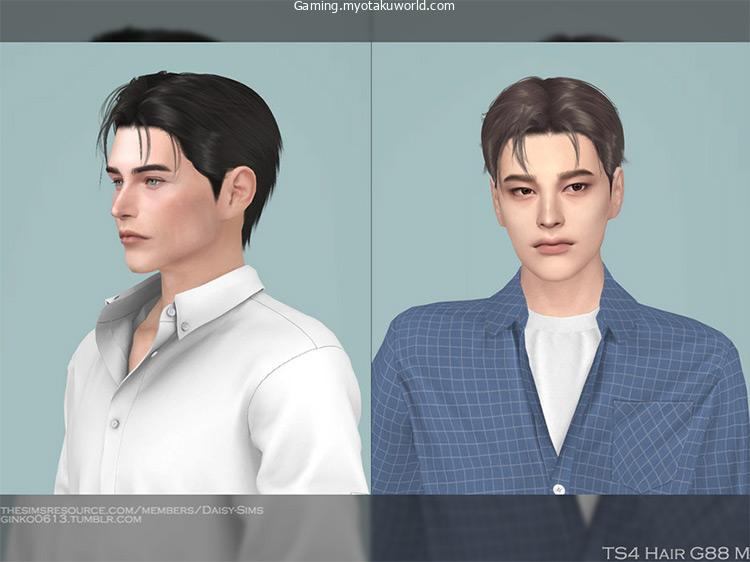 From the preview pictures, you can possibly tell that Daisy-Sims' Male Hair G88 is a clean, stylish cut.
It has wispy bangs that frame the face and some loose strands that smooth out the edges.
It makes the whole hairstyle look elegant and easy to style.
If you want to spice things up a bit, you can even choose pastel colors.
10. Dylan Hair by S-Club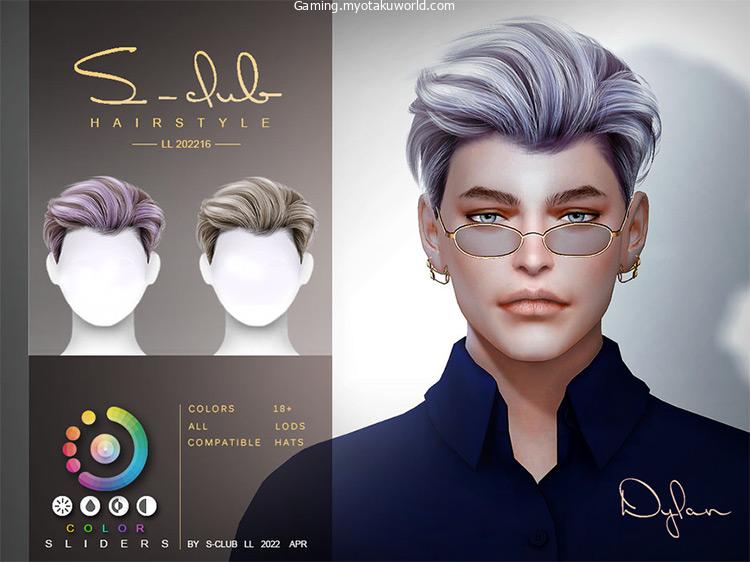 Dylan from S-Club looks great with his hair combed back, moved to the side, and sprayed.
If you like simple hairstyles that don't take much time to put together and keep up, this probably has a few too many details for you.
But if you want your Sims to always look nice and ready for a picture shoot, this is a real gem of a find.
9. Barom Hair by magpiesan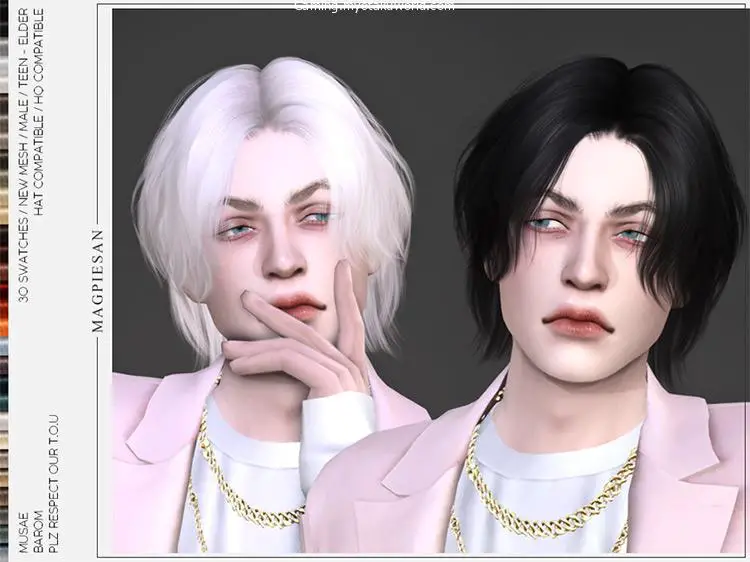 The Barom Hair of magpiesan looks very soft and fluffy. It is puffy, poufy, and as airy as a cloud.
No joke, this song makes me think of cotton candy a lot.
Especially with the soft colors that are lighter. I also love how they cut the bangs. They just look so good around the eyes.
8. Yaba Hair by OJE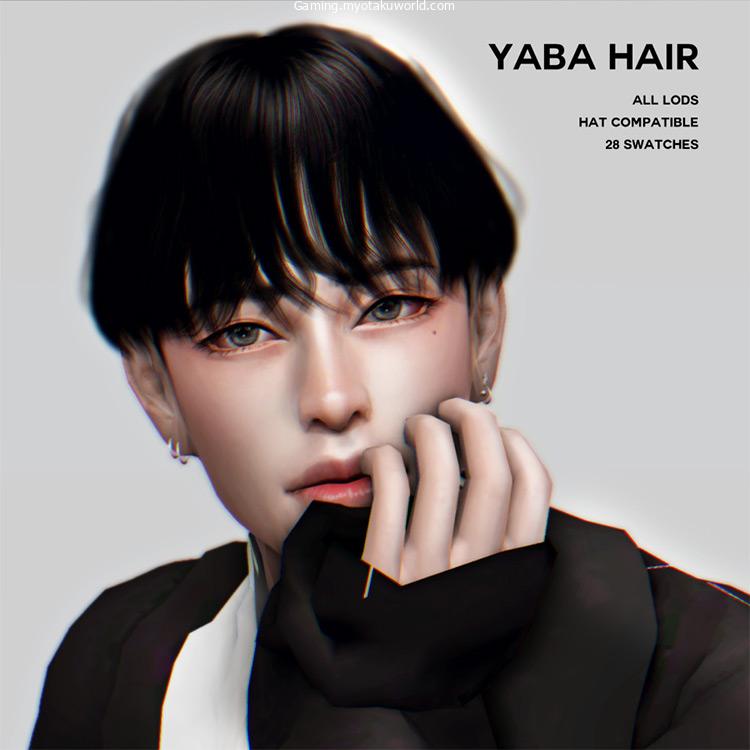 If you want to make a quiet, good-natured Sim who looks like the boy next door and can totally pull off natural makeup and sweater paws, OJE's Yaba hair is just what you need.
It is clean, shiny, and hasn't been touched by any chemicals.
It also comes in 28 natural colors, so you can really push the "inherently cute" story with it.
7. Craig Hair by Anto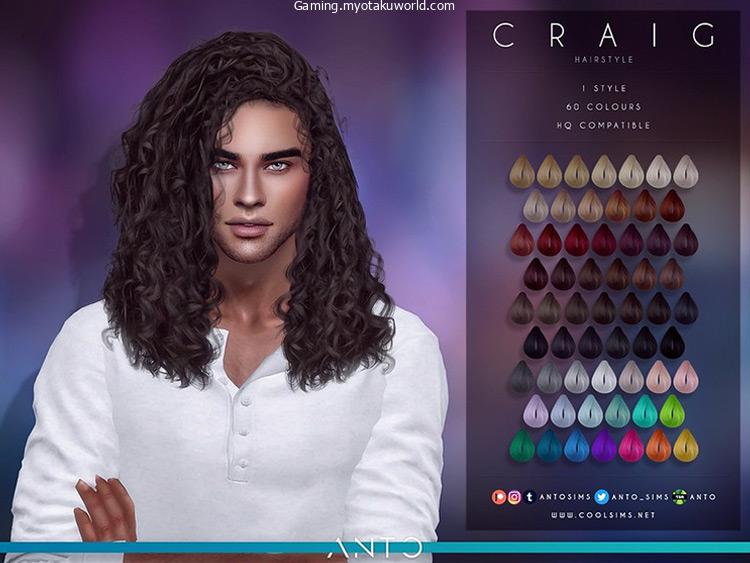 Craig's hair is wild, kinked, and all natural on Anto.
It's not as tight as a Jheri curl 'do, but it definitely has curls.
That length works really well with that feel.
Even though this cut has a wavy, unruly shape, it can be worn in many different ways. It looks good on a lot of different types of bones and facial traits.
6. Ace by Nightcrawler Sims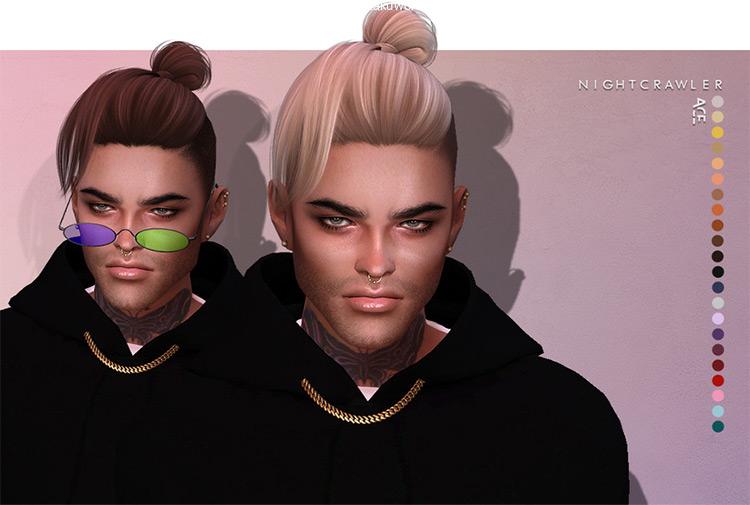 Like WingsSims' OS1114 hair, Nightcrawler Sims' Ace cut is a topknot with a clean, artsy fade.
This style doesn't have any intricate braiding, but it still has the stray, wispy bangs and street-smart punk feel.
5. Sunrise Hair by Nilyn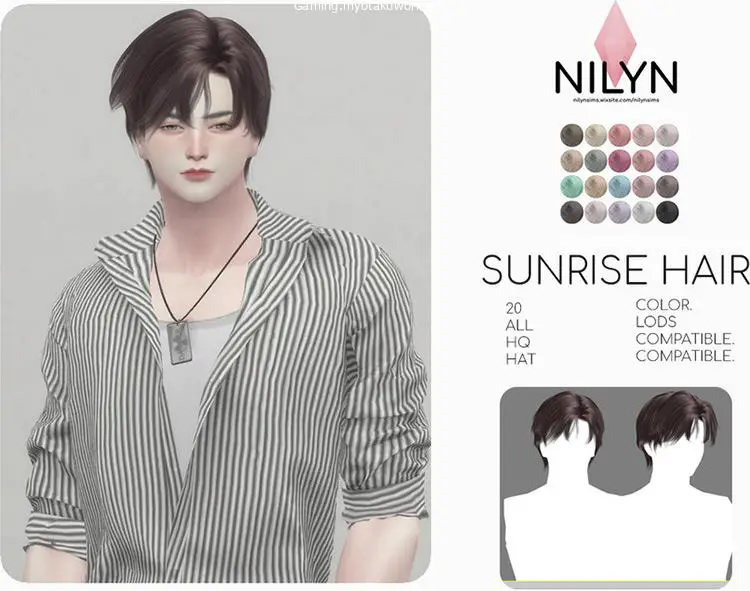 There is windswept hair, side-swept hair, and Nilyn's Sunrise Hair-swept hair.
Okay, this isn't that bad.
But the bangs really stand out because of how they are turned.
After the first shock wears off, you'll be able to appreciate the other parts of this cut that make it look so soft and well-styled.
4. Stardust by Obsidian Sims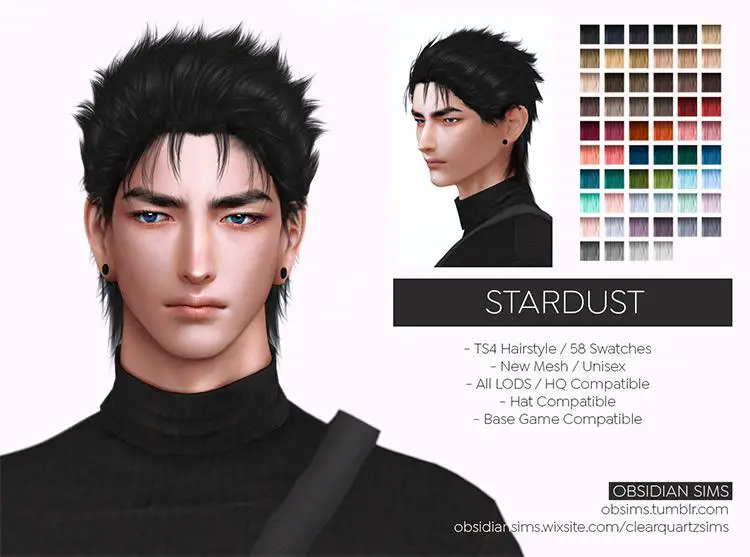 If this custom haircut isn't based on a character from a cartoon or video game, it should be!
All the parts are there: the spikes, the weird shape, and the crazy amount of (imaginary) product that would be needed to make this style work.
I've already listed a lot of relaxed and realistic hairstyles, so I don't see why another crazy cut like this one would be a bad idea.
3. Seahorse Hair by MoooD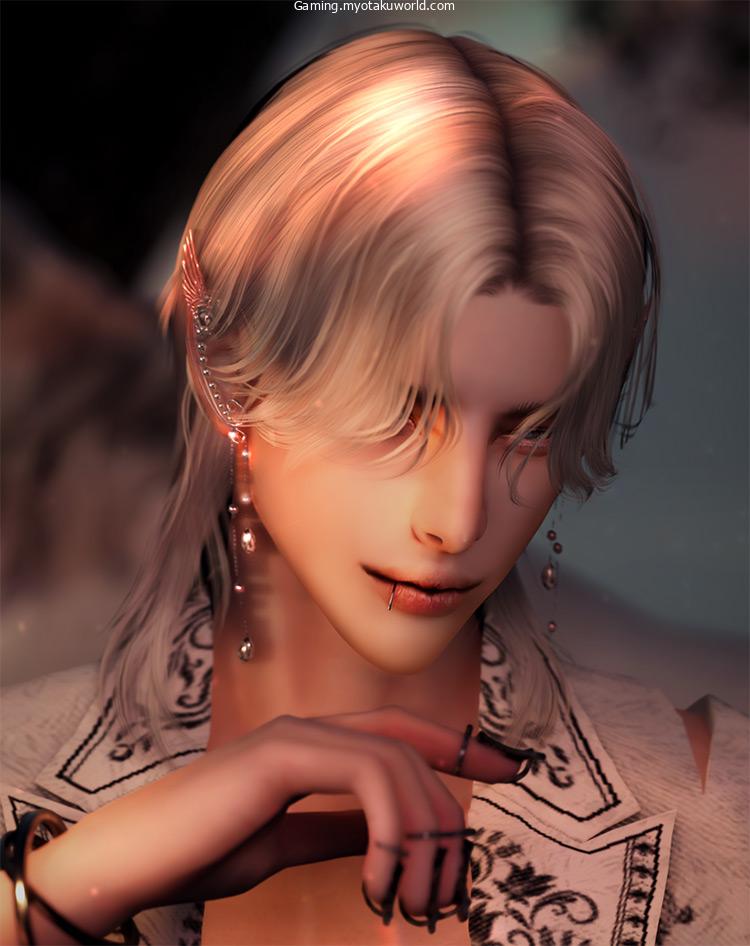 As a self-proclaimed fan of the K-pop group Stray Kids, this hair makes me think of Lee Felix's famous ponytail.
It's pretty, has waves, and the bangs are some of the best-styled I've ever seen.
If you want to make something that looks like The Sims, this is a must-have. Or if you're making a princely character in a magical story. Trust me, the idea is pretty much the same.
2. Red Light Hair by Nilyn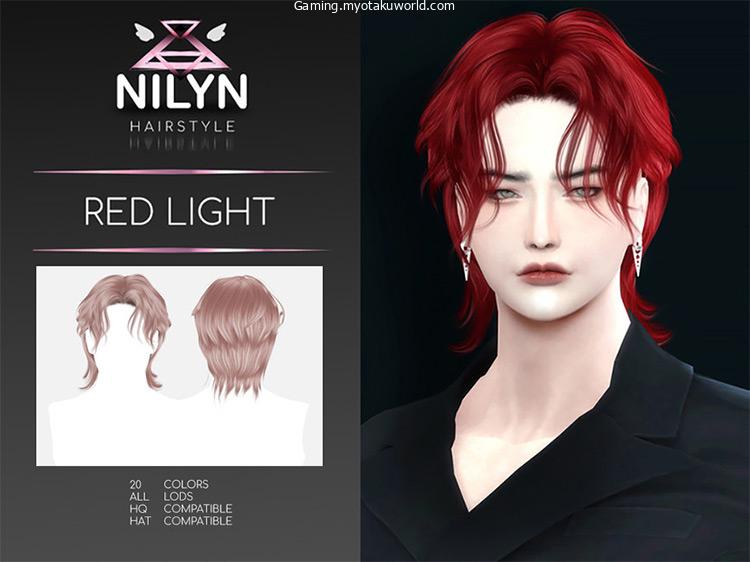 This haircut is kind of like MoooD's Seahorse, but it is more choppy and sharp.
It's also quite long, has a lot of body, and has bangs that are shaped like a bouffant. It's just a little shorter, a little shaggier, and not as soft.
I will say that this hair's name is very appropriate, given how brightly red its shade is.
1. Male & Female Hair G7 by Daisy-Sims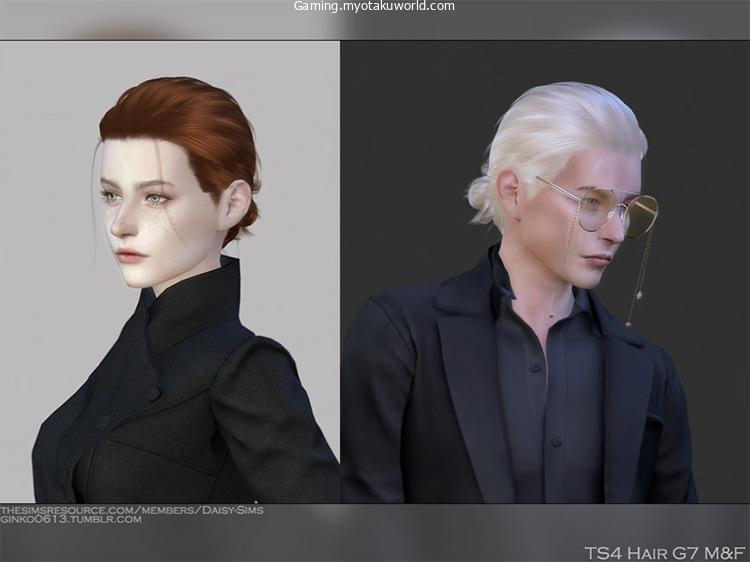 I understand that this is for both male and female forms. But, as I said at the start of this piece, Daisy-Sims has a large catalog.
And it has a lot of pieces that are so beautiful they could kill you.
It was hard to choose even just five things.
This low man-bun with the face-framing strands of hair in front and the slightly messy stray hair bits in the back? I'm too weak to do it. I couldn't help but add it!