I may prefer Maxis Match over Alpha CC textures clothes, but even I can see the appeal of Alpha CC.
Well-made Alpha CC Sims can look stunning, ethereal, and even otherworldly! Plus the realism just ups the quality.
If you're looking to dabble in Alpha CC yourself, or if you just want to beef up your CC folders with more stuff for the men, I hear you.
And I've got a ton of male-focused CAS Alpha CC here to help kickstart your collecting. Happy browsing!
Skins/Overlays
50. PS Alpha Skin Overlay by Pralinesims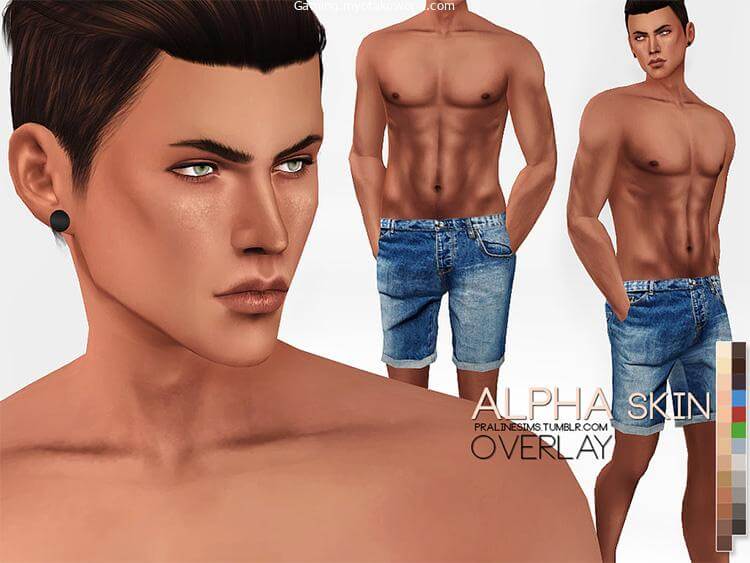 I'm starting this list off with the custom Alpha CC skin that everyone tried at one point; Pralinesims' PS Alpha Skin Overlay.
Despite being uploaded in 2017, it still gets recommended to Sims players looking to play around with defaults, replacements, and overlays. It's smooth, it's decently detailed, and the quality remains top-notch!
49. Male Skin 11 Overlay by RemusSirion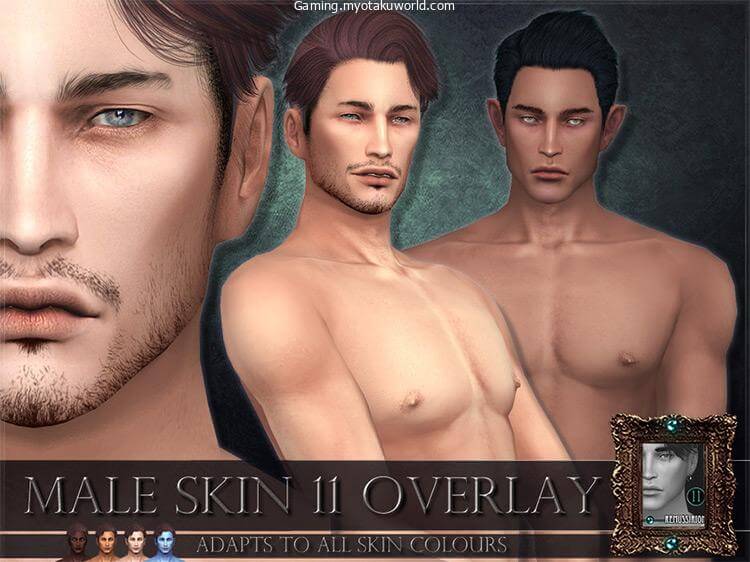 Exactly what it says on the tin.
RemusSirion's Male Skin 11 is a simple overlay that smoothens out rough edges and chisels out awkward corners.
It makes your Sim's general features look more realistic and cohesive. It has seven variations and – since it's an overlay – can be adapted to a variety of skintones.
48.  Skin N20 (+Darker Colors & Fantasy) by obscurus-sims
This is a CAS set by obscurus-sims, but I really, really wanted to focus on the N20 skin.
It's an overlay that's so realistic and so hauntingly beautiful, it gives me chills.
It also has a version suited for darker, deeper skin colors—with some fantasy tones mixed in!
47. Crème Skin + Overlay Version by CrownSims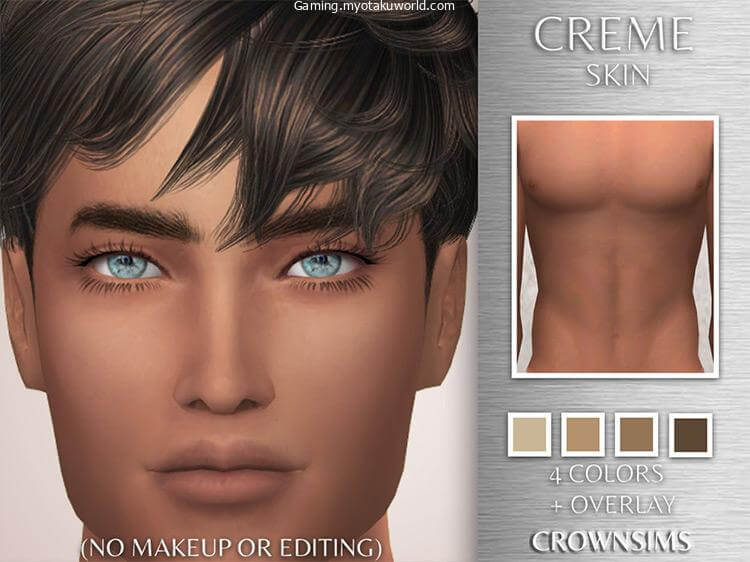 If you want your Sims to have that oh-so enviable filtered glow, CrownSims' Crème Skin can help them achieve it.
This is probably the softest skin replacement I've ever seen, especially given the Alpha CC texture.
It may be a little unnerving if you're coming from a custom skin that's incredibly detailed. But give it a few plays. It'll grow on you!
46. Ares Skin Overlay Version by Urielbeaupre
For some true photoskinned texture, Urielbeaupre's Ares Skin refines the surface of your Sims' skin to create a subtly rough finish.
It's a really good overlay for masculine features.
Plus it comes with three intensities for extra customization.
Masks & CAS Packs
45. Male CC Set by obscurus-sims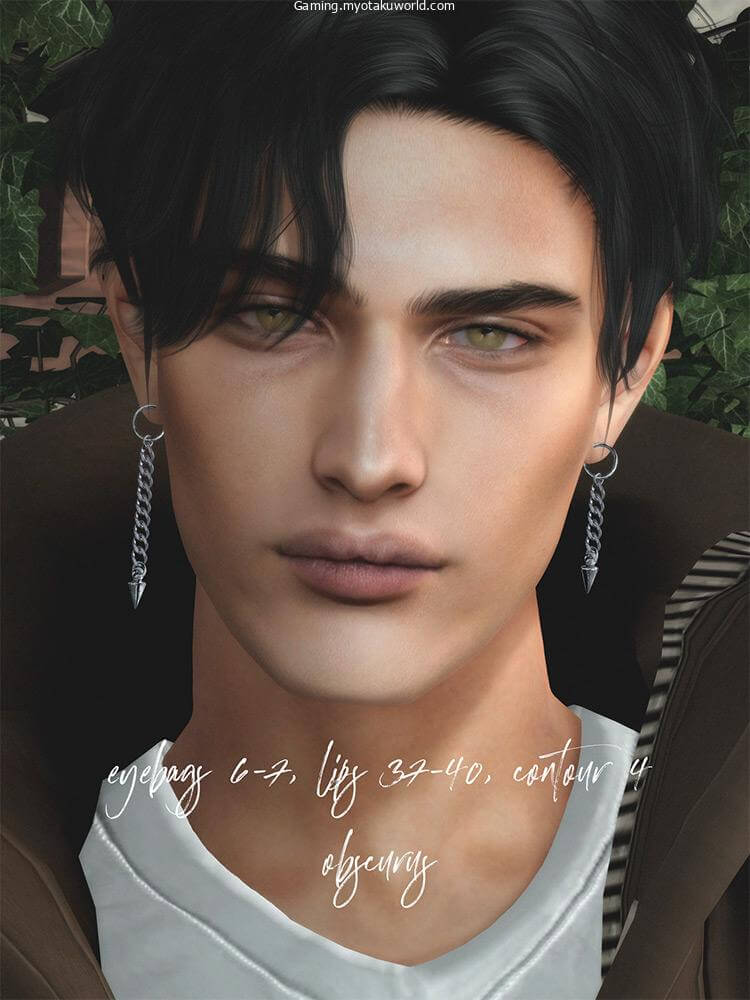 CAS packs are a true godsend for me.
They save me from spending a ton of time hunting down individual CAS cosmetics that'll work with each other.
This Male CC Set by obscurus-sims is great for adding more character to your Sims' eyes, lips, and cheeks.
44. TS4 WM Facemask 201806 by S-Club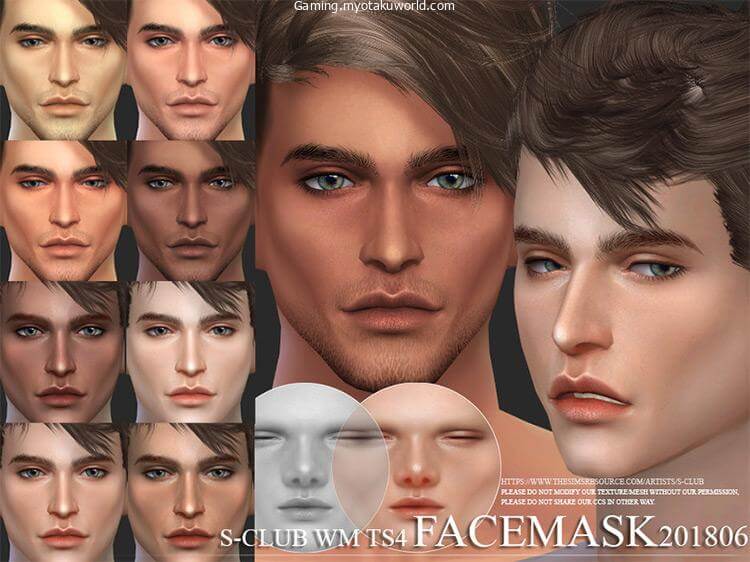 S-Club's facemask comes in two versions; wrinkle and freckle.
It basically enhances your Male Sim's masculine features by deepening the contour, defining the lines and corners, and adding a bit of highlight.
It's a fantastic all-over fix if you're trying to clean up certain facial areas without adjusting the sliders too much.
43. Skin, Eyebrows and Male Presets by obscurus-sims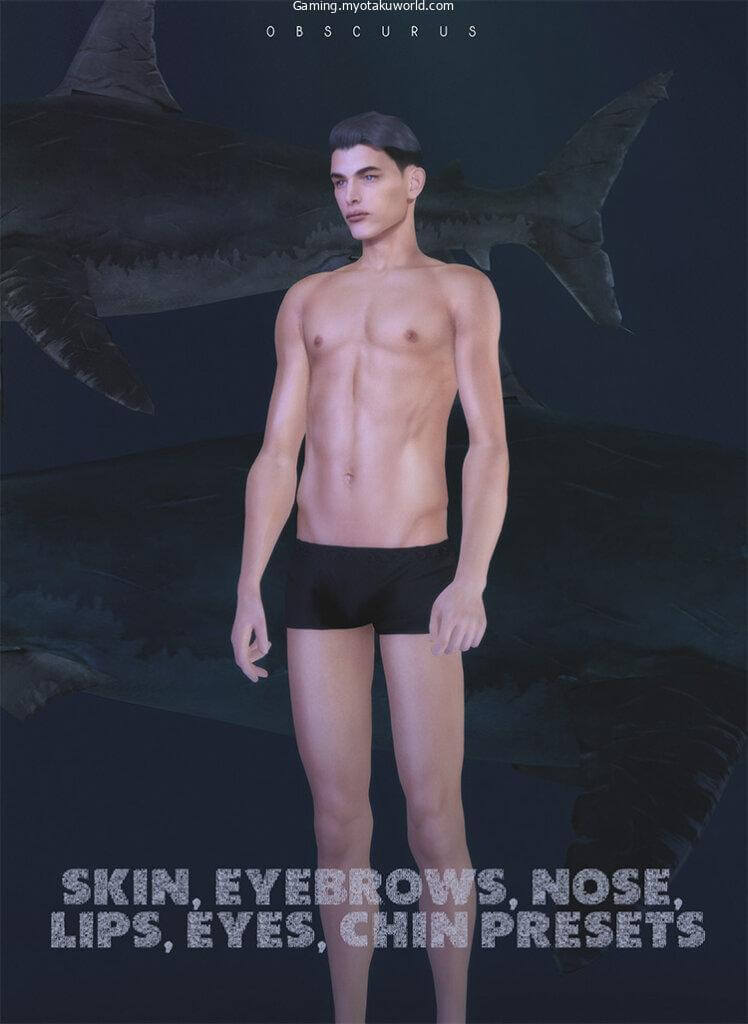 Here's another genetics pack from obscurus-sims!
It's mostly presets, but hey; who doesn't love a good preset?
It just makes it so easy to achieve aesthetically pleasing Sims! Plus, the creator's Skin N22 adds an ethereal glow to your Sims that is just so mesmerizing.
42. Cold Horizon – Mface Overlay by WistfulCastle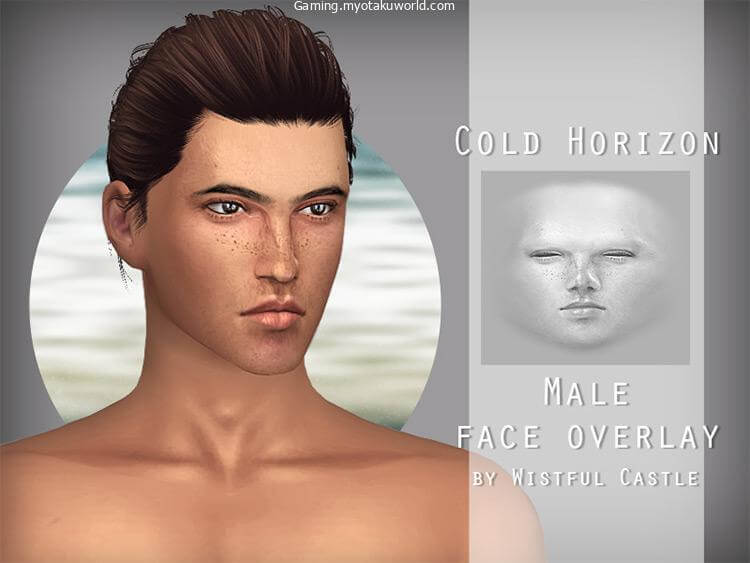 Simple and sweetly freckled, WistfulCastle's Cold Horizon face overlay came as a pleasant surprise!
It combines face details (aka freckles) with a photoskinned facemask, so it's a great two-for-one.
As you can see in the preview photos, the result makes for incredibly attractive Sims.
41. WM TS4 Facemask 201804 by S-Club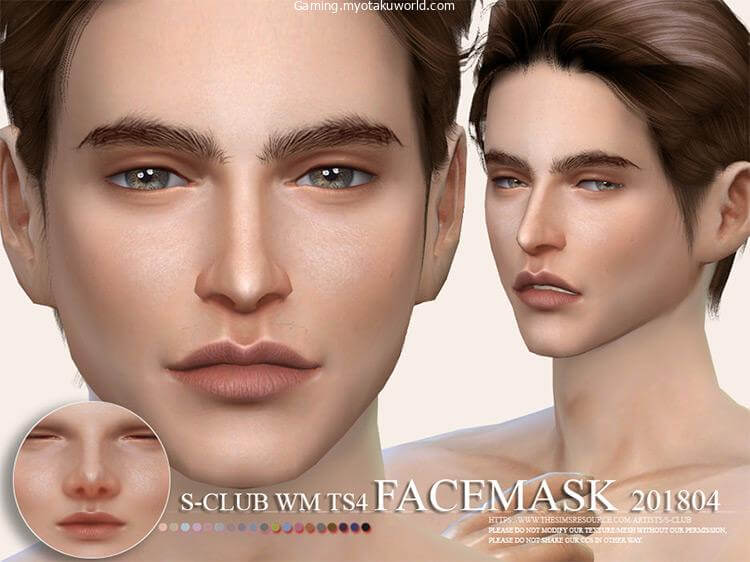 Although this mask is for both Male and Female frames, I actually like it a lot better for Male Sims.
There's just something about the deeper eyebags and defined corners that suits TS4 masculine features better.
It comes in about 19 shades that you can layer over other skins to customize the final skintone.
40. Genetics Set for Males by DDARKSTONEE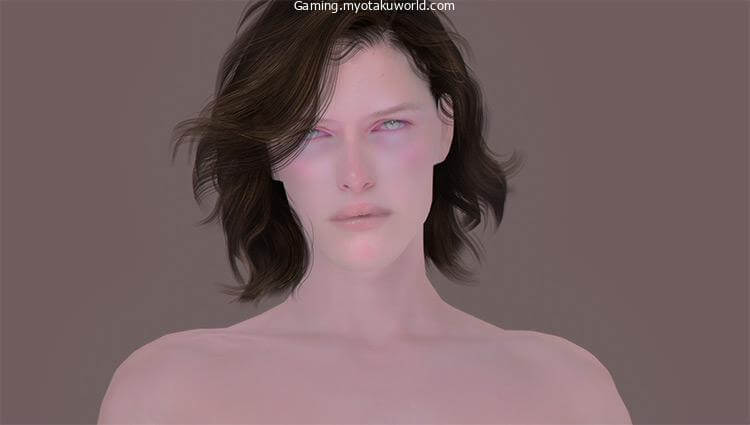 Eyelids, noses, and lips – if you've got your heart set on creating a fairly androgynous Male Sim with softer, waifish features, DDARKSTONEE's Genetics Set will do a lot of the heavy lifting for you!
Each feature comes with a ton of shade variations to boot.
39. Old Fashioned – Face Overlay by WistfulCastle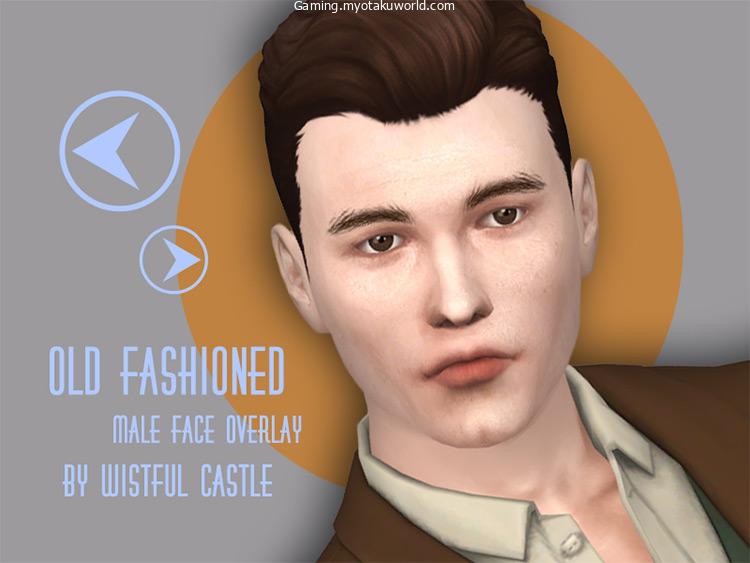 I love this overlay!
We definitely need more stuff for Elders. EA's Nifty Knitting is a cool pack that adds a decent amount of Elders-exclusive items, but they could still use a little more love.
This Old Fashioned face overlay by WistfulCastle gives your Sims' face wrinkles, texture, and other subtle signs of aging in a way that's beautiful and realistic.
Misc. Face Details
38.  TS4 3D Eyelashes | M V1 by S-Club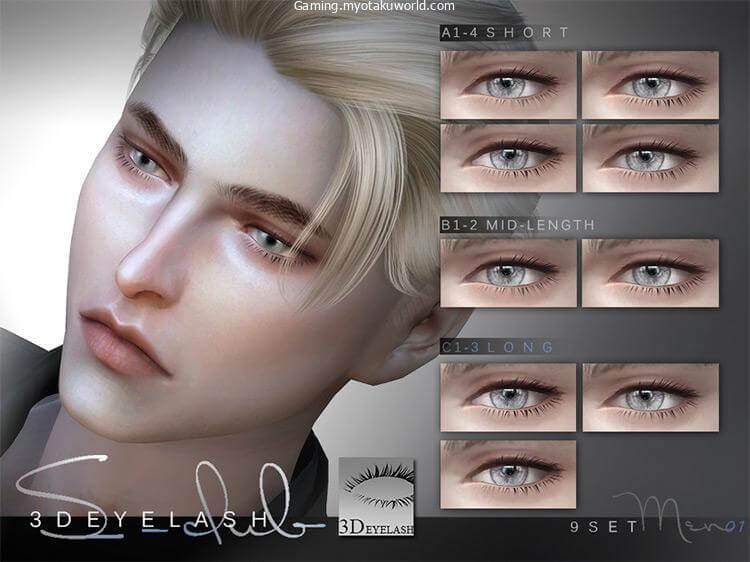 I know a ton of guys with lashes longer than mine (a fact I will forever mourn), so there's no reason your Male Sims can sport some lengthy, luscious lashes of their own.
S-Club's 3D Eylashes for Males are beautiful little eye wisps that come in three lengths (with several intensities per length).
37. 3D Lashes Uncurled Eyelashes Edition by Kijiko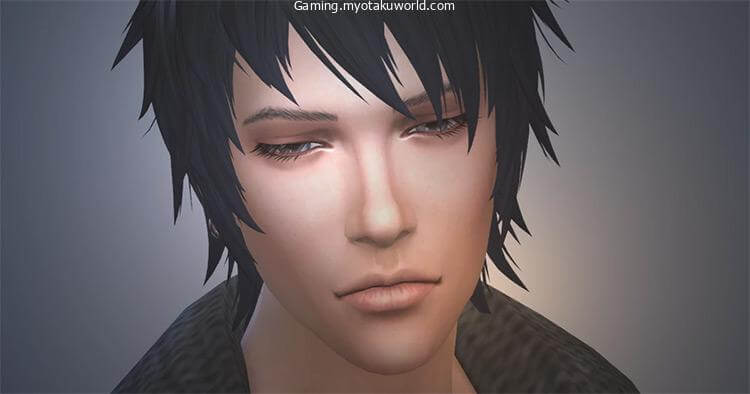 Kijiko's 3D lashes are well-known throughout the TS4 CC community.
I can't count the number of times I saw a Sim up for download sporting Kijiko's lashes.
Their 3D Lashes Uncurled Eyelashes Edition is, as the name suggests, a straighter, slightly less wispy version of their classic 3D lashes.
It's great for adding definition around the eyes without that individual eyelashes effect.
36. Eyebrows Meboo by ennetkasmtt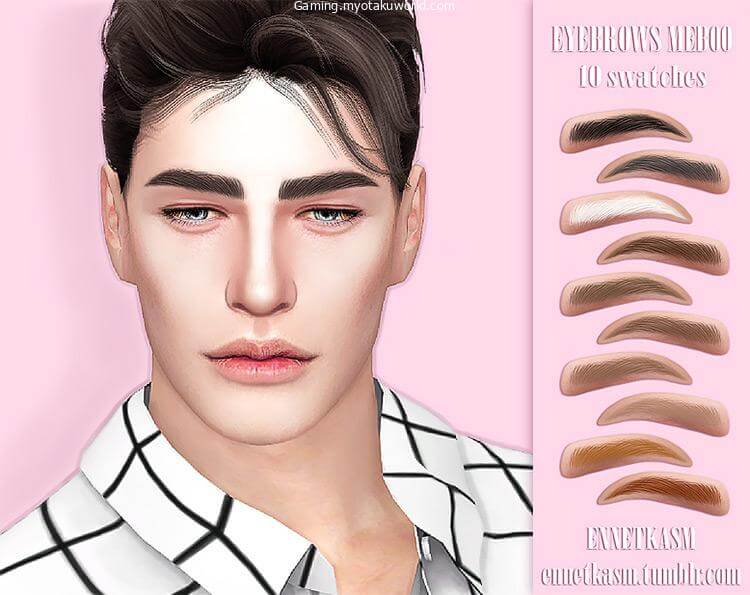 Custom Alpha CC eyebrows are great if you're not fond of how clunky and clayified vanilla EA brows are.
Ennetkasmtt's Meboo brows are, at first glance, quite thick and intense. But their shallow arch and distinct hairs help soften the overall look.
35. Gold M-Eyebrows G6 by GoppolsMe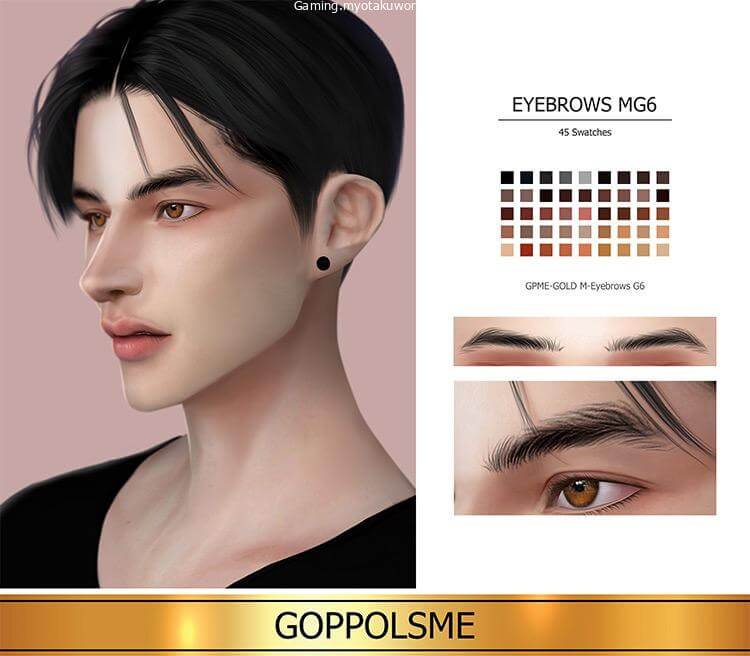 GoppolsMe is another fantastic TS4 CC creator that excels in Alpha CC content.
I'm a huge fan of their makeup sets but, lo and behold—they make genetics and face details, too! Their Eyebrows G6 is a strong, lightly feathered brow with a deep tilt and shallow arch.
Available in 45 distinct colors!
34. Enoch Eyebrows by Urielbeaupre
I know I've been focusing on Alpha CC that's as realistic as possible, but these brows are just too cool for me to ignore.
So I'm gonna recommend them here, because I can't be the only Simmer who likes a little bit of shaved eyebrow action.
Alpha Eyes (Male)
33. Eyes Ultimate Collection by Pralinesims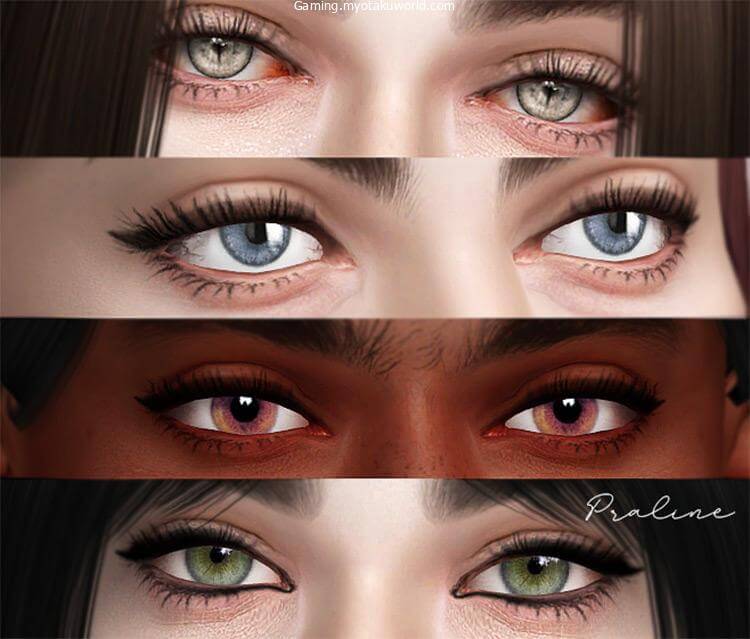 When Pralinesims says "ultimate," they mean ultimate.
One glance at the preview photos should tell you everything you need to know about this CC pack.
It's not just extensive—it's a full-blown library.
We're talking 232 files alone… and each file has several variations. It's a lot, yeah.
But if you want a surefire, one-stop-shop for beautiful Alpha CC eyes, this set is exactly what you're looking for.
32. EYES-Liam by ANGISSI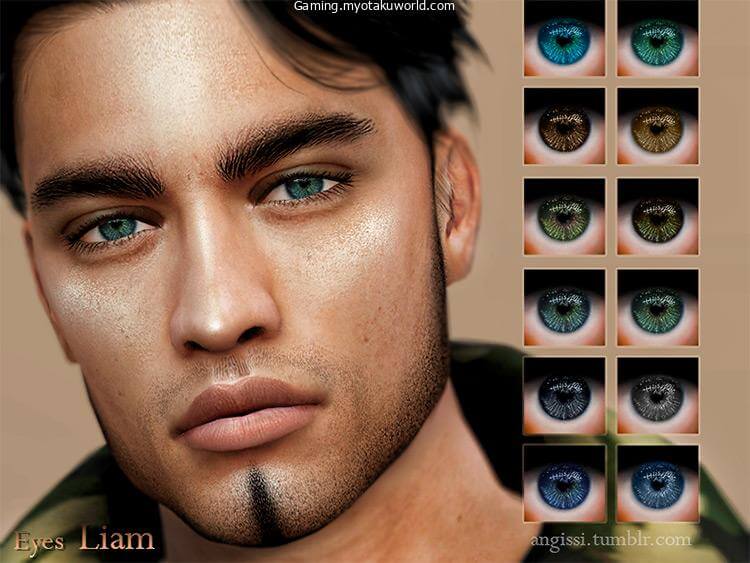 ANGISSI's Liam eyes are these gorgeous peepers with sharp pupils and mesmerizing lights reflected in the irises.
It comes in twelve earthy colors; most have warm undertones, but there are about four or five swatches with cooler vibes.
31. Ross Eyes Non-Default by BAkalia
These are some of the softest custom eyes I've ever come across, and I was pleasantly surprised by how well they translated in-game!
Their simple design is complemented with smooth colors and easy edges.
30. Gold Eyes G11 by GoppolsMe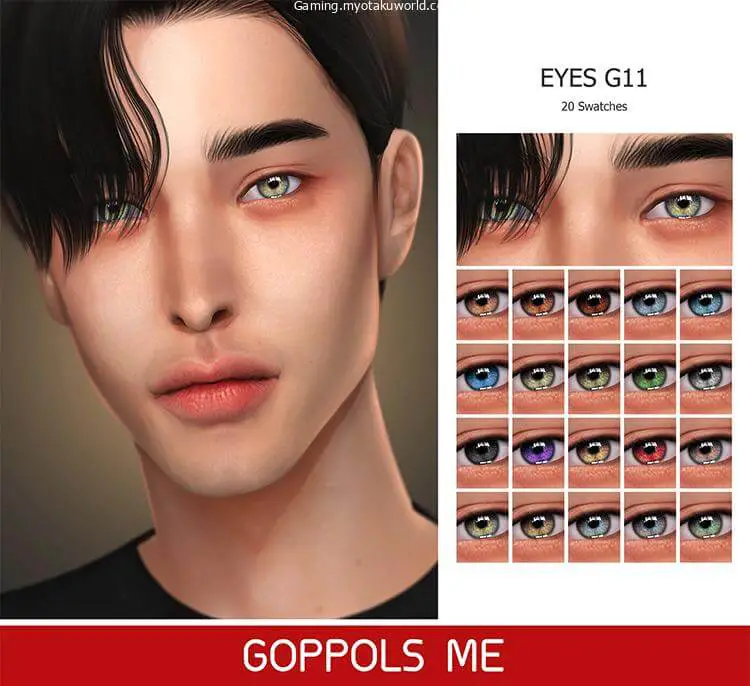 Yeah, GoppolsMe's pretty much an all-rounder when it comes to CAS.
Their Eyes G11 are a visual treat both in CAS and in-game.
All the colors (twenty, total) look like vibrant, clear crystal. They're almost hypnotic, in a way!
29. Wolf Eyes by ANGISSI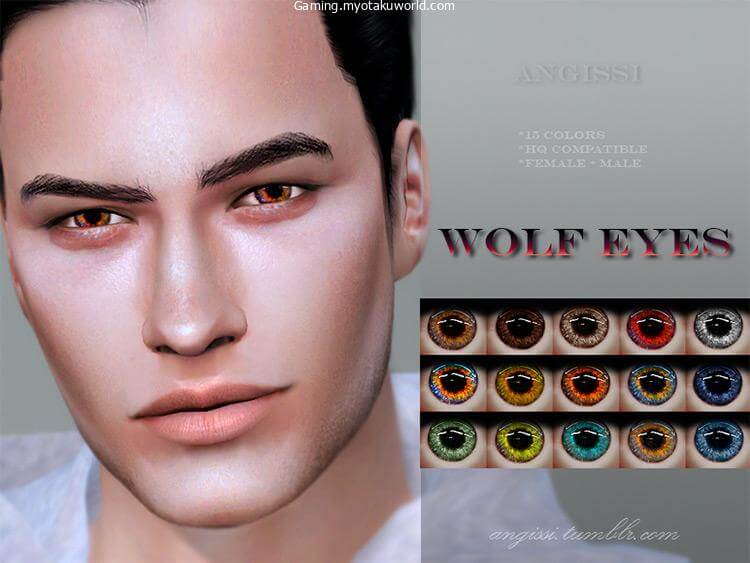 ANGISSI's Wolf Eyes are actually pretty distinctive.
From for away, they don't look too unusual. But zoom on in and you'll see what sets them apart.
They've got a fairly large pupil – I'm talking really dilated, here – surrounded by vibrant colors and some light reflections.
Hair + Facial Hair
28.  Beard Ultimate Collection by Pralinesims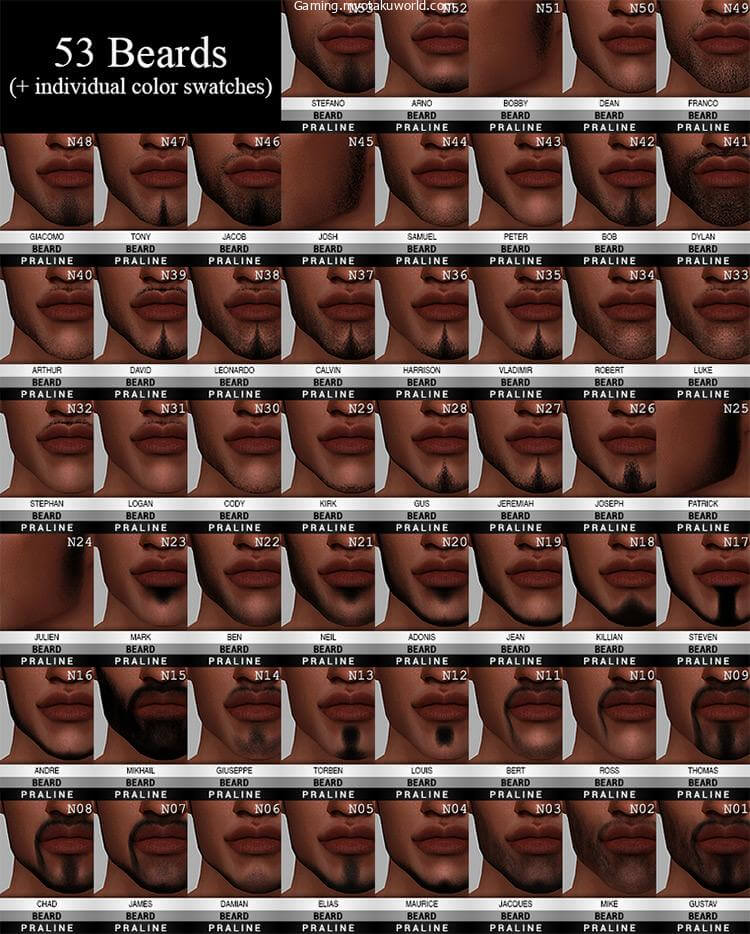 This is another "ultimate" collection from Pralinesims, so buckle up!
It's a grab bag of 53 different beards (look, length, placement, design, etc.) with their own individual color swatches.
There's so many of them, the creator had to split this collection up into five parts!
27.  Phantom (Alpha Beard) by LEXEL_s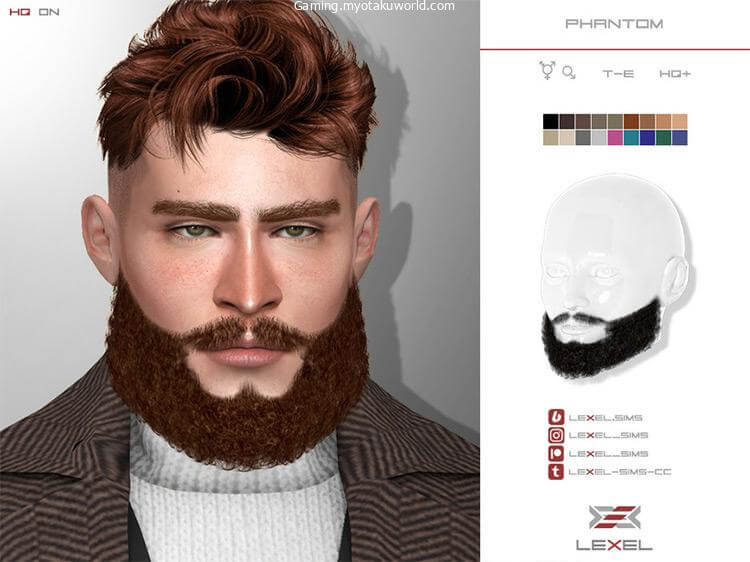 LEXEL_s' Phantom beard is just full mountain man—in the best possible way!
It's thick, it's full-coverage, and it's as strong as the jawline it sits on.
One of the comments mentions that there's no beard quite like this in-game, and I think I agree. If you're after this style, this one's a keeper!
26. Beard Style 23 (intense) by Serpentrogue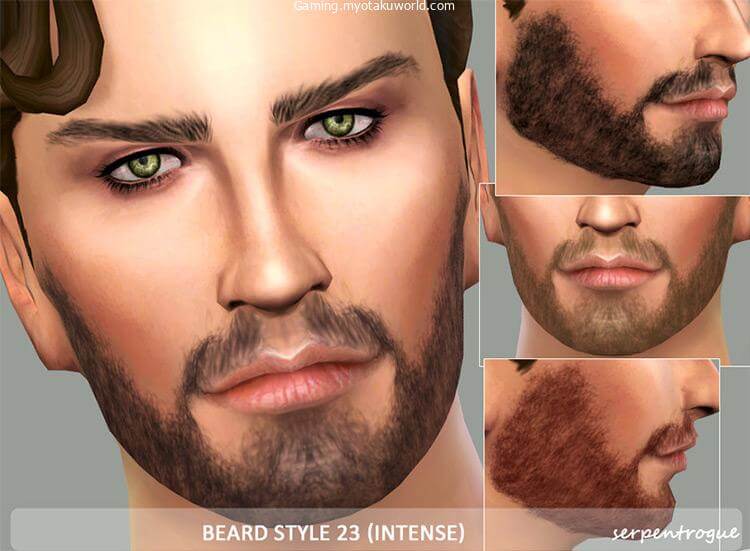 Don't let the name intimidate you—this beard isn't too intense.
It's too thick to be considered "stubble," but it's certainly not at an unreasonable growth.
In fact, I'd say the shape and length is pretty flattering on softer, longer jaws!
25. Pelo Bueno by Wistful Castle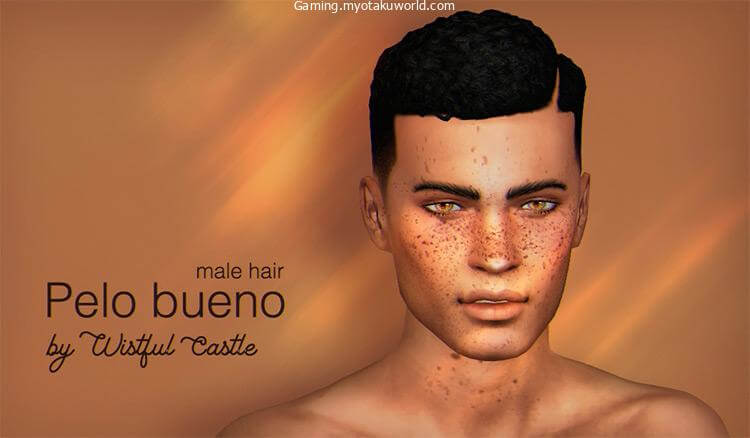 Do you know how hard it is to find short, curly, Alpha CC hair for Sims 4 Male frames?
There aren't a lot of options.
In fact, Wistful Castle's Pelo Bueno leans more towards the Maxis Mix than purely Alpha CC category. However, the curls still have that wonderful, photoskinned quality, so I'm recommending it regardless.
24. Sex Pistols Hairstyle by Obsidian Sims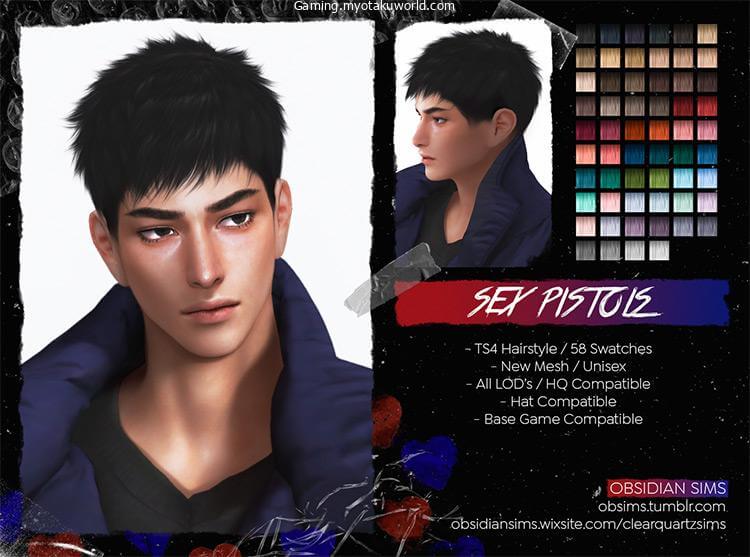 This short, spiky, no-nonsense 'do by Obsidian Sims is not too shabby!
It's simple yet super flattering, and it adds this earnest sort of vibe to your Sims' overall look. It comes in a lot of fun colors too.
23. Michael Hairstyle by Anto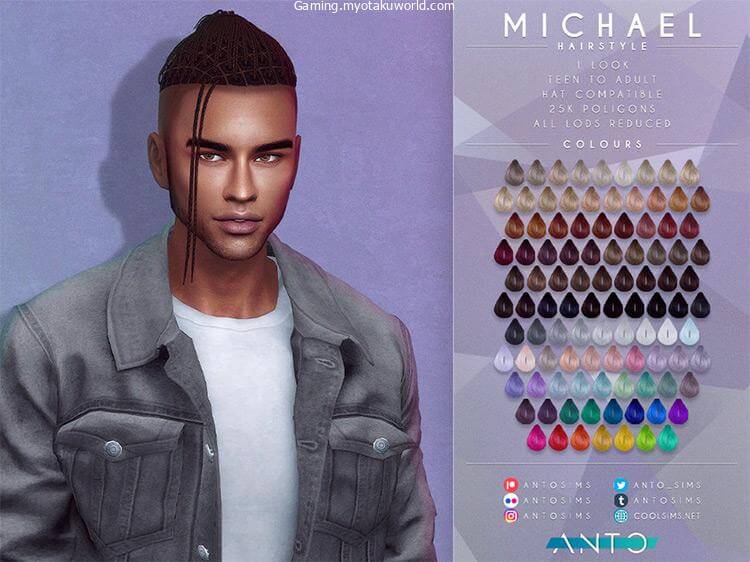 This is another hairstyle by Anto that I recommend whenever I can.
Can you blame me? The cornrows, the updo, the buzzed sides, and the two little braided strands at the front? All perfect.
There aren't a lot of hairs that look and feel quite like this one!
22. WINGS-OS1114 by wingssims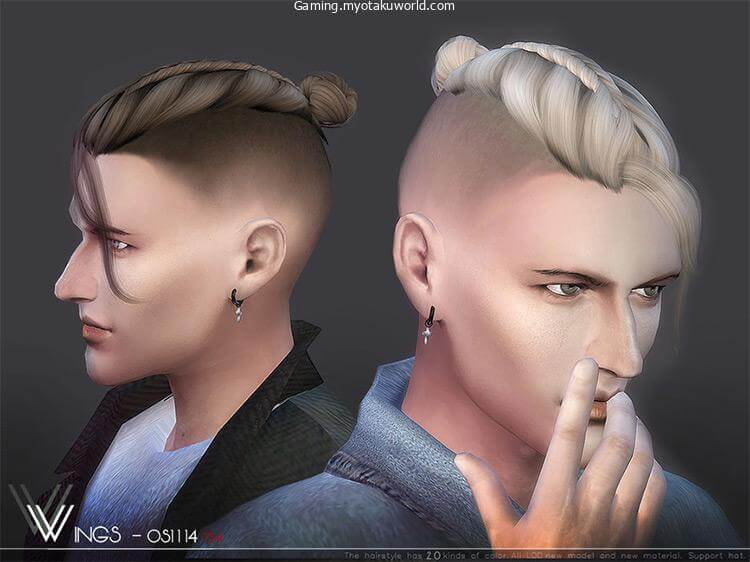 Don't let the Female category fool you—this custom 'do by wingssims is exclusively for Male frames.
WINGS-OS1114 is another incredibly unique piece with shaved sides and stray side bangs.
The main hairstyle is a large, fairly intricate braid that ends in a tiny man bun. It even has a tinier braid running up top! Definitely one-of-a-kind.
21. Hair – Low Perm by MoooD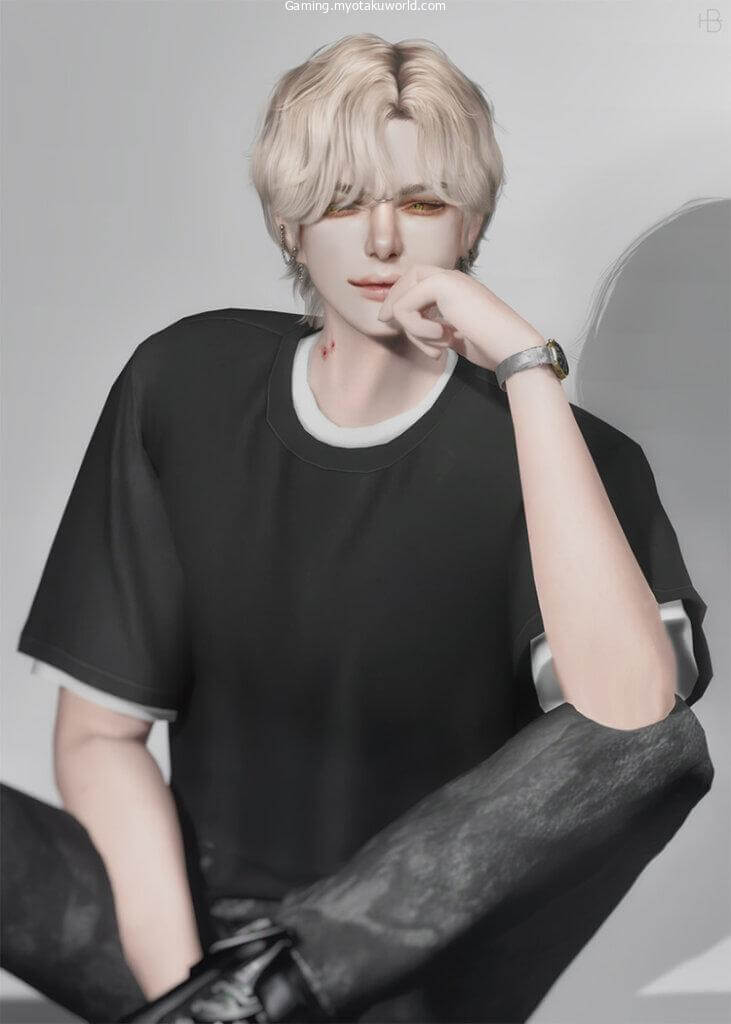 Cute, fluffy, and semi-curly—MoooD's Low Perm hair looks like a soft cloud!
Some volume on top, wispy strands 'round the bottom, and wavy bangs that frame the face just so. It's got a great silhouette and, overall, just looks super appealing.
20. Cornerstone Hair by SonyaSimsCC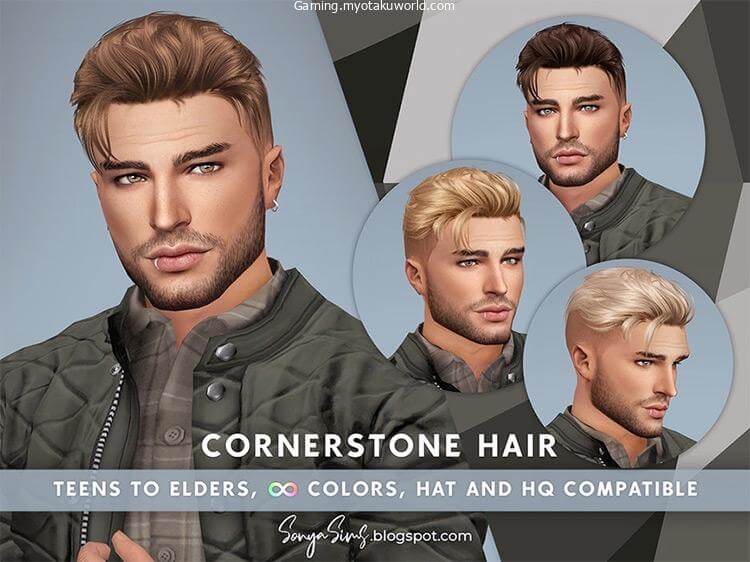 This custom hair may not be super unique, but it's definitely eye-catching!
SonyaSimsCC's Cornerstone Hair is a neat, slicked-back style with trimmed edges, a slight fade, and some playful bangs. It's also super versatile!
Depending on the color, it swings between earnest and edgy.
19.  Maz Hair by Reina Sims4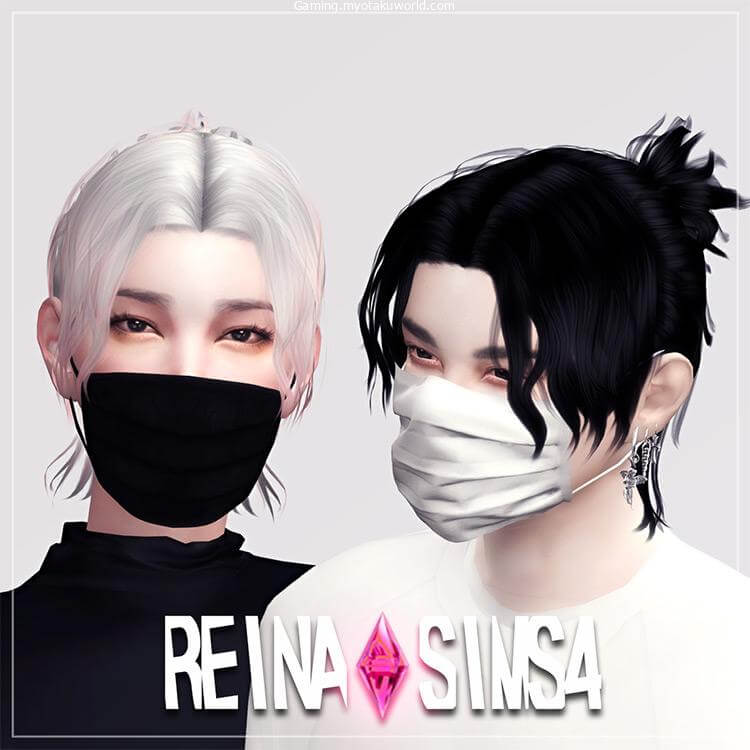 Here's a slightly long-ish 'do with wavy, stray strands and a hastily-done man bun—Reina's Maz Hair is something to behold!
It's equal parts casual and stylish, messy but artfully so.
It's an interesting look, is what I'm trying to say. And I think it's a great hairstyle that gives Sims a little more character.
18. Fantasy (Male Hair Pack) by Wistful Castle
I am flabbergasted that I didn't find this sooner.
I love fantasy CC regardless of texture, and fantasy hairdos for the Sims 4 are my guilty pleasure. Wistful Castle's Fantasy (Male Hair Pack) contains four one-of-a-kind hairstyles that – ideally – work for different classes and races.
A neat, no-nonsense cut for the elf, a completely buzzed head for the human paladin, and so on.
It's a fantastic concept with great execution!
Alpha Clothes (Male)
17.  Tweed Shirt by Gorilla Gorilla Gorilla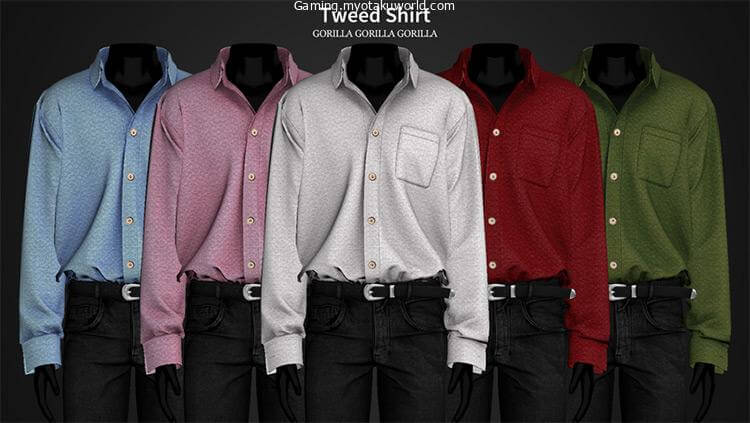 Ah, Male clothes. EA's gotten better at padding up the Male CAS closets, but – as always – a couple extra options never hurt anyone.
This Tweed Shirt by Gorillax3 is stylishly baggy and business-casual. Two descriptors I never thought would work together, and yet here we are.
Available in 15 colors!
16. Mandarin Collar Shirt II by Gorilla Gorilla Gorilla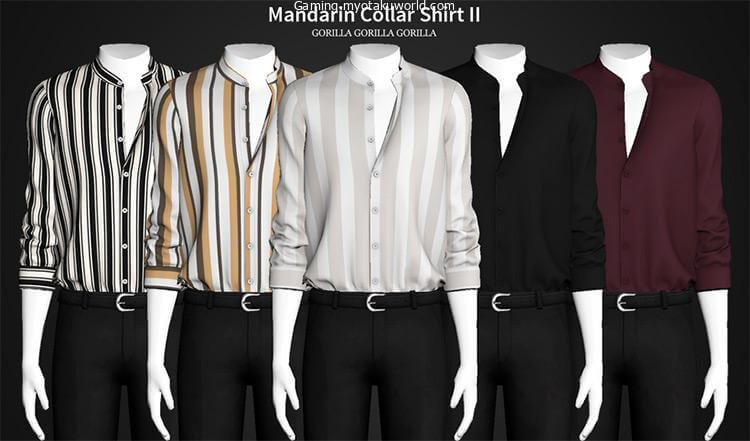 Gorillax3's Mandarin Collar Shirt II can make any Sim look successful and regal AF.
It just has that vibe! Pressed fabric, rolled-up sleeves, and neatly-tucked hem? This is an outfit straight out of a K-drama, and I am here for it.
15. Josue Outfit by bluerose-sims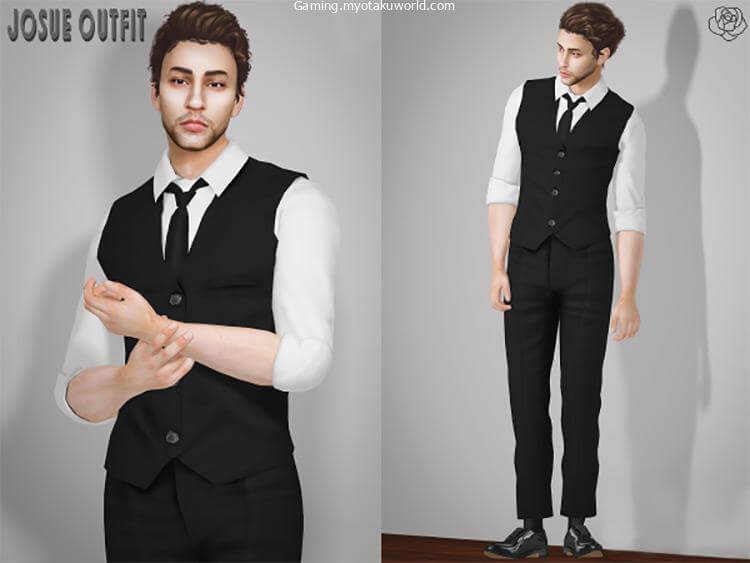 This two-piece suit is fresh and formal, but not too fancy. I know we have a decent selection of formal wear with the base game and vanilla packs, but the fit and cut of this one feels different. Quality's really good, too.
14. Male Outfit by Lazy_Eyelids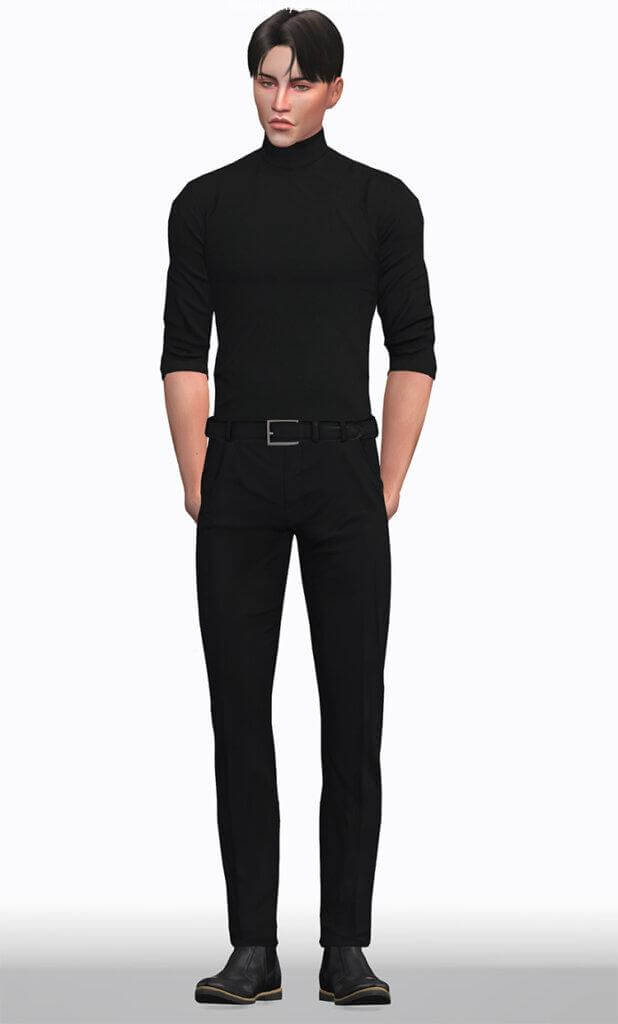 I was originally just going to recommend the turtleneck as it's something I actually use in my own game. But seeing it paired with the straight pants gave me pause.
I love each piece individually but, together? They certainly create a stylish, preppy outfit that's worth downloading as whole!
13.  Sweater & Fur Jacket S145 by turksimmer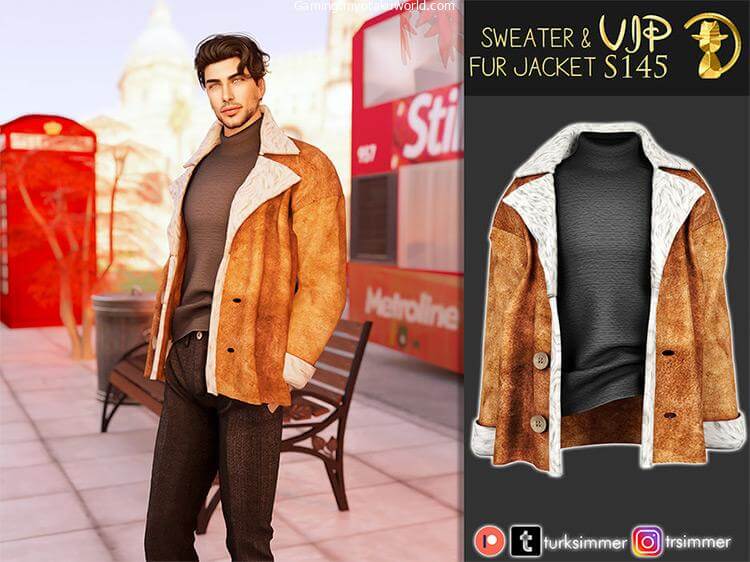 Need something sharp and fancy for Fall?
Look no further.
Turksimmer's got something fantastic pieces in their catalog, but nothing else caught my eye quite like this Sweater & Fur Jacket combo.
12. Joseph Jacket by bluerose-sims
Take your Sim's outfit from business-formal to total boss with bluerose-sims' Joseph Jacket. It's an accessory jacket you can wear with any outfit to casually drape over your Sim's shoulders, like so.
It gives cool, indifferent vibes in the best way.
11. CC Pack – Feb 2021 by Darte77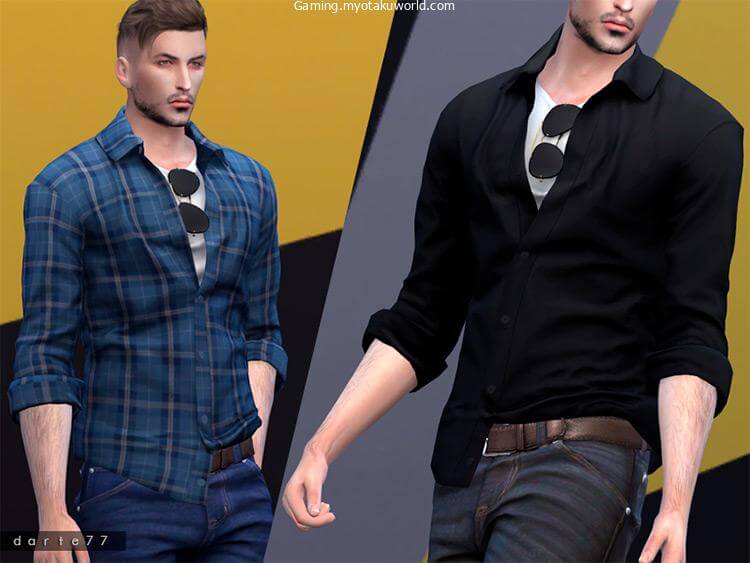 Darte77 is perhaps one of the best Alpha CC creators for Male content.
They also release items in sets, which essentially turns all their download pages into exciting variety packs.
Take this CC pack for February 2021; it's got jeans, a shirt with sunglasses accessory, a bulky combat jacket, and some sleepwear! Talk about variety.
10. CC Pack – October 2021 by Darte77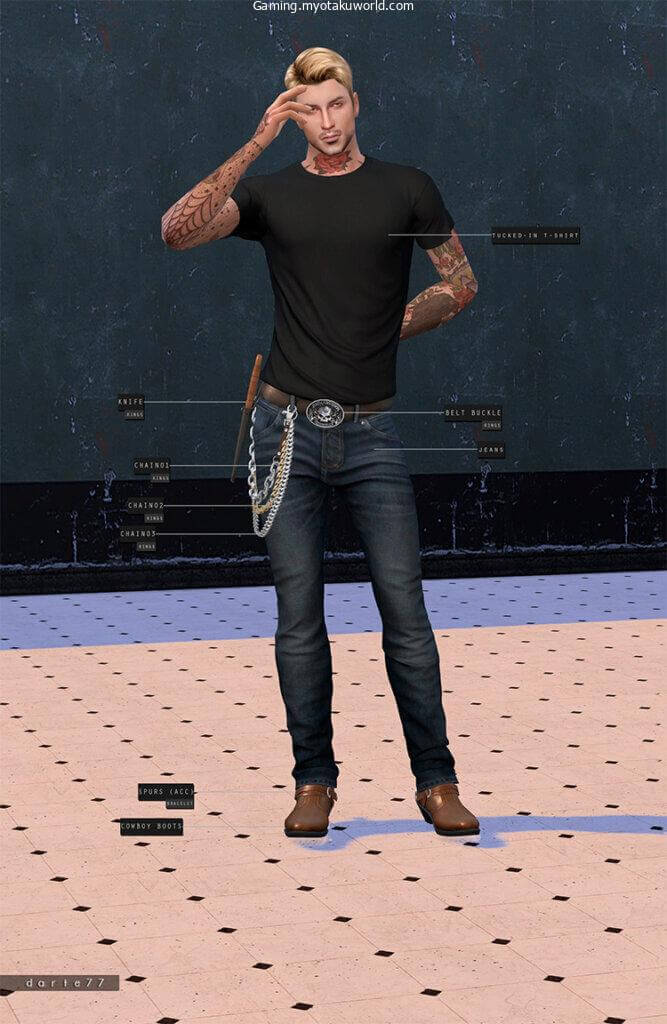 Here's another fairly extensive CC pack from Darte77.
This one contains, among other things, some denim jeans, a crewneck shirt, and boots with – get this – actual spurs.
9. CC Pack – May 2022 by Darte77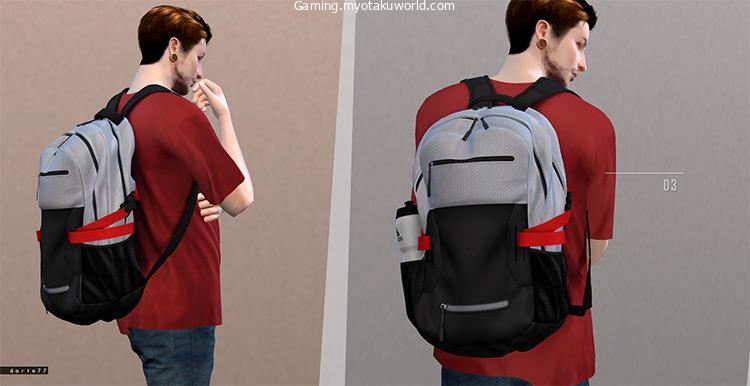 Attaching a backpack to a shirt mesh is actually so creative and clever, I'm surprised not a lot of creators have done it yet.
It certainly makes for an interesting outfit.
It's worth noting that the unspoken theme of this CC pack from Darte77 seems to be "tops with backpacks".
8.  Male Outfit (T-Shirt) P32 by busra-tr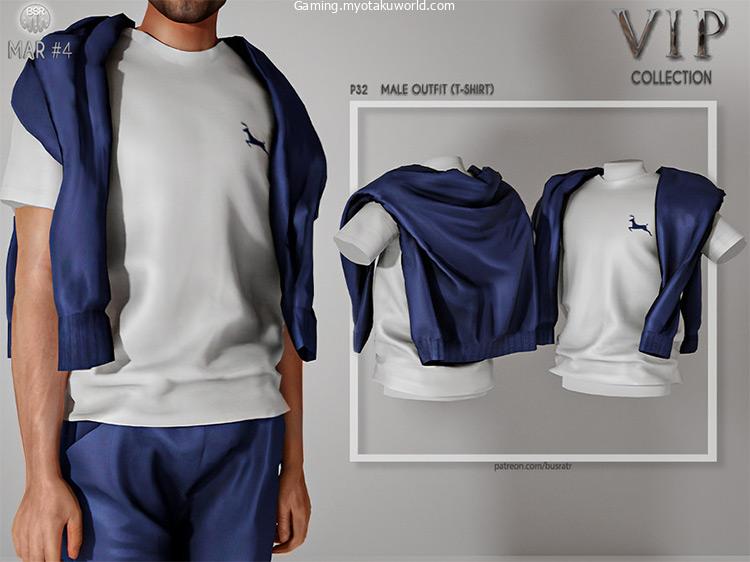 Sporty and preppy, busra-tr's Male Outfit is an interesting ensemble.
Do note that the creator probably uses HQ mods and editing to make the preview photos, so the item in-game definitely doesn't match the previews. However, rest assured that the actual item's quality is gorgeous, regardless!
Shoes & Accessories
7. Adidas Gazelle by Darte77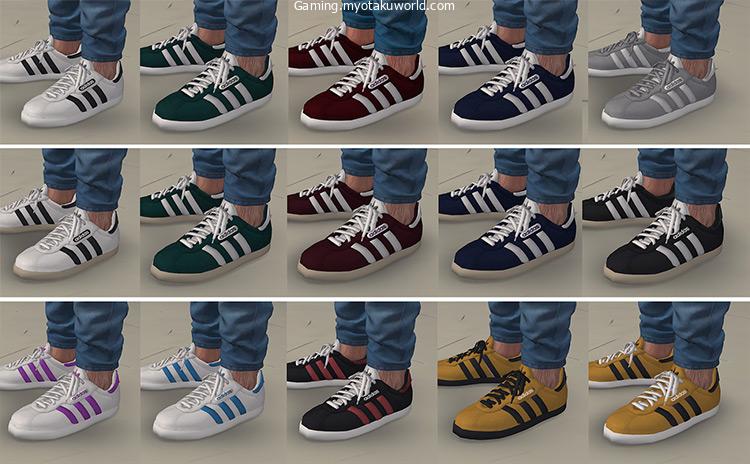 How about some comfortable running shoes for your Sims?
These Adidas Gazelle shoes are an older post from Darte77, but they still work with the latest patch. Plus, they look great in-game!
6. M Platform Canvas Sneakers by bedisfull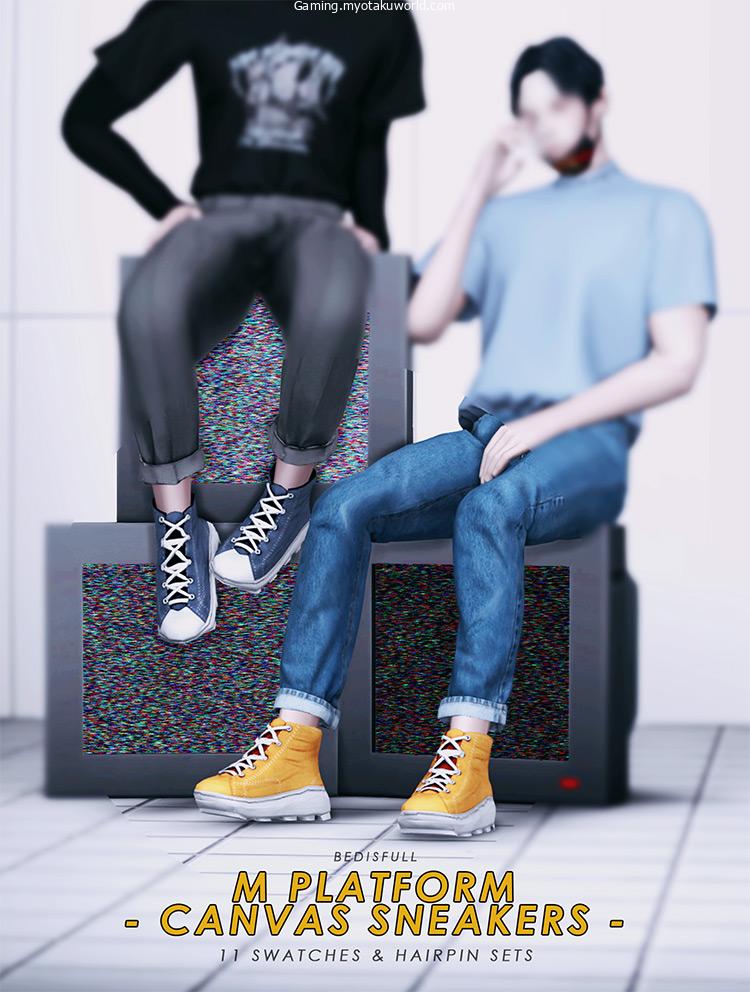 Platform sneakers and shoes with insoles weren't normalized until the K-wave (Korean music, Korean fashion, etc.).
Now? They're pretty widespread!
Hey; as a vertically-challenged being myself, I don't mind. These M Platform Canvas Sneakers from bedisfull look great with rolled-up jeans and denim skinnies.
5. Classic Male Shoes 02 TS4 by IMHO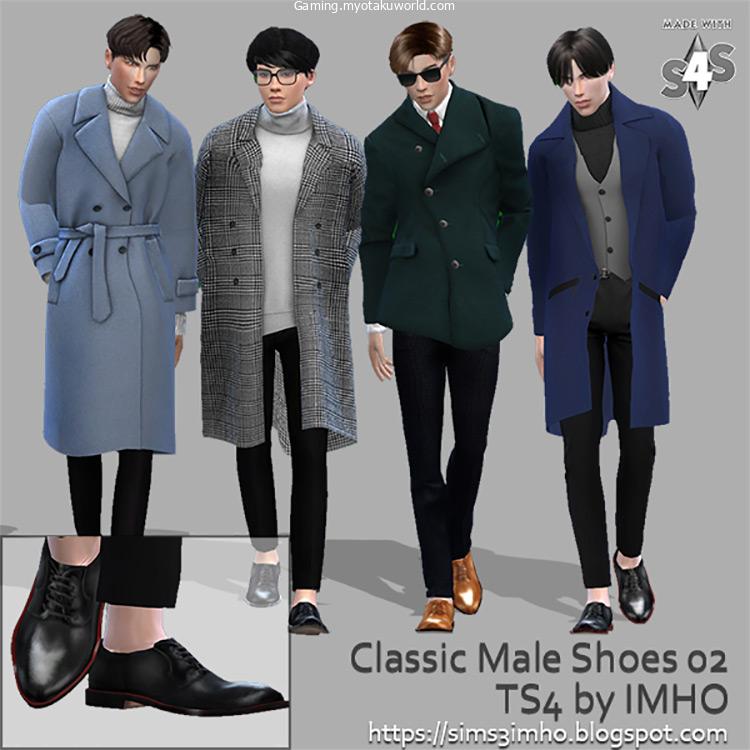 These Classic Male Shoes from IMHO are basically really shiny loafers. They're sharp, they're sleek, and they look great for office.
These wouldn't be considered everyday shoes, per se.
But if your Sims practically live at work, they at least look like they'd hold up against wear and tear.
4.  Chelsea Boots by Lazy_Eyelids
I swear, I think I know about four or five guys IRL who actually own Chelsea boots.
Maybe not this exact style, but I've seen them clomping around in suede leather. Lazy_Eyelids' custom boots, on the other hand, nail the classic, slender Chelsea silhouette to a T!
3. CC Pack – January 2022 by Darte77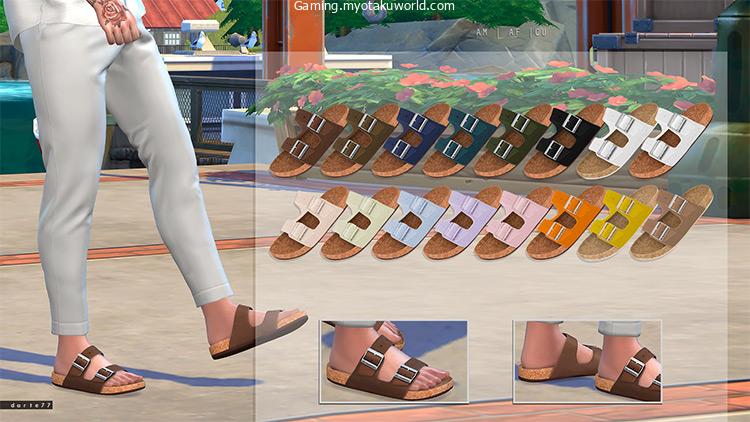 What can I say? Darte77's stuff is just so good, I have to recommend it often.
This CC pack from early 2022 contains three pairs of shoes: two kinds of leather sandals and some simple Adidas runners.
Just a chill, casual selection for some good ol' closet staples.
2. Leather Shoes (Male) by ShakeProductions
If your Sims' footwear is getting repetitive, why not spice up the CAS folders with these rich, thick-soled loafers?
I'm not sure if the chunky bottoms are par for the course with shoes like these, but the visual it creates is certainly appealing!
1. Leather Sandals (Male) by ShakeProductions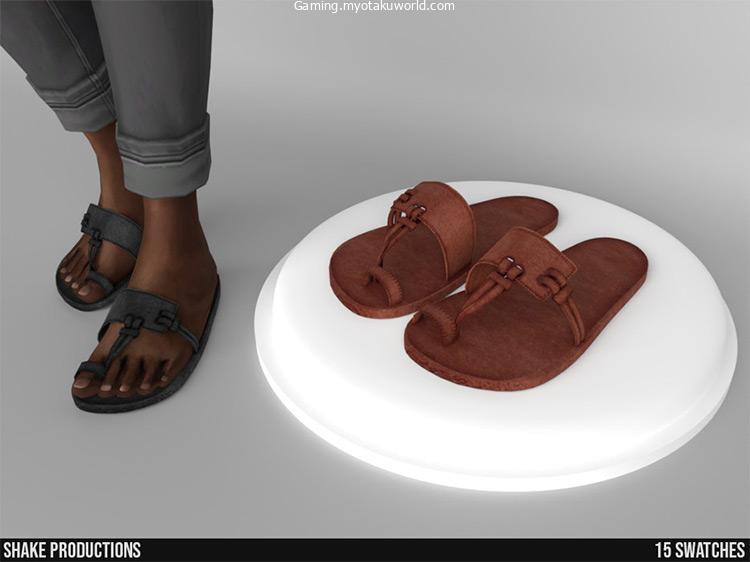 And here we've got a pair of thick leather sandals (still from ShakeProductions).
These handpainted originals look sturdy, practical, and are available in 15 colors. Mostly warm neutrals, but I guess that color range is to be expected given the "leather" in the name.