One of the most expensive times of the year comes with the warmer weather of spring.
The wedding season, not Christmas.
A big wedding party can cost thousands of dollars, and most do. And most expensive part of the wedding is Wedding & Reception Area.
But I don't know how to turn that into Bells.
Villagers can't get married as of this writing. You can play make-believe with friends online, though.
If you like that idea, here are some wedding settings to keep in mind from an aesthetic point of view while we pray for an update on the wedding.
21. Wedding Hall With Furniture!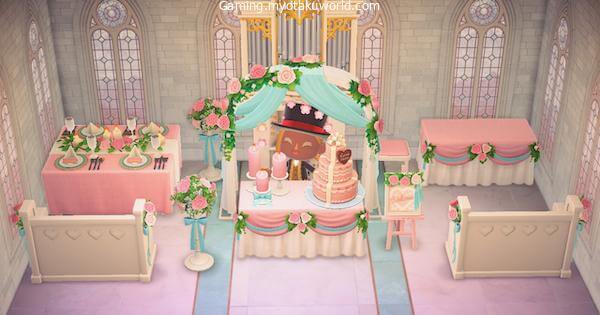 What kind of wedding it would be if you guest can't even sit any where and enjoy their meal.
In this design you can see they used furniture to make it more like real life wedding.
and its match all the colors as well try it this wedding season as well.
20. Hyrulian Wedding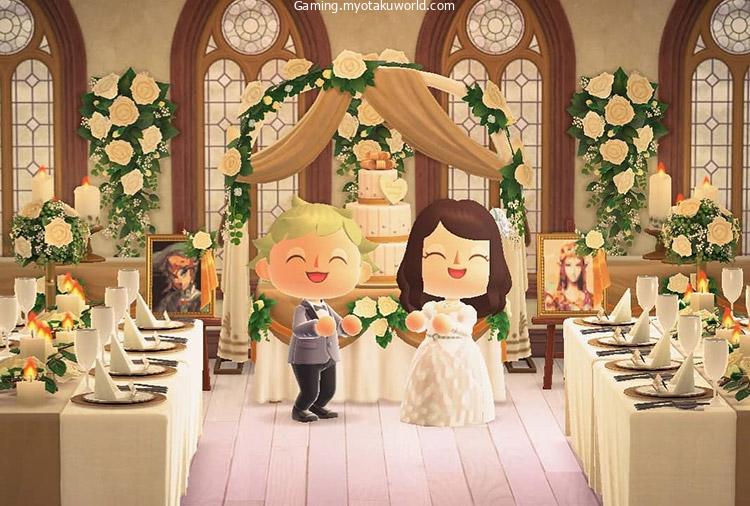 Pay close attention to both sides of the curve.
Link and Zelda finally got married? I didn't know that… and even in New Horizons!
It's up to you if you want to dress up as Legend of Zelda for an Animal Crossing wedding. But this is still a lovely idea.
A wedding theme with lots of white roses and fabrics is pretty traditional. Invite your friends, sit down at the tables, and share some fictional love!
Just hope that Ganon doesn't show up…
19. Pink Beach Wedding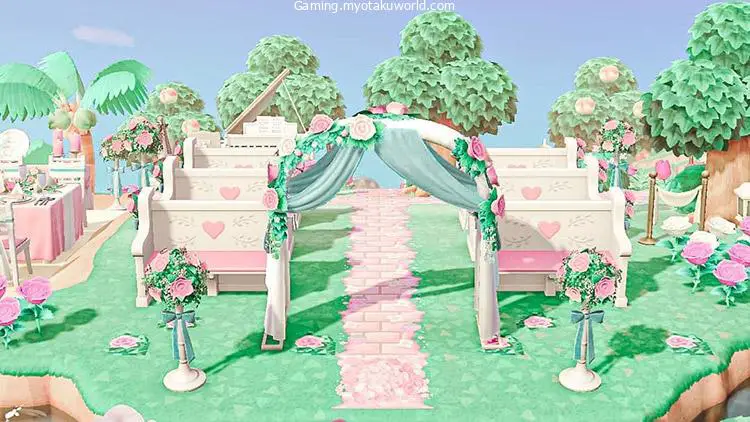 Pink is a beautiful color. It also goes well with other colors, which is great for this beautiful beachside venue with its brown sand, green grass, and blue sky.
Add some pink and white roses, love-heart seats, and an aisle, and you have the best place for a summer wedding—no wedding planner needed!
This would be such a great place to take pictures.
18. Forest Wedding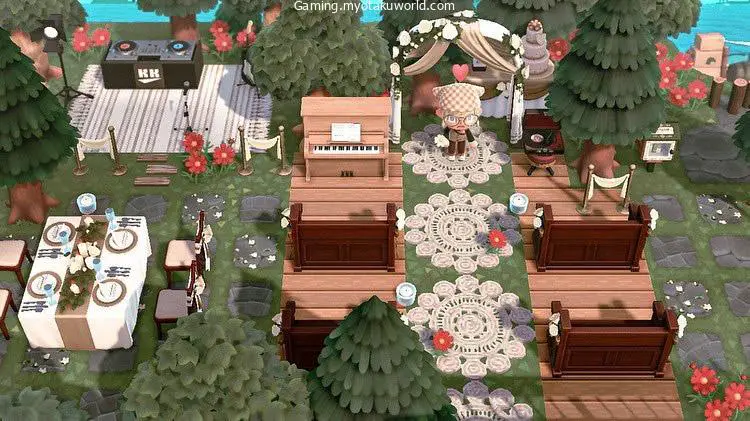 Here, you can walk down the aisle to live piano music that means something to you. It could be Pachelbel's Canon, My Heart Will Go On, or just the usual march.
There are a lot of dark greens and browns here that go well with the red daisies for a wedding theme that isn't normal.
If you don't like pastels and whites, this could be a good choice. Even more so if you like the "forestcore" look.
Just make sure it's not too far into the woods, or you might be left alone at the altar if everyone else gets lost.
17. Romantic Waterfall Venue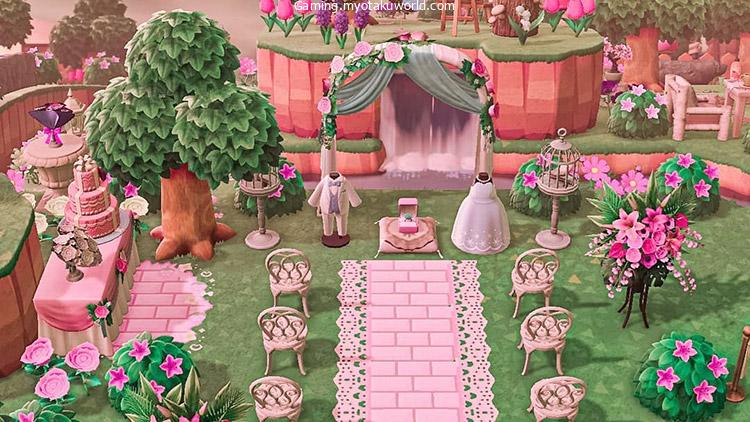 It is so smart and beautiful to put the arch right in front of the waterfall here.
You can say "I do" right in front of the bubbling brook surrounded by beautiful flowers.
Iron garden chairs are a simple and elegant way for both locals and tourists to sit down. The lace aisle is also beautiful.
BTW, is it just me, or does that cake look like it would taste great? I could just be hungry.
16. Classic Wedding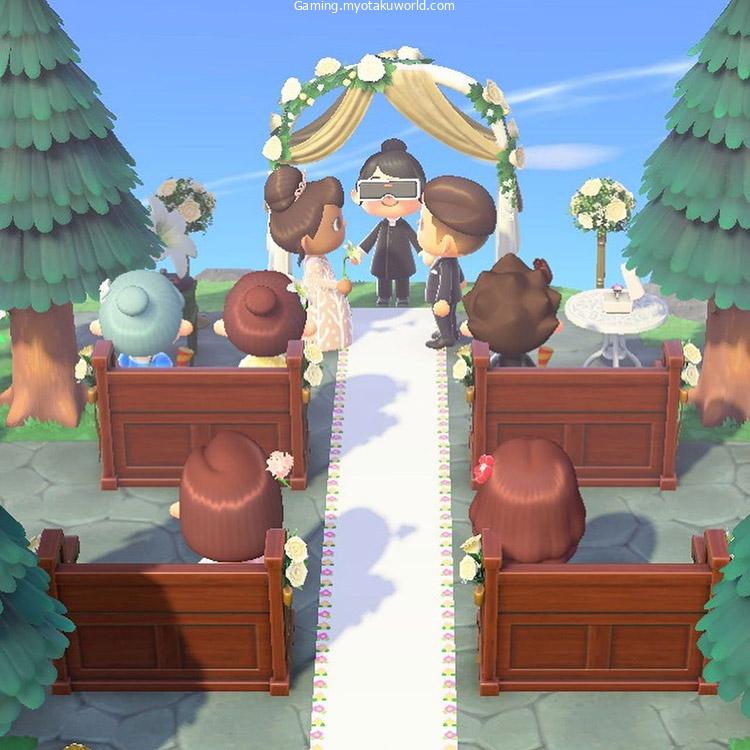 Everyone doesn't want a big, fancy wedding. That's all right!
They are expensive, not very useful, and can sometimes be a real pain.
If all you want to do is get married to the person you love, a simple setup like this will do.
You just need an arch, some seats, and a few decorations for the path. Animal Crossing style, get your friends together, find an officiant, and get married.
15. Meadow Wedding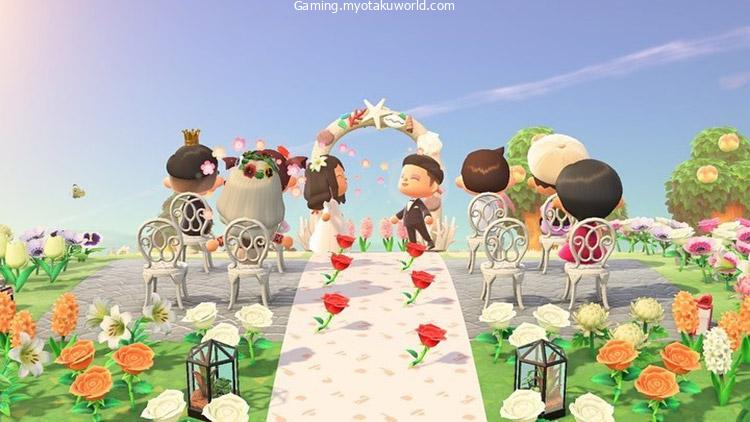 Because of the lockdowns, this build was made by a couple who couldn't have their wedding in real life. So instead, they had one in Animal Crossing.
Having a wedding in a meadow with flowers, butterflies, and good friends is a cute way to enjoy.
Dropping roses down the aisle is like throwing flower petals in real life, which is also a fun touch.
The shell arch is also cute and goes well with the rest.
14. Romantic Chapel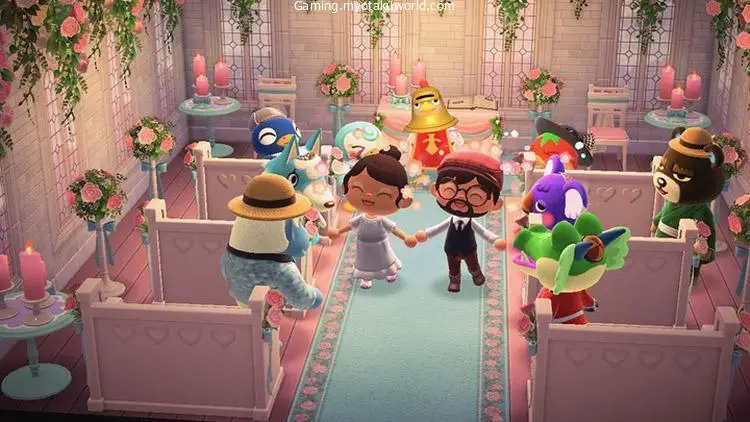 Not everyone wants to get married outside.
Bugs, high temperatures, and strong winds can quickly ruin a day that has been well-planned.
I say bring on the AC and the ceilings!
This church is inside and has big windows, romantic candles, and some witnesses who are dressed nicely.
Rose garlands and bunches make great flower arrangements here, and they match the mood of the room very well.
13. Dainty Daisy Wedding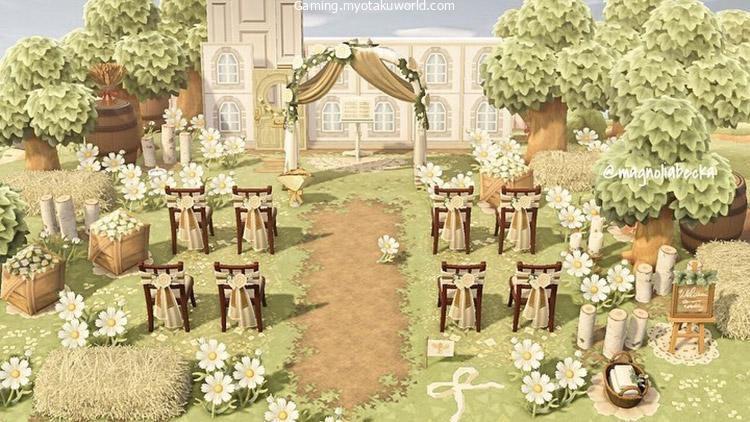 Like me, do you like the color yellow?
It's the color of butter, lemons, and, in this case, a lot of happy flowers.
With this ACNH plan, you can walk down the aisle while daisies sway around you and get married in front of a beautiful arch.
There are plenty of seats for everyone you'd like to bring, and the building is made of custom panels with beautiful windows as a backdrop.
12. Moonlit Wedding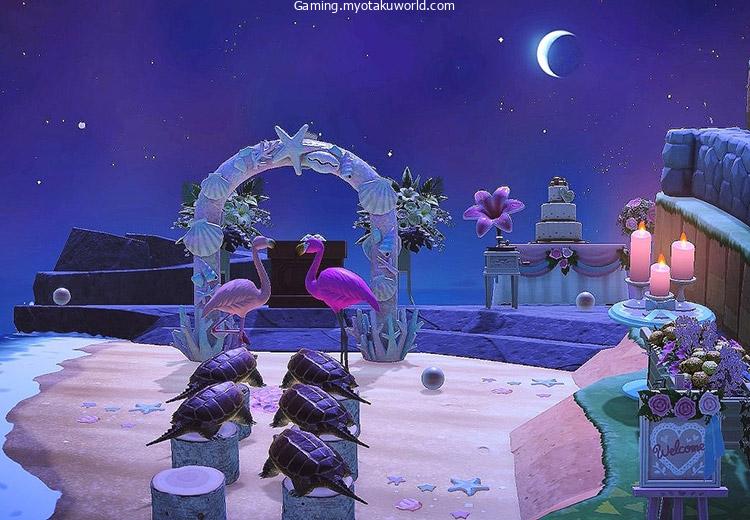 In a game called Animal Crossing, turtles going to a flamingo wedding shouldn't come as a surprise.
I guess it's no stranger than having a sheep as a neighbor.
This idea is even funnier because of the beautiful setting and pricey decorations (free pearls, man).
If you hide it as a little Easter egg for your friends to find, they're sure to laugh out loud when they find it.
What do you think is being played on that gramophone? Kero Kero Bonito's Flamingo? (I would marry that)
11. Elegant Ocean Wedding
I'd like to give you not one but two pipe organs for this wedding spot, sir or madam.
It's great for a very intense walk down the aisle to this beautiful arch and signing table.
There are a lot of places to sit, and the area is simple but beautiful. It's a great place to get married because of this.
Oh, and look, you get a wedding dress and a suit as well.
Handy!
10. Golden Hour Venue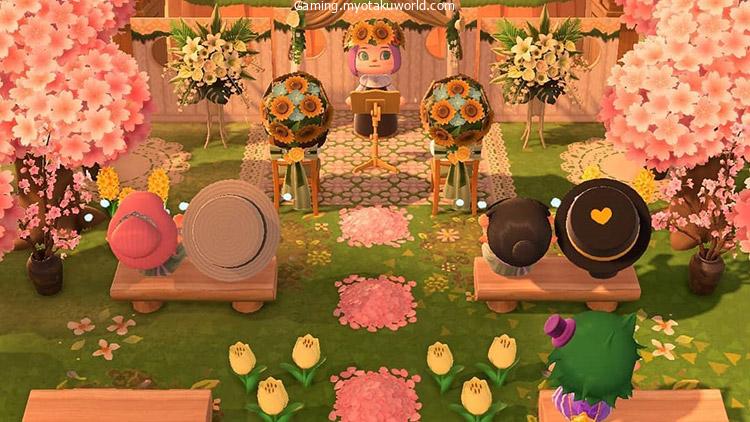 This wedding site is already beautiful.
But golden hour makes it even more beautiful.
There are many different kinds of flowers here, like tulips, sunflowers, and cherry blossoms. The aisles between the seats are lined with sakura petals, and the fresh air will be great during the event.
Have fun, and congrats to the happy couple!
9. Beach Elopement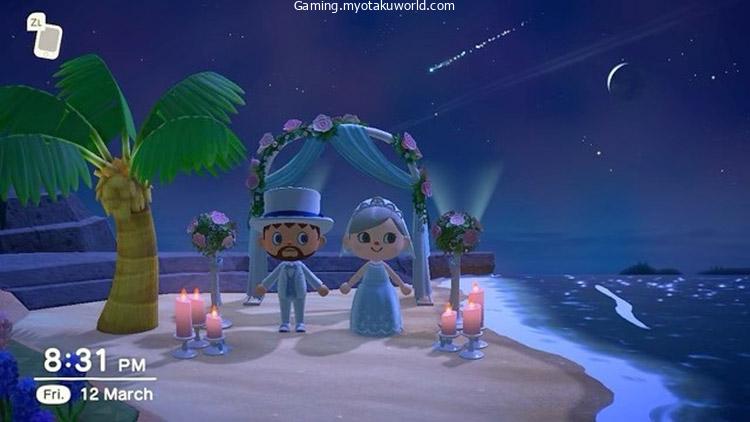 Not all weddings need a lot of people.
If you don't want a big wedding, this beach is a great place to get married privately.
People do a lot of eloping these days. It's much cheaper, you often get a holiday out of it, and for the romantics out there, it's more intimate and personal than a big party where crazy great-uncles raid the open bar.
In this beachy area, you can enjoy each other's promises by the light of the moon and candles.
You might even see a shooting star if you're lucky. That's got to be good news!
But you'd better hope that Celeste doesn't walk into your picture op.
8. Small Beach Wedding & Reception Area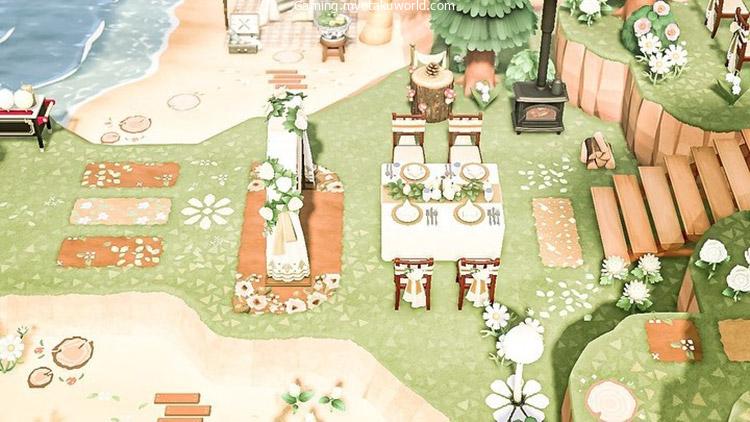 It's great when you can have your wedding and dinner in the same place.
Costs for venues can be very high.
If you only want to celebrate with a few people, this beach wedding is a great idea to copy.
It is beautifully set up for a tropical party with flowers, pavers, tiki lights, and palm trees. After the wedding, have a delicious dinner with your new partner and your closest friends.
Don't worry if it's a little cold. There is an oven that runs on wood to keep things warm. And since you're on a beach, you can always have a bonfire!
7. Candlelit Wedding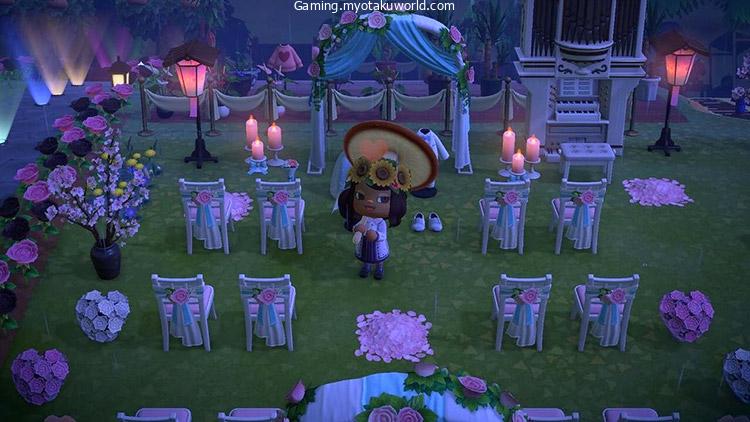 There's something peaceful and sweet about weddings at night.
Candlelight is a light source that looks good on everyone. It looks great around this arch!
There are also a few lamps and lighting to help people find their way to the show.
There's even an organ to play music and flower leaves to welcome the bride down the aisle.
Lots of heart-shaped flowers let people know that this is a party about love.
This design would also be great for a wedding during a meteor shower. Wish for pieces of stars while you wish for a good life with your partner.
6. Victorian Wedding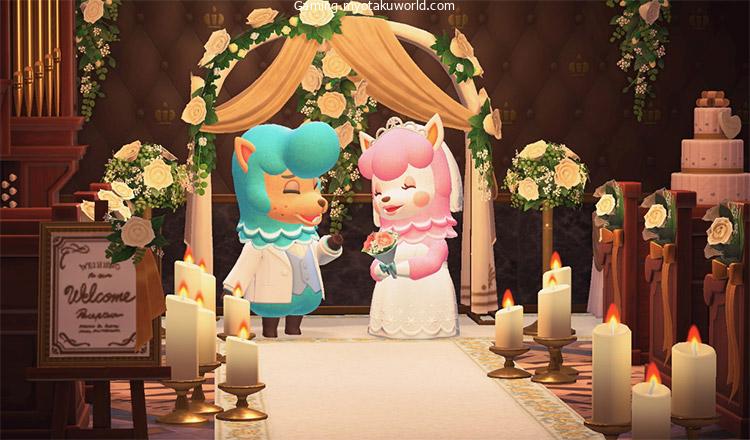 Maybe it's the dark wood paneling or the candles… But this wedding place makes me feel like I'm in the Victorian era.
If you like history, Jane Austen, or just old things, you might want to have a wedding on your own island with a Victorian theme like this one.
Both the clothes and the dark wood are beautiful. It will be a fun day and make for some great shots.
White rose wreaths or anything else white will look good with the dark wood.
You can listen to old-timey music on a pipe organ or, if you can't find one, on a record.
5. Subtle Witchy Wedding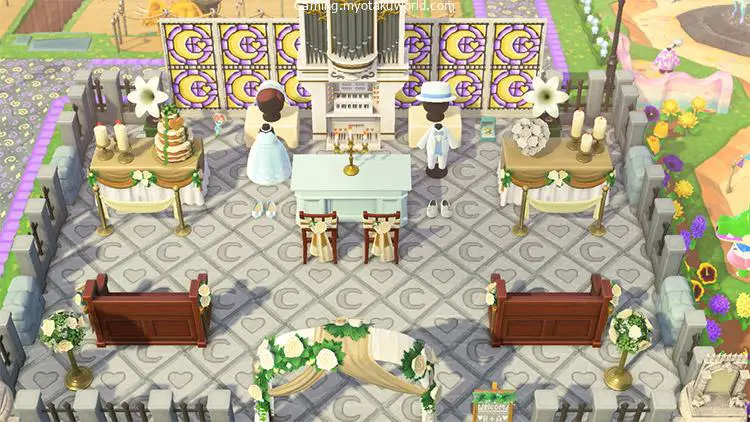 If you look closely, you can see a design of the moon on the floor and in the stained glass.
Purple and yellow flowers and purple edges really help to tie together these unusual wedding colors.
Or, if you want to step it up a notch, you could have a table at the gathering with a fortune-telling set.
For sound, there is a pipe organ or gramophones. So you have choices, whether you want to hear something live or on a recording.
But it's a smaller place. So you'll have to invite just your best friends.
But that means there is more cake for everyone, right?
4. Outdoor Reception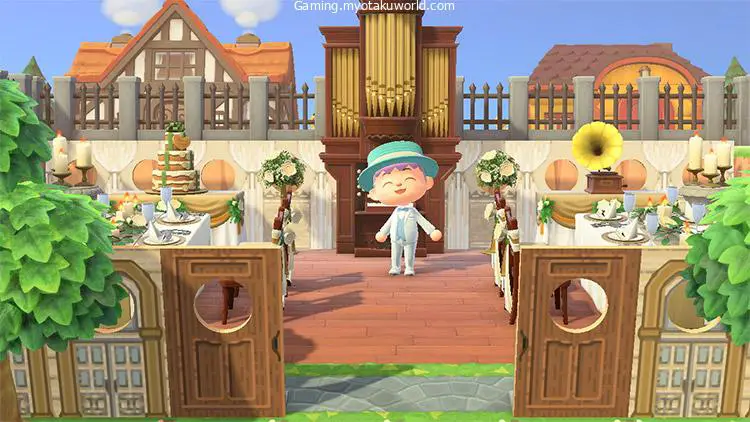 This place for a reception doesn't have a place for an arch for a wedding. But don't worry!
Many weddings are held in different places, either because of time or room constraints or just because.
If it's close to a neighborhood, all of your villagers and any friends you want to ask can come.
This would be a lovely idea, especially at sunrise when the light is so pretty. In this case, the table is set for a great dinner, and the man looks like he can't wait.
3. Wonderland Wedding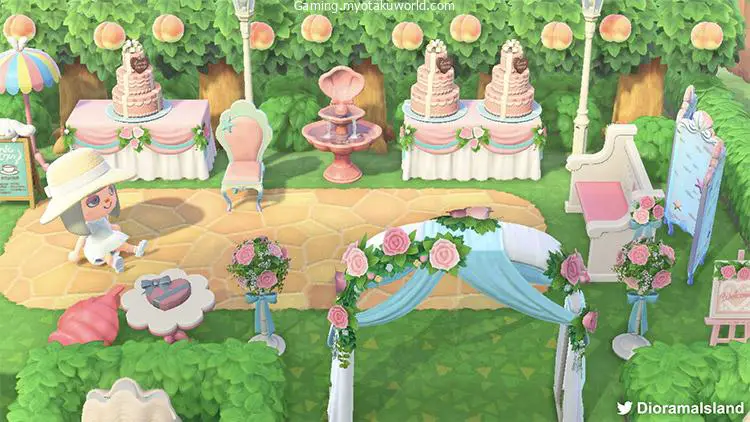 Now, this small place for weddings looks like a scene from Alice in Wonderland.
With the mermaid chair, shell waterfall, and mermaid divider, it looks like a scene from a fairy tale.
Peach trees in the back would fill the air with a sweet smell and give lots of shade and privacy, so no one would look in and that one person you can't stand wouldn't just walk in.
There aren't many places to sit, though. You could always add more if your room is bigger.
But if you don't have much room, this might be a better place to elope or just have a few people watch, which is totally fine! Not everyone wants a crowd to watch them.
But one thing: who asked for three cakes? All I want to do is talk.
2. Rocky Beachy Wedding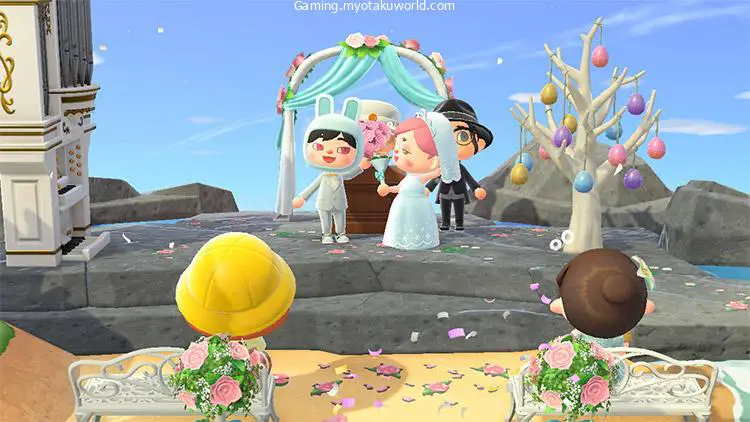 If you want a really cool Animal Crossing wedding idea, this one is awesome.
Okay, I apologize, I apologize. But it does.
This design looks like a party because of the confetti and flowers. Even though I wouldn't choose a groom with bunny ears as my first pick, I understand that this game is all about animals.
Gather your friends and neighbors and go to the beach to have fun and say your vows by the sound of the waves.
Oh, no, I'm not crying. I swear it's just the salty sea breeze hitting my eyes.
1. Duck Wedding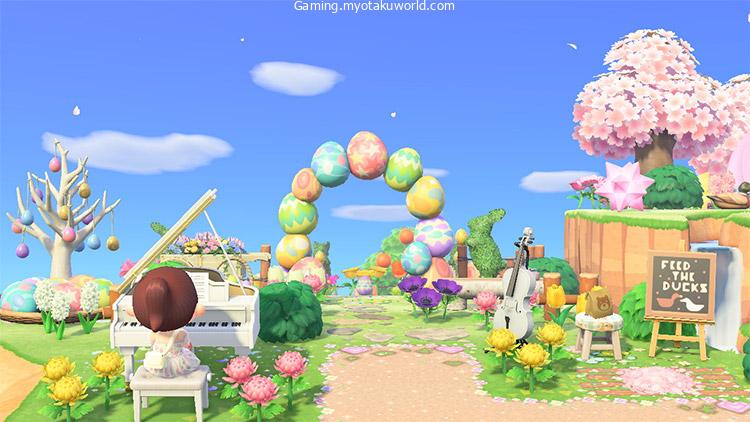 For the very best thing on our list, I give you… a Duck Wedding.
The duck wedding idea is better than the flamingo wedding idea because ducks are cute and flamingos are mean.
So why is this the best idea for a wedding design?
Because ducks are cute.
Okay, that's fine. The writing is also nice. It includes everything important for a wedding, such as an arch, decorations, flowers, and even a confetti machine.
There are also fun picture props, like a moon seat, for all the duck guests to use.
I'm crazy about this one. No doubt about it.