Looking for the ideal location on your island to practice meditation?
The solution you need might be a Zen Garden.
There is no better location to spend your afternoons than in this setting, which features the sounds of tumbling waterfalls and swaying bamboo trees.
However, there is a lot to this peaceful paradise, and you might not know where to begin.
With this collection of the most imaginative and tranquil zen garden designs for ACNH, I've got you covered.
28. Urban Zen Garden in Japan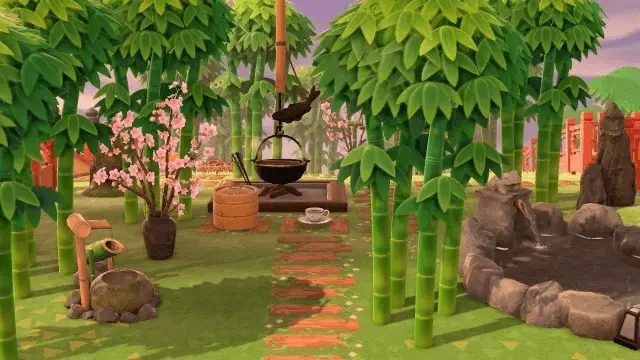 A terraformed area of ground painted to resemble a house and furniture are the foundations upon which this lovely garden is constructed.
It has numerous lakes surrounded by light sand and pebbles, as well as a few cherry blossom trees.
Consider how a simple graphic designer may be used to produce marvels as you take in the magnificence of this garden.
27. Insect Garden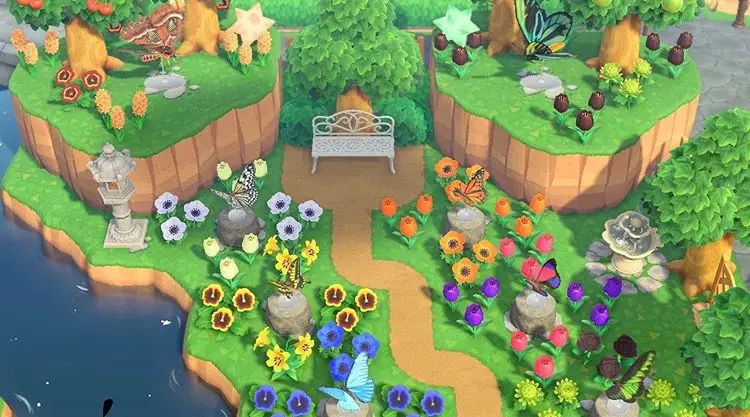 A straightforward garden was created by Fleurs Crossing using the colors blue and white. In the center of the garden, there is an iron bell.
By the lilacs and roses are statues of blue butterflies.
Fleurs sits down on a bench towards the conclusion of her speed build as she pans the camera to provide a clear picture of the butterfly garden.
26. Flower Greenhouse Garden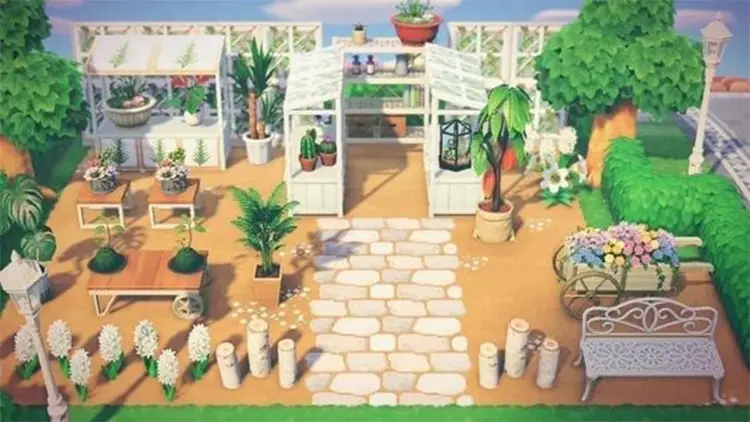 The former garden exuded a sophisticated vibe, whereas Fleurs concentrated on an earthy style.
Wheelbarrows and shovels are dotted throughout the garden, which has a border of white flowers.
The north end of the greenhouse is filled with several potted plants.
25. Peaceful Garden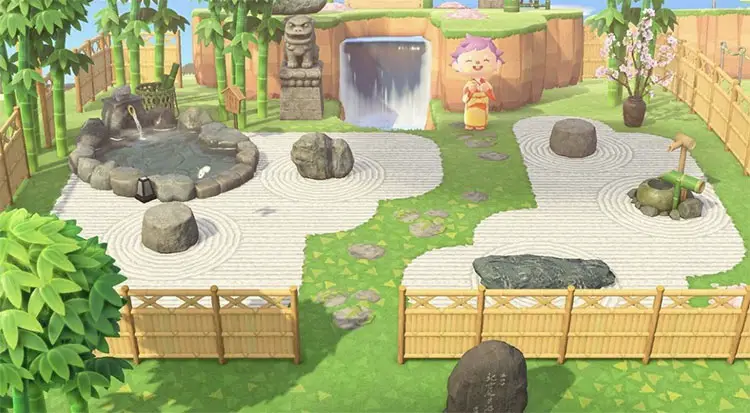 You can do this by first laying down your preferred unique sand design, which you can make yourself or find online. To make it fit your room properly, just be sure to round the edges.
You can also arrange some rocks and stone stools in the center of your own pattern before spreading it out in circles.
To enhance the zen atmosphere in your garden, construct a waterfall off to the side.
Then, you can incorporate a bamboo fence around the exterior and numerous bamboo trees. A tiny rock pool will finish the look.
24. Bamboo Grove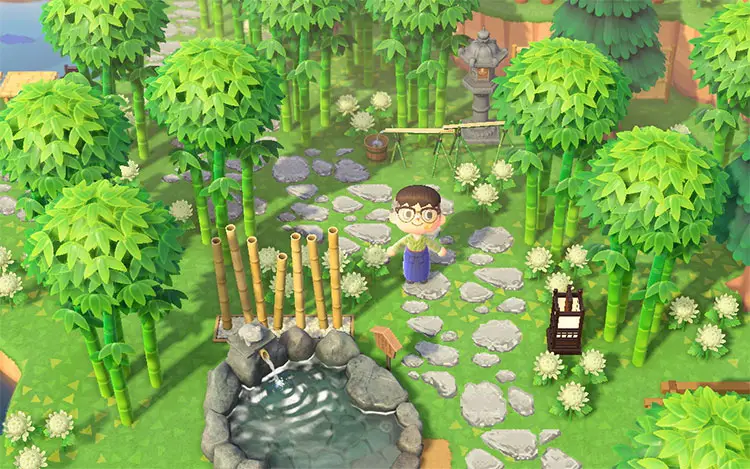 What could be better than a stroll through your own own zen forest to start the day?
This can be achieved by cutting a custom stone road through the center of any space you choose.
For added relaxation, be sure to surround the path with lots of bamboo trees.
If you want to stay out late, adding some lanterns along the route will be a great touch.
23. Bushy Garden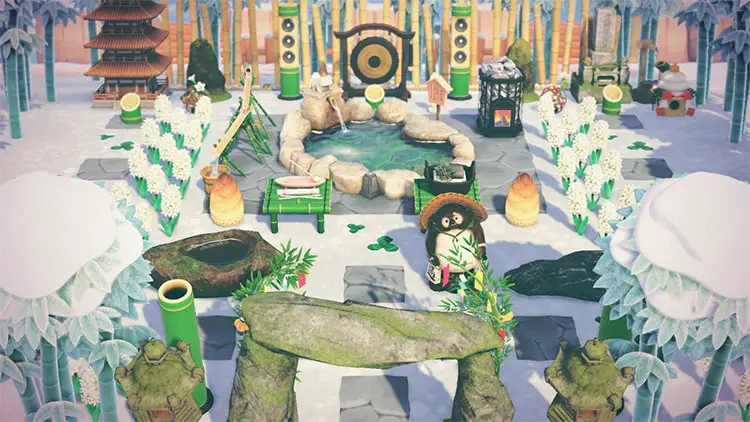 Here's an intriguing design if you want to try a new approach to your zen garden.
There is a lot going on in this zen garden, and it has everything you need to unwind.
Making it yourself is simpler than it appears. You only need a lot of bamboo objects to scatter across the area.
To delineate the area where your garden will be, place a lot of white flowers on either side. Although they may be any color, white looks fantastic all year long.
Place a rock pool in the middle of your yard and arrange all of your bamboo furnishings around it.
To complete the beautiful Asian motif, include a pagoda and a gong.
22. a modest garden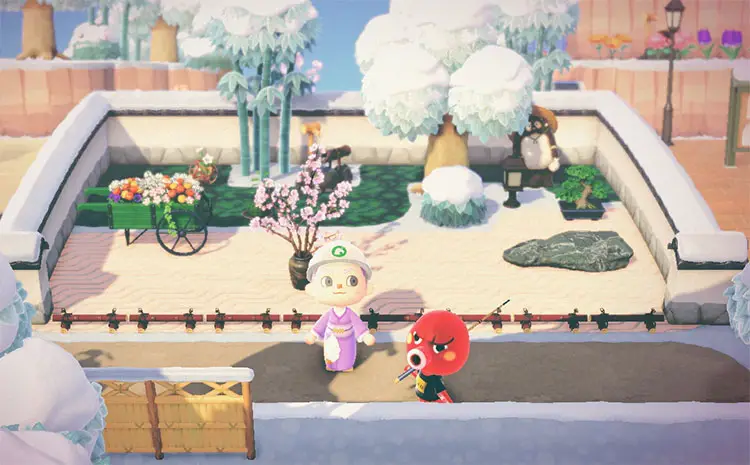 Why not try this smaller zen garden design if you want to keep your island simple?
To get started, simply create a tiny space on your island and use the zen fence to delineate it.
Check your Nook Stop every day until it is on sale to purchase this fencing. To make any form of zen garden, it is a requirement.
To further the motif, you can use a variety of bamboo and cedar trees inside the garden.
Don't forget to include a few rocks and cherry blossom-themed objects as well. The fit is just perfect!
Add a bonsai tree wherever you like to finish.
21. Hidden Garden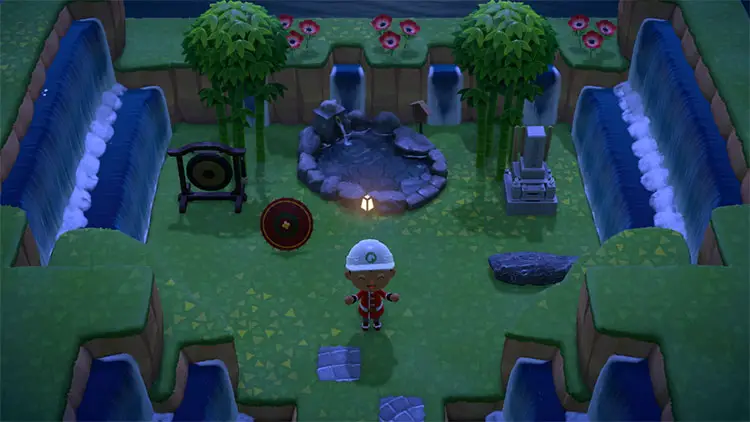 Wow, those waterfalls indeed are beautiful.
Start by constructing some cliffs and enclosing your secluded spot with two stunning waterfalls to create this private retreat for yourself.
Add some lamps and a small rock pool in the centre to give the area a serene glow.
Don't forget to include some bamboo trees and a gong to tie everything together. Right, it's simple and easy?
20. Zen Island Space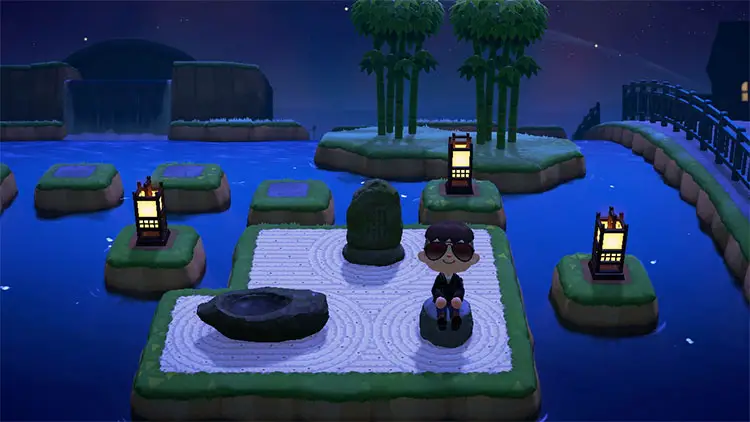 On your island, let's attempt creating a zen island! Even the name is prepared: Zenception.
If you don't already have a lake, simply dig one out and place a small island in the middle of it. It can be any size that you desire.
Remember to place some stepping stones so you can access to the island with ease.
After that, spread out some unique sand patterns and finish off the space with some stones and stone stools.
Additionally, you can set up a few lanterns on the island's tiny floating terrain. At night, it grows darker.
19. Garden of Black Sand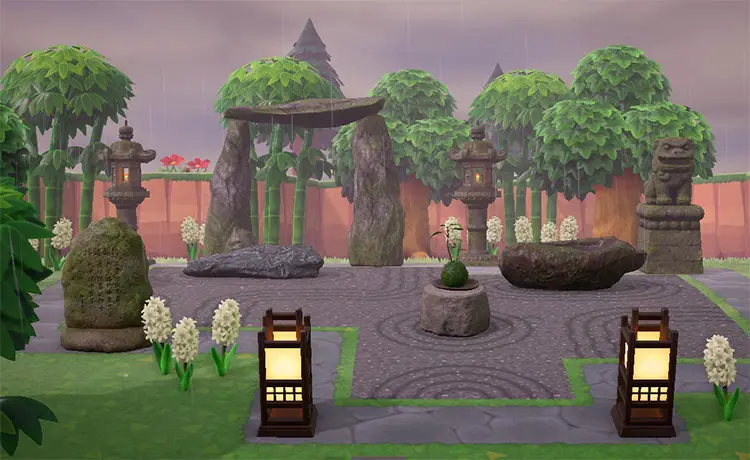 I adore the concept of a zen garden. It's quite straightforward but quite inventive.
To build your flooring, all you need is a black sand bespoke design. If you can't design this one yourself, look online; otherwise, it's not too difficult.
The area can then be furnished with a lot of stone furniture to continue the motif.
Don't forget to decorate the area with flowers and lanterns as well. This will increase the tranquil light in your landscape.
Of course, some bamboo trees are also necessary to complete the image.
18. Following Tea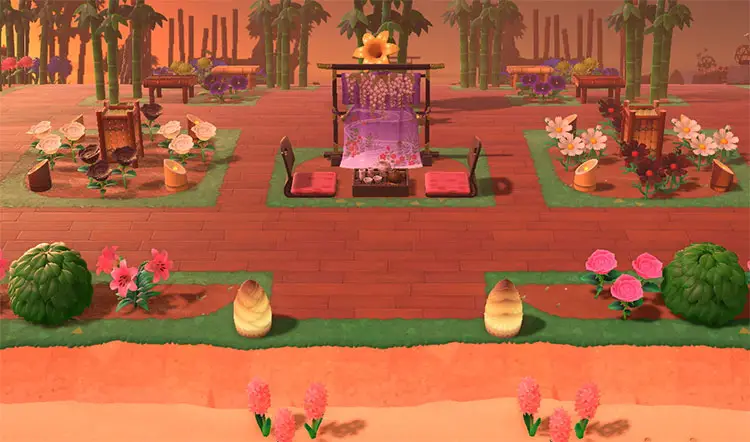 Have some tea in this wonderful zen garden to ease your island tension.
Laying down some hardwood flooring outdoors will help you create this area, but be sure to leave some space for decorating.
Add a ton more bamboo furnishings at this point, along with some bamboo lamps for that cozy evening glow.
Anywhere you choose, you can also install a bunch of bamboo trees.
Don't forget to finish the garden by including some floor seating and some tea.
17. Grass Garden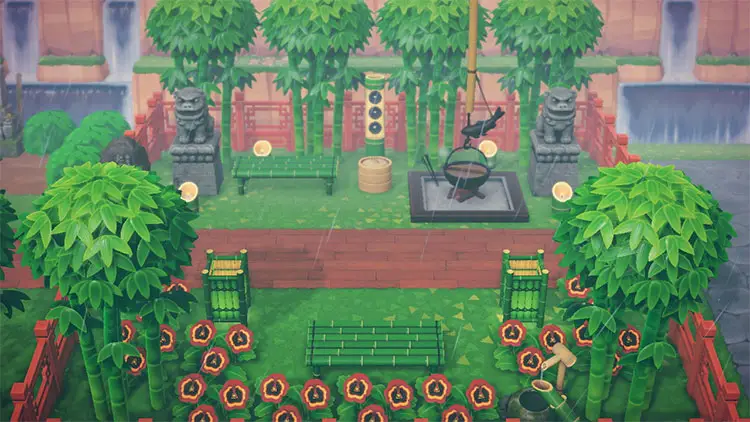 The grassy zen garden here is the ideal place to meditate in the late afternoon.
And creating it is so easy!
Find a location close to your waterfalls to start creating this effect. For a tranquil atmosphere, you want your garden near at hand.
Then establish a space enclosed by the zen bridge. You can also create a wooden path that runs through the center of your garden.
For the final aesthetic, add plenty of bamboo-made objects and bamboo trees. Those figurines made of stone are a lovely finishing touch.
16. Zen Forest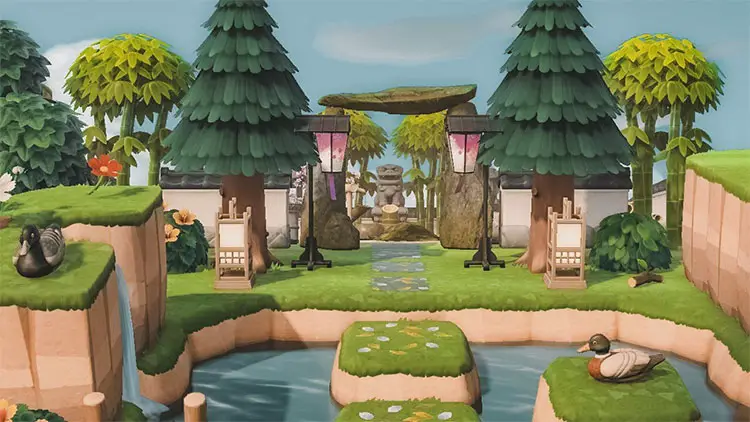 Although we've discussed many different entry styles, this zen entrance is absolutely unique.
You can build the strewn leaves on the ground yourself using personalized designs. Although optional, it is most definitely advised!
A stone arch and a few cherry blossom lamps should then be added to frame the entry.
To give it a forest-like feel, be sure to incorporate a nice variety of bamboo, hardwood, and cedar trees. After that, relax and admire your creation.
15. Zen waterfalls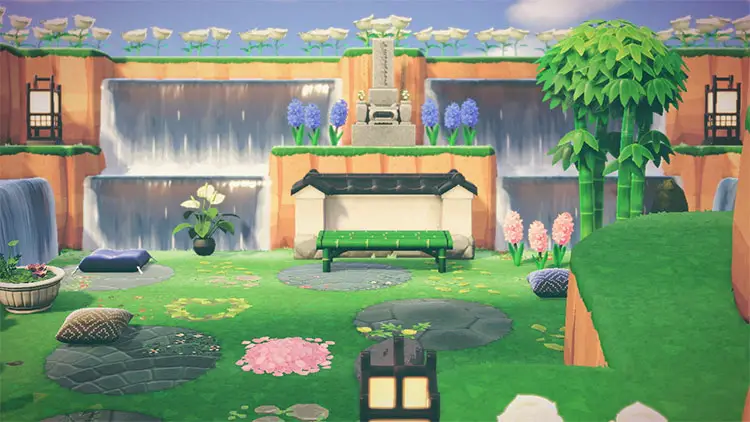 Make a statement in your zen garden with this magnificent waterfall design.
It's also not as difficult as it seems. Create some cliffs first, then create waterfalls all over the borders of the cliffs.
To really bring the area to life, add some finishing touches like zen fence and bamboo benches. To continue with the natural motif, you may also add a lot to bamboo trees and flowers.
Finish by scattering pillows and lights about the space. I guarantee that this will quickly become the most well-liked rest area on the island.
14. Sand Garden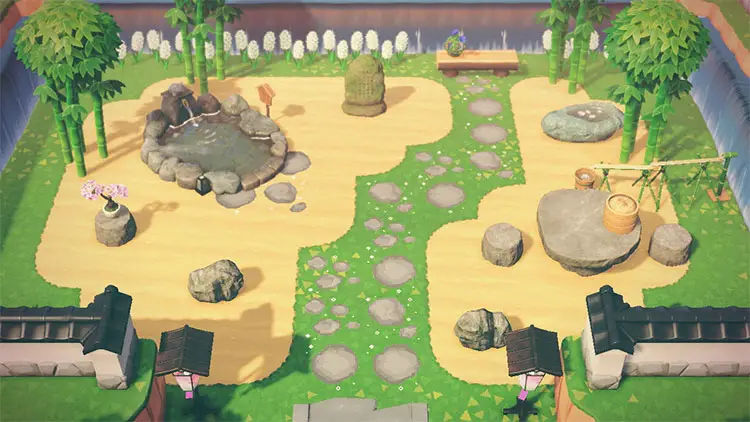 For your island, you absolutely need to have this gorgeous zen sand garden.
Start by creating some unique sand patterns if you want to do this yourself. You can create patterns with rounded edges or ones that meld with the grass. Your decision!
But make sure to incorporate some distinctive stone patterns as a trail that passes through the center.
To continue the motif, you can also include some stone tables and chairs. similar to a zen picnic area
Don't forget to include numerous bamboo furnishings and trees, as well as some zen fencing around the boundary.
13. Hilltop Garden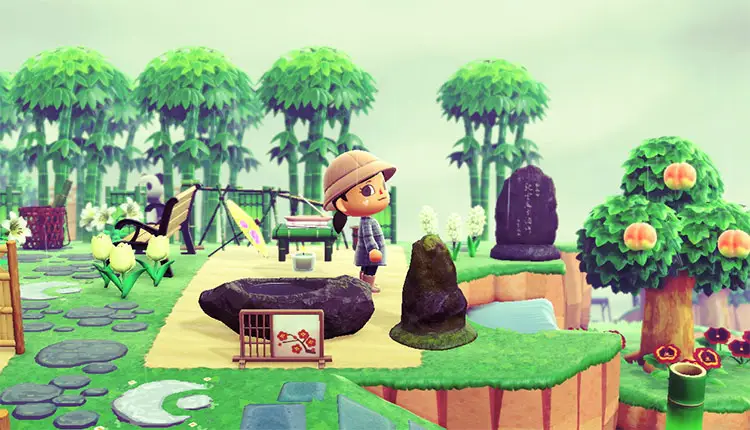 Check out this lovely zen garden on a hill! Worth a thousand words in actuality.
Bamboo trees are a need here; the more there are, the better.
Additionally, create some unique stone pathways that lead into your garden.
Then construct a waterfall at the summit of your hill to give it the appearance of an infinite pool, and the area will swiftly emerge as the most tranquil one on your island.
12. Compact Garden Area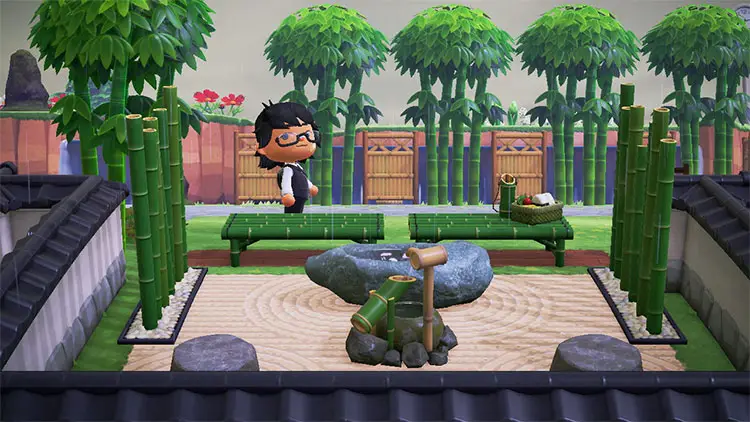 With the help of this incredibly tiny zen garden, enter tranquility.
This is ideal for people who wish to build a zen garden on their island but don't have enough area. You might even be able to fit this in your backyard!
Start by establishing some zen fencing to delineate your space. Then you can incorporate a unique "raked sand" motif into your location.
A bunch of pebbles, some stone stools, and of course some bamboo seats should also be included. Finish off this sweet garden by surrounding it with numerous bamboo trees.
11. Entry for meditation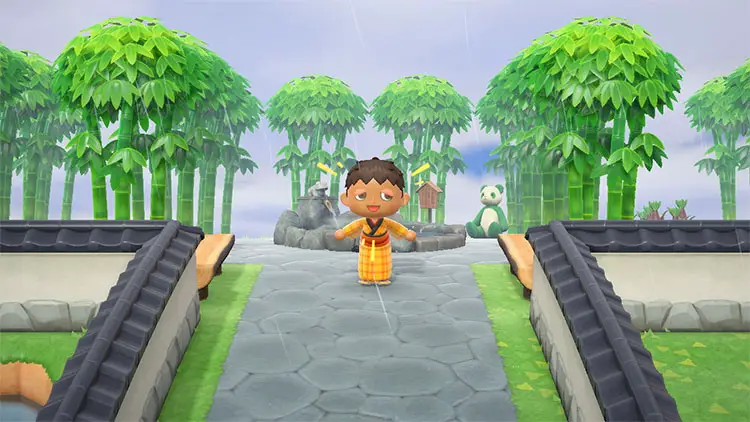 One of the simplest entrances in the zen style is definitely this one. Create a stone road from your airport using some stone flooring, and then use some zen fence to delineate either side.
The first thing guests to your island will see when they arrive is a rock pool, so make sure to install one in the center of your garden area.
To finish off this fantastic garden, add a ton of bamboo trees.
10. Picnic Area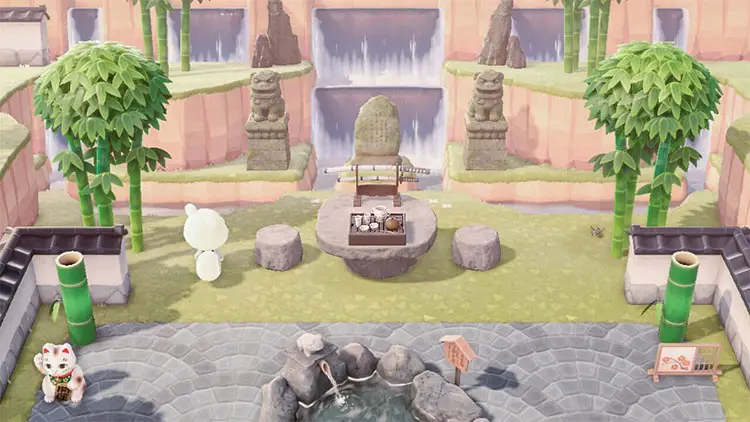 You'll always have a place to relax if you create this serene zen picnic area.
The only things left to accomplish are to lay down some stone flooring and some zen fencing around the perimeter.
The ideal spot to sip some tea by the river will then be created by adding a stone table and some stools.
9. Very Small Garden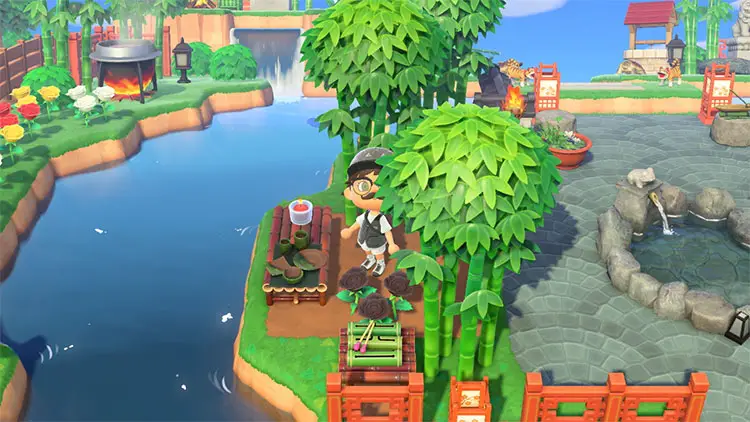 You once thought our little zen garden was tiny. Look at this concept!
This one is modest enough that you could create a Zen area in each and every villager's yard!
However, if you desire a gathering place, you may try to imitate the idea by putting your zen garden along your riverside.
To complete the effect, be sure to add numerous bamboo trees as well as some bamboo chairs to the area.
8. Super Simple Garden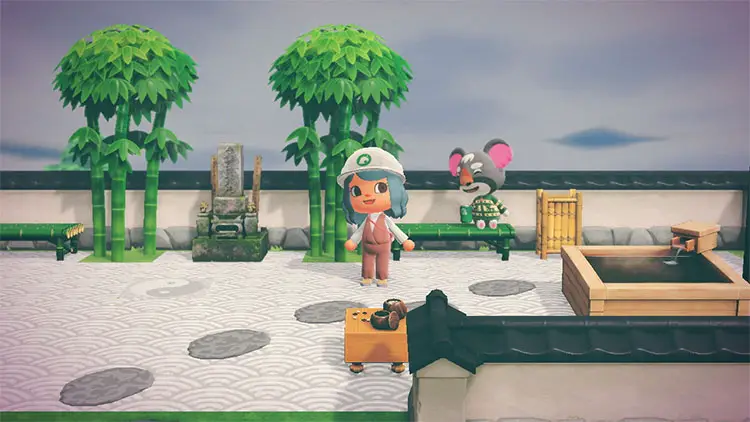 Try this really easy zen garden; it's perfect for beginners creating their first zen place.
Start by constructing the sand basis for your zen garden by adding your own unique flooring design.
To isolate oneself from the outside world, make sure to install some zen fencing around the location. Silence is excellent for meditation!
Then you may go in and put tons of bamboo trees along with some seating.
Add a bathtub made of cypress to complete the look for some soothing evening soaks.
7. Pool of Rocks Area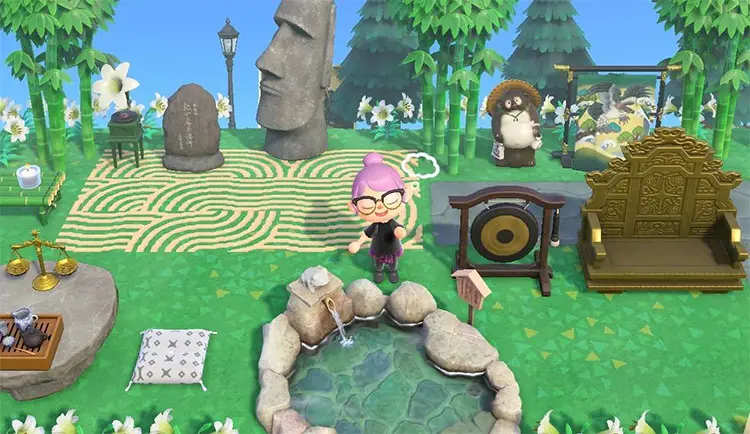 This design should be considered by anyone creating an island with an Asian flair.
Start by adding some unique sand designs to make a little garden area if you want to recreate this.
Add a rockpool to complete the idea, and you can even place a pillow nearby so you can unwind while listening to the soothing sound of the water running.
Also include a golden seat, don't forget!
Finish by including a gong for a really zen atmosphere.
6. The Rock Garden Area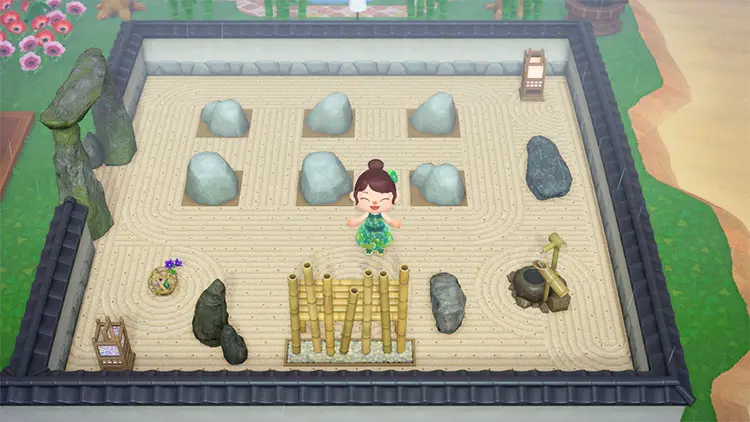 Why not create a zen garden where you can collect all of your rocks?
This makes gathering materials from your rocks every day so much simpler. Excellent concept.
You can accomplish this by breaking one rock on your island every day, though it can take some time to get all of your rocks in one location. Then, the following day, it will show up somewhere else.
Pro Tip: Try planting a number of outfits around your island to block the ground in other places in order to compel the rocks to appear in a specific tiny area that you chose.
A mannequin will display a design when you display it. Rocks will have to spawn in the regions without mannequins if you install these all around the majority of your island. Quite clumsy, but it works!
5. Museum of Zen entrance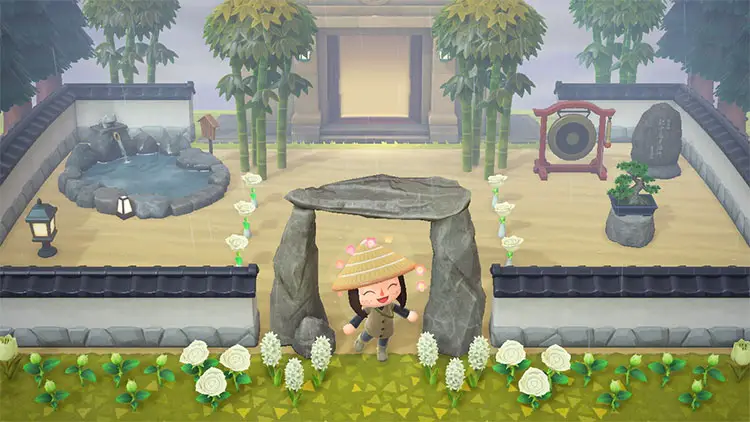 The island's entrances have been discussed, but what about the museum?
Let's start by laying down some sand to provide Blathers a place to unwind. The entry to the museum can also be marked out with some zen fence outside.
By including a stone arch to frame the entrance space, you can make this design stand out.
Then throw a ton of stone objects, bamboo plants, and a rock pool for good measure.
4. Zen Bridge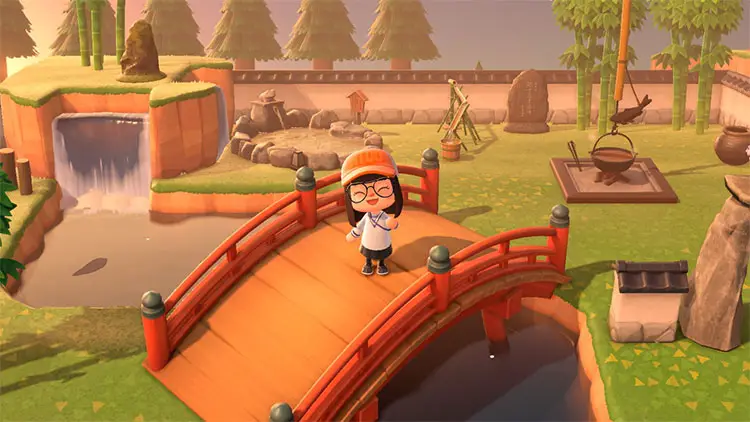 Imagine that you want a whole area devoted to your zen garden. Could we do that?
Of course!
Build a small cascade into a cliff as your first step; it doesn't have to be very large. However, let it flow into the river that traverses your island.
Then you can create a zen bridge crossing the river and leading directly to your complex of zen gardens.
To finish the look, place a rock pool and other rock-related accessories.
Finally, add some bamboo trees to the area's surroundings.
3. The Zen Yard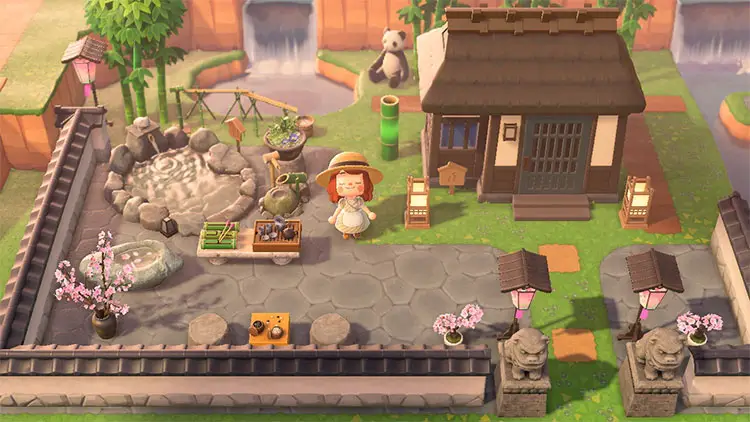 Yards with zen spaces have been teased before, but this one is truly fantastic.
Nothing beats putting your feet into your own own zen garden when you first step outside in the morning.
Mark off your garden with some zen fencing to create this on your own. This may be your front yard, side yard, backyard, or even a combination of all three!
Make sure to include a waterfall in the area behind your home if you live near running water. very calming
2. Big Bamboo Forest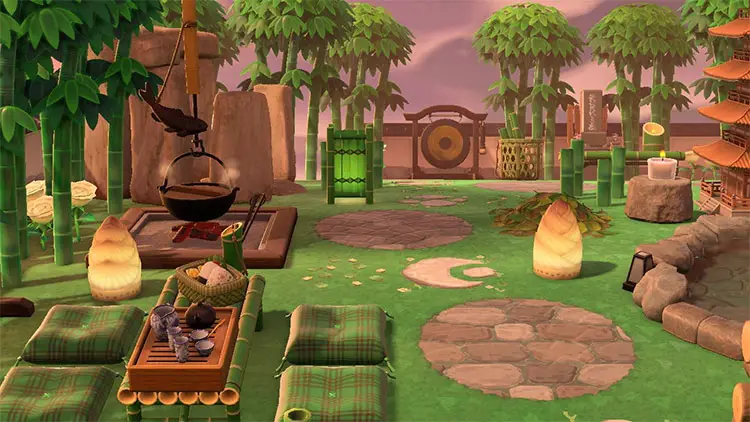 This gorgeous zen garden has earned a prominent place on my list. Additionally, this garden shouts (or whispers) tranquility thanks to its charming seating area.
This can also be made by you, provided you put in some effort. Start by placing a few bamboo trees and several bamboo things all throughout the place. You name it: benches, tables, and pillows.
There can be some bamboo shoot lighting added to create the ambiance of night.
Add some unique designs to your flooring, lastly. As long as they adhere to the zen style, you can make your own designs or use ones that are already available online.
1. Zen Rock Island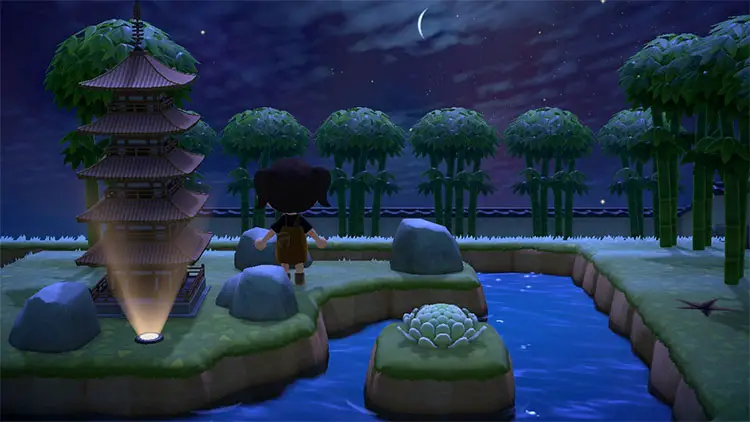 My favorite zen garden layout is without a doubt this one. It has carefully arranged trees, and it looks wonderful!
On a nice night, this would offer the ideal location for stargazing.
Create a small island in the center of your garden and surround it with a flowing river before beginning to mark out your zen garden with zen fencing.
You can't get any closer to nature than this!
Then construct a pagoda and some stones on this new plot of land in the river.
One heck of a meditation location can be created by adding a small light to illuminate the pagoda and perhaps some additional sand designs for a zen garden area.