Build the Music Concert Stage Areas of your dreams in Animal Crossing: New Horizons to show how much you love music.
Whether you want a big show or a small cafe, there are almost endless ways to set up a place where everyone in your town can move and groove to catchy tunes.
So get out your guitars and bows and start playing.
Put down that fishing stick and get something a little more musical. You can tune a piano, but you can't catch fish.
12. Afghan Whigs Concert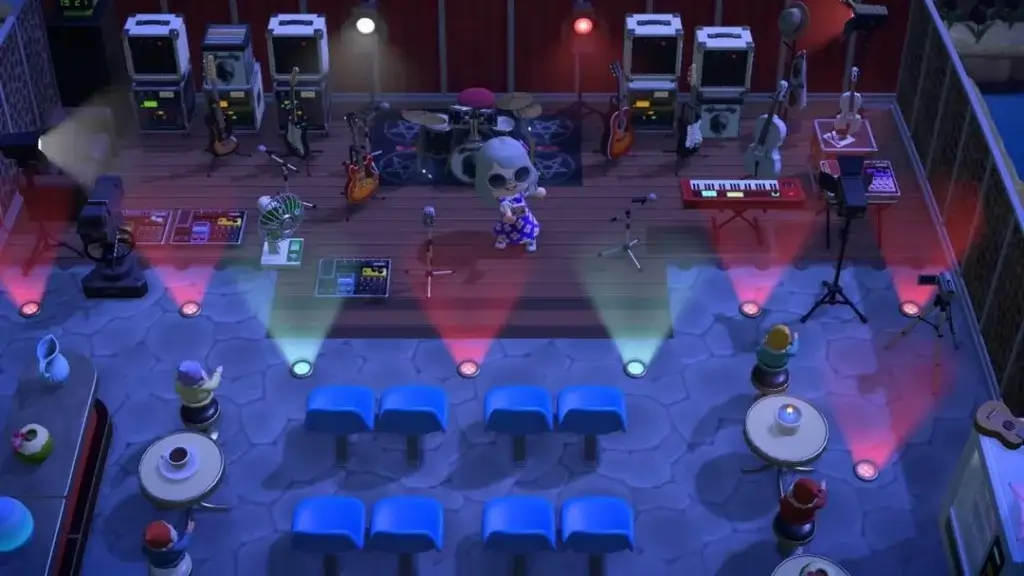 Let's start with this great afghan whigs concert design which is created by krystalstaarr, a reddit user.
I really like the setting area and the lights this design has.
This Music venue really get the party going.
11. Outdoor Concert Area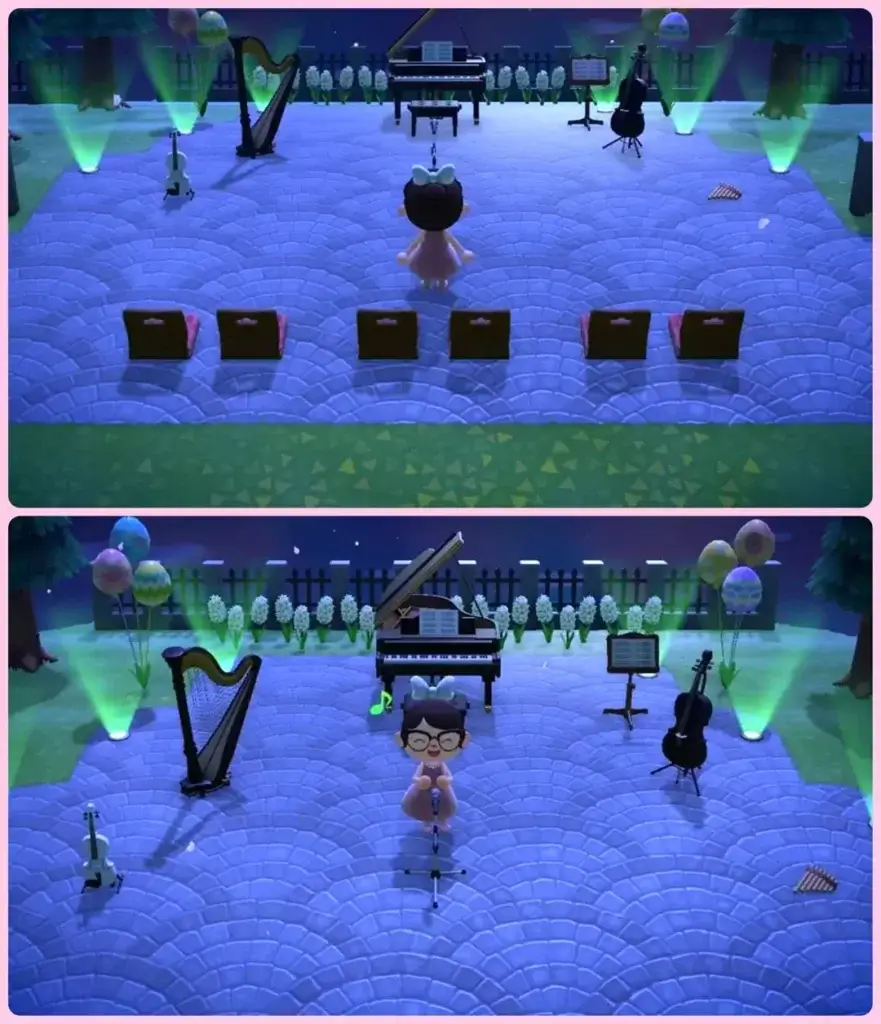 Personwhoisfriendly from reddit created this design so that he and his friends can create terrible, terrible music! 😀
That's what he says but i really like this design.
and if you are planning a concert then this outdoor design will help you out!
10. Beach Nightclub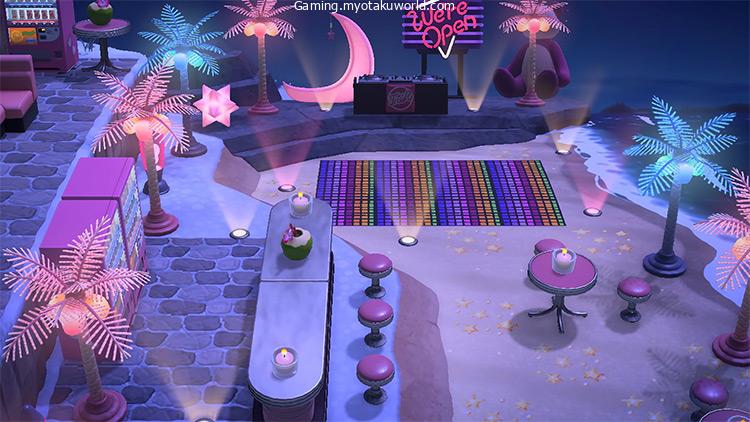 When you live on an island, you are surrounded by the beach…
Why not let your people dance the night away to live music in the sand and surf?
For a dance-floor look, use neon-colored squares to make a path instead of a stage. If you want to keep the party going all night, you must have stage lights.
Your party friends will definitely get sweaty moving and rocking to the live D.J. So it wouldn't be a bad idea to add a bar where they can get a cold drink in a coconut shell while palm tree lamps shine.
9. Cafe Stage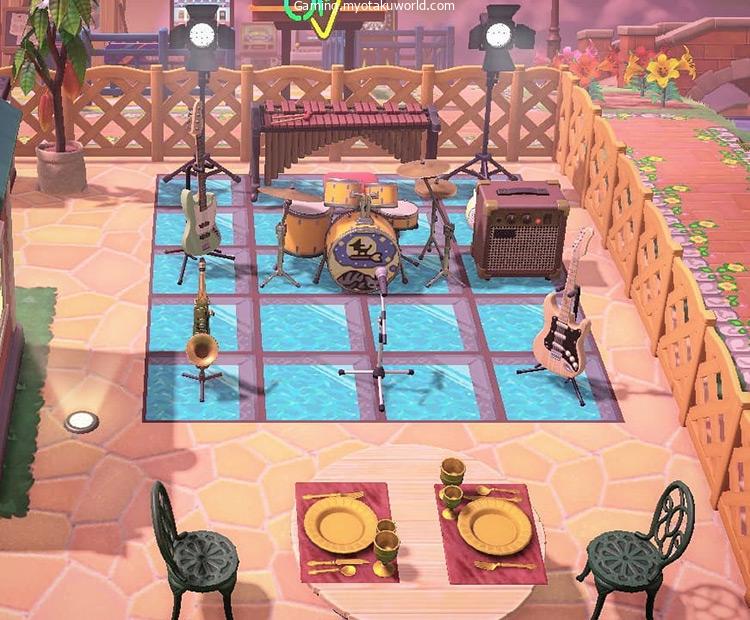 Dinner and a show are always a good idea. So build a cafe with a stage so that people can perform live music while they eat.
The stage was set up with a xylophone, two electric guitars, a saxophone, a microphone, and a drum set. The creator didn't waste any money.
Diners can enjoy a wide range of music, from lively hits for brunch to moodier tunes for summer evening get-togethers.
But the best thing about this cute cafe is that it has a music stage that looks like it's built on a glass floor over water!
It gives this restaurant a beachy look and would be great for a tiki bar or Hawaiian restaurant.
8. Backyard Practice Stage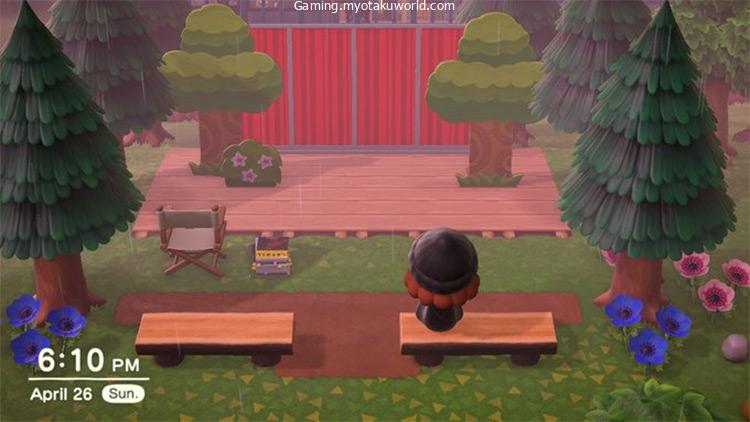 If your peasant isn't ready to show the world what they can do yet, you can build a simple stage in the back yard for them to practice on until they're ready.
When you're not using the stage and standees to try out your latest dance moves for your next dance track, your friends who are trying to write plays can use them to practice.
To make this performance space more flexible, add a space backstage where you can store extra props or show off your best concert-ready outfits.
Add a lot of seats and little extras like a popcorn machine or mics to finish it off.
7. Basement Concert Hall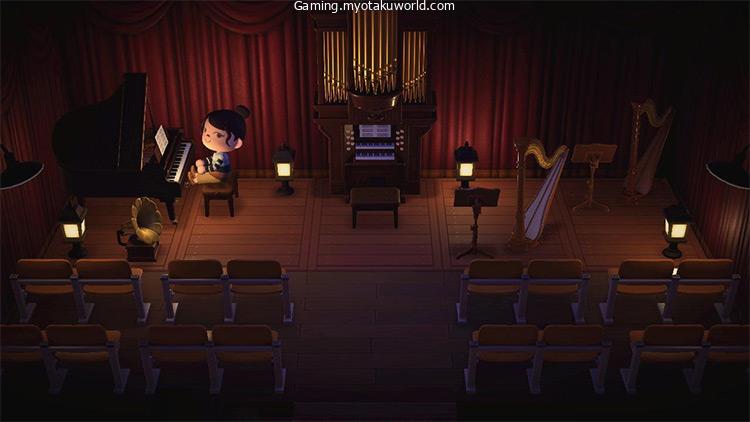 Your home can be a fancy music hall to show off to your friends.
Turn off the lights and cover everything with a heavy dark cloth.
This person used traditional red curtains, but black or gray curtains would also add to the atmosphere.
You don't need electric guitars or stage lights for a classic event hall. Set up a harp, music stands, and a grand piano instead.
The organ in the game is a very nice instrument, and it can be the focus of your stage.
Instead of floor lamps, choose iron lamps. They give this indoor arena an old-fashioned feel that fits with its more serious mood.
6. Outdoor Symphony Orchestra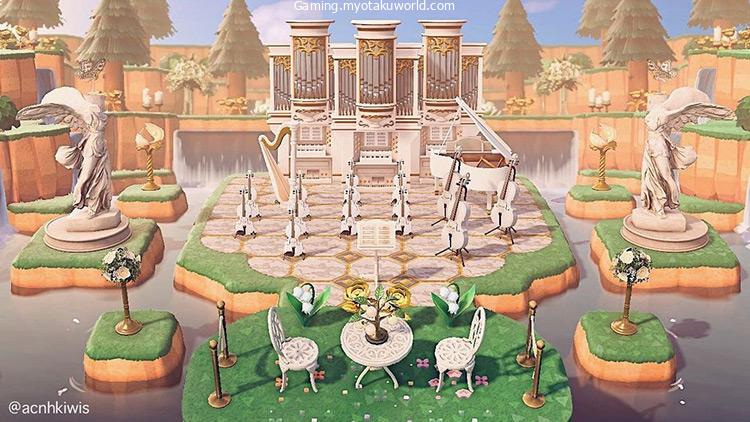 If you like the idea of a symphony orchestra but would rather have a light, airy atmosphere, move the place outside.
Switch out the wood tones and wild neutrals for heavenly creams and shimmering gold to change up the color scheme.
This designer added a separate island set for two, making it the perfect place to take your sweetheart to a show in the middle of the afternoon.
Use your own sharp eye for details to make a setting that looks classy.
Candles, flowers, figures, a stage covered in gold… With a little creativity, you can be as elegant and lavish as you want.
5. Lifted Concert Stage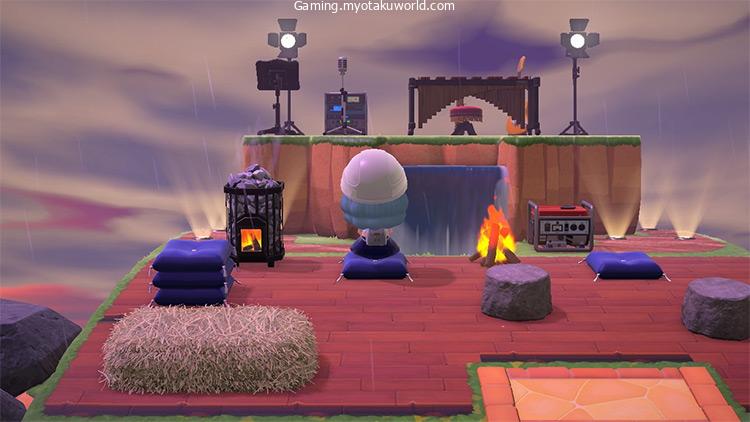 Your music stage should be as awesome as the jams you play on it.
Usually, hydraulics are the only way to lift a stage.
But with a little terraforming, you can skip the machinery and turn a part of your island into its own show platform. This natural way of making a stage is very different from how an orchestra is set up, but it has its place in more rural areas.
Add a waterfall that falls off the tiers and into the river below to make your sitting area more interesting.
Then, add pillows and fire pits to make an inviting, rustic place where your villagers can enjoy live music without getting cold.
4. DJ Booth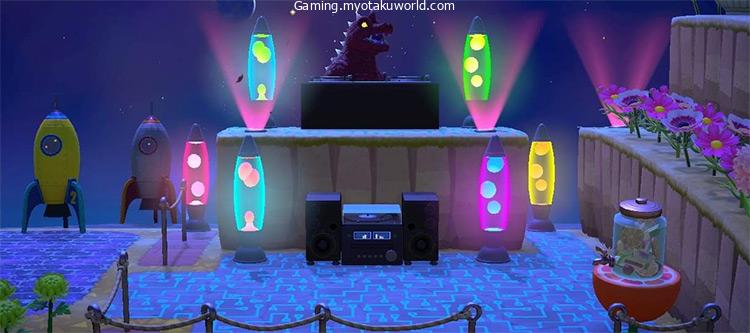 Does one of your favorite villagers really want to be a record spinner?
Want to surprise some friends with a dance party?
Then it's time to set up your own DJ booth on your island!
You can make it as funky or simple as you want, making it easy to dress up for special events.
This artist went all out by using lava lamps, rocketships, and, of course, D.J. Godzilla.
Since K.K. is only around on the weekends, you can keep the party going all week by dressing up in your favorite house party outfit and running the booth when our favorite concerto dog isn't around.
3. Plaza Music Studio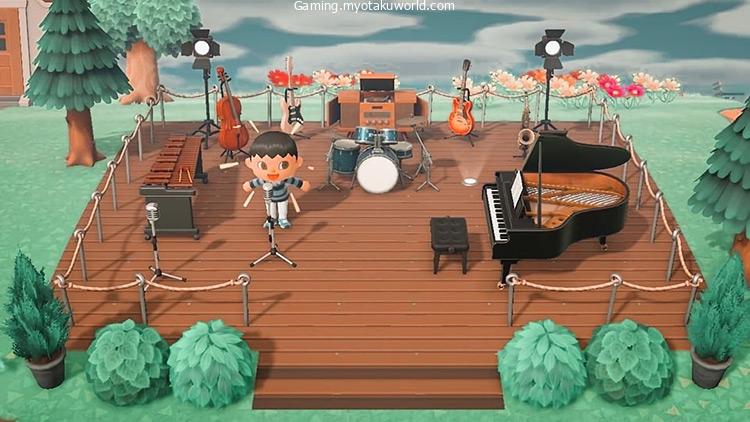 If your town likes to get together for casual jam sessions, a square music studio means that your neighbors never have to wait to show off their skills.
Since this isn't really a stage, you don't need much space for dancing or setting up props.
Instead, use as much of the space as you can to show off your growing collection of musical instruments in whatever way makes the most sense to you.
Put some couches or cardboard boxes around your instruments to make it feel more like a "garage band" practice spot, or move from the plaza to your basement.
2. Pop Concert Stage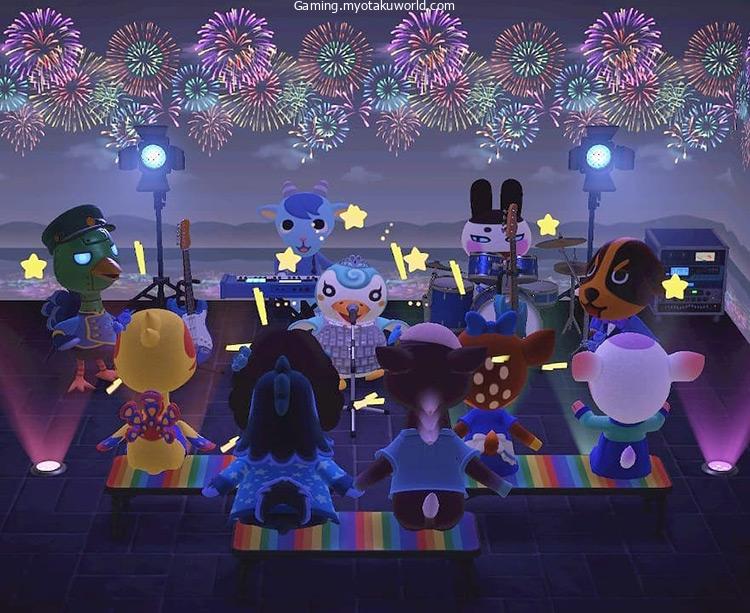 Create a pop performance stage for your happy villagers so they can finally live out their lifelong dreams.
It's almost too cute to bear to think of Bluebear, Cheri, and Tutu as the best pop idols in the world giving a show for your whole town.
You'll need to go all out with the glitz and glitter for a pop stage.
We're talking about fireworks, a lot of cute props, and enough seats for shows to be sold out.
If you really want to make the best pop club in New Horizons, focus on pinks, blues, and purples in your color scheme.
Then, you can choose lighting that makes the candy-colored extravaganza stand out, and you can call your friends to dance all night to the happy beats.
1. A Whole Music Festival!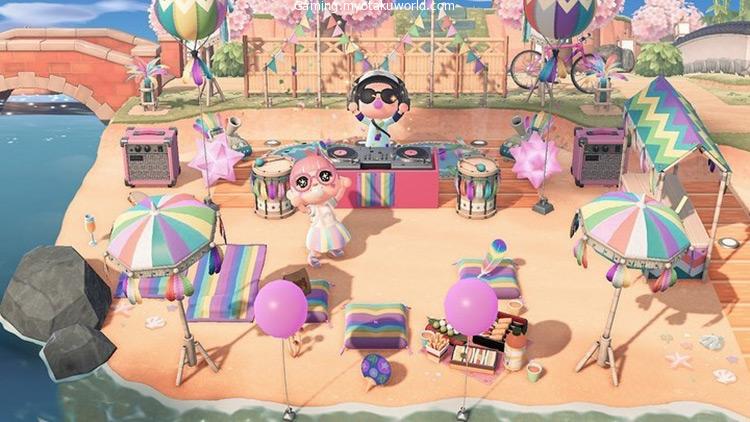 Sometimes you just can't choose between all of your design ideas for a music place.
You are very creative, so let's put it to good use and make a design for a whole music event!
Combine your best ideas from this list into a big event with multiple stages set up for different types of music…
There were bright, flashy pop stages, dark, dirty punk stages, and even disco dance zones from the 1970s.
At this party that lasts several days, everyone will need to eat.
All that dancing is sure to make you hungry!
Make food booths with musical names like The Peach Boys Desserts, Buns and Roses Burgers, or Motley Crüdités for your veggie-loving guests.
Last, don't be cheap when it comes to where you stay.
Set out a lot of blankets so that people can sleep outside under the stars. Set up fire places so that people can stay warm even when it's cold.
But, and this might be the most important thing, don't forget the temporary toilets!