Animal Crossing enthusiasts have proven to be a creative bunch by creating a variety of fantastic Bedroom ideas designs and island layouts with the tools in Animal Crossing: New Horizons.
The player house, however, is the most important aspect of the animal crossing arrangement modification, and the new personalization features in New Horizons have made it possible for players to create some amazing room plans.
Players can explore a ton of unique furnishings and backdrops in New Horizons, including some multi-sided, moving backdrops, but what sets its floor plans apart is the degree of personalization available for the bedrooms (player's approach).
Players can sketch and spot anything they want using the planning devices in New Horizons.
21. Warm Nasty Bedroom Concept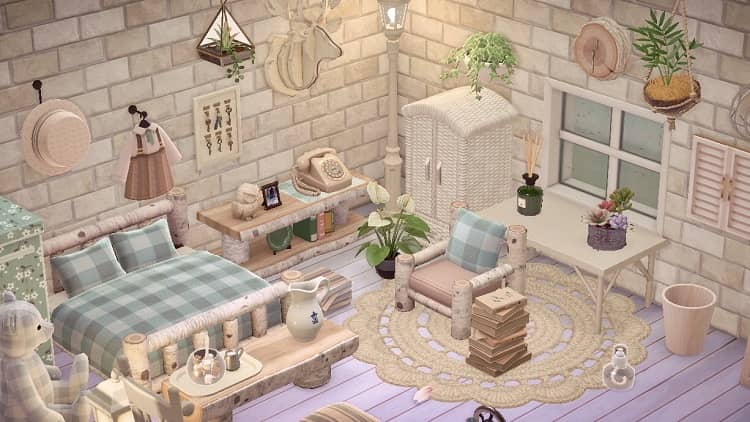 You are fortunate enough if you have a warm bedroom to stay warm while it is raining outside.
An amazing, warm bedroom that is so near to nature has been suggested by an animal-crossing gamer.
In the game, there are numerous ways to use wood logs for villagers, including beds, benches, or tables for everyday usage, wooden shelves, etc.
This adorable animal-crossing bedroom has a cozy feel that is only enhanced by the brick wall. Purchase a phone, a cabinet, and some accents like artwork, plants, etc.
20. An Enchanted Starry Bedroom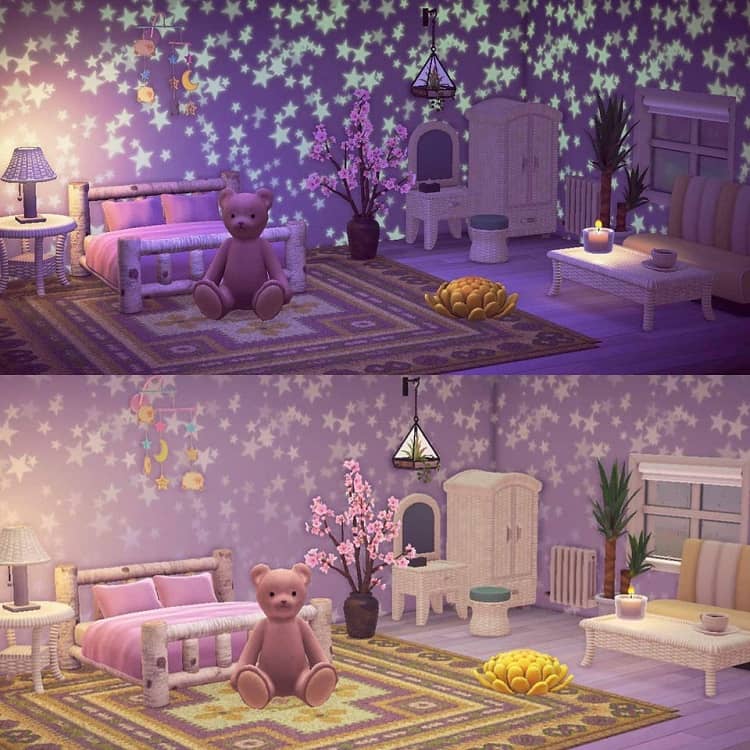 The bedroom has a lovely light purple color scheme.
Simply put, a hardwood bed is made cozier and more lively.
You may get your room lit up all day and all night by purchasing illuminated stars for the ceiling and walls.
Check out vibrant beige and grey bedroom designs as well.
19. Pink Animal Crossing Bedroom Cute Fairytale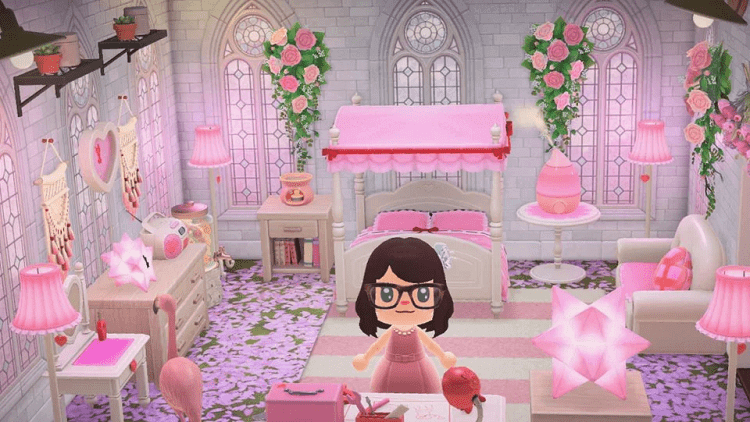 Girls' pink bedrooms are their ideal.
The pink tone blends wonderfully with the rustic wooden furnishings.
The stunning white-pink rug breathes life into the space.
Beautiful butterflies and pink flowers appear to get their inspiration from nature. Look at the table and the pink PC. It's just a fantastic design.
18. Nature's essence in the bedroom
The interiors that players design for their islands are captivating.
A rustic wooden table is stored next to a magnificent wood log bed.
The table has a plant lying on top of it.
Additionally, the thoroughly mixed white, green, and grey tones bring it even closer to nature.
17. Closet For Animal Crossing Bedroom With Full-Length Wall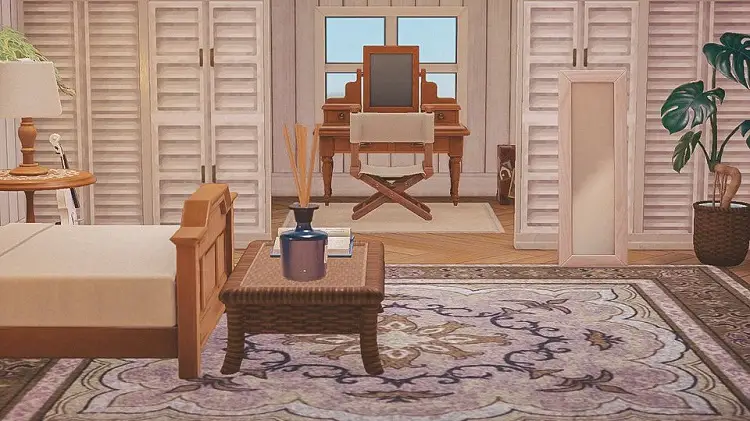 The next concept serves as the ideal illustration of a minimalist, contemporary bedroom.
PinkBananaBlue, a Reddit member, kept the design simple and made good use of the available area.
Full-length wall closets offer the best storage capacity.
16. The headboard has a string light.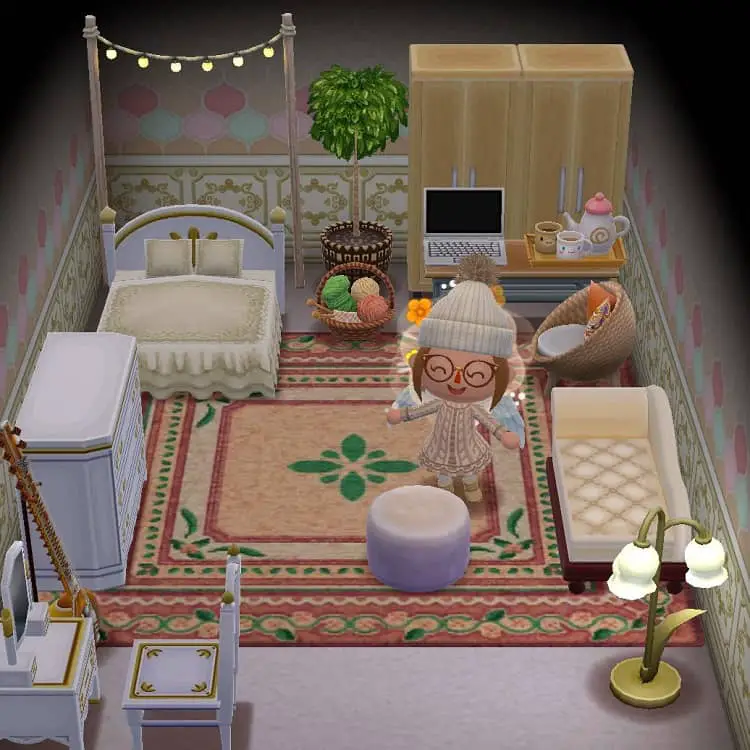 Lighting is a crucial component of every space.
Here, you can see how the room has been transformed by string lights.
However, the bed and dresser in the elegant white furnishings immediately look fantastic.
However, placing a table in front of a closet can be problematic because it makes the closet more likely to open, so use caution.
15. Install Furniture with Geometric Shapes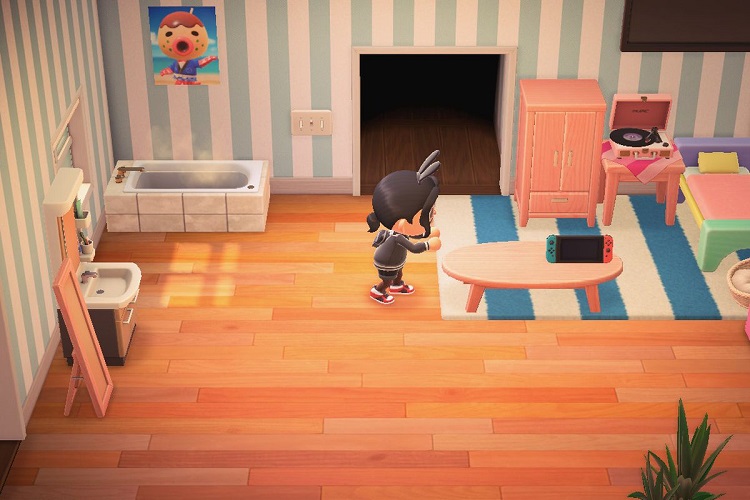 The stunning bed and hexagonal open shelves make this room feel warm and inviting.
If this appeals to you, you might also furnish your room with furniture with a geometric theme.
Additionally, to embrace the room's decor, employ bright shelves.
14. Designing A Bedroom In The Past And Present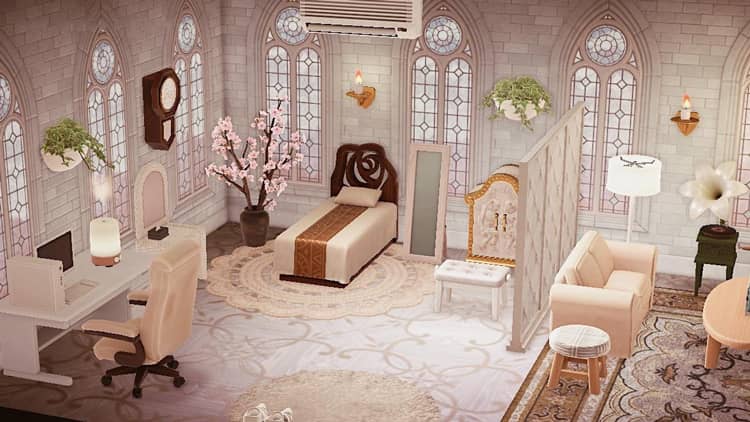 The stunning, opulently designed bedroom attracts lots of attention.
This bedroom was meticulously designed by a Reddit user.
The gamer has made a fantastic decision to encourage others.
Marble's opulence can be seen everywhere.
The amazing bed headrest, the antique pendulum clock, and the magnificent plant are all simply enticing.
13. Fireplace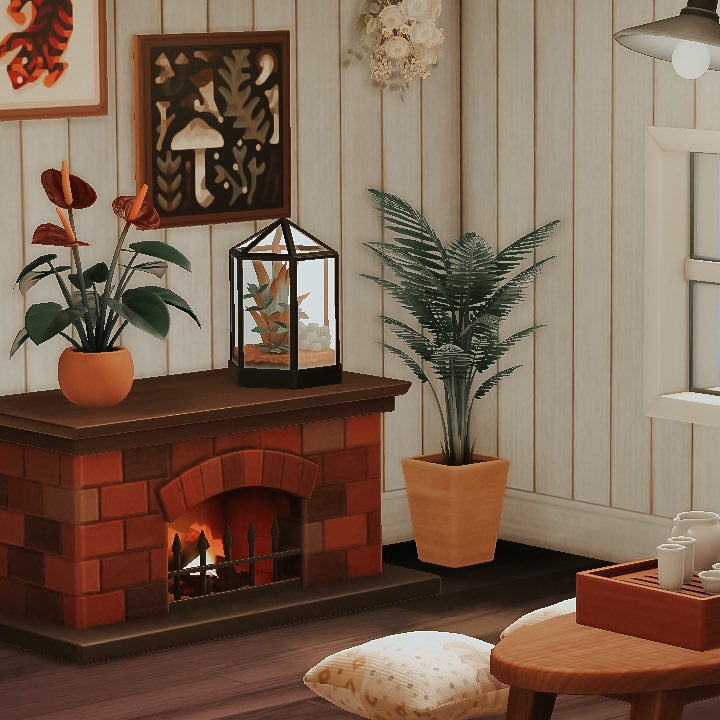 Get decorating ideas from real-world spaces when it comes to your animal crossing bedrooms.
Include a fireplace in your bedroom to increase the space's coziness.
It will also warm up your room.
12. Wallpaper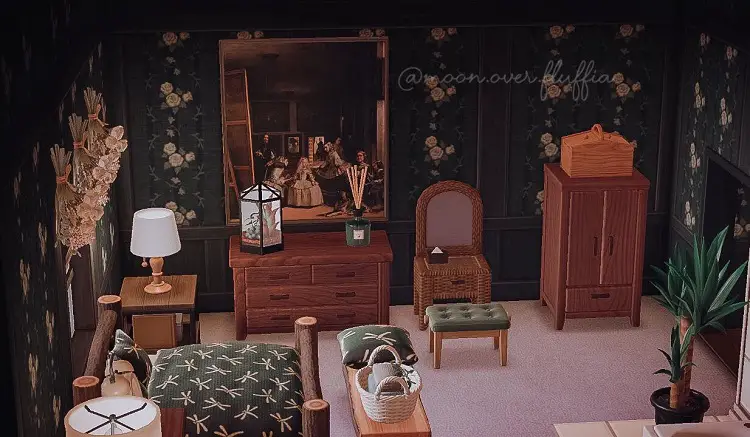 The bedroom's appearance can be completely changed by the wallpaper.
So why are you hesitant to employ them?
Decorate your animal crossing bedroom with a complementary wallpaper that follows the chosen theme.
11. Bookcase Next to the Bed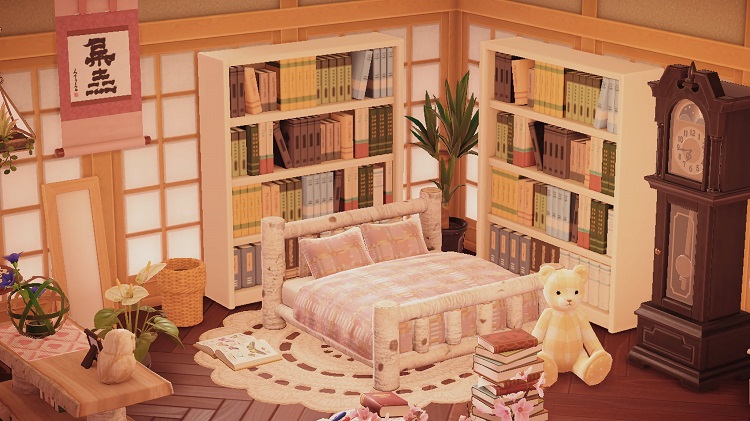 Creative freedom has no bounds.
The optimal location for one or two bookcases in your Animal Crossing bedroom is next to your bed.
A bookshelf is a necessity if your villager is intended to be a reader.
It raises the value even further.
10. Hanging plants on your walls.
You may use hanging plants anyplace.
But it matters where they are in the room.
Take a look at this animal traversing new boundaries in this bedroom, for instance, which has a lot of plants and a grey-white color scheme.
However, the player employed them perfectly to add indoor hanging plants to the wall decoration.
9. Make Your Animal Crossing Bedroom Into A Fairyland.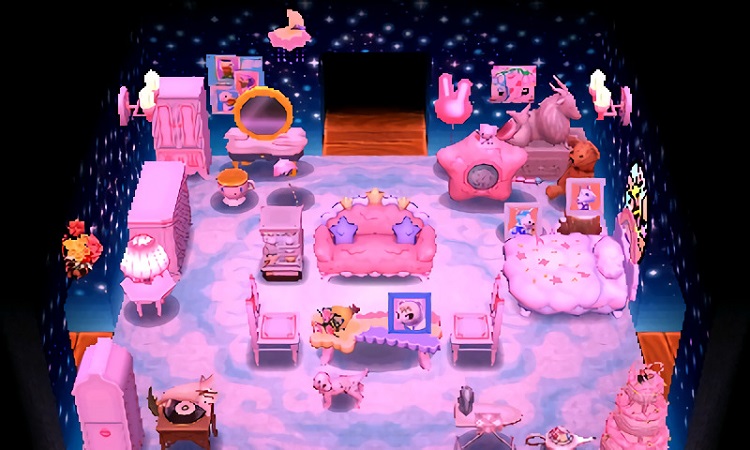 You can enter a pink-white-hued parlor with ancient and regal furniture to enter a fairyland.
The image can serve as inspiration if you have these.
Find a gorgeous set of white curtains with vibrant flower patterns for a refreshing look.
To complete this décor, purchase a lovely pink and white rug that matches the color scheme and a vintage pair of large ceramic flower pots.
8. Bedroom with Cozy and Simple Interior Design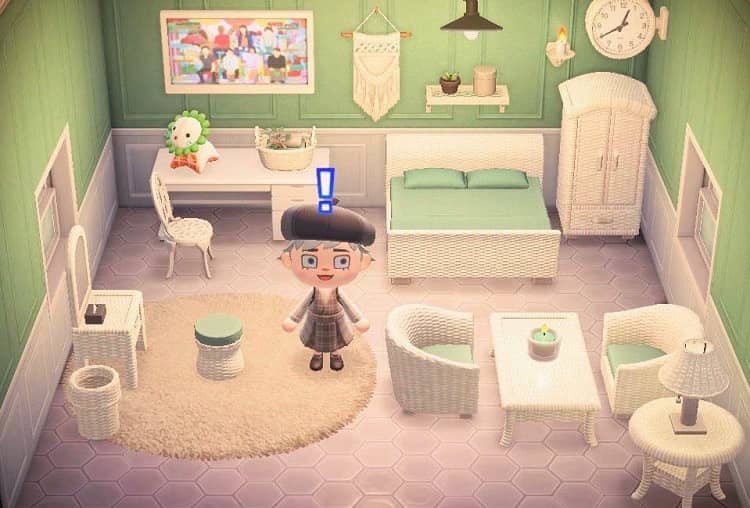 Adding your flair while keeping it to a minimum creates a cozy atmosphere.
Find a fantastic example in the image to rethink simple.
You can also select the ideal wallpaper, such as the butterfly wallpaper that is used here.
The bedroom is made inviting by a round wooden table and a two-seater cane sofa.
7. Bedroom Design in the Modern Era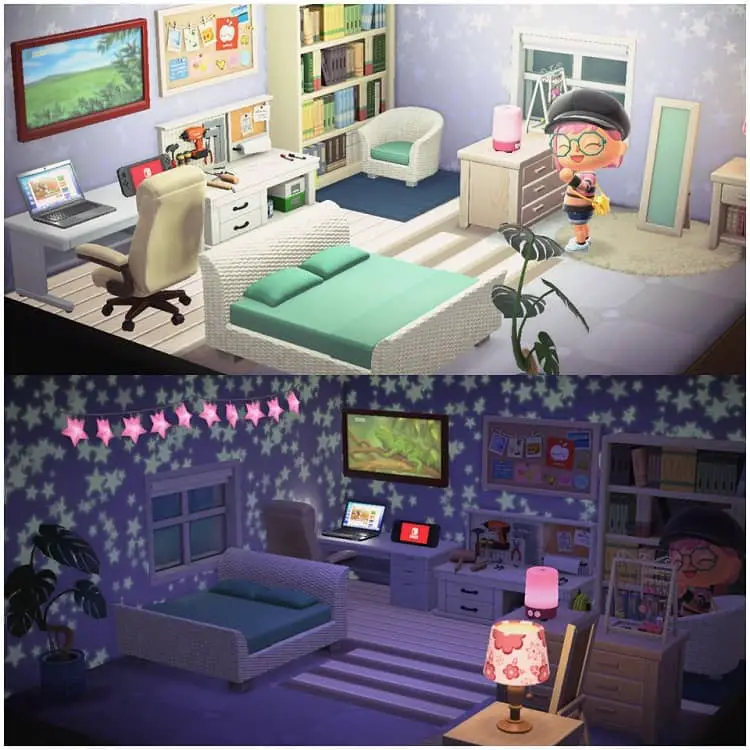 You plan your Animal Crossing bedroom with your resources.
So go forward and do your best.
A computer table, book nook, and closet are positioned around the double bed, which is unusually positioned in the room's center.
For an adorable animal cross bedroom, consider a unique yet calming design.
6. Decor in brown and white forever.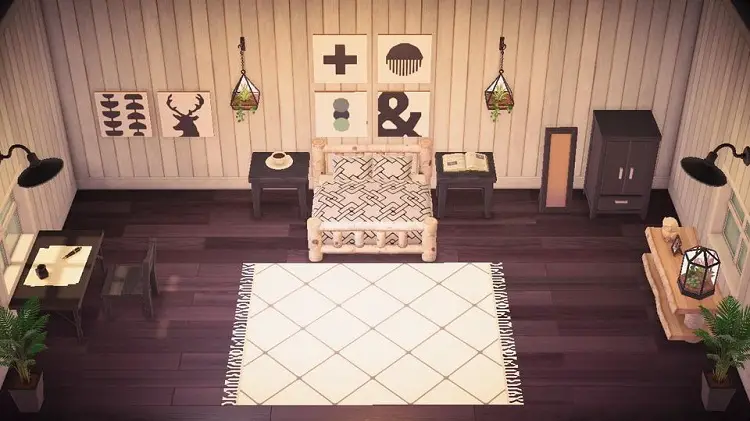 Brown and white is a timeless combination that people adore.
A floor made of brown wood blends in beautifully with the decor.
A corner cupboard and a bed in the middle are both suitably positioned.
The space is made amazingly by a lovely white rug.
5. Use tapestries to decorate your walls.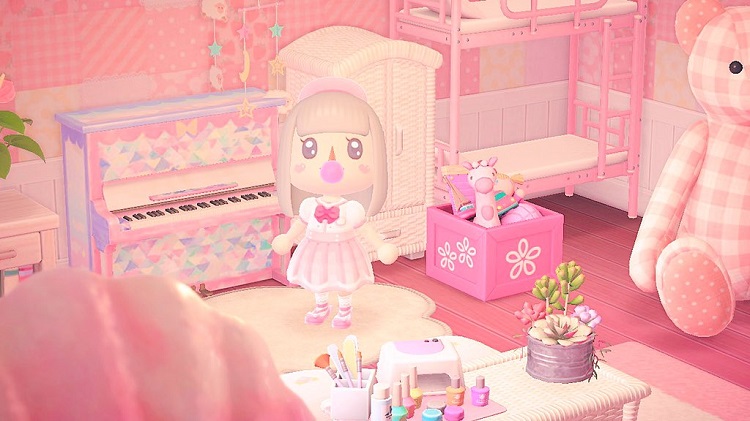 The perfect brainstorming tool is wall decor if you're seeking the best animal crossing ideas.
The appropriate materials will make your wall look stunning.
Select a lovely tapestry that fits your motif to complete the wall.
4. Wall Paintings You Can Count On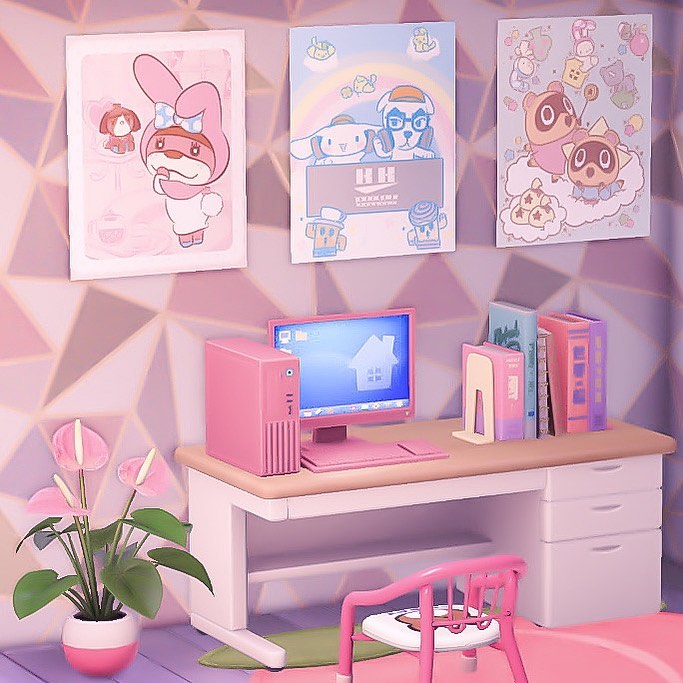 Wall paintings are always a good choice.
You should therefore try to decorate your walls with a collection of fantastic paintings.
Choose the ideal wall to hang the paintings on to witness the enchanted transformation.
You can use this real-time funda for the admirable design in the Animal Crossing living room as well.
3. Patterned Knit Headrest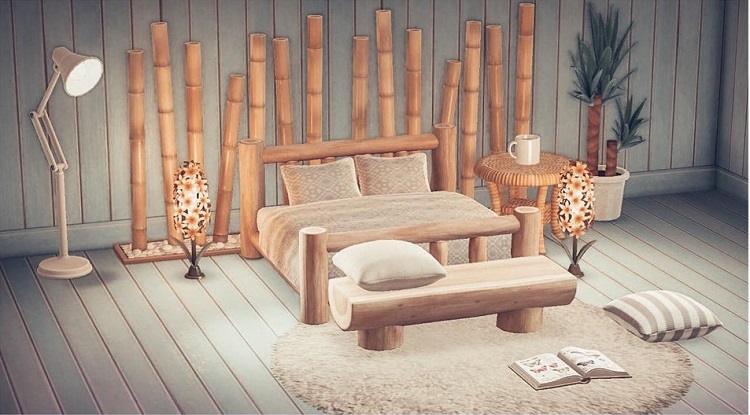 The Animal Crossing bedroom has been completely redone thanks to an amazing crocheted headboard.
Here, the room's grey and off-white hues provide us with a design objective.
Additionally, the stunning tree lamps and the towering floor lamp bring brightness to the space.
2. Elegant, sunny bedroom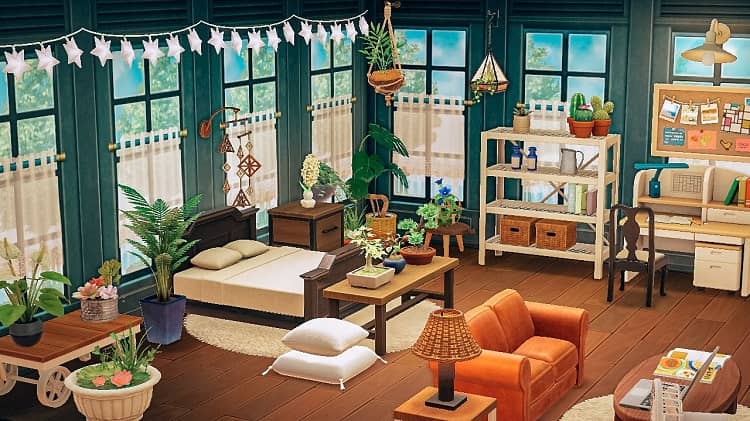 Create a space where the sun can fill your room, as one Reddit user did.
By using light colors, you can create a bedroom that is more airy, sunny, and luxurious.
We assure you that such beautifully designed apartments will keep you engrossed.
1. Vintage Classy Decor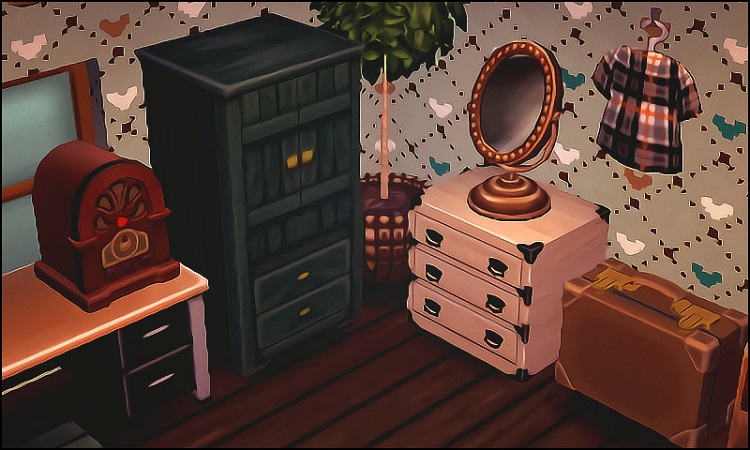 Vintage will always be in style.
When it comes to decor, each of these items is important in its own right.
Eventually, vintage accents lend glitz to even the most straightforward design.
Consider purchasing this elegant trunk and matching mirror for décor.
Additionally, the closet's shabby-chic aesthetic supports the bedroom's royal theme.