One of the most popular games of 2020 is Animal Crossing: New Horizons.
Whoever likes to decorate or hang out with cute animal friends at all knows and loves it.
With the Paradise Planning DLC and the 2.0 update, players can now redo the Villager Houses.
But not everyone can afford extra material, and sometimes we're just too lazy.
So, here are some of the best-looking peasant houses in New Horizons!
18. Dobie's House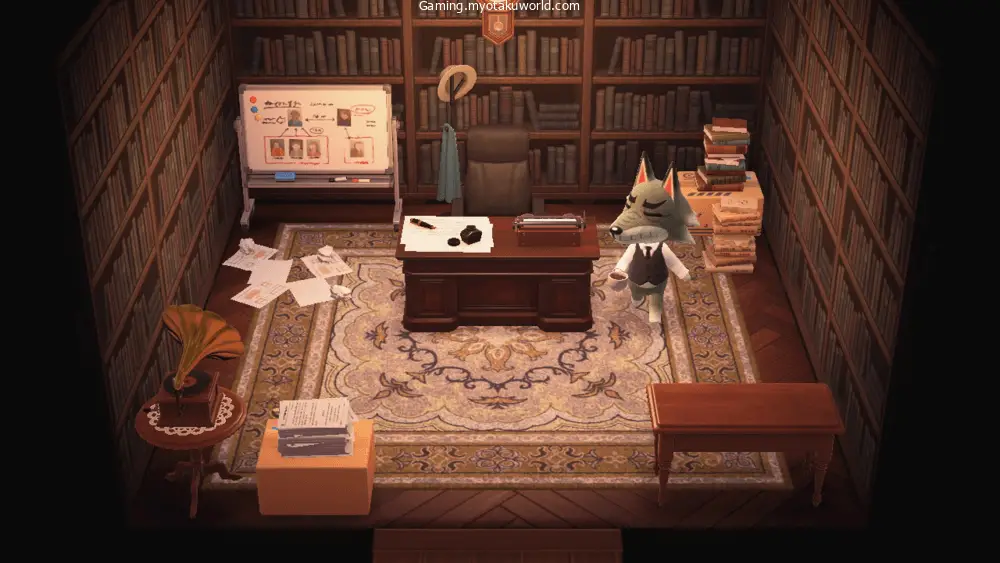 In New Leaf, Dobie's house looked like a noir detective's office. New Horizons does a great job of continuing this theme.
Dobie looks like he means business, from the old-fashioned record player to the shelves and stacks of books everywhere.
We trust him to solve the case just by looking at his sleek desk and Whiteboard of possibilities.
He looks like a sincere but disorganized detective who is too busy with the case to clean up his office, so he isn't the cleanest.
This makes his character even more charming, though.
17. Ribbot's House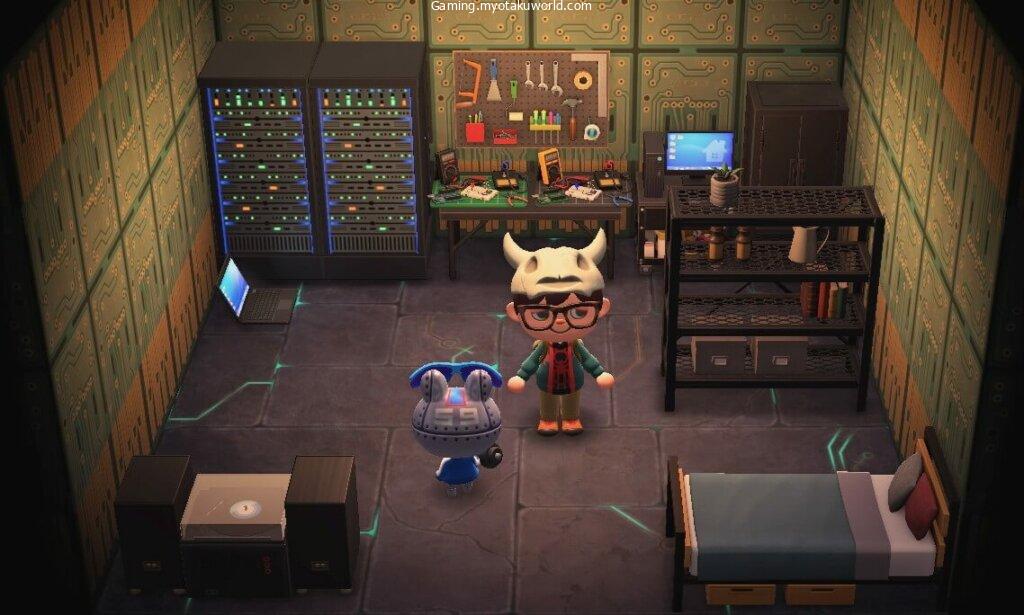 In New Horizons, everyone's favorite robot frog gets a cool house that has all the electrical equipment and tools he needs to stay in great shape.
Before New Leaf, Ribbot's whole house had a moon and space theme, with astronaut suits and spaceships.
Now, Ribbot has an amazing lab/garage where he works, just like his house in New Leaf had a lot of tech.
He can connect to a number of computers and has strong servers for all of his… memories? We might never find out. Even so, it's cool.
16. Butch's House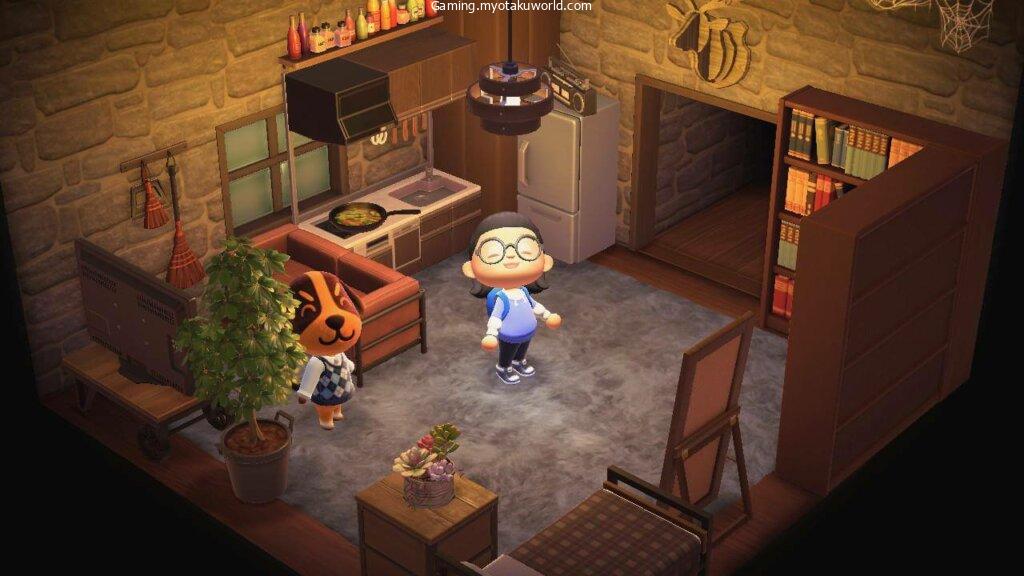 This dog is a dark horse among the most popular Animal Crossing figures. It's a Cranky Dog, and it's been around since Animal Forest in Japan, which was the first game in the series.
Butch's house has always had a bit of a radical feel to it, with Modern-style games like a dartboard and furniture like that.
When New Horizons changes Butch's house, they take a risk, but it works out well. The wild and rough parts of his life "on the road" make him look as cool as ever.
He has two awesome Throwback racing beds, an open highway, and enough gas to keep him going until the sun goes down.
15. Astrid's House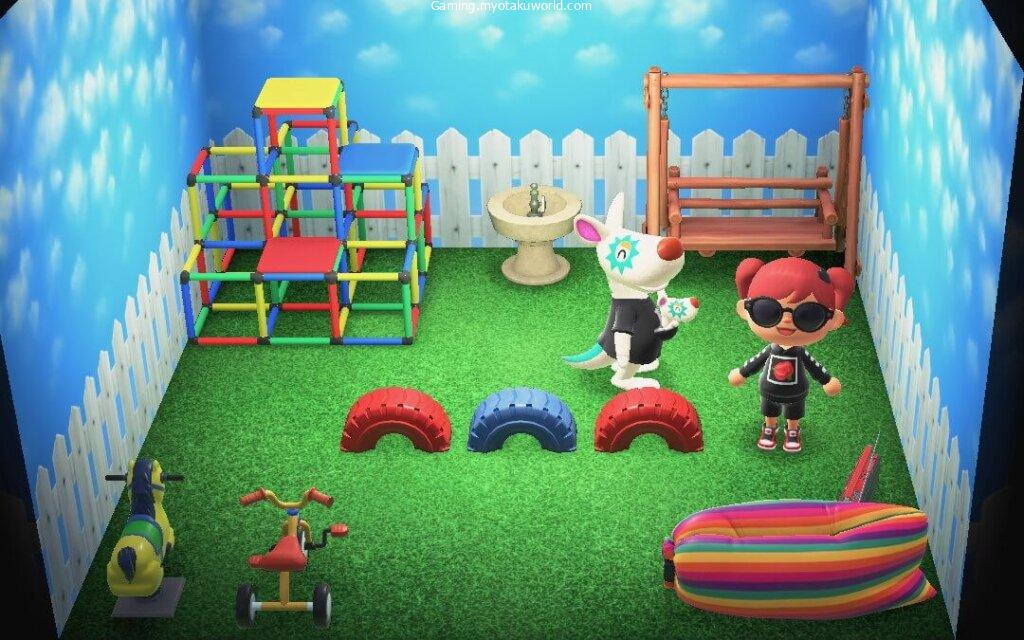 In the town, female kangaroos carry their young in pouches, just like the animal does in real life. Aside from this, though, the game doesn't pay much attention to their children.
Astrid's house was clearly made with her child in mind, since it looks like a playground for kids.
Astrid's child has a Playground Gym, a Tricycle, and a Drinking Fountain to play with.
There is also a Swinging Bench where Astrid can take a much-needed break while she watches her child play. It's just too bad that you never get to see how the child uses the furniture.
14. Ione's House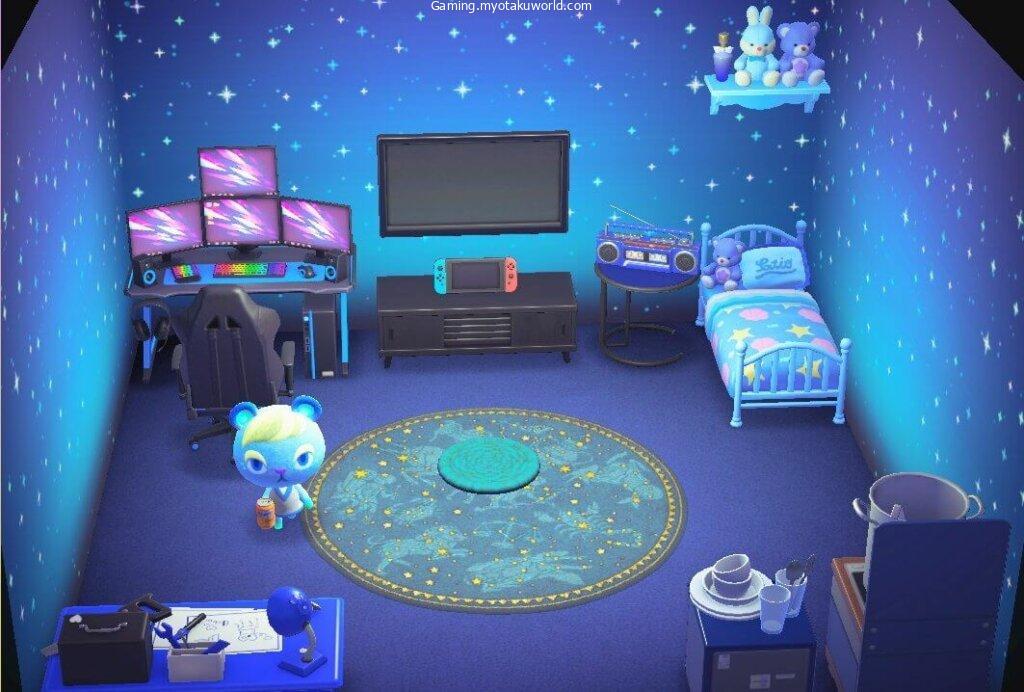 Ione is a squirrel who moved to New Horizons with the 2.0 update. She has a bright, starry design that shows off her bright attitude.
Ione's home matches her space style thanks to her Starry-Sky Wall and Starry-Skies Rug, which look just like her tail, which looks like the night sky.
Ione's house also shows that she likes to play games, as she has a gaming chair, desk, and multiple monitors in one part of her room, as well as a Nintendo Switch under her TV.
Ione is the best person in the town to ask for game suggestions, and her house is a great place to play games.
13. Raymond's House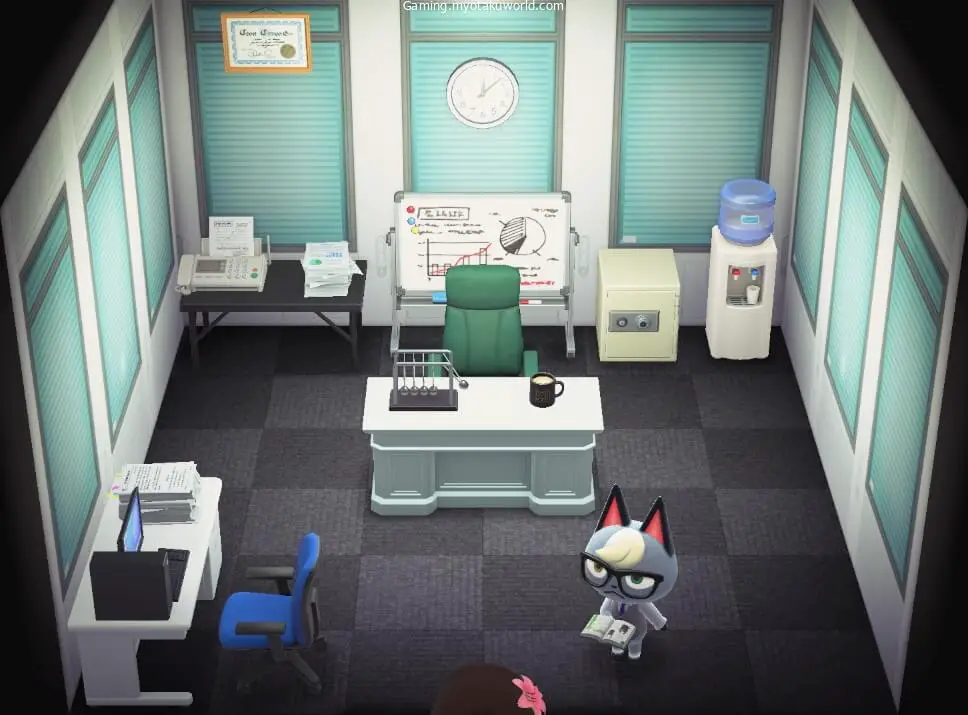 Raymond is a Smug villager who was first seen in New Horizons. Either you're ready to pay millions of Bells to bring him to your island, or you'd rather have any other villager.
Raymond's character style shows how smug and business-like he is. His home, which looks like an office, also shows this.
His house has an office desk, a fax machine, and stacks of paper. Raymond even has a safe at home, which is probably where he puts the money from his business, whatever it is.
Raymond has a separate desk in the back for his assistant. If you want to help him with his paperwork or bring him his morning coffee, you can use that desk.
12. Lucky's House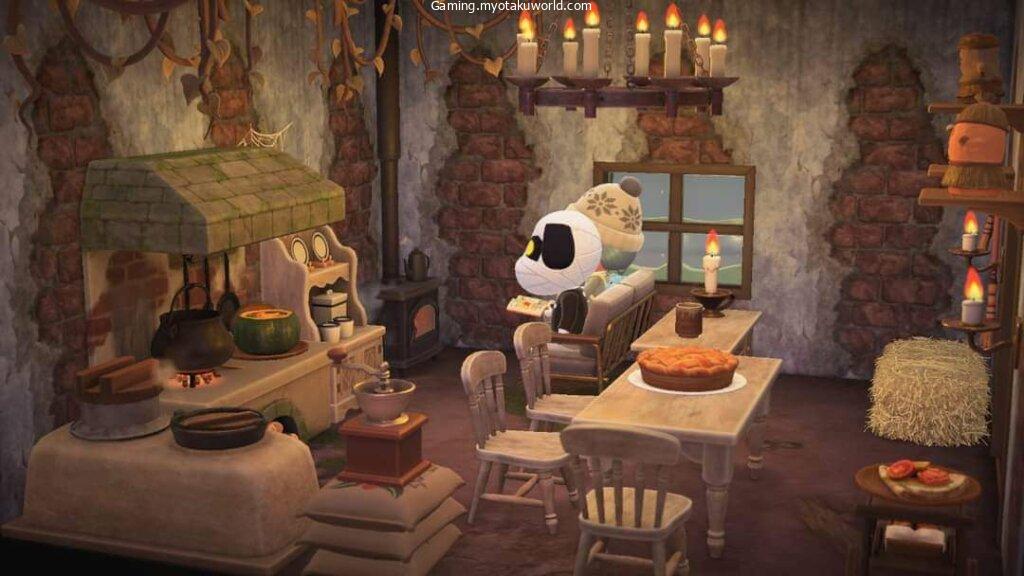 Lucky has been in every Animal Crossing game, and fans love him because he looks like a mummy wrapped in bandages and is a lot of fun to play with.
In the whole series, Lucky's houses have always had this style, and many of them look like Egyptian tombs.
But New Horizons gets rid of Lucky's old Egyptian furniture and gives him a graveyard to live in instead.
Lucky's house has a skeleton, a Skull Radio that plays K.K. Dirge, and not one, not two, but three gravestones.
If you like creepy villagers, Lucky won't fail. Every day is Halloween for Lucky.
11. Tucker's House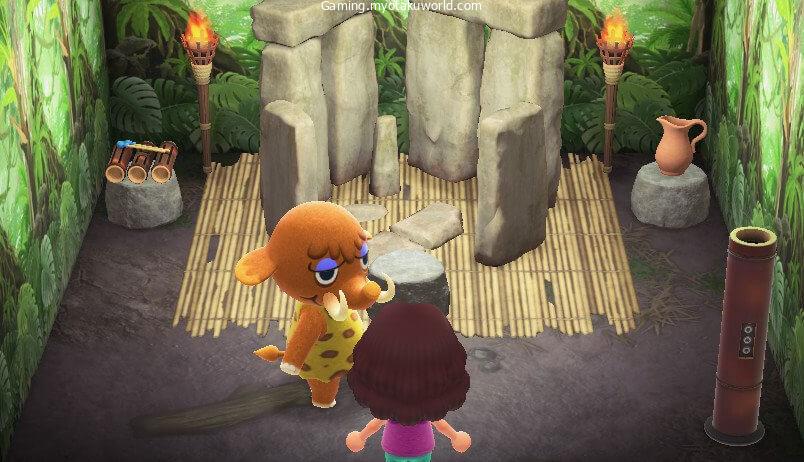 Tucker's look as a woolly mammoth makes you expect big things from the inside of his house, and it doesn't let you down.
Tucker's room looks like a jungle, just like his home in New Leaf. For example, he has a Bamboo Speaker that plays K.K. Safari.
He also has a Bamboo Drum, so he can play along with the music.
Tucker's home is dominated by the Stonehenge furniture piece. Even though the real Stonehenge is in England, the furniture piece fits the room's style perfectly, especially when put next to the two Tiki Torches.
10. Julian's House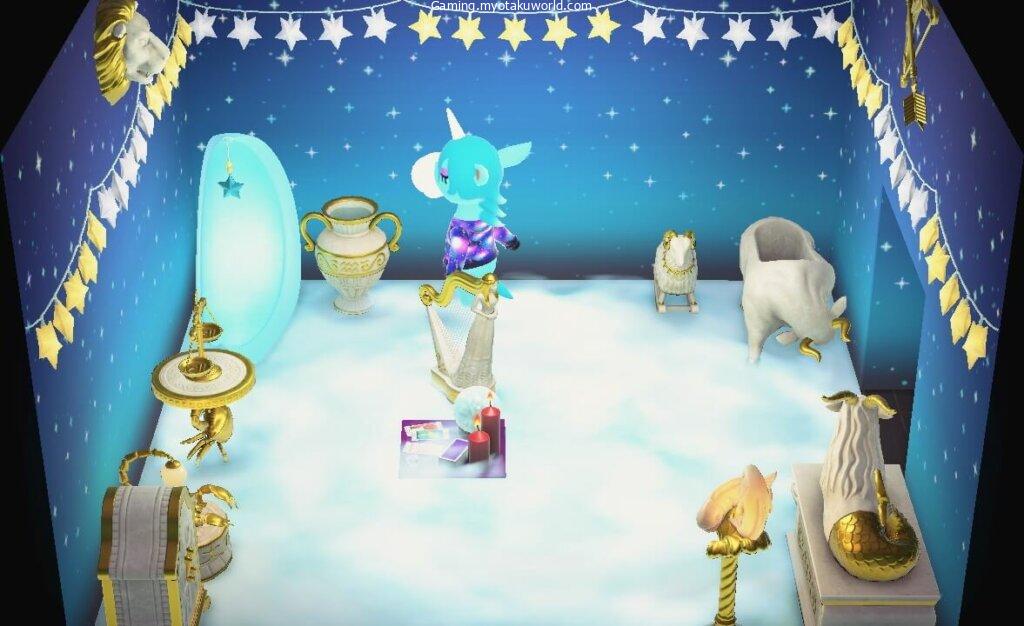 Since Julian likes to look good, it shouldn't come as a surprise that he is on this list. When New Leaf came out, many players wanted Julian.
This was like what happened with Raymond, but on a much smaller scale. His attitude is smug, his style makes you feel like a star, and he's a real wonder. Why wouldn't you like it?
Clearly, the people who made the game knew how important it was to make Julian's house look great. He has all of the Zodiac furniture, and each piece is in the right place so that the room doesn't feel too crowded.
The Starry Garlands are a nice aesthetic touch, and the Fortune-telling set is in the middle, surrounded by the mist of the Cloud Flooring.
9. Ankha's House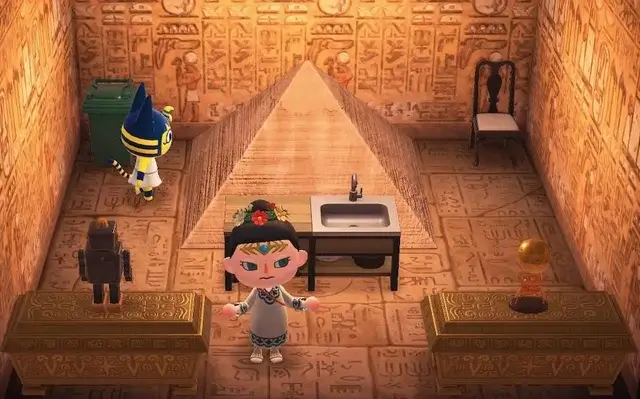 The house of Ankha is at number 9! Ankha is a snooty peasant cat with a theme of Ancient Egypt.
The Egyptian ankh is where her name comes from. Some people might be surprised to see her house on this list, but I promise it makes sense.
Ankha's house is a one-of-a-kind place. Boris, a pig neighbor, is the only other person who lives in a house with an Egyptian theme.
Ankha's house isn't filled with many things, but everything in it is either pure gold or very expensive. This point is mostly for people who don't mind having both.
At the very least, Ankha is still very well-known. And she can't live on your island if she doesn't have a home.
Still, it can be fun to take photos of the two of you on your island and post them online to get some likes.
8. Kody's House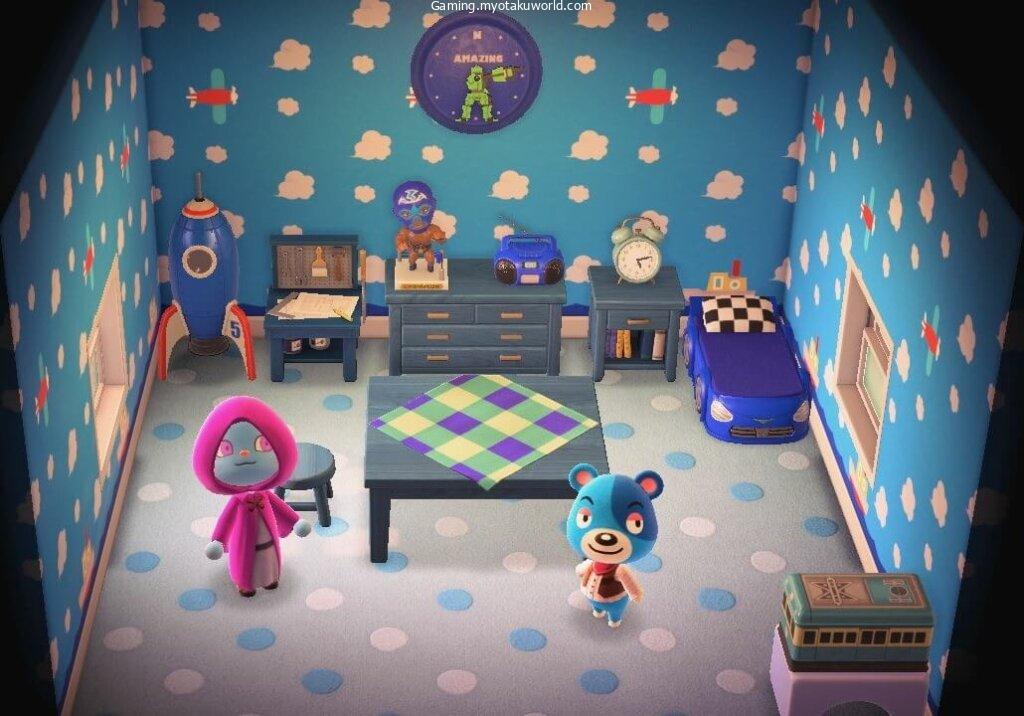 Kody is up next! Kody is a blue cub who is like a jock. This might come as a surprise, since his home is full of throwback and kidcore furniture, which is usually associated with lazy people.
Those of you who like blue are in luck! Kody's house is the same color as him.
The themes in Kody's house are retro and kidcore. The throwback set is the main set of furniture. The polka-dot floor, the wallpaper in the playroom, and the throwback race-car bed give it a kidcore twist.
This mix makes his room look like a room from the 1970s. Kody's house is great for people who like homes with throwback, retro, or kidcore themes.
Blue is the main color of Kody's house. There aren't many other kinds of accents.
Since they used different colors instead of just one, this doesn't look too bad. This stops the room from looking boring while keeping it interesting.
Kody is not a villager that people don't like, but because he is just one of many, he is much cheaper to trade for than many of the more famous ones. So, he's a great choice for people who want to save a few bells.
7. Cookie's House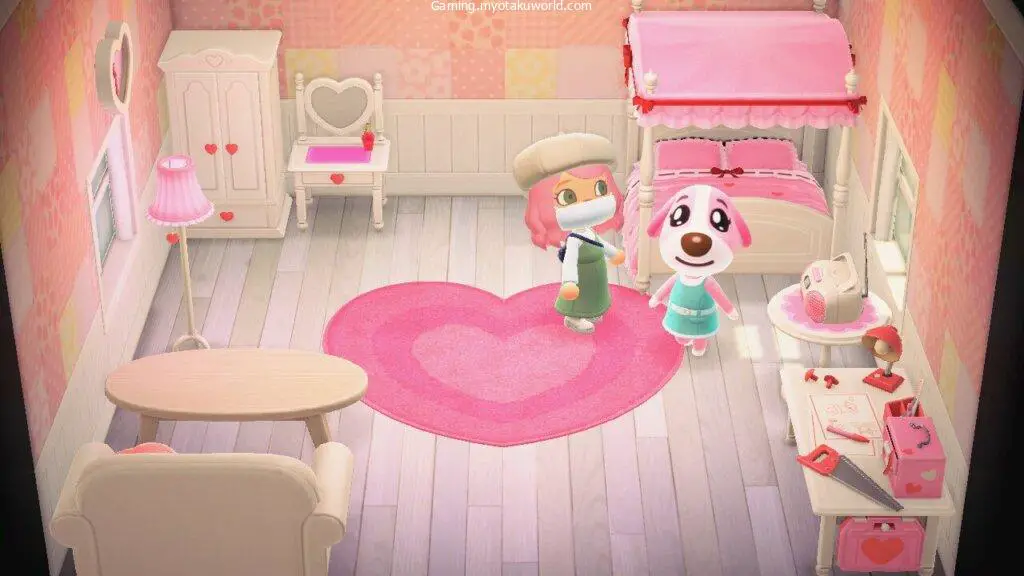 Number 7 is Cookie! Cookie is a peppy dog character. She and her house are the same color as Kody.
She will be liked by players who like pink, lively villages, or even dogs. Cookie and Kody might be helpful for anyone who wants to start a color-coded island.
Cookie's room is simple and has a modern look. It's very cute, in part because the Cute furniture set is the main set she uses in her house.
But it's not too cutesy and pink to the point where people would gag. Cookie's house looks more like a cute little girl's room.
Cookie's house is cutesy, but it's done in a tasteful way, so it could pass for a regular house without a theme.
This makes her house work with a wide range of places and themes. If players decide to change their island, they won't have to worry about Cookie's house.
6. Judy's House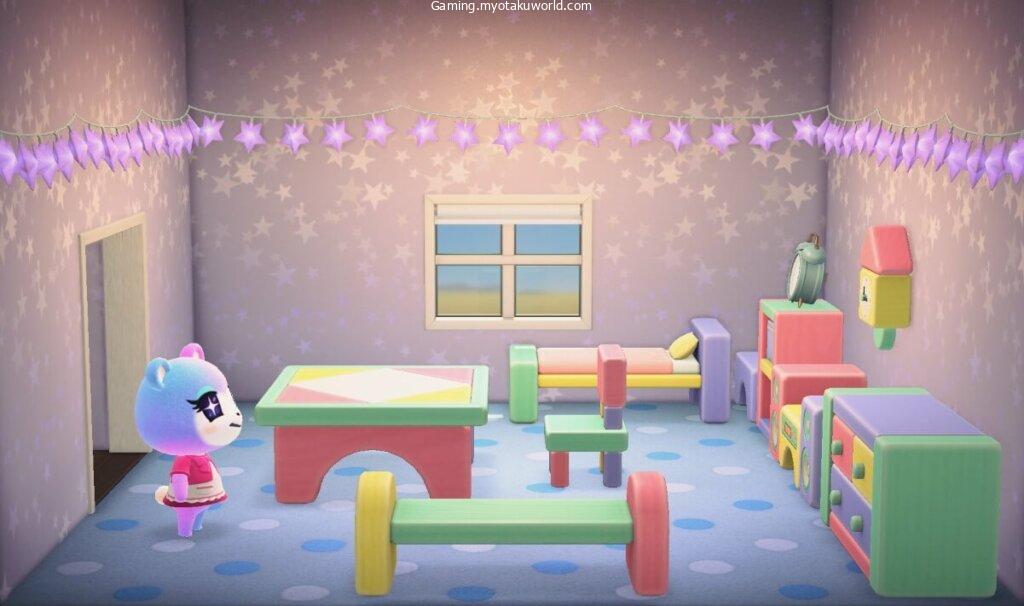 The next house is Judy's! Judy is a cub that is a mix of soft colors. She is a snooty farmer who is known for her cutesy fairycore look.
Judy's house is just as adorable as she is. She is famous on both fairycore islands and islands without themes because she has a lot of pastel colors and stars everywhere. It's hard to find someone who doesn't like this house.
Most of the furniture in Judy's house is made of wooden blocks in soft colors that match the wallpaper and lights.
Having most of her furniture from the same sets makes her home look more put together. It gives it a unified look with shades and types of furniture that go well together.
5. Petri's House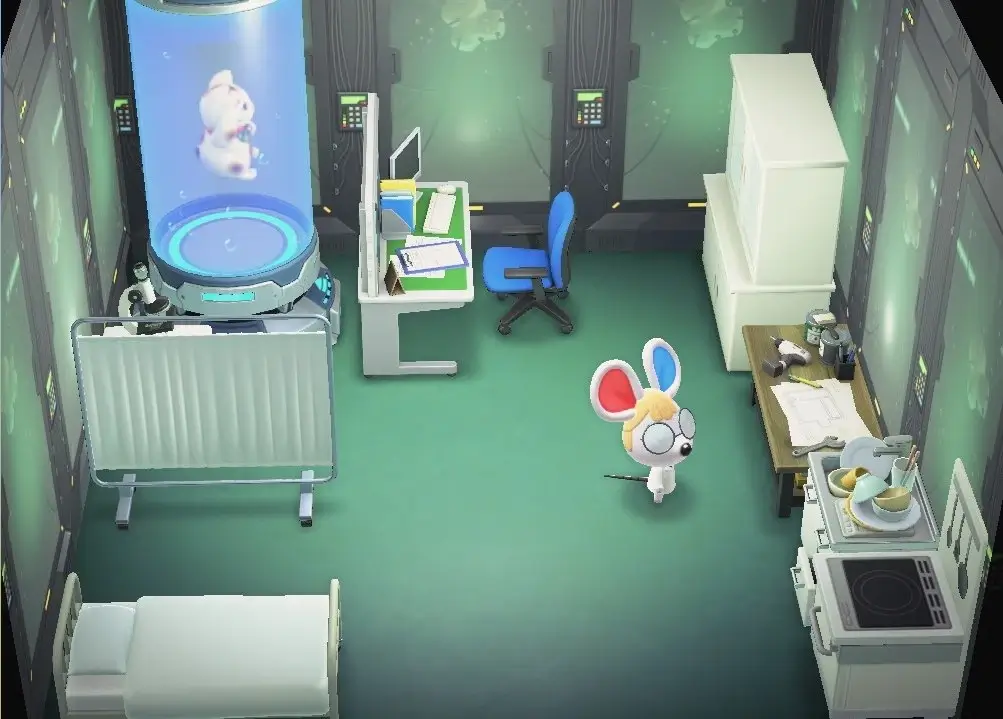 Petri comes in at number five on this list. Petri is a snobby mouse villager who looks like a scientist.
She is very famous because she is one of the 16 new villagers that came with the 2.0 update.
People think that her name comes from either petri dishes or the person who came up with them.
Even though the 2.0 update came and went in the fall of 2021, a lot of the new and exciting material it brought is still being talked about.
At the top of that list are villagers. Even though it won't be as exciting as the first few months, posting pictures of Petri on your island will still get you noticed.
Petri's house is unique, at least on the inside, even though it looks nice from the outside. As of the 2.0 update, it is the only house in New Horizons that has a laboratory theme.
This can be a real breath of fresh air for players who are sick of building cute or modern loft-style houses over and over again.
4. Marcel's House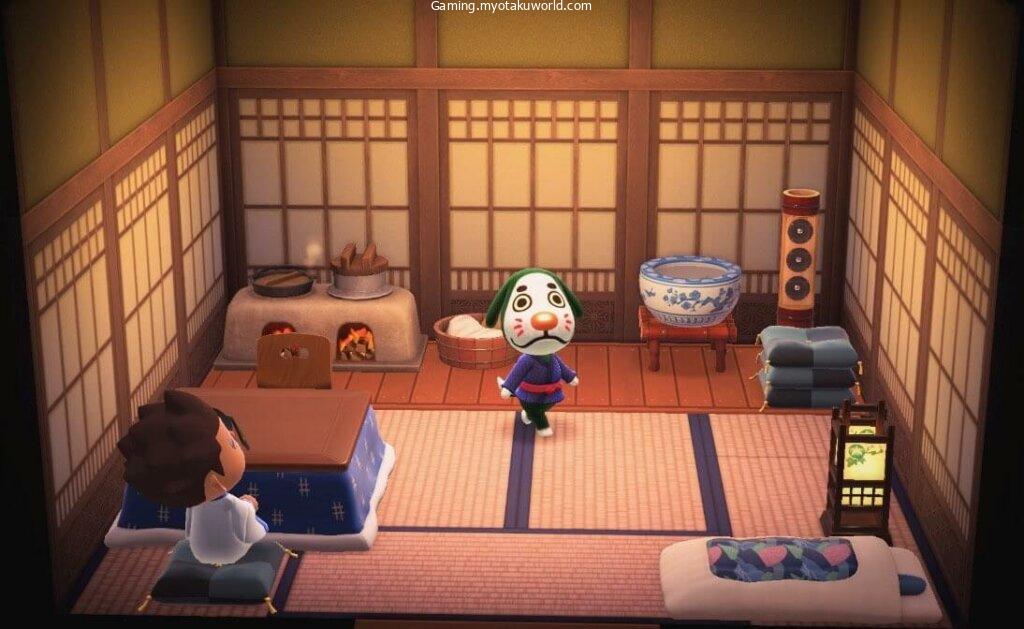 The next house is Marcel's. Marcel is a lazy dog who lives in the village. His look is based on a French clown named Marcel Moreau. His house, on the other hand, has a traditional Japanese style.
The style of Marcel's house is classic Japanese. Even though he looks weird, this makes him appealing to players because the traditional Japanese theme is very famous in the Animal Crossing community.
This is especially helpful because most of the traditional Japanese homes in New Horizons belong to normal or cranky people.
This gives players more options if they want to make an island with a Japanese theme. It would be boring if everyone on an island only had two different sides to them.
Marcel isn't the best-looking person in New Horizons. That's not a secret. And since there are only six types of people and they don't talk much, many players pay more attention to how the villagers look than anything else.
3. Marshal's House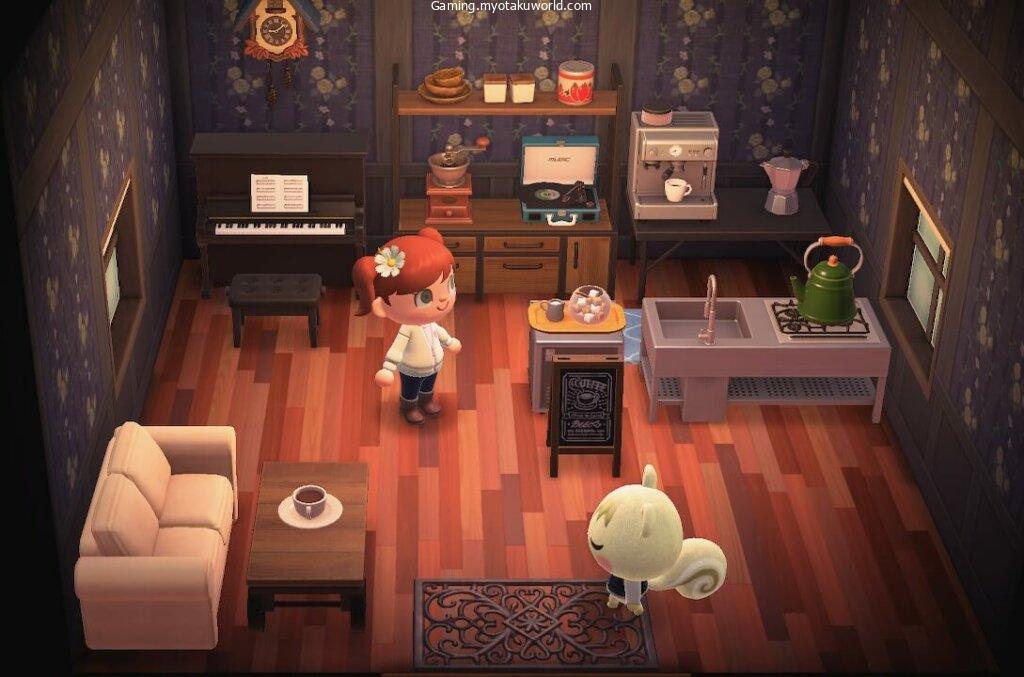 The house of Marshal is in third place. Marshal is a local who is a kind of smug squirrel. His house is a bit like a modern loft in the way it looks.
Marshal's house looks like a simple white clay hut with a gray stone roof and a green door from the outside. On the other hand, the inside looks more like a trendy loft apartment in the city.
This is good for people who have simple islands and don't care what the inside looks like, or for people who want the inside of their home to fit the theme of their island, whether it's a city island or one with no theme at all.
Marshal's house is a simple clay hut on the outside. Even though the inside is well-furnished, the style is neither over-the-top nor very unique.
This can be good for people who don't like designs that are too complicated or who have a simple island and want all of their neighbors' houses to look the same.
2. Colton's House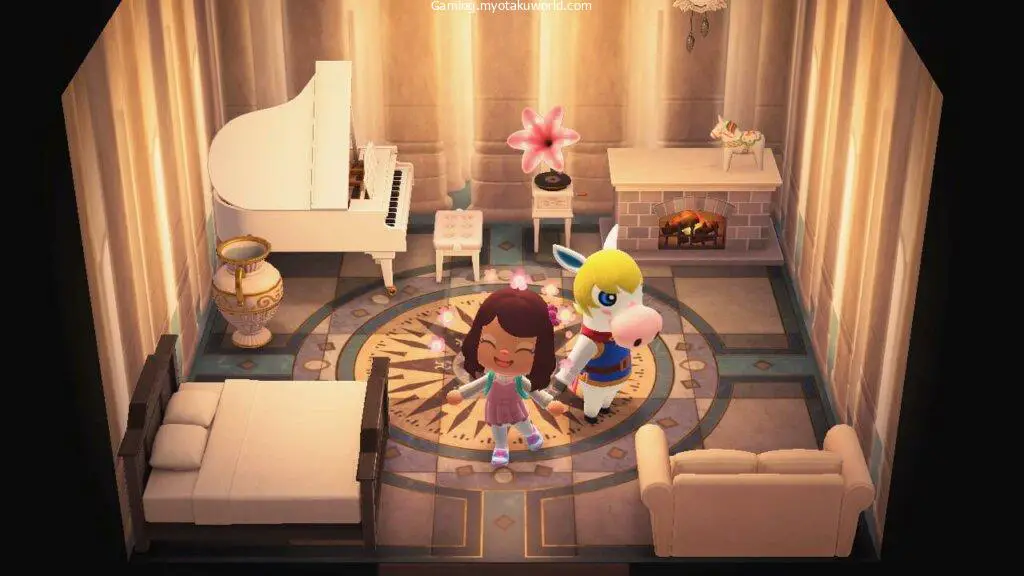 We have Colton's house all the way down in second place! Colton is an arrogant farmer. He is a white horse with blue eyes and a blonde mane.
His appearance makes him look like a prince or a knight, which might have something to do with the idea that a prince or knight rides on a white horse. His house is also not far away.
Colton's house has a cream-colored brick exterior, yellow roof shingles, and a white door. The inside of his house, on the other hand, is much more impressive. Even though it's still as small as all the other homes in the town, it looks more like a castle.
The look is really pulled together by the palace wall and tile, and the Aquarius urn and grand piano show how elegant the home is. Surely, a small house for a small prince!
Colton is one of the few people in the town (out of more than 400) whose home has a castlecore style. Still, his house is the best of them all, from the colors to the way it is put together. This horse seems to be proud for a good reason.
1. Melba's House
Melba's house is the first thing on our list. Melba is a brown bear that is very cute. She is a typical peasant whose house is mostly blue, white, and green.
Melba's house doesn't look like anything in particular.
She has a color scheme, as any good house should, but other than that, it's just a simple house with some decorations that have to do with plants.
Still, this could be appealing to players, especially those who want homes on their islands that look pretty real or have no theme.
Melba's home is the best of all the simple houses without a theme, so she is on this list to represent them.