When you first decided to board a plane and head to a remote island, did you ever imagine that a raccoon would have you running about doing so many errands?
Have you located the ideal location for the campground Tom Nook wants to construct?
Now is the time to create the ideal camping for your island using a fantastic campsite design! And these concepts are offered to assist.
Check out our list of some of our favorite Campsite Ideas for ACNH and let us know what you think!
21. A campground with a moat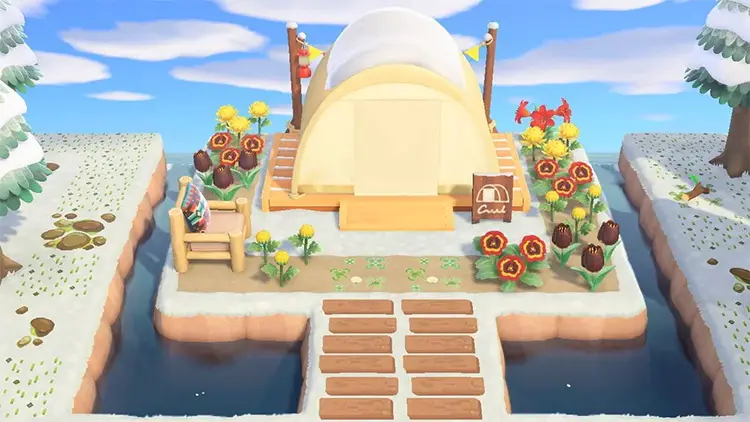 It's a fairly simple concept that you could expand upon.
For a more rustic atmosphere, add a campfire and some wooden benches.
If you want to give it a more rural vibe, you could even make the ascent's path out of stepping stones.
To establish the ideal fishing location, you may also try to make the river wider on either side of your tent.
20. Peaceful Campground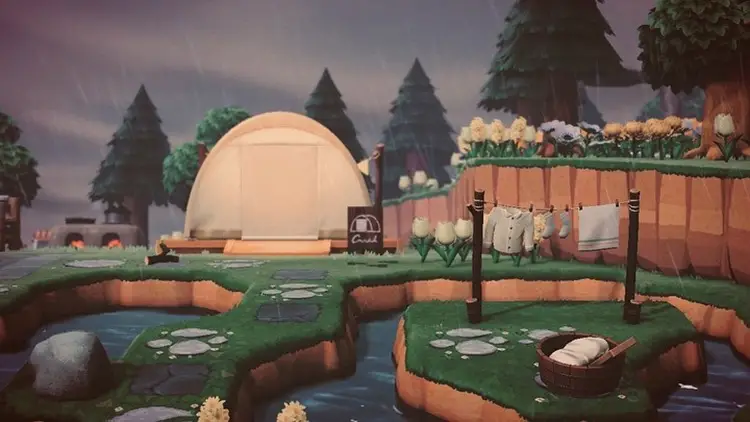 Who is residing this week at your island campsite?
Well, despite the weather, this remote camp exudes serenity and peace.
How adorable would this be if it also had an orchard?
To create a modest picnic area, plant some of your natural fruit trees and add a stone table and chairs.
Alternatively, choose your preferred pattern for a blanket, add a picnic basket and a candle, and then dine heartily while lounging under the trees.
19. Wooded Campground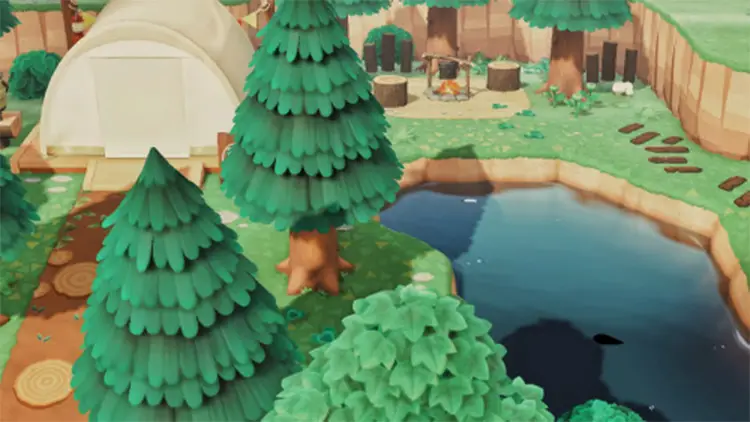 With just one glance at this design, you practically feel the crispness of the forest.
What a great way to start the day!
Add vibrant flowers between the trees to turn this campsite into a refuge for insects. It will delight Flick!
The most comfortable location to roast marshmallows might also include a campfire and cushions.
Or incorporate a telescope so you can gaze up at the starry sky.
Visualize the night sky filled with dancing shooting stars.
18. Rural Campground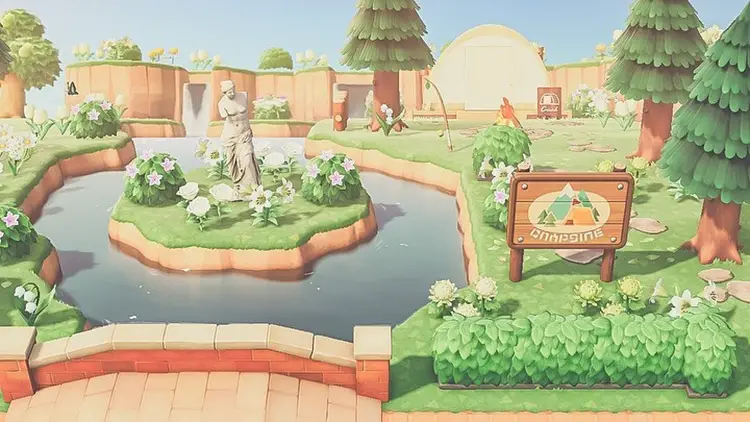 Just picture yourself strolling along this bridge and taking in this lovely scene.
Who wouldn't want to stay here overnight?
A birdhouse and a beehive can be added to the camp to attract local wildlife and give it a more natural feel.
Include a brick well as the focal point, and place some adorable stone flooring ideas all around it.
Alternatively, construct a bamboo garden there.
Simply grow some bamboo plants and create a bamboo hearth and seating.
The ideal area for a stroll would then be created by adding a stone-style path that winds around your trees.
17. Campground near Waterfall View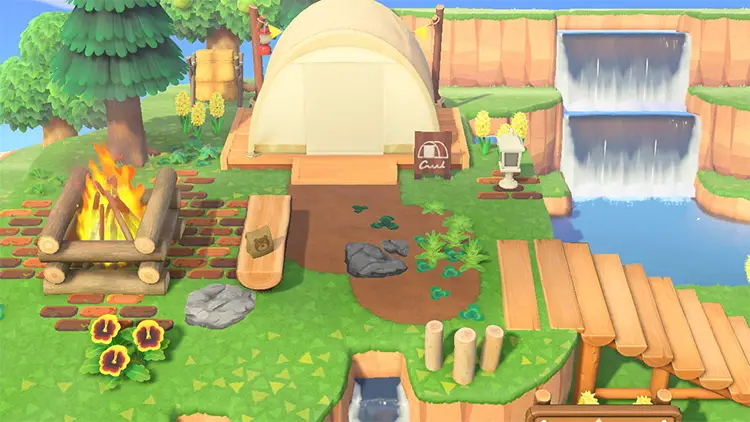 Look at the scene!
I adore these wooden steps leading up to your campsite.
And I completely concur that Pocket Camp's campground sign does serve as a unifying element.
The small area next to the stairs would become a fishing location for me.
Simply include a wooden bucket and some fake ducks to create an outdoor atmosphere.
And you could set up the clay stove or campfire cookware anywhere here to provide your hungry guests with some food while they enjoy the view.
16. Pink Campground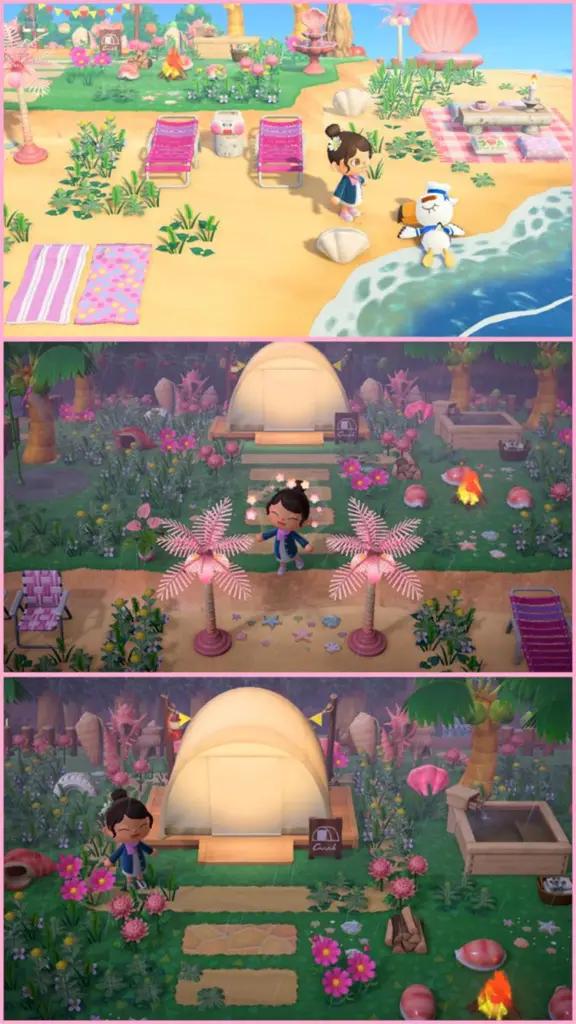 Consider visiting this enchanted island paradise with its tropical beach.
The combination of the outdoors and seaside ambiance makes this campsite positively brimming with good times.
Is pink not your favorite color? Instead, add your preferred color!
By including your very own diner, you may turn your island's beach into a popular gathering place.
Alternately, create a boardwalk out of wood and place a restaurant neon sign on it to draw visitors from all around your island.
Place the dining-style table and chairs there and gather your pals over to sip on some coconut water.
15. Forest Campground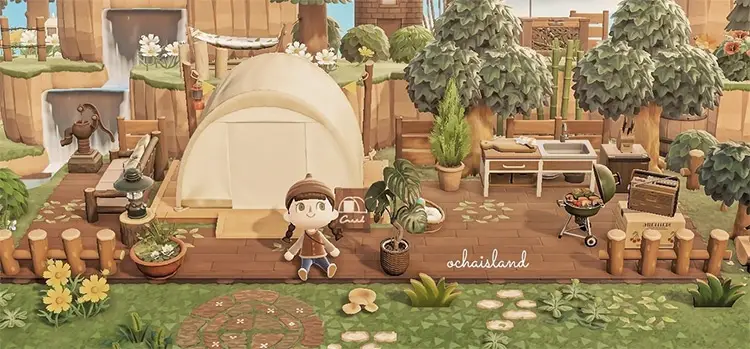 This campground's wooded theme is fantastic.
Nature and all the decor work together to make this area so unique.
This campsite might be divided into two levels, with your camp below and your living space above, by adding an incline.
Or you may use more flowers and trees to give this decor a cottage feel.
Then you could just pick a stone design with mushrooms or flowers instead of the wooden walkway.
What if you don't enjoy barbecues?
Just surround it all with log stools to sit on and enjoy the company of the islanders while you eat some home-cooked food while maintaining a more natural tone.
14. Camping Oceanview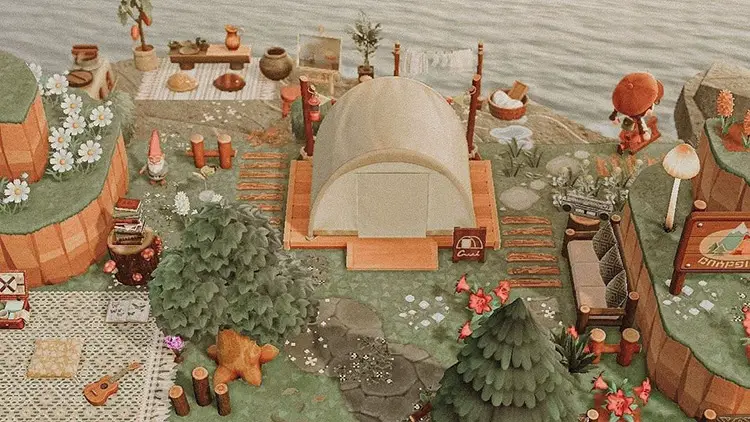 How original is this?
What you can accomplish with a decent view is astounding!
Although this campsite is amazing, do you want to see more of the surrounding area?
Create a floral garden with a variety of blooms (imagine the hybrids you could get).
Then, to truly stand out from the crowd, add a fancy kimono stand.
Or do you prefer to use a more laid-back theme?
To demonstrate that comfort is your priority, add some hammocks and pillows with a fluffy blanket design.
13. Homey Campground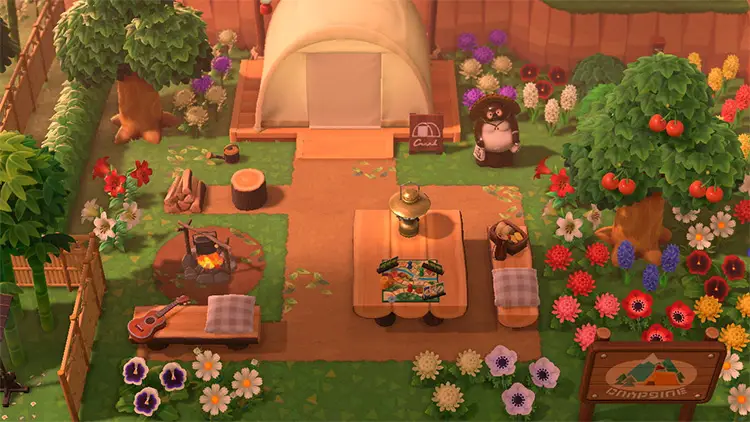 Give your villagers a sense of "home away from home."
The combination of the flowers, the watering can, and the board game set up on the table is beautiful.
A handcart next to the watering can will wow everyone with how much of a pro gardener you've become, and you may also add some garden lanterns to light your path around the camp.
By replacing the log furniture with an iron table and chair set, along with a picnic basket if you start to feel peckish, you may maintain the garden concept.
12. Green Campground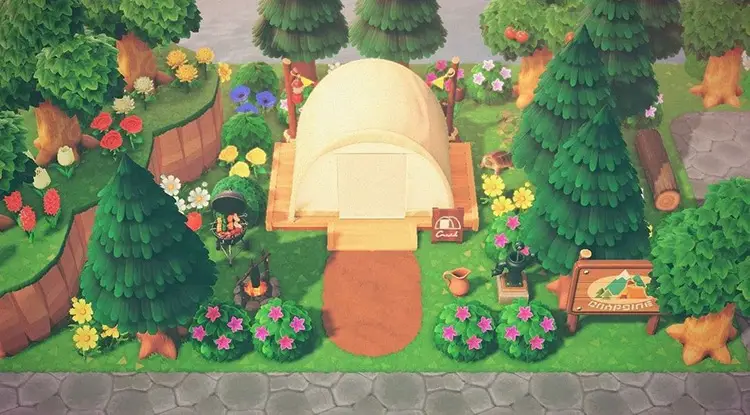 This campground's small size and simplicity make it ideal for maintaining a rustic appearance.
Along with the stone walkway and view of the sea, the various kinds of plants, flowers, and trees all contribute to a charming "one with nature" sensation.
By employing the same kind of furniture and décor throughout, you may even give this space a theme.
Include a natural garden chair and a garden faucet in addition to the log furniture or other garden accessories.
And perhaps add a few lights for the ideal backyard garden ambiance.
11. Log Campground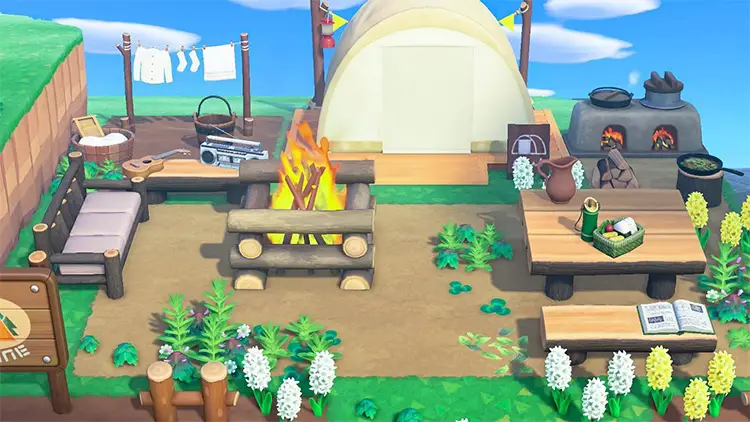 The log furniture in ACNH is gorgeous!
This campground has a little bit of everything your villagers might need for an ideal stay.
You may even add a light-cultured stone to cover the floor if the dark hues of the log furniture are making you feel a little blah.
Then, to brighten the area and give comfort, plant white or yellow flowers all over, or add some rattan furniture.
10. Campsite at Castaway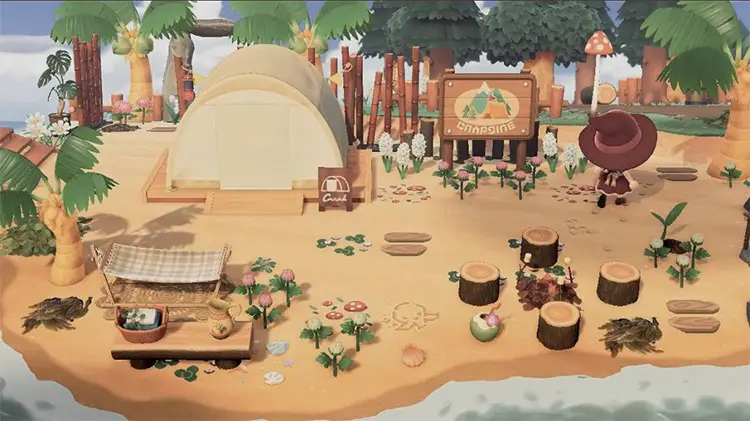 This campsite now gives off the impression that you are on a desolate island!
This campsite has the best-isolated island look I've ever seen thanks to the shells, palm trees, and stray driftwood pieces.
Include some tiki torches and a fire made of logs to illuminate the golden beach at night.
Or, to make a rock pool, set up an outdoor bathtub next to the breaking waves.
And don't forget to include a shell table for your coconut juice. It will be sipped frequently by you.
9. Falls Campground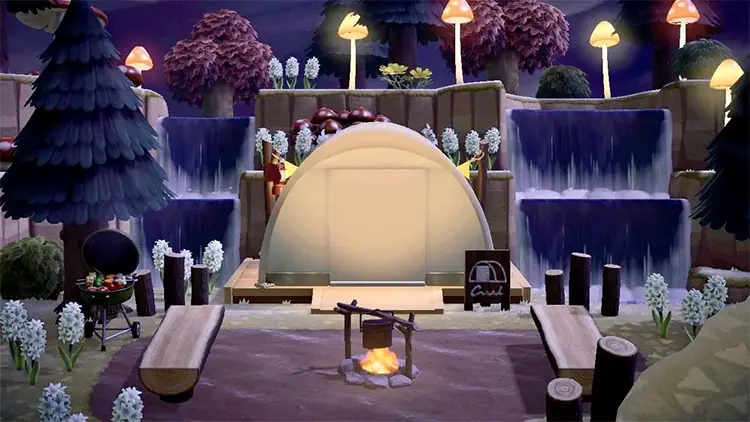 Amazing nighttime views of this camp's surroundings can be seen.
I like the fantasy vibe that the two waterfalls and mushroom lamps give off.
A basic DIY bench could be positioned amongst the trees for the enigmatic designer, and some fruit plants might be added to maintain the mystical wood theme.
Or include a straightforward well to reflect the resonant sounds coming from the trees.
But add a spinning wheel that is tucked away in a shadowy nook to continue the mood of the fairy tale. If only Little Miss Muffet could be added, right?
8. Campsite on a Cliff
This little retreat is very relaxing and serene.
It's one of my favorites because of the fir trees, twisting rivers, and cliff-top architecture.
Make a beautiful seating area by including a bench that swings and a few tall candles.
Or add a water pump close to the river to give the area a more rural vibe.
To further evoke a woodsy setting, you might even incorporate some unkempt log seats with a few flowers scattered about.
7. Hidden Campground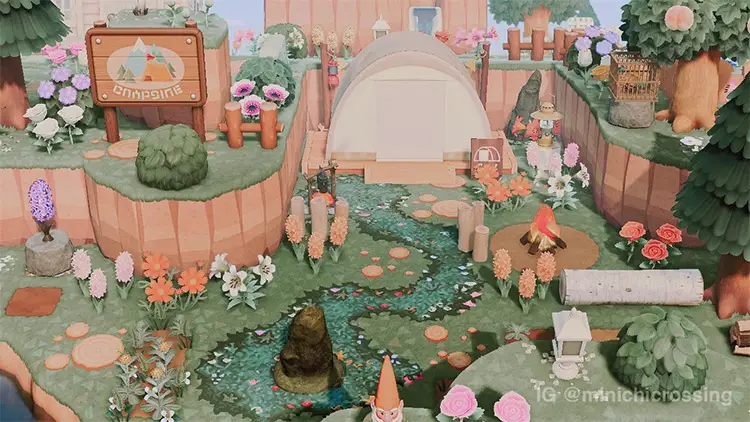 How lovely is this grass path with the mushrooms and flowers?
It has a mysterious vibe due to the utilization of stones, campfires, and flowers.
Additionally, if you wish to enlarge this campsite, you might scatter some leaf heaps of various colors around the trees.
Maybe even a handcrafted bug cage next to your tent to display your most recent catches.
Then, to give this campsite a more Asian feel, include some bamboo furnishings.
The bamboo basket and noodle slide off to the side will add more activities and beautify the cliff.
6. Cozy Campground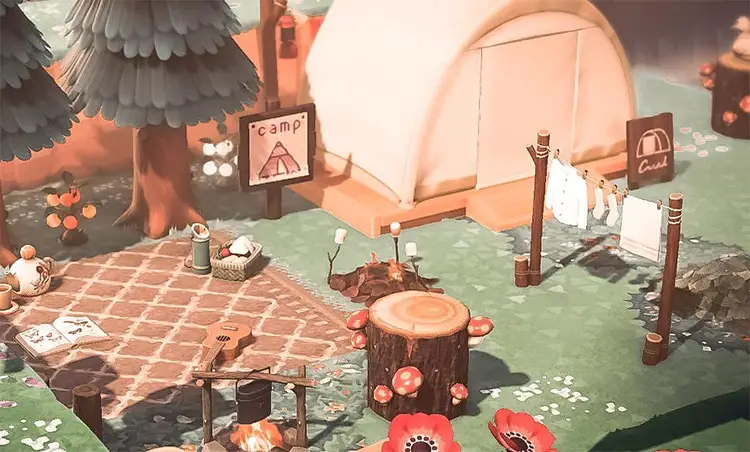 I'm in love with this cute tiny camp. The teapot and mug on the blanket here make me feel at home, though I'm not sure if that's because I'm British.
The furnishings and decorations from the 2020 spring cherry blossom season look nice on this campsite.
To make this area spring-ready, you could also add some cherry blossom tree branches and a collection of cherry flowers.
You can also subtly alter how your campsite seems and feels by using various seasonal objects you've gathered.
5. Beach Campground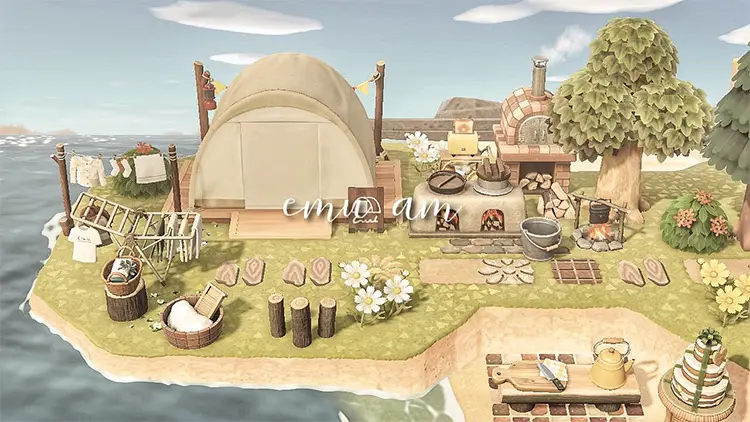 I like how this campground plan makes use of both the island and the beach.
It's a smart concept to have the camp in a secluded location with a private beach and cliff surrounding it.
Additionally, the furniture's combination of rattan and logs exudes a very natural vibe.
Not to mention the utilization of various flooring designs.
They just perfectly complement this region.
To maintain the atmosphere, include some mushroom-themed furniture.
Additionally, you can sprinkle some logs and mushroom lamps wherever the mood strikes you.
4. Escape Campground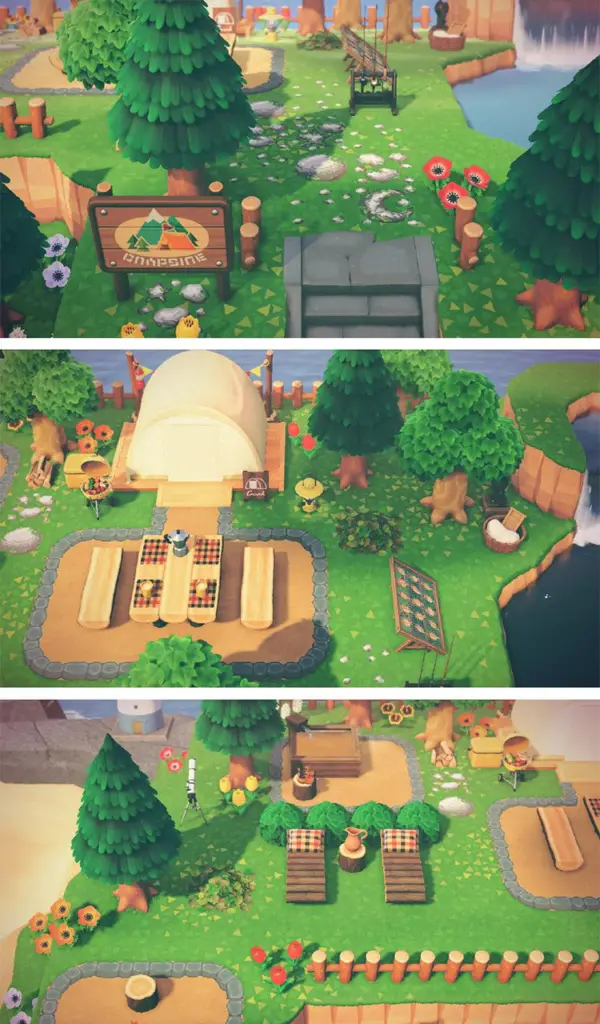 What more could you ask for at an island campsite with its picnic area, jacuzzi, and fishing spot?
This is the pinnacle of glamping.
Add some pots and zen couches to your picnic area to give this campsite an antique zen feel.
A gong can serve as the focal point of your camp, and you can also scatter some unusually shaped rocks around your trees.
A remote campsite might have a Zen motif added to it to make it feel incredibly tranquil and peaceful.
3. Campsite at Riverside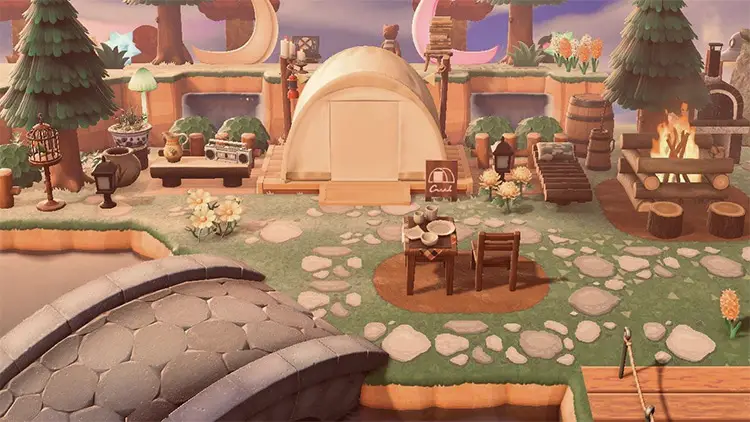 How lovely does this camp look as the sun goes down?
There is no better way to make your guests feel at home than to provide them with all the little things they might require.
Along with the log fire and mushroom lamps, the stone bridge and handmade route are lovely additions.
With a fruit basket and fruit water dispenser, and an orchard nearby for a fast snack, you could even make this camp feel fruity.
2. Ideal Camping Site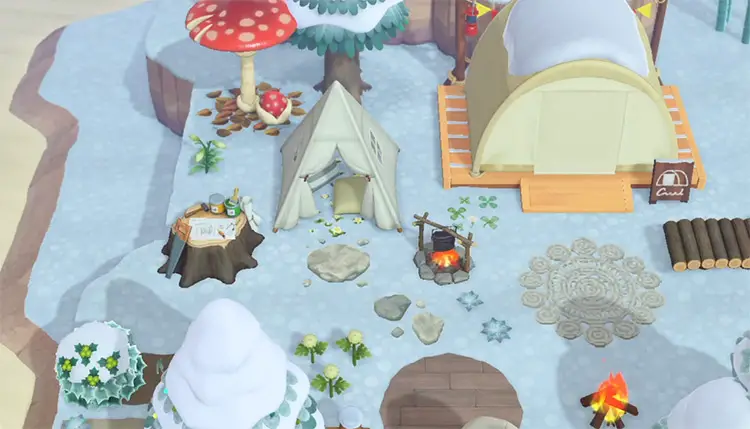 Okay, so here we are. My absolute favorite camping concept!
Check out the complete film on YouTube; it demonstrates brilliantly how the entire camp was constructed.
It's clear how much effort they put into this.
And what truly strikes out is how the floors, the trees, and the flowers have been decorated using various design codes.
This design is unquestionably tied together by all the many seasonal elements.
1. Moat campground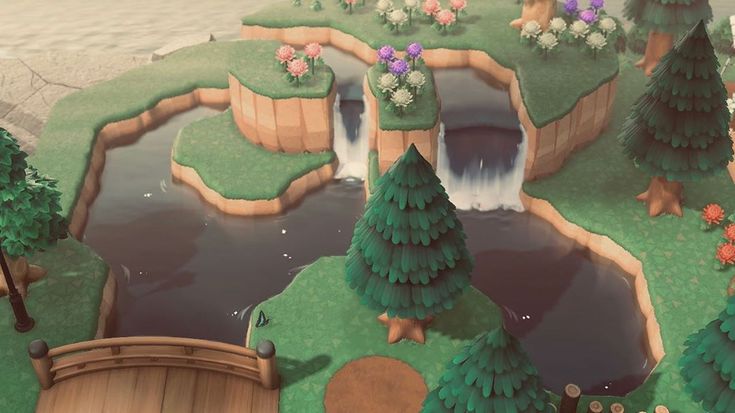 A moat is an ideal design for a campsite on a player's island because Animal Crossing: New Horizons is set on a barren island.
It is also one of the simplest ideas to produce because all that is needed to make the campsite appealing are a few log benches, a campfire, and some greenery.
A widening of the river on each side of the campsite might also make it a prime location for fishing.