Our island is largely bordered by Beach Ideas, therefore there has never been a better opportunity to develop a tropical paradise that is accessible all year long.
Undoubtedly, some of the beaches on our islands can be small or have odd shapes.
This makes beach decoration a little more difficult.
We have a tonne of inspiration if you're lost for what to do with your New Horizons beaches, so don't worry.
42. Beach Plant Shop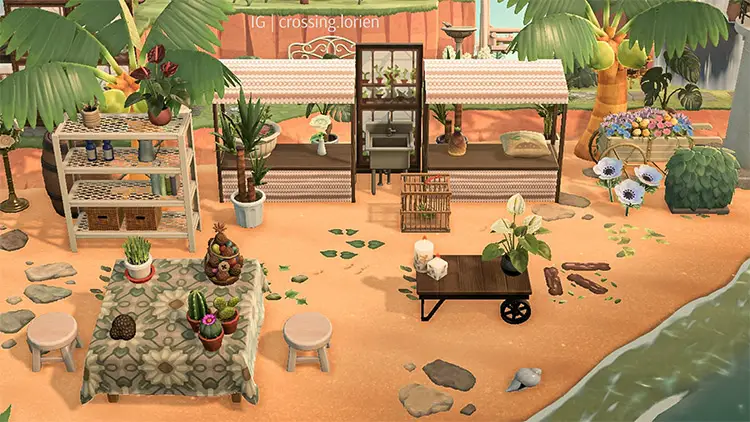 Those with a green thumb will love this tiny plant store!
On the beachfront, start your own little plant business.
A few unique stalls are all you need to get going.
Basically, you would add some iron shelves, and a table, and fill them all with various plant species to build your store.
To complete the image, plant more coconut trees throughout the neighborhood.
In no time, the business will be booming since, after all, one can never have enough plants.
41. Seafood Shack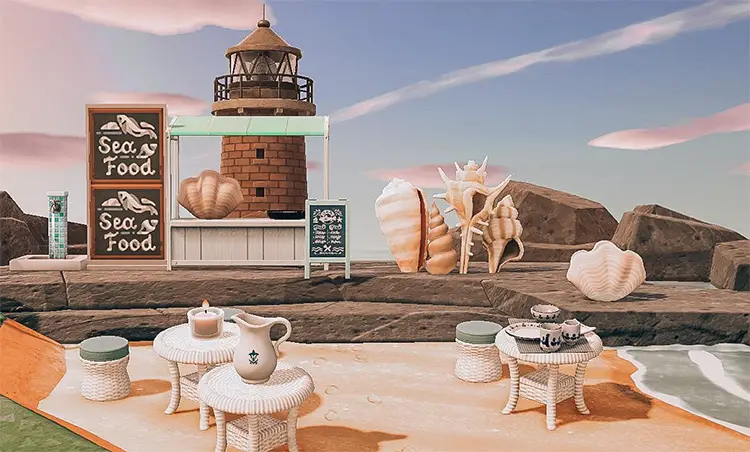 With this adorably adorable seafood restaurant design, your beach will become the place to be!
This dining area can be created by lining the beach with a variety of rattan furniture, including tables and chairs.
Although these goods are typically brown, you can order them in white if you want.
Additionally, you can add a unique stall and some plain panels with your own sea food signage.
Or you could even include a menu here.
Make sure to add plenty of shells and seashore accessories to complete the effect.
40. Beachy Campsite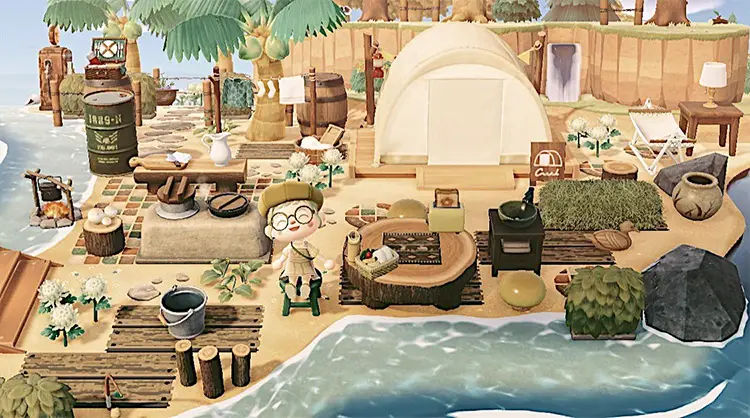 After experiencing this beach-themed camping adventure, every camper that visits your island will want to stay forever.
This campground has everything to offer to make your campers' stay memorable, from a basic cooking area to the best relaxing spot.
Start by putting down several designs of wooden custom floor patterns to achieve this appearance on your own beach.
Then you can scatter some flowers and bushes throughout the sand.
Make sure you include plenty of log furniture to accomplish this vibe.
Add any additional items you desire as well, such as a hammock, barrels, picnic baskets, or a clay oven.
In another article we've covered a handful of camping design ideas, but this one is legit right on the beach.
I'm not sure if it gets any better than this!
39. Beach Bath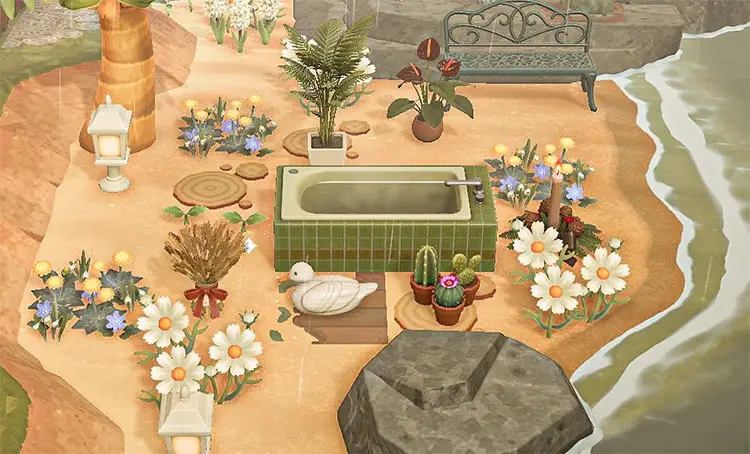 What could be more soothing than a bath filled with flowers by the sea?
Nothing, I would guess.
With this design, you may relax in your bathtub and watch the sunset.
Place the bath in your preferred beach location, then plant various flower varieties all around it.
To elevate this region, you can also add some rocks, cacti, or other plants.
Don't forget to include some unique flooring ideas, such as some wood slices scattered about.
38. Turtle Beach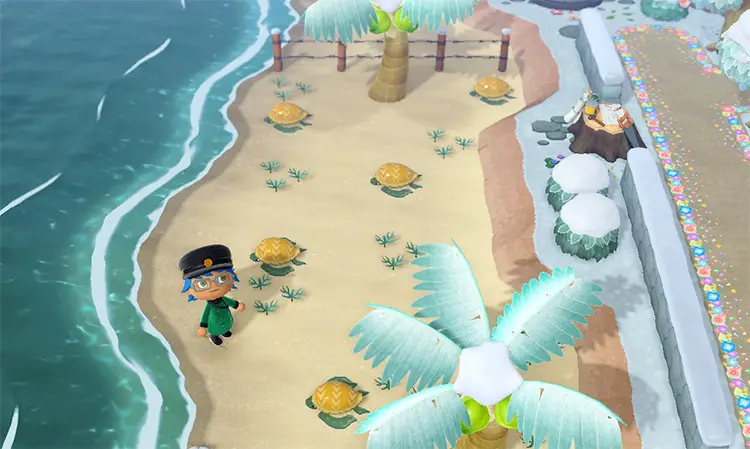 This adorable turtle beach idea will help save the turtles.
Then carefully lay turtle shells on top of your designs after drawing some unique turtle patterns directly onto the sand.
This is such a sweet concept it appears as though the turtles are visiting the ocean for the first time!
You may also grow some blooms and remove the petals to give them a "beach weed" appearance.
Such a straightforward layout, but it looks fantastic.
And let's be honest, it's adorable!
37. Beach Cinema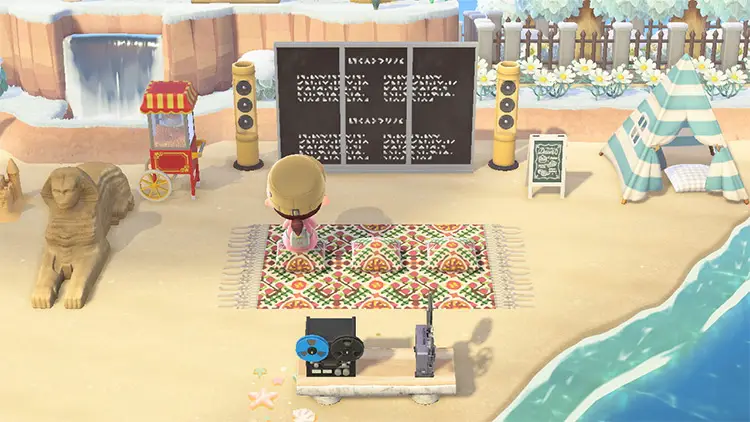 A cinema theatre on the sand, did I hear that right?
Please, yes!
It just sounds like the ideal day to me—watching your favorite movie while the sun sets.
Three straightforward panels are all you need to create a movie screen.
After that, you can add custom movie credits designs to them.
You can see your movie screen come to life when you set them up side by side on your beach!
After that, lay your blanket out according to your preferred custom design and add some cushions.
Finish by including a popcorn maker for those essential movie munchies, and don't forget the projector, of course!
36. Laundry Area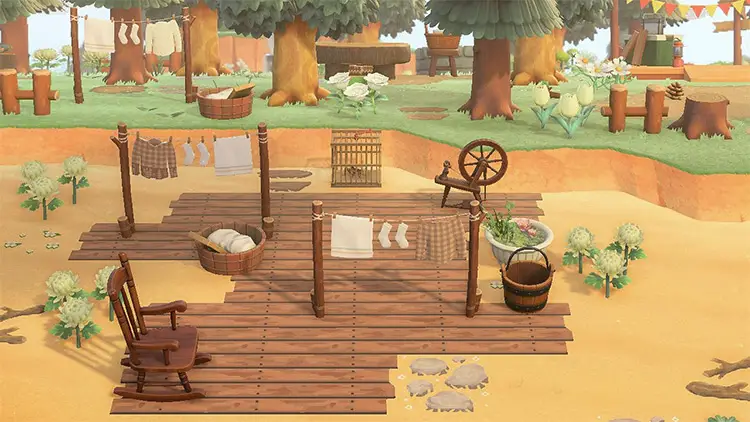 Although it may not be a usual beach location, this laundry area looks great.
You should start by installing a unique wooden floor before including a few laundry lines.
To keep with the motif, don't forget to decorate the space with some wooden buckets.
Add some flowers to the area and some unique stone designs to finish the theme.
And how about a rocking chair for good measure? so that you may relax and watch the sunset.
35. Massage Area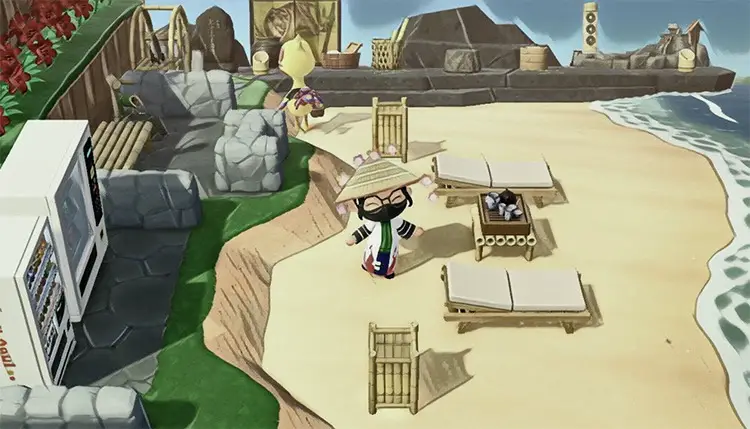 I adore this tiny massage room!
You and your villagers can unwind here after a strenuous day of bug-hunting and fishing.
Start by including numerous bamboo items, such as lamps and a table, to replicate this.
To create a relaxed atmosphere, you can then set up some loungers directly by the water.
Additionally, it would be a good idea to include a few vending machines in case somebody needs to get a cold beverage while sunbathing.
34. Mad Hatter's Tea Party
With this tea party inspired by Alice in Wonderland on the beach, you may celebrate your birthday in style.
It's very easy to make; all you need is a few tables placed side by side along your beach.
It's best to use chairs from various furniture sets to fill the space around your tables.
Make sure to mix and match your furnishings to complete the effect.
The celebration can then begin by setting out teacups and cakes on the table.
To complete the effect, you might even add a teacup ride to your beach.
33. Fairy Beach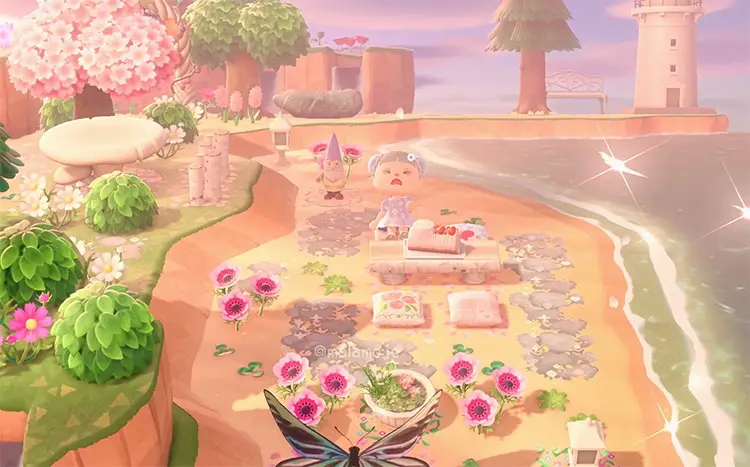 This cherry blossom haven is the ideal setting for turning your beach into a scene from a fairy tale.
If you decide to give it a go, consider adding some cherry blossom flooring patterns to give it a little extra flair.
Of course, you must include a log table and some adorable seat cushions.
To keep with the theme, I included lots of pink flowers and cherry blossom trees.
A huge butterfly model can also be added if you're feeling daring.
The flick will offer you a custom-made model of the bug if you give him three of the same bugs.
So, while it will require some labor, it will be worthwhile.
32. Beach Gallery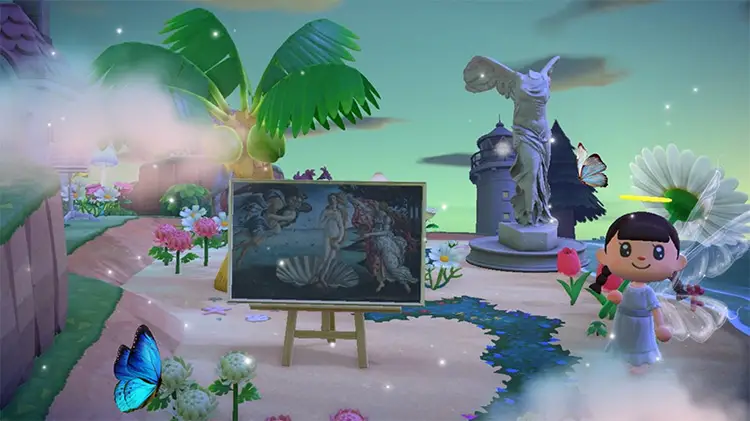 Who said there weren't any art galleries on the beach?
This is the ideal method to show off the false sculptures or artwork you certainly bought from Redd.
You may even take advantage of this opportunity to exhibit some of your own creations!
Place all of these in your beach area, and then construct a sweet trail that winds between the exhibitions.
To make it a gallery unlike any other, make sure to surround the area with lots of coconut palms and flowers.
Villagers will soon be waiting in line to see your art gallery.
And if you're fortunate, you might even sell a few pieces!
31. Mermaid Beach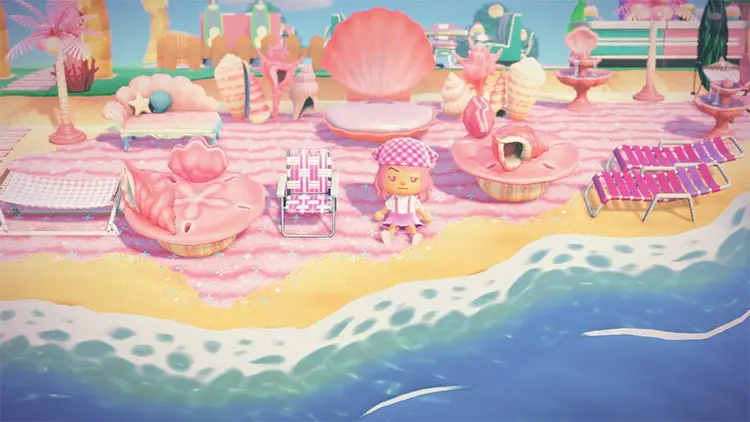 With this ultimate mermaid-themed location, let's hope one will swim up to your beach.
It's quite spectacular and will undoubtedly draw attention to your island.
Cover your beach in your preferred mermaid custom flooring pattern to achieve this look. Place as many pieces of mermaid furniture as you can.
Palm trees and lamps can also be added.
They are typically made in green, but you may buy a customizing kit to make them bright pink instead.
Be careful to fill the area with tonnes of shells as well.
To finish off the image, you could even sew yourself a little mermaid dress!
30. Mini Surf Shack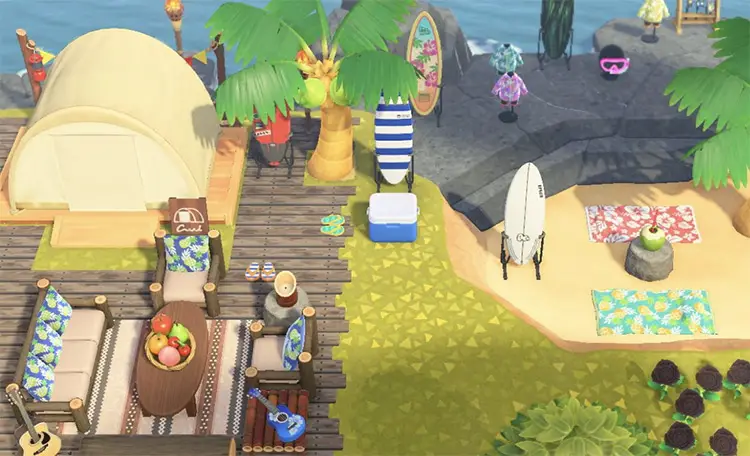 How adorable is this beachside surf shop?
It appears so inhabited and at home!
You'll need to put some surfboards and some cool beach towels on the side if you want to make this yourself.
To complete the "surf shack" look, place some wood furniture close to your beach and scatter some homemade pillows as well.
However, don't forget your cooler box since nothing beats a cold drink after a long day of surfing.
29. Secret Sunbathing Spot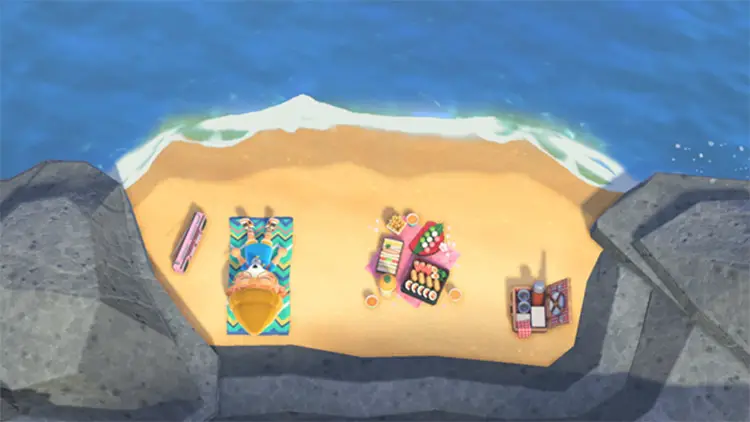 With this wonderful design concept, you can transform your private beach into a tranquil retreat.
It is worthwhile to recreate this if you need some peaceful time.
I'm certain you won't be disturbed once you're tucked away on your private beach!
Just spread out a towel so you can unwind by the water.
Without a variety of snacks, though, no beach would be complete.
Also, don't forget your picnic basket.
You can also bring a boombox so you can listen to some music as you top off your tan.
28. Relaxation Terrace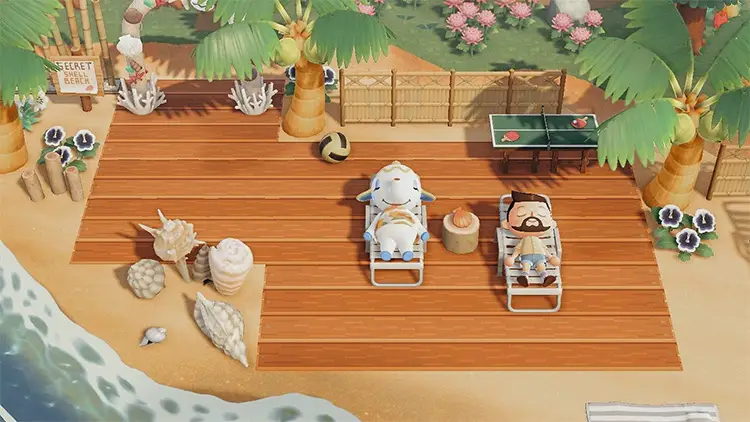 This tiny seaside terrace is the ideal place to unwind, and I can't get enough of it!
Create a decking over the sand by laying down your preferred wooden flooring pattern.
Then add a few sun loungers so you can unwind from all your island concerns.
Don't forget to include a ping pong table as well as lots of coconut palms and shells to finish off this charming little area.
Even better, you might conclude by hanging your own distinctive sign over the door.
27. Secret Stone Beach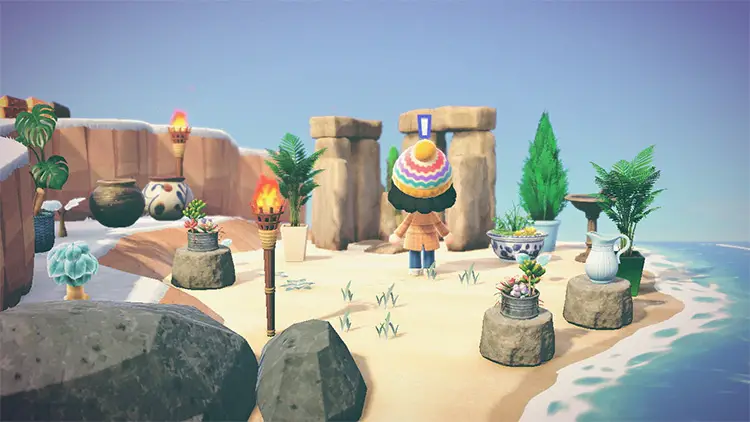 Why not borrow some ideas from this inspiration if you want to try something a little bit unique on your private beach?
To capture this atmosphere, fill your beach with tonnes of stone decor, along with a variety of flora.
To increase the mystery, don't forget to bring some tiki torches.
Additionally, some clay pots would look fantastic here.
Of course, add your own Stonehenge to complete the picture.
If you help Gulliver recover the pieces of his communicator as he washes up on your shore, he will generously reward you with this gift.
26. Elegant Beach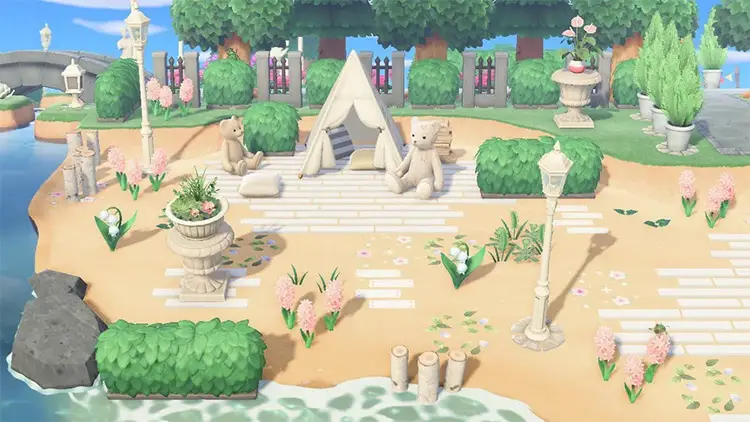 With this really cute design, transform your beach.
The hardest aspect will definitely be creating a unique design to add some white wooden planks to the sand.
Then lay some teddy bears outdoors and add a white kid's tent.
For a touch of nature, don't forget to include some hedges, plants, and a variety of pink and white flowers.
Finally, surround the area with white lampposts and logs.
Additionally, your beach will exude elegance.
25. Hidden Sands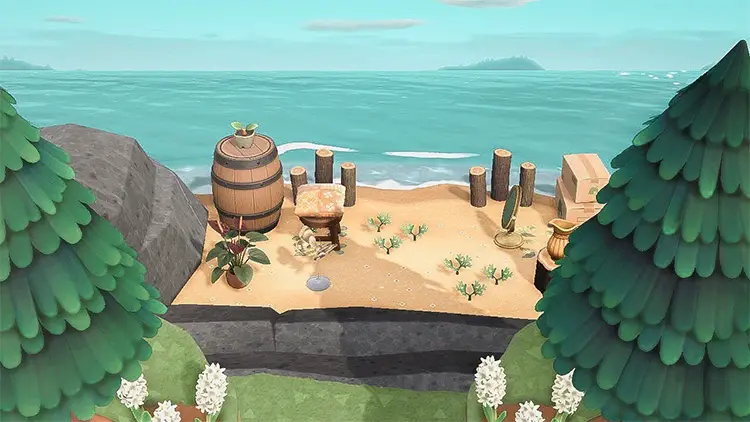 With this concept, you may create the perfect chill zone on your private beach.
I adore this straightforward concept since it's the ideal way to adorn your own beach while keeping it somewhat discreet.
All you need to do is scatter some cardboard boxes and logs throughout the beach.
A small wooden stool with your preferred bespoke cushion can also be added.
Then plant a lot of hardwood trees to conceal your tiny beach.
Finally, add a barrel and some plants to finish the design.
And that's it!
Easy-peasy.
24. Coffee Shop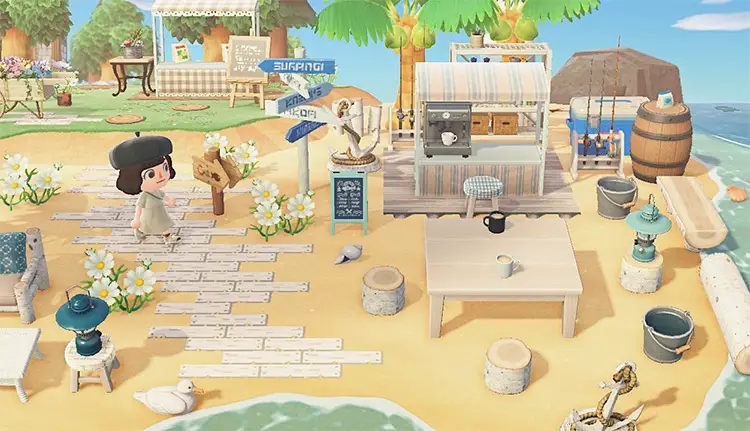 At this charming coffee shop near the beach, you may unwind while enjoying a cup of coffee.
It's so easy to make and such a sweet idea.
Lay some wooden flooring and construct a special stall to house your coffee makers.
Then add a tonne of tables and seating locations.
You may also mix chairs and logs to offer your seating a variety of looks.
In this instance, it functions quite well.
Don't forget to include a signpost and a charming little menu board as well.
23. Beach Ice Cream Shop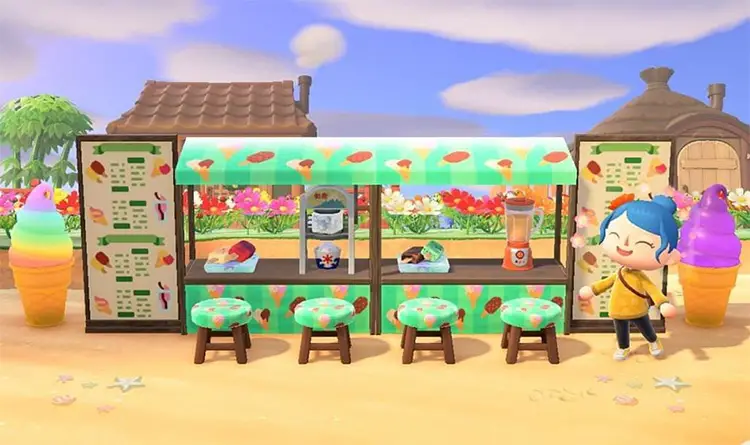 An ice cream shop is a must-have on any beach!
So why not erect a stand for selling ice cream on your beach?
All you need are a few bespoke chairs and stalls, which you may decorate with your preferred ice cream patterns.
Additionally, you can personalize a few straightforward panels with your ice cream menu so that the villagers are aware of what you have to offer.
Your kiosks will feel more like authentic ice cream parlors if you add some ice lollipops and blenders to them.
Adding some cone lamps to the side will help you finish strong!
22. Simple Tea Party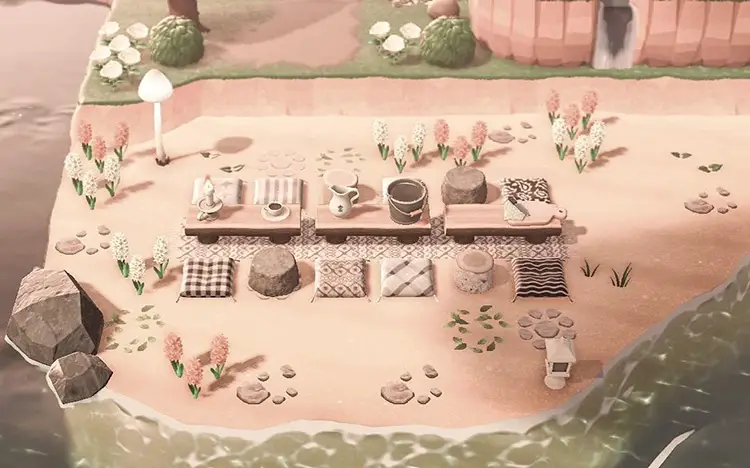 The perfect tea party is here!
Imagine relaxing at this adorable little beach setup with your friends.
Here's how to add this to your island if you're considering it:
To serve as tables, include some log benches.
So that your guests can sit upright at the table, line the sides of the table with numerous bespoke cushions.
You can add drinks, snacks, and perhaps even some ornamental flowers to your tables to adorn them however you desire.
This is the only tea party of its kind that will ever occur.
21. Beach Soccer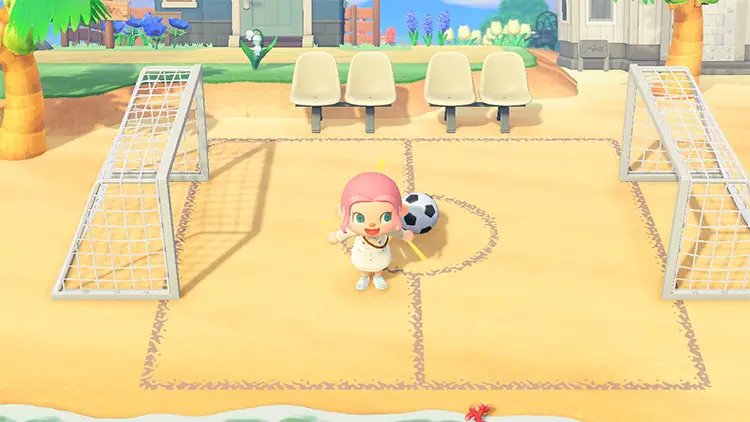 Have a desire to play soccer but nowhere to play it?
Now that there is a fantastic soccer field right on the sand, you do.
You must first obtain a unique design for the field itself if you wish to test this out for yourself.
You can then add two goals, one at each end after that has been put out on the ground.
By using your Nook Stop and redeeming your Nook Miles, you may easily pick up some soccer goals.
You'll travel 4,000 miles for each objective.
Finish up by including some seating for onlookers and, of course, a ball!
20. Sand Art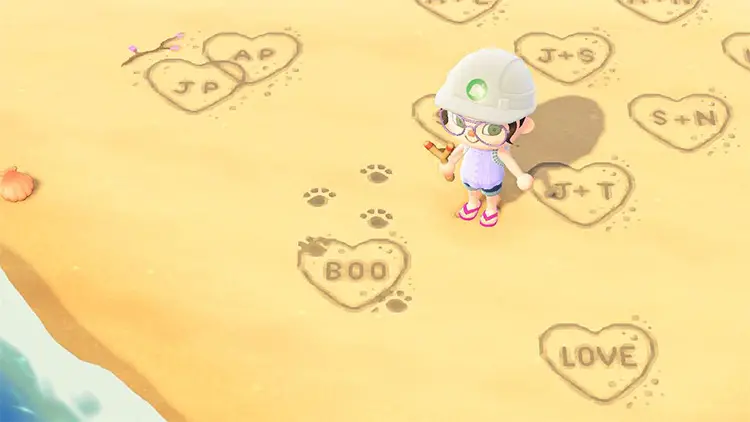 This is a really enjoyable and simple decorating idea.
Sand art is seriously underappreciated in ACNH, although it has a significant impact.
All you have to do to make sand art on your island is lay down a personalized design for the pattern(s) you like.
You can utilize pre-made patterns or even make your own, allowing you to express your creativity to the fullest.
19. Trading Post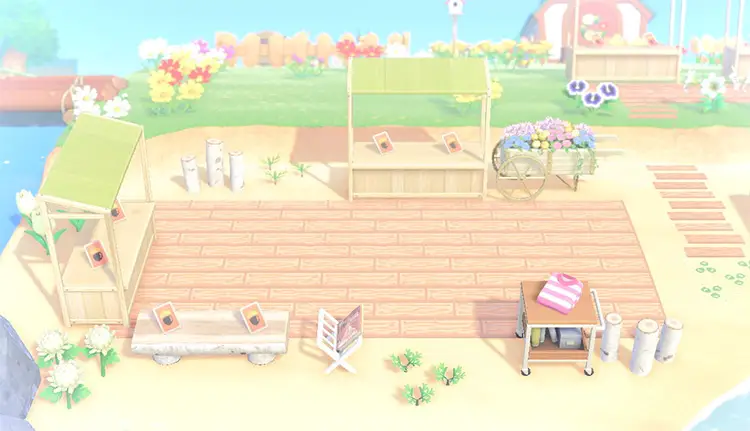 Do you trade frequently?
Have you ever considered creating your own trading post on the beach?
This concept is ideal for holding those crucial transactions, whether they include furniture or DIY recipes.
Making this location close to your airport is a smart move.
In this manner, others can visit and conduct business with you without disturbing other areas of your island.
To show off the goods you have to trade, all you truly need are a few bespoke stalls.
In order to complete the design, it is also worth it to install some bespoke flooring.
18. Beach Barbeque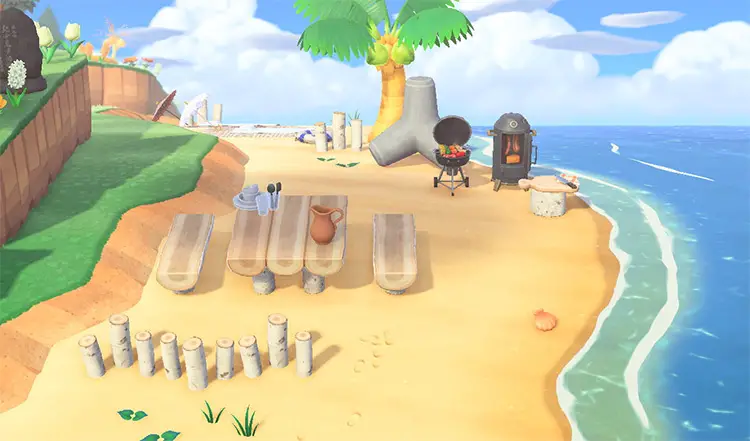 Barbecues are the finest part of summer, am I right?
In ACNH, however, you can set up your own barbecue area on the sand!
A few log benches and tables are all that are required.
Set out some serving utensils and beverages to set the scene for the party.
Then you may add a cutting board and, of course, a BBQ grill in the back.
To further complete the setting, add some flowers and coconut trees to the beach area.
17. Hidden Escape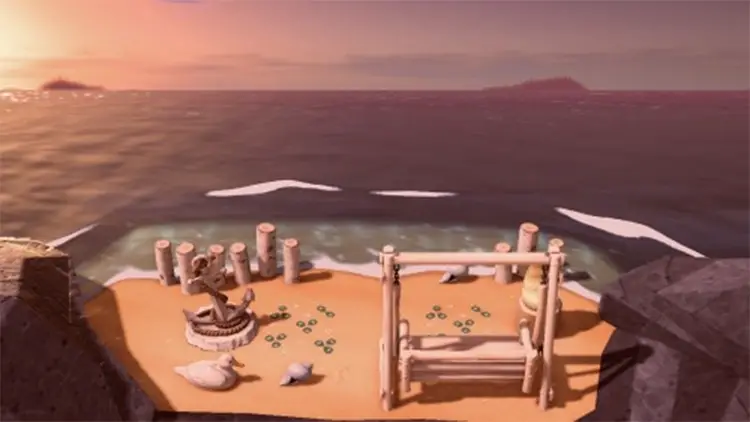 Uncovering a getaway at your private beach is definitely possible.
For the ultimate in relaxation, incorporate a swinging chair into this design.
Then, to fully capture that tranquil appearance, adorn the area with logs and wood slices.
Along with some shells on the beach, you can also bring a wooden duck to the location.
A little nautical life is always aesthetically pleasing.
Any ordinary beach may become an Instagram-worthy location with this really simple and straightforward design.
16. Slumber Party Area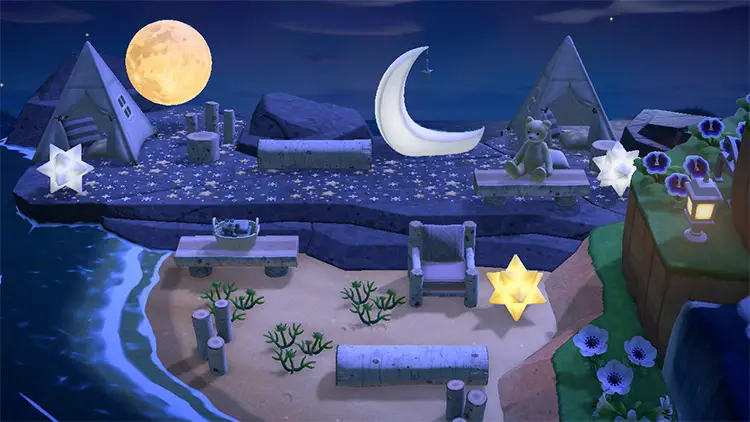 Did someone mention snoozing outside?
For the ideal ACNH slumber party with your buddies, create this adorable tent area on your beach.
To construct this great idea, start by adding a few of Kids Tents.
Then spread some log furniture across the area.
For a stunning nighttime glow, cover the area in crescent moons and nova lights.
You won't ever again miss a shooting star, so this might even be an excellent location for stargazing.
15. Zen Beach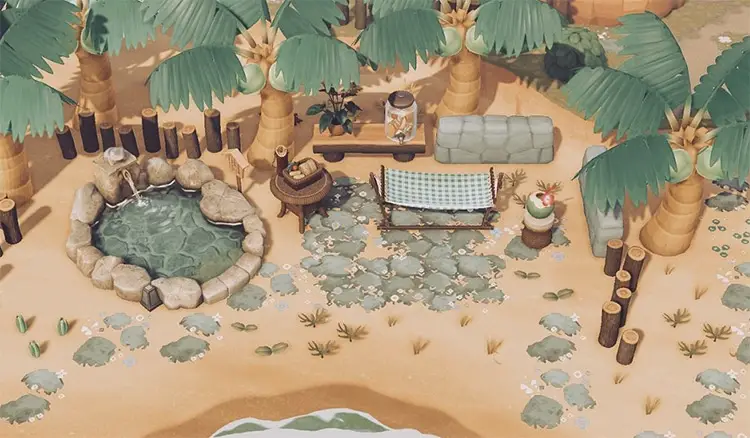 To maintain your composure at all times, create your very personal rock pool area on your beach.
The hardest aspect of this is incorporating stones over the sand, which requires a unique design.
A hammock can then be added for those midday naps.
Don't forget to include some rattan or wood furniture as well as some wooden fencing around the area.
A log bench can be added as a little table on which you can set some plants.
Of course, the rock pool is also important to mention.
14. Boating Beach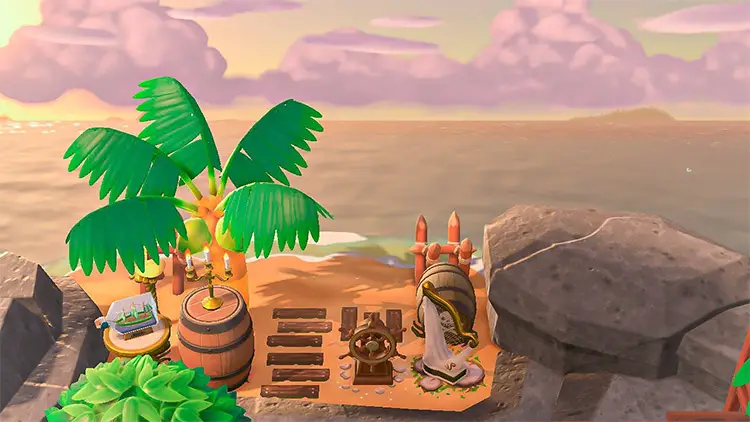 I adore this secluded beach with a boat theme.
Like a pirate's dock, I guess.
You can do this by installing floor planks with a personalized design that circle your private beach area.
For a truly boat-like vibe, you can also add a ship wheel and a harp.
To finish the look, don't forget to include a barrel and a boat in a bottle.
A coconut tree and some wooden fencing are also added to help connect the motif to Animal Crossing.
13. Beach Train Station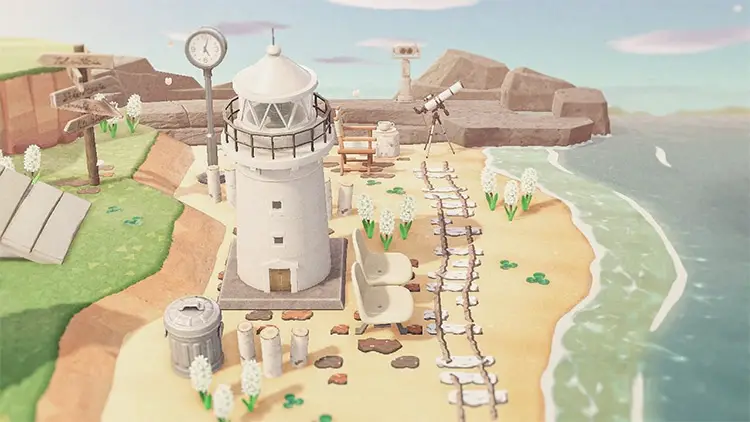 Your island needs its own transportation system, don't you think?
Well, since it would be running on sand, this one is probably no longer operational.
But it's a fantastic plan!
Just a unique layout for the train tracks across the coastline would be required.
And you'll need a different custom design if you wish to add any brickwork flooring to your station.
Then scatter some white chairs and flowers throughout the area.
Finally, incorporate the lighthouse.
Or you may construct a charming viewing spot at the end of your beach where people can gaze out into the distance.
12. Beach Arcade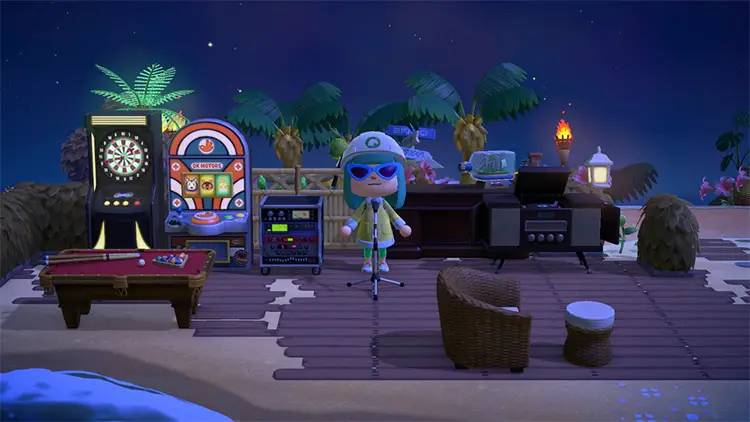 Check out this beachside gaming arcade.
Even a karaoke machine is included!
Everything you need to have the perfect night out with your friends is in this area.
Place some flooring in the beach location of your choice before adding every gaming device you can find!
You're directly on the sea, thus this would be one of the coolest ACNH game ideas!
Don't forget to include a pool table and a karaoke microphone!
Even a small table and seating area are options.
This will quickly become the island's hottest spot before you realize it.
11. Tropical Beach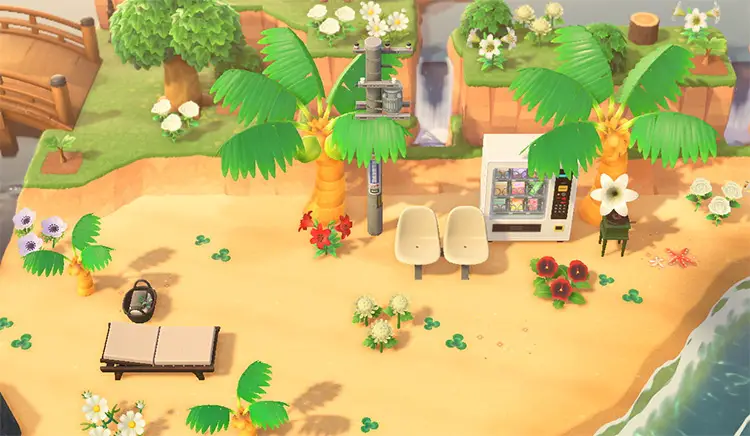 Do you ever wish summer lasted all year? Me too.
It is possible with this straightforward theme.
With this incredibly summery beach design, you may transform your beach into this tropical paradise.
Make sure to scatter plenty of coconut trees and vibrant flowers across the area.
For the visitors and townspeople to unwind, you could also put a vending machine and some loungers.
10. Simple Surf Shop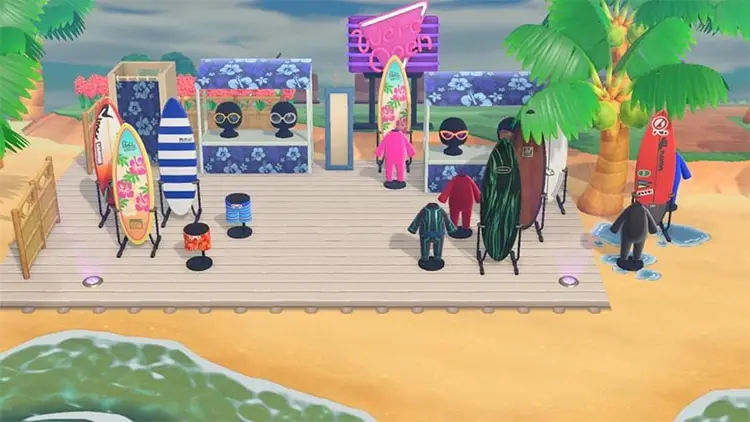 This post has covers a surfing area, but have a look at this concept for a much smaller surf shop.
To make the raised wooden planks, you would just lay down a unique flooring design.
After that, you might put up some fencing to enclose the space.
You can add some custom stalls here as well, and you can decorate them with your preferred floral design.
The most crucial aspect, though include surfboards.
You are free to drop as many various sorts as you want.
Don't forget to leave your wet suit and snorkel nearby so you'll always be prepared to ride the waves.
9. Beach Gym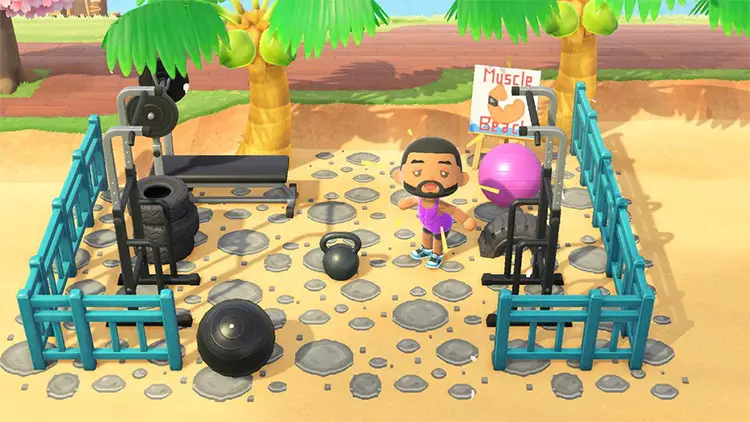 Your sporty villagers will be grateful for the beach side gym.
All you have to do is use some fencing to demarcate your selected region of the beach.
Your gym space can have unique flooring installed if you'd like, or you can just use sand.
Additionally, you can give your gym a name and create a unique entrance sign.
Add all the gym equipment you can locate to complete this fitness area.
You can now continue to work out till dusk.
8. Cherry Blossom Beach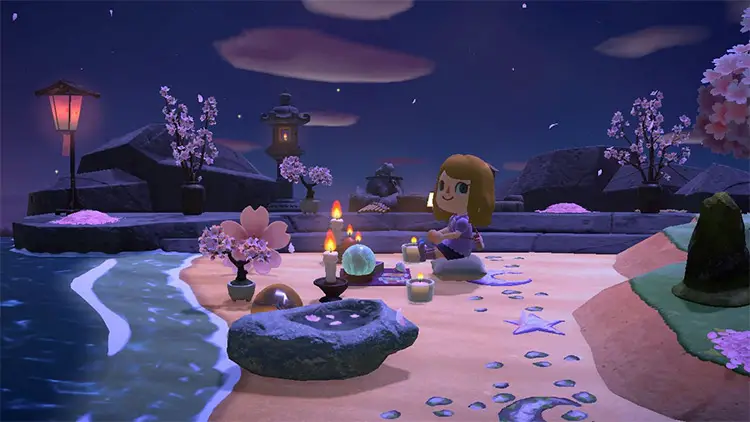 Calling all admirers of cherry blossoms! You should use this beach design.
To add the moons and stars flooring to the sand, you'll need a custom design, or you can even make your own.
But this is arguably the most challenging aspect.
Then, to really create the atmosphere, add a fortune-telling set and several kinds of candles.
In the evening, it will look stunning.
Make sure to incorporate as many cherry blossom-themed products as you can to complete the effect.
Of course, you also can't forget about the renowned cherry blossom lamps.
7. Beach Wedding Aisle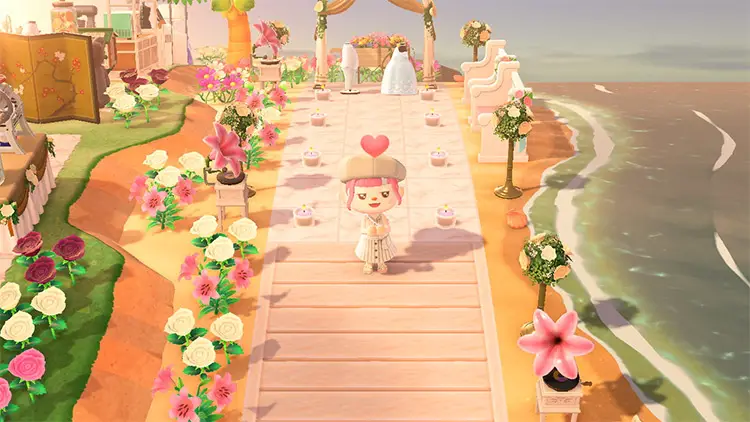 A seaside wedding is unlike any other wedding!
How nicely done is this tiny seaside setting?
You'll need a unique design to create the aisle you can even create your own to give it a personal touch.
The area has to be decorated with lots of wedding-related objects next.
Reese & Cyrus is selling the wedding supplies during the entire month of June.
They will give you crystals in exchange for your assistance in taking the wedding images, which you can then use to purchase wedding-related items.
Plant a bunch of flowers and place a line of candles flowing down the aisle to finish this wedding location concept.
6. Tiki Bar
With this incredible tiki bar construction, you can start your summer early.
All you need to create this masterpiece is to collect as many bamboo objects as you can.
Place a bamboo fence around the space to start, and you can also use bamboo planks for some creative flooring designs.
Don't forget to furnish the area with a shell table and some bespoke cushions.
Then, to truly capture the tiki feel, add some custom fringe stalls and add goods like blenders and coconuts to the top.
Add some giant shells and some tiki candles to complete the look.
5. Redd Wanted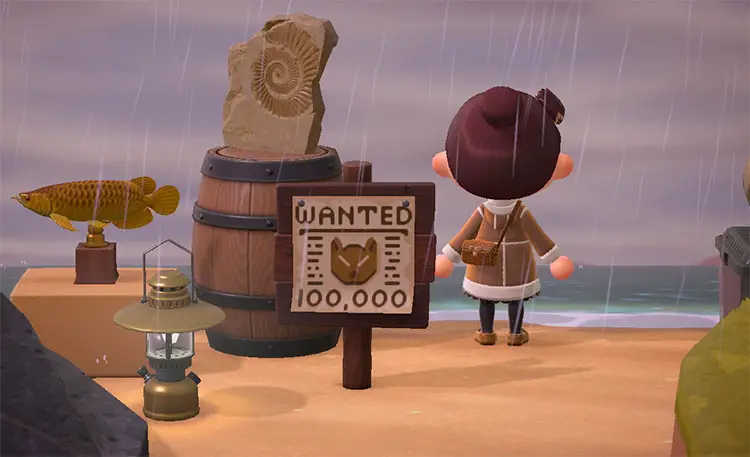 This imaginative secret beach design is fantastic it's really enjoyable!
Create a tiny beach area for a stakeout in search of Red, everyone's favourite criminal fox.
You can either make your own design to stick onto a signpost or utilize one that has already been prepared to add to the sign.
Then just set it down on your private beach.
Add a barrel, some fossils, or pretty much anything else you wish to complete the area's decor. Prison bars could look good in this place!
Don't forget to include a lamp as well, so that at night the sign will be illuminated.
4. Sunbathing Deck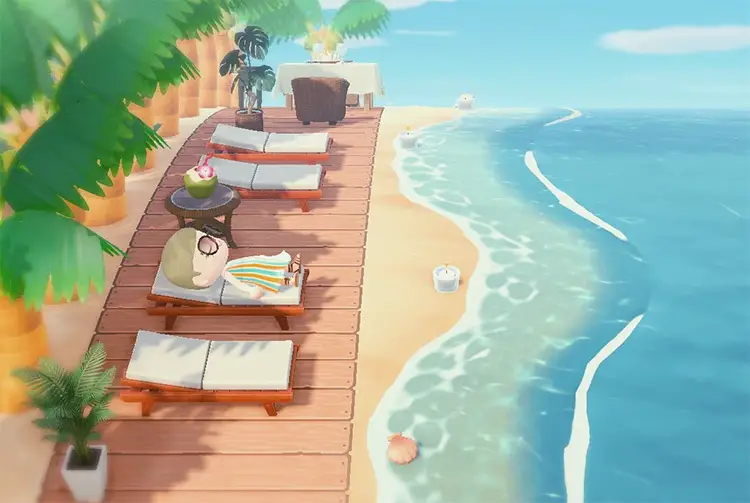 I believe this concept is the pinnacle of beach aesthetic.
The excellent location to enjoy the sounds of the ocean, your people will appreciate you for this one.
The majority of the work is in creating a unique design for the hardwood plank flooring.
Place this on your beach.
Actually, only a tiny portion of the beach is required, which is great.
All that is left to do after installing the flooring is to add some tables, plants, and sun loungers.
And with that, you've finished your beach-themed artwork.
3. Pirate Beach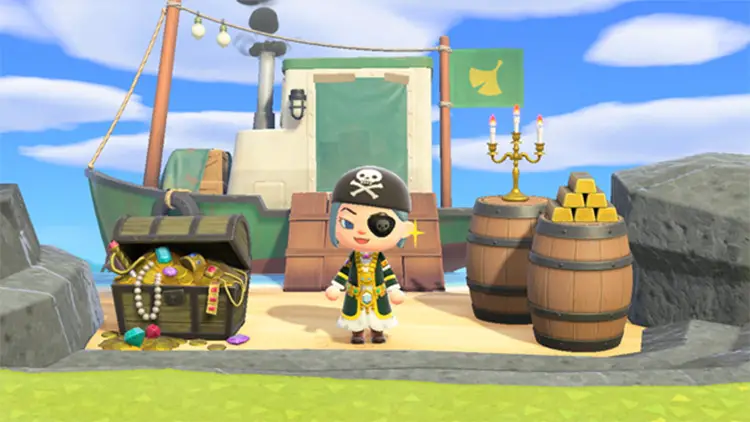 Hello there!
I believe we all expected this to be included on the list in some capacity.
Gulivar can provide you pirate gear, so be sure to assist him if you encounter him on your beach.
He will reward you with various pirate stuff that you can use to make this great beach idea if you successfully fulfill his duties.
To get into the mood, add barrels and gold bars.
A treasure chest will truly make this appearance come to life.
When Red docks his boat, it will look fantastic.
A bonus point for the pirate attire!
2. Flea Market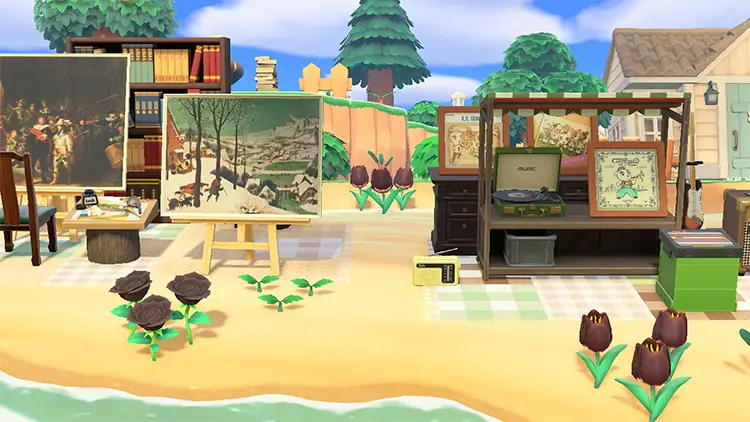 Why not include a flea market at your beach if you're looking for something a little more out of the ordinary?
The notion of displaying and selling your fictitious Red artworks is so much fun.
Additionally, you can include some unique booths filled with other antiques you want to sell.
Since bookcases already contain books, they make a good addition to this style.
Finish by including some trees and flowers, but don't be afraid to get imaginative.
Make this concept wholly your own!
1. Beach Stargazing Area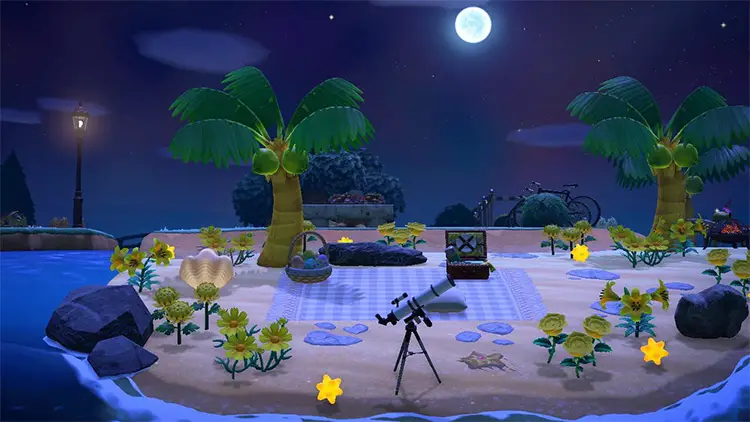 Nothing beats spending the evening outside under the stars.
To make this yourself, you'll need to first come up with a unique blanket pattern.
After that is down, you can add some picnic supplies on top.
To complete the appearance, use items like fruit baskets and a picnic hamper.
To complete the scene, perhaps add some coconut trees and a profusion of flowers.
Naturally, you'll also need to set up a telescope.
Everyone desires a close-up view of the stars!
The most amazing beach area is now at your disposal for taking it all in and admiring the stars.