Do you have a scary island, but it seems to be missing something?
This is your sign to make a graveyard on your island if you don't already have one.
With the "Western-style stone," which looks like a grave, making your own graveyard or cemetery is now easier than ever.
I've put together a list of some of my best graveyard designs to help you get started, so if you're looking for ideas, you've come to the right place.
 I've collected some to help you get started designing your own creepy cemetery.
10. Fallen Villagers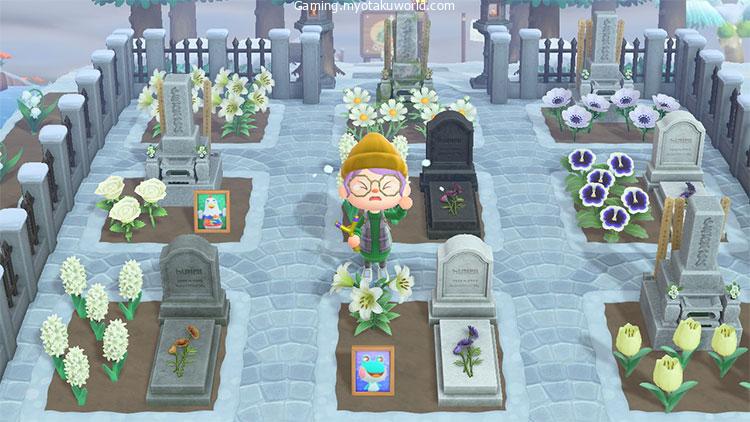 Wish you had a way to remember the people from your island who died?
Do you need a way to remember those people who asked to leave their town and start a new life somewhere else?
So, even though it's sad, you now have a way to remember them.
Each person from the village who has ever left the island has their own tombstone in this creative cemetery.
If you want to try this idea to honor your favorite villagers, you can start by putting up an iron fence around the area to make a place for your graveyard.
Put down some stone flooring and leave small squares around the area where you can put your tombstones.
Put the pictures of the people you picked next to each gravestone, and then add some flowers. No one on the island will be able to keep a dry eye.
9. Forest Cemetery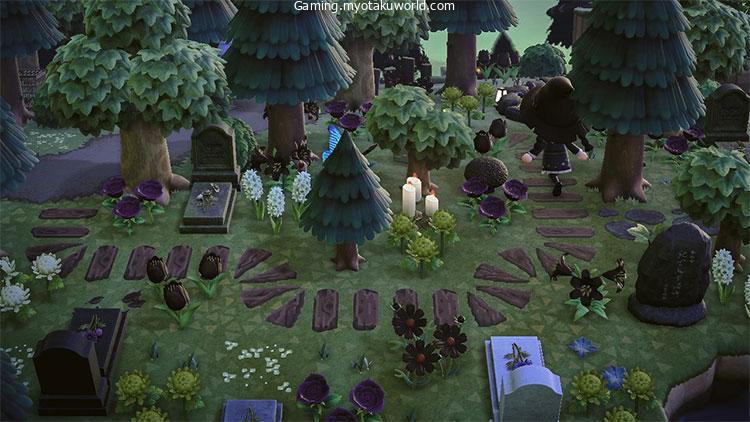 This design is for when you want to take a quiet walk through the forest graveyard.
You can start by finding a custom pattern for a wooden plank, which you can then use to make a path that winds through your forest.
Mix cedar trees with oak trees to keep the forest looking natural.
Then you can put some western-style stones in each corner and some candles all over the area.
Last but not least, don't forget to add some flowers. This design works well with black and white flowers, which help keep the design's moody feel.
8. Skeleton Grave
Want to give your cemetery the extra spook-factor? Why not try this creepy skeleton design?
You'll need a custom design slot to be able to add the skeleton, so keep that in mind.
The secret to creating this design is building your cemetery up on top of a cliff. When constructing the cliff be sure to have this design in mind. Basically keep a couple squares on the ground, then build the cliff "around" this hole.
When you finish with your cliff it should look like your skeleton in deep inside the grave.
You can then add some stone flooring around the area to create a path. And finish by adding some western-style stones lined up next to your design.
7. Hilltop Cemetery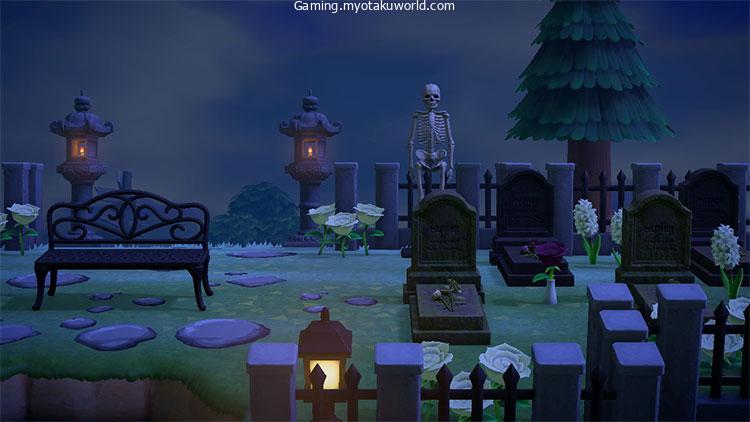 This hilltop cemetery gives me all the chills.
If you want to add this cemetery to your island, here's how!
First choose the area and mark it out with an iron fence.
You'll also need a host of western-style stones, and you can place these inside the area in any pattern you like.
Don't forget to add lots of flowers and trees too.
Then add a skeleton model for an extra creepy touch, and of course don't forget to place some flowers in there as well.
It'll look extra spooky on a misty night!
6. Elegant Graveyard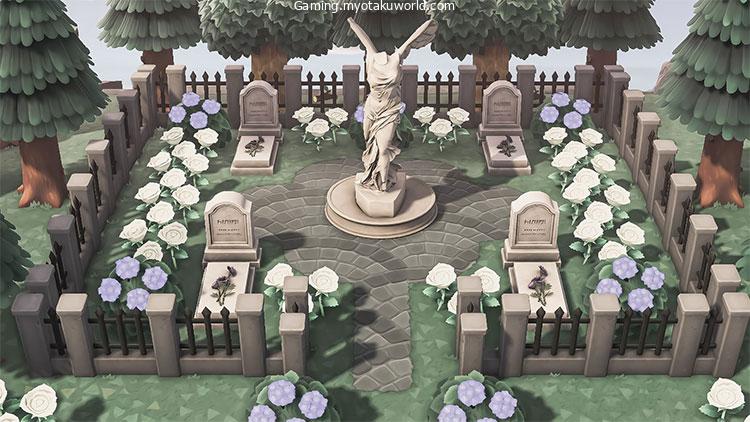 Everyone has space on their island for this elegant graveyard.
You can make it by placing the iron fencing around a small patch on your island.
Next, lay down some stone flooring, and you can give it that classy touch by rounding some of the edges and making a pattern running down the middle.
Add the valiant statue to the middle of your cemetery to stick with the theme.
And don't forget to add some western-style stones, and lots of flowers and shrubs too.
5. Mega Tomb
Set you cemetery apart from others with this mega tombstone area!
Although this design will take up four of your eight inclines allowed on your island, it looks amazing.
If you want to do this, create a square cliff and situate an incline along each side. Technically you could even do fewer inclines if you want.
Then decorate the top with some tall lanterns to illuminate the area.
Lastly, surround the bottom of the cliff with western-style stones all around.
4. Spooky Graveyard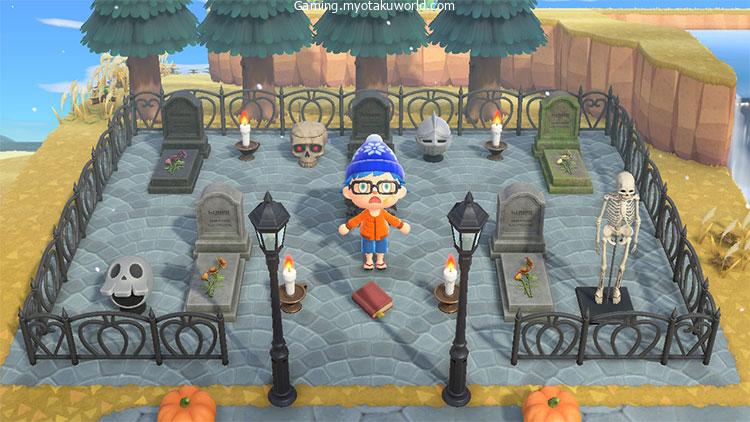 If you're not ready to let go of Halloween just yet, this is the cemetery you'll want to make.
To create this, pick any area on your island and section it off with the spooky fence.
Lay some stone flooring down, then follow by adding western-style stones dotted around the inside.
Fill empty spaces with a collection of spooky hats, and also add some candles in there for good measure.
Finish by adding a skeleton model and also some lampposts to illuminate the entrance.
3. Tiny Cemetery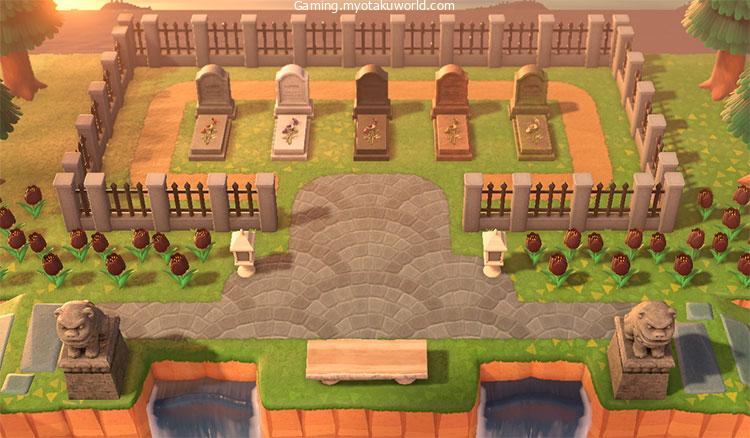 If you like the idea of a graveyard, but want to try something a bit smaller, well here you go.
To make this cemetery, start by sectioning off an area on your island and surround it with some iron fencing.
Add your western-style stones in a line through the middle of your cemetery and add a small path running around the outside of the stones.
You can finish by adding some flowers outside the entrance, and the black tulips in this design look amazing. It all really ties in with the theme.
2. Multi-Level Graveyard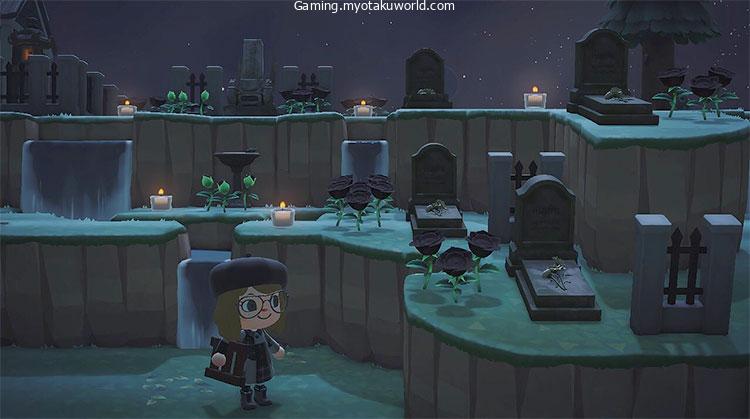 If scaling down isn't your thing, why not go all out with this extravagant idea?
This multi-level graveyard is the perfect addition to any island.
Start by creating a series of cliffs, and also add in some waterfalls running down through the cliff edges.
Then add some western-style stones dotted around your cliffs, and also some single pieces of fencing to complete the look.
Of course, you can't forget to add lots of tea lights around the cliff edges to give it that eerie glow.
1. Glowing Cemetery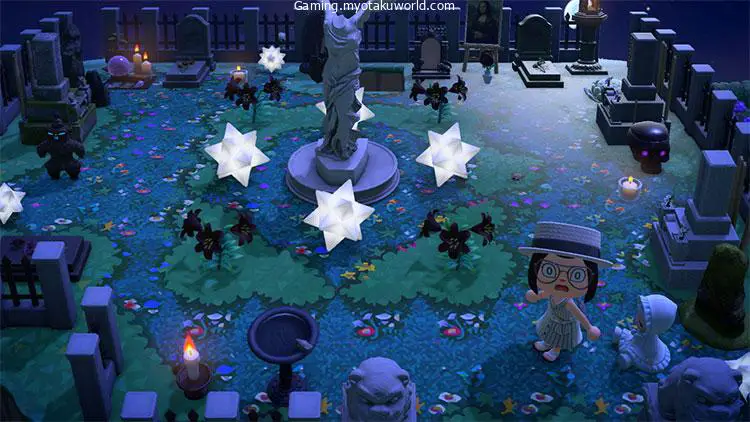 This is by far my favorite cemetery design.
To create this you'll first need to choose your favorite custom path to swirl around the area.
Line the edges of your cemetery with plenty of western-style stones, and lots of black flowers too.
To add to this eerie vibe, place the valiant statue in the very center.
And don't forget to add lots of candles and nova lights! It'll look eerily spectacular on any evening.