In Sea of Thieves, cats are very different from other pets in that they behave exactly as they would in real life.
And as we all know, the cat actually owns you rather than you owning the cat.
With all of that in mind, cats in Sea of Thieves are typically seen napping below deck and having their finest lives. Additionally, they enjoy little fish.
They'll eat any fish you put in front of them, I'm serious. Hence, preserve your prize captures in secret!
But first, let's take a look at the greatest cat cosmetic looks in the game if you want a friend on board with nine lives to spare.
17. Patchwork Ragamuffin
The Patchwork Ragamuffin is a Cat cosmetic variant from the Standalone Cosmetics Set.
The Patchwork Ragamuffin can be obtained by the Purchased from the Pirate Emporium.
16. Stormy Mau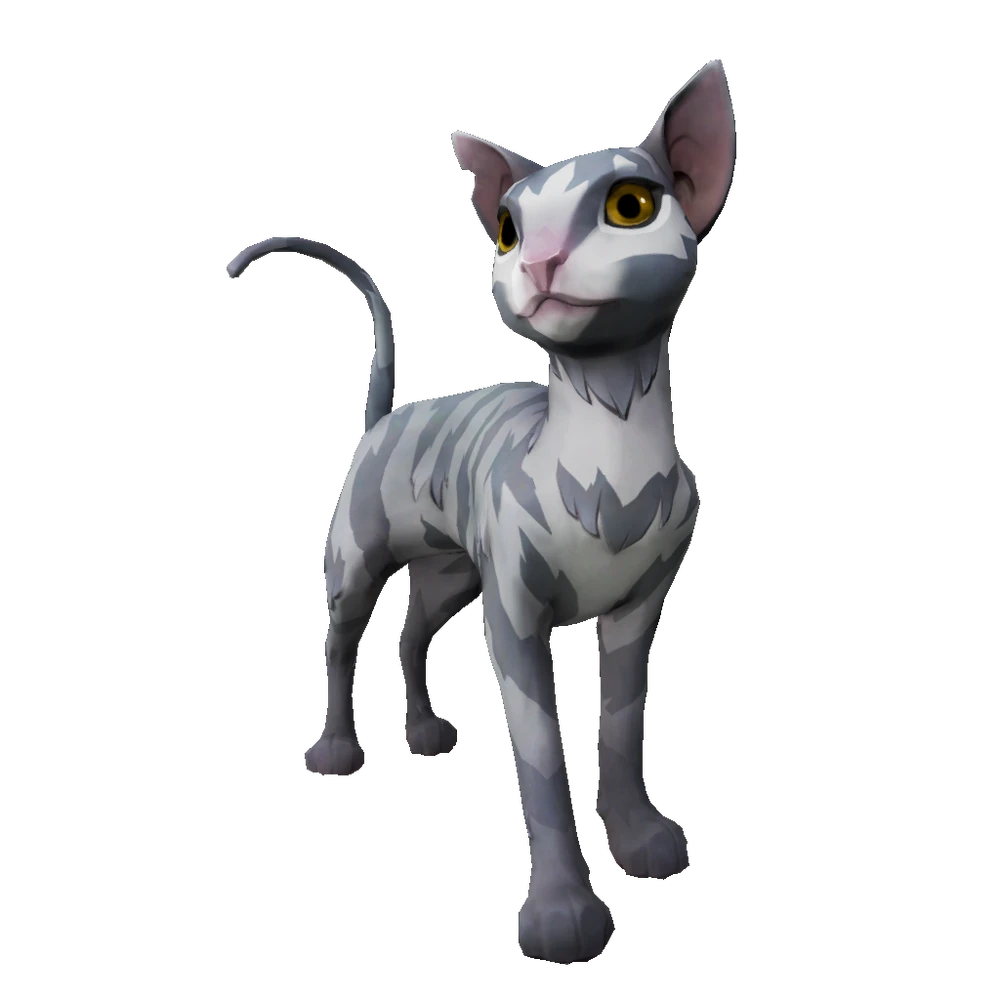 The Stormy Mau stands out from the other cats because it is white with grey stripes and amber eyes. It blends in perfectly on any ship, which is why it is a player favorite.
15. Tabby Mau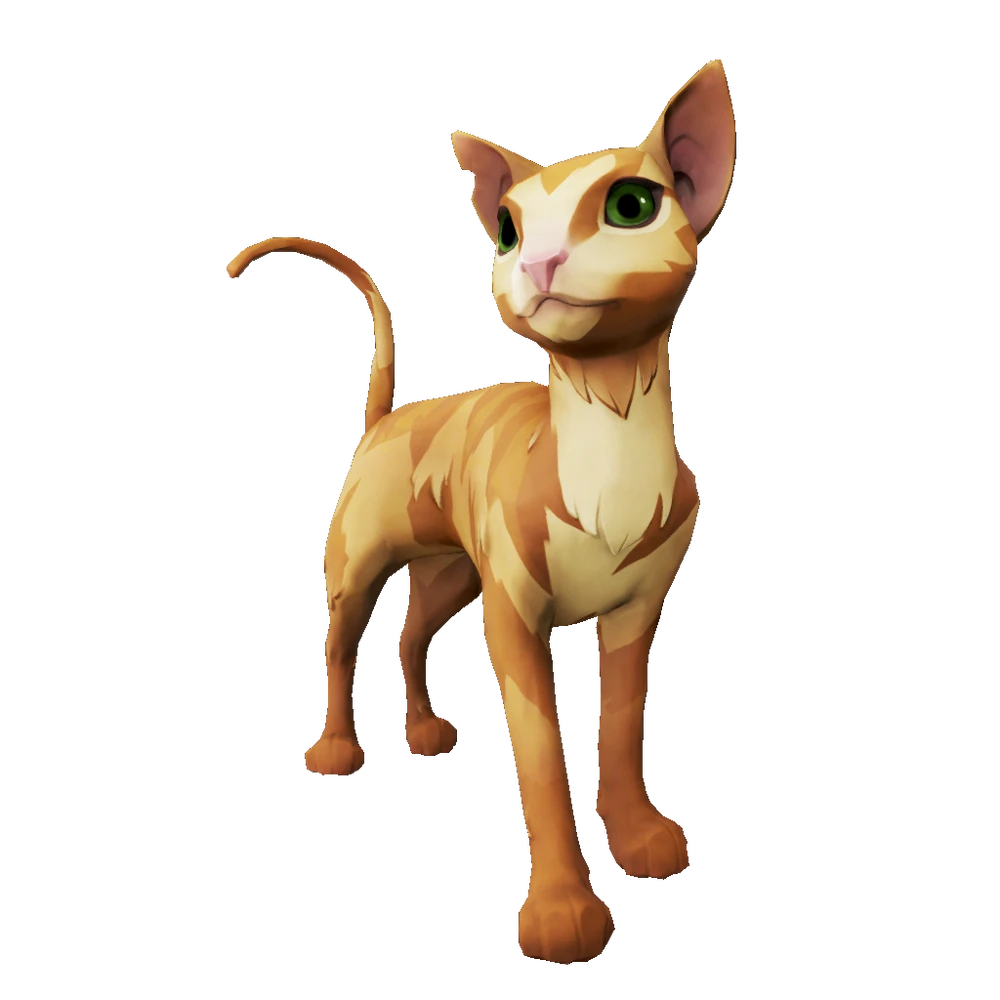 The Tabby Mau's vibrant orange fur will brighten up your ship and fill it with life. It also has emerald eyes and a style that is unmatched by many cats.
When you see this cat in the Pirate Emporium, you won't be able to resist making this purchase.
14. Claycoat Wildcat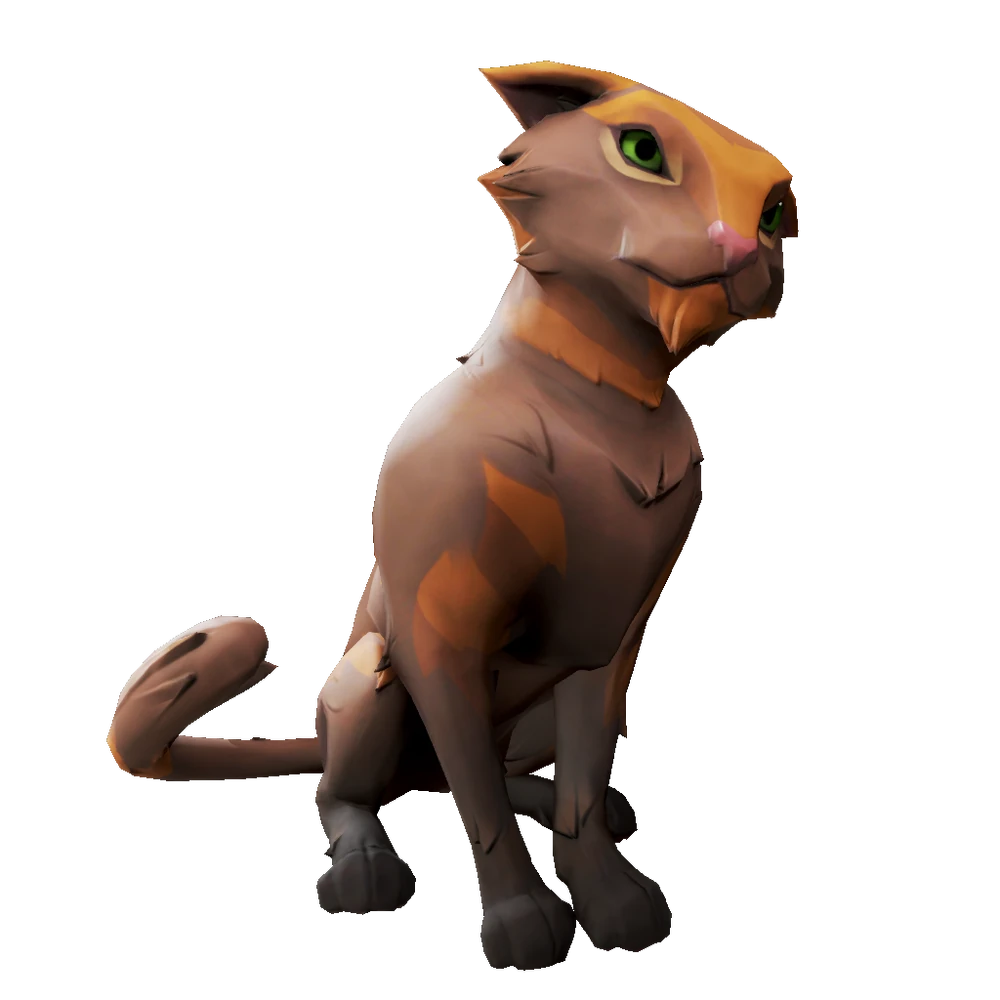 The Claycoat Wildcat is the way to go if you enjoy earthy things because it appears to have been dug out of the ground.
It distinguishes itself from other breeds thanks to its patchwork coat of orange and brown and its green eyes.
If you want to accomplish that, this is the ideal fit because it goes nicely with all of the outfits.
13. Cavalier Wildcat
The Cavalier Wildcat has black and white fur that gives it a similar appearance to an ordinary house cat.
It has a ring around its neck and a stripe running down the middle of its skull.
The addition of the golden eyes is pleasing, as they express the cat's aspirations for its pirate buddy.
12. The Calico Ragamuffin
The Calico Ragamuffin's fur is mostly white with a touch of black and orange added for some added zing.
The Pirate Emporium claims that it has incredible shedding abilities, which are plausible given the amount of hair on its body.
11. Bandit Ragamuffin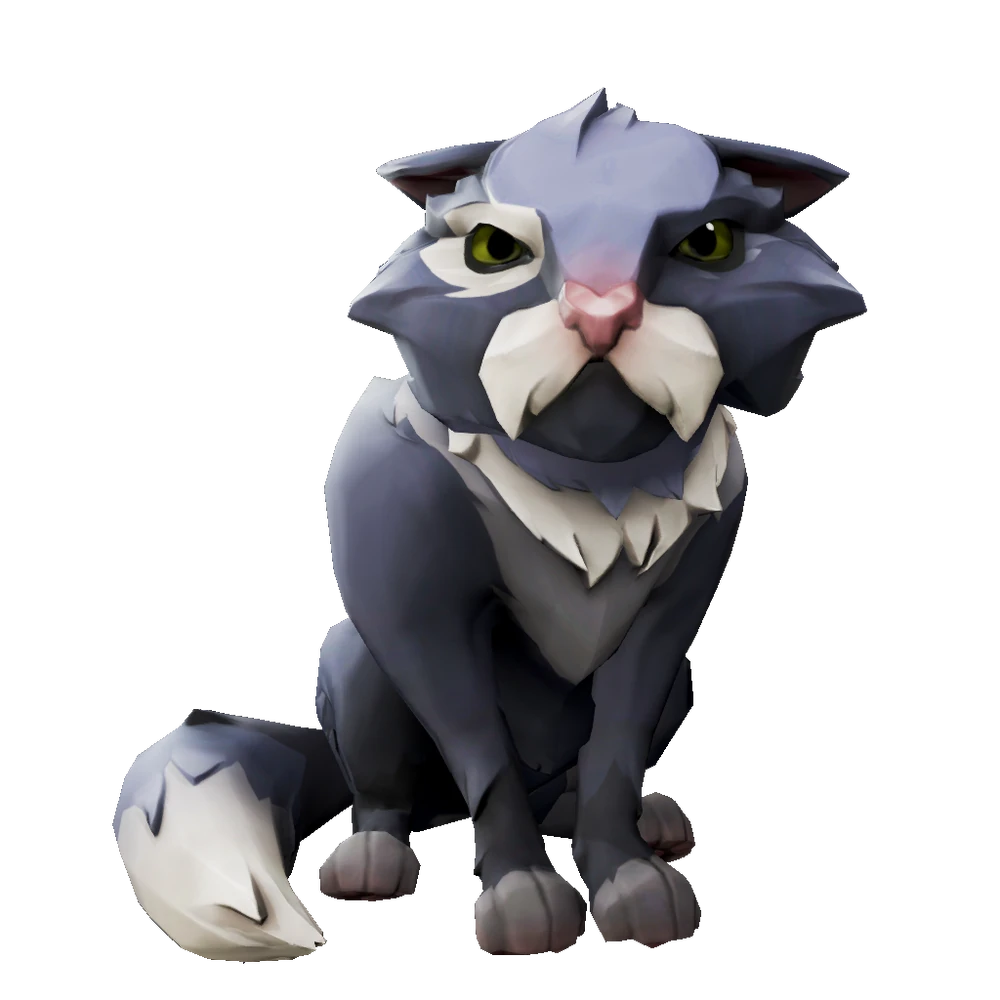 The Bandit Ragamuffin is the cat for you if you're searching for something a little more straightforward yet with that same sense of adventure.
It has a white eye patch-like circle around its right eye, and a white scruff under its nose looks like a moustache.
Even though it's not the coolest or cutest cat, some pirates will find this to be the ideal companion so they never have to sail alone.
10. Ratcatcher Wildcat
This cat is the ideal way to begin this list because it looks ridiculously adorable in just about any clothing.
The Ratcatcher Wildcat has a gorgeous, tough, white, and pale grey coat.
Additionally, as its name implies, it is the ideal pet to solve your ship's rat problem.
If you believe you lack one, it may simply be performing satisfactorily.
9. Ivory Mau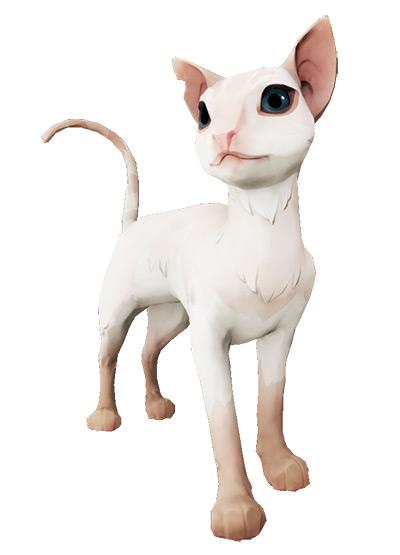 The most of the time, I'd say that Sea of Thieves' ships, weaponry, and even the classiest pirates are worn-out and filthy.
This list includes the Ivory Mau since it is the exact opposite and has a flawless, pristine white coat.
It's a mystery how this cat has stayed so clean unless the Merchant Alliance is entering the pet grooming industry or if there's something in the water.
8. Gold Curse Wildcat
Due to their agility, cats always land upright.
But if you're made of gold, I guess that's difficult!
And the Gold Curse Wildcat is exactly what we have.
This pet more closely resembles a living hoard of treasure than it does a cat.
But it continues to behave like a cat. It never stops sleeping and enjoys getting its tummy scratched.
Just be careful not to injure your fingers if you do that.
7. Tawny Ragamuffin
Sometimes a traditional tabby cat is unbeatable.
And of the lot, this is the best.
As close to your typical "house cat" as you're going to get on the Sea of Thieves is the Tawny Ragamuffin.
In a world filled with cursed pets or dogs that can give you frostbite if you touch them, sometimes, though, that's all you want.
Because, let's face it, there aren't many options available if you want classic and traditional.
But you're in luck if you're looking for a cat.
6. Ashen Curse Ragamuffin
All the pets in the game have Ashen Curse variations, but the cat variation may be the greatest of the lot.
The Curse of Ashen Ragamuffin is a stunning black cat with fluffy face fur and a fiery glowing nose.
The tail has a particularly amazing appearance because the entire unkempt fury end glows. Fortunately, the fire is only there for show because ships in this game are notoriously combustible.
Oh, and all the cats in the game enjoy belly rubs, but you might not want to do that with this one because, well, it doesn't have one.
5. Twilight Mau
Awkwardly, there aren't any witch costumes.
Considering that a black cat would blend in just well.
Although we don't have witches, if you're a fervent adherent of the Order of Souls, you're probably not too far off.
And the Twilight Mau is the best companion animal for that.
This cat, which is completely black from head to tail, is content to keep to itself while you, you freak, decorate your ship with glowing skulls.
4. Glacial Curse Ragamuffin
Jumping into the sea repeatedly in the cold and rain must be fairly miserable.
And regrettably, this icy feline won't change that.
The Glacial Penalty Ragamuffin is a striking combination of icy blue and white that is so vivid that the kitten appears to glow. Really!
If you don't want to get frostbite, you might want to limit your caressing here.
Additionally, I should mention that this cat resembles an ice sculpture, making it the ideal addition to the Frozen Horizon Ship location.
3. Skeleton Mau
Cats are said to have nine lives.
But regrettably, this one went on till it reached 10.
Inanimate object Mau is a spooky skeletal cat, as its name suggests. And with its jagged teeth and claws, it appears frightening.
The pointed parts actually appear much worse when they aren't tied to a cuddly fluffy cat.
On the plus side, if there is no fur, you cannot have a cat allergy. And the Captain's Quarters won't be covered in its hair!
2. Order Of Souls Possessed Cat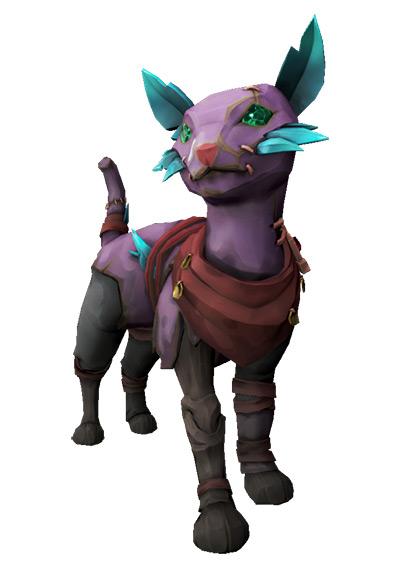 Here's one more eerie cat that would look great on a ship with a ghost theme or simply as a unique Halloween decoration.
Here, the Order of Souls has truly excelled!
What this cat looks like without the black and purple clothing is a mystery. But if the designers were going for a spooky vibe, they were successful.
I'm still unsure as to whether the gems are the mask's eyes or not. I won't check, though. Cat bites are awful.
1. Alabaster Wildcat
This cat might not look like much at first glance.
However, I'm almost positive that you haven't seen one.
Additionally, it's the only cat that's essentially free!
A spotless white pet called the Alabaster Wildcat can be obtained by playing on the Insider build for at least one hour every week for 111 weeks. Unfortunately, there was no typo there.
It will take more than two years to open this fluffy ball.
It is therefore probably rarer than that enormous white fish that we never mention.