The Sims 4: Toddler Stuff definitely made the toddler life stage more fun and easier to play in TS4.
But there wasn't a lot of new CAS stuff for a stuff pack.
They did add new pants, rompers, and two pairs of shoes. But there were only five new toddler haircuts.
I'm not really whining; I'm just saying that this is why the Sims CC community keeps growing: there are tons of beautiful and useful things for free.
24. Brittany Maxis Match Hairstyle By Zurkdesign
If you're looking for a posh hairstyle that embodies both femininity and playfulness for young Sims, you have to get this Brittany Hairstyle conversion for your game.
It's a super charming hairstyle that features full frontal fringes and double curly pigtails for girls. It is available in 18 colors and is base game compatible.
23. Kids Hair Dump # 4 By Musilizzy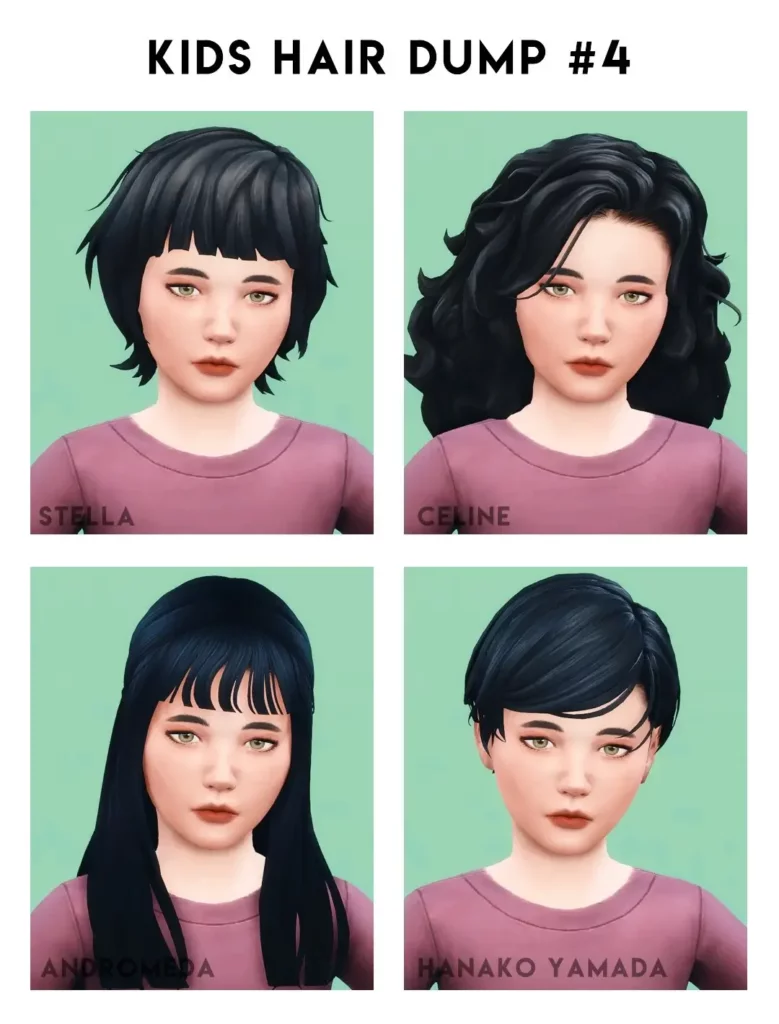 Check out these amazing conversion hairstyles from CC creator Musilizzy! Musilizzy created a conversion of the Stella, Celine, Andromeda, and Hanako Yamada hairstyles and made hat-friendly chops for each style.
The Stella and Hanako Yamada hairstyles are available for both masculine and feminine-framed children. Please make sure to also download the original meshes stated in the post.
22. Simdump Toddler Hairstyle By Simsulani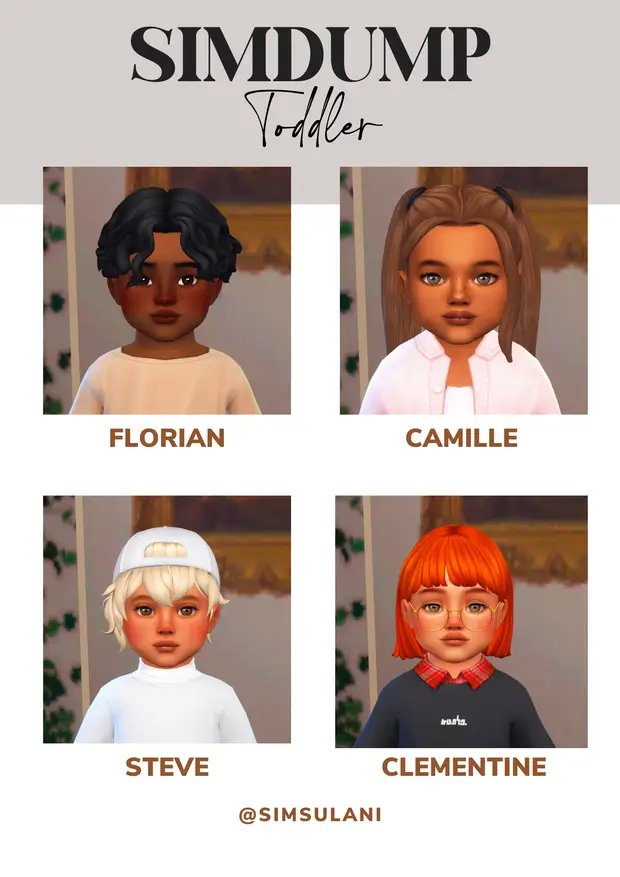 If you want to have more adorable hairstyles for your cute toddler Sims because the ones in the game just never seem to be enough, you have to get this Simdump Toddler collection created by Simsulani.
It features 4 cute hairstyles for your masculine- and feminine-framed toddlers: the Florian, the Camille, the Steve, and the Clementine hairstyles.
21. Marty Maxis Match Hairstyle By Mellowsimss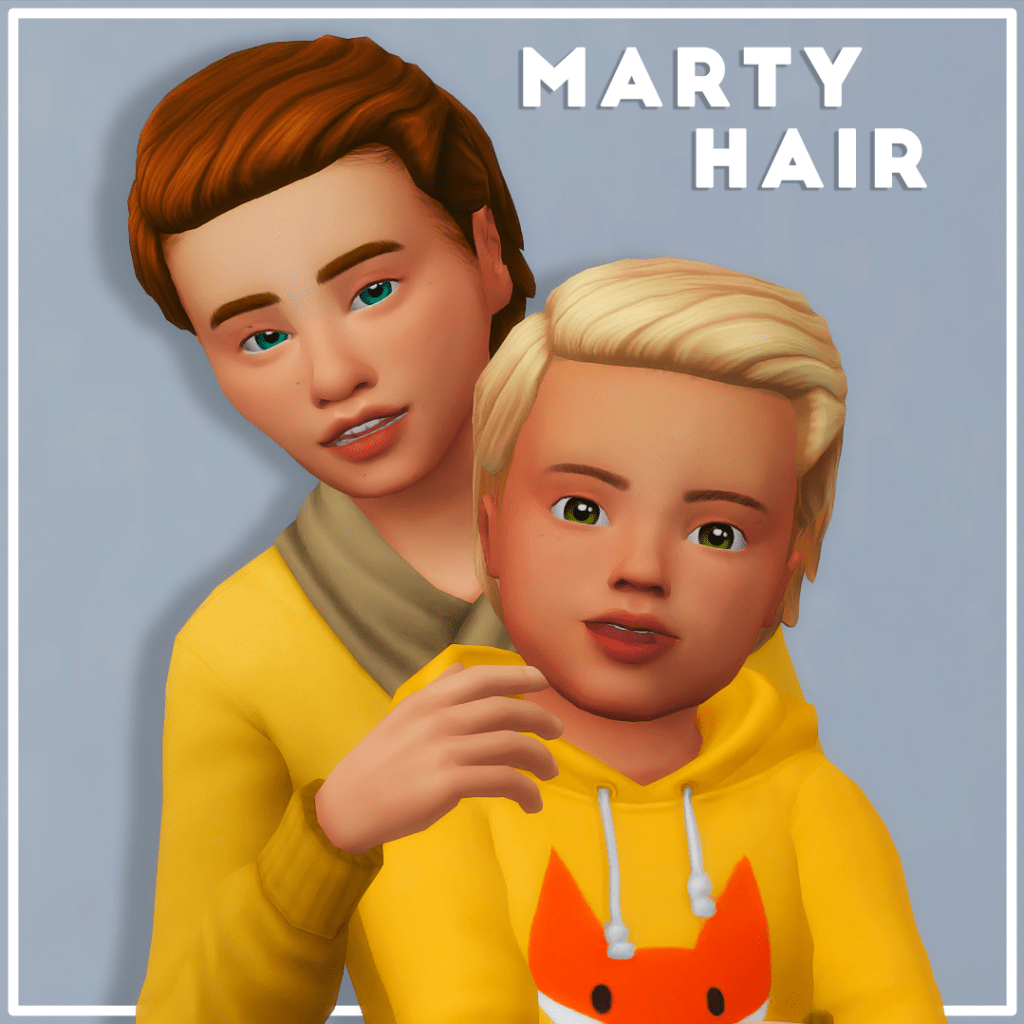 If you want that nice, little, polished look for your child and toddler Sims, get them the side-parted, brushed-up Marty Hairstyle. This hairstyle is a conversion from the adult version.
To use this CC, you must install a required mesh by SIMSTROUBLE (indicated in the post). It is available in 18 colors and is compatible with hats.
20. Oscar Hair by qicc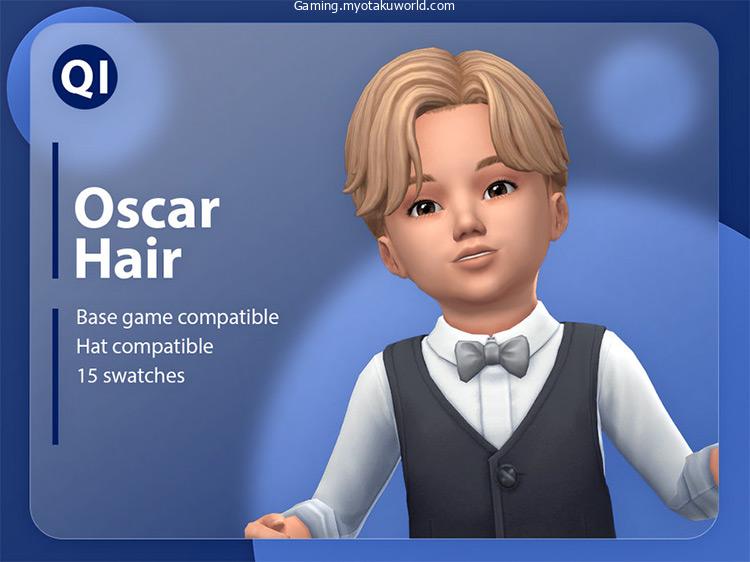 Let's start with something easy that still looks good.
It's a neat, well-groomed cut for a good-looking child.
I mean, a haircut this neat wouldn't last more than ten seconds in real life, especially if the child was going to the playground that day.
But that's why Maxis match is so great: things tend to stay where they are.
Qicc's Oscar hair has a medium length, a slightly off-center part, and a fun swooshy bang on the right. It's a very useful hairstyle that makes a child look very cute.
There are about 15 color swatches to choose from, but they are all just shades of brown, blonde, brunette, and a little bit of ginger. There were no pinks, no greens, and no blues.
19. Pia & Pleasant Hair (Toddler/Child) by peachibloom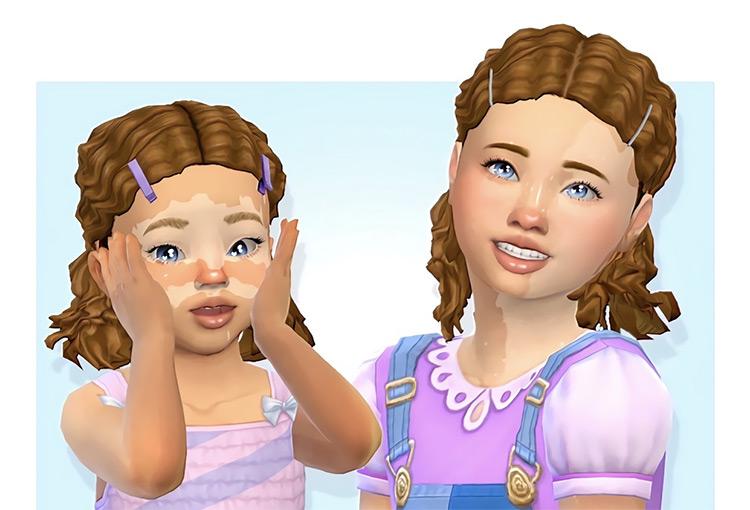 This page lets you download two different hairstyles for toddlers.
One has short, wavy hair like Pia's, and the other has long, straight hair like Pleasant's.
I love how each head of hair looks like a different person.
The hair on Pia feels very lively, bouncy, and full of life. It looks like it would be good for kids who are independent, silly, or wild.
On the other hand, hair that is nice to look at seems very soft-spoken, quiet, and charming. She's not as lively as Pia, but she's still pretty silly.
Angelic, Charmer, and Fussy all seem to fit with how the hair looks and feels.
18. Trisha Tresses by savvysweet (Toddler/Child Conversion by peachibloom)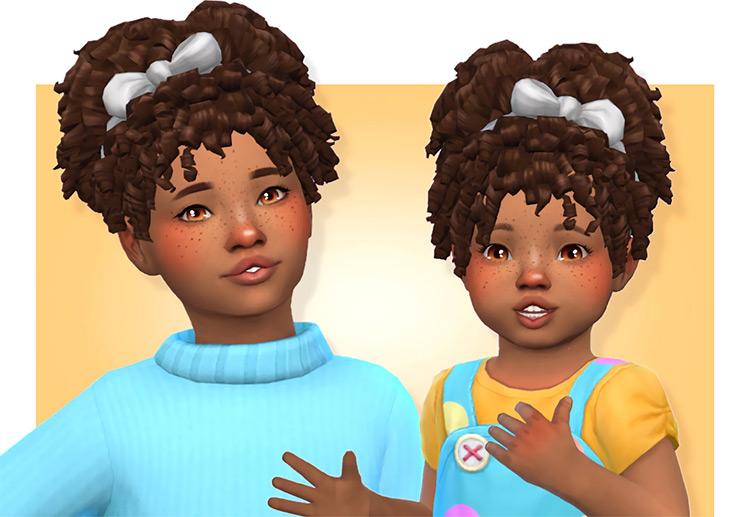 How cute are these curls, really?
And the big silver bow snuggled in all those thick layers of boing is such a cute touch.
In a game like The Sims, it's important that everyone can play. It has a huge following, with millions of fans, and can be found in many places.
Since the game itself has become a part of popular culture, it's important that every player feels like they are seen and heard.
By putting the color wheel in CAS, The Sims 3 did a good job of making skin tones and hair colors different. Almost any skin or hair color was possible because literally every color was there.
I'm sure you know that in TS4, this isn't the case.
Because of this, it's important to have unique hair with a certain look and feel, like these Trisha Tresses.
They make sure that the game still has a good amount of participation.
Also, these locks look beautiful in pink.
17. Memphis Hair by naevys-sims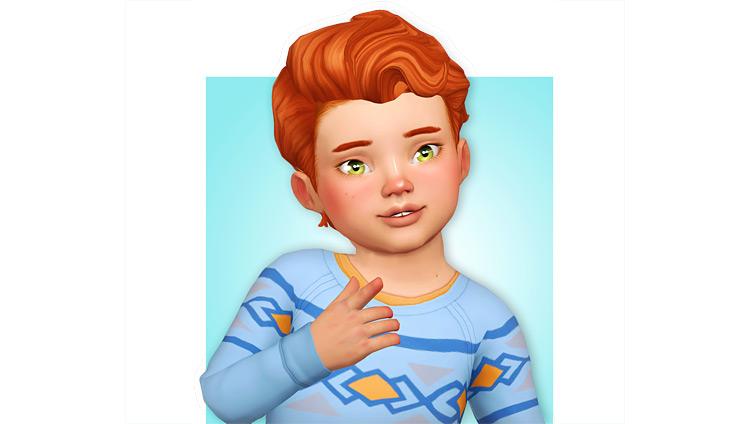 Let me tell you something:
You'll see naevys-sims's name come up more than once on this list.
I tried to include a lot of different Sims CC makers, but naevys-sims is really good at making and converting Maxis Match toddler hair.
Keep going over the things quickly. You'll see.
Anyway, this is a version of okruee's original Memphis hair that is safe for young children. It looks great as a choice for adults and young adults, but I think it's so much better for kids.
Look at the wavy bang in front and the soft waves in the back.
It sounds so sweet and Southern, and that feeling is amplified when you see it on a small face. Too cute!
16. Curly Pigtails by leeleesims1 (Converted by neavys-sims)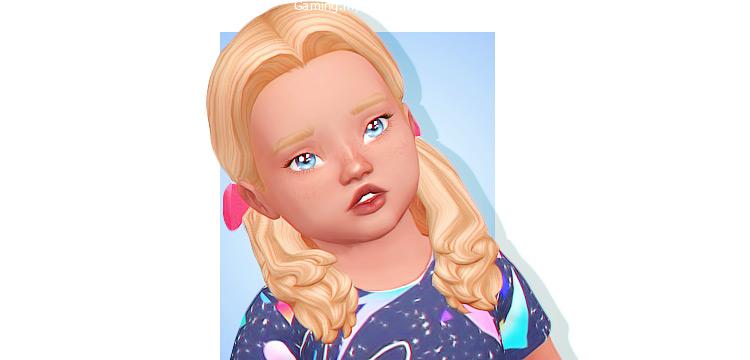 Pigtails are pretty much a must-have for Sims Toddlers who want to look their age.
This style has two low pigtails on each side of the head, tucked behind the ears and tied off with a bright pink bow.
I don't like stereotypes as much as the next person, but this cut is a dead ringer for just about any baby.
Still, putting away the generalization, it's a cute hairstyle that goes well with baby lips and toddler cheeks.
It only has 9 EA colors to choose from, but that doesn't take away from how pretty it looks.
15. Naevys-sims x Notdaniella Collab Hair Pack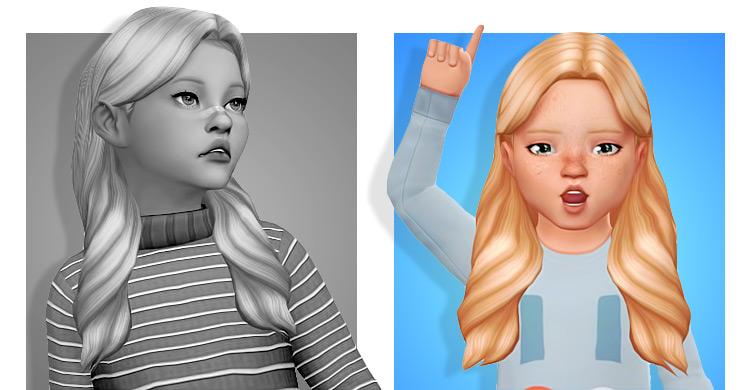 This set of five new toddler hairs came from a project that two TS4 custom content makers worked on together.
This link takes you to the download page for notdaniella's (now solyiko on Tumblr) part of the project, which is the baby hairs.
All five types are long because the ends of the hair fall well below the shoulder blades of the child.
All of them can be used with the base game, and four of the five can be used with EA's basic 18-color palette.
There are only 16 color choices for the Cloe hairstyle (middle part, loose waves at the bottom, no hair accessory), but that's still a good variety.
If I understand the description correctly, these hairs are based on or changed from other CC pieces.
For example, the first haircut on this list (middle part, loose curls, tucked behind ears) is actually a toddler version of wild-pixel's Brianna hair.
In the download notes, you can find a list of all the other ideas and models for this set. But, as I said, they work with the base game. So you don't have to download them to use them.
14. Strangerville Conversions (Female Part by peachiiesims)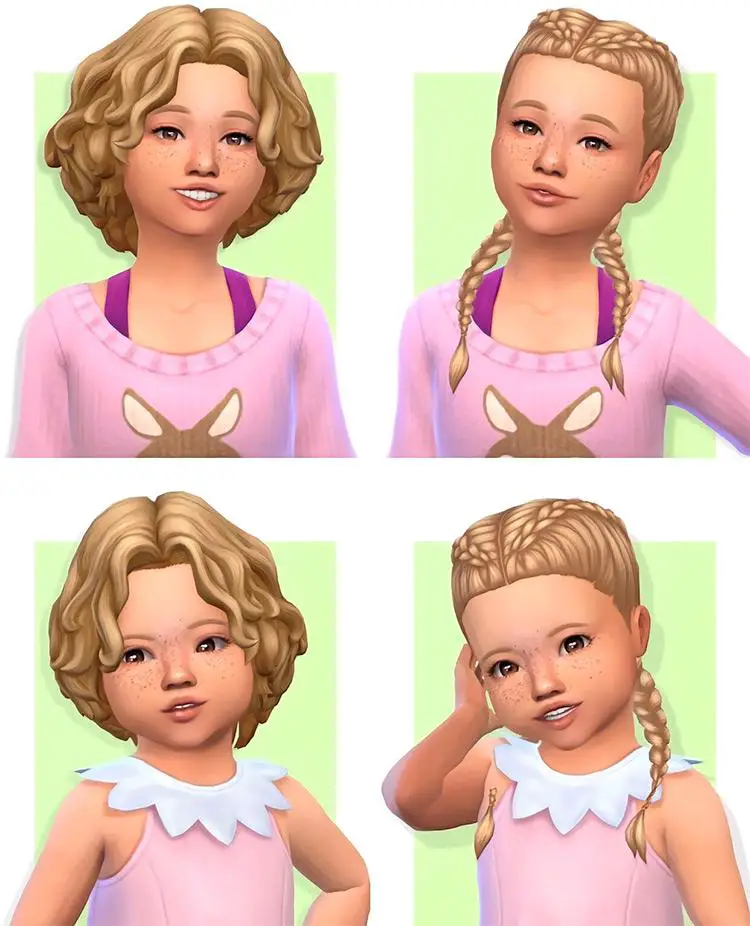 If you've played The Sims 4: Strangerville game pack, these haircuts might look familiar.
They might not.
I mean, I don't blame you for not noticing the CAS things. Strangerville by itself is a wild ride.
With the pretty disturbing builds making the gameplay storyline even worse, everything else in the pack just kind of takes a backseat.
But putting aside the weird secret mess, the game pack added these hairs for Adults and Young Adults.
Peachiiesims made sure that kids and children were not left out by making Child and Toddler-friendly CC versions.
The fluffy hair and double braids look especially cute on tiny Sim faces.
Plus, the fluffy hair works for both the male and female Toddler forms.
13. Rowan Hair (Converted for Children/Toddlers by stephanine-sims)
Even though I don't really like this style of hair, I can't deny that it's a common one for toddlers.
It's the kind of default hair that goes well with a lot of hair colors, face shapes, and facial traits.
I mean, seriously, is it possible to mess up a straight, blunt-cut, shoulder-length bob?
Not a chance.
When you add the cute side fringe to the hair, you have a neat, tasteful package for a cute baby design, even if it is a little too plain.
Again, it's not my style, but I know a lot of people who would love to have this unique hair.
It comes in 15 normal colors, all of which are natural. Blonde, brown, gray, red, you name it.
But since the cut is meant to be reasonable, it makes sense that there aren't any crazy colors.
12. Sundae Hair by naevys-sims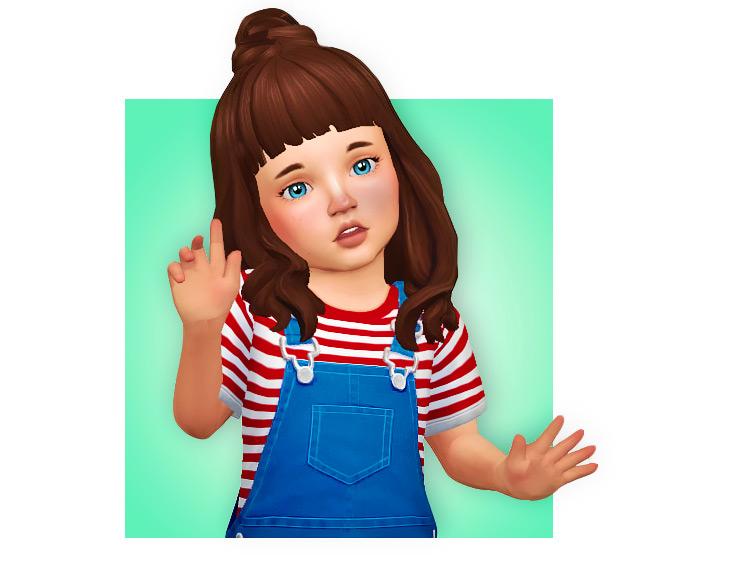 Even though I don't really like this haircut, I can't deny that it's a common one for toddlers.
It's the kind of default hair that looks good with a lot of hair colors, face shapes, and facial traits.
I mean, seriously, how could you go wrong with a straight, blunt-cut, shoulder-length bob?
Didn't seem likely.
When you add the cute side fringe to the hair, you have a neat, tasteful design for a cute child, even if it is a little too plain.
Again, it's not my style, but I know a lot of people who would love this unique hair.
It comes in 15 natural colors that come as stock. Blonde, brown, gray, ginger, you name it.
But since the cut is meant to be reasonable, it makes sense that there are no crazy colors.
11. Lexi Hair (Toddler/Child Conversion by peachibloom)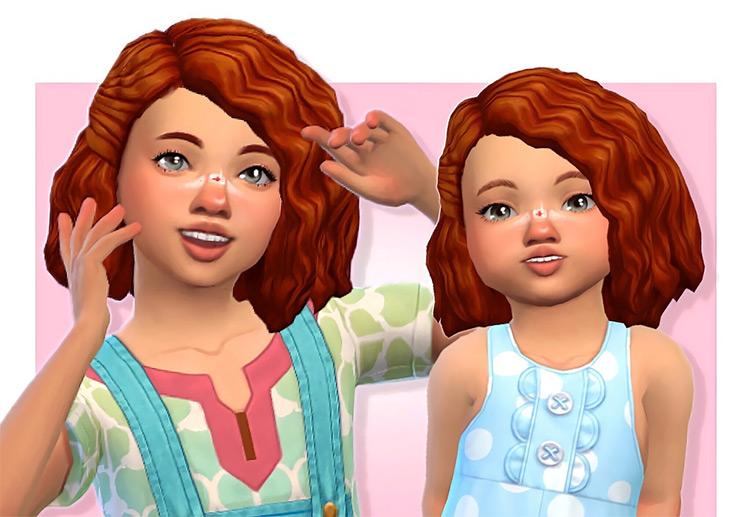 This adorable Toddler conversion by peachibloom is based on zebrazest's Lexi hair, which, by the way, is also a great Maxis match piece that I downloaded for my own use.
Loose to medium waves on smaller frames just look so good to me.
The difference in size might make the hair look bigger, softer, and fluffier.
Can't say why.
I only know that this looks good on my Toddler Sims in the game.
The structure, the way the hair clumped, and the hair accessory were all perfect in CAS, too.
10. Bonnie Hair by naevys-sims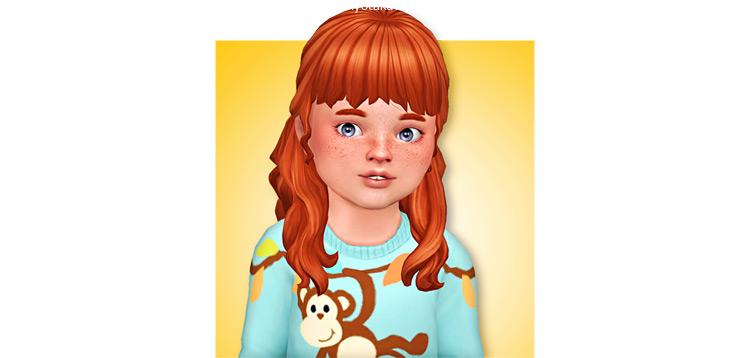 Toddlers and bangs. I'll wait while you think of a cuter pair.
The fact that most of the pieces I'm suggesting here have bangs is no accident.
I mean, sure, each person has their own taste and all that good stuff.
But I really like how bangs can frame the small face of a child.
Especially TS4 Toddlers, which may be the best Toddler models EA has given us.
Unlike TS2 and TS3 Toddlers, which we don't talk about, a Sims 4 Toddler doesn't need extra CC or mods to look cute and squishy. But I digress.
This is another nicely done made-for-Toddler hair conversion by naevys-sims.
It's also a great example of how Maxis Match can make a haircut look better.
Like, look at how the fringe is jagged and how the tips of the hair curl up all of a sudden. They stand out more because the hair as a whole looks like it has been clayed.
9. Oakiyo Hairstyles (Converted for Toddlers by peachibloom)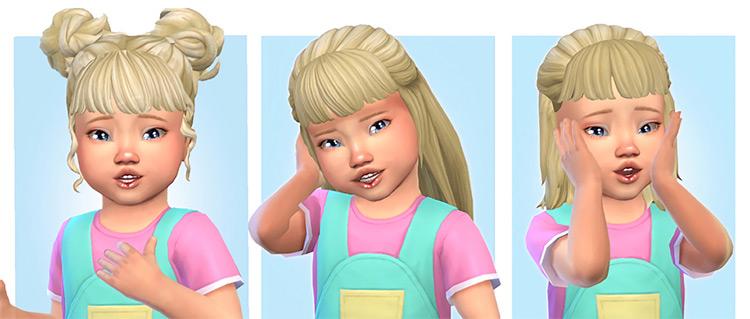 Oakiyo's Kinder, Bobbie, and Stacey hairs are now available for smaller Toddler-sized frames.
If you don't feel like clicking the links (especially since you won't need the mesh for these hairstyles to work), here's a quick cheat sheet:
Kinder has space buns
Bobbie has a half-ponytail
Stacey's hair falls to just the tops of the shoulders
Their respective .package files are all separated. So you could just download one or two custom hairs that pique your interest.
But I do recommend trying all three out first, just to see how well they translate in CAS (and if they fit your Toddler).
I have a certain fondness for space buns, so; Kinder's definitely my favorite.
8. Benjamin Hair (Seasons Conversion for Toddlers by naevys-sims)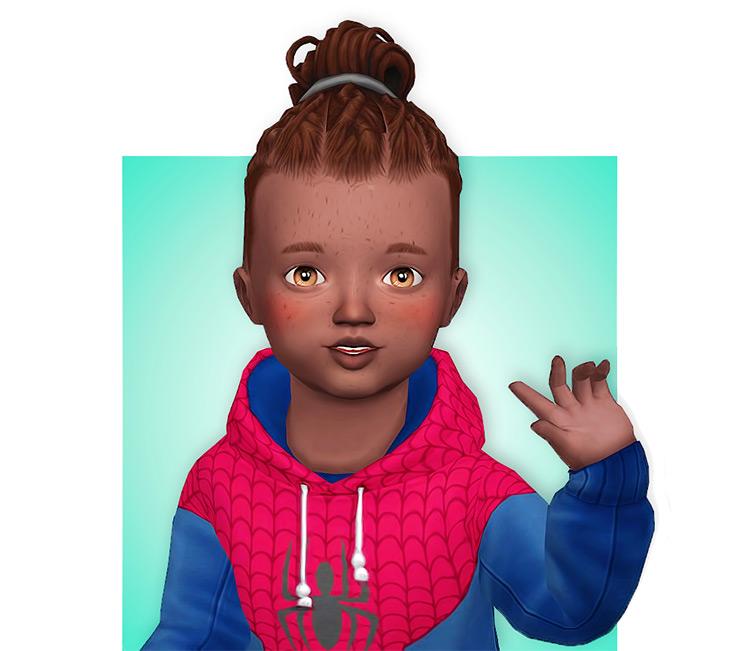 I was excited when this hair was added in The Sims 4: Seasons.
I really liked the style and feel of the 'do, and not just because there were new CAS things for Male frames.
It was relaxed, it made sense, and it showed who they were.
Plus, there's just something about the man bun that I like, okay? Sue me.
Some guys might find it annoying, but this cute little tuft of hair on a toddler can't be anything but adorable.
See the pictures in the preview to see proof.
I also have to say that I love how some of the strands stick out.
Thank you so much to the person who made it for including that information.
Something about how messy it is just makes it look less perfect and more real.
7. Fae & Ellie Hairs (Converted for Kids/Toddlers by an0nymousghost)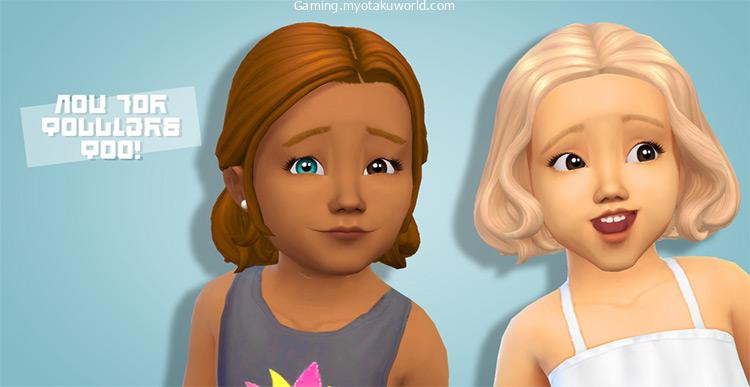 A half-bun or a playful bob with fun waves?
Well, if you can't make up your mind, just take both.
This is a Kids n' Toddlers hair change by an0nymousghost that gives Female Toddlers two short hairstyles.
I think Ellie's hair is the one with the tiny half-bun, and Fae's is the simple bob cut with a few curly parts and no fringe.
Both of these haircuts are very simple, but they have a certain charm to them. The hair of Ellie in particular.
I really like how tiny and complicated the bun looks.
Both are offered in 22 colors: 18 standard EA colors and 4 extra yellowish-blonde options.
I do think it's a good idea to offer lighter hair colors, since this is a Maxis Match hair CC pack. That way, the details stand out more.
6. Toddler Hair Dump (Male) by naevys-sims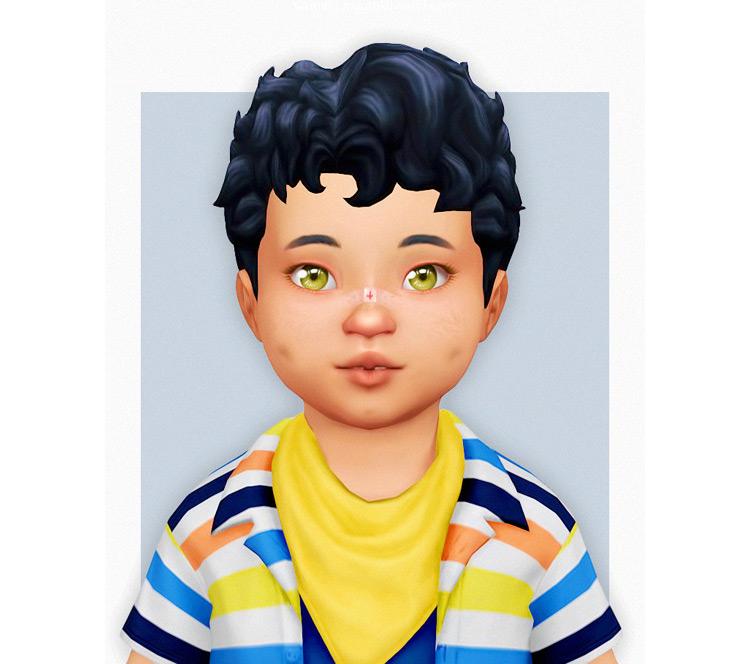 Dean, Caleb, and Sean.
These three haircuts were made by zebrazest, and naevys-sims changed them so that toddlers can use them.
I couldn't see the original Adult/Young Adult forms, so I'm not sure which hair goes with which version.
I only know that they all look amazing.
Seriously, look at the tiny tufts, curls, and tucked-in bangs that swoosh.
You can never have too many hairstyle choices when making a Sim.
That also seems to be true for Toddler Sims.
Why give only angled bobs, pixie cuts, and bowl cuts to kids when they can have any style they want?
There are only nine EA swatches to choose from for the three haircuts in this CC. But we already get three hairs from one set, so the lack of pinks and blues doesn't bother me too much.
5. Feralpoodles' Rosie Hair (Converted for Children/Toddlers by cowversions)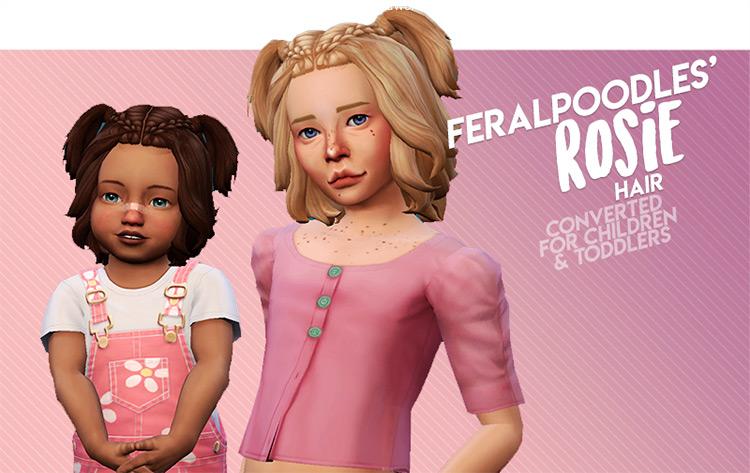 Rosie hair, which is worn by Feralpoodles, is another interesting haircut that looks so cute on a smaller Toddler frame.
The braids and pigtails keep the overall cut looking cute and sweet, and the intricate style keeps you looking.
It looks like one of those hairstyles you see on Pinterest that look like they took hours to do.
The hair comes in EA colors (18 swatches), but I want to point out that lighter color samples really bring out the braided crown.
The amount of detail is really good.
4. Toddler Hair Dump (Female) by naevys-sims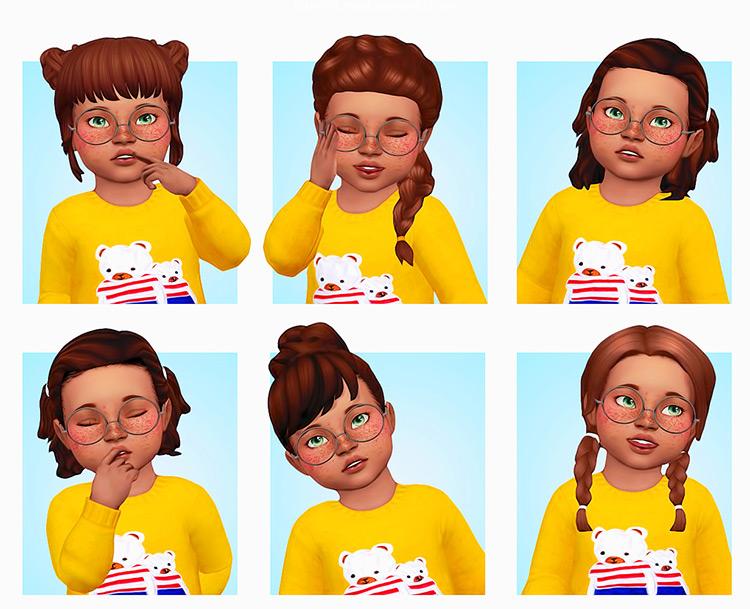 Talk about a one-stop shop.
This is another one of naevys-sims's toddler hair dumps, only it contains six distinct hairstyles for Female Toddlers.
If none of these pieces work for you, they can at least give you an idea of what you prefer (like long hair, short hair, tied hair, etc.) and what you would rather not see (buns, braids, accessories) on your Sim's toddler.
As with the hair dump for Male Toddlers, it's not listed out which hair is which.
The only details I got are that these are conversions of original pieces by two other CC creators (kotcatmeow and isjao), and they've got names:
Bianca Hair
Kylie Hair
Sunnybaby Hair
Jane Hair
Rita Hair
Rita Short Hair
I also know that the Bianca hair comes with cute little clip-in flower accessories.
Whichever one the hairs are, I think this is an easy grab-and-go pack for Simmers looking for a few new extra hairstyles for Toddlers.
One page gives you access to half a dozen fun pieces to try.
My personal favorites are the one with the high bun (because I think "adult" styles look adorable ridiculous on toddlers) and the pulled back half-pigtails (because the pigtails are literally just small bunches of hair).
3. Conversions of Sapphire Hair by qrqr19 (Converted by stardze)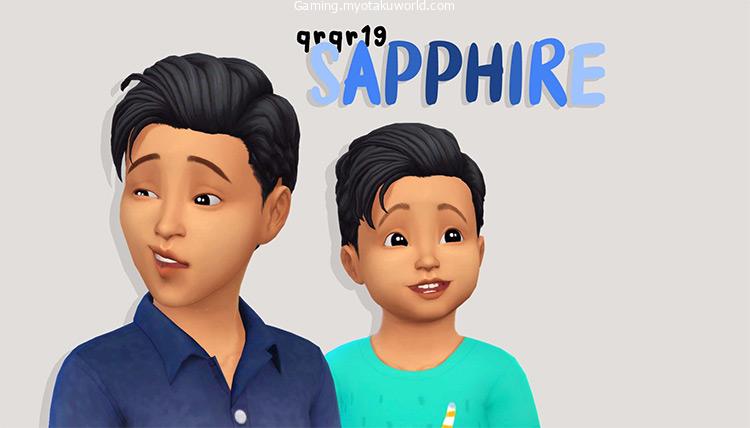 Check out this (literally) cool hairstyle for young kids with a lot of hair.
This Sapphire hair is very reasonable and useful, just like stephanine-sims's Rowan hair conversion.
It looks like it was combed and dressed with care.
Again, this style probably wouldn't last for more than an hour of play (the after shot will have bangs all over the place and lots of cowlicks).
But it looks cute on little Male Sims.
It also comes in 22 colors, including 18 normal EA swatches and a few new browns, blondes, and grays.
2. Valentine's Day Hair Dump by peachibloom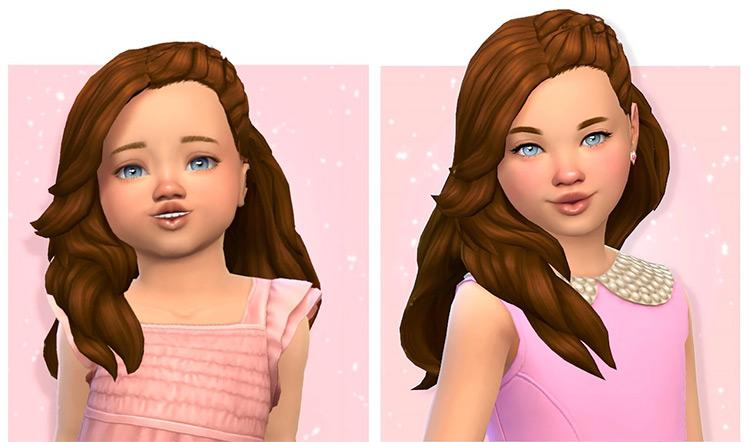 Here are two beautiful hairs transformed by peachibloom for the stylish, self-assured princess who knows she looks good even though she is young.
On the Toddler frame, Wild-pixel's Sana's hair looks big, elegant, and beautiful.
Maybe it's because a toddler's body is much smaller than the body of the Adult/Young Adult model, but Sana's hair looks much fuller and fluffier on a toddler, and I'm fascinated.
On the other hand, Pinkpatchy's Pixie hair is a short, fun, and playful style that is the meaning of "cool."
Really, if I saw this cut on a kid in person, I would just know that kid is going to do great things.
Both haircuts can be used with the base game and come in 18 colors from EA.
1. Lily Toddler Hair by neavys-sims
What do I like most about this hair?
The braids look so big and thick that your Sims' Toddler could probably sleep on them. I'm not kidding.
Something about the structure and fullness of the braids makes me think that it might be possible.
Putting those ideas aside, though, this hair is cute.
It has knots, bangs, and a few random wispy strands that make it stand out and give it life.
I mean this as a praise, but this hair looks like it belongs on a girl named Matilda or Heidi. I'm sure they taste really good.