Once you've finally upgraded your Resident Services in ACNH (because we all know how long that takes!) you'll have the option to build bridges and inclines, as well as other cool stuff.
Unless you know of another way around it, the bridge itself will take a day to build.
And much like the real world, bridges are pretty essential to your island.
Now you only get 8 bridges, but you can demolish them if you choose to switch up your island. Or you can even build a fake one.
So there's a lot you can do with bridges in New Horizons. Where do you even get started?
We've got this list here to help offer ideas & inspo, all related to bridge designs.
So if you're looking for some creative ideas on bridge placement, or if you want to
enhance the areas surrounding your bridges, well we've got you covered.
18. Suspension Bridge In Sawmill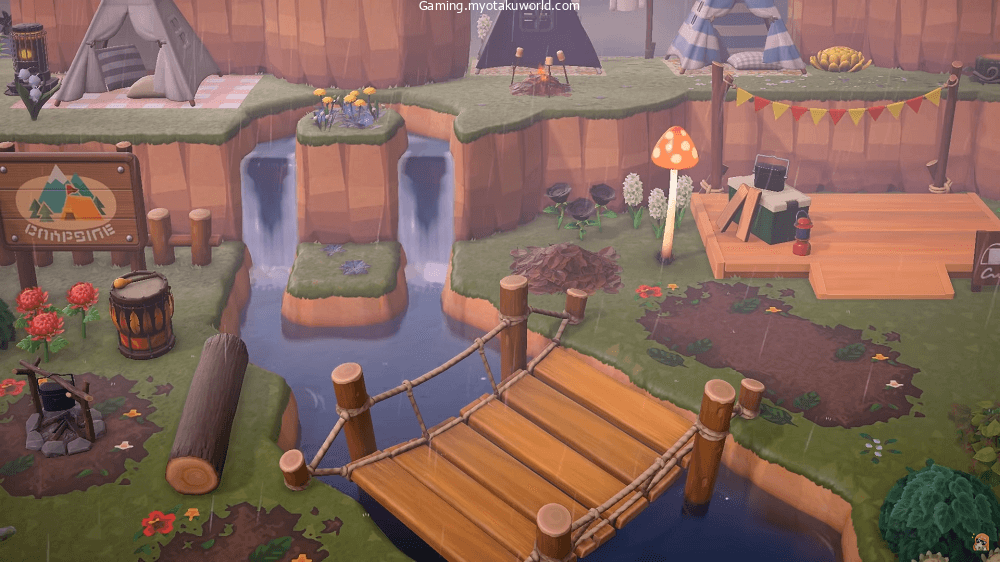 Here's another diagonal bridge made on a beautiful island that feels like a rainforest.
There are waterfalls right next to it.
You can imagine what it would be like to cross a bridge like this in real life and see waterfalls right there.
It looks like this is a small bridge that was made on the wild forest farm to connect the different places where people work.
This strange idea changes the way sawmills are usually built, which is amazing.
17. Fountain Park Brick Bridge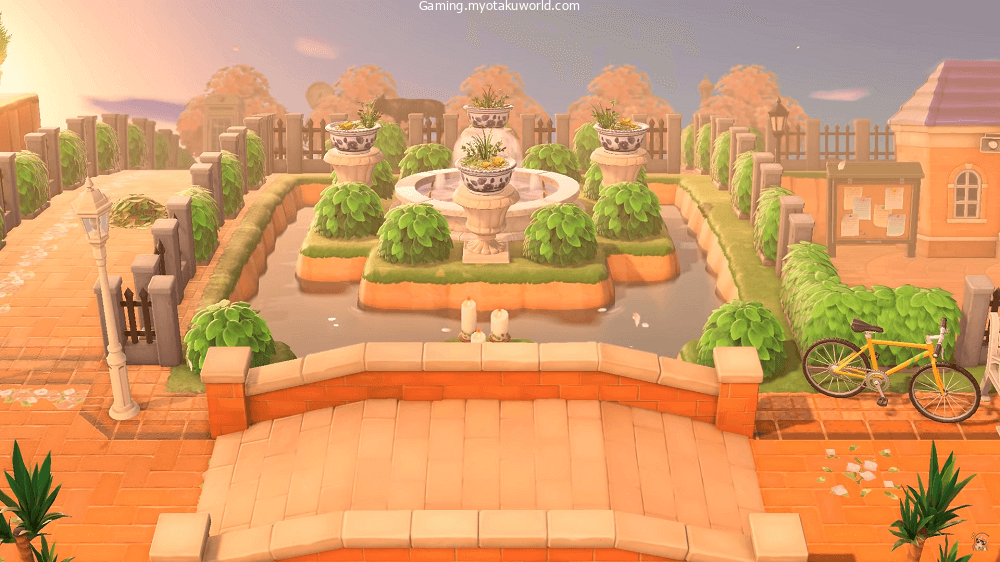 This is the highly underrated brick bridge, which is a bridge in the game.
A vertical bridge can't go wrong, but a creative design will make it stand out and look more stylish.
Look at this design.
We don't know how the person who made it came up with these centerpiece-like decorations, but they look great.
The floating biotope planter hides the waterfall, which looks very cool.
16. Castle Theme Land Bridge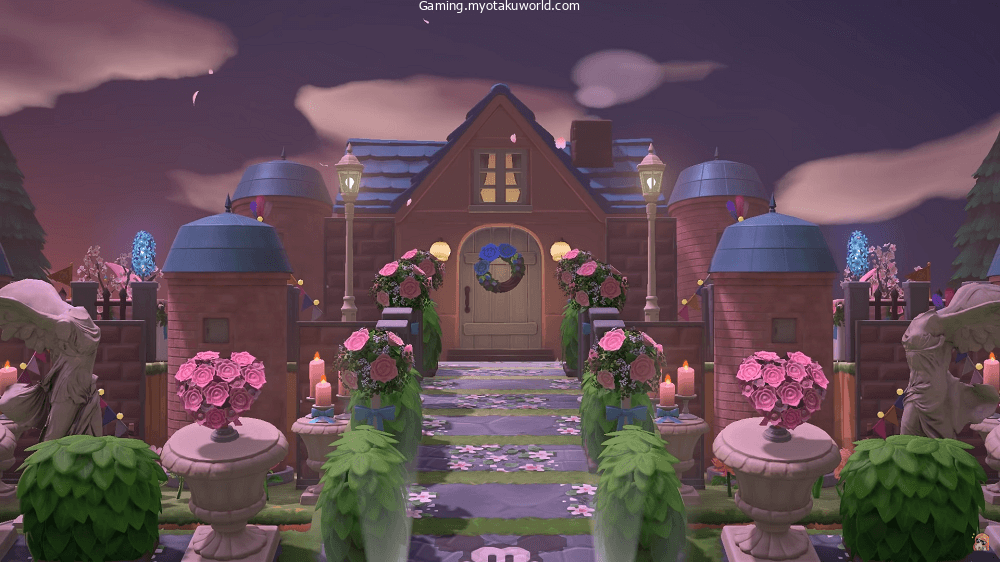 This is a land bridge on an island that looks like something out of Disney.
Using the hedge iron, stone fence, and wedding flower stands as a border for the bridge is a very clever and beautiful idea.
15. The Fake Bridge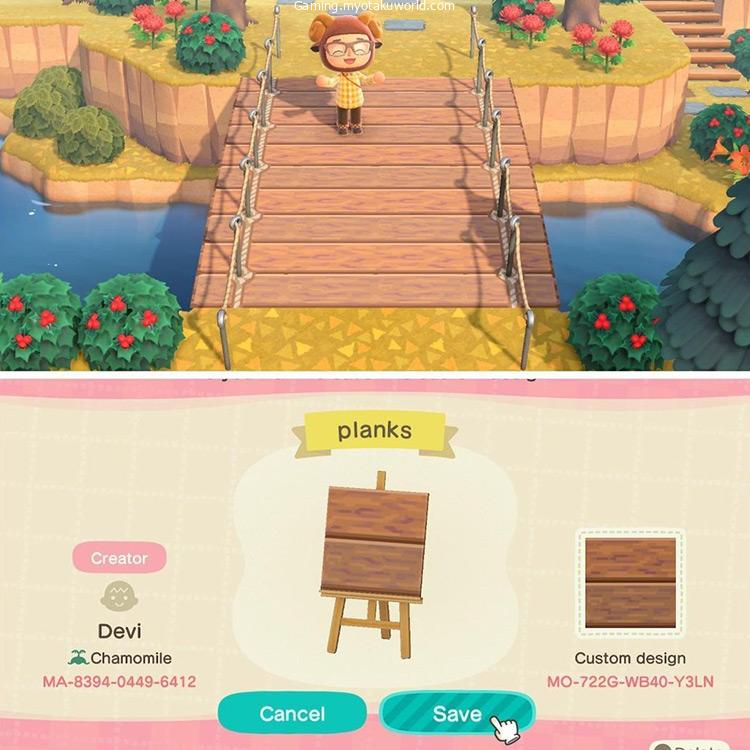 At one point in our Animal Crossing lives, we've all been a victim to Redd's fake
stuff.
Whether it's a painting or a statue, it's always disappointing finding out you've
brought a fake. Especially if it's expensive!
So what about a fake bridge?
Well to fit the aesthetic of their island, players often find themselves creating a fake bridge by laying down land, then adding patterns.
By using the Terraforming tool to achieve this look, it's a genius way to save your 8 bridges, and also the precious bells that we work so hard to obtain.
What I really like about this bridge for instance, is the fact that the rope fence gives off a really cute adventure vibe. Which I am here for!
14. The Bridge Over Troubled Water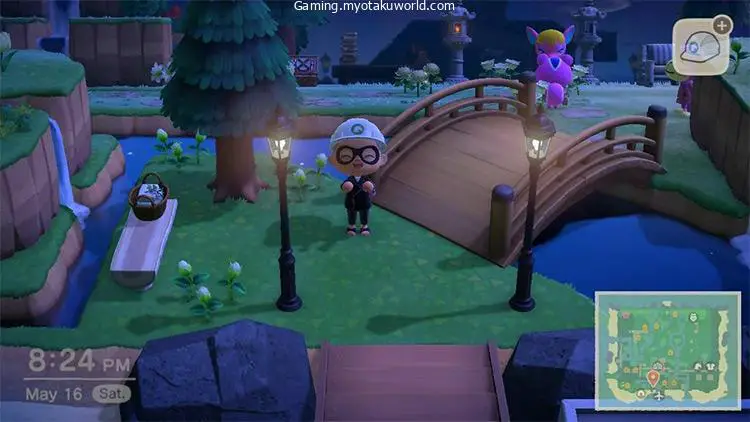 Are your Resident Services too close to your airport?
Well if so, here's a bridge design that's sure to inspire.
It seems impossible to think of terraforming your island when you first unlock it.
But the entrance area, to me, is the most important area of any island. Because it's the first thing your visitors see when they arrive!
And like this user's idea above, you can place a cute zen bridge right near your entrance. Then add some decorations around the area and you've got a real cute zen look.
The bench also makes a perfect photo opportunity. Say "Cheese"!
13. The Log Bridge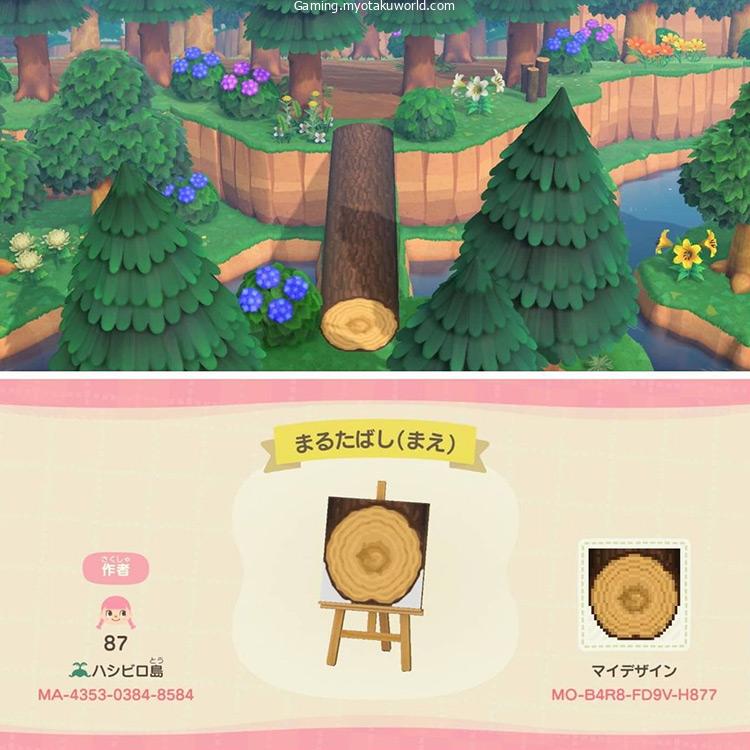 I just love this idea!
It's so out of the box and different, and it's not something you see on every island.
This log bridge (that isn't a bridge) will change up the scenery on your island. And might leave your friends aiming to copy your sense of style.
The placement of this fake bridge above looks like it could belong in a real jungle, towering over a cliff edge, like a real wilderness explorer.
The blue and pink Hydrangea plants make the background pop, too.
12. Picture Perfect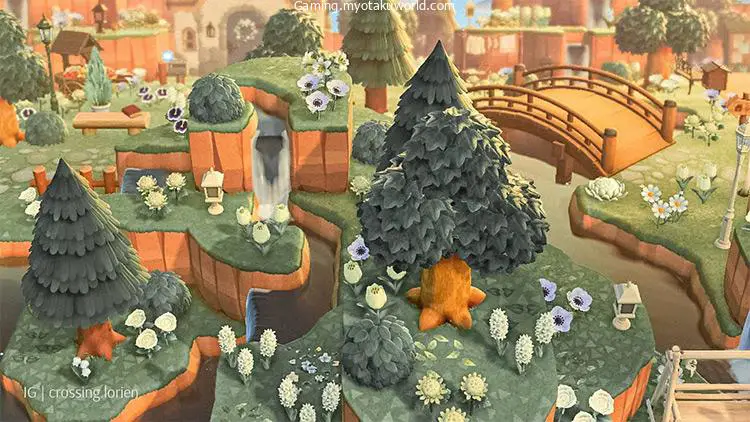 Here we have another zen bridge, but this one is placed strategically, which fits the island aesthetic so well.
The use of flowers and trees really opens up the area and makes it look less cramped.
Also, adding multiple tiers on any island really adds definition and depth to the forest theme. If you're going for a forest-y design, take note.
I'd say the use of pine and hardwood trees is amazing, as it really looks like a nature lover's paradise!
11. Isolation Island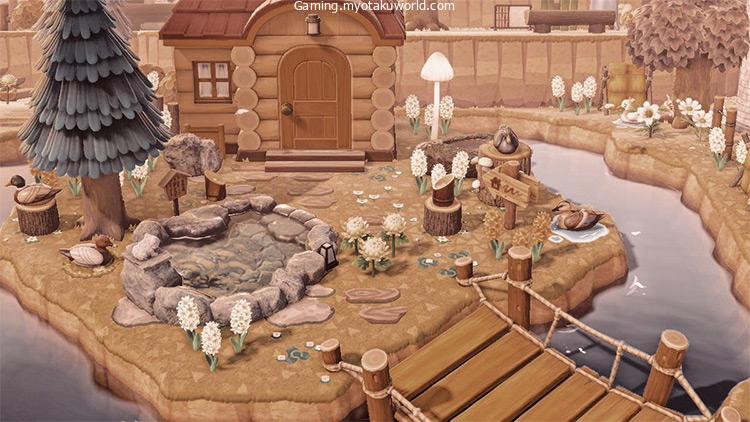 The way this player has used the suspension bridge on their island is beautiful.
It gives this villager their own 'private' island.
The custom path leading off the bridge gives me an indication that this user has gone
for a woodland theme; the log stools and mushroom lamps also fit the aesthetic.
Adding some shrubs and flowers that you can purchase from Leif or Nook's Cranny
will finish the theme perfectly. And the white hyacinth gives it a touch of elegance to boot.
10. Brick Bridge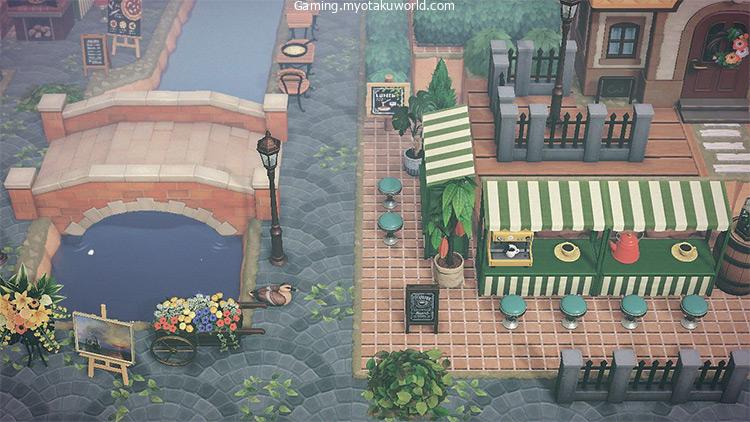 Up next: a classy brick bridge!
I love the fact that this user has paid attention to detail, and made sure that every available spot has been filled with an item of some sort.
For my taste? I specifically love the tiny library, among a few other knickknacks. And it makes me wonder what the rest of this island is like.
The use of the flower wagon, the floral stand, and the piece of art brings a
renaissance vibe to this section. Very classy!
I'd say the hidden details are everywhere within this design idea!
9. They Say Two is Better Than One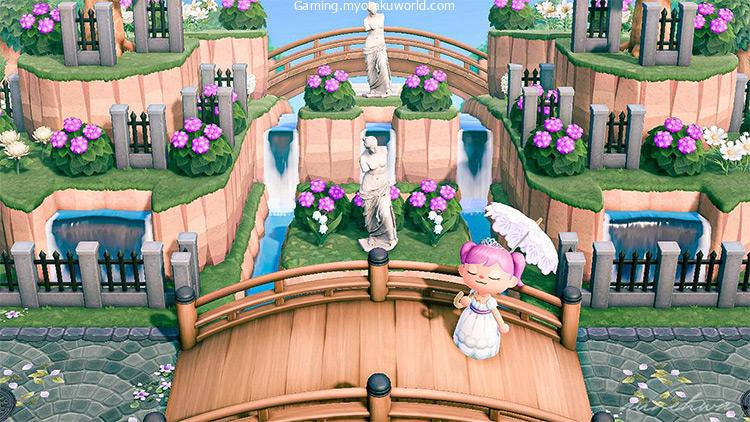 This is a bright idea with bridges, and worth a try if you have the time.
Once again we have a zen bridge, but this time we have two!
I love the floral touch with the pink Hydrangea shrubs, and we can see two Lily of the
Valleys just at the front next to the statue.
The stone path really makes the bridge more eye-catching against the backdrop of those shrubs, too.
And the iron and stone fence fit perfectly with the bridges, pathway, and cosmos flowers. Who knew brown went so nicely with grey?
8. The Postcard Shot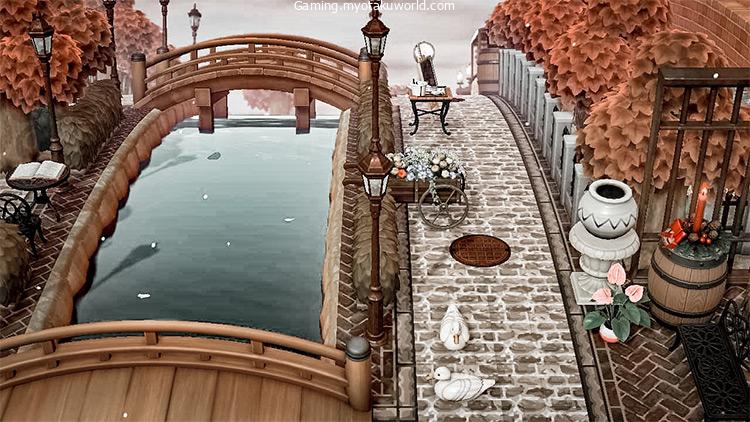 This stunning bridge scene is like something off of a postcard.
The city vibe is so easy to catch when I look at this. It reminds me of a canal. What a shame you can't place boats on the river.
Once again here, the custom design path compliments the city feeling that's ever
so present. I love the cobblestone idea too, as it gives a rustic feeling to this part of the
island.
The streetlamps and hardwood trees in autumn also make this an appealing
place for your villagers to hang out. Or maybe for some tourists to come and take some pictures!
7. Statue City
The scene above looks like something out of a movie.
I imagine the statues placed around the island really come to life when the street lamps come on at night.
Well for this design, the stalls remind me of a marketplace. And the fact this player has used the Market Place Decoration really brings it all together.
At least your weekly shopping can be a scene of perfection!
6. Who Doesn't Love Some Retail Shopping?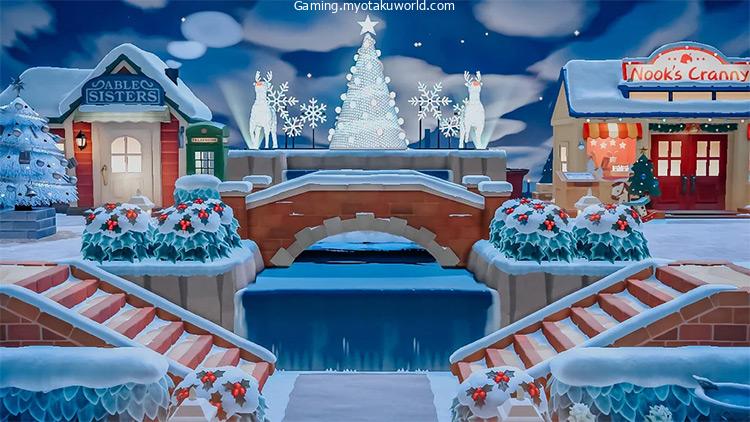 This Christmassy scene is one of perfection.
The two inclines and the matching bridge, all so visually pleasing!
I love the two-tier waterfall idea, too. It brings this section of the island together, especially the use of the Christmas DIYs (you can collect these from shooting
balloons down with your slingshot!)
The Holly bushes enhance this section so much, as does the hedge fencing that's placed in front of the two inclines.
Makes your holiday shopping that much more special! And maybe you'll bump into Jingle along the way.
5. Woodland Wonderland
Who doesn't love a good waterfall background?
What makes this idea even better is the Halloween fencing around the side. I'm sure Jack would love this!
The cherry trees and pumpkins underneath can show off just how much you love the outdoors.
And their custom path matches the bridge well, plus the custom design around the path really tied this autumn look together.
Can you imagine anything more perfect than sitting with your favorite villager and
listening to the sounds of water? Perfection.
4. Don't Go Chasing Waterfalls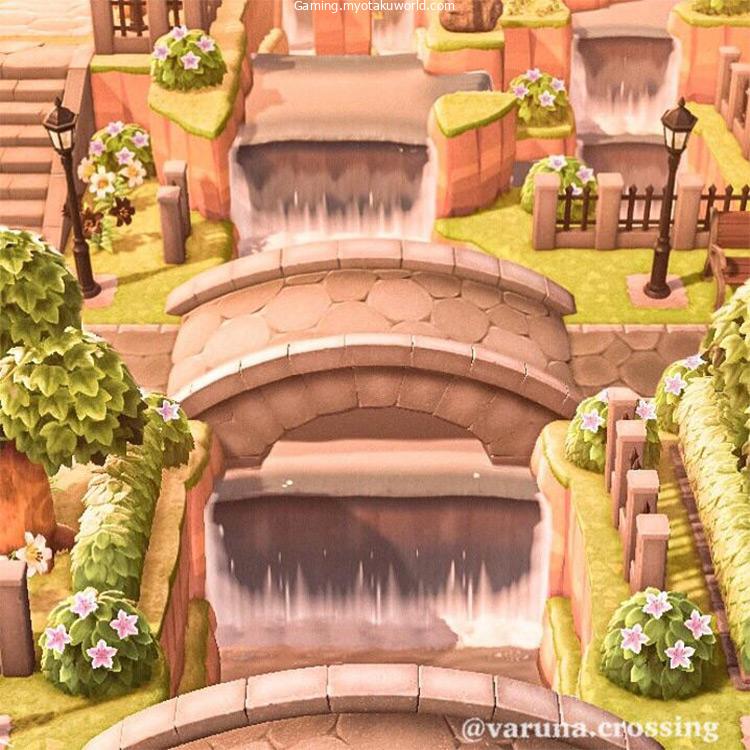 Here's a design for the record books.
The stone bridges and the pathways both match. And if you pay attention to detail, you'll
notice in the background that the incline matches too!
The bridge placements on this player's island are all complimented by shrubs and
fencing that make you wonder what the rest of their island may look like. It's definitely a look I'd like to replicate.
The fact the color scheme all matches brilliantly really makes it that much more eye-catching.
Also check out the hardwood trees. They offer a good contrast, especially when the seasons change and the leaves change color!
3. Over The Moon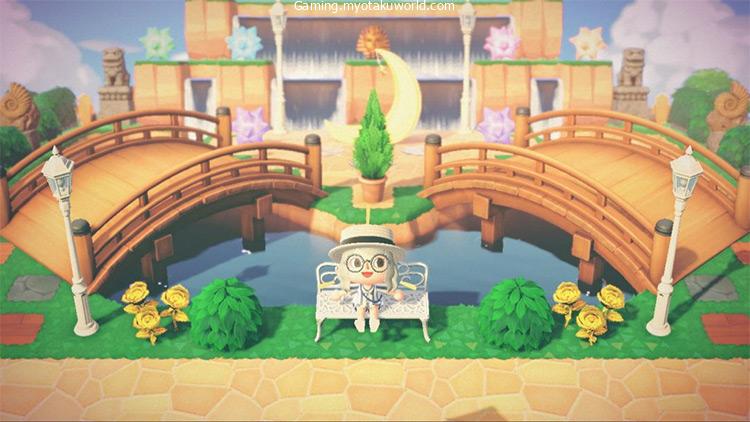 It's not "over the rainbow" anymore, because in New Horizons we're going over the moon!
These two bridges were designed so brilliantly. It's such a visually pleasing idea, but let's not forget the beautiful moon and nova lights to give us these starry vibes!
And the diagonal pattern of the bridges definitely feels unique. Not something you'll see too often here.
But with all that said, I know one thing's for certain: Dodo Airlines won't miss this island!
2. Zen Garden
The first thing that comes to mind when I looked at this was "Zen garden".
The bridges are called Zen bridges, so it works right? And the use of bamboo really ties it all together!
I love the way the bamboo trees and bamboo lamps (these are a DIY!) have been placed here. It brings out a sense of curiosity on what lies in the distance.
You can sit with your villagers and friends on the bench, and just hang out taking photos against the backdrop to share with everyone.
The flowers placed around the two custom-designed love hearts really make this
look feel too adorable.
1. Autumn Vibes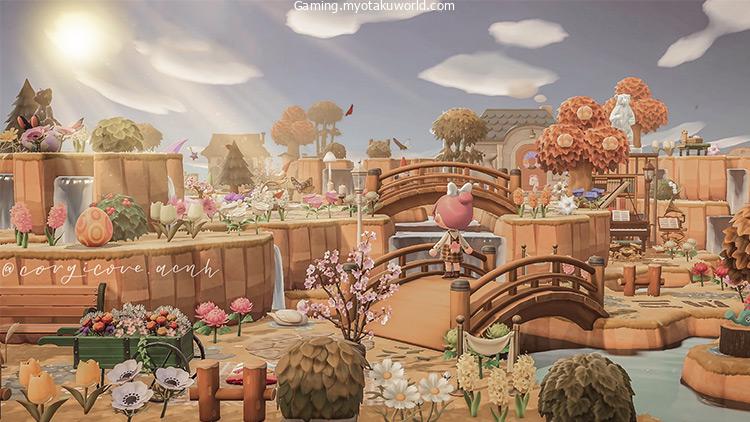 One word for this:
Beautiful.
The numerous flowers and trees hidden in this landscape really make the
bridges stand out.
Kinda gives off a cottagecore vibe (which I am loving!)
Plus the waterfalls open up some space and show off this player's terraforming skills. I'm sure this would impress all of their friends. It's already impressed me quite a bit!
The custom design used as a path here is a genius way to really get in-depth with the theme. I also love the butterfly models placed within the flowers!
Note: you can commission the butterfly models from Flick if you give him three of the same bugs.