There are a lot of ROM hacks for the SNES classic "Super Mario Kart." They add crazy new levels, change the game's theme, and add crazy new twists.
It's much easier to change old-school graphics, so it's no surprise that this game has well over 50 options.
But so you don't have to try everything, I've put together a list of the 18 best rom hacks for this classic game so you don't have to.
So turn on your SNES emulator, because there is a lot to try out here.
18. Super Mario Kart Universe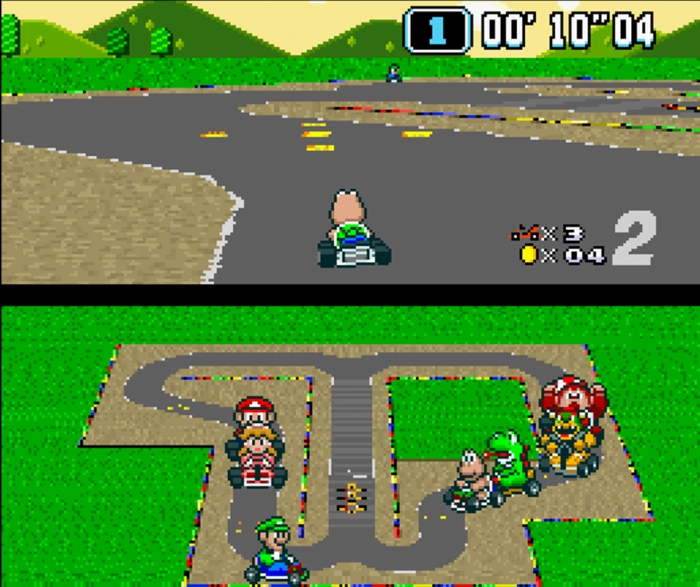 Super Mario Kart Universe is a ROM hack for the Super Nintendo that is based on the SNES game Super Mario Kart.
The racers and tracks in this hack are the same as in the original game, but the tracks have been completely changed.
17. Super Mario Kart Alternate Tracks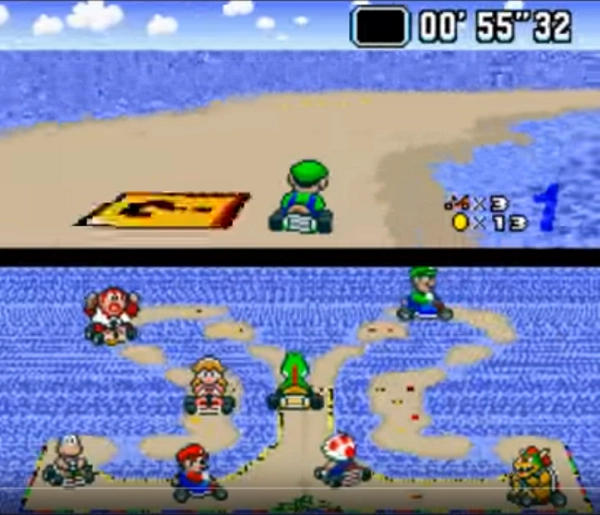 Super Mario Kart Alternate Tracks is a ROM hack for the Super Nintendo based on the SNES game Super Mario Kart.
Every track and all of the battle modes have been made over. Unlike some other Mario Kart hacks, the computer racers' artificial intelligence (AI) works really well and gives the player a good challenge.
16. Super Mario Kart Offroad Ex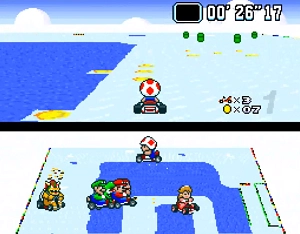 Super Mario Kart offroad ex is a rom hack for the Super Nintendo based on the original Super Nintendo game Super Mario Kart.
The characters are the same as in the first game, but the tracks are completely different.
You can find a link to download this Super Mario Kart Offroad Ex SNES ROM Hack game below.
15. Super Mario Kart: F1 Tracks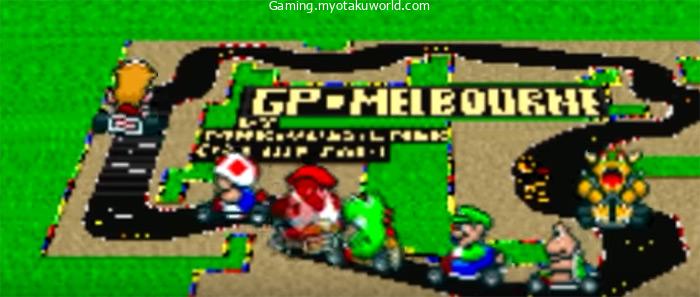 This F1 mod lets you and your friends fly around some of the world's most famous tracks, which are named after some of the sport's best drivers.
This is a fun mod for when you want to play Mario Kart without the usual tricks and obstacles and instead race on simple tracks.
Make no mistake, the F1 tracks will test your driving skills, and you will need a need for speed to do well on them. Find out for sure if you are the best player of Super Mario Kart.
14. Super Pro Kart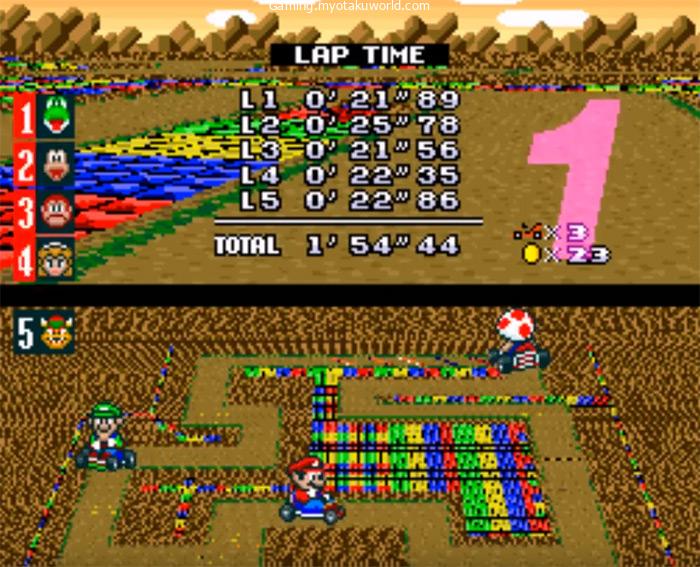 Super Pro Kart is one of those mods that only people who like to hurt themselves will enjoy.
A mod that changes the AI in a way that makes other drivers act aggressively and well beyond their norm is just asking for trouble.
This is for people who feel like they already know how to play the original game and want a bigger challenge.
On the other hand, this mod also adds 20 brand-new maps to play. The tracks have been changed so much that it will be like playing a whole new game. And, really, isn't that what mods are for?
13. Real World Imagined Tracks
Super Mario Kart: Real World Imagined Tracks gives the classic SNES game a whole new lease on life by adding a bunch of new tracks that were made by a user named Theamdnator.
When you've done the flower, mushroom, and special cups 200 times, you usually want to try something new.
Even more so after you've played Rainbow Road a million times in a row. Well, if you're tired of the same courses, you might want some fancy new ones, which is exactly what this rom hack gives you.
12. Reversed and Remixed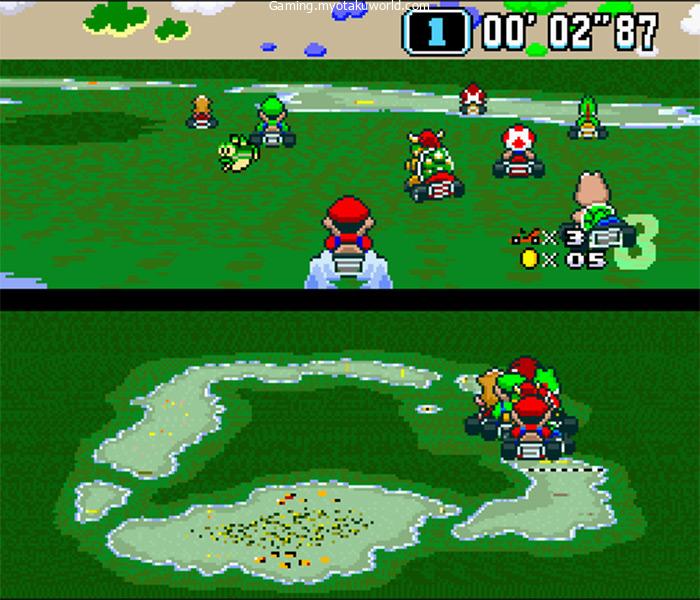 You like the game play, but you want to change the way Super Mario Kart works.
Then you might want to use the Reversed and Remixed ROM hack.
The first thing you'll notice about this change to the game is that all 20 of the original tracks have been turned around, so you start at the end and go backwards.
If that wasn't enough to keep you interested, which it should be, the people who made this mod also changed how the AI works.
These changes make the game a little harder, but it's still fun and can be played.
11. Sour Music Kart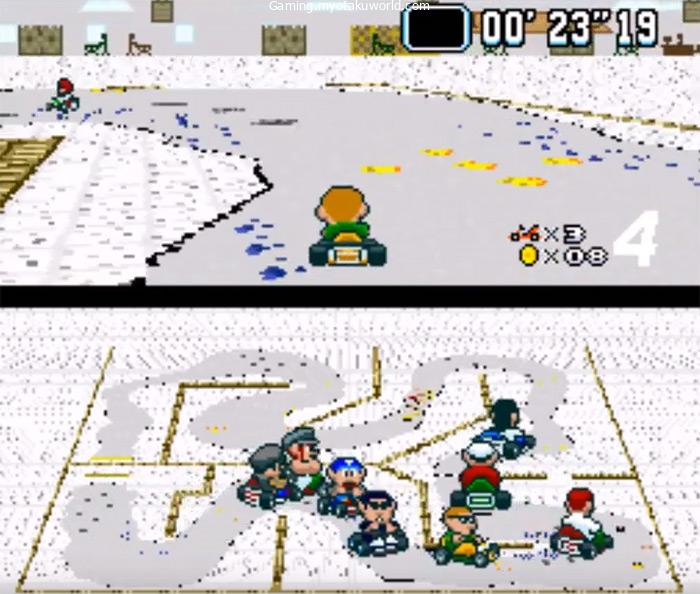 The Sour Music Kart mod is a fun take on the original game with all new characters. The developer's real-life friends were used as models for the characters.
In addition to these completely new skins for the characters, this mod gives you new track backgrounds, new music for each level, and even a new title screen.
The levels are based on real places that are important to the game's creators and their friends. This makes the game feel more real, but you can still have fun throwing banana peels all over the place.
Also, this one has some small changes to keep you interested, like small obstacles, new victory screens, and a couple of battle tracks for you and your friends to play together.
10. The Impala Battles
In Super Mario Kart, you don't just race around tracks trying to beat your opponents and get the best time.
It's a game where you can also kill your friends in crazy, fun battles.
The goal is to end the battle with more balloons around your kart than your opponents while trying to pop theirs.
It makes sense that there would be a mod like The Impala Battles, which gives the battle levels a much-needed change in difficulty and a fun game mode that is great for playing with a group of friends.
9. Super NicoNico Kart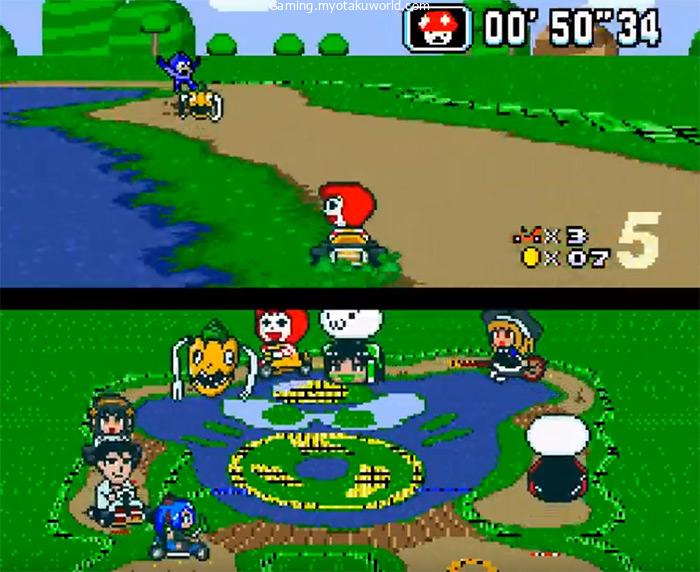 There are times when you just want to do something completely crazy.
Super Nico
Nico Kart does this by replacing all of Mario Kart's characters with ones that aren't very well drawn, like Ronald McDonald the clown.
But this ROM also adds new level designs that look like the faces of characters from shows on NicoNico, a Japanese streaming service.
Even if you don't know what the theme is, this mod is fun because it lets you see how strange Japanese culture is.
8. More Super Mario Kart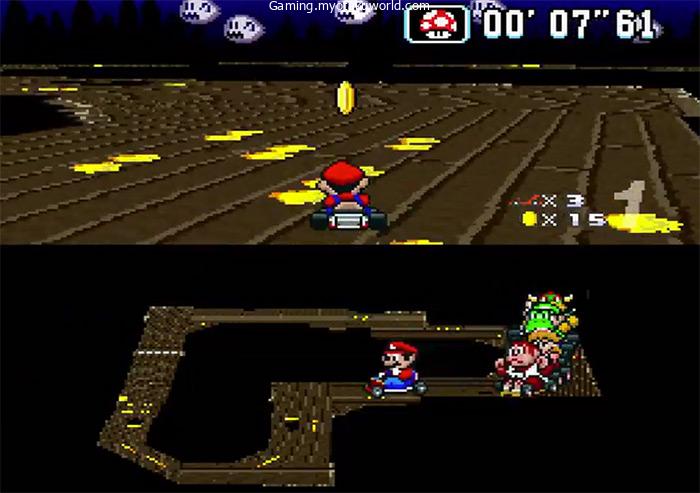 More Super Mario Kart is a mod that was made to honour what made the classic game great. It was made to mark the 25th anniversary of the game.
And it doesn't try to change what works, so it really feels like an addition to the first game.
This mod adds 20 new courses to the 20 that were already there. The goal is to make levels that are as close to the original designs as possible.
When you play this mod, it feels like you got two games for the price of one when you bought the original Super Mario Kart.
7. Character Chaos
It's great to be able to play as the original Mario universe cast. But it's fun to play the old games again when there are brand new characters to play with.
This character mod for Super Mario Kart has well-known characters like Bomberman, Pac-Man, and a Cactuar. You'll love every minute of racing with these characters.
You can play the same tracks you've always played, but now you can race through them with Pacman, who isn't very quick.
6. Mario Kart R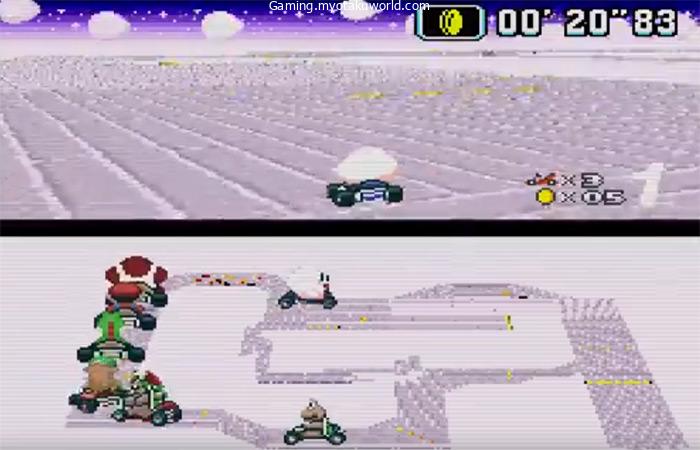 Mario Kart R takes things to a whole new level with better graphics, a few new courses, and new music. It also lets you play as the cute Kirby instead of Toad.
This mod will make you feel like you're back in the original game, but with a slightly more modern, up-to-date feel. It's like an add-on for the original game.
To be honest, though, it's almost like a "SMK 2." The colours and backgrounds are different, the graphics are quite different, and in many ways this feels like a true follow-up to the original. Just in its own special way.
5. Crazy Tracks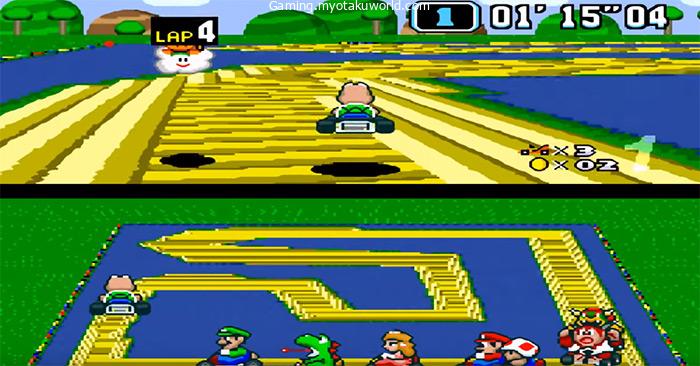 This already hard game gets even harder with the Crazy Tracks mod, which does exactly what you'd expect: it adds some frustratingly hard tracks to test your skills on.
This is another great mod for Super Mario Kart that lets you and your friends compete on some of the craziest tracks you can think of to see who is the best driver.
This is a good way to make the game last much longer and give you something to really test your skills on.
If you can't get enough of the Mario Kart series and want something a little harder, this rom might be for you. Or in this case, much more difficult.
4. Hyper Street Kart
Hyper Street Kart is a mod that lets you play Street Fighter and Mario Kart together, which you never knew you needed.
With courses like the cleverly named "Hadoken Cup" that have been renamed and redesigned, this mod adds a lot to the classic game that Street Fighter fans will love.
The character models are by far the best part of Hyper Street Kart.
If seeing Blanka and Guile race around Rainbow Road doesn't convince you to try this one, maybe Zangief's biceps popping out of his kart will.
3. Super Parigo Kart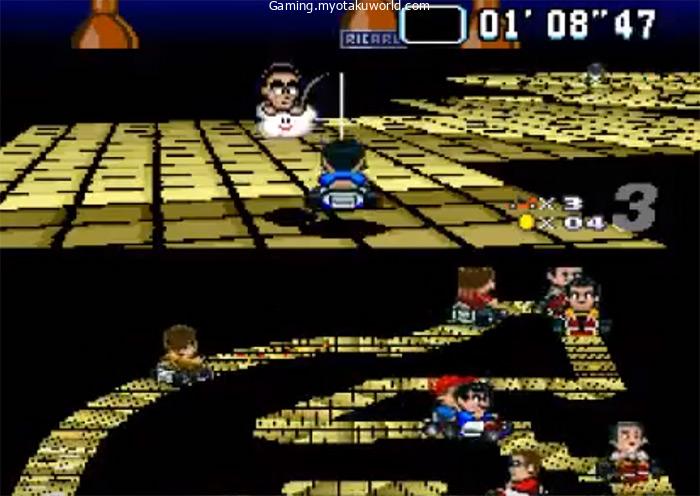 The game has been changed so much that it's almost unrecognisable, but the addictive gameplay that we all know and love is still there.
You should definitely try out Super Parigo Kart, which is a great mod.
Like Mario Kart R (number 6), this mod adds a huge amount of new content, including new characters, new backgrounds based on real places like Paris, and even new graphics.
One thing to keep in mind is that this is only a PAL rom hack, so you'll need to patch a PAL original to play. This is much easier to do on a computer, so an emulator might be the best way to test this.
2. Super Mario Kart World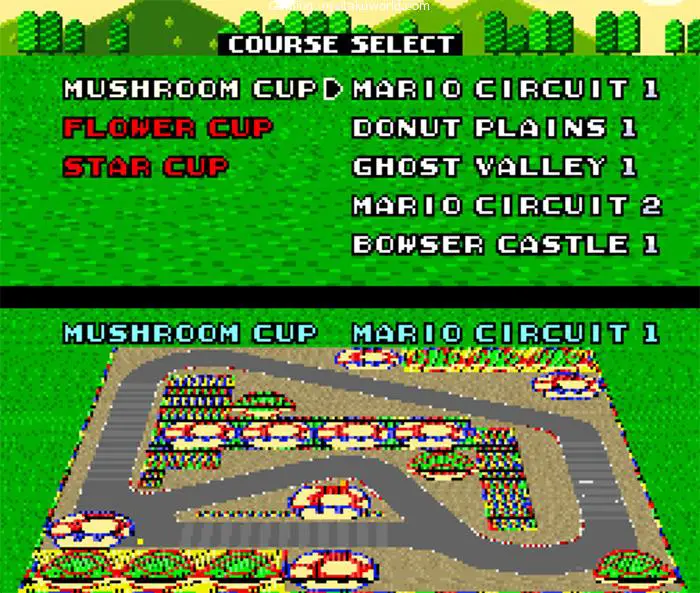 Like More Super Mario Kart (number 8), Super Mario Kart World tries to make a great game even better by making some small changes.
By making small changes to the classic formula, the goal here is to make playing games even more fun.
This mod makes changes to all 20 racing tracks and all of the battle tracks to make the original game look better.
This mod adds new shortcuts to each track to give you more to think about. It also lets you have an unlimited number of balloons in battle mode, so you don't have to worry about how long your next battle will last.
You'll see how crazy this can get as soon as you start to play.
1. Super SpongeBob Kart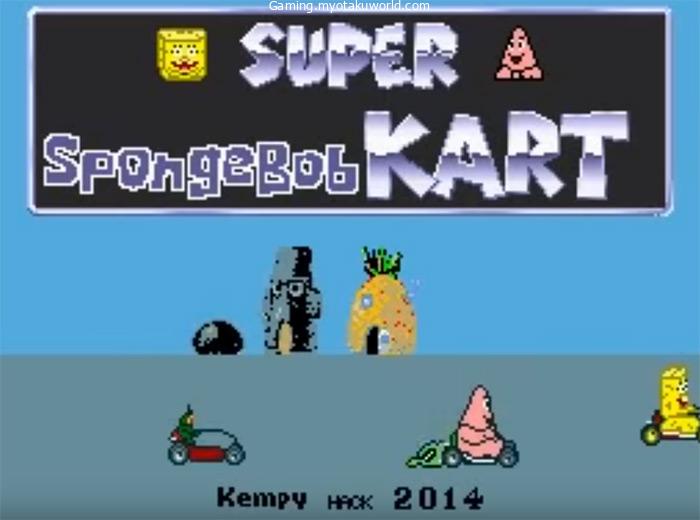 Super SpongeBob Kart deserves to be at the top of this list because it is the best.
Fans of both series often get together when two very popular franchises are mixed together. This SpongeBob mod is no different, though.
This mod will make you feel like you're really driving under the sea by changing the title screen to show Bikini Bottom and SpongeBob's pineapple house.
All of the graphics, music, and levels have been changed by this mod. Super SpongeBob Kart has all of your favourite characters from the show, new battle stages and bonuses, new level designs inspired by SpongeBob, and a lot more.
SpongeBob may have never gotten his driver's licence. But that doesn't stop him in this cool rom hack from burning rubber!