It's the most wonderful time in Tamriel, or at least in Skyrim.
We're coming at you here with some great Christmas mods to really add to your seasonal enjoyment.
Skyrim has a lot of exciting mods for this category – and while this list offers a ton, we'd recommend you keep searching around for even more!
But this curated list has everything from armor to music, and even city overhauls, all related to the Christmas season.
So if you're looking to spread holiday cheer throughout Skyrim then keep on scrolling.
18. Merry Christmas greetings
The mod allows the player to wish their in-game companion a Merry Christmas and receive congratulations in return.
The mod is simple and requires the player to have a female eventoned voice as their companion, and for them to be taken as a follower.
If the dialogue does not appear at first, the player can try doing a quick save and quick load (F5; F9) to fix it.
17. Sh'anta Claws – A Christmas-y Khajiit Preset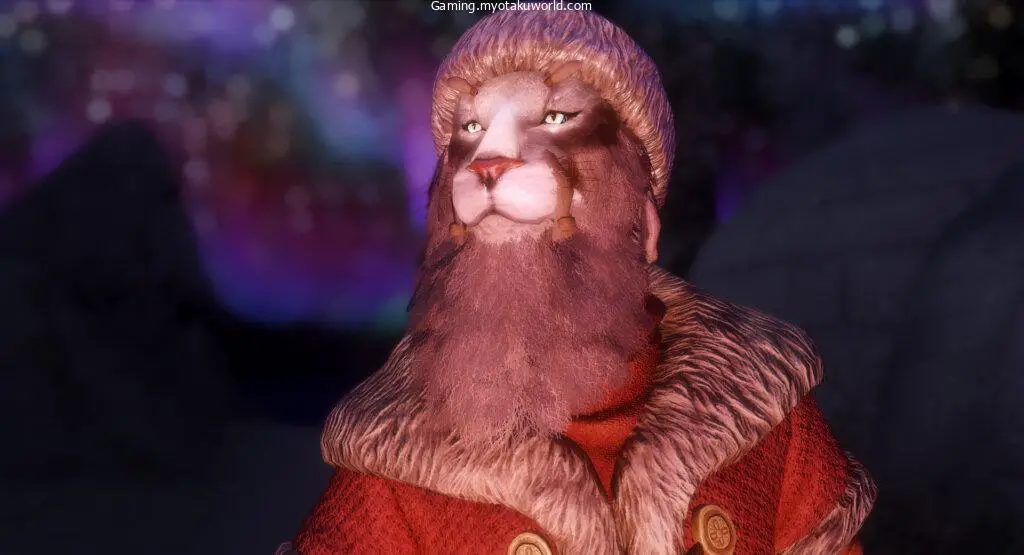 The mod adds a festive feline character to the game, with the theme of "Meowy Christmas".
The mod has some hard requirements including RaceMenu and Khajiit Mane, and some optional soft requirements including Kala's Eyes- Beast Race Edition, BeastHHBB, Beards of Power, and Khajiit Hairs.
In the screenshots, the character is also shown with other mods such as SC Khajiit Improvement, Serval Race, Mild Hair Colors, Saturalia Outfit, and Skaunr igloo house.
16. Skyrim Christmas Moon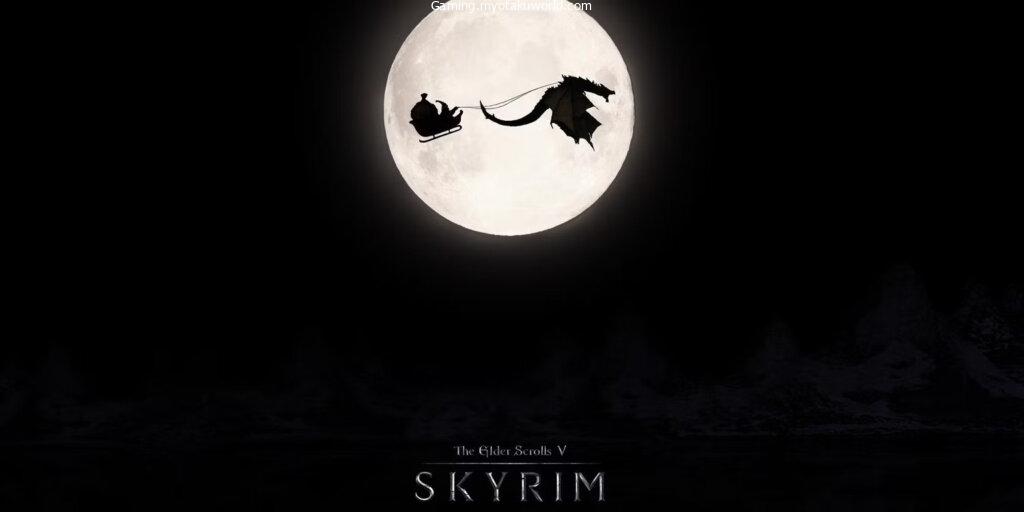 Skyrim Christmas Moon is one of the simpler mods for Skyrim, but sometimes simplicity is best.
This mod just adds a picture of Santa's silhouette flying across the moon in the game, making it look like Santa has arrived in Skyrim.
With this mod, Santa's sleigh is pulled by dragons from Skyrim instead of Rudolph and the other reindeer.
This mod combines Christmas and Skyrim in a way that works well and adds a little Christmas spirit to The Elder Scrolls 5.
This mod might not be for people who want to completely change Skyrim, but it does add a little something.
15. Dovahkiin Retreat Continued (Christmas Edition)
Let's start things off with this great Christmas-themed home for your character.
There are a lot of decorations for this retreat to really put you in the Christmas spirit. You'll probably notice them all right away.
If a snowy house with lights, gifts, and snowmen is your thing, then you're going to love this mod.
Truly a cozy Christmas cabin that you can spend some time in over the holidays.
There's even a tree inside with holiday lanterns to complete the look.
14. Christmas Festive Armor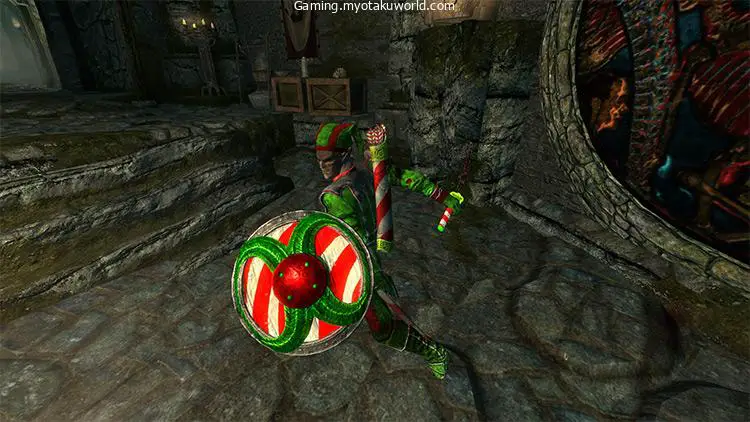 You can be a terrifying menace throughout Skyrim, but also festive at the same time.
This armor mod gives you a great set of armor to play with, built on the Jester set of armor textures.
Questing around Skyrim with festive gear is the best way to experience some holiday cheer.
And this mod works great with the Festive Weapons mod as well.
So you can combine the two to create fun outfits that'll horrify your enemies.
13. Candy Cane Villages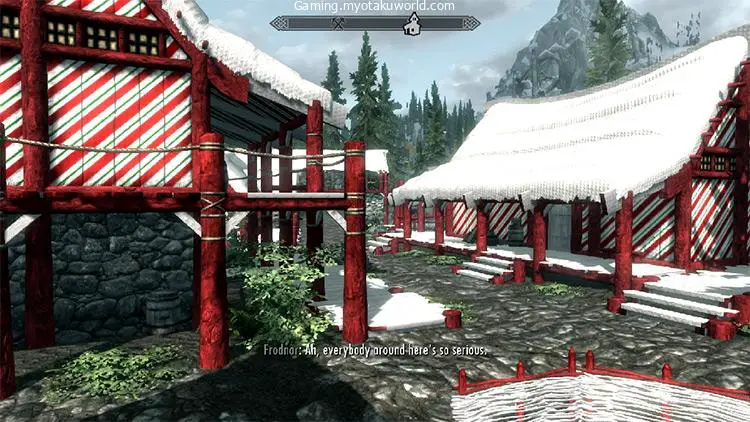 Here's a simple texture replacement mod, but with a great effect.
As you might expect, it transforms villages into candy-cane themed Christmas towns.
There's also special wallpaper in Riften, as well as changes to Whiterun to spread cheer throughout the realm.
There's actually a lot of changes that encompass a lot of areas in the game, all with just this one mod, which makes it a high recommendation for a nice Christmas playthrough.
12. Whiterun Christmas Overhaul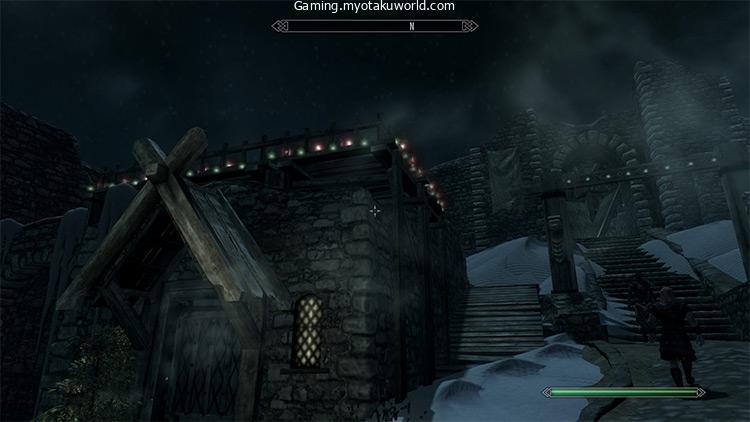 Looking for a Whiterun-specific overhaul? Well, you've got it.
There's certainly a high level of attention to detail in how this mod transforms Whiterun, that's for sure.
Some of the highlights are the patches of snow and icicles hanging off roofs, as well as the Christmas lights strewn about the town.
Since we're all spending plenty of time in Whiterun, this is a new way to experience things during the holiday season.
11. Christmas Tree in Skyrim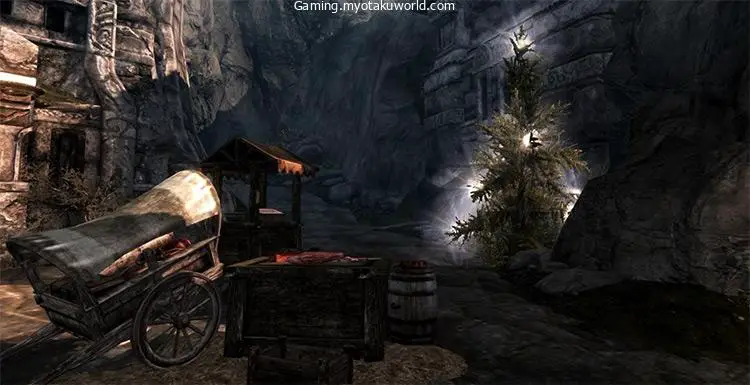 OK, so this is one of the simpler mods on the list, but it has a nice added touch.
What does it do?
In various locations you'll now find random Christmas trees.
The trees are lit up with simple white lights, and they're really fun to run into when you're not looking for them.
Combining this with some of the other mods, especially any Whiterun overhaul mods, gives the game a nice festive feel.
10. Winter Holiday Resource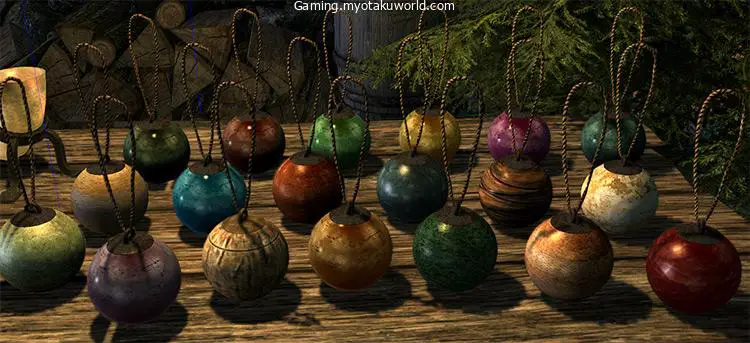 Next up is a Christmas resource pack.
This entry won't be as easy to use as the rest, because it's a collection of resources used for modding rather than a simple installable mod.
The reason it's on the list is because of how massive and immersive this pack can be.
There are around 300 files in this collection that are specifically designed around Christmas themes.
From bright and colorful ornaments, to trees and jewelry, this is an amazing pack that could be worth some work to bring into your game.
The creator even has a guide for helping you out as well (check the mod page for more info).
9. Christmas Bikini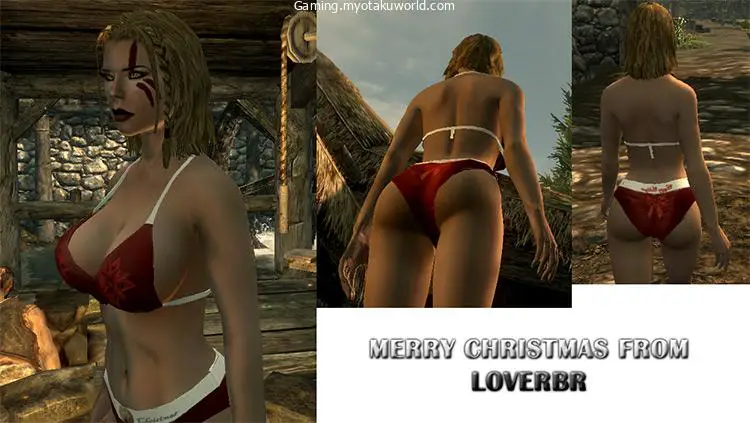 Yep, just a simple clothing reskin.
This Christmas Bikini is surprisingly a very popular Skyrim mod, so it had to make its way into this spot.
The title basically gives away what it is, though.
It's a retexture that gives your character a red and white bikini. Holiday spirit, right?
And what better way to spend the holidays than in a festive bikini out in the wilderness of Skyrim?
Actually there are a few other better things to do, but we'll address those later on in this list.
8. Instrumental Christmas Music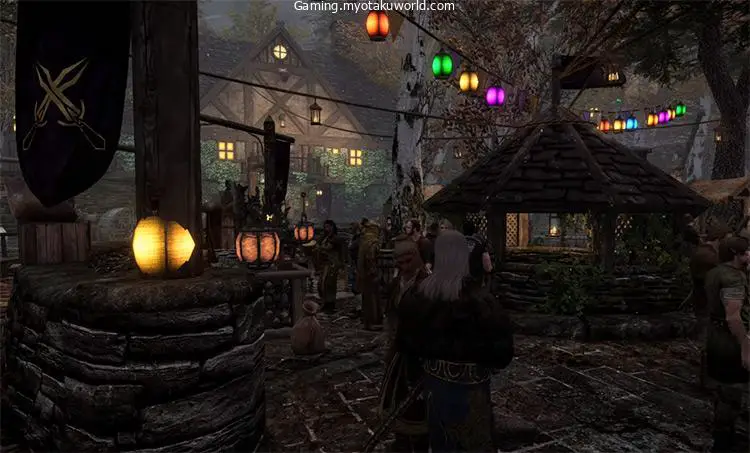 So this is one of the best Christmas music mods for Skyrim.
If there's anything to get you in the holiday spirit, it's surely some festive music.
This mod replaces a lot of the city, tavern, and even some of the music in the open world, all with Christmas themes.
I'm sure you'll appreciate a lot of the classics from this playlist.
Note: the Version2 of this mod is the recommended version for now, because of all the updated music that was added since launch.
7. Christmas Flying Mount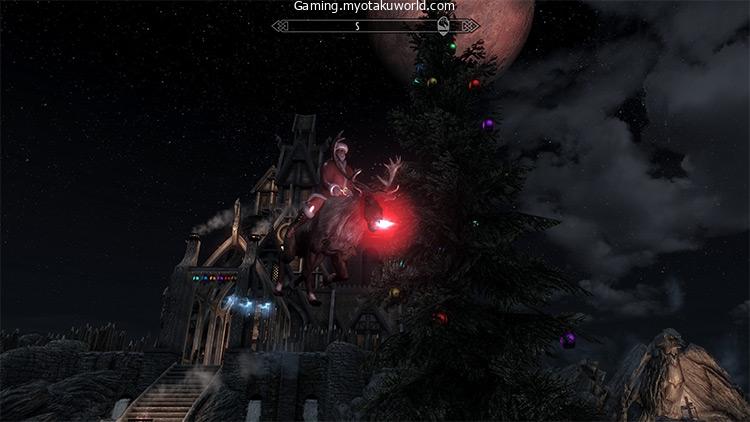 What kind of Christmas would it be without Rudolph?
Well this mod gives you exactly what you need for a happy holiday: a flying reindeer mount.
Travel in style with this red-nosed reindeer helping you see through the snowy weather of Skyrim.
This is a very straightforward mod, and includes some options to tweak your experience as well.
You can even turn off the shiny nose if you want – but that would likely spoil the Christmas spirit.
6. Christmas in Whiterun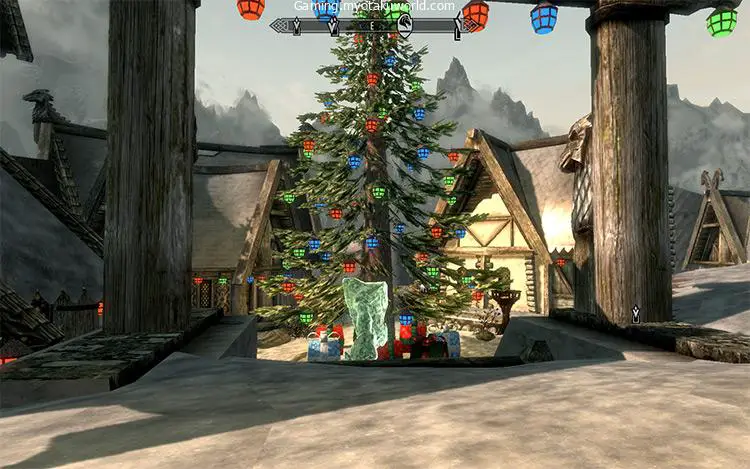 When it comes to Christmas mods, Whiterun is a pretty normal city.
It's also one of the most popular cities in Skyrim, which is a good thing.
Whiterun has been changed by adding lights, snow, gingerbread men, snowmen, and presents all over.
But this mod also adds a Santa hat and a scary set of weapons that look like candy canes.
Who wouldn't run away in fear at the sight of a weapon made of candy canes?
5. It's Christmas in Skyrim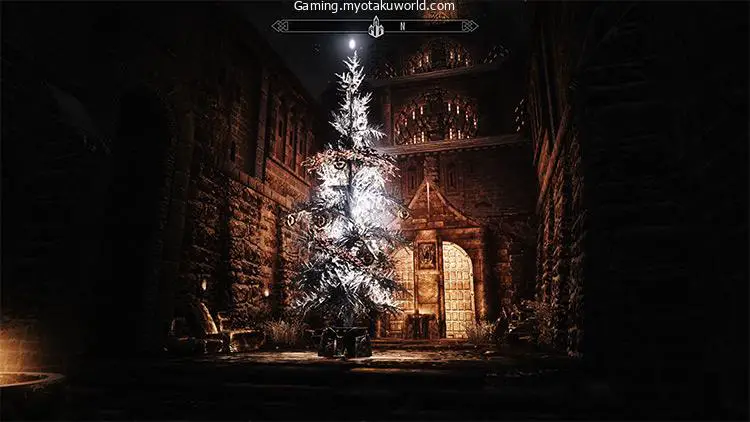 This next mod is similar to previous tree mods, but with a few interesting changes.
There are several Christmas trees added in major cities here, as well as wreaths on inn doors.
Granted, this mod didn't get too far in its development – so not all cities will have Christmas trees. But those that do are stunning.
The model for the tree is very elaborate and mesmerizing to look at too.
It's a very sparkly festive tree that stands out greatly in the dark of the night. Ornaments are included (naturally).
4. Insanity Clause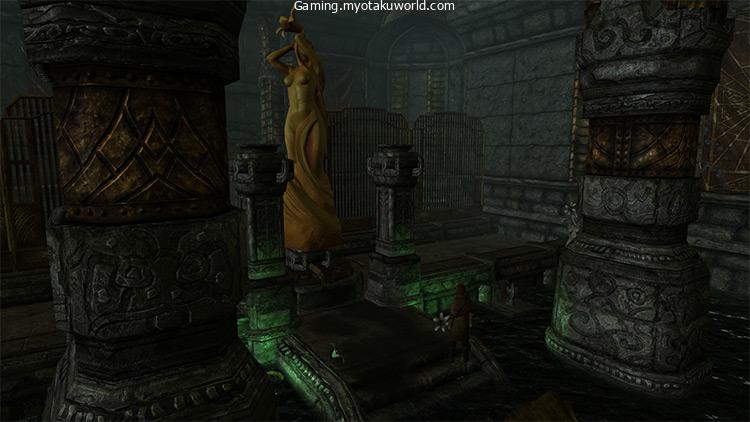 This is one of the best and most unique Christmas mods for Skyrim.
You can do a holiday-themed quest called "The Insanity Clause," and it's a tough one.
The main point is that you'll get an invitation to a very special Christmas party by courier. You'll have to figure out the secret behind this mysterious party without giving away too much about this mod.
There are custom voices for 13 NPCs, and the story is also well thought out.
It all adds up to a bit of mystery and intrigue, and it all comes together in a quest that is both scary and about Christmas. Good luck!
3. A Festive Christmas
The extent that this mod wants you to notice Christmas is… huge.
There are a ton of decorations across the entirety of Skyrim here, and even more presents to discover.
Some of the more rare presents will grant you a candy cane staff, sword, or bow. You can use these special weapons to turn your enemies into snowmen.
A lot of work and thought went into the creation for this mod, and it shows.
This one goes the extra distance to make you feel like Christmas is actually here in Skyrim.
2. Christmas Lanterns
So yes, this is just a lantern. But this mod is more extensive than the rest.
Nothing says "Christmas" quite like bright-colored lights across houses and trees.
Again, a lot of effort went into this mod to place Christmas lanterns across the major cities.
You'd think all the NPCs put in the work to decorate their own houses all on their own!
And unlike some of the more obtrusive mods for Christmas decorations, this one keeps things to a relative minimum – while still reminding you of the holiday season everywhere you look.
1. Saturalia – Christmas in Skyrim
Saturalia has to be one of the most fully-featured Christmas mods you can find for the game.
In keeping with a lore-friendly approach, the Saturalia holiday is traditionally the Skyrim version of Christmas.
This massive mod will add a ton of decorations, new content, and new story quests for you to play through. All based around this festive holiday season.
It includes carolers, fully-voiced NPCs on quests, custom parties with gift-giving, parades, the list goes on.
You'll even be able to go to Santa's workshop, who's known as Father Saturalia of course.
Vendors have new items, bakers have new food, and even player homes will be decorated with cheer.
This is is truly the pinnacle of Skyrim Christmas mods – and it easily takes this number-one slot on our list.