When I was growing up, there weren't many games with real-life actors.
Most of the time, they were also bad.
(I'm looking at you, "Bulletproof," 50 Cent.)
People can now play Fortnite as Ariana Grande and battle J Balvin while LeBron James and Neymar Jr. do their thing in the background.
Things have definitely changed.
People's love of fame hasn't changed, and even Skyrim players have their favorites.
Skyrim Anniversary Edition doesn't have any official DLC with Ed Sheeran or Zendaya, but here are some great Celebrity Follower mods that let you add your heroes to the game.
12. Annie – High Poly Female Preset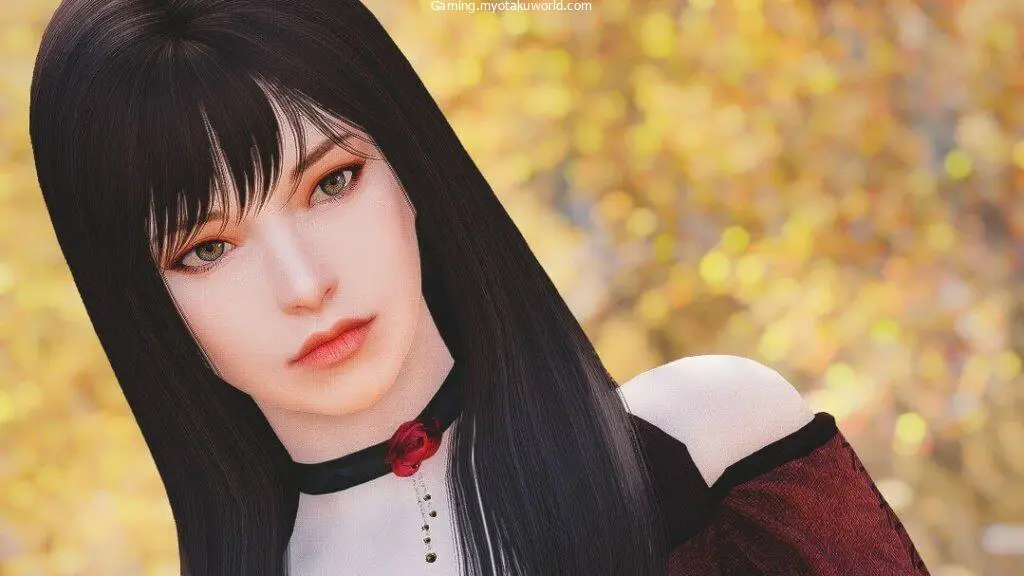 The RaceMenu Female Nord Preset using High Poly Head is a character customization mod for a game.
It specifically caters to the Nord race and utilizes the High Poly Head mod, which enhances the facial features and details of the character model.
This preset offers a ready-made appearance for a female Nord character, allowing players to quickly apply a unique and visually appealing look to their in-game character.
By using RaceMenu, a popular character customization tool, players can easily adjust various facial features, such as hair, eyes, nose, and more, to further personalize their character's appearance.
11. Dark Elf preset commoner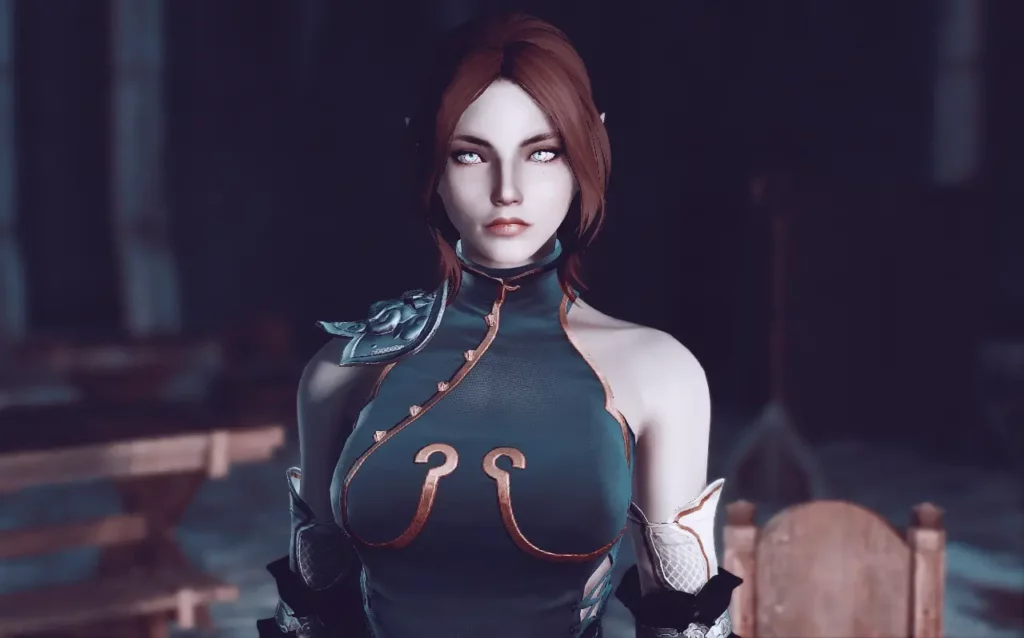 The Dark Elf Preset Commoner mod is a character customization option for roleplaying purposes in a game.
Specifically, it provides a preset face for a Dark Elf (Dunmer) character that represents an average, everyday person rather than an exceptional or glamorous individual.
The preset features a face with blue eyes, designed to resemble an average beggar-like appearance.
It is intended to offer an alternative to the typically beautiful or attractive female faces commonly found in character customization mods.
10. Megan Fox Follower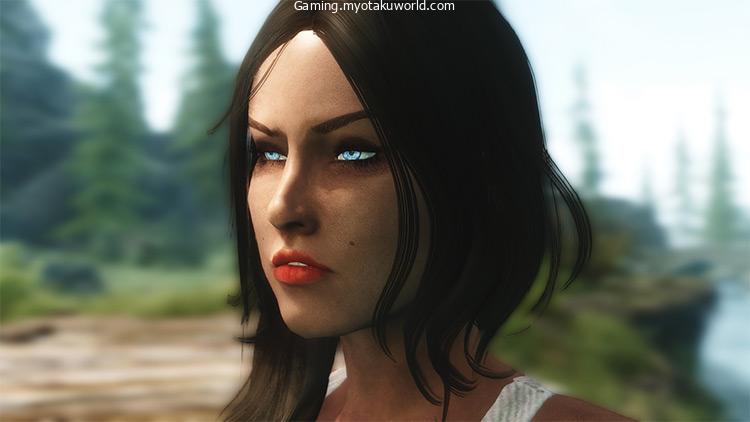 When I was in high school, all of my friends thought Megan Fox was the epitome of sexiness.
Really, it was because she was in Transformers (2007), not because she was hotter than a lot of other Hollywood women.
This Megan Fox fan is a must-have Skyrim add-on for anyone who fell in love with her at any point in her career.
It shows how beautiful the well-known actor was when she played April O'Neil in the 2014 movie Teenage Mutant Ninja Turtles.
The way this servant fights is my favorite part of this mod. She relies a lot on calling a Dwemer Autobot to protect her. Nice to know!
9. CHARMED Celeb Preset Pack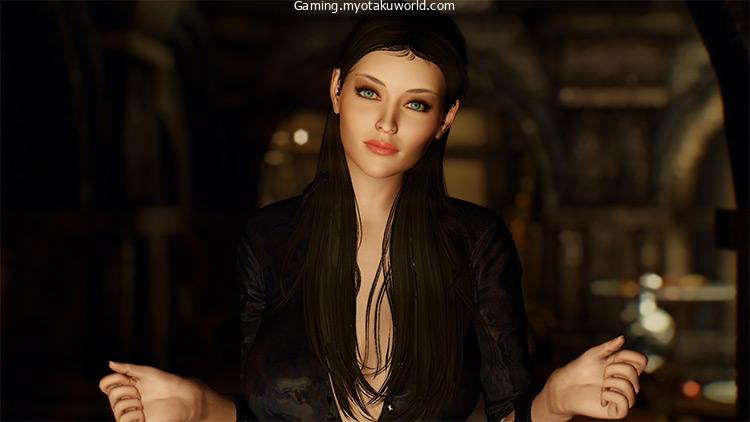 Alyssa Milano played Phoebe, Holly Marie Combs played Piper, and Shannen Doherty played Prue in the American fantasy drama CHARMED.
The show mixed a secret world of magic with modern-day San Francisco and starred three of the hottest stars on TV.
Everything about it was a dream for nerds.
The Charmed Ones is added to Skyrim by this mod, but there's a catch.
These are not fans; they are RaceMenu presets.
They are made so that you can play as the girls instead of having them follow you around.
This means you'll have to work with Project Proteus to turn them into fans.
Don't worry, it's not hard and is definitely worth it!
8. Cara Delevingne Preset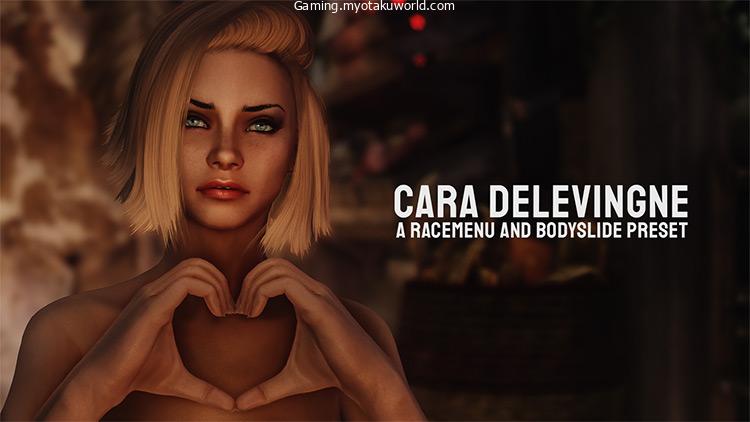 Another incredible artist who's had her likeness immortalized as a Skyrim RaceMenu preset is the multi-talented Cara Delevingne.
Everyone knows Cara from somewhere different.
Maybe you've seen her modeling for Victoria's Secret or spotted her as the Enchantress in Suicide Squad (2016). You may have even seen her as Laureline on Valerian and the City of a Thousand Planets (2017).
Whatever the case, she's hard to forget once you've taken notice.
If she can juggle being a model, a fashion designer, and an actress simultaneously, I'm sure slaying dragons will be a piece of cake.
7. Jennifer Lawrence / Katniss Everdeen Voiced Follower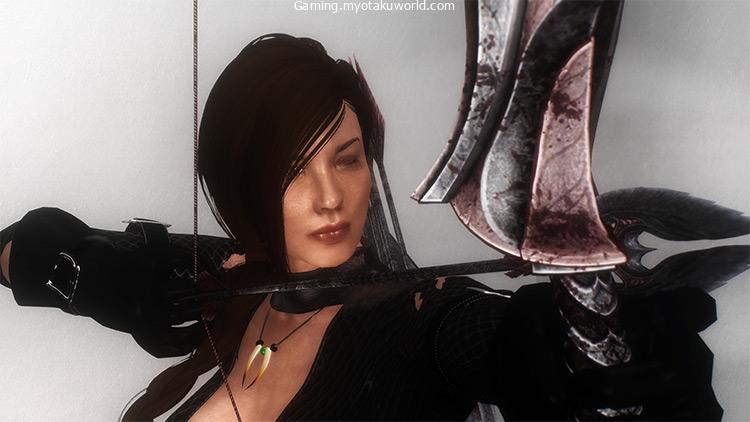 So far, we've covered actresses out-of-character – but in a place like Tamriel, some survival skills picked up from a role in a fantasy flick can go a long way.
Jennifer Lawrence arrives in Skyrim wearing her Katniss Everdeen persona from The Hunger Games movie series.
She's got a tight black battlesuit, a bad-ass bow, and enough arrows to bring Panem's population down to the single digits.
What surprised me the most about this mod is the custom voice, which was pieced together from several dialogue clips from the Hunger Games films.
It must have been a ton of work for modder bchick3 – but it's a game-changer in immersion.
6. Game of Thrones Celeb Preset Pack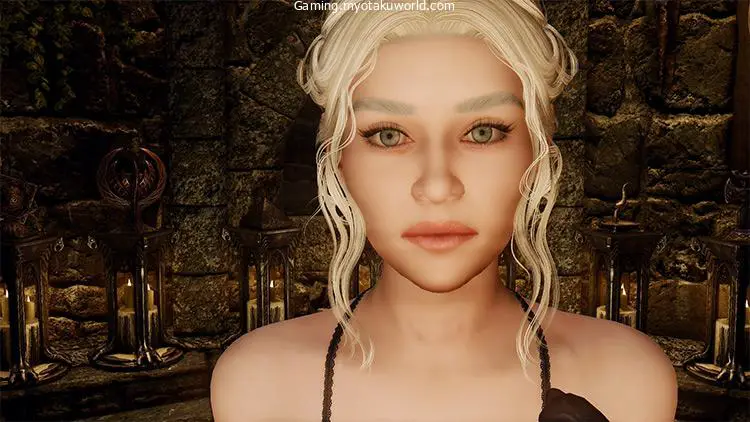 Next up, we've got a pack with some of the most popular Game of Thrones ladies.
This pack features presets matching:
Lena Headey as Cersei
Sophie Turner as Sansa
Maisie Williams as Arya
Emilia Clarke as Daenerys Targaryen
I can't say much about Arya – after all, Maisie has a hard-to-emulate face. But the rest of the girls look just like their real-life counterparts.
Emilia Clarke looks exceptionally lifelike.
If I had to choose just one, I'd take the Khaleesi along on my journeys.
You'll also find a second pack featuring Natalie Dormer as Margaery Tyrell and Carice van Houten as Melisandre right here.
And these characters blend perfectly with some other GoT-themed mods too.
5. FRIENDS Celeb Preset Pack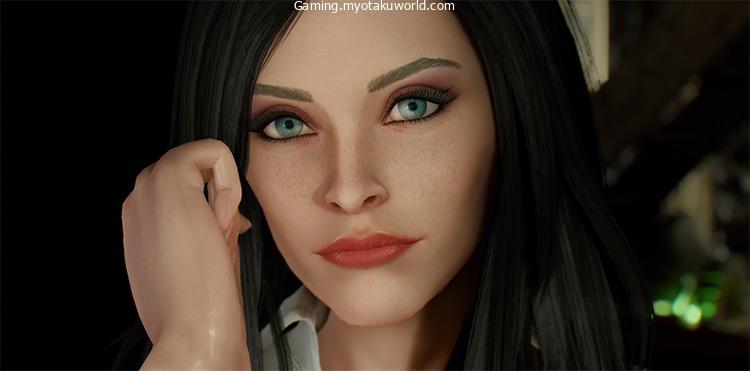 Friends is one of those shows that people refuse to forget about.
As a Millenial, you'll be shunned by your peers if you haven't watched at least one season – and most people you know are on their third rewatch by now.
I'm not a big fan of rewatching shows. But I'm happy to reconnect with Rachel, Monica, and Phoebe in Skyrim with this Friends preset pack.
Jennifer Aniston and Lisa Kudrow look pretty good, but the mod's star is the stunningly lifelike Courteney Cox.
That jawline! Those cheekbones! It's a work of art.
4. Taylor Swift Preset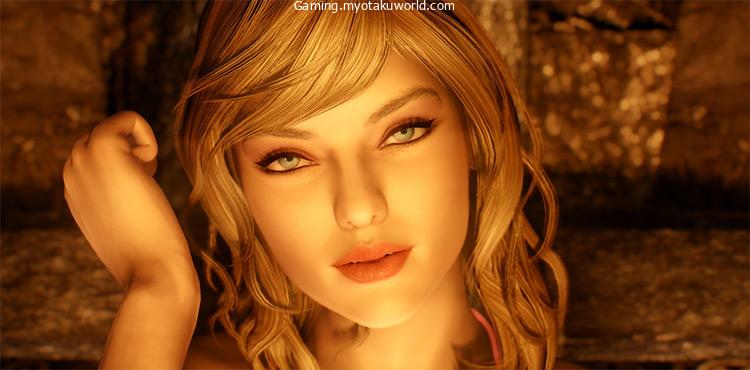 Swifties rejoice – Taylor Swift has just disembarked in Solitude, and Skyrim has a new queen.
Tickets are available at a General Goods shop near you!
When I say "Swifties," I'm also talking about myself. I'm not usually into pop songs, but something about Taylor Swift's irreverent persona gets me going.
If she was leading the Stormcloaks, I'd have joined a long time ago.
The one thing missing from this mod is a custom voice, and maybe some songs to play at the inn. There's a great mod idea if anyone knows how to tweak followers!
3. Courageous Women of Skyrim – Celebrity Edition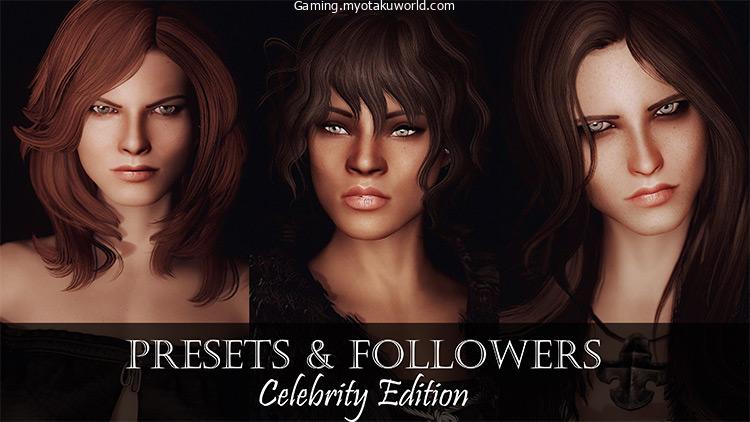 I like it when my followers look fierce.
They'll be crossing swords with Dremora and Master Vampires at some point, and I want to feel the person holding them off while I cast spells or shoot arrows has them under control.
Courageous Women of Skyrim Celebrity Edition is a follower and preset pack inspired by some prominent names in film and entertainment.
It focuses on making the girls look like true warriors to fit in better in Skyrim.
Actresses Angelina Jolie, Emma Watson, Eva Longoria, Mila Jovovich, and Scarlett Johansson are ready to go on an epic adventure.
They even have their own distinctive fighting styles!
Plus they're joined by famous musician Rihanna, which officially makes this one of the most badass mods ever made.
2. Shirley Curry – A Skyrim Follower Mod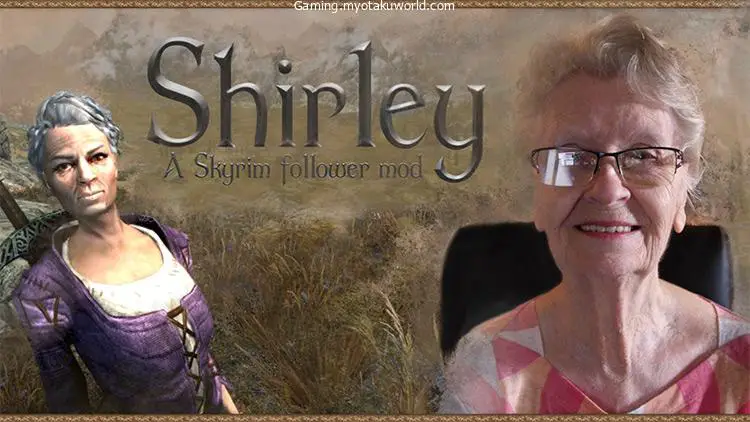 How many friends do you have to have to become famous?
Shirley Curry, a famous Skyrim grandma, is almost at one million views on her YouTube channel.
If you don't become famous if you have a million fans, the bar is set too high.
With her recognizable "hello grandkids" at the beginning of each video, she has won the hearts of thousands and inspired a team of modders to make a custom-voiced follower based on her.
This mod is by far the best one on our list. And there's nothing better than taking grandma with you.
Even though she is 85 or older, she is still strong enough to easily kill trolls. What is your reason?
1. Celebrities for Fun – Definitive Edition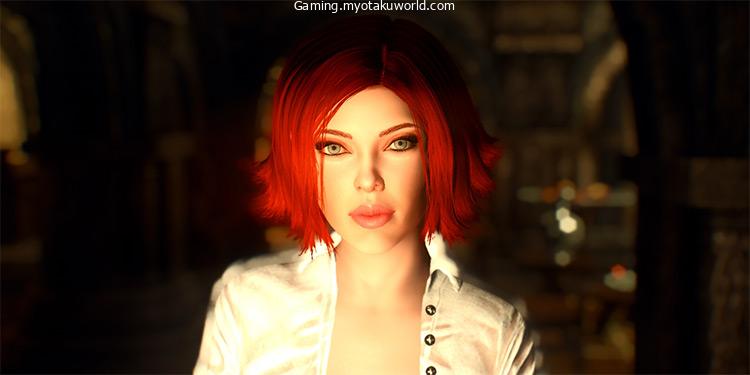 When you don't know what celebrity to cast for your next Skyrim adventure, what do you do?
You cast them all!
Celebrities for Fun gets a genuine recommendation in our ranking for its sheer number of presets.
This massive collection features 16 beautifully-modeled celebs, including Natalie Portman, Amber Heard, Monica Bellucci, and even actress Priyanka Chopra.
The link above will take you to the first part, which features Angelina Jolie, Kate Beckinsale, Scarlett Johansson, and Summer Glau.
Then there's also:
Download the whole set and see who your favorite is.